Vegas at Night: Are you looking for fun things to do on the Las Vegas strip at night? There are so many fun night activities in Las Vegas that aren't gambling or clubbing.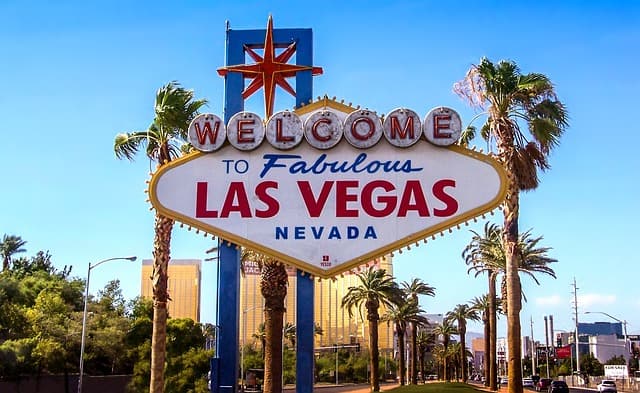 This list of what to do in Las Vegas at night has something for everyone. You'll have a hard time choosing what to do in Vegas at night!
You can also check out my other Vegas posts for more ideas:
101+ Cheap Things to do in Las Vegas
15 Best Outdoor Activities in Las Vegas – Hidden Gems
101+ Romantic Things to do in Las Vegas
21 Fun Indoor Activities in Las Vegas to Escape the Heat (or Rain)
Thank you for supporting this website written by an American. This post may contain affiliate links. This means I earn a small commission on these links at no extra cost to you.
21 Best Things to do in Las Vegas at Night
Night Flight Helicopter Tour – best nighttime attraction in Las Vegas
One of the most spectacular ways to take in the world's brightest city at night is from above on a Night Flight Helicopter Tour. Fly over several well-known Las Vegas sites while admiring the beautiful Las Vegas Strip illumination.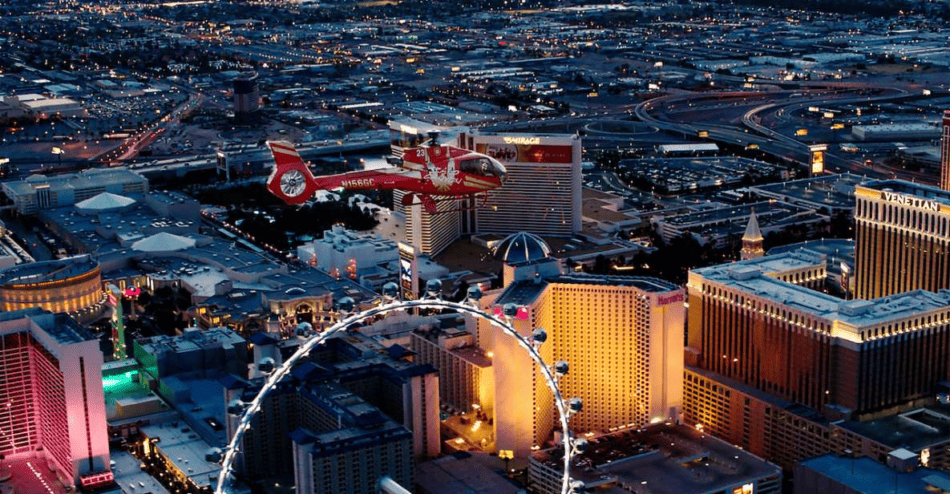 The night helicopter tour is also perfect for couples who desire a more private and intimate experience due to the limited number of individuals who can accompany you.
The best views of Las Vegas can be had when you board an Eco-Star helicopter and soar over the Boulevard. Listen to a live guided commentary as you see the renowned casinos and resorts, Fremont Street, the STRAT SkyPod, and more.
Because this is a night tour, you can choose a tour package that includes a meal served at the end of the trip.
Couples who wish to end their evening in a romantic setting can opt for the dinner package. In addition, free hotel room pickups are included with the helicopter packages.
Open-Top Night Bus Tour – best way to see Vegas by night
You will have plenty of time to explore and photograph the City of Lights with a three-hour night bus trip.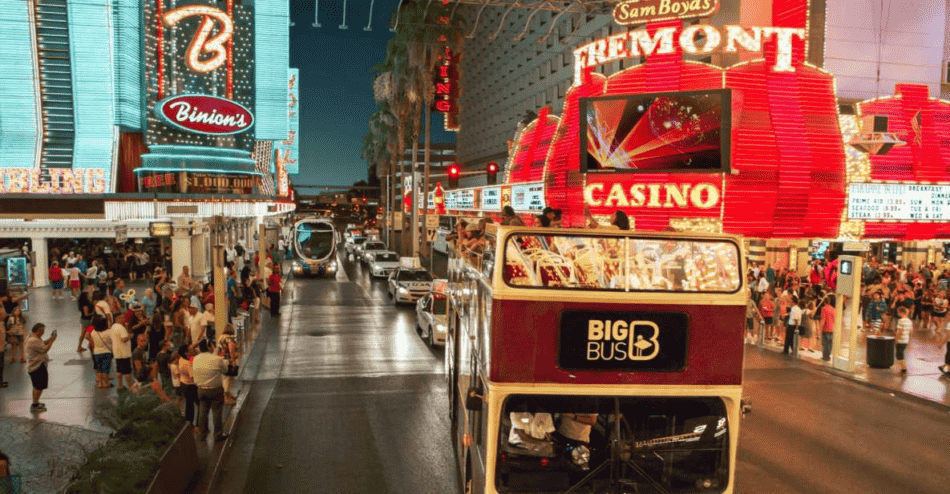 Additionally, you will get access to hop-on and hop-off privileges, allowing you to visit all the famous stations along the Las Vegas Strip.
During the tour, the open deck will guarantee that you get to take in an endless panoramic view of the city.
The numerous landmarks you'll see will be explained by a trained tour guide. The Bellagio Fountains, the Mirage volcano, and the Welcome to Fabulous Las Vegas sign are just a few of the well-known sites to look for during the tour.
Because you'll travel by some of the biggest nighttime attractions like the Welcome to Fabulous Las Vegas sign, the Bellagio Fountains, and the Mirage volcano, this is a very enjoyable thing to do in Las Vegas at night.
The trip includes a narrated stroll down Fremont Street, which I'll describe later as another popular thing to do in Las Vegas at night.
This tour is an excellent choice if you just have a short amount of time in Vegas or are unsure of what to do.
Iconic Performance of the Bellagio Fountains – Las Vegas strip night
The Bellagio Fountains are a sight to behold at any time, but at night they put on their most impressive shows.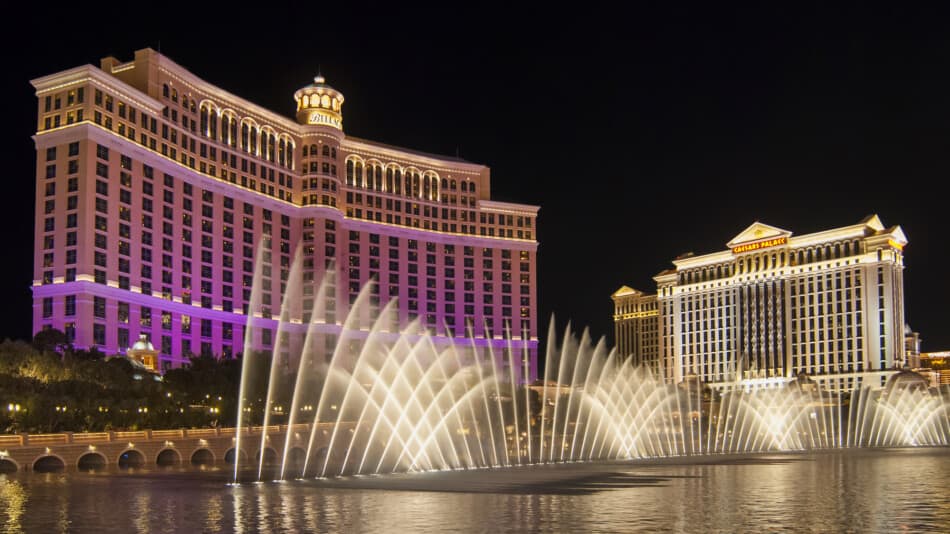 You'll be mesmerized by the amazing show of dancing water when it's combined with the well-considered lighting and coordinated music.
The Bellagio Fountains at the Bellagio Resort provide guests with a unique musical experience every day.
More than 1,200 jet sprayers and nozzles in the Las Vegas extravaganza cause the water to whirl, dance, and twist in time with the music. It has a 450-foot water-shooting capacity.
The Bellagio Fountains, with their elegant musical performances, remain one of the most popular tourist destinations in the world, as well as in Las Vegas. There are no admission costs to take in this great performance.
Visit the Neon Museum – fun things to do at night in Las Vegas
Another exciting location to visit in Las Vegas at night is the Neon Museum, which is also a great opportunity to learn about the city's past. Many consider these to be the best museums in Las Vegas.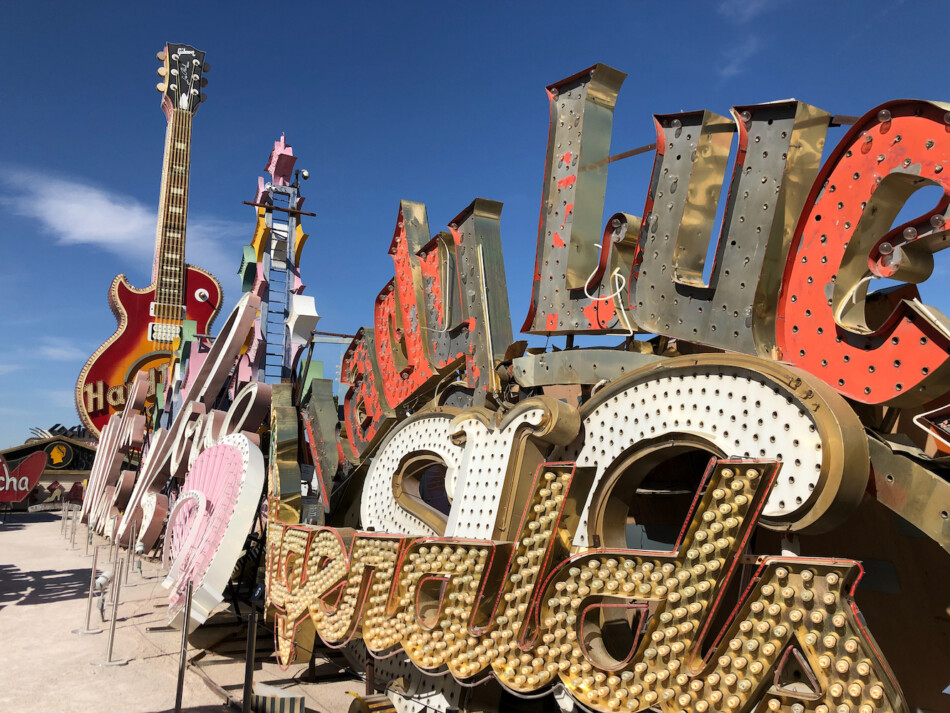 The Young Electric Sign Company, which formerly rented ads and neon signs to nearby businesses, is where the museum got its start.
A sign would be returned to YESCO by a customer once they were through with it, and it would then be stored there.
The warehouse accumulated a variety of intriguing signs over time, and in 1996, the Neon Museum was established as a result. These days, it features many remarkable displays, such as a "Neon Boneyard" filled with several discarded casino and hotel signs.
Walking through the collection is a fun activity for families to do in Las Vegas at night since it appeals to both children and adults.
Attend a Concert
One of the best things to do in Las Vegas at night with friends or a partner is to attend a concert or show. In this city, which is known as the entertainment capital of the globe, you may find just about any kind of show!
During your night in Vegas, you might opt to attend a comedian, a magic show, or a certain band or artist. Additionally, there are burlesque acts, dance troupes, themed performances, and variety shows. Class performers like Elton John and Jennifer Lopez have held residencies in the City of Lights, which is a popular location for residency performances. To find out who is playing right now, visit lasvegas.com or our list of the best shows in Las Vegas!
The Coliseum at Caesars Palace, the MGM Grand Garden Arena, the Brooklyn Bowl, the Smith Center for the Performing Arts, The Pearl, and other venues are among the top places to visit in Las Vegas at night.
Check the schedule, as there are dozens of concerts and a variety of events that you may see virtually every day in Vegas.
Watch Michael Jackson ONE by Cirque du Soleil® to celebrate the artistic brilliance of the "King of Pop."
Golf at Topgolf
One of the best things to do at night in Las Vegas with a group is to enjoy the games at Topgolf. There are a ton of activities at this entertainment club, so even if golf isn't your thing, you'll still have fun.
TopGolf is a high-end golfing destination featuring cutting-edge driving ranges in Las Vegas. At TopGolf, the climate-controlled hitting bays guarantee players' comfort, particularly at night.
At the club, you can take lessons from PGA Teaching Pros who can show you how to hit the ball from various distances. Locals pay far less for things than tourists do.
If you want a more thrilling game experience, go to the course simulator. You can play at distinctive places like the Angel Park Golf Club, Highland Falls Golf Club, and Desert Pines Golf Club using the course simulator.
You can participate in additional enjoyable nighttime activities at TopGolf. You can partake in elegant gatherings, swim in the pool, or play video games in the arcade area.
After dark, this location is changed into a party location with a variety of entertaining things to do in Las Vegas. Spend some time in the arcade lounge or one of the pools. If you're searching for a fun evening activity in Las Vegas, make sure to check out Topgolf, which is located at the MGM Grand Resort.
Fremont Street
The Las Vegas Strip is the most well-known and popular thoroughfare in the city, followed by Fremont Street.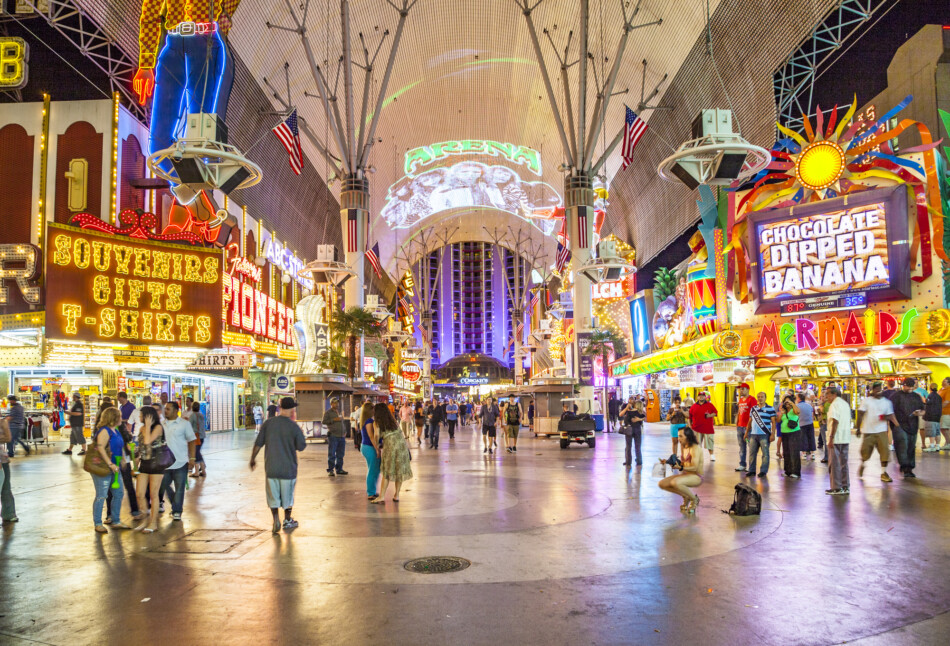 The street, which is in the heart of Las Vegas, offers both locals and visitors a variety of entertainment and shopping options.
If you're looking for more reasonably priced entertainment and gaming options in Sin City, Freemont Street ought to be your first stop.
The original birthplace of Las Vegas is Fremont Street. Its collections of neon signs are legendary, and it is home to some of the best-known original casinos in Las Vegas. At dark, the street becomes the heart of downtown Las Vegas nightlife and is teeming with events.
A downtown shopping center and entertainment complex are brimming with a wide range of must-see attractions and pastimes for all ages.
The barrel vault canopy's Viva Vision light show is a famous sight on East Fremont Street. More than 12 million LEDs make up the enhanced sound system for the light display. The best place in Las Vegas to hang out with your gang is here.
Ride the Las Vegas High Roller
The view of the city from the High Roller Observation Wheel  is distinctive and thrilling. The High Roller is the tallest high roller in the world, standing at 550 feet.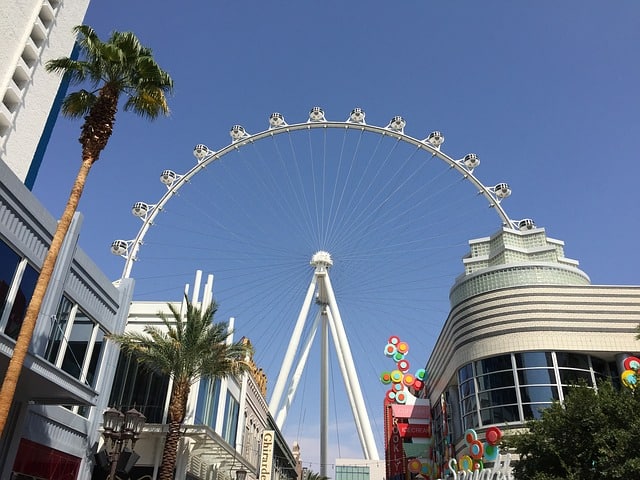 The 520-foot-diameter must-see Las Vegas attraction is the focal point of the LINQ Promenade. You can see Sin City from every angle in just 30 minutes. The 28 weather-controlled cabins on the high roller provide the utmost comfort.
In addition, the breathtaking views of the Boulevard and its surroundings are likely to divert your attention. This observation wheel offers a spectacular view throughout the day, but at night it transforms into the ideal way to observe Las Vegas.
The 2,000 LEDs on the High Roller switch on when the sun sets, producing an amazing light show. Since it's one of the most popular and worthwhile sights, getting a skip-the-line ticket is advisable. 
Gamble at Casino
You must at least attempt casino gambling once when you are in Las Vegas at night.
Many individuals travel to Las Vegas to experience the thrill of walking onto the floor of one of the best casinos and trying their luck at a slot machine or table.
It's understandable why going to a casino is one of the most well-liked late-night activities in Las Vegas, given the surge of adrenaline, the plinking sounds of the games, and the tempting beverages.
You can find what you want at the majority of Las Vegas casino hotels thanks to a good blend of classic games and cutting-edge video machines. Play some penny slots, wager on sports, or participate in a table game. Put on your poker face and enjoy the adrenaline of a nighttime activity on the Las Vegas Strip!
The Eiffel Tower Experience
Visit the Eiffel Tower Experience at the Paris Hotel if you want to experience the City of Lights transform into the City of Love. It's one of Las Vegas's most enchanting attractions at night.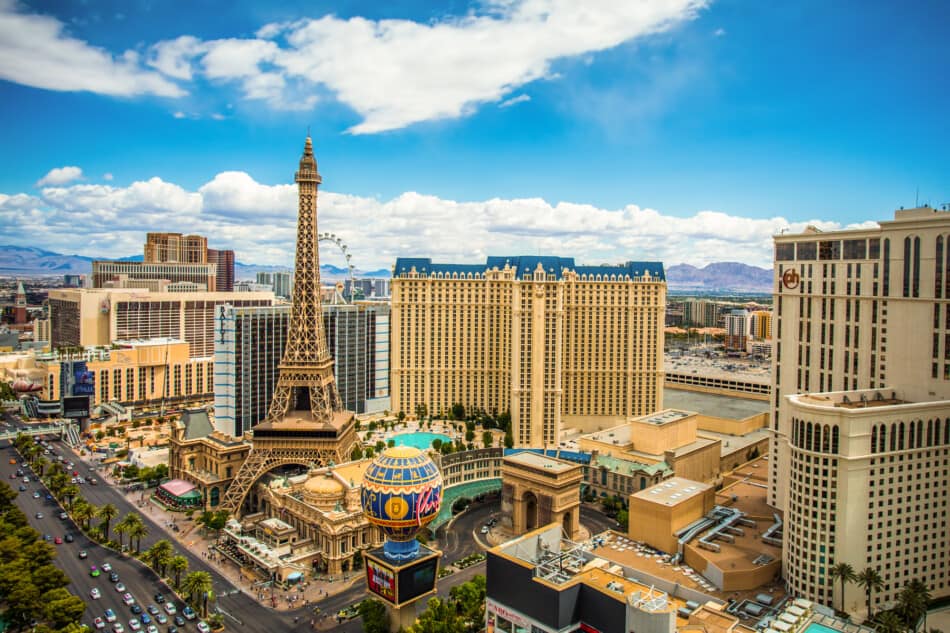 It is a half-scale replica of the real Eiffel Tower in France, and it is located in Las Vegas. Nevertheless, you'll get expansive views of the Strip and its surroundings because of its 460-foot height.
A date at the hotel's gourmet restaurant would be a fantastic thing for couples to do in Las Vegas after dark.
The free light display is another feature that elevates the Eiffel Tower Experience to exceptional status as a nighttime destination in Las Vegas. You can watch it every 30 minutes, and it features synchronized lighting and sound effects.
The viewing deck is a ticketed attraction, but the light show is free, so if you don't have the Go Las Vegas All-Inclusive Pass, get your ticket here.
Lake of Dreams at the Wynn
View the Lake of Dreams at The Wynn if you're looking for free things to do in Las Vegas at night. This light show is an ethereal multimedia production with 5,500 LEDs, puppets, and cutting-edge sound effects.
The stunning three-acre fantasy country was constructed by Hollywood set designers for the quirky set, which was whimsical.
While dining at one of the resort's restaurants or from one of The Wynn's lounges on the terrace level, you may view the performance. For kids visiting Las Vegas, it's the ideal activity, and they'll adore the singing frog puppet that plays during the performance.
Starting at dusk, you can view the Lake of Dreams every 30 minutes. The Wynn is one of the best places to visit in Las Vegas at night, especially with kids, thanks to its fun atmosphere and a 90-foot waterfall.
Drink at Harrah's Carnaval Court
Carnaval Court, one of the best venues to go out in Las Vegas at night, has blackjack tables, live DJs, and amusing bartenders.
Harrah's Carnaval Court is a vibrant nightlife location in Vegas. The outside area was designed and assembled to go with Harrah's Mardi Gras concept.
Going here is like going to a huge party right in the middle of the Strip. Play a game at the table or go to the bar and get a drink. Bartenders at Carnaval Court are renowned for their flair; they will create your beverage in style.
This location is open 24/7, and on the weekends it is open until the early hours of the morning. It's the ideal late-night activity in Las Vegas if you want the party to last all night!
Dine at Strat Skypod
One of the finest spots to go in Las Vegas at night is the STRAT Hotel, especially for its stunning SkyPod. It is a well-known landmark on the Las Vegas Strip and stands 1,149 feet tall, making it the tallest freestanding observation tower in the United States.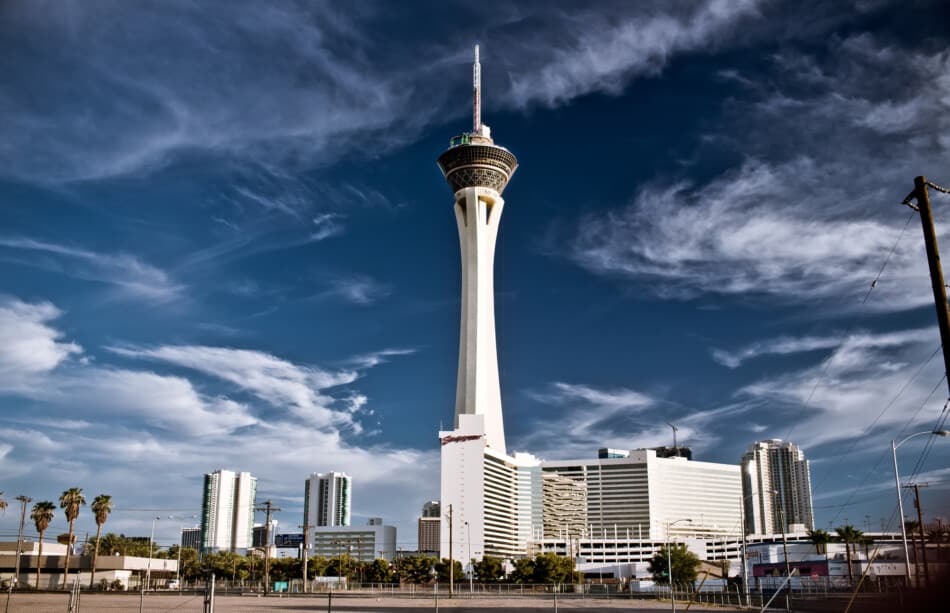 Take the elevator to levels 108 and 109 to reach the observation decks, where you'll find breathtaking panoramic views of Sin City and its surroundings. If you enjoy the Vegas nightlife, stop by the 107 SkyLounge for late-night nibbles and cocktails while taking in the breathtaking view.
If you're traveling with a significant other, think about spending a romantic evening 800 feet above the ground in the 360-degree rotating dining room of the Top of the World Restaurant. Alternately, exchange vows in the STRAT's wedding chapel!
You may find thrilling rides atop the SkyPod that will send any adrenaline junkie's heart racing. To give you an idea of how intense they are, one of these extreme attractions requires leaping from an 829-foot height and plummeting through the air at 40 mph.
Mirage Volcano
Another fantastic light show to see in Las Vegas at night with the family is the Mirage volcano. You can't miss it, as it is situated at the main entrance to Las Vegas Boulevard.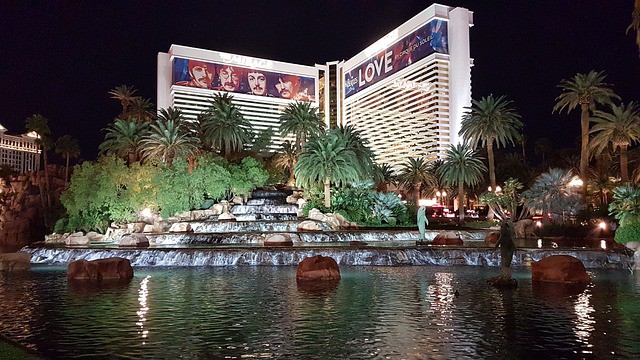 One of the most well-liked free things to do in Las Vegas is to see the volcano display, and it's easy to understand why. The eruption features intricate explosions and up to 12-foot-high fireballs. You might feel the heat of the flames or detect the pia colada scent of the smoke effects while you watch the performance.
Two volcanoes and a lagoon with waterfalls make up the set, which produces a lovely spectacle in front of the Mirage resort. It is accompanied by music by renowned Indian musician Zakir Hussain and Grateful Dead drummer Mickey Hart.
The volcano has undergone upgrades and additions throughout the years and is still among the top destinations in Las Vegas at night.
Include seeing the volcano erupt every hour between 7 p.m. and 10 p.m. every day to your list of things to do in Las Vegas at night.
Relax at Pool Party
One of the primary motivations for checking out the Las Vegas nightlife is the famed pool parties. These aren't the typical pool parties you've previously attended.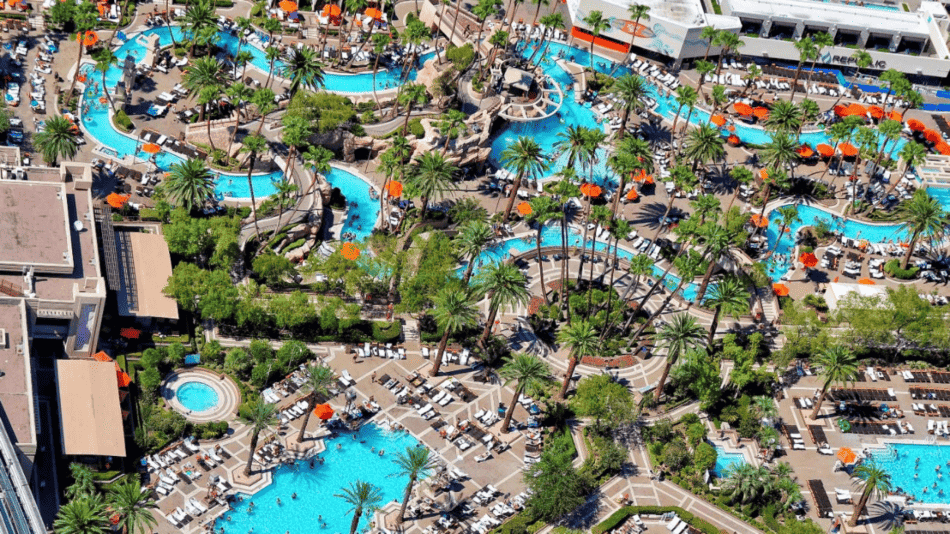 Imagine spending the evening swimming, dancing to great music, and sipping specialty drinks. The pool party scene in Las Vegas mixes incredible nightlife with a calm, pleasant experience in the water.
Pool parties are held at numerous nightclubs, and most of them have a theme. You can get VIP tickets or a cabana if you don't want to mix it up with the crowd. Gourmet chefs may be present at some pool parties to guarantee a steady supply of food and bites.
Go to Parties
When it gets dark in Vegas, there's no need to hide away; instead, put on your dancing shoes and join a Vegas Rockstar Nightclub Tour to meet some awesome new people.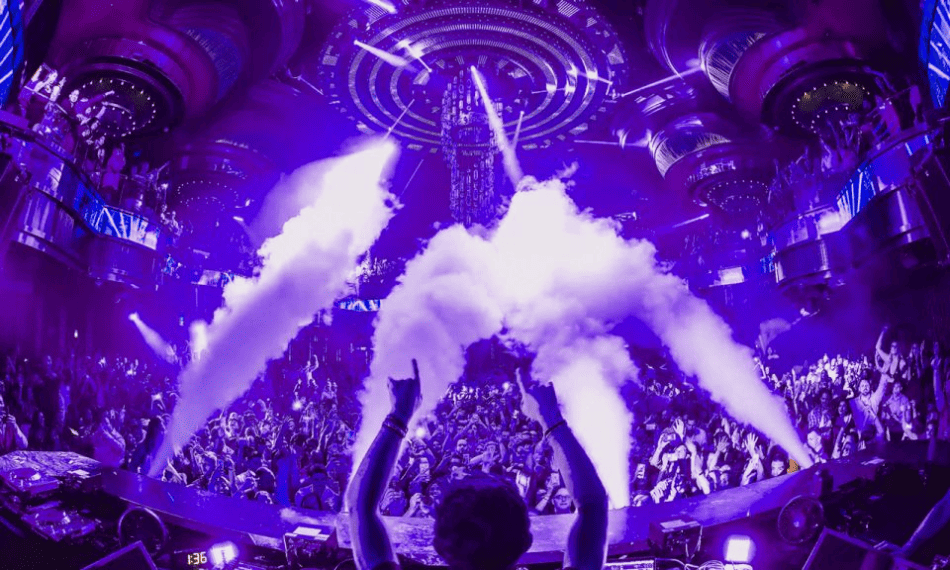 Spend the next five hours feeling like a VIP as you get to skip the line at three of Vegas' most well-known clubs after meeting your host in a top-tier Ultra Lounge on the iconic Las Vegas strip.
The opulent Limo Party Bus will take you from club to club and has a complimentary bar on board, so conversation should be easy. Or how about a rockstar pool party if you'd rather party throughout the day?
This time, you'll meet at a day pool club, visit the Las Vegas Strip, and then be dropped off at one of the city's hottest pool parties.
By the time you arrive, your limo will be packed with new friends for you to party with. You'll still receive the same VIP service and enjoy an open bar. Book tickets for the Party Bus
Be immersed in a Show
Being alone shouldn't stop you from having fun in Vegas, and seeing a performance is a crucial component of that.
Additionally, Las Vegas acts are so engrossing that you won't even realize you're alone! With Go City, you can decide to spend the evening having a good time in Los Angeles.
Comedy Club at the STRAT, dancing and singing along to Legends in Concert tribute acts or remembering The Beatles' LOVE by Cirque du Soleil, a multi-sensory production that uses ballet, graphics, and aerial acrobatics to portray the narrative of the Beatles through their songs.
Alternately, you may witness the Blue Man Group's intriguing fusion of painting and percussion, perhaps even getting splashed with color!
Some of my favorite shows to go see in Vegas are:
"O" by Cirque du Soleil at Bellagio
Michael Jackson ONE by Cirque du Soleil
KÀ by Cirque du Soleil at MGM Grand
Discover the Street Art in Downtown Las Vegas
In the heart of the city, there is a ton of fantastic street art! This is a lot of fun to watch while traveling alone!
Due to this, taking a tour of Las Vegas Street art is equally incredible. Together with a local expert, you stroll around the city's streets during this trip. The works of art you see on the streets may be explained in detail by this local expert. That's why it's fascinating.
Additionally, you go on this street art tour with others. When you go on a solo trip to Las Vegas, this makes it feasible to meet new individuals. Additionally, you might meet some new people at the same time!
See the Flamingoes at Flamingo Hotel
You can see real-life flamingos on the Las Vegas Strip. The Wildlife Habitat, which is housed at the Flamingo Hotel, is home to exotic birds, fish, and flamingos.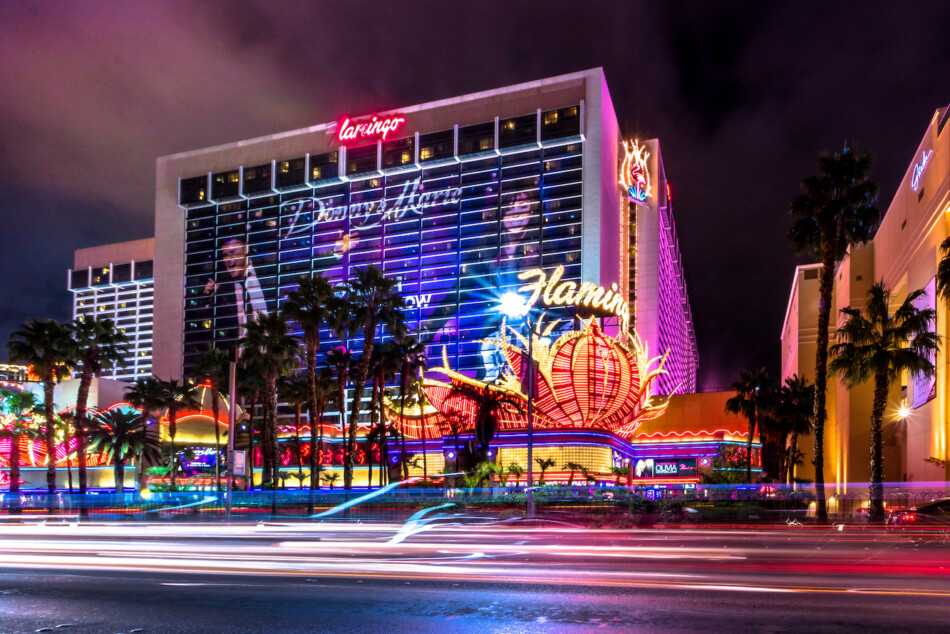 There's no better site for flamboyance than right here at the Flamingo, which is more of a habitat than a zoo. This tranquil haven from the Strip's hustle and bustle is full of photo opportunities and a chance to observe a lovely area of nature up close.
The 15-acre habitat is open to the public every day. Take a picture with one of the parrots while you're here, or watch the animals get fed regularly.
Have a drink at Stratosphere
The Stratosphere Observation Deck is a staggering 1,149-foot-tall building, making it the largest of its kind in the entire country. This is one cheap thing you can do in Vegas with your whole family.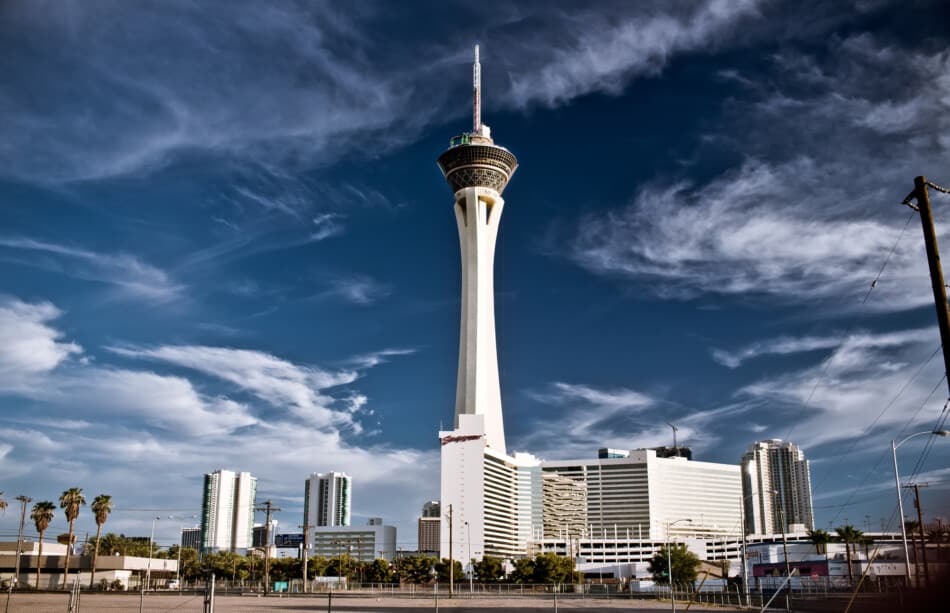 While you won't spend the entire day on the Observation Deck, it is a fun way to spend an hour or two with your family or partner while having a drink, especially when you first start arriving in Vegas because the views from the Observation Deck provide a sense of your surroundings as well as the overall Las Vegas layout in a way that only being over 1,000 feet above ground can.
Watch the Light Show at Bally's
Every night, the Grand Bazaar Shops at Bally's rooftop canopy comes to life. This light show is headlined by a Swarovski Crystal Starburst that rises above the Grand Baraaz Shops and can be viewed from all over Las Vegas Boulevard, set to custom-created music.
Every 15 minutes, the performance takes place every night.
Watch Lake of Dreams at Wynn Las Vegas
The Lake of Dreams is a water park located at the Wynn Hotel and Casino. A nightly show takes place at the Lagoon of Dreams, a 40-foot waterfall, and lake.

Eat at Giada's for Dinner
For years, Giada De Laurentiis' Italian entrées with a California twist have been a hit.
In a warm and comfortable environment with amazing strip views, enjoy specialties like lemon pasta and Marsala herb chicken meatballs. Don't forget about the bread basket.
Everyone can choose from a variety of specialty menu options. Simply inform your server, and they will walk you through the menu options or prepare something special for you, such as house-made gluten-free pasta.
Listen to the Dueling Pianos at Eastside Lounge At Wynn
This day and nightclub at the Wynn is a popular spot for young and social partygoers who want to see big-name DJs, with daybeds and private cabanas that you and your better half can book in advance.
While sipping an expertly handcrafted cocktail and sampling tasty snacks and specialties at Eastside Lounge, you may take in amazing views of the Encore resort pool. The classic and unique cocktail menu is rounded up with a wide assortment of spirits, wine, and beer.
Visit Skybar at the Waldorf Astoria
Skybar is a place where modern design meets Vegas flair. This 23rd-floor Skybar, perched far above the Las Vegas Strip, is a unique blend of beautiful décor, stunning vistas, and a sophisticated ambiance.
Mixologists from all over the world handcraft their astounding variety of drinks, which range from traditional favorites to quirky variations. For pre-show or late-night, the light bites and expertly made beverages are a must.
Have Dessert at Momofuku Milk Bar
Momofuku Milk Bar has swiftly established itself as the go-to dessert spot for everyone in need of a sweet delight (not to mention a staple for all basic Insta bloggers). Though Momofuku Milk Bar serves some of the best desserts, the business is known for more than just desserts.
Milk Bar is the offspring of the Momofuku Group, which operates a variety of restaurants ranging from noodle bars to ramen locations to fried chicken sandwich joints. Milk Bar is well known for its Cereal Milk soft serve, but it also provides a variety of other delicious desserts.
They're known for their sumptuous pastries, pies, and, of course, an entire array of cereal milk-based menu items. This pleasure heaven, never one to rest on their laurels, is converting a large chunk of their menu to soft-serve ice cream.
Recent Posts