15 Outdoor Things to do in Las Vegas – Outdoor Adventures
Las Vegas Outdoor Attractions: Are you wondering what can you do outdoors in Vegas? There are so many adventure activities near Vegas.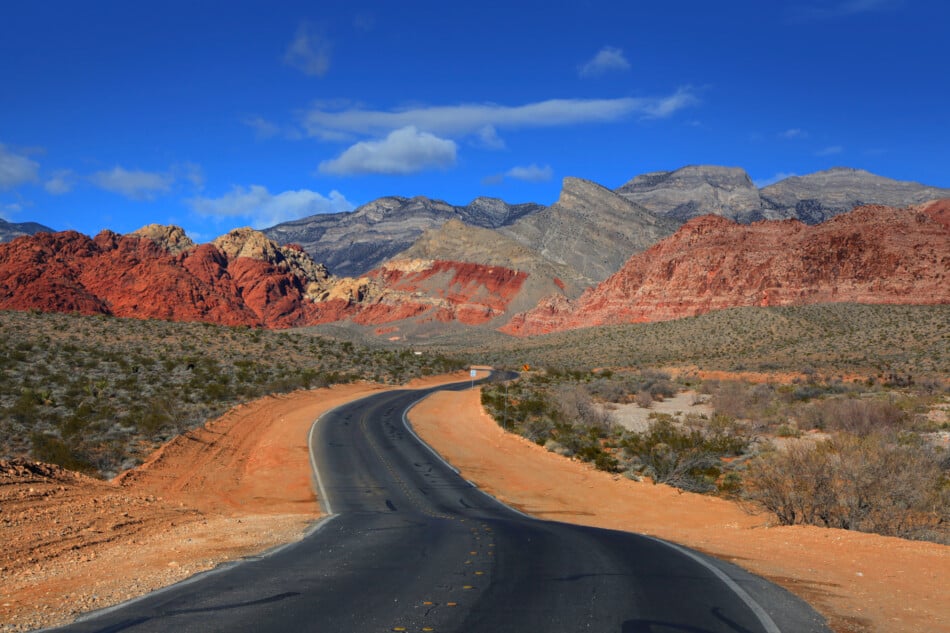 If you are looking for fun outdoor activities in Las Vegas you should venture off the strip. Many of these Las Vegas outdoor attractions have an option to sign up for a tour that will pick you up at your hotel. Otherwise, I recommend renting from Discover Cars.
Is Las Vegas is good for outdoorsy people? There is more to Vegas than casinos and clubs. Ask any local and they will tell you there is more to Vegas than the strip. Vegas has access to State Parks, National Parks and so much more that you can find on this list of adventure activities in Las Vegas
Thank you for supporting this website written by an American. This post may contain affiliate links. This means I earn a small commission on these links at no extra cost to you.
15 Amazing Las Vegas Outdoor Activities You Won't want to Miss!
Visit the Valley of Fire a Popular Las Vegas Outdoor Activity
Valley of Fire, a red rock mecca is located 45 minutes northeast of Las Vegas. You'll be in dessert nirvana with the numerous family-friendly treks, petroglyphs, well-marked trails, and animals.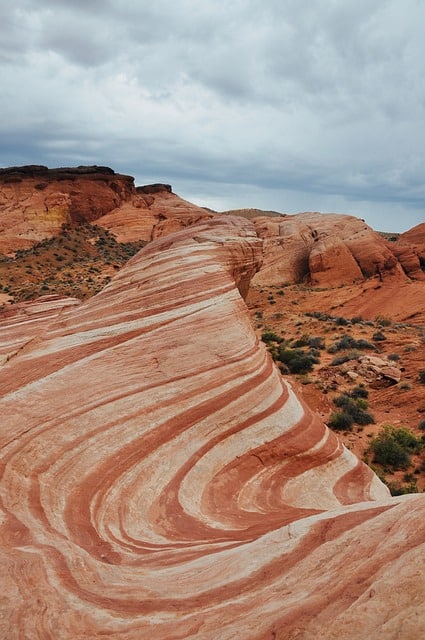 This oldest and largest of Nevada's state parks, Valley of Fire State Park, is made out of vivid red Aztec sandstone. Petrified trees, 2,000-year-old petroglyphs, and great hiking trails can all be found just an hour northeast of Las Vegas in this gorgeous park.
The majority of Valley of Fire's hiking trails are short, so you can get a lot done in a single day. The Fire Wave Trail, which leads to a beautiful rock that folds into a rainbow of reds, oranges, yellows, and pinks and rivals The Wave, is not to be missed. Natural Arch and Elephant Rock are two other popular Valley of Fire Hikes.
Use the flush facilities and acquire hiking recommendations at the Visitor's Center, where you can also get a basic introduction to the area's history and topography. You can also get your Nevada State Parks Passport stamped while you're there.
Visit Lake Mead Recreational area – one of the top Free outdoor activities near las vegas
Lake Mead is a boats' and hikers' paradise, making it one of the top outdoor activities in Las Vegas. A drive across Lake Mead National Recreation Area is a magnificent, gorgeous day, with meandering roads and ecology, picturesque red rocks, and vistas of the Muddy Mountains.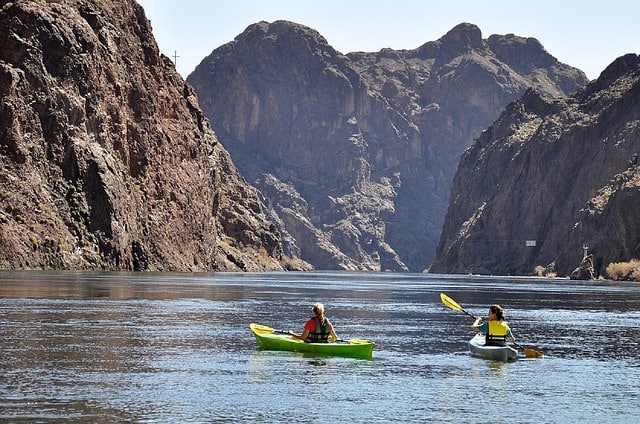 Along the road, there are numerous locations to stop for a picnic or to rest. Since Lake Mead is so large and the road does not run parallel to the shore, anglers and boaters should be aware that they will have to drive into any of the bays. Take a boat tour of the lake or spend the day at the beach along the shore.
The Alan Bible Visitor's Center, located in Boulder City on the road to the Hoover Dam, is a must-see for families. The visitor's center contains a small, but a jam-packed interactive museum with animals and local history that presented a wealth of knowledge about Lake Mead's origin.
Hike to Ringbolt Hot Springs – things to do in Las Vegas outdoors
The blistering and secluded Ringbolt Hot Spring is hidden along the Colorado River, just south of the Hoover Dam. If you're trying to disconnect or need some rest and relaxation, this is the place to go.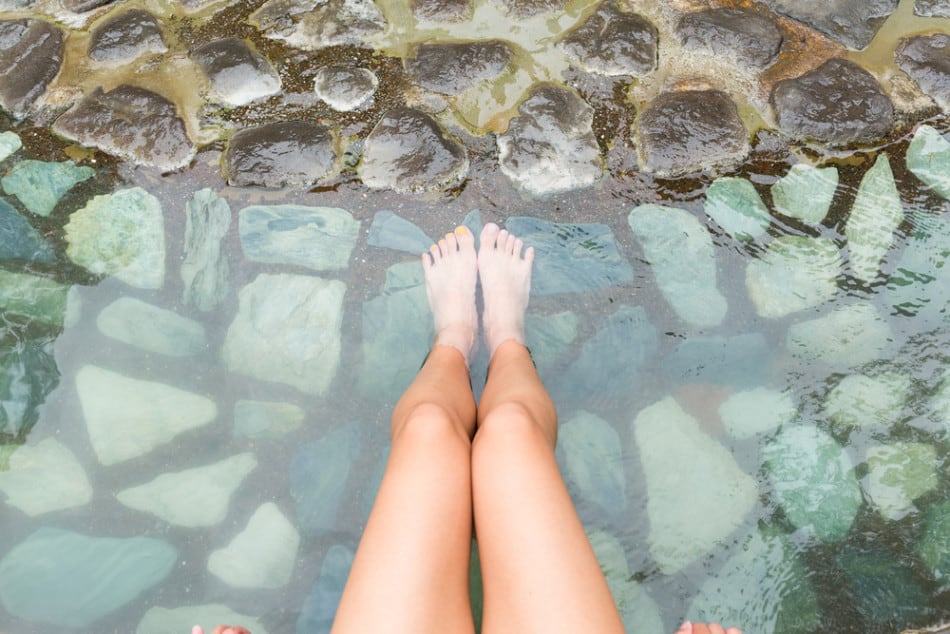 The Ringbolt Hot Spring, also known as Arizona Hot Springs, is a 5.7-mile circular trail with a hot spring that draws a large number of visitors. These springs provide visitors with a once-in-a-lifetime opportunity to experience nature's version of a hot bath.
You'll have to climb through narrow, twisting slot canyons and scramble over boulders to get to these hot springs. You can even use a handmade ladder to scale a 20-foot waterfall to reach the Colorado River, where canoers and campers set up tents for the night.
Once you arrive, you can relax your muscles in the hot springs, which range in temperature from 111 to 120 degrees Fahrenheit.
This outdoor experience is only 40 minutes from the famous Las Vegas Strip if you're looking for a unique day trip from Las Vegas.
Check out my post on the Best Hot Springs in Arizona
Take a Hot Air Balloon 
There is complete cell service in the air, which is convenient. The Hot Air Balloon is the perfect setting for "going live," recording your stories and taking the ultimate photo high above the desert scenery with no obstructions.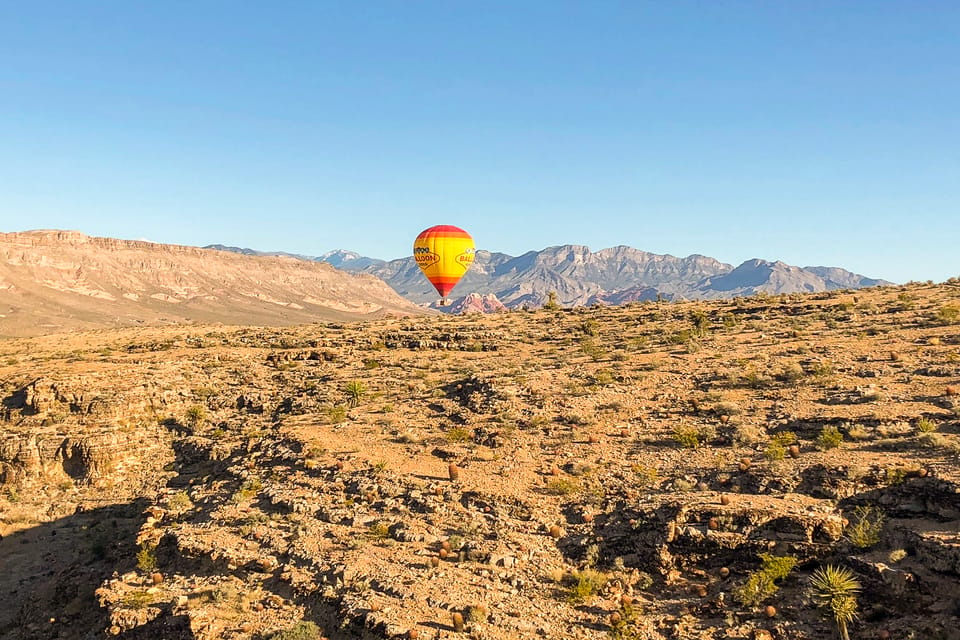 Hot Air Ballooning is the perfect blend of relaxation and adventure, giving you the best of both worlds. The exhilarating sensation of floating 1,500 feet in the air is an unforgettable experience, especially when done in equipment directed solely by the elements.
This Las Vegas balloon flight takes you high above the valley with a 360-degree view of the Pahrump area, where you'll stare out over the desert city for over an hour. Spectacular birds-eye views of the Spring and Nopah Mountain Ranges, majestic views of Death Valley, and far-reaching views towards Eastern California will be available during the 45-60 minute flight. Watch for desert wildlife, take that all-important selfie, and chat with envious onlookers as you glide silently and gently over the countryside.
There are also numerous photo opportunities available along the road. After the trip, toast your arrival with some bubbly and breakfast fare. Toast your captain and enjoy a full breakfast.
Emerald Cave Kayak Tour – one of the ultimate outdoor things to do in las vegas
Emerald Cave, a beautiful natural site on the Colorado River, offers peace and tranquility.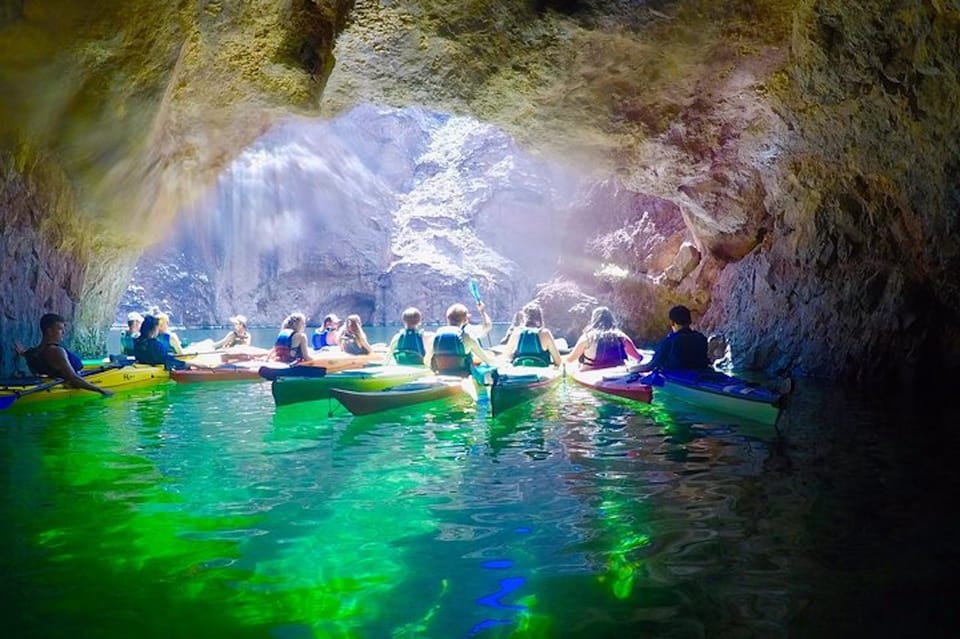 This kayaking tour, a natural wonder of Nevada, offers a refreshing change of scenery from the city lights. Whether you go along the Colorado River or Lake Mead, the fresh air will be greatly appreciated.
Choose a twilight paddle in the Black Canyon for the ultimate romantic experience, with the night sky free of city lights. A small group of up to 15 individuals paddles up the river with a guide on this tour.
The guide points out wildlife and geological characteristics while you float, so you can learn about your surroundings while having fun. Along the way, you can stop for food and swim. From Las Vegas to Willow Beach, Arizona, round-trip hotel transportation is also available.
Visit Red Rock Canyon – Las Vegas nature attractions
The Red Rock Canyon National Conservation Area is located about 17 miles west of the Las Vegas Strip and only a short car ride away.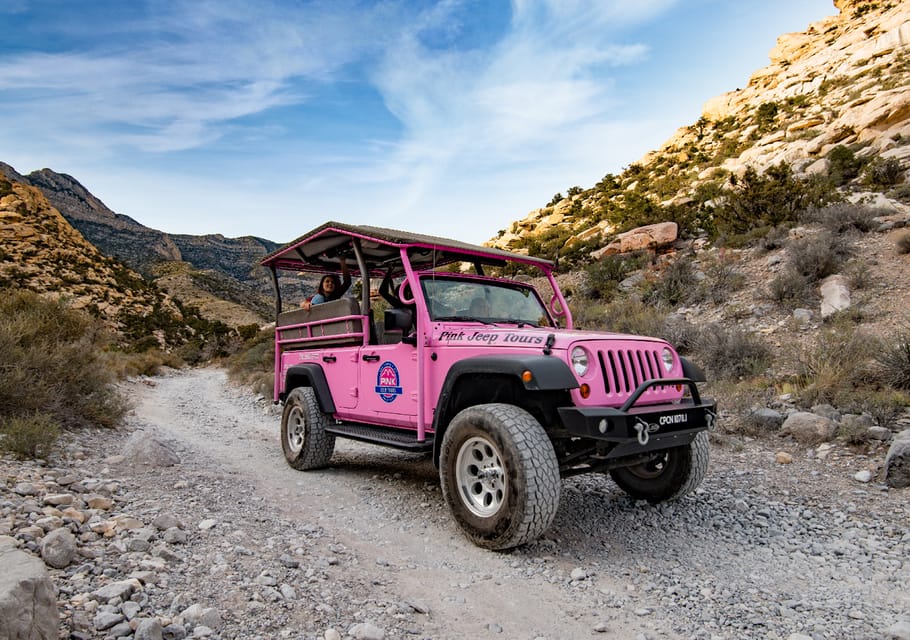 At Red Rock Canyon, there is something for everyone. If you only want to explore the canyon and take some photos, you may simply drive through it and pull over when you find a good stopping point.
If the weather is particularly hot, visitors can enjoy a 13-mile scenic drive from the air-conditioned comfort of their car, or they can enjoy a picnic in the fresh air. If you're feeling more adventurous, you can go hiking, rock climbing, bicycling, or camping. There is something for everyone among the many hikes and trails available.
Riding in a cutting-edge Jeep Wrangler is an exciting upgrade to the Red Rock Canyon Classic tour. You'll be on the natural side of Las Vegas within minutes after leaving the Strip.
The scorching Red Spring Mountain Range, fossilized dunes, and brightly colored Calico Hills are all sights to behold. Your guided tour of this 13-mile (21-kilometer) picturesque circle, as well as Rocky Gap Road, will awe you with its natural splendor.
Tour the Hoover Dam – things to do outside of Vegas
On the Nevada-Arizona border, the Hoover Dam, which is only 30 minutes from Las Vegas, is a site that everyone should see at least once in their lifetime.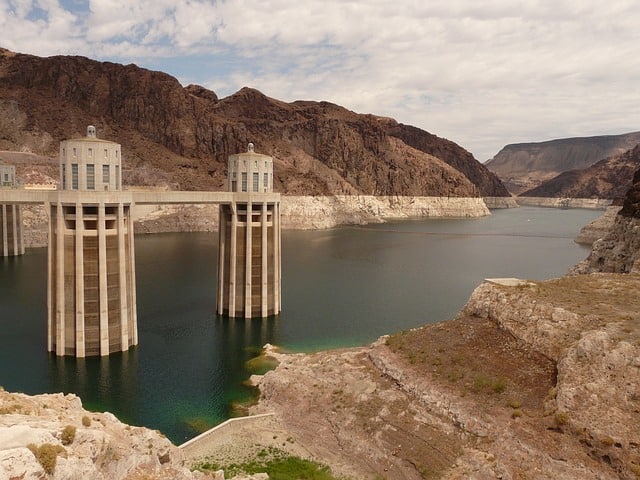 The Hoover Dam, an engineering marvel, has enthralled generations of people for years. The Colorado River, which flows through Nevada and Arizona, is impounded by this dam in the Black Canyon.
Take a walk up to the Hoover Dam Bypass Bridge Walkway for a breathtaking bird's-eye view of the dam and the Colorado River below. Stop by Hemenway Park, where you'll frequently see desert bighorn sheep.
For sweeping views of the man-made aquatic wonder, continue to the Lake Mead Lookout. After that, travel across the dam to several viewpoint points and make sure to stop for photos at the most scenic areas.
For many years, the Hoover Dam has been a major tourist attraction in Las Vegas, and it is widely regarded as the best thing to do when visiting. The Hoover Dam also offers self-guided tours daily.
Seven Magic Mountain – fun outdoor things to do near Vegas
Seven Magic Mountains, a large-scale site-specific public art project by internationally famous Swiss artist Ugo Rondinone, is located near Jean Dry Lake and Interstate 15, about ten miles south of Las Vegas, Nevada.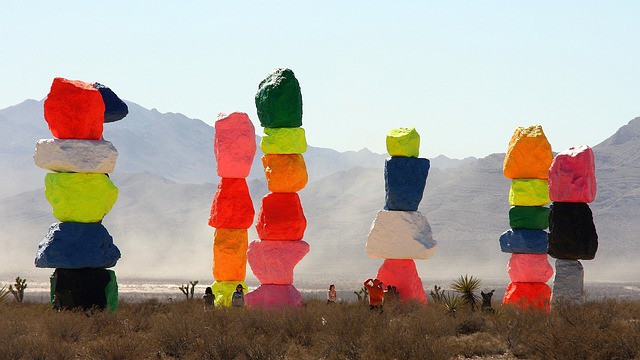 Seven Magic Mountains consists of seven towers of colorful, stacked boulders standing more than thirty feet high. It is also a poetic burst of form and color that punctuates the Mojave Desert as a creative statement of human presence in the desert.
These brightly colored boulder stacks have become a popular photo destination. It's a simple add-on to any trip since it includes round-trip transportation as well as optional stops at the Hoover Dam and Red Rock Canyon.
Visit Zion National Park
Explore Zion and Bryce Canyon National Parks, two of the most breathtakingly magnificent destinations in the United States. In one spectacular day, it will take you on a trip across two national parks.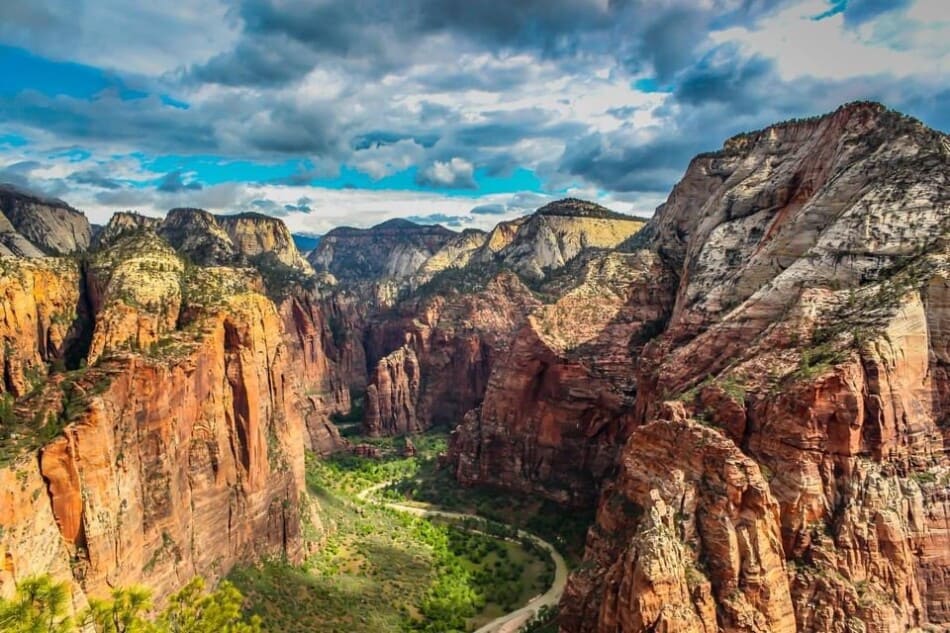 First, take in the stunning sandstone cliffs that loom over Zion National Park's valley floor. Your tour will include a stop at the visitor center, an ascent up the mountain pass and via the mile-long tunnel, as well as a halt at Checkerboard Mesa before continuing to Bryce Canyon National Park.
Then visit Bryce Canyon's amazing natural amphitheater. Enjoy amazing views of the distinctive hoodoos and landscape as you walk along the rim of Bryce Canyon. Hike into Bryce Canyon to wander among the hoodoos and take in the scenery.
Take advantage of the great photo chances and take in the breathtaking mountain scenery. A knowledgeable guide can also help you understand more about the parks.
Visit the Grand Canyon via a Helicopter Ride 
One of the best things to do in Vegas is taking this tour. On a helicopter flight from Las Vegas, take in breathtaking vistas of the Grand Canyon.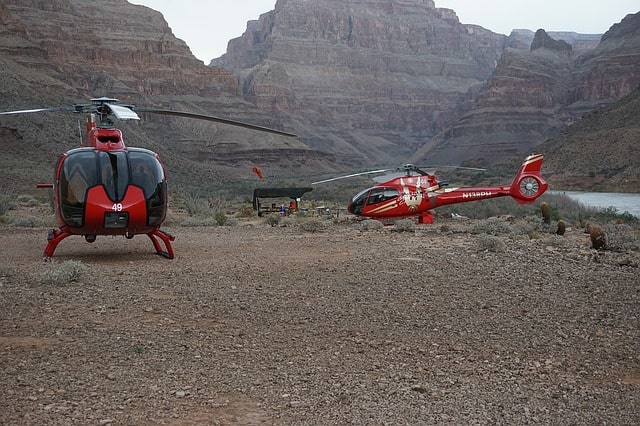 Arrive at the canyon to be welcomed with champagne and snacks, as well as hotel pickup and drop-off.
Your helicopter flight will begin with a limousine pick-up and transportation to McCarran airport, from whence you will fly to the Grand Canyon West Rim for a breathtaking view of Vegas, Lake Mead, and the Hoover Dam!
It lasts anywhere from 20 to 90 minutes (depending on where you sit) and allows people to get up close and personal with one of America's most iconic natural landscapes. After your helicopter tour arrives at the West Rim, you get to land below the rim of the Grand Canyon and enjoy a champagne toast and light bites.
Flyback through the Grand Canyon as the sun sets using the sunset option. As you soar above Las Vegas at sunset, take in the scenery and admire the city lights below.
Visit a Water Park near Vegas
There are countless water parks in Las Vegas that are absolute havens, whether you want to splurge or simply enjoy the view.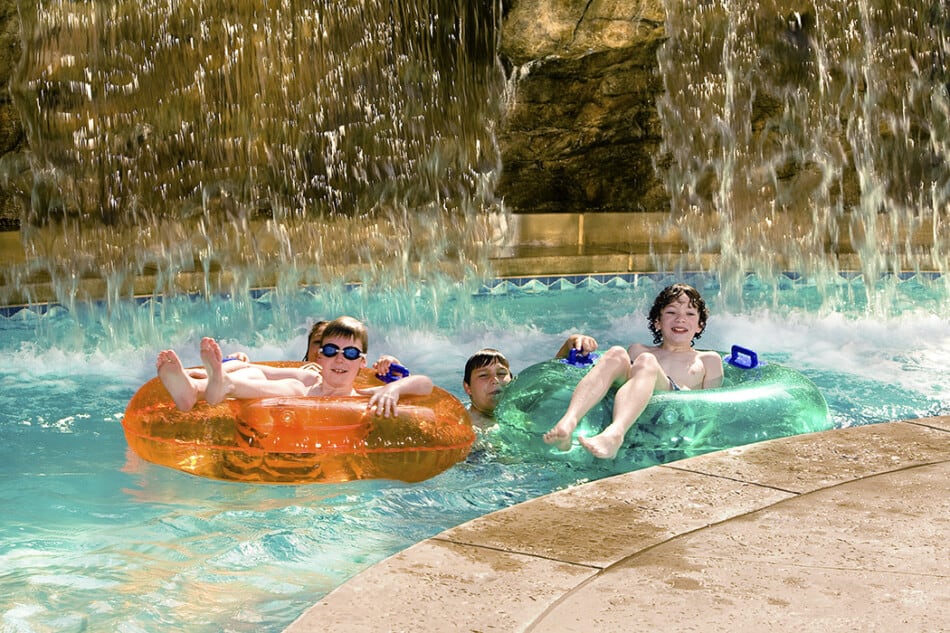 A visit to the Wet n Wild Water Park in the Nevada Desert is the perfect way to cool off. The watery oasis has over 25 rides and slides to keep you delighted. Among the attractions are high-speed water slides, a lazy river, and a beach area.
Throughout the summer, the park conducts themed nights to add to the fun. They host a dive-in movie on Friday nights and DJ sessions on Saturday nights.
Check out my post on all the Best Water Parks in Las Vegas
Go Golfing
The Las Vegas Paiute Golf Resort, nestled in the undisturbed beauty of the Southern Nevada desert and conveniently located 25 minutes northwest of the world-famous Las Vegas Strip, is an international golf destination with three of Nevada's top championship golf courses and a 50,000 square foot, award-winning clubhouse with a full restaurant and bar.
This was the first multi-course facility developed on native American property, and it was owned and administered by the Las Vegas Paiute Tribe. All three courses were created by Pete Dye and are among the Top 15 "Best Courses You Can Play" in Nevada.
While the wind can make golf more difficult, the experience and scenery whether playing Snow Mountain, Sun Mountain, or the Wolf are breathtaking.
Guests may play all day and never see the same hole twice, with to the 54 championship holes and 360-degree views. The Las Vegas Paiute Golf Resort – home of the "Vegas Trifecta" and where One-of-a-Kind now comes in Threes – is the ideal setting for your Vegas golf experience, tournament, wedding, or special event, located 2800 feet above sea level.
Visit Mount Charleston
There are many hikes to choose from in Las Vegas, and the best spots change depending on the season. In the summer, take a trip up to Mount Charleston to escape the heat. Temperatures here can be up to 20 degrees cooler than in downtown Vegas due to the higher elevation.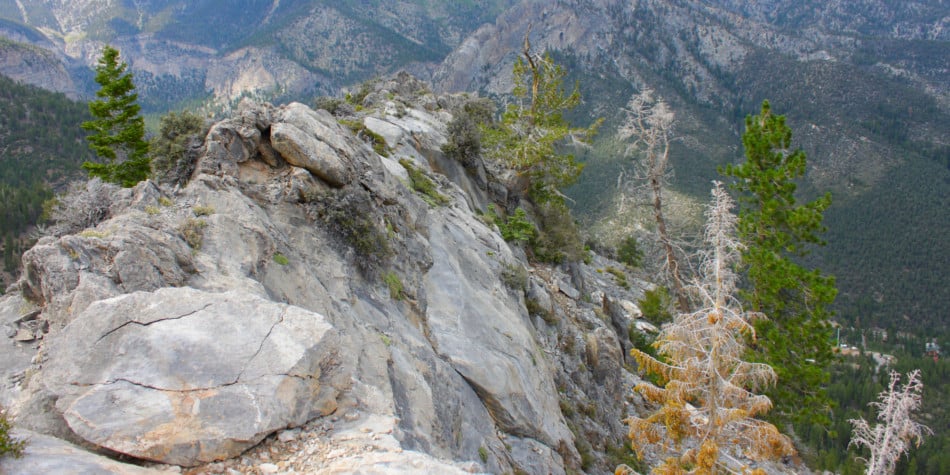 You'll be surprised to learn that you're only 50 minutes from the Strip, surrounded by ponderosa pine, bristlecone, and aspen trees. The aspens turn a beautiful yellow color in the fall, making this a great place to go near Las Vegas.
The Raintree Trail is a forested trail with a 3,000-year-old bristlecone pine tree as its major attraction. Mary Jane Falls, which ends in a seasonal cascade, and Cathedral Rock, which has breathtaking vistas of the surrounding mountains that look nothing like what you'd anticipate in Vegas, are two of the Mt. Charleston visit you may take.
Spring Mountains National Recreation Area is an excellent spot to camp and explores outside of the winter months. There are various paths in this mountain wonderland, ranging from moderate day hikes through ponderosa pine and juniper to the hike to the top of Charleston Peak, which stands at 11,916 feet.
Check out my post on Where to go Hiking near Vegas
Gold Strike Canyon Hot Springs
Gold Strike Canyon is another popular hot spring near Las Vegas. These hot springs can also be reached by paddling the Black Canyon or hiking in.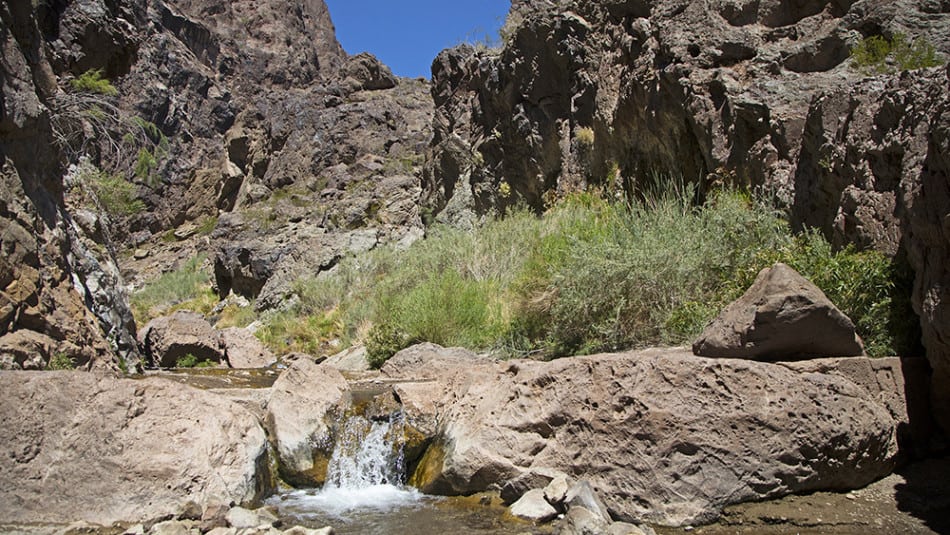 If you hike in, you can expect third-class scrambling and bouldering as you navigate an 8-rope course that weaves in and out of house-sized rocks. 
This entertaining, challenging hike is a well-kept secret. It has gorgeous canyons, rock scrambling, and three scenic hot springs, making it ideal for those who enjoy a challenge as well as a peaceful soak. This secret gem is only now being discovered by locals.
This hike passes via three hot springs. Depending on the time of year, the first spring may be dried up. Instead of soaking here, go to the second spring, which is warmer and near to a cold "secret" cave (the Cave of Wonders).
The hike back is difficult because you will most likely be damp or have wet feet, so be careful on the slippery boulders! This is an all-day adventure, but it's well worth it for a peaceful soak!
Check out my post on the Best Hot Springs in Nevada
Recent Posts