15 Stunning Caverns in Utah – Hidden Gems you must see!
Looking to go exploring caves in Utah? This list includes the best caverns in Utah to visit.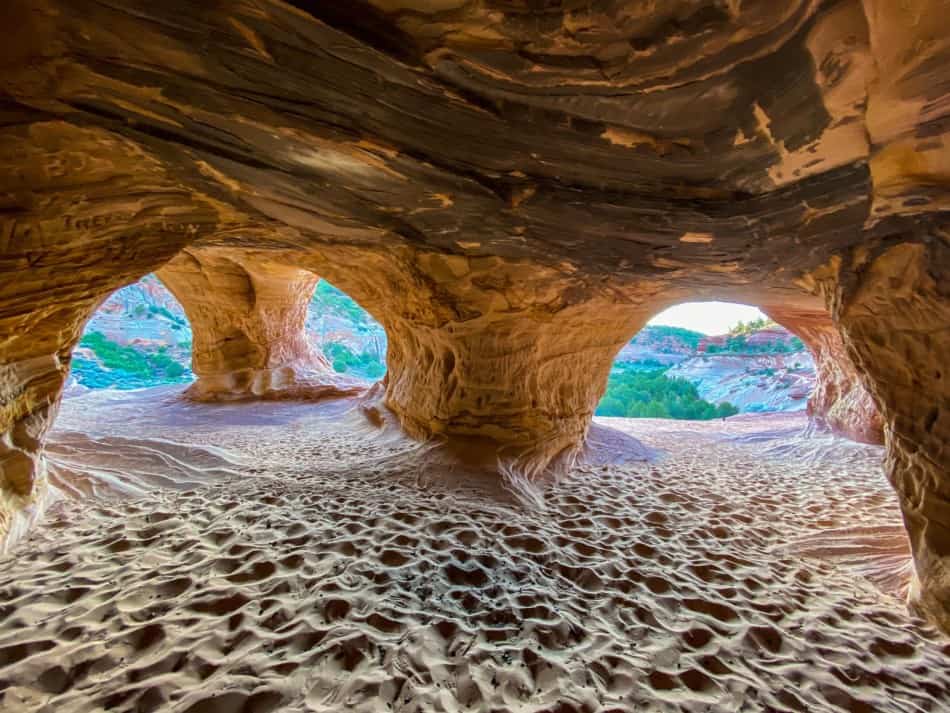 Timpanogos Cave
Timpanogos Cave is located in American Fork Canyon, along Utah's heavily settled Wasatch Front and it is well-known for its colorfully decorated caverns. Near the entrance to the cave, you will see tiny fossilized shells and coral embedded in the desert limestone cliff.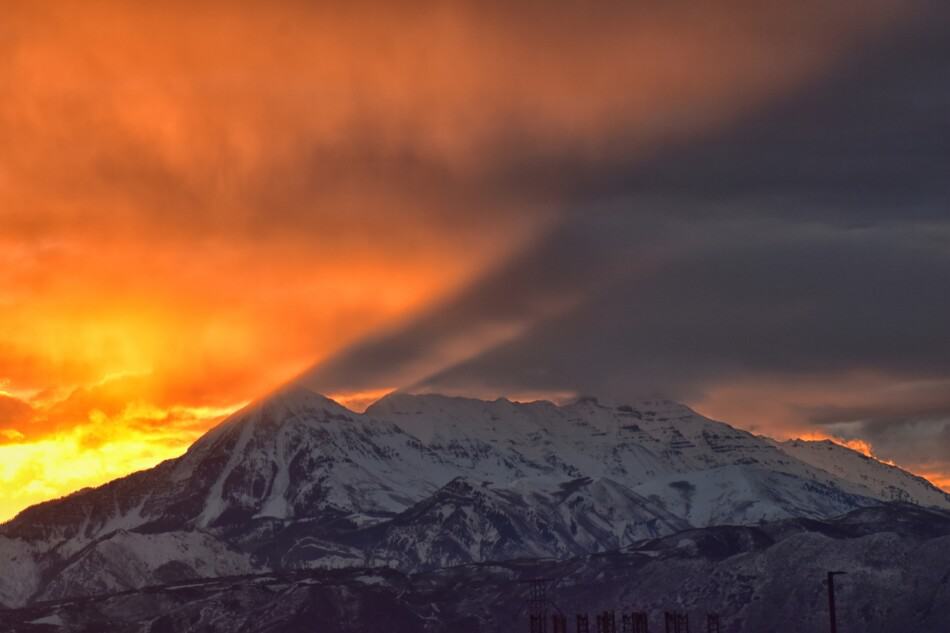 To reach Timpanogos Cave, you must hike up at least a 1.5 mile steep long trail. However, hiking must be done through a guided tour and tour groups are limited to 20 people only. Usually, tours are offered from mid May through mid October.
The tour includes seeing the unique colors and formations of the cavern as well as helictites, stalactites, stalagmites, and calcite crusts that will surely amaze your eyes. 
Bloomington Cave
Bloomington Cave is the most extensive and famous cave in the St. George Field Office and it is currently supervised by the Bureau of Land Management. It is a massive tectonic cave and has at least six definite levels, and a maze of passages that are usually narrow, often with steeply dipping floors.
The cave has a surveyed length of 1.43 miles and has a depth of 240 ft and it is considered the fifth longest cave in Utah. 
Anyone who wishes to visit this long and marvelous cave must first secure a permit from the St. George Field Office. And per day, only three groups with 10 people are only allowed to enter the cave.
It is highly recommended that you must bring the necessary equipment such as three independent sources of hands-free light and a helmet. 
Mossy Cave Turret Arch
If you want to experience the hoodoos of Bryce Canyon National Park, Mossy Cave Trail is the perfect place for that.
The trail starts off of route 12 and there you will see a waterfall, a cave, and a large rock structure with arches and windows in it. But the waterfall isn't much of a waterfall, it is just a trickle of water coming down, but definitely, you could hear water in the stream.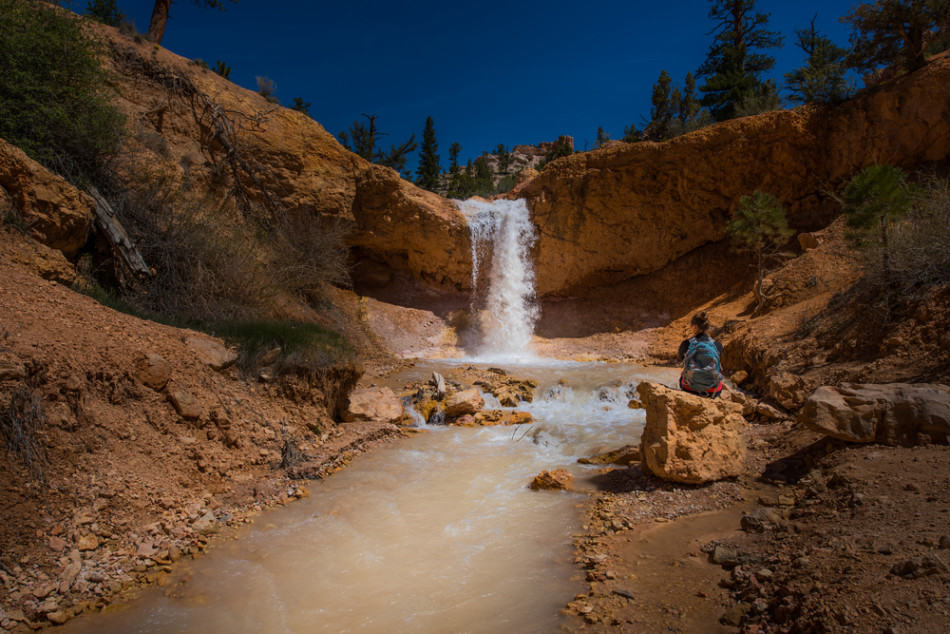 Just a disclaimer, although this is a pretty easy hike that even kids would love, there can be a little steep in some places. But don't worry because they made it as user friendly as possible by putting man made bridges to support hikers.
Moqui Cave
Moqui Cave is both a landmark tourist destination and museum located north of Kanab 5.5 miles on scenic Highway 89. This place is perfect for museum lovers, folklore fanatics and history junkies.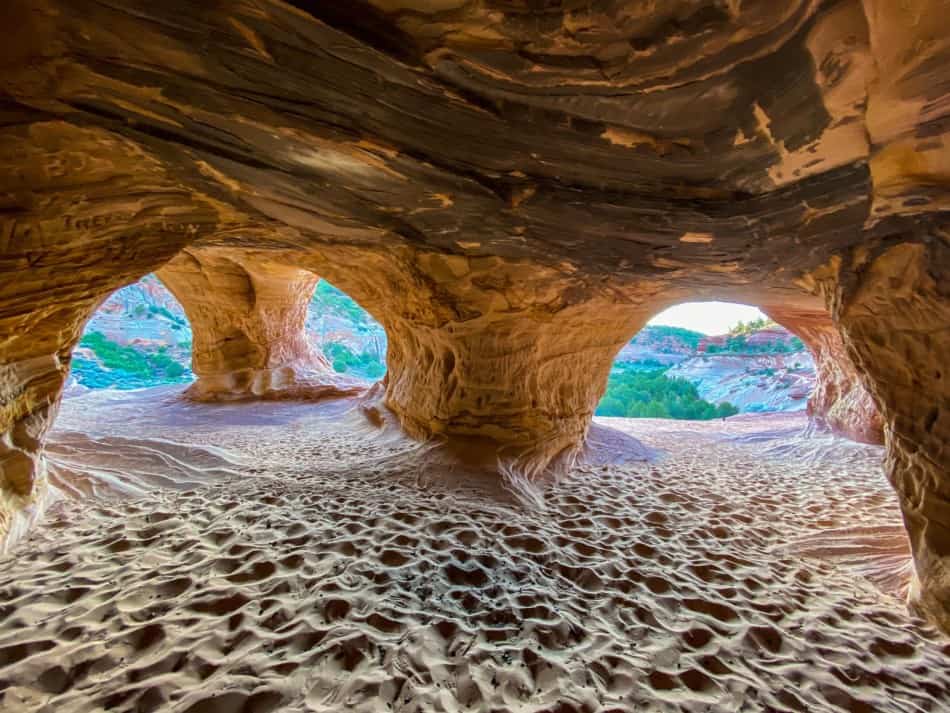 The cave is portioned into three rooms. The main corridor is where you will hear an oral history of the cave; another room showcases Garth Chamberlain's (who was the one who bought Moqui Cave) artwork, and the third room is dark and lit with backlight to flash the phosphorescent rocks and fossilized minerals.
Meadow Lava Tubes
The trail going to Meadow Lava Tubes is a great adventure and bonding experience for the whole family. Kids, most especially, will love it here and dogs will most likely struggle on the hike as the boulders are quite enormous and the rock is quite sharp on their paws. Nonetheless, the whole family will enjoy the trail.
When you get out of the car from the designated parking area, there is a large impression in front of you. At the far end, you will see a short dark tunnel that that opens up nicely.
The cave is very accessible to almost anyone and flashlights or cellphone lights is a must when going inside the cave. 
And since Meadow Lava Tubes is located in public land, camping is free anywhere you'd like near the lava tubes. But for some experienced hikers and campers, it is recommended that you camp inside the first cave because it will keep you out of the wind.
Wind Cave
Wind Cave Hiking Trail is one of the most popular trails in Logan Canyon and it is located approximately 5.3 miles up the canyon across from the Guinavah Campground. It is family-friendly hike that even kids can survive the trail, plus it offers gorgeous views of Utah.
The trail going to Wind Cave is rated as a moderate hike. As you hike the trail, the views around the canyon are breathtaking and there are several areas to stop where you can rest for a while and enjoy the scenery.
The end of the trail stops on top of the cave roof. And as you enter the cave, you will be pleasured to a window like of the view of the canyon. One side of the cave ceiling is open which lets you enjoy the natural skylight.
As a safety tip for hiking to Wind Cave, if you are visiting on a hot summer day, make sure to start early or later in the day to avoid the extremely hot weather condition. And make sure to bring plenty of water and wear sunscreen.
Mammoth Cave
Mammoth Cave is hailed as one of the biggest lava tubes in all of Utah with over 2,200 ft of passage and is approximately .25 miles long. According to its history, the Mammoth Cave is said to be formed by cooling lava and water less than 2,000 years ago but due to its moisture and an elevation of 8,050 ft above sea level, the Mammoth Cave stays breezy all year round.
To reach the cave, you need to climb under a gate to enter the cave and it is pitch black that is why it is highly recommended that you bring high-quality flashlights. There are four chambers that you need to encounter when entering the cave.
The first chamber will start out big and open. But, as you trek all the way down to the end, the chamber gets tighter and narrower leading up to the exit. So if you are having heath problems, entering the cave may not be the best option for you. 
Mammoth Cave is open to visitors from May to October. As a tip, make sure to check the weather first around the area, as well as to have the proper gear and footwear for hiking.
Scout Cave
A lot of caves across Utah can be easily accessed and can be explored on your own without the needed technical skills and Scout Cave is one of those. It is a great combination of easy and moderate trail and it passes over lava flow fields, stream beds, and the famous Navajo Sandstone rocks.
Scout Cave can be accessed in numerous ways and the most popular way is via the Johnson Canyon Trail in Snow Canyon.
The first part is a bit rocky but well packed because you will be crossing over the lava field that flows from the north to the south end of the park. You will also be running along a housing development which is your indication that you are getting close. 
And after passing the housing, this is where the climbing starts. If you look ahead you will be able to see the cave and cliffs. And before finally reaching the cave, you will first climb a set of stairs and then a rocky path. And even though it is just a short climb, the spectacular view of St. George Valley is totally worth it.
Wild Horse Window
Wild Horse Window is an impressive natural bridge situated near Temple Mountain in the San Rafael Swell. If you are looking for a fun adventure with your entire family, this is a great place. The bridge is easy to visit that it is suitable and enjoyable for all ages.
This place is dazzling that even pictures do not give justice to it so it's better to actually pay a visit to appreciate its beauty.
Plus, the hike going to the natural bridge is not that difficult. The total hike is under 1 mile each way and with less than 200 feet of elevation gain. It will only take approximately an hour or two to reach the bridge depending on the pace. 
The bridge can be accessed all year round, however, it can be really hot in summer so it is highly encouraged that you bring a liter of water each person when visiting Wild Horse Window.
Patsy's Mine
The trail going to Patsy's Mine is the ultimate bonding experience for your whole family because it is easy and suitable for kids. This is a popular hillside trail that leads to an old mine carved into solid rock.
And what makes the trail even more amazing and exciting is that the entire hike is along the face of the foothills and gives you a panoramic view of the lake and Antelope Island. 
The trail is fairly steep but the kids will surely enjoy it because they can spot lizards and cottontails on the way up. And there is a popular stop where hikers can take a break at the Lion King looking rock where you can pose as if you are Simba.
And once you reach the mine, make sure to grab your flashlights and headlamps because it will be pitch black. And upon entering the mine, you have to stoop a little but once you get inside you can stand up all the way. There are different rooms off of the main tunnel and make sure to take lots of pictures!
Ledgemere Cave
Ledgemere Cave is another kid friendly cave where your whole family can enjoy and have a great adventure. The entrance to the cave is small and a lot of people may walk right past it.
But even though the entrance is so small, you can still stand up once you totally get inside the cave. It is an easy cave, especially for kids, but remember to bring a flashlight or headlamp and a good and comfortable pair of waterproof shoes.
Garner Cave
If you are looking for a little adventure in Utah that is good for an hour hike and a short climb, Garner Cave is a great choice.
To reach the cave, you have to go left and from there it will get a little bit tricky. But hey, don't be intimidated because it is part of the adventure. The trail will be well defined for some time until you get to the rockier part of the hike. 
There is a rope in a place where you can hold onto it since the cave sees a good amount of traffic. Inside, you can find one main passage and two small side passages. The cave is pretty awesome but there's a lot of graffiti and broken formations. And in that case, if you can, pack out any trash that you can see and make sure to leave no trace.
Bower Cave
If you have visited Mammoth Cave, a side trip to Bower Cave can easily be done since it is just located south of Mammoth. Although Bower Cave is a bit smaller than Mammoth, but it just as much fun.
To get to the cave, from the parking area, you need to walk a short distance until you see a ladder sticking up out of the entrance. Then you need to climb down the ladder enter the Bower Cave. Make sure you have flashlights because there is only minimal sunlight that hits the cave floor.
Once you are able to get inside the cave, you will notice that the floor is rough and uneven, so make sure you wear the most comfortable shoes that you have. Bower Cave is considered as a home to various species of bats so be quiet and respectful when you are inside the cave.
Duck Creek Ice Cave
Situated in the Cedar Mountain in Utah's Dixie National Forest, Duck Creek Ice Cave can be your next adventure if you are looking for something fun and easy to do. Duck Creek Ice Cave is a small cavern that maintains a chilly temperature all year round.
It will take you approximately an hour to hike up to the cave and look around the place. Although this is not as large as some caves in the area, still it is a worthy place to visit because the temperature drop is an enchanting experience.
Paris Ice Cave
Another place that you can visit in Utah that will give you a chilly experience is the Paris Ice Cave. It was named as "Ice Cave" because the ice never melts here even in the hottest weather condition.
However, visiting the cave during the spring will require you a little more effort and preparation because of heavy snow. But this cave will give you lots of beautiful sights such as stalagmites, stalactites, and other beautiful formations. 
The hike going up to the cave consists of a little elevation gain, walking through large patches of snow, and traverse around pools of water from the melting snow. But if you want truly experience the beauty of this cave and at the same time you are willing to put much effort, it is recommended that you visit Paris Ice Cave in late spring.
Hobbit Caves | Logan Canyon
If you are exploring near Cache Valley or Bear Lake, Hobbit Caves in a fun stop. You wouldn't get lost going to the caves because it is just a few steps away from the parking area. The Hobbit Caves are very small and kids will really have a fun time exploring inside the caves especially if they are fans of the Lord of the Rings.
There are few caves that are too small for adults that you might squeeze into just to get inside. But before you can even reach the Hobbit Caves, you will need to cross the river.
They have even laid two boards across the river just to cross to the other side. But you will definitely enjoy walking along the river because of the presence of fish on it. And once you reach the caves, you will be amazed by the whole area because it really looked like Lord of the Rings. 
Conclusion: Caverns in Utah
Exploring the caves in Utah is an amazing experience. There are wind caves and caves underground that you can check out. Which cavern in Utah do you want to visit?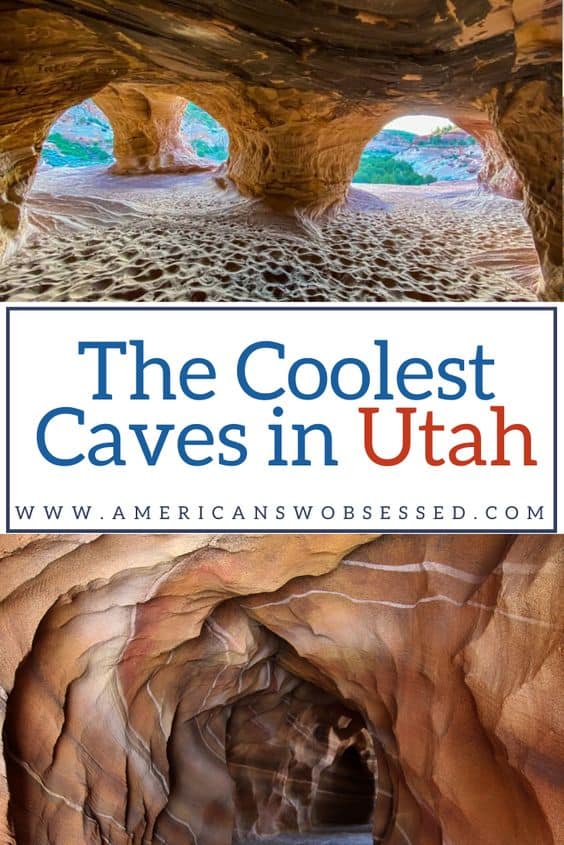 Continue Reading more on my website in Utah:
Things to do in St George Utah
Best Hotels in Moab Utah – Places to Stay near Arches National Park
Recent Posts