Best Red Rock Canyon Hikes: Heading to Red Rock Canyon and looking for the best hikes in the area? This list of the best hikes in Red Rock Canyon has something for everyone and all fitness levels.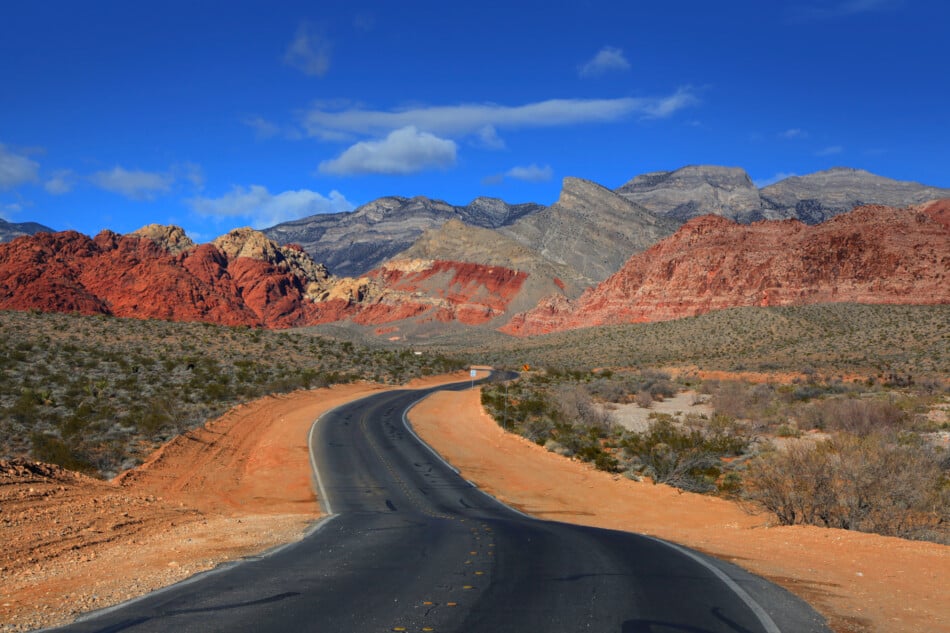 Wonder if Red Rock Canyon is worth a visit? Yes, Red Rock Canyon is a great day trip from Vegas and has a lot of different hikes to take in the beautiful scenery and red rocks of the area. You can also explore the 30 minute scenic drive to enjoy the scenery as well.
For the best deal on a rental car, remember to reserve a car in advance using Discover Cars .
If you are looking for more hiking options in the Las Vegas area check out my other posts:
Where to go hiking near Las Vegas
Las Vegas to Grand Canyon by car
Nevada National Parks – where to visit and what to do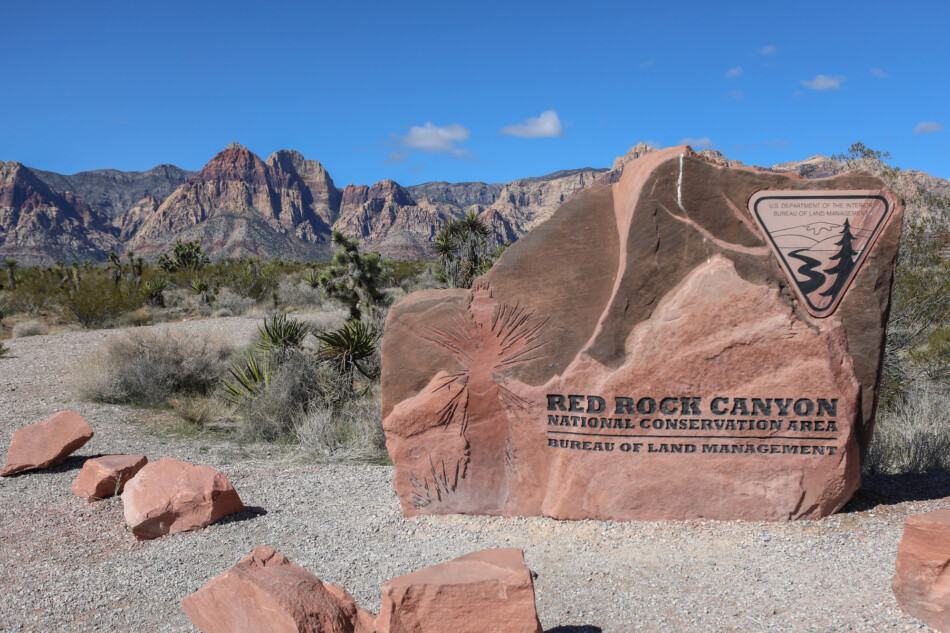 Tips for Hiking in Red Rock Canyon
Red Rock Canyon is perfect for outdoor enthusiasts. There is a hike for everyone on this list and for different fitness levels. Also, note that it is dry and hot (in the summer) and make sure you know what you are getting into before you start. Here are a few tips for Red Rock Canyon hiking:
Bring a reusable water bottle and lots of water! Remember you are in the sun and you will need to drink lots of water. I love my LifeStraw Filtered Water Bottle. I can refill this bottle anywhere and it comes with a carabiner to connect it to my daypack.
Check the Weather – days over 100 degrees are very common. On top of that, there is quite a bit of air pollution in Las Vegas which can make it suffocating. Make sure to check.
Hiking boots or sandals that will protect your feet! I love good shoes. I need all the support and help I can get. I actually love these sandals for hiking and have a whole post on Merrell vs Keen shoes for hiking. I also love these hiking boots which I used for Hiking in the Grand Canyon.
Bring hiking poles for balance and to protect your knees. I know many experienced hikers (and even amateur ones) think that hiking poles are for old people who lose their balance. Actually, hiking poles can help when going down steep inclines or when scrambling over rocks. They are great to hike with even for the most experienced hiker.
Wear a sunhat. I feel like this whole post is about how high you are in the mountains and how much closer you are to the sun but it is so true. At elevation, you are closer to the sun and more likely to burn. Wear sun protection such as a sun hat and sunscreen.
Be aware of the wildlife. This is the Southwest and you will need to watch out for snakes and other wildlife. Please stay away from wildlife and do not feed them.
Start Early – If you want to avoid the traffic and the heat you will need to start your hike early. That way it will be nice and cool and the smog will not affect you either.
Leave no trace. If you are new to the concept of Leave No Trace it is all about preserving the environment to ensure it is in the same or better condition when you leave it. This means that you should stick to the trails and carry out everything that you carried in. This is a great explanation of the Leave No Trace principles!
Water shoes are great for water hikes– If you don't have a pair, I highly suggest it as they are affordable. I have an article on the pros and cons of several pairs of water shoes.
Bring Bug Spray and a snack: Be sure to bring everything you need including a snack like a protein bar plus BUG SPRAY.
Before you get to the Top Hikes in Red Rock Canyon I just wanted to mention a few of the Best things to do at Red Rock Canyon. First you will need to enter the park and pay $15 for your car for the day. You will also get a map that has all of the locations of the hikes and the scenic drive.
I need to mention the scenic drive because not only is it the best thing to do in Red Rock Canyon, but also all of the trailheads to the hikes leave from somewhere along the scenic drive. The Scenic Drive in Red Rock Canyon provides an excellent overview of the park's attractions. You'll pass by numerous scenic overlooks, a slew of trailheads, and some of Nevada's most breathtaking scenery along the 13-mile path.
Best Trails in Red Rock Canyon, Nevada
Lost Creek Falls, Red Rock Canyon National Conservation Area
Considered as a self-guided hiking trails in Las Vegas, the Lost Creek Falls is one of the easiest hikes in Las Vegas and it is suitable for all ages. It is just a short hike–0.9 miles round trip and it features a lot of scenery including pictographs, lessons of desert life, towering views, and a rare desert waterfall.
This hike is located in Red Rock Canyon National Conservation Area and it is the only trail in the park that leads to a seasonal waterfall which makes it even more worth it to hike. To hike this place, you need to start from a trailhead along Rocky Gap Road between Red Rock Canyon's Scenic Drive and Willow Springs Picnic Area.
Calico Tank Trail
Calico Tank, one of the park's most famous hikes, starts with a wash and then climbs up a canyon through stunning red and yellow rock scenery. As you climb, the trail is lined with hills and boulders, but views of the mountains open up behind you. As you ascend, you can see the summit ahead of you.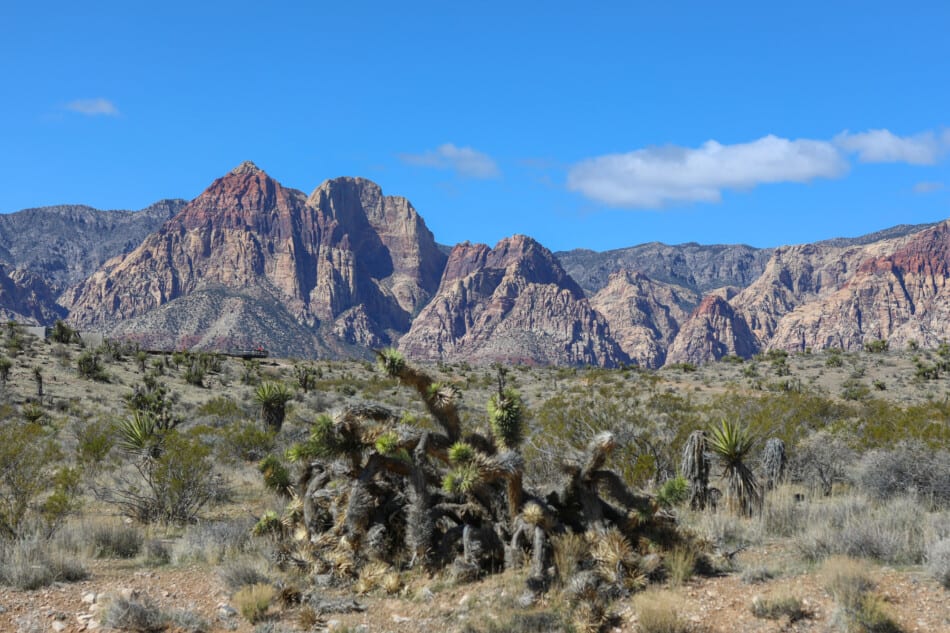 Although this hike is only 2.5 miles round trip, there are several difficult parts where you must navigate your way up over rock faces. Climbing can be done with the hands and feet at times. These sections are brief, and the majority of the 400-foot elevation gain is accomplished by walking up crudely built stone stairs.
The "tank" at the hike's far end is a natural water catchment area that has significant water in it at times but little to none at other times. Calico Tank is an in-and-out hike, so you'll be returning the same way you came. The Sandstone Quarry provides parking for this walk.
Calico Hills
When most people think of Red Rock Canyon, they think of the stunningly red Calico Hills, which are located near the visitor center. The subdued tones of the surrounding desert and the blue sky above contrast sharply with the color of these massive rock hills and boulders. The park's main characteristic is the Calico Hills.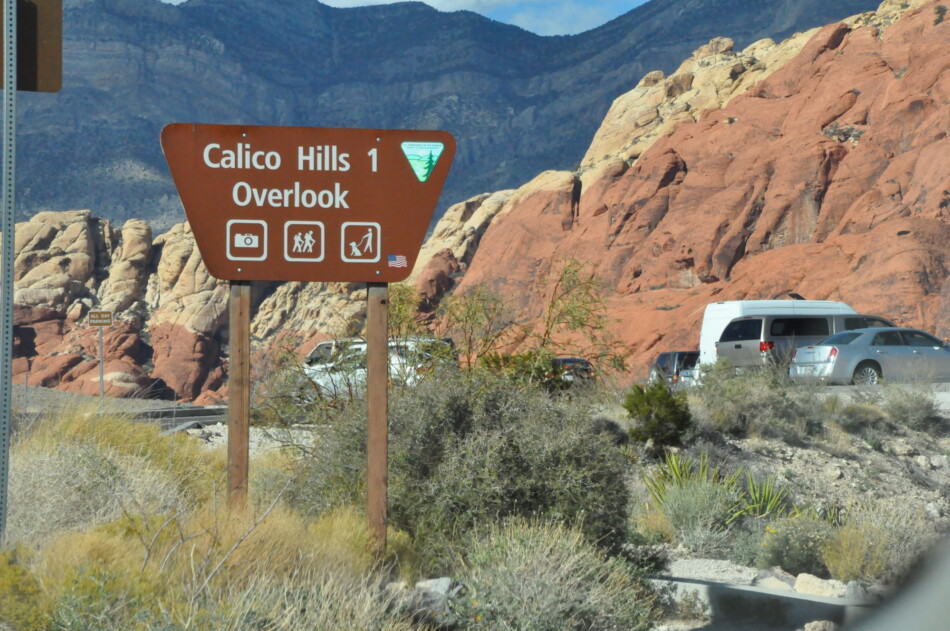 Although the hike is six miles long in all, most people choose to hike just a portion of it, usually two miles. The best choice is to park at Calico I and walk the two miles back to the Calico II parking area, or further to the Sandstone Quarry parking area.
This hiking trail runs along the front side of the red stone ridge and then ascends to the top of the ridge, where you can take in the breathtaking scenery and immerse yourself in the red surroundings.
Ice Box Canyon
Ice Box Canyon is a 2.4 mile difficult hike that is best for advanced hikers. Despite the fact that the Mojave Desert is notorious for its extreme heat, there are still many secret oases to discover. Enjoy some natural air conditioning by hiking into Ice Box Canyon. The trail is open to the desert sun for the first mile or so, but when you reach the canyon, the temperatures begin to drop as the sandstone walls climb upward.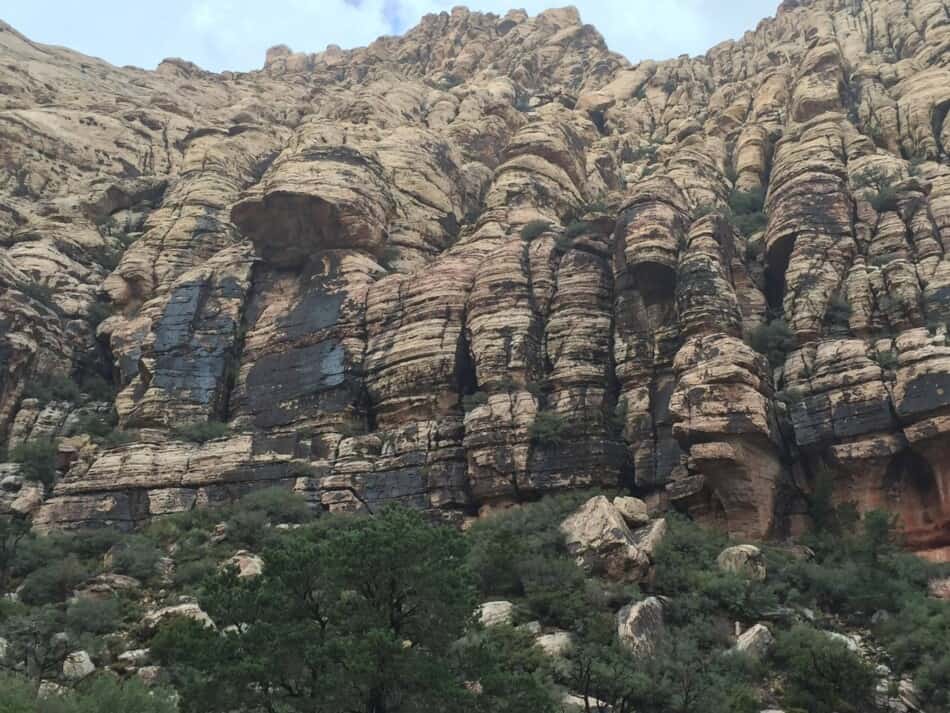 Scramble over boulders, walk outside, or splash into cool pools of water, and take in the lush greenery. When you navigate up the canyon with your hands and feet, you'll get a full-body workout. By the time they finish this climb, many hikers believe they have traveled more than 2.4 miles. During the spring season, you will be able to enjoy seasonal waterfalls caused by the melting of ice.
Lost Creek and Children's Discovery Trail
Lost Creek and Children's Discovery Trail is an easy trail that is just over half a mile. Its a great scavenger hunt for kids and the whole family.
This trail is a perfect outdoor experience for the whole family because there is so much to see in such a short distance. Stop at each of the nine trail posts along the way to extend everyone's awareness of the region as your kids' little legs take big steps up the trail. Bighorn sheep, prickly pear cactus, and even banana yucca should all be on your radar.
Petroglyphs in Red Rock Canyon
Check out the Petroglyph Wall trail for a taste of ancient history. This 0.25-mile path leads to a nice set of symbols engraved on a sandstone wall, but it's not really a hike. The path is flat as it ascends gently up a wash to the spot, making it ideal for families.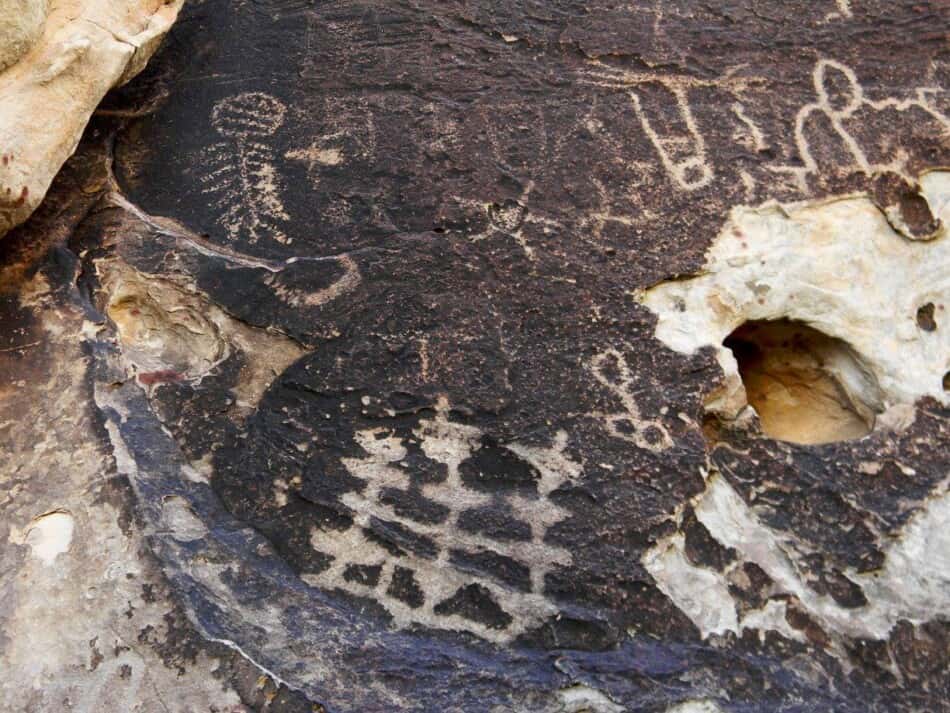 The petroglyphs are thought to be more than 800 years old, and their meanings are unknown. The trailhead is located at the Willow Springs Picnic Area, which is a great place to stop for lunch before or after the hike.
Where to stay near Las Vegas
Las Vegas is one of the cheapest airports to fly into in the southwest. Taking a day trip or road trip from Vegas makes for a great weekend escape. Fresh air, beautiful scenery and being in nature does a world of good for the soul. I recommend staying as close to the park as possible and even treating yourself with a cabin with a spa pool to relax at night.
There are lots of fantastic Airbnbs near Vegas. There are many beautiful places to stay near the park and this allows you to spend most of your time experiencing the park instead of driving to the park.
I stayed at the Holiday Inn Express Hotel & Suites Las Vegas. This is one of the best Vegas Hotels and it has amazing amenities and is close to everything. Plus its reasonably priced.
If you are taking a road trip remember to reserve a car in advance using Discover Cars .
Sharing is Caring! Pin to save for later.
Recent Posts