Choosing the Best Airbnbs near the Grand Canyon
Airbnb Grand Canyon: Are you looking for an Airbnb near the Grand Canyon? I have put together this list of the best Airbnbs along the Grand Canyon South Rim. There is even an Airbnb in the Grand Canyon Village to keep you nice and close to the park.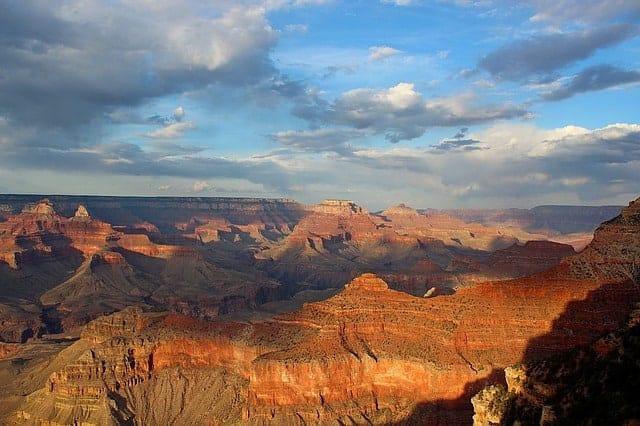 If you are wondering what area to stay in the Grand Canyon, check out my guide on where to stay near the Grand Canyon. This can be helpful if you are looking for an area to stay and then continue your road trip around Arizona.
I also have guides to specific cities near the Grand Canyon depending on where you want to stay:
15 Best Airbnbs in Williams AZ
17 Coolest Airbnbs in Flagstaff, Arizona
15 Best Airbnbs in Sedona AZ – Caves, Treehouses and Domes!
I have visited the Grand Canyon numerous times over the last 25 years and have over 30 articles on this site just on the Grand Canyon if you are looking for more information.  I even have an article on the drive from Phoenix to the Grand Canyon and where to stop along the way.
Disclaimer: This post may contain affiliate links so if you make a purchase through one of the links we might earn a small commission ( it's at no extra cost to you)

15 Airbnbs near the Grand Canyon
Grand Canyon Bungalow at Grand Canyon National Park
This Grand Canyon Bungalow is located 1 mile south of the Grand Canyon National Park and it is the closest Airbnb to the park. This bungalow is a nature-lover's perfect getaway as it is nestled in the Ponderosa Pines and surrounded by trails and natural wonders.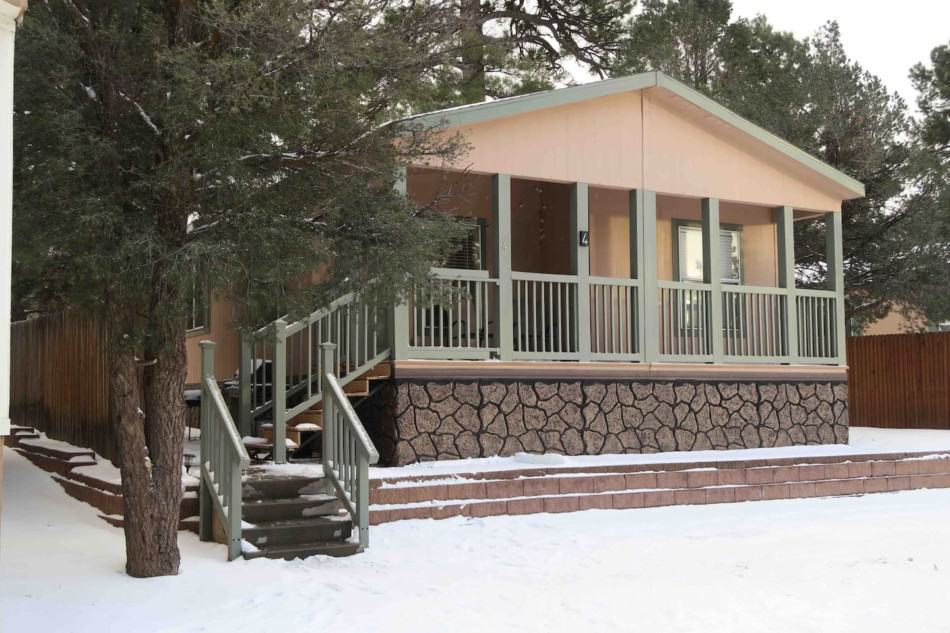 The house has a very homey feeling. It can accommodate up to 6 guests and it has 3 bedrooms and 2 bathrooms. Now, inside the bungalow, you'll enjoy the benefits of a fully-stocked kitchen with pots and pans, baking pans, and utensils. The only downside of this bungalow is that it doesn't have an AC but the cool evening air definitely negates the need for one.
Newly Built Tiny Home with Awesome Views
This tiny zen home is located in the heart of West Sedona and this can be a perfect home base for your Grand Canyon getaway. You'll wake up to breathtaking views every day from a queen-size Tempurpedic mattress.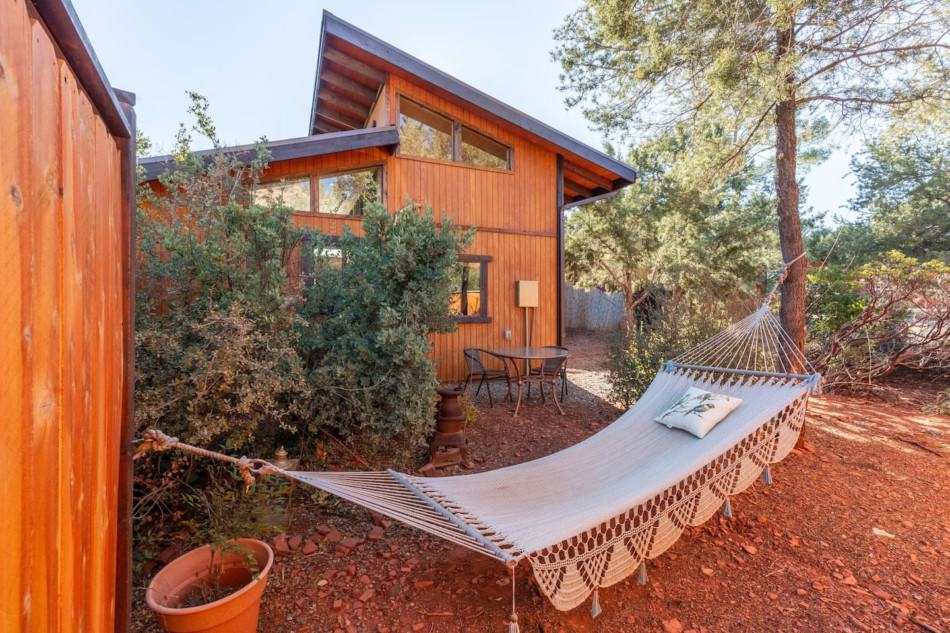 You can also cook amazing meals with a kitchen that has a hot plate and convection oven. And since this is a tiny house, it can accommodate 2 guests, and it has 1 bed and 1 bathroom. So, if you are looking for a nice and budget-friendly house to stay near the Grand Canyon, then this is perfect for you.
Downtown/Campus Bohemian Loft Studio
This Bohemian loft studio is a unique, quaint, and well-furnished space that is two blocks away from National Arizona University. Although it is quite far from the Grand Canyon, this can be a great option if you are doing stopovers around Arizona before heading to the Grand Canyon.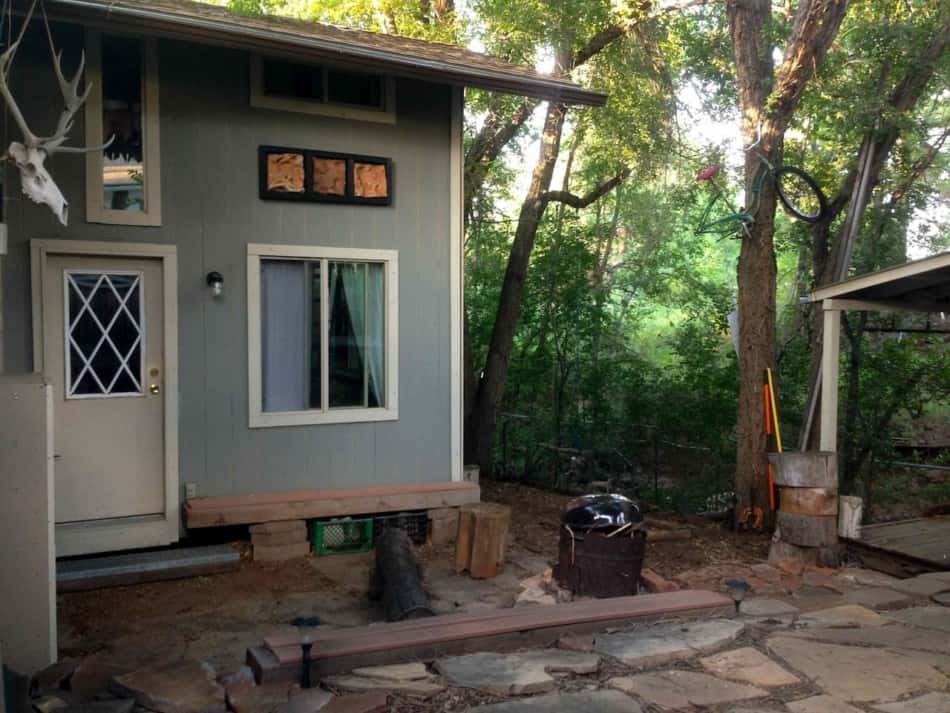 The space is fully furnished to make your stay easy and comfortable. It has a sleeping loft with comfy bed that gives several outdoor view windows, semi-private bathroom furnished with toiletries, fully-stocked kitchen, and a TV with DVD player and bluetooth stereo. Since this is just a loft studio, it can accommodate up to 3 guests for a very reasonable price.
Peaceful House with Game Room and Hot Tub
This large and cozy house is located in a very safe neighborhood near Grand Canyon that can accommodate large families or a group of friends. It is equipped with all the essential amenities that you need for a comfortable and hassle-free stay. It has also a free WiFi, large screen TVs, fully-stocked kitchen, and hot tub. There is also enough space for 3 vehicles inside the property.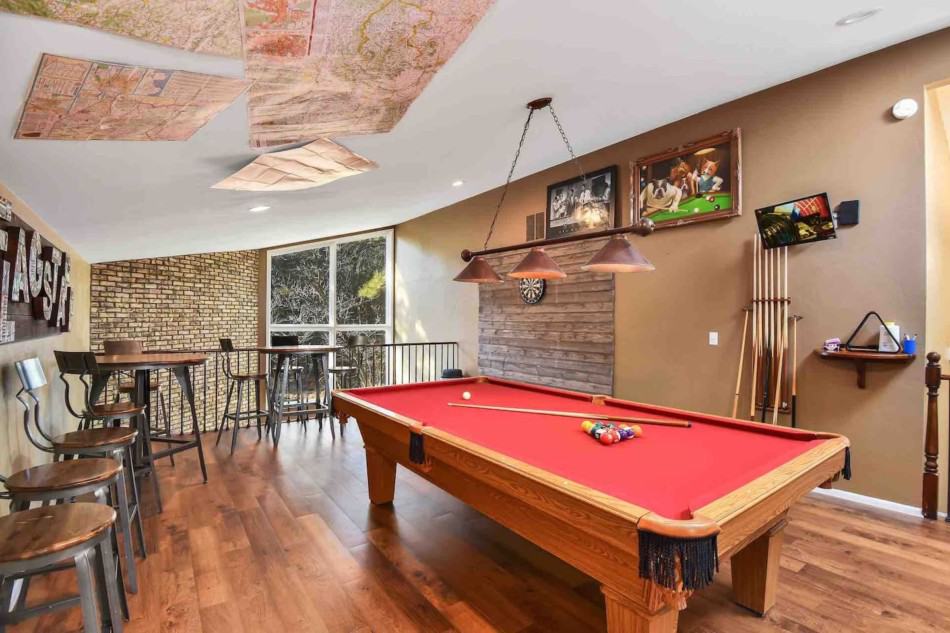 There are three bedrooms in this house that an accommodate up to 12 guests. And you wont get bored while staying in this house because there is a game room loft where guests can choose to watch TV, play video games, or play pool table and darts. You will never run out of fun things to do in this house for a price that is so worth it.
Relaxing Central Flagstaff Homebase
This bright and well-organized retreat house features a lovely wrap-around deck, sky-high windows, a 10-person dining table, and separate common spaces for kids and adults. It has 3 bedrooms and 2 bathrooms and it can accommodate up to 9 guests. Guests can also have access to the Jacuzzi, fully-stocked kitchen, and covered deck with amazing views.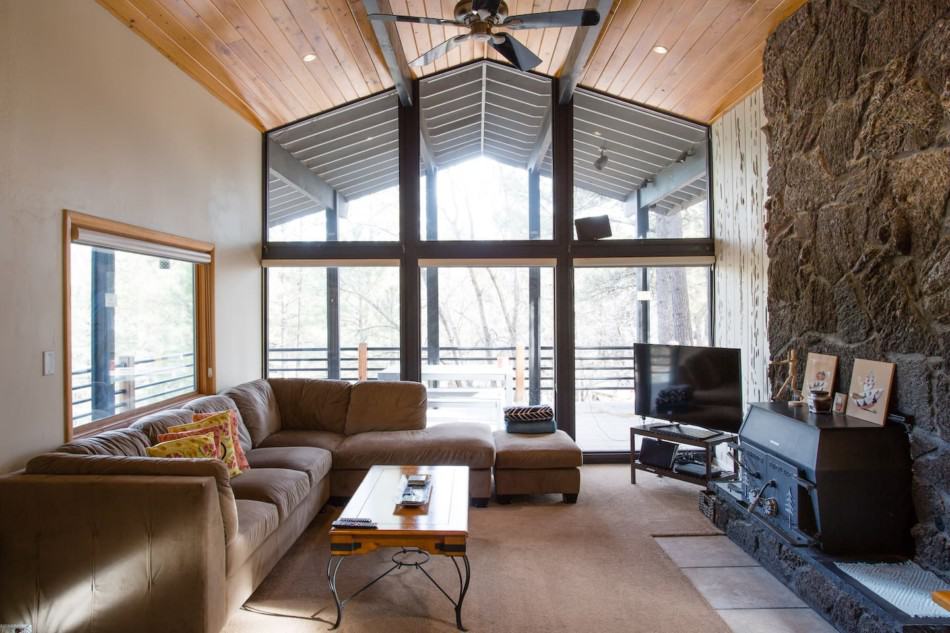 This is a highly recommended place if you want an amazing experience in Flagstaff with an affordable price. Even though it is not really that close to the Grand Canyon, this location is very close to the downtown area where you can dine or shop or do some tour sites. The whole family will surely love this place including the kids as they can walk on the forest trails just behind the house.
Airstream Dreaming
This restored 1965 Airstream is set up on a private .5 acre surrounded by picturesque mountains and flowers. It is equipped with 2 beds, a fully-stocked kitchen for easy cooking, and a full shower and bath. And to maximize space, there is a storage area under the queen bed for suitcases and there is also a spot where you can hang your clothes.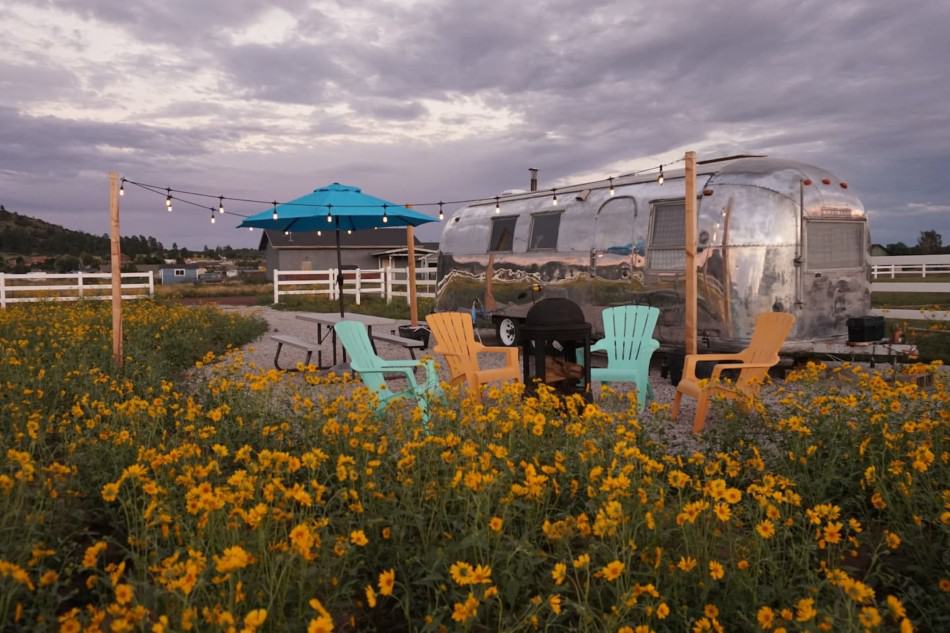 The whole space is very open and inviting that you would want to stay in it forever. Although pets are not allowed on the property, you can still catch a glimpse of sweet goats in the paddock right next to the Airstream. If you want a place that is clean and cozy and will definitely give you a unique experience, this is your place to be.
Tiny House Near the Grand Canyon
This tiny and off-grid house is a great place if you want to escape from the bustling city life and get lost in the beauty of nature. Staying in this cozy place will make you enjoy the spectacular views, mesmerizing sunrises and sunsets, and breathtaking stars at night. It is set in a quiet and remote location with no neighbors so you can fully enjoy the privacy in this property. It has 1 bedroom with 2 beds and can accommodate up to 3 guests.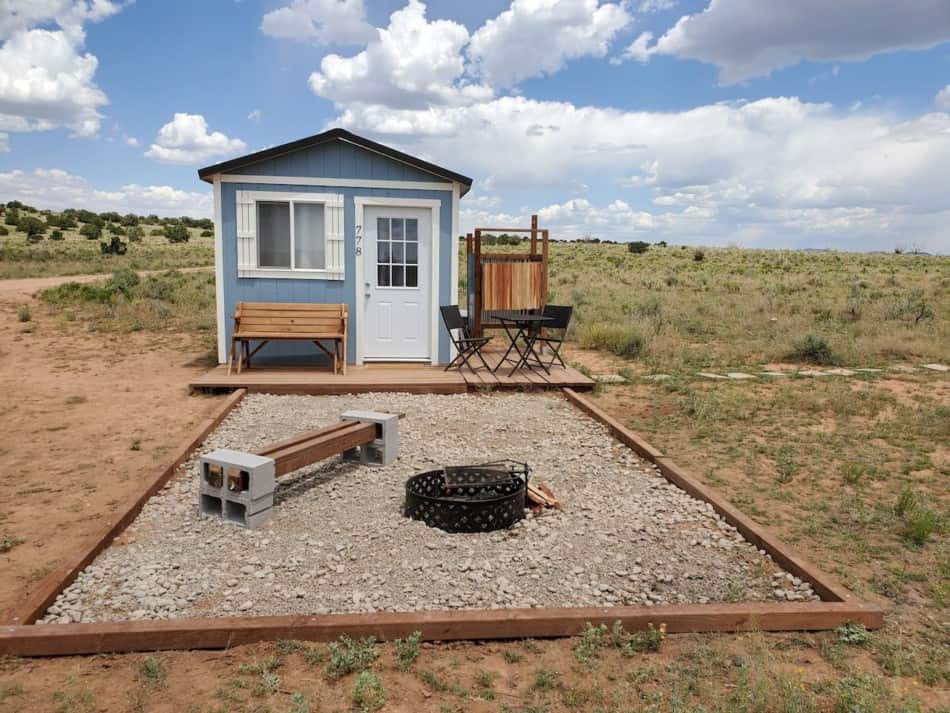 However, this off-grid house has no running water, linens, blankets, pillow cases, nor towels provided. The toilet is a standard porta-potty and the heating system is through a propane heater. But if you are up for some simple living, then this place is definitely for you.
The Ultimate Stargazing Experience Dome House
Staying in this dome house will let you have a once in a lifetime experience of sleeping under the bright night sky. This space looks like a bubble and it has a glass-like ceiling that allows you to have uninterrupted views of the sky.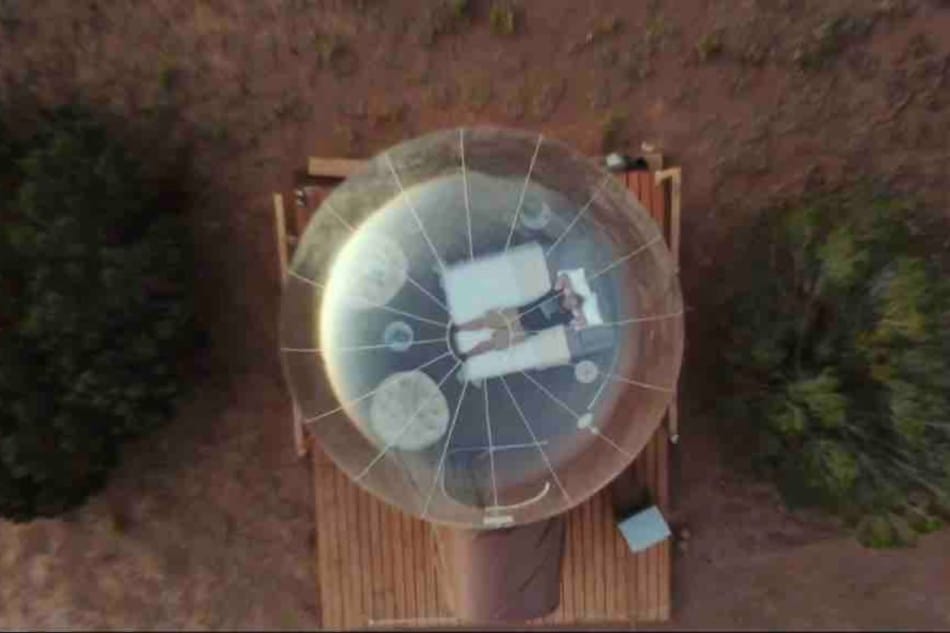 The inside of the dome house has 1 bedroom with a heated bed that is good for 2 people. However, the clean bathroom and shower area are shared together. There is also a fire pit in the property so guests can get warm during cold months. And you don't need to worry because this place is very safe and secluded to give you a great camping experience.
Nomad's Pad Grand Canyon
Nomad's Pad is another off-grid accommodation near the Grand Canyon. Plus, the property is just 30 minutes outside of the Grand Canyon South Rim entrance which is very convenient if you are exploring the Grand Canyon. The tent is made of durable natural fiber and it is water and weather resistant. The tent floor is made of PVC with a heavy-duty zipper ground sheet. And inside the tent, you can expect 2 beds good for 3 people. There is an available outdoor shower that is shared to all guests.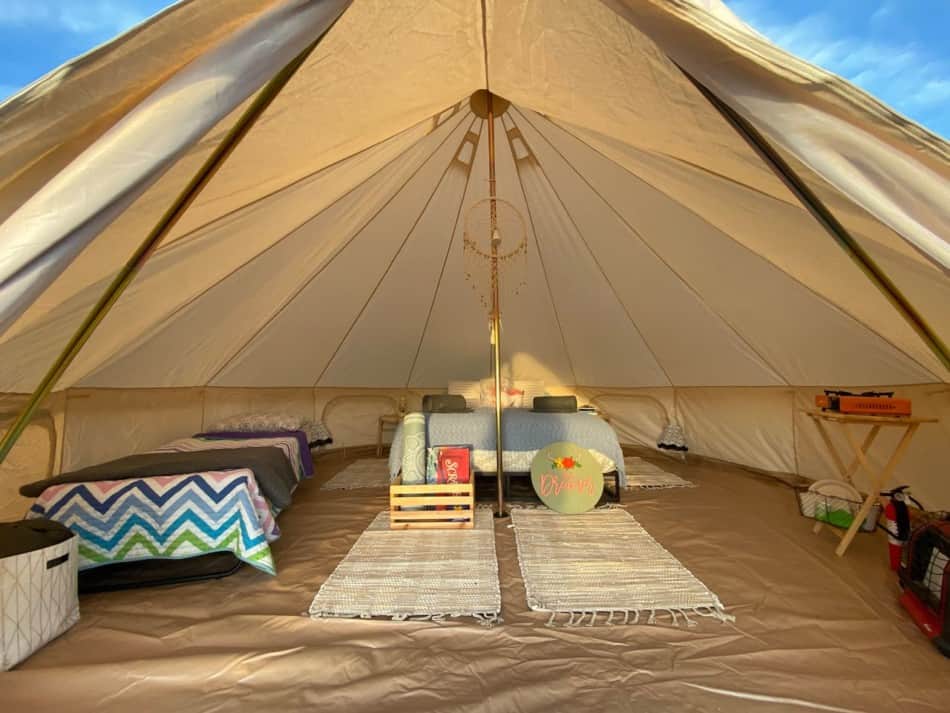 This pad is camped inside a private ranch community so there are multiple tent sites inside the property. But rest assured, the tents are at least 500 feet apart to give guests the maximum privacy that they deserve.
Lotus Yurt Glamping
Everything is provided in this Lotus Yurt to make your stay a comfortable and memorable one. The Yurt is equipped with a full-size foam mattress and two individual memory foam foldable floor mattresses. You can also cook sumptuous meals here because it has a tiny kitchen with a two-burner camping stove, French press coffee maker, mini-refrigerator, pots/pans, and basic utensils.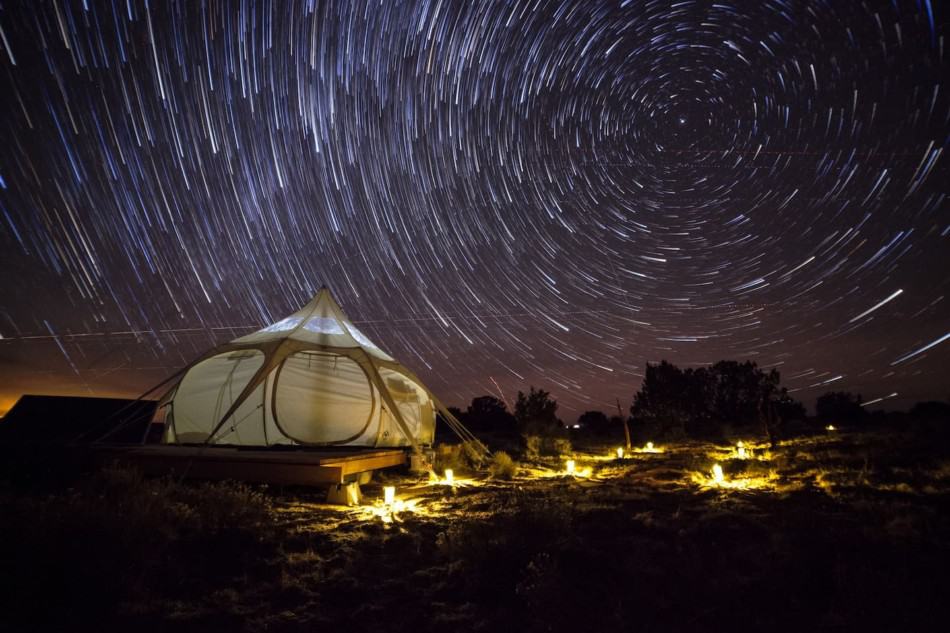 The Yurt is located on a 7-acre land shared with other glampers but they have separated the Yurts so guests can have privacy. And his yurt runs in solar power and there are day when solar batteries many not be fully charge so you'll likely experience some minor inconveniences. But if you prefer simplicity, then this place is for you.
Airstream with Amazing Views Near Grand Canyon
This beautiful and modern Airstream is nestled on 13-acres of land and it is only half an hour from the entrance of the Grand Canyon. It is also in a secluded area with few other rentals but they have been placed far from each other to ensure privacy for all guests.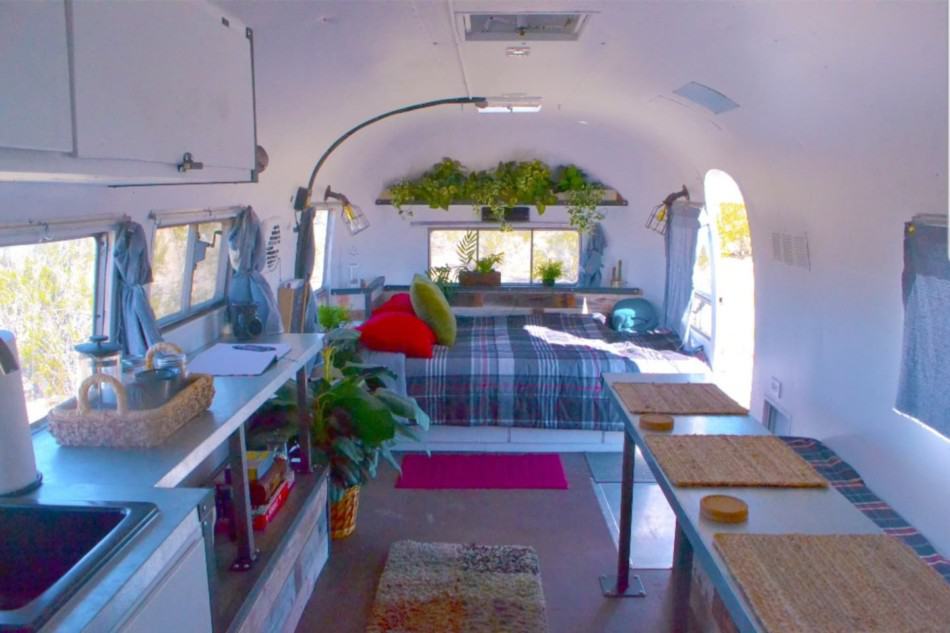 If you are ready for an off-grid experience near the Grand Canyon, this Airstream with amazing views of nature is a great choice. There is only 1 bed good for 2 people and an additional twin air mattress and a laptop-friendly workspace. The basic necessities are also provided including French press coffee maker, coffee sugar, and a kitchen. However, the toilet is compost and there's only a fan provided for day time use only.
50's Themed Airstream in Nature
Another option for an off-grid accommodation for your Grand Canyon escapade is this 50's themed Airstream in Williams, Arizona. It is actually an authentic 50's diner couch with 50's Coca-Cola memorabilia so expect to see a lot of reds inside this airstream.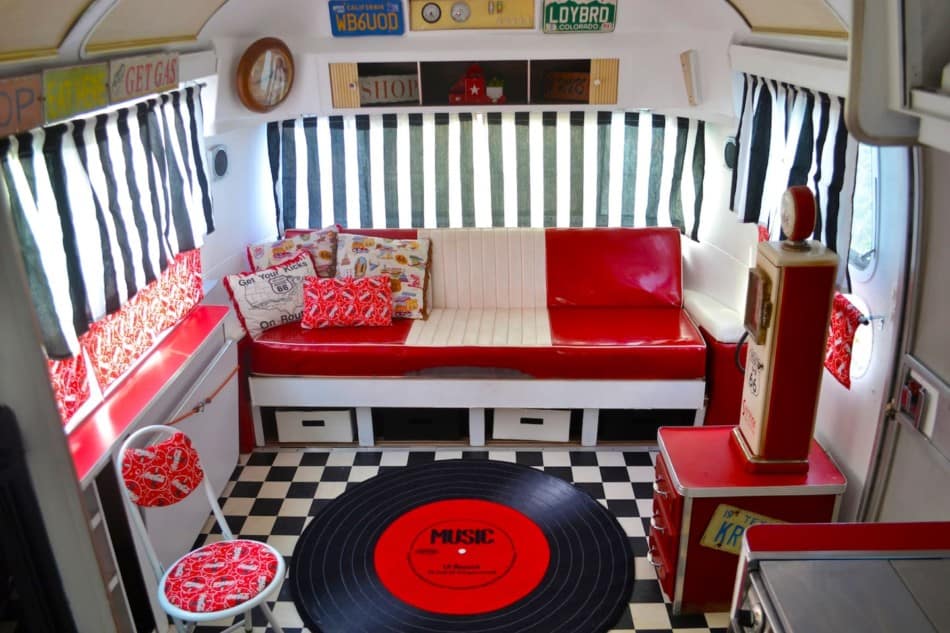 You'll have your own acre of land with your own private driveway to park your cars near the airstream. There is only 1 bedroom inside the airstream and it can only fit up to 3 guests and a kitchen for you to cook meals. Although there is no running water, you'd still find this place interesting with an amazing location between Williams and the Grand Canyon.
A-Frame Mountain View Cabin in a National Forest
This tiny A-Frame house is set on a 1.5-acre property in the National Forest. It is near some of the historic sites in Arizona such as Walnut Canyon, Sunset Crater, Lake Powell, Horseshoe Bend, and a lot more. The property just borders Coconino National Forest on the north and south sides.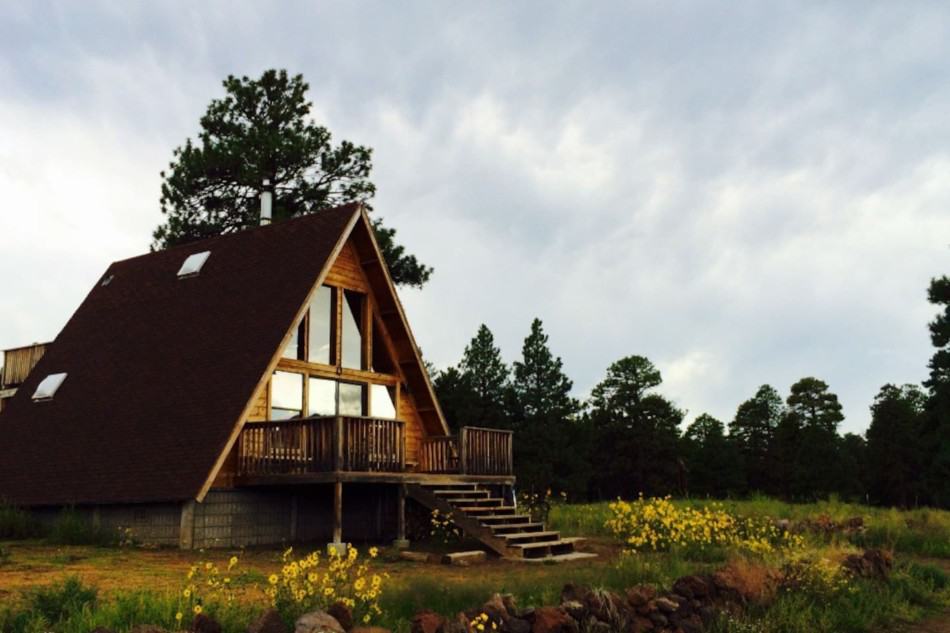 This 1970s era cabin is a rustic and small one but is very functional with great views of the forest from all rooms. There are bedrooms inside and it can accommodate up to 4 guests. And outside the cabin, there are 3 mountain bikes, BBQ grill, horseshoe pitch, and stairway access through the National Forest boundary. This mountain view cabin has a great location and access to the National Forest so you can enjoy walking right out the backdoor.
First Class Room Standard at Tusayan
This first class room is located just a mile from the South Rim entrance and it offers jaw-dropping views that can only be seen during winter months. This is a great homebase if you are exploring the Grand Canyon as it is just located near the Grand Canyon National Park Airport.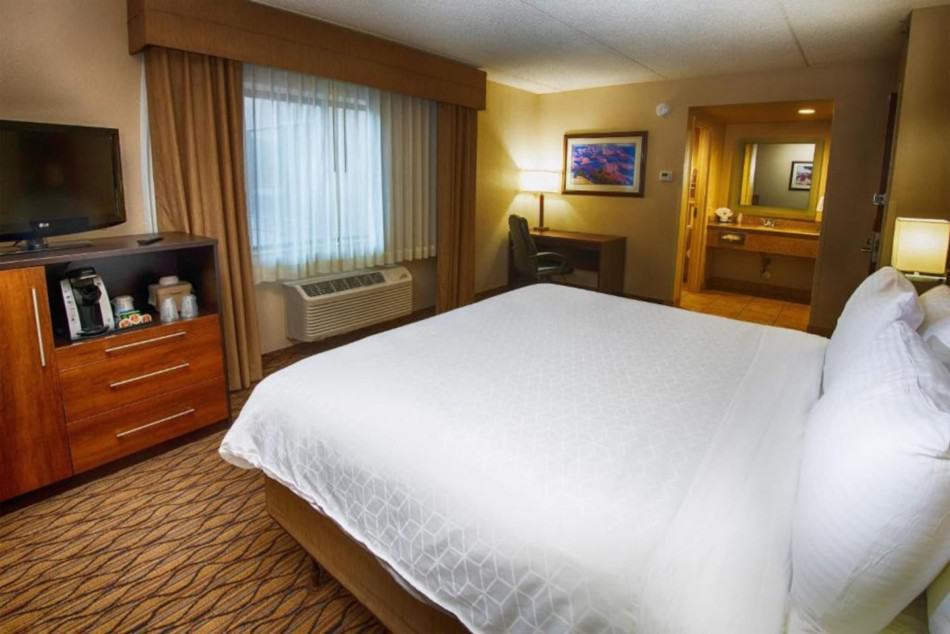 All the guest rooms have a mini fridge and microwave for any midday snack. And after a day of exploring the beautiful Grand Canyon, you can unwind and swim in the indoor pool and whirlpool or update your family or friends on your social media accounts using their high-speed internet access.
Typical Double with Air Conditioning at National Park
This lodging facility in the Grand Canyon Village features modern and motel-style accommodation all year-round for travelers. It offers an unforgettable experience in the National Park and perfect for families or friends, plus you get to stay inside the Grand Canyon National Park.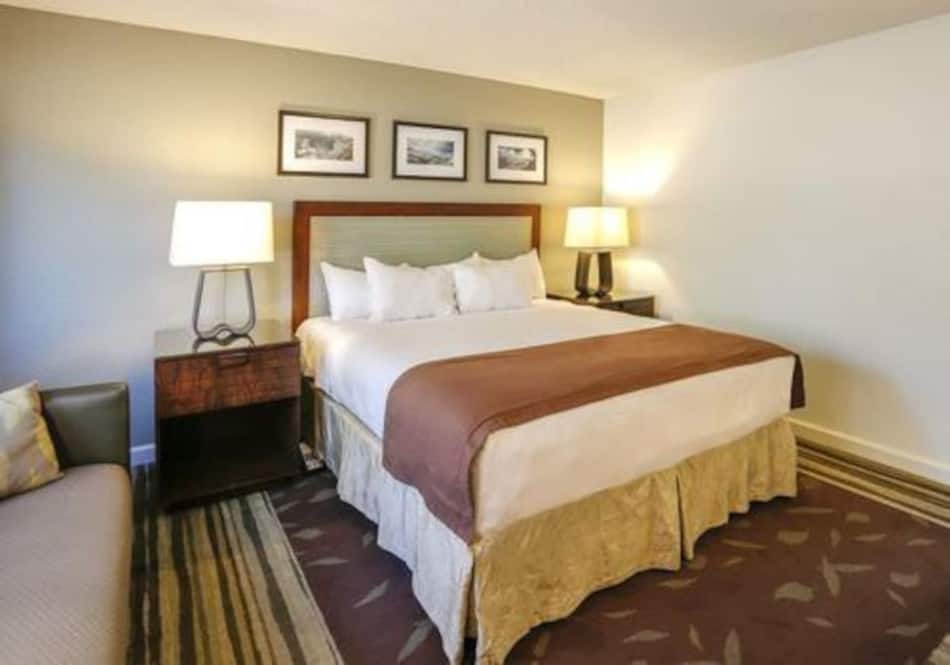 It has 1 bed and it can accommodate 2 guests. It has all the amenities available for a typical hotel/motel accommodation in Grand Canyon. So if you want a hassle free stay, this is a perfect choice.
Sharing is Caring! Pin this article to save for later.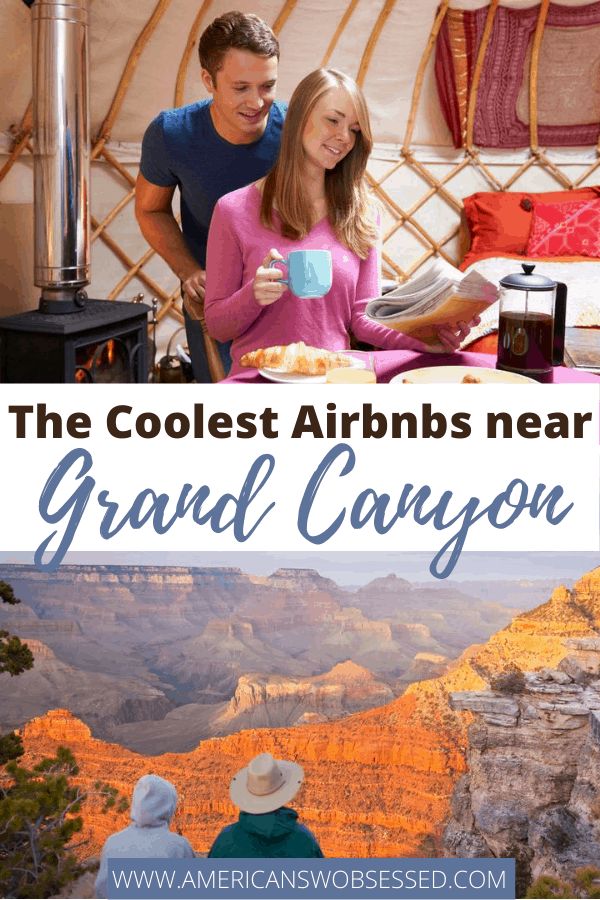 Recent Posts
link to 15 Best Airbnbs in Logan, Utah
Airbnb Logan Utah: Are you looking for the best Airbnbs in Logan, Utah? I have put together this list of the best Logan Airbnb's for any budget. St.John's Episcopal church in yellow brick and...
link to 101+ Grand Canyon Quotes to inspire your trip
101+ Grand Canyon Quotes and Grand Canyon Captions Are you looking for Quotes about the Grand Canyon? This list of Grand Canyon Quotes are some famous and inspirational quotes about the...