Choosing the Best Airbnbs near the Grand Canyon
Airbnb Grand Canyon: Are you looking for an Airbnb near the Grand Canyon?  I have put together this list of the best Airbnbs along the Grand Canyon South Rim. 
There is even an Airbnb in the Grand Canyon Village to keep you nice and close to the park.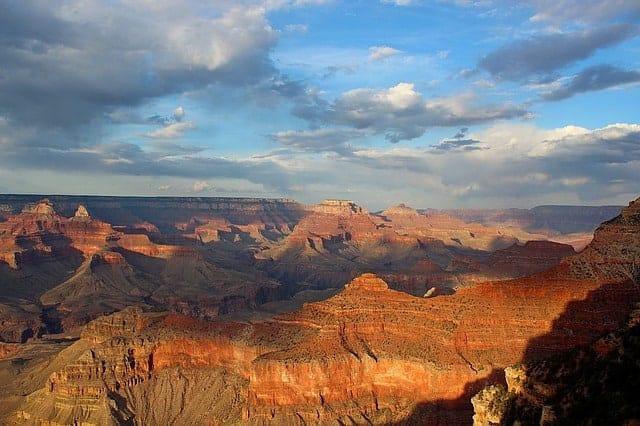 If you are wondering what area to stay in the Grand Canyon, check out my guide on where to stay near the Grand Canyon. This can be helpful if you are looking for an area to stay and then continue your road trip around Arizona.
I also have guides to specific cities near the Grand Canyon depending on where you want to stay:
15 Best Airbnbs in Williams AZ
17 Coolest Airbnbs in Flagstaff, Arizona
15 Glamping Sites near the Grand Canyon
I have visited the Grand Canyon numerous times over the last 25 years and have over 30 articles on this site just on the Grand Canyon if you are looking for more information. I even have an article on the drive from Phoenix to the Grand Canyon and where to stop along the way.
Thank you for supporting this website written by an American. This post may contain affiliate links. This means I earn a small commission on these links at no extra cost to you.
15 Airbnbs near the Grand Canyon
Grand Canyon Bungalow at Grand Canyon National Park
This Grand Canyon Bungalow is located 1 mile south of the Grand Canyon National Park and it is the closest Airbnb to the park.
This bungalow is a nature-lover's perfect getaway as it is nestled in the Ponderosa Pines and surrounded by trails and natural wonders.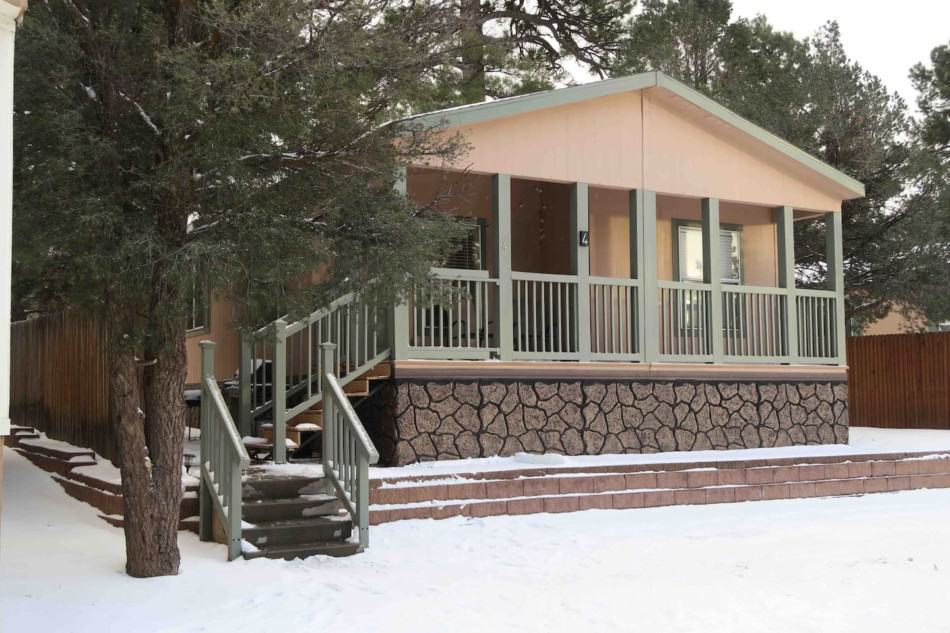 The house has a very homey feeling. It can accommodate up to 6 guests and it has 3 bedrooms and 2 bathrooms.
Now, inside the bungalow, you'll enjoy the benefits of a fully-stocked kitchen with pots and pans, baking pans, and utensils. The only downside of this bungalow is that it doesn't have an AC but the cool evening air definitely negates the need for one.
Spectacular Sedona Red Rock And Sunset Views
This zen home is located in the heart of West Sedona and this can be a perfect home base for your Grand Canyon getaway. You'll wake up to breathtaking views every day from a queen-size Tempurpedic mattress.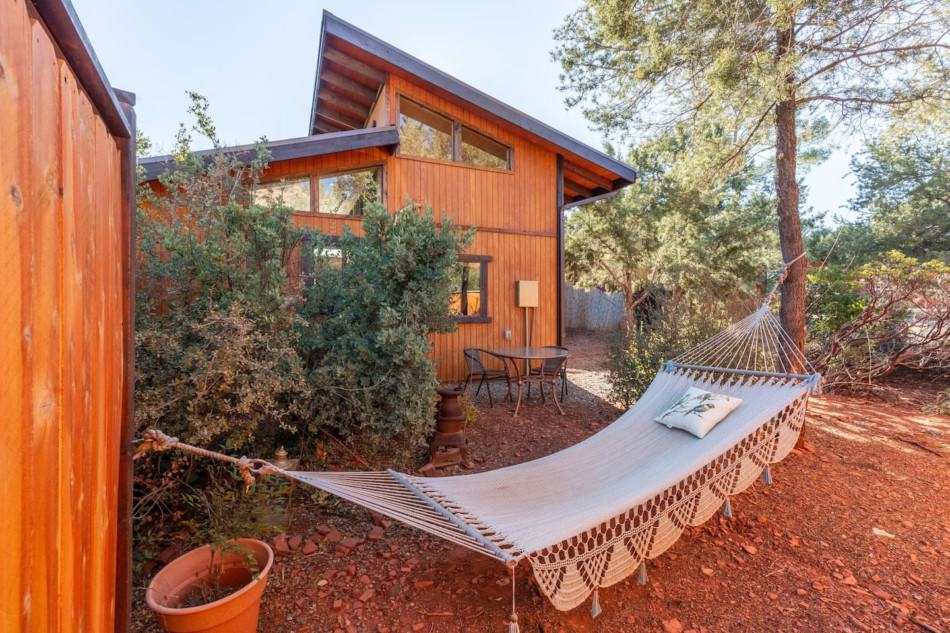 You can also cook amazing meals with a kitchen that has a hot plate and convection oven. And since this is a tiny house, it can accommodate 2 guests, and it has 1 bed and 1 bathroom.
So, if you are looking for a nice and budget-friendly house to stay near the Grand Canyon, then this is perfect for you. 
Nature Lovers Getaway
If you are looking for a perfect getaway near the Historic Downtown in Flagstaff, the Nature Lovers Getaway is perfect for you.
This is a holiday home with lots of outdoor activities awaiting for you such as hiking, skiing, and cycling.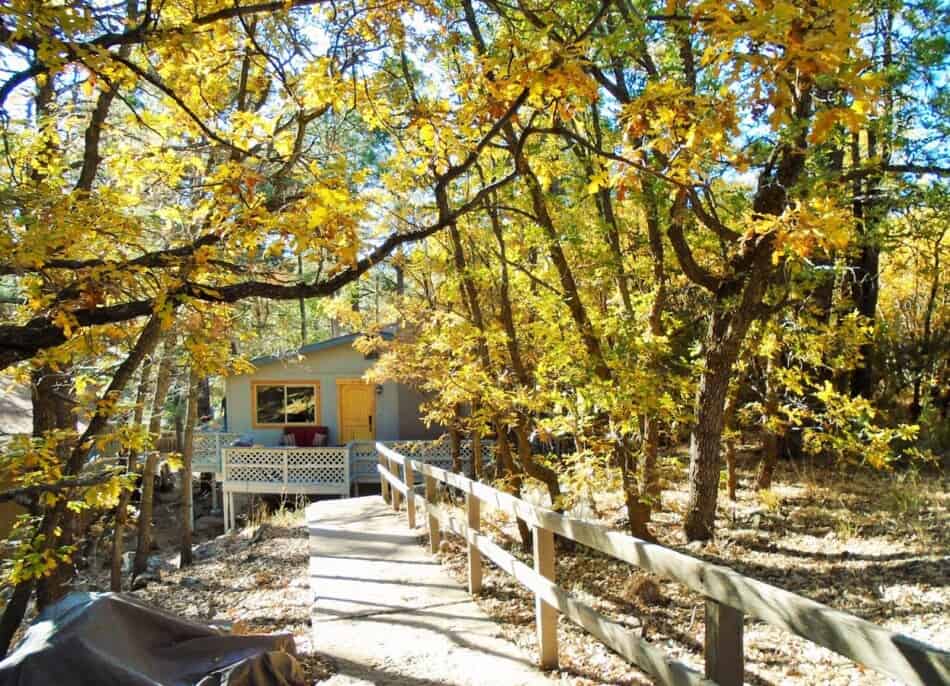 Inside the holiday home comes with a kitchen with dishwasher, a microwave and fridge, a living room with a seating area, dining area, three bedrooms, and two bathrooms.
You can also enjoy lovely mornings at the sun terrace that features a BBQ station where you can bond with your family and friends. 
Sound interesting? You can check out the latest prices here.
Pristine Flagstaff Cabin with Decks and Mountain Views
Located in Flagstaff, Pristine Flagstaff Cabin offers an extraordinary experience for you and your family.
Their enormous family home has a total of 6 bedrooms and equipped with amenities including a flat screen TV with cable channels, a fully equipped kitchen, washing machine, 3 bathrooms with shower, and more!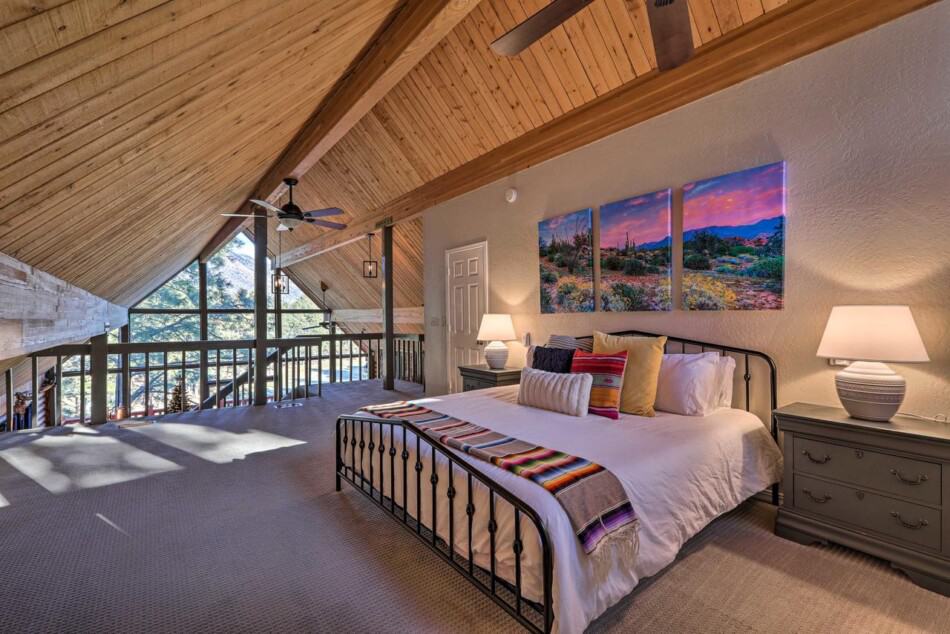 And if you want to bring your kids with you, there's an on site children's playground available. There's also plenty of outdoor activities waiting for you such as skiing, hiking, biking, and more.
Sound interesting? You can check out the latest prices here.
Relaxing Central Flagstaff Homebase
This bright and well-organized retreat house features a lovely wrap-around deck, sky-high windows, a 10-person dining table, and separate common spaces for kids and adults.
It has 3 bedrooms and 2 bathrooms and it can accommodate up to 9 guests. Guests can also have access to the Jacuzzi, fully-stocked kitchen, and covered deck with amazing views.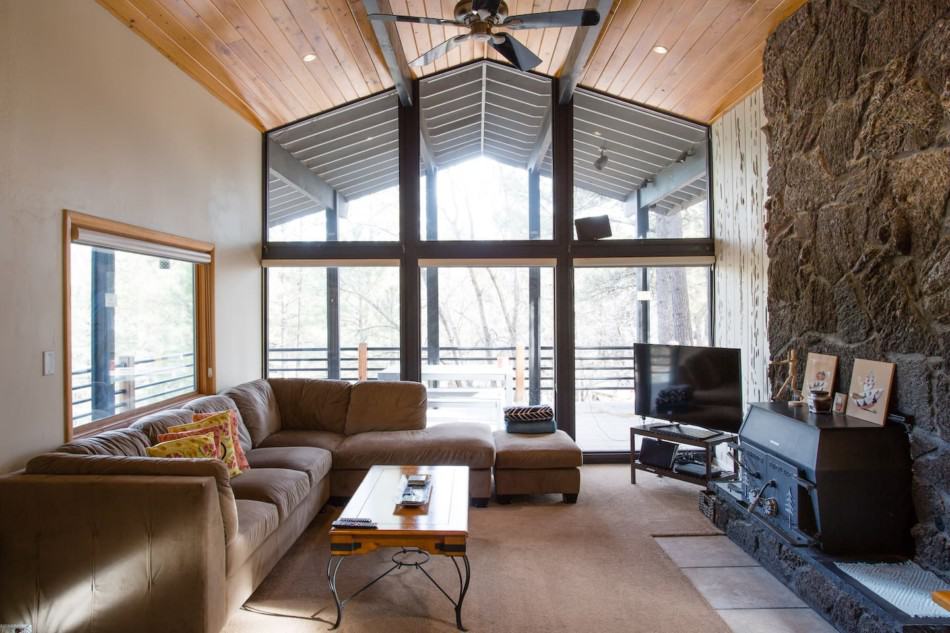 This is a highly recommended place if you want an amazing experience in Flagstaff with an affordable price.
Even though it is not really that close to the Grand Canyon, this location is very close to the downtown area where you can dine or shop or do some tour sites.
The whole family will surely love this place including the kids as they can walk on the forest trails just behind the house. 
The Canyon Motel & RV Park
Located on 13 acres property in the City of Williams, Arizona, the Canyon Motel & RV Park provides unique lodging choices for all guests. The place is surrounded by the beautiful mountains of Northern Arizona and the Kaibab National Forest.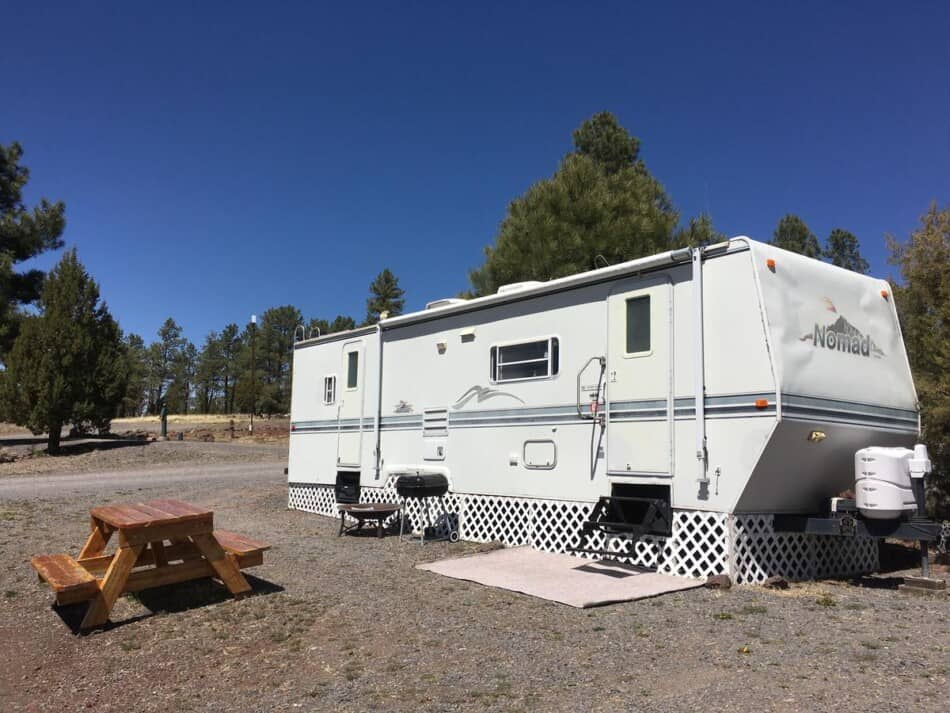 What is great about the Canyon Motel & RV Park is that you can choose from their 7 different accommodations depending on your preference.
You can book their motel rooms or their RV and tent camps. Each of their accommodations offer a unique experience for guests without the hassle. So, if you are looking for a place that has it all, this is perfect for you. 
Sound interesting? You can check out the latest prices here.
Grand Canyon Western Ranch
This old West-style resort is located in a secluded cattle ranch and is 10 miles away from the rim of the Grand Canyon. They offer a variety of accommodations that can fit two persons, a group of friends, or even your whole family.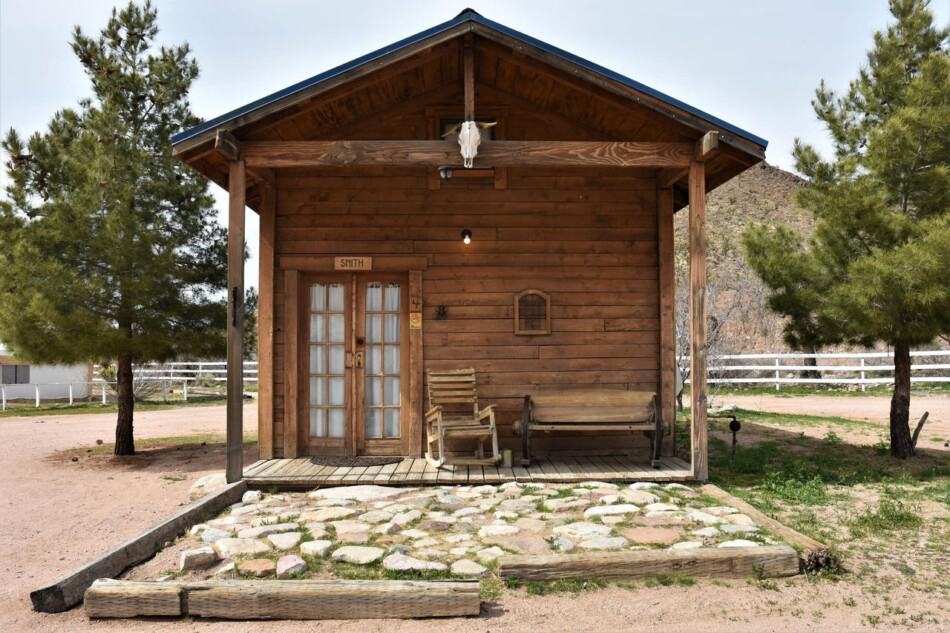 Offering cowboy-themed wagon wheels and saddles, their custom-built pine cabins can accommodate up to 2 to 5 guests. It has its own porches, fireplaces or wood-burning stoves, and en suite bathrooms.
Aside from that, the ranch also features a glamping tent that has a combination of luxury and camping. If you want to experience luxury camping without the hassles, this is for you. All glamping tents are fully furnished in western style decor.
Sound interesting? You can check out the latest prices here.
Stunning Sedona Geo Dome Retreat with awesome Red Rock views!
The Sedona Dome Home has been featured in the New York Times, highlighting its unique design and artistic details. The home is beautifully decorated with elegant Southwestern and antique accents throughout.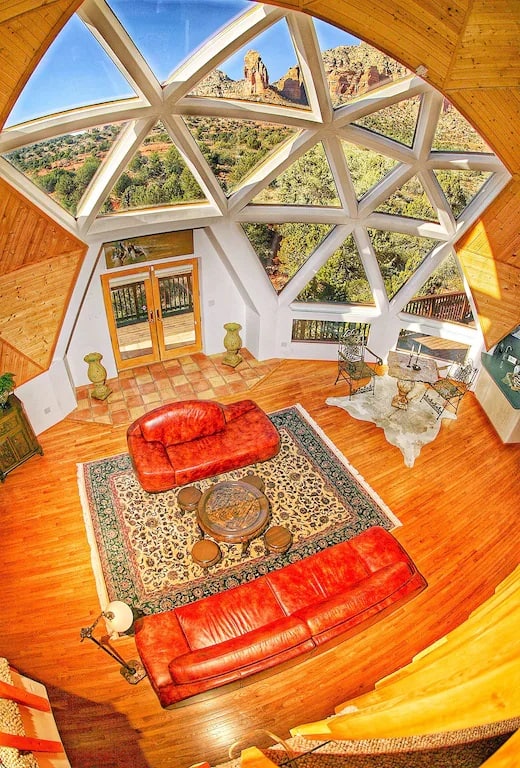 There is a feeling of Zen created the moment you enter into the great room, with breathtaking views of the Sedona red rocks spires from the expansive windows.
Privacy and the natural setting make the Dome Home a vacation experience that will make beautiful memories.
The Dome Home features the intimate Queen master bedroom on the main floor, with a luxury bath, with a private office and pull out sleeper.
The upstairs loft Queen bedroom offers amazing views, a cozy entertainment area with flat screen TV and love seat pull-out couch. There is also a gorgeous private tiled bathroom. The couch is futon style and will accommodate 2 guests.
The beds are Tempurpedic with luxury bedding and ample pillows. Each bath has intricate tiling. Special touches throughout the home reflect the extensive efforts to make it comfortable and relaxing for guests. Finally, the natural setting completes the reflective Zen-like feeling of the Dome Home.
Clear Sky Resort – Grand Canyon – Luxury Sky Domes
Clear Sky Resort holds the reputation of being America's first and only luxury skydome resort. Whether you are looking for an action-packed trip or a relaxing getaway, Clear Sky Resort is ready to offer you that. Its location is just 20 minutes south of the South Rim entrance.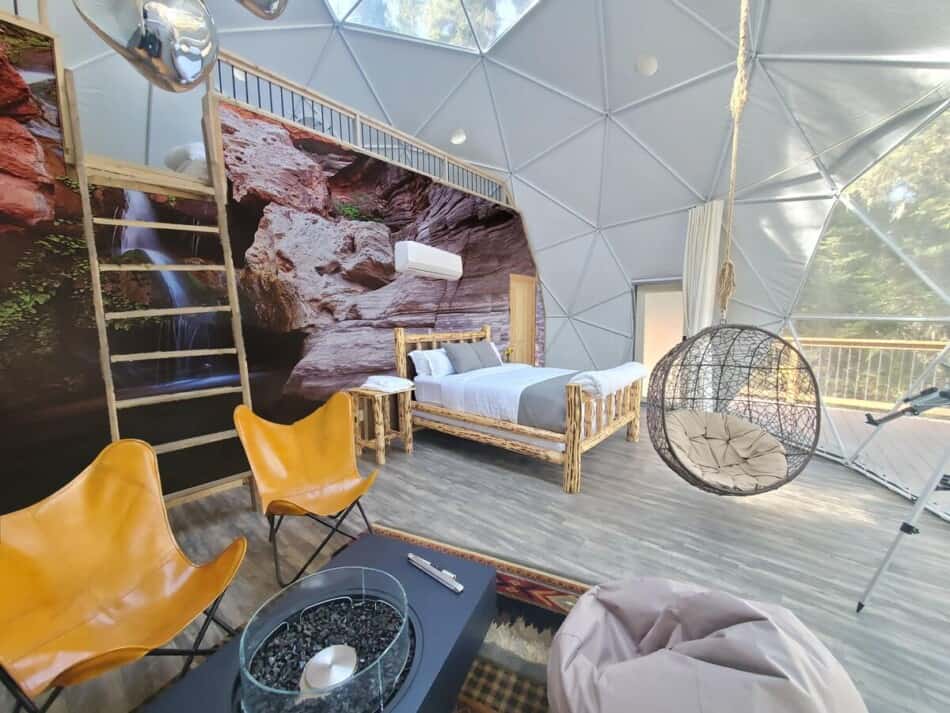 All their tent domes are uniquely styled and themed to make your stay even more wonderful and spectacular.Their luxury tents come with plush bathrobes, slippers, upscale linens, deck hammocks, skylight with telescope for stargazing, modern bathroom, and eco friendly fireplaces in some domes.
Upon entering the resort, you'll be amazed by the 1000 sq/ft panoramic window and the swinging chairs from the 26 foot tall ceiling. Each guest will have an exclusive access to the Welcome Dome lounge where guests can enjoy drinks during daily happy hours.
Sound interesting? You can check out the latest prices here.
Wander Camp Grand Canyon
Another luxury camping tent that you can avail of and try near the Grand Canyon is the Wander Camp in Valle, Arizona. They offer rustic tents that will give you the most beautiful locations each night and you will never have to miss a sunrise.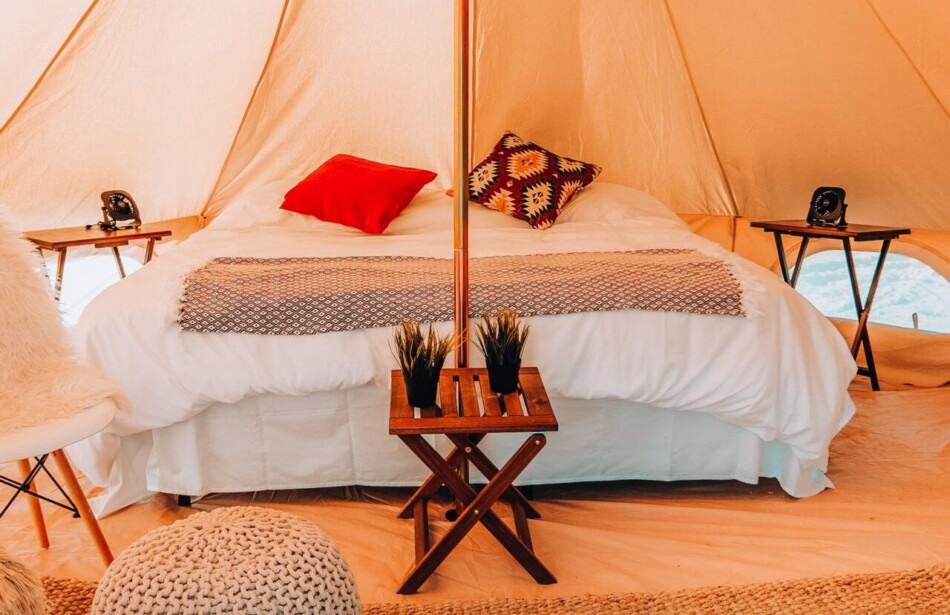 Each tent has a space of 200+ square feet and it is made from sturdy Waterproof Canvas with low profile windows and a large netted door. It is also equipped with all the camping necessities. Inside the tent, it can hold 1 king bed or 2 twin beds, plush down comforter, pillows, side tables, solar powered lanterns, USB fans, and a soft rug.
Sound interesting? You can check out the latest prices here.
Grand Canyon RV Glamping
If you are looking for a unique camping experience that is a fusion of luxury and comfort, you have come to the right place. Grand Canyon RV Glamping will give you a one-of-a-kind glamping experience near Grand Canyon.
A lot of family-friendly activities await you here and all you need to do is bring yourself and your guests and the rest of the comfort and necessities will be provided by them.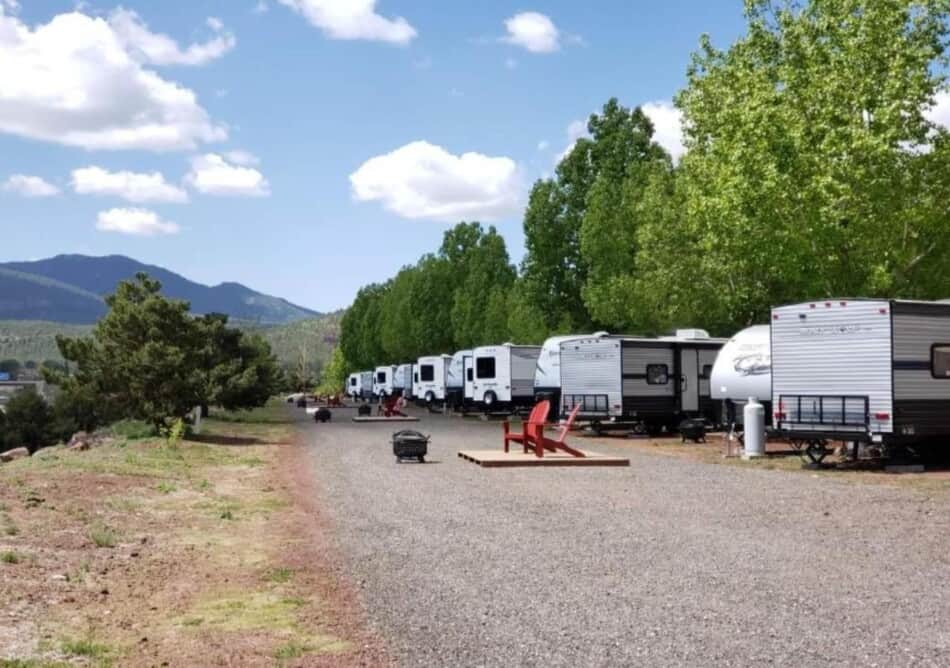 Currently, they have a total of 24 Grand Canyon RV glamping suites. Each unit is equipped with camping getaways perfect for parties, family retreats, and more. It also comes with an air conditioning, a seating area, flat screen TV with cable channels, a kitchen, dining area, and a private bathroom with free toiletries.
Sound interesting? You can check out the latest prices here.
A-Frame Mountain View Cabin in a National Forest
This tiny A-Frame house is set on a 1.5-acre property in the National Forest. It is near some of the historic sites in Arizona such as Walnut Canyon, Sunset Crater, Lake Powell, Horseshoe Bend, and a lot more. The property just borders Coconino National Forest on the north and south sides.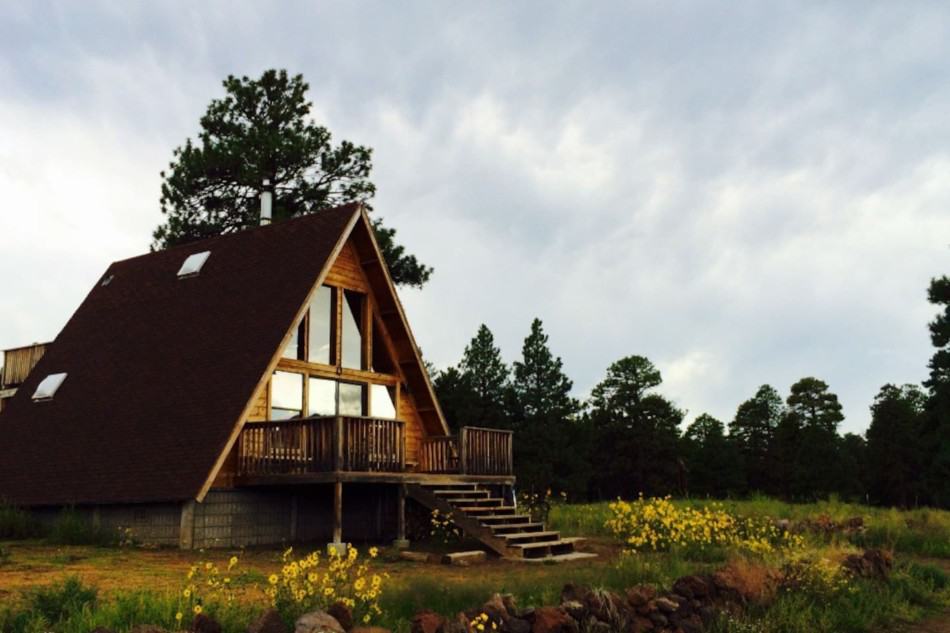 This 1970s era cabin is a rustic and small one but is very functional with great views of the forest from all rooms. There are bedrooms inside and they can accommodate up to 4 guests.
And outside the cabin, there are 3 mountain bikes, BBQ grill, horseshoe pitch, and stairway access through the National Forest boundary. This mountain view cabin has a great location and access to the National Forest so you can enjoy walking right out the backdoor. 
First Class Room Standard at Tusayan
This first class room is located just a mile from the South Rim entrance and it offers jaw-dropping views that can only be seen during winter months.
This is a great homebase if you are exploring the Grand Canyon as it is just located near the Grand Canyon National Park Airport.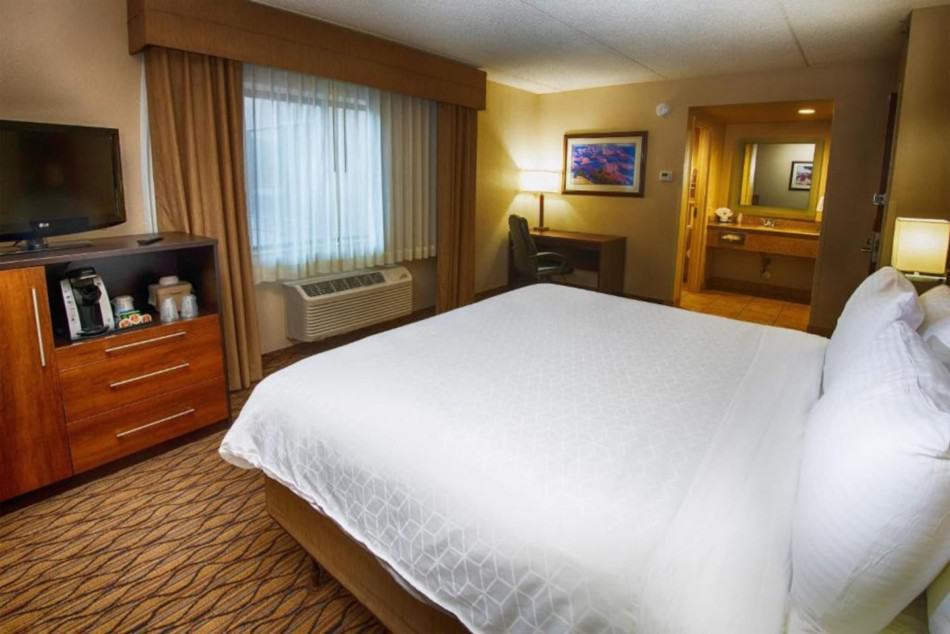 All the guest rooms have a mini fridge and microwave for any midday snack. And after a day of exploring the beautiful Grand Canyon, you can unwind and swim in the indoor pool and whirlpool or update your family or friends on your social media accounts using their high-speed internet access.
Typical Double with Air Conditioning at National Park
This lodging facility in the Grand Canyon Village features modern and motel-style accommodation all year-round for travelers. It offers an unforgettable experience in the National Park and perfect for families or friends, plus you get to stay inside the Grand Canyon National Park.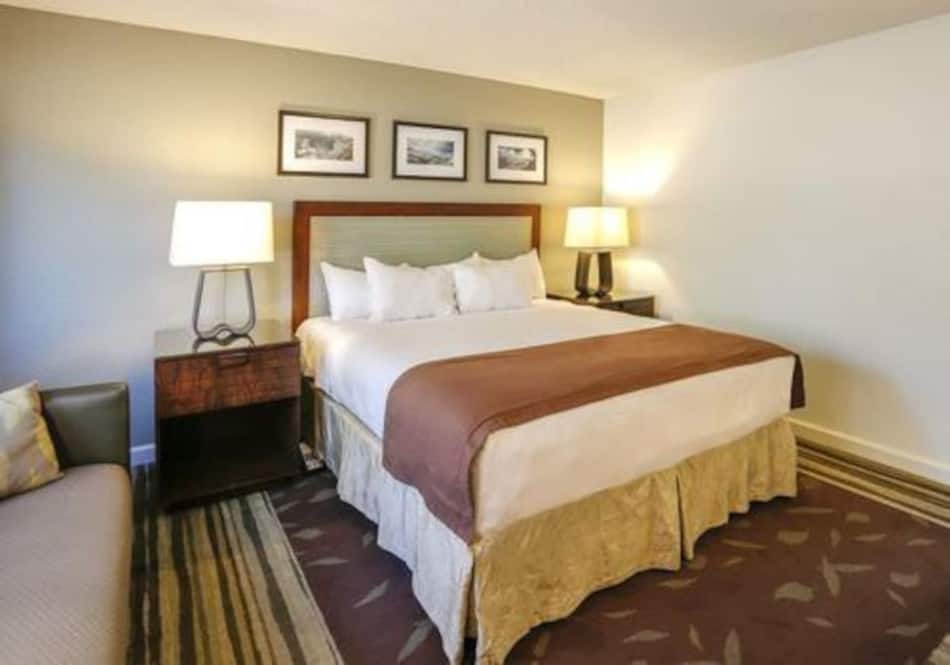 It has 1 bed and it can accommodate 2 guests. It has all the amenities available for a typical hotel/motel accommodation in Grand Canyon. So if you want a hassle free stay, this is a perfect choice.
Lotus Yurt Glamping
Everything is provided in this Lotus Yurt to make your stay a comfortable and memorable one. The Yurt is equipped with a full-size foam mattress and two individual memory foam foldable floor mattresses.
You can also cook sumptuous meals here because it has a tiny kitchen with a two-burner camping stove, French press coffee maker, mini-refrigerator, pots/pans, and basic utensils.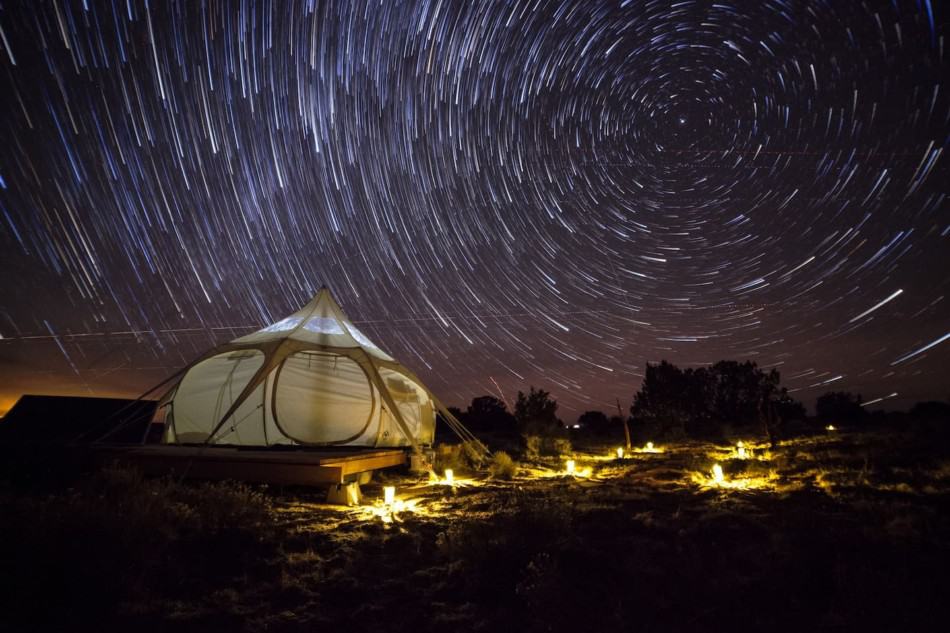 The Yurt is located on a 7-acre land shared with other glampers but they have separated the Yurts so guests can have privacy. And his yurt runs in solar power and there are day when solar batteries many not be fully charge so you'll likely experience some minor inconveniences. But if you prefer simplicity, then this place is for you.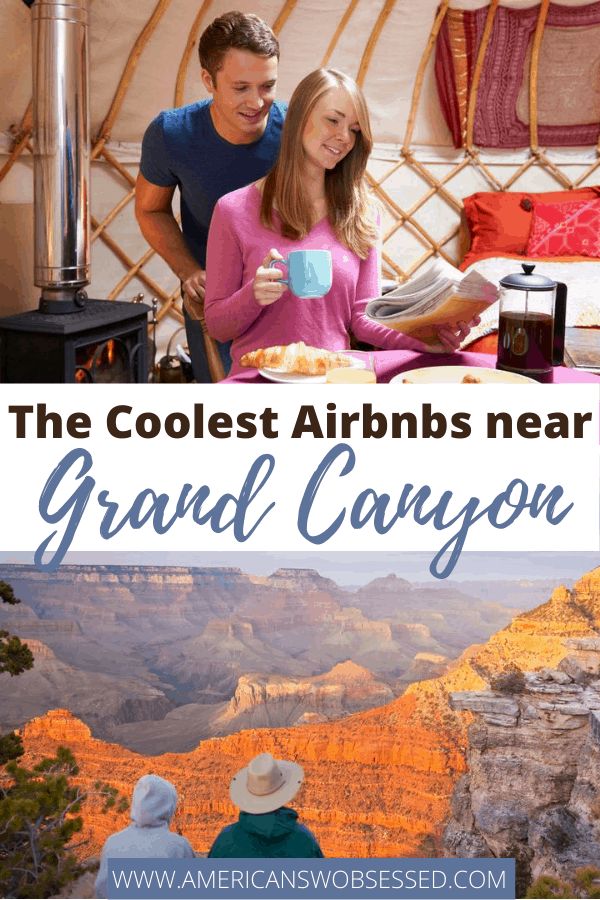 Recent Posts