15 Vacation Rentals and Best Airbnbs in Sedona, Arizona
Airbnb Sedona: Are you looking for the best Airbnb in Sedona, Arizona? These Sedona Airbnbs include a dome house, treehouse, glamping, and even a cave! Plus there are some Sedona Airbnb with stunning Red Rock views!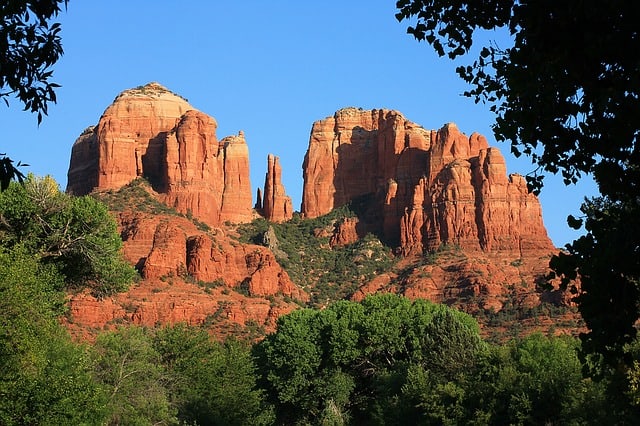 You can also check out my post on driving from Phoenix to Sedona to find out where to stop along the way and it also has an itinerary you can use for your visit. 
And make sure you check out these easy hikes in Sedona along with the best hikes in Sedona. My post on Top Things to do in Sedona has lots of useful information.
The Absolute Best Sedona Airbnbs and Vacation Rentals- Rated and Reviewed
West Sedona is one of the best places to stay as its close to everything!
Thank you for supporting this website written by an American. This post may contain affiliate links. This means I earn a small commission on these links at no extra cost to you.
Map of Where to stay in Sedona
Why Visit Sedona?
The city of Sedona is considered as one of Arizona's premier tourism, recreation, art centers, and a lot more. But what makes Sedona so special that a lot of tourists visit it every year?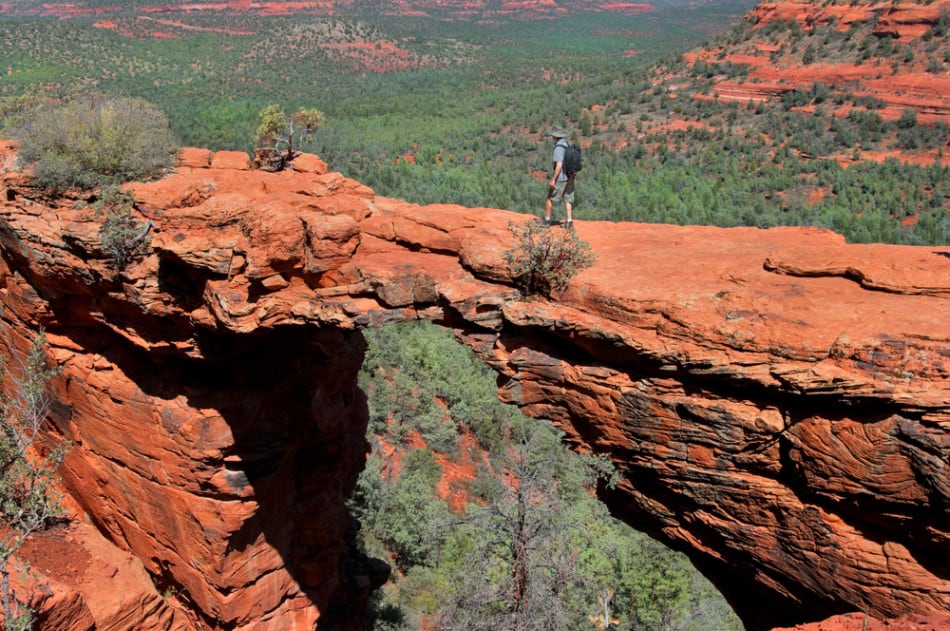 Undeniably, Sedona has a natural beauty of its red rock formation that will really mesmerize your eyes and will blow you away.
But aside from that, Sedona has become a well-known haven for spiritual wellness because of its numerous energy vortexes that many believe surround the region. If you are still not quite convinced why you should plan that trip and visit Sedona, here are the other reasons:
If you are into outdoor adventures, Sedona is perfect for you. It has some of the most amazing hiking trails that you can explore in the world and spending a day of hiking is easy.
The trail and hiking adventures are limitless in Sedona, plus not to mention the beautfil views.
I have an entire post on easy hikes in Sedona and also the Best Sedona Hiking Trails. The two best trails that come up over and over again are Devil's Bridge and Cathedral Rock. You cannot go wrong with either of these.
However, if hiking is one of your least favorite things to do, you can check out some tours that will give you an ultimate experience. There are helicopter tours in Sedona that allow you to soar above and enjoy some of its rock formations.
And if you are a history junkie, Sedona is a paradise for people who are into arts and history. Sedona has more than 500 artists and 80 unique shops and galleries that are awaiting for you to explore. T
hey also have specialty and souvenir items and artwork such as Kachina dolls, hand-made pottery, sculptures, Native American jewelry, and a lot more. 
OK, now let's find the perfect Air b and b Sedona Arizona for you!
15 Coolest and Best Airbnbs in Sedona, AZ
Luxury House with Grand Private Pool and Spa
This spacious and luxurious house has five bedrooms and five ensuite bathrooms with a private pool that offers stunning views of red rock formations throughout the property. Its the perfect place to stay for families.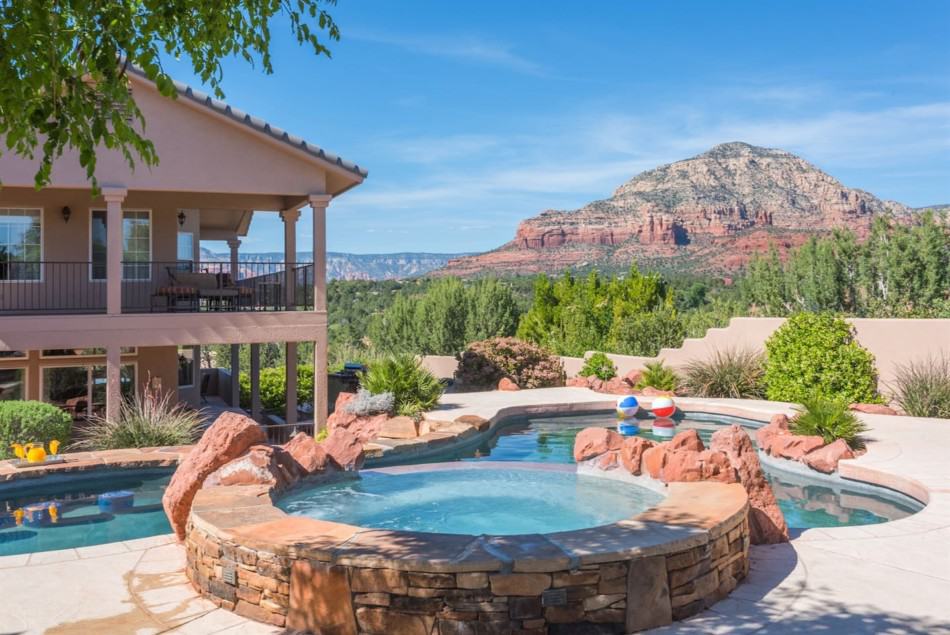 The private pool has a spa that is great for night sky viewing while sipping your favorite wine or drinking any kind of booze.
The entire house can accommodate up to 14 guests only and there are four king beds suitable for adults. Bedroom 1 has two day beds that can each be converted into two twin beds. 
And in case you want to shop, the nearest shopping mall is just 1 mile away from the property and Uptown Sedona is just 3 miles away.
Fully Renovated Casita! Enjoy our Hot Tub, Golf, Pool, Tennis & Views
Welcome to Canyon Mesa Country Club. This beautiful 2 bedroom, 2 bathroom, 1,100 square feet townhouse is located in this desirable gated community that features golf, tennis and seasonal pool/hot tub.
As guests of Canyon Mesa Country Club, you can enjoy all the Club has to offer to owners, including free access to the pool area (open beginning of May through the end of October – dates are decided by the property management).
You're within minutes from the fantastic hiking, biking, shopping, and dining that Sedona has to offer. Our end-unit Casita offers a quiet retreat, lots of light, and one single story of easy comfort.
It was completely renovated in 2018 and sleeps 4 adults comfortably.
Sunset Jewel Guest Suite with Amazing Views and Saltwater Swimming Pool
You will instantly feel at home in this attached guesthouse/studio located in the heart of Sedona that is just a walking distance to some of the best hiking trails. This is my most popular Vacation Rental and gets booked regularly.
The holiday home features 3 bedrooms, a flat-screen TV with satellite channels, an equipped kitchen with a dishwasher and a microwave, a washing machine, and 2 bathrooms with a hot tub.
The holiday home offers a hot tub. Guests can swim in the outdoor swimming pool, go hiking, or relax in the garden and use the barbecue facilities.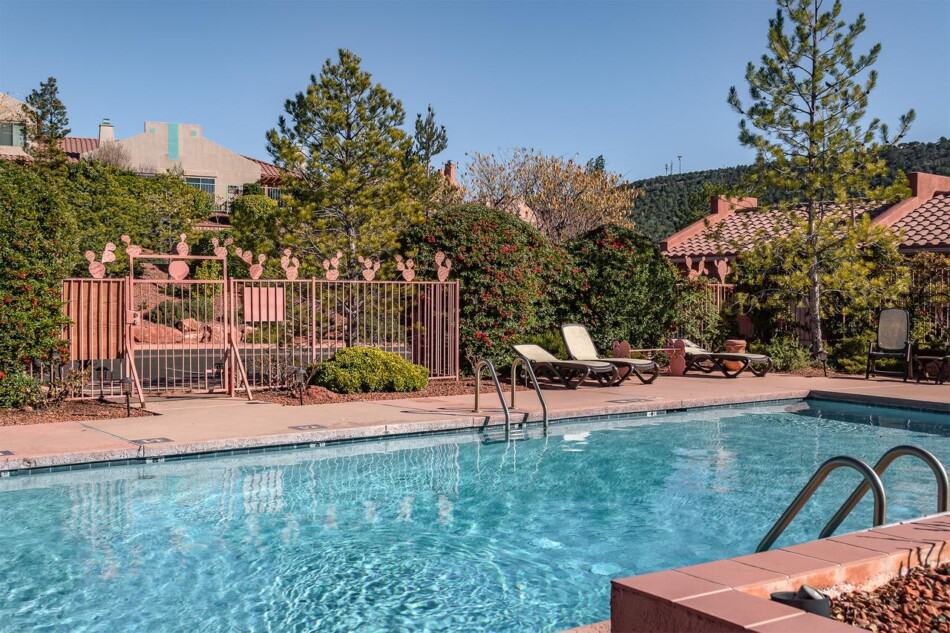 Overall, this guest suite has a romantic vibe so it's pretty perfect for couples who are looking for romantic place to stay in Sedona.
Unique Cave on The Creek Airbnb Sedona, Arizona
If you wanna experience how the Native American-Indians lived more than 600 years ago, this unique Airbnb in Sedona will let you experience it but with a modern touch.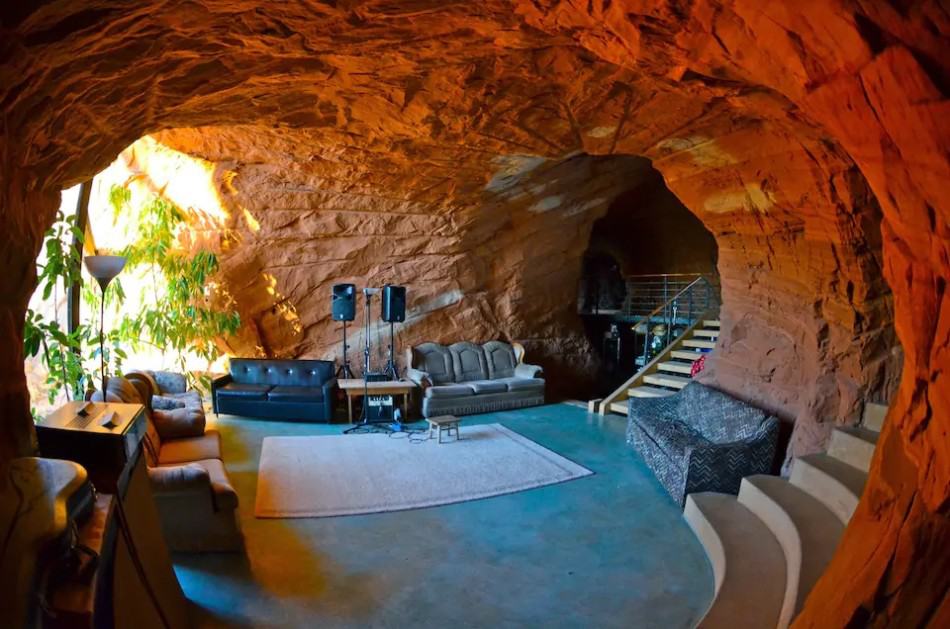 It has 1 bedroom with 2 beds that can cater up to 4 guests. It has the basic amenities that you need such as a bathroom, wifi, indoor fireplace, laptop-friendly working space, 3 hammocks, and more. 
It is worth noting that you will be living in the wilderness so if you are bringing the family with you, there will be a lot of steep terrains on the hiking trail. And kids cannot be left unattended while on the property premises.
One reviewer said: Not your normal hotel room. It is an adventure, a cave in which Native Americans once dwelled. We loved the serene atmosphere (it overlooks a creek and beautiful foliage) and the wonderful energy we experienced while staying there.
But included in the package is an actual room with a private bath which you can use as a Plan B which also gives you some of the comforts of home. Kathy is a wonderful host, and made every effort to make sure we were comfortable so that we could enjoy the total experience.
Coffee Pot Cabin
This charming yet humble 1960s cabin offers breathtaking views that overlook the majestic red rock formations of Sedona. The interiors have a rustic retro vibe that gives off a romantic setting which makes it perfect for a romantic getaway with your family or friends.
Inside the cabin is a living room that has dramatic floor to ceiling windows with large, L-shaped modern sofa bed that can let two people sleep comfortably.
Also, the floor to ceiling windows lets you enjoy the majestic red rock views to make your vacation more relaxing. It has a total of 3 bedrooms with 4 beds and it can accommodate up to 12 guests. If you are looking for a relaxing cabin for big groups that is budget-friendly, this is great choice. 
Spectacular Sedona, Sunrise to Sunset!
You will feel inspired from the moment you arrive! This professionally decorated home provides a warm, welcoming atmosphere. Upon entering, you will find that the vaulted tongue and groove ceilings and crisp white beams add a unique and cozy feel. Ceiling to floor windows provides a SPECTACULAR view of Sedona's red rocks!!!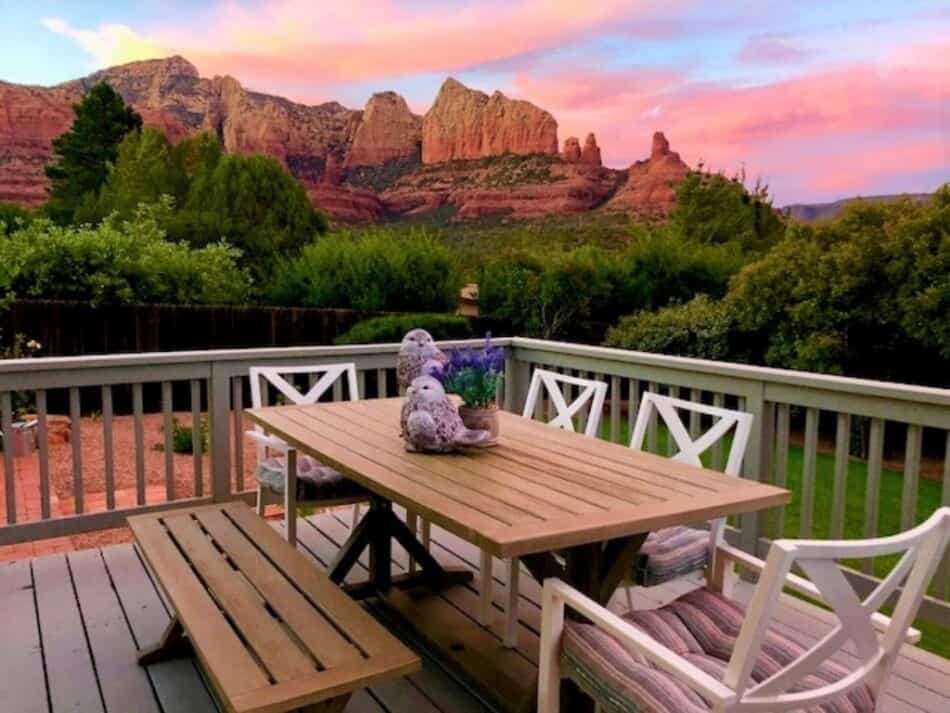 The great room boasts a large dining room table which seats up to eight. There is also an area to set up your meal "buffet style" in the formal dining room. The living room has lots of available seating with a huge sectional and dual ottomans, gas fireplace and mounted 65 inch flat screen TV along with a cozy desk area, perfect for your laptop!!!
The master suite is complete with a king size bed, super comfortable upgraded bedding, sitting area, private access to the backyard wraparound deck, ceiling fan and large walk-in closet. Relax in the evenings with your private 55″ wall mounted flat screen television!
Sunset House West Sedona
This beautifully furnished and spacious studio apartment has 3 bedrooms, a flat-screen TV, an equipped kitchen with a dishwasher and a microwave, a washing machine, and 2 bathrooms with a hot tub. Guests are welcome to take advantage of a hot tub. Sunset House West Sedona features a barbecue and a terrace.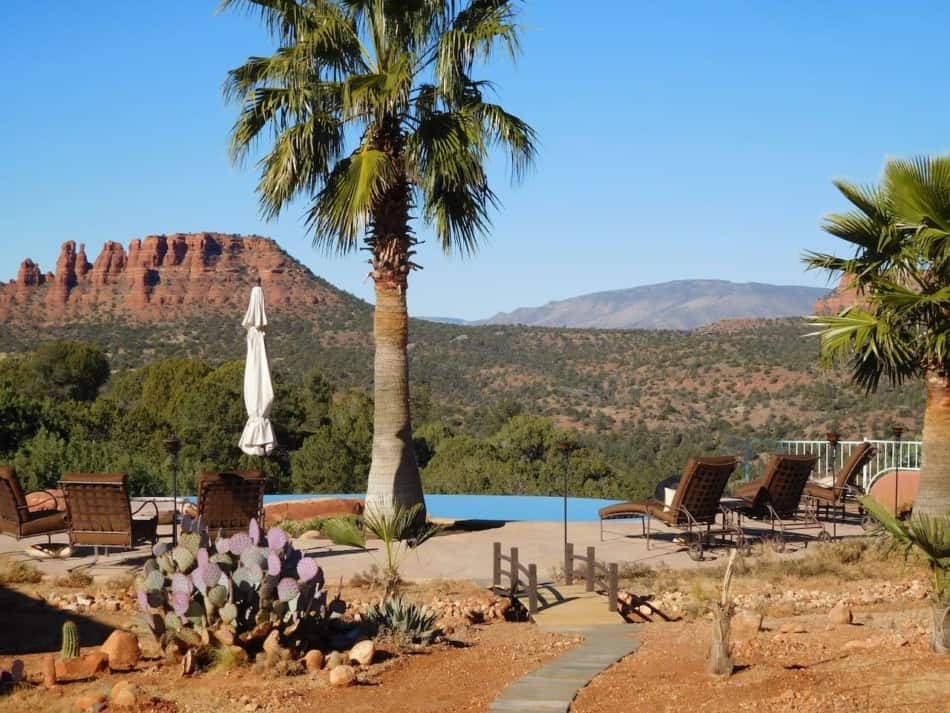 One reviewer said: Home was well decorated, beds were comfortable, the living room was great for 5 or 6 people( we were just 4) , nice dining table with view within the kitchen.
The owner was very quick to respond to our couple of questions. He is definitely very professional and takes his role seriously. New higher-end W/D a big plus. Nice gas cooktop and large fridge with ice maker within. The kitchen had many items: lots of spices, coffee, sugar, flour. Lots more but I didn't use them. Very convenient location.
The hot tub looked great but we didn't get to use it. ***Walk 2 blocks to Laylas Bakery for the BEST cinnamon rolls and coffee. All their food is great.
Famous Pizza next door has good sausage pizza too and a great lunch special! Online pictures are representative of the property. A review talked about having to be quiet. We were 4 adults( parents and young adult children) so not blasting a boombox anyway. Is a quiet family area (like most in Sedona) so if you're looking for a place to be loud and drunk it's not for you. Rent something not as nice and well kept.
Suite Sedona: Stunning Views
One of the many things that you will love about this suite is the panoramic red rock views that it offers over the pool area that will instantly make you feel refreshed. Aside from that, you will also experience the coziness, high ceilings, location, and of course the peace that you cannot just simply get anywhere.
There are many beautiful spots where you can lounge and read your favorite book like the porch that has the most amazing view in the entire suite.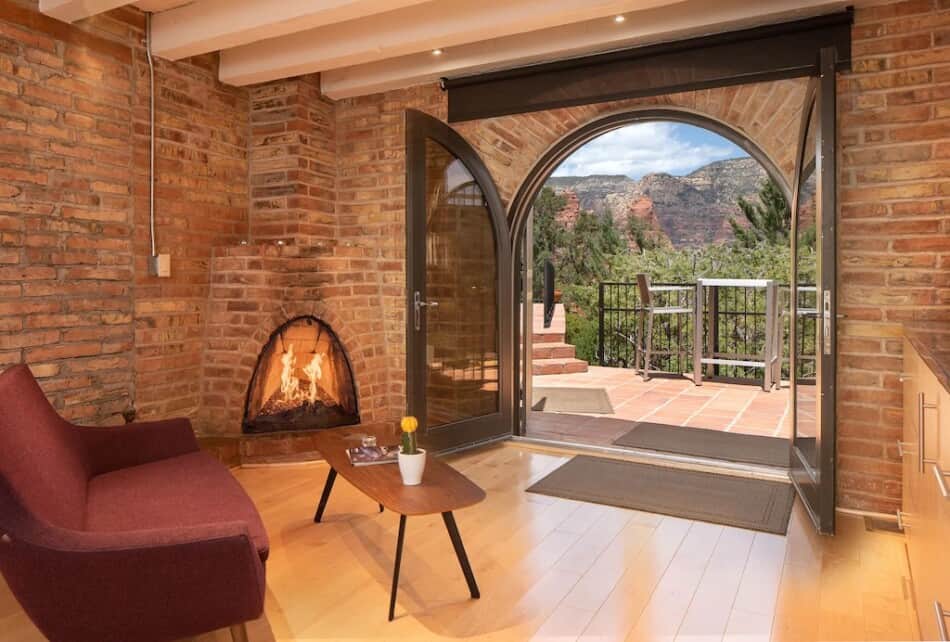 Re-energize and refresh your spirit in this unique sanctuary. This gorgeous guest suite is set within a historic building, private patio and unobstructed red rock views.
Recently updated with high quality modern interior, maple flooring, kiva fireplace, beautifully furnished Guests can also enjoy a unique full spa experience on property, hydrotherapy hot tub, aromatherapy steam room, solid cedar dry sauna (new!) and salt water pool. Enjoy this unique architecture set in 5.3 acres of natural beauty and stunning red-rock views yet only 1.2m to town with 15+ Hiking trails, that begin right from the edge of our property.
That 70's House
Convenience-wise, this beautiful home has the most perfect location because it just right in between Uptown and Downtown Sedona thus giving you great access to all the popular things to see and do in the area. It also offers a lot of space that is why it is also perfect for family getaways.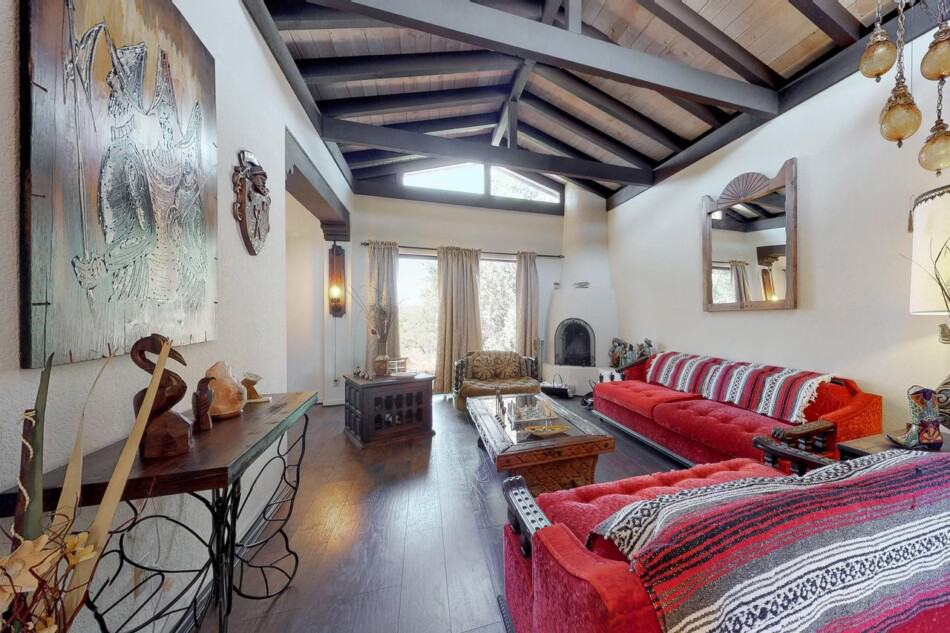 The entire house features 2 bedrooms, a TV with cable channels, an equipped kitchen with a dishwasher and a microwave, a washing machine, and 2 bathrooms with a shower.
All amenities available in the house can be accessed by all guests including the full patio, fenced yard, two-car garage, laundry, and dryer. So if you are looking for a beautiful and spacious house with incredible views of the mountains of Sedona, this is a perfect choice. 
Picturesque home w/ private pool, hot tub & grill in a tranquil backyard!
As you enter this beautiful house nestled up among the red rocks, you will be welcomed with a glowing and beautiful stained-glass well that gives you uninterrupted views of the surrounding landscape.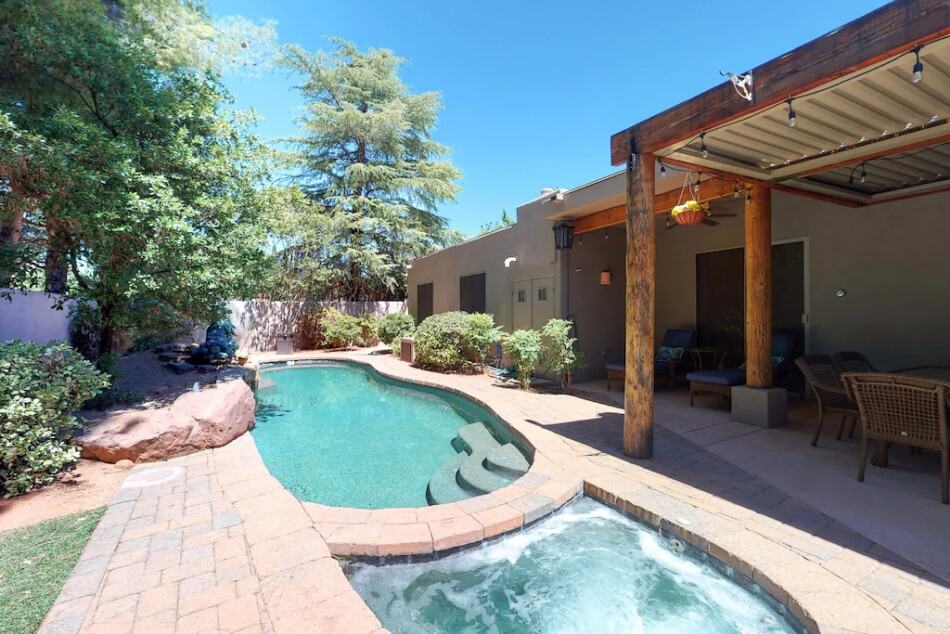 Find your own personal sanctuary at this beautiful Sedona home, where you'll have an expansive, private backyard with a salt-water swimming pool, a hot tub, and a grill.
Enjoy the beautiful sights of Sedona's red rock landscape by day, and come home to plenty of space for everyone to spread out, a well-equipped kitchen where you can prepare meals, and a living room fireplace that provides the perfect setting as you watch a movie.
This place is really spectacular and the views from the house are definitely worth the price. If you like living in a glass house that is nestled on the red rocks, this is a really perfect choice.
Expansive Home Near the Chapel
A beautiful and comfortable house that is perfect for the whole family, this expansive home is in a beautiful location in Sedona. It is just a walking distance to hiking trails in the area and a short drive to town for some dining and shopping options. The interior has a modern and chic design and furniture.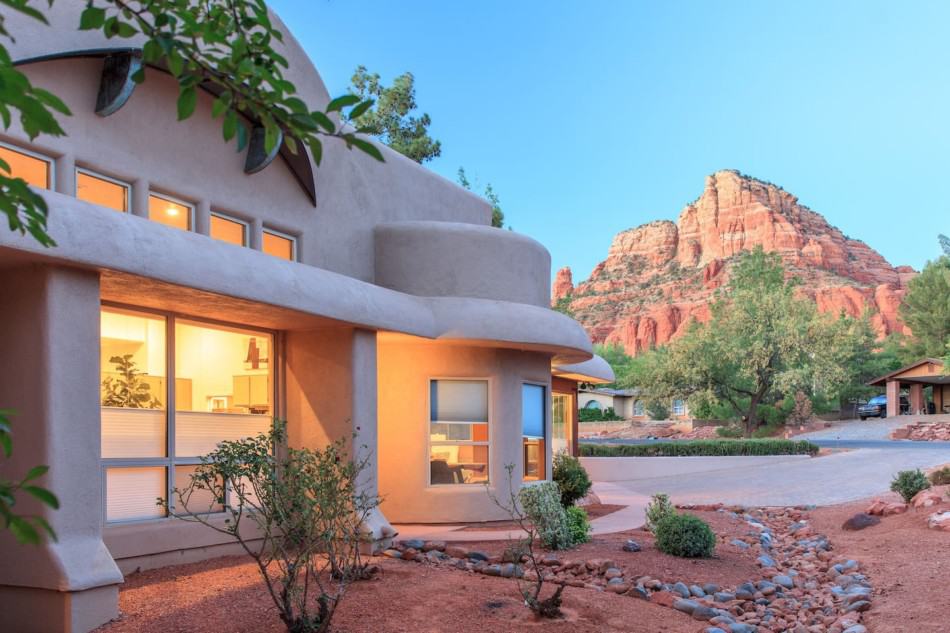 This house has 4 bedrooms and 5 beds and can cater to large groups. The kitchen is well-stocked so you can cook super and sumptuous meals for the whole squad. It also has a back patio where you can grill some BBQs. Overall, this is a really fantastic place but on the pricier side.
Capitol Butte Casita
Located in a quiet neighborhood with stunning red rock views, this brand new guest house is close to everything that Sedona can offer to you. Grocery stores, restaurants, shopping centers, and even Sedona's legendary trails, are just minutes away from the property.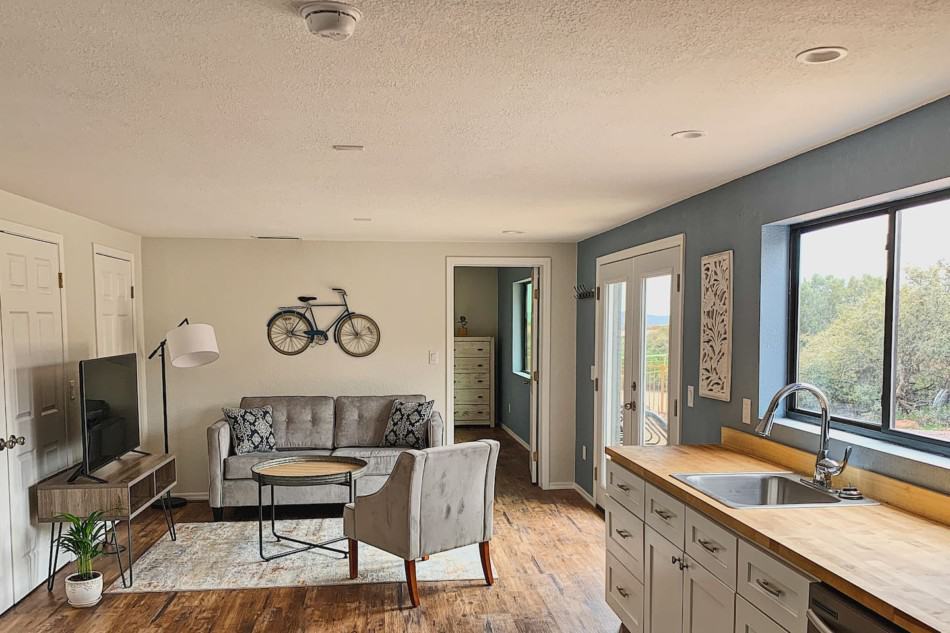 It has only one bedroom with two beds good for 3 people and you can expect views of the Chimney Rock as you start your day in the morning. You can also have some quiet time on the patio with additional views of Thunder Mountain while sipping your coffee. And cooking great meals would be hassle-free with the fully-stocked kitchen with a full size refrigerator with hot plate and convection oven.
High End Haven with Views and Pool
This gorgeous and high-end home features amazing views of the red rock formations, a stunning hot tub, in-ground pool, and an outdoor lounging area.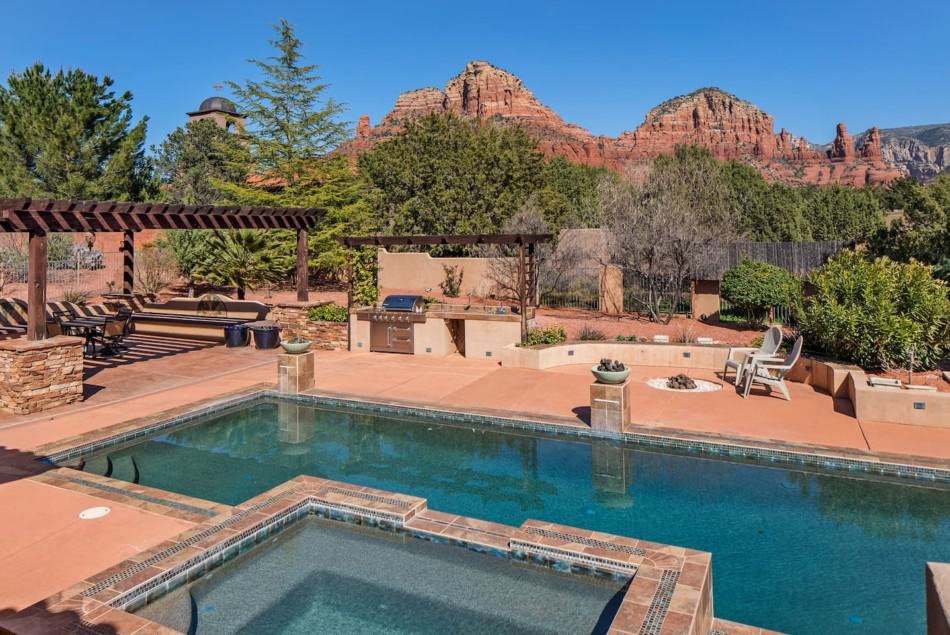 It has 3 beds and 2 bath with an outdoor kitchen and outdoor living space that you can fully utilize. This place will instantly make you feel like you are in a very private resort with a beautifully tiled pool and cozy spa. And the host is so easy to communicate and will make sure that you will have the best experience in this home.
Big Hit Vortex Retreat with Ultimate Views and Salt Pool
This one of a kind Airbnb in Sedona is adjacent to the national forest with direct views of the famous Bell Rock, Court house, Cathedral Rock, and a lot more. This Big Hit Vortex Home will make you feel like you are in a resort or sanctuary.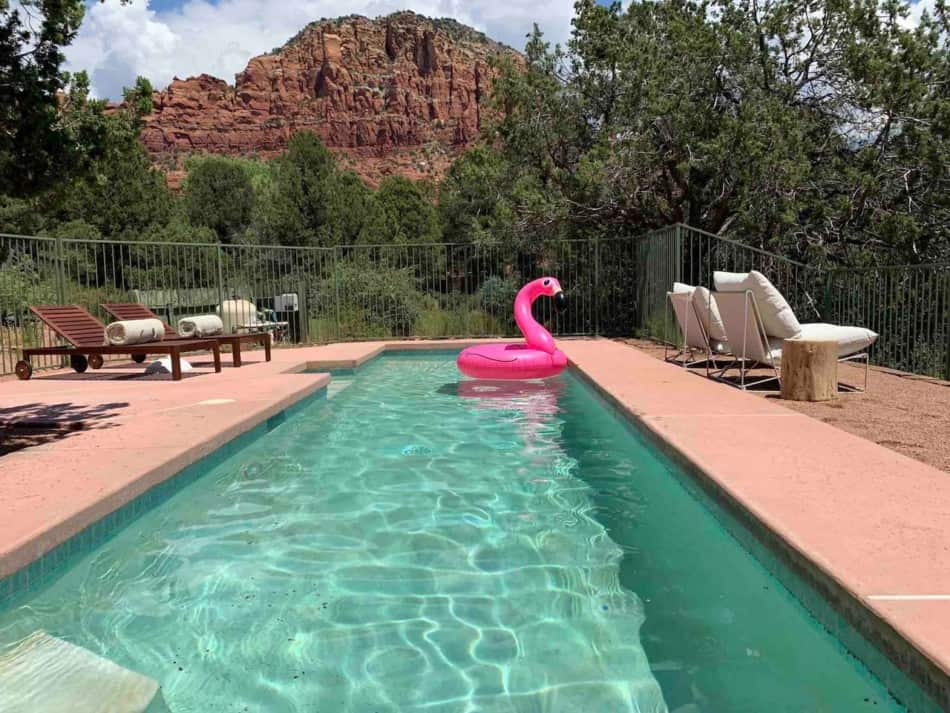 There are a total of 3 bedrooms in this house and every bedroom has its own bath. The master suite has an oversized jetted bath where you can soak in and experience tranquility. The kitchen is very well-stocked and the amenities are up to date. This is a highly recommended place, and with the views alone are just outstanding.
The Pie House at Coffee Pot Trail
This newly remodeled beautiful house at Coffee Pot Trail has one of the best locations in Sedona. It is a very comfortable and spacious home and it can accommodate up to 6 guests.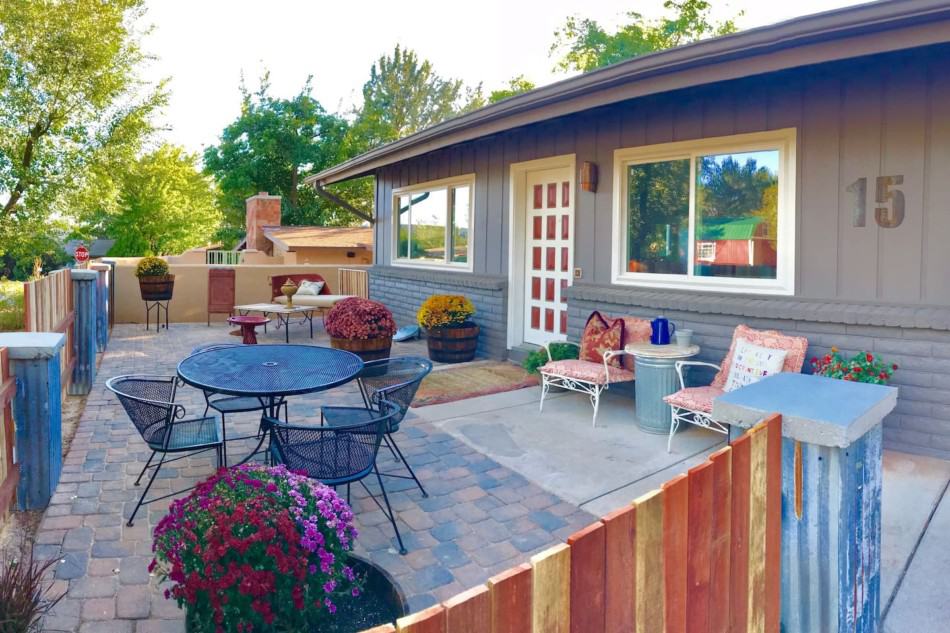 It has beautiful furnishings and cozy gathering areas so guests can truly bond with one another. It is complete with the basic amenities that you need for a perfect vacation. If you are looking for an upscale home in a convenient location, this is a great choice.
And not only that, this gorgeous home has fabulous views of red rock formations in every direction, as well as the Coffee Pot Rock, Thunder Mountain, Wilson Mountain, and more. And the host is very accommodating and quick to communicate with so you can expect that it will be a smooth check in and check out.
What to do in Sedona
Visit the Chapel of Holy Cross
The Chapel of the Holy Cross is a very popular stop among people who are visiting Sedona. It is a very unique place because believe it or not, it sits among the surrounding red rock formations. The chapel perfectly blends to the environment.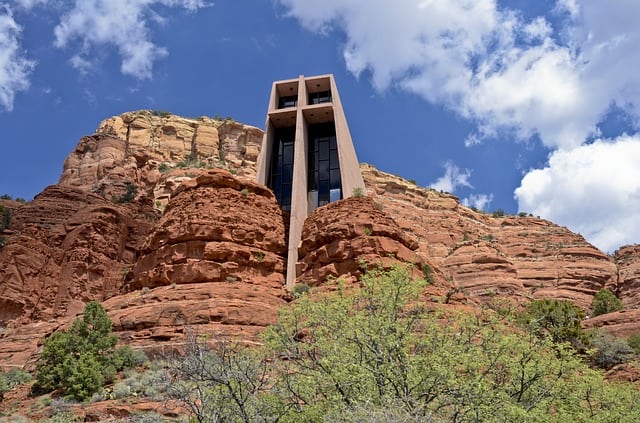 Do a vortex hike like Airport Mesa
The Airport Mesa Loop trail offers jaw-dropping and awe-inspiring views of Sedona Vortex and Red Rock formations. There is no other hike in Sedona that will give you a 260-degree panoramic view of almost every red rock landmark at an elevation of 4,500 feet.
Hike Cathedral Rock
Sedona is famous for its rocky formations and stunning views of nature and one of the best ways to get a glimpse of what Sedona can offer is taking a hike to Cathedral Rock.
Oak Creek Canyon hike
One of the many things that you will see at Oak Creek Canyon are the towering red canyon walls and a rushing creek and lush forest.
Tlaquepaque
To complete your Sedona experience, you must pay a visit at the internationally renowned shopping area Tlaquepaque, Sedona's Arts and Crafts Village.
Where to eat in Sedona
You must try out some of these famous Sedona cafes while you visit. And you must try a glass of wine and take in the views.
Red Rock Cafe
Red Rock cafe is considered as Sedona's premier cafe. They offer a diverse menu using the freshest ingredients. They quickly became a local favorite for breakfast and lunch, and guests who come to dine at this place always have a positive experience with them. And you should definitely try their all day breakfast and their famous giant Cinnamon Roll.
Casa Sedona Restaurant
Casa Sedona Restaurant serves breakfast only from 7:00 to 10:00 am daily. And if you are not staying at their Inn, you may need to secure a reservation first. When you dine at Casa Sedona, you can eat outdoors beneath crystal blue skies with magnificent red rocks as your view in the morning sun.
Their guests rave about their hearty signature breakfast entrees using the freshest local and organic ingredients available. You shouldn't miss to try out their Sedona style Eggs Benedict, Truffled Brie Scrambled Eggs, Signature Cinnamon, Ham & Cheese Savory Waffles, to name a few.
Coffee Pot Restaurant
Coffee Pot Restaurant is one of the most popular places to dine in all of Red Rock Country. The overall ambience of the restaurant is informal an comfortable. They feature a delicious variety of menu items such as their extensive breakfast selection including Eggs Benedict, Belgium waffles, Huevos Rancheros, and a choice of 101 omelette.
The Hudson
The Hudson serves lunch and dinner daily and they take pride in their bruschetta, burgers, salads, hand-cut 45-day ages prime steaks, ribs, fresh seafood, specialty cocktails, wine, and local craft beer. Aside from their delicious food, their patio dining and spectacular views are the things you look forward to this restaurant that will surely delight both your tummy and eyes.
I hope you enjoy your time in West Sedona!
Sharing is Caring! Pin this article to save for later.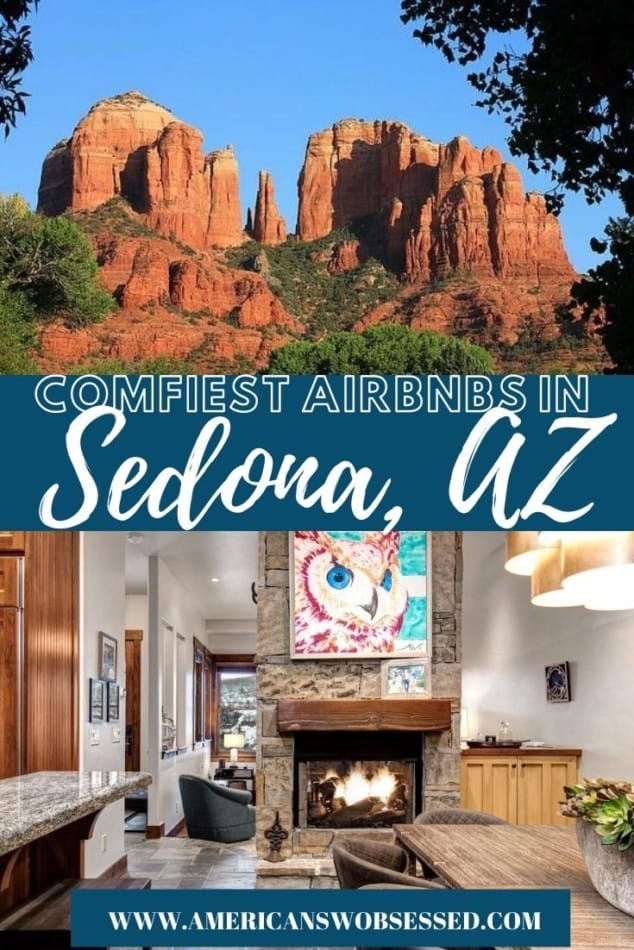 Continue Reading more on my site about Sedona:
How to Enjoy the Drive From Phoenix to Sedona (and What to Do Once You Get There)
Recent Posts