Phoenix to the Grand Canyon- Day Trip Itinerary and Best Things to do when driving from Phoenix to Grand Canyon 2020
Phoenix to Grand Canyon: Looking for the best stops along the Phoenix to Grand Canyon drive? Wanting to take a day trip to the Grand Canyon from Phoenix? Visiting the Grand Canyon from Phoenix is one of the best day trips from Phoenix.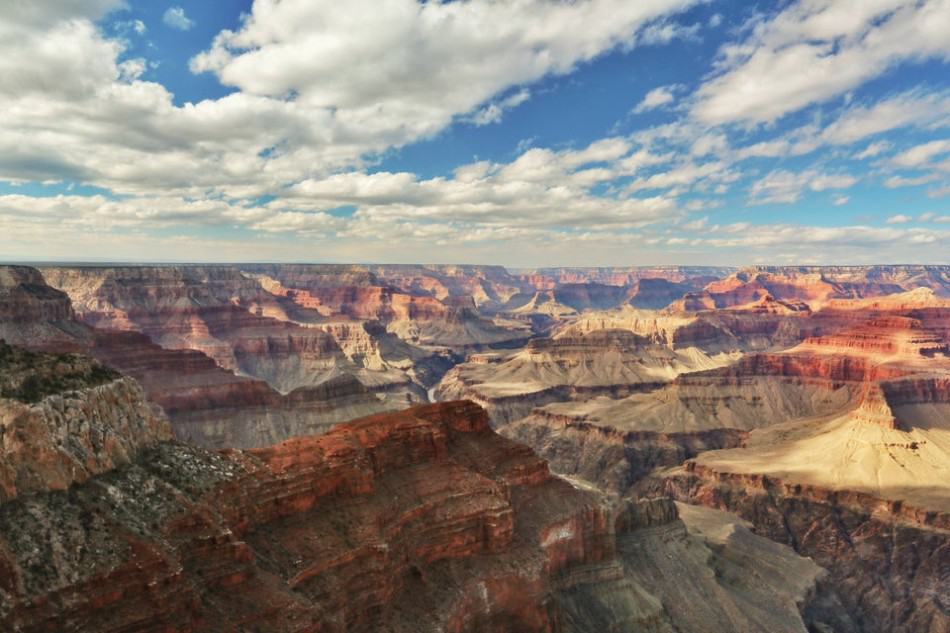 In this post, you will find out helpful information including how long it takes to travel to the Grand Canyon from Phoenix, where to stop along the way, and all the best viewpoints and things to do once you get to the Grand Canyon.
Plus I've even added in where to stay near the Grand Canyon if you decide to stay for the night.
So let's get started with directions to the Grand Canyon and all the practical information you need.
If you are looking for more information on the Grand Canyon, I have over 50 articles to help you plan your trip – even a Grand Canyon Packing List!
Thank you for supporting this website written by an American. This post may contain affiliate links. This means I earn a small commission on these links at no extra cost to you.
How to get from Phoenix, Arizona to Grand Canyon
There are five ways to get from Phoenix to the Grand Canyon: either by car, plane, train, bus, or helicopter.
One of the best ways to get to the Grand Canyon is to take a road trip!
The drive from Phoenix to the Grand Canyon is easy and I recommend renting a car from Discover Cars. It's who I use on my road trips. If you are taking a road trip remember to reserve a car in advance using Discover Cars .
But for most people who enjoy long drives and stopovers, they prefer taking it by car. But either way, you would still have a great time in the South Rim.

1. How far is the Grand Canyon from Phoenix, Arizona?
The approximate driving time from Phoenix to Grand Canyon is 3.5 hours, and that would depend on how you want to kick-off your adventure. If you have a lot of stop-overs, it would take you about 4 hours.

2. Directions Phoenix to Grand Canyon
There are three routes from Phoenix to the South Rim of the Grand Canyon, but each route takes the same amount of driving time.
Via Williams (230 miles):
– Head north on Interstate 17 towards Flagstaff
– Then merge onto I-40 West towards Williams
– At State Route 64 (Exit 164), go north towards the tiny town of Tusayan.
Via Flagstaff (230 miles):
– Take I-17 north to Flagstaff
– Continue straight through town to the turnoff for U.S. 180.
– Turn left on U.S. 180 and drive northwest to Valle
– Then turn right and drive north on SR 64 to the park entrance.
Via Cameron (230 miles):
– Take I-17 north to Flagstaff
– Go east on I-40
– Get off at exit 201 and go north on U.S. 89 to Cameron.
– At the roundabout, head west on SR 64 to the park's eastern entrance at Desert View.

3. Where to stop along the way when visiting the Grand Canyon from Phoenix

Montezuma Castle – 94 Miles from Phoenix
Montezuma is one of the well-preserved ancient dwellings in Arizona, and it is believed to be the most spectacular indian ruins in Arizona. It is a 5-story structure built into a recess in a white limestone cliff about 70 feet above the ground and it consists of 20 rooms.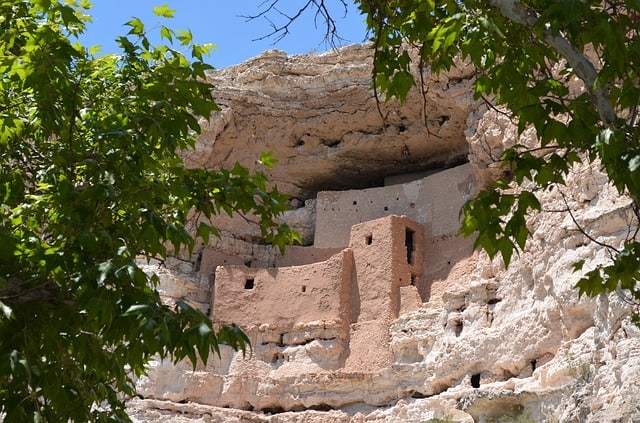 It is easy to locate the Montezuma Castle because there is a well-maintained access road and upon entering the area, you will find a wheel-chair accessible walking path leading from the parking lot. There is an entrance fee of $5.00 per person and you can also find a gift shop and interpretive center inside.
Although visitors are not allowed anymore up inside the actual ruins, you can still do other things such as walk the loop trail and take a lot of good and worthy shots around the site.

Sedona – 116 milesfrom Phoenix
The city of Sedona is considered one of Arizona's premier tourism, recreation, art centers, and a lot more. It has the natural beauty of its red rock formation that will really mesmerize your eyes.
And aside from that, Sedona has become a well-known haven for spiritual wellness because of its numerous energy vortexes that many believe surround the region.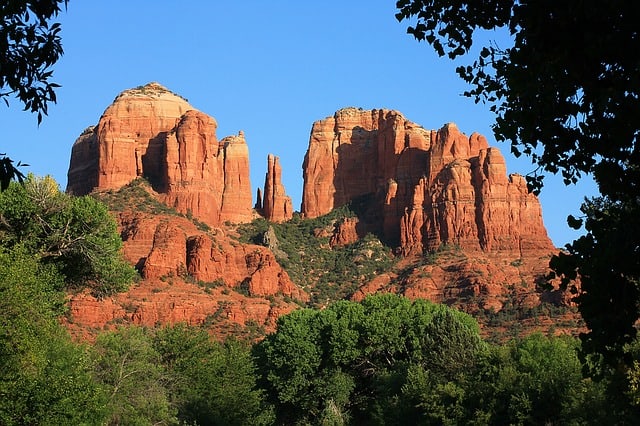 Check out my post on How to Enjoy the Drive From Phoenix to Sedona (and What to Do Once You Get There)
If you are into outdoor adventures, Sedona is also perfect for you. It has some of the most amazing hiking trails that you can explore in the world.
The trail and hiking adventures are limitless in Sedona, plus not to mention the astonishing views that will give vitamins to your eyes. 
Hiking in Sedona is one of the most popular activities and there are even some easy hikes in Sedona if you want to take it easy.
And for history junkies, Sedona is a paradise for people who are into arts and history. It showcases more than 500 artists and 80 unique shops and galleries that are waiting for you to explore.
They also have specialty and souvenir items and artwork such as Kachina dolls, hand-made pottery, sculptures, Native American jewelry, and a lot more.
Check out my post on the Best Things to do in Sedona if you would like to stop off here.

Flagstaff – 144 milesfrom Phoenix
No matter what time of the year you visit, you will never run out of wonderful things to do in Flagstaff. It is brimming with cultural diversity, history, recreational, and scientific opportunities.
Its stunning nature makes it a paradise for any outdoor activities such as running, hiking, biking, climbing, camping, and even skiing.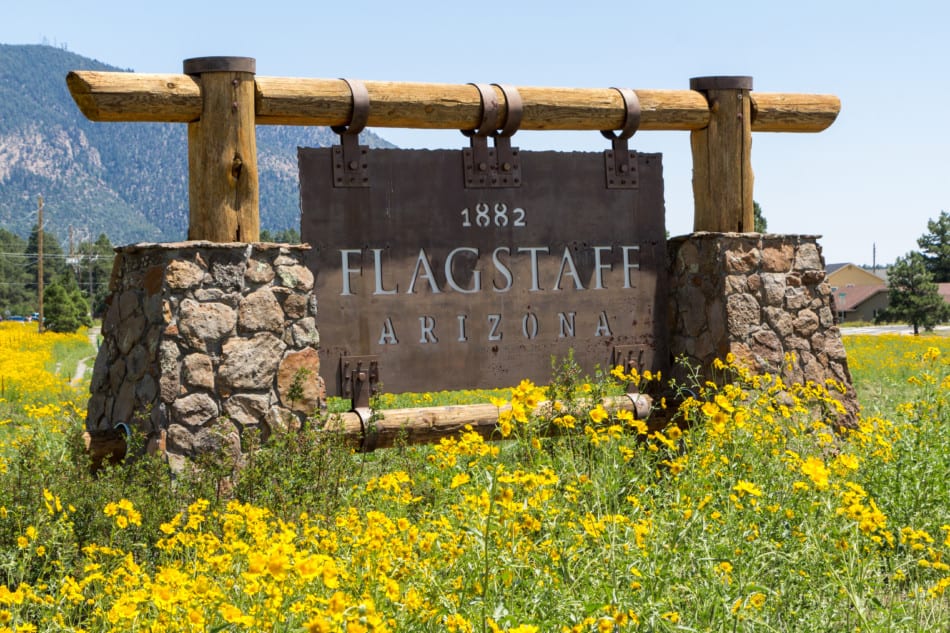 Flagstaff is also a foodie paradise that boasts a sophisticated restaurant scene and represents ethnic cuisines from around the world. You can dine at any of the more than 200 restaurants that they have such as Criollo Latin Kitchen for Latin-inspired meals, or Diablo Burger whose beef comes from the nearby Diablo Trust Ranch.
You can also stay in Flagstaff either in a pet friendly hotel in Flagstaff or one of the best hotels in Flagstaff. If you would like to stop off here check out my post on the Best Things to do in Flagstaff.
Williams – on Route 66from Phoenix
Williams, a small town nestled in Arizona's pine nation, has a wealth of things to see and do. History buffs can visit more than six blocks of historic buildings and memorabilia-filled shops.
Tourists to Arizona will find yet another reason to fall in love with the state. Williams is known as the Gateway to the Grand Canyon is a charming rest stop for world travelers.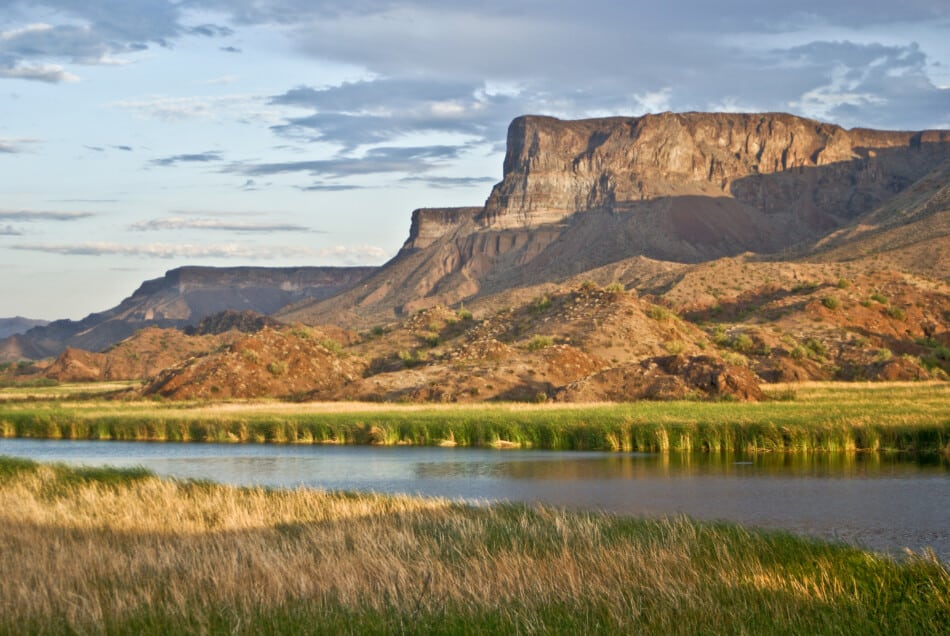 Williams is a great little place to stop off and get something to eat. From pie, Thai, or steak you will find lots of choices for places to eat included fast food in Williams.
Best Things to do in the Grand Canyon on your Grand Canyon day trip from Phoenix:
Desert View Point and the Watchtower
Desert View is a small settlement on the South Rim just 25 miles east of Grand Canyon Village. If you are visiting the Grand Canyon for the first time, this is a great place to be if you want the first views of the Grand Canyon.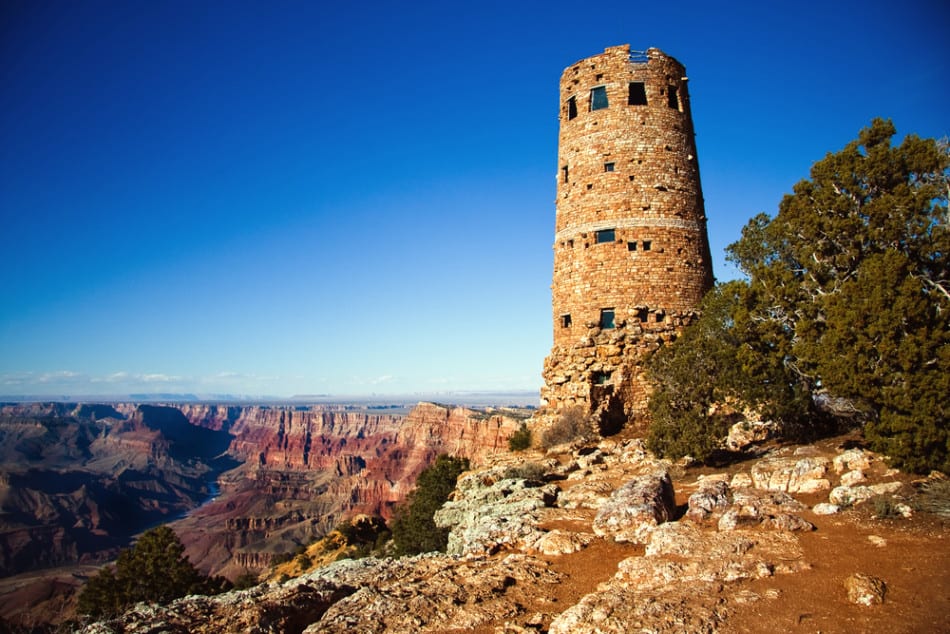 One of the attractions inside the Desert View includes the finest view of the Colorado River and canyon geology, park ranger programs and cultural demonstration, and Tusayan Museum that features the story of American Indians of the region.
And one of the facilities in Desert View that guests can take advantage of is the Desert View Watchtower. Since its completion in 1932, the watchtower was a combination of a tourist attraction, curio shop, and museum of Hopi culture and symbolism.
Each story of the watchtower has several windows that allow visitors to gain sight of the Canyon and the surrounding areas. 

The Main Visitor Center
The Grand Canyon Visitor Center is a great starting point to begin your journey to the Grand Canyon National Park. It is situated at the South Rim and it offers an interesting and educational overview of Arizona's famous landmarks.
You will be guided by their knowledgeable local representatives, as well as their helpful staff who will provide you with information about hotels and restaurants near Grand Canyon. 
Wiki Commons Grand Canyon National Park
You can also stop by at Grand Canyon Conservancy's Park Store, just across the plaza from the Visitor Center. It showcases a wide variety of books, maps, DVDs, and gifts to make your trip to the Grand Canyon more memorable.

Walk the Trail of Time
The trail of time is an interpretative walking timeline trail that is focused on showcasing Grand Canyon vistas and rocks so that visitors can explore and understand the vastness of geologic time, as well as the stories captured by Grand Canyon rock layers and landscapes.
The objective of the Trail of Time is for visitors to have a grasp of the vast geologic history of the Grand Canyon by utilizing a section of the existing South Rim trail. 
The trail stretches from Yavapai Observation Station to Verkamps's Visitor Center. And as you stroll down the trail, you will encounter 24×36 inch information panels that document important events such as the Cambrian explosion, the uplift of the Colorado Plateau, and other topics.

Take a Shuttle Bus to Viewpoints
The shuttle buses at the South Rim of the Grand Canyon are one of the newest services offered in the area. Currently, there are five routes covered by the Grand Canyon shuttle bus service. The buses run every 15 to 30 minutes, depending on the season. And as a tip, make sure to check the maps at each bus stop to avoid confusion and getting lost.

Check out my post on the Best Grand Canyon Viewpoints along the South Rim
One of the routes available is the Orange Route/Kaibab Rim Route that is about 50 minutes land and it provides transportation between Grand Canyon Visitor Center and the scenic viewpoints:

Yaki Point
Yaki Point is the easternmost stop on the Orange or Kaibab Trail Route that also provides Pipe Creek Vista and the Canyon View Information Plaza at Mather Point. The views at Yaki Point are incomparably different to the popular points.
The westward vista surrounds the end of the Bright Angel Trail and a fine view of the South Kaibab Trail as it descends along Cedar Ridge and O'Neille Butte.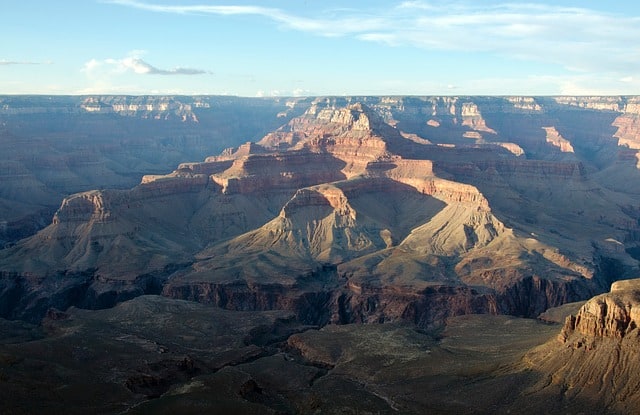 Mather Point
A vast majority of visitors to the South Rim first gaze over the Grand Canyon at Mather Point because due to the fact that it is the closest to the entrance station and it is just a short walk from the visitor center. Also, the viewing area here is quite massive and it offers terrific sunset vistas.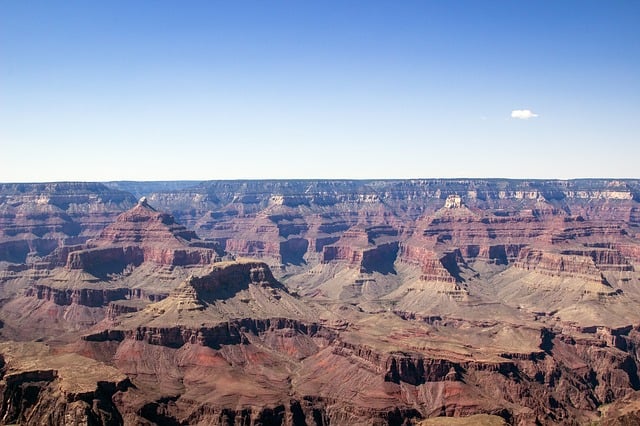 Yavapai Point
Yavapai is just an easy walk west from Mather Point and it has quite excellent views of the Grand Canyon. And just like Mather Point, it also has a Yavapai Observation Station that sells books and displays information about the history of the Grand Canyon. However, the parking area is very limited and vehicles over 22 feet are not allowed.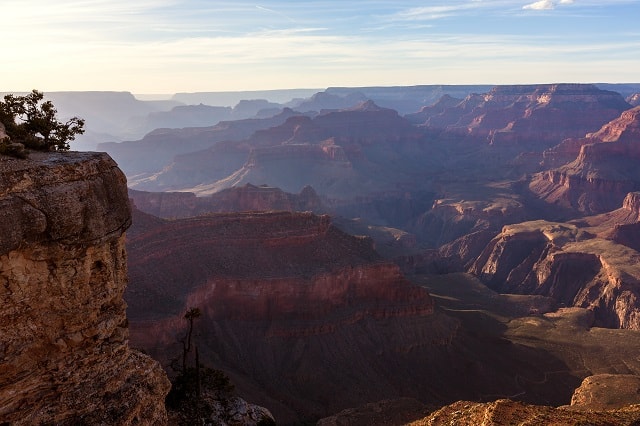 Nevertheless, Yavapai Point gives the best panoramic views of the three points of the south rim and it is closest to the Colorado River.

Rim Trail – Visitors Centre to Village
The Rim Trail offers hikers the chance to see the Main Amphitheater from above and its extends from Fairyland Point to Bryce Point. It has a one-way distance of 5.5 miles and has several steep elevation changes.
Head to Tusayan
The Imax Theater at Tusayan features a giant six-story movies screen and over 12,000 watts of digital surround sound. It lets you experience the history of the Grand Canyon while sitting comfortably in the theater.
The Yavapai Museum of Geology features a bookstore and museum shop where you can buy memorabilia to make your trip to the Grand Canyon truly unforgettable.
Where to stay near the Grand Canyon
If you can't make it back from the Grand Canyon to Phoenix and you are wondering where to stay in the Grand Canyon, read my post on the 5 closest cities to the Grand Canyon and where to stay. This is helpful if you are heading onto other locations.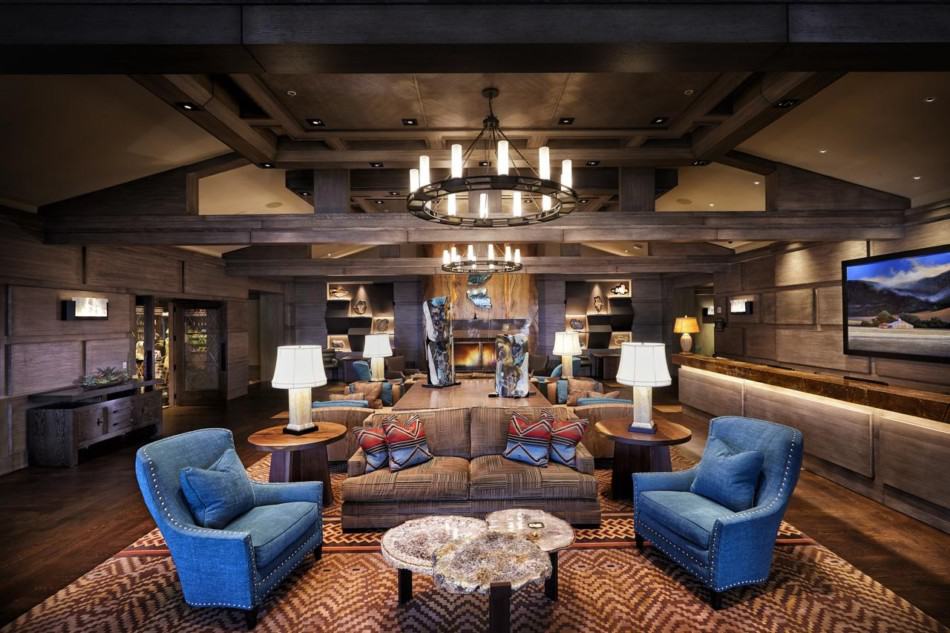 Tusayan is the nearest city to the Grand Canyon. Tusayan is about 5 miles from the South Entrance of the Grand Canyon.
You will find shops and restaurants there, the Grand Canyon IMAX, and the Grand Canyon Airport is about one mile south of town.
Canyon Plaza Premier Studio and Apartments
Views of the valleys and forest areas are featured in select Arizona apartments. Grand Canyon South Rim Entrance is 5 minutes drive.
Studios feature a kitchenette and apartments offer a fully equipped kitchen at Canyon Plaza Premier Studio and Apartments. A balcony is provided in each unit.
JJK's Restaurant is open for breakfast, lunch, and dinner at the Studio and Apartments Canyon Plaza Premier.
Arizona Luxury Expeditions – Grand Canyon
Arizona Luxury Expeditions has tents where you can glamp overnight. This is part of their all inclusive and customized to include 12'x12′ Expedition Tents, all meals freshly prepared daily, and a professional Tour Guide for your stay with us.
The weather at the Grand Canyon during Dec. averages 30-40 degrees Fahrenheit daytime and 20's degree at nighttime. They provide heaters for inside your sleeping and private dining tents with plenty of warm heavy wool blankets.
Most guests enjoy this time of the year in the Grand Canyon because of fewer crowds of people and the winter landscape that is incredible to experience.
Best Western Premier Grand Canyon Squire Inn
Located right next to the Holiday Inn Express, the Best Western has 250 rooms. The Best Western has an indoor heated pool, a hot tub, sauna, and fitness center.
There are also two restaurants in the hotel – Coronado Room and the Canyon Room. If you are looking for fast food you can find the McDonalds and Pizza Hut are close.
Holiday Inn Express Grand Canyon
The Holiday Inn Express is located just two miles from the South Entrance of the Grand Canyon. The Holiday Inn Express has 164 rooms and is located centrally in Tusayan which means you can walk to the restaurants and shops.
The Holiday Inn Express has an indoor pool, a whirlpool, and a continental breakfast is included.
The Grand Hotel at the Grand Canyon
The hotel offers 5-star accommodation with a hot tub. All units are equipped with air conditioning, a flat-screen TV with satellite channels, a microwave, a coffee machine, a shower, a hairdryer and a desk. Guest rooms include a wardrobe.
Featuring a restaurant, bar, shared lounge and free WiFi, The Grand Hotel at the Grand Canyon is located in Tusayan, 10 km from Mather Campground and 12 km from Bright Angel Trail. This 5-star hotel offers a concierge service and a tour desk.
The hotel features an indoor pool, fitness centre, evening entertainment and a 24-hour front desk.
Grand Canyon Plaza Hotel
Canyon Plaza Premier Studio and Apartments is a 3 star hotel located 6 miles from the Grand Canyon.
There are only 10 rooms here and each room has a microwave, a refrigerator, and a coffee maker.
There is one restaurant here called JJK's restaurant. Close to the hotel is the Plaza Bonita where you can also eat.
Conclusion: Phoenix to Grand Canyon Day Trip
There are so many amazing things to see and do on the way from Phoenix to the Grand Canyon that it's difficult to see and do anything. However, as you travel from the capital city to the state's most famous natural location, take the time to discover some hidden gems in northern Arizona.
Don't Forget About Travel Insurance!
Before you leave for your trip make sure you have a valid Travel Insurance Policy because accidents happen on the road. I have used World Nomads when I travel since 2015 when I went to Africa and I love them.
Getting coverage is important as you never know what will happen and need assistance when you are more than a hundred miles from home in case of an accident, sickness, theft, etc.
Get a travel insurance quote for your trip here.
Recent Posts