17 Things to Do in the Grand Canyon with Kids – Plus Tips
Heading to the Grand Canyon with kids? Here is everything you should do and see when visiting the Grand Canyon with Kids.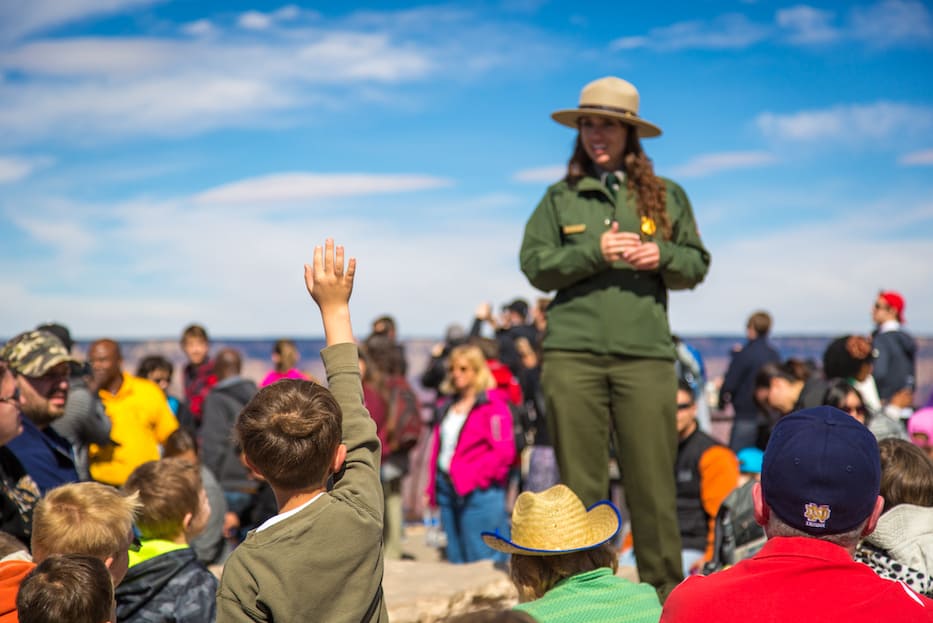 Thank you for supporting this website written by an American. This post may contain affiliate links. This means I earn a small commission on these links at no extra cost to you.
To visit any of the National Parks in the USA, I recommend buying a National Park Pass. The America the Beautiful Pass is valid for one year and costs $80. Plus 10% of sale proceeds go to the National Park Foundation.
Tips for Visiting Grand Canyon National Park
Grand Canyon National Park is perfect for outdoor enthusiasts.  There is something for everyone on this list and for different fitness levels.  Also, note that it is dry and hot (in the summer), and make sure you know what you are getting into before you start.  Here are a few tips for visiting the Grand Canyon:
Bring a reusable water bottle and lots of water! Remember you are in the sun and you will need to drink lots of water. I love my LifeStraw Filtered Water Bottle.  I can refill this bottle anywhere and it comes with a carabiner to connect it to my daypack.
Check the Weather – days over 100 degrees are very common.  Make sure to check.
Hiking boots or sandals that will protect your feet! I love good shoes.  I need all the support and help I can get.  I actually love these sandals for hiking and have a whole post on Merrell vs Keen shoes for hiking.  I also love these hiking boots which I used for Hiking in the Grand Canyon.
Bring hiking poles for balance and to protect your knees.  I know many experienced hikers (and even amateur ones) think that hiking poles are for old people who lose their balance.  Actually, hiking poles can help when going down steep inclines or when scrambling over rocks.  They are great to hike with even for the most experienced hiker. 
Wear a sunhat. I feel like this whole post is about how high you are in the mountains and how much closer you are to the sun but it is so true. At elevation, you are closer to the sun and more likely to burn. Wear sun protection such as a sun hat and sunscreen.
Be aware of the wildlife. This is the Southwest and you will need to watch out for snakes and other wildlife such as moose or a bear.  Please stay away from wildlife and do not feed them.  I recommend carrying bear spray as well.
Start Early – If you want to avoid the traffic and the heat you will need to start your hike early.  That way it will be nice and cool and the smog will not affect you either.
Leave no trace. If you are new to the concept of Leave No Trace it is all about preserving the environment to ensure it is in the same or better condition when you leave it.  This means that you should stick to the trails and carry out everything that you carried in.  This is a great explanation of the Leave No Trace principles!
Water shoes are great for water hikes– If you don't have a pair, I highly suggest it as they are affordable.  I have an article on the pros and cons of several pairs of water shoes.
Bring Bug Spray and a snack: Be sure to bring everything you need including a snack like a protein bar plus BUG SPRAY.
17 Best Things to do in the Grand Canyon with Kids
South Rim Viewpoints
The Grand Canyon's South Rim is the most popular tourist destination. It is more accessible to first-time visitors with children than the Grand Canyon North Rim. There are also more hotel options, facilities, lookout locations, and historic sites on the South Rim.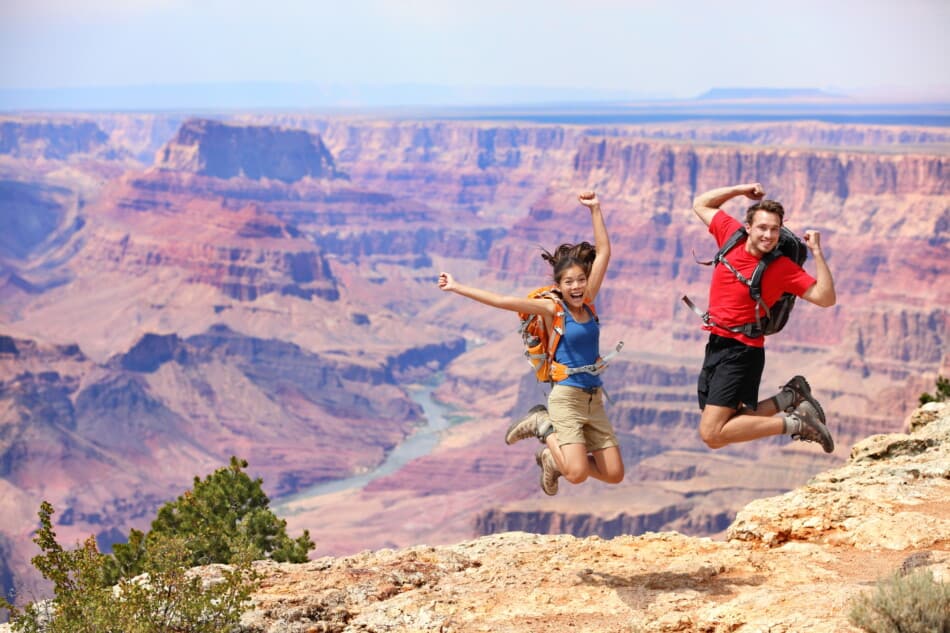 The South Rim's sweeping views resemble the iconic Grand Canyon views that tourists are most familiar with. The thousands of Grand Canyon vistas from the South Rim provide an excellent vantage point for the Colorado River, measuring 277 miles long and 18 miles wide.
Although the paved Rim Trail on the South Rim is acceptable for strollers, consider using a front baby carrier for newborns or a backpack carrier for toddlers if you plan on doing more extended hiking.
Bicycles with pull-along trailers, kid's bikes, and strollers are also available for a Grand Canyon bike ride on the South Rim. Bright Angel Bicycles may rent these to you on the spot.
The South Rim of Grand Canyon National Park is open year-round, 24 hours a day, and is free to the public. There's nothing like catching a Grand Canyon sunrise or sunset from the rim in the early morning or late at night.
Junior Ranger Program
The Junior Ranger Program at Grand Canyon National Park is a delightful addition to the Grand Canyon for kids.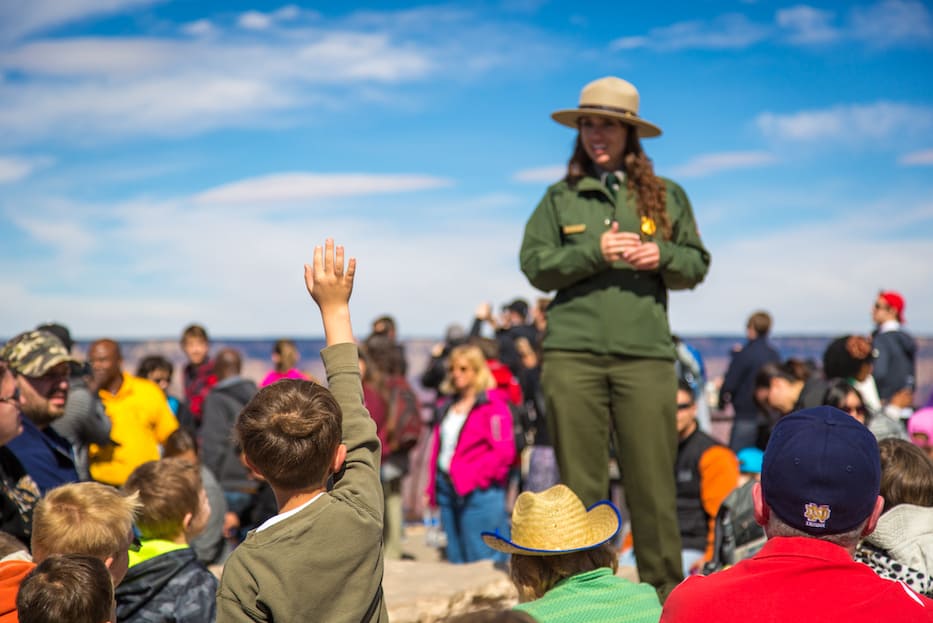 The ranger program was created to teach kids about the importance of safeguarding and sustaining national parks. Similarly, they aid in the teaching of the environment and history while encouraging children to enjoy themselves while exploring the parks.
The Junior Ranger Program of the National Park Service is an excellent approach to introducing children to the park's natural and cultural history. Kids that participate in a Ranger-led Program and complete activities such as painting, poetry writing, and recording observations about the park earn a junior ranger badge.
Children take a pledge and get an official Grand Canyon Junior Ranger badge after submitting their completed activity packet to a visitor center for review by a ranger.
Bike the Rim
Riders of all ages can enjoy family-friendly biking between the Grand Canyon Visitor Center and the South Kaibab Trailhead on the paved Greenway portion of the Rim Trail.
This 5-mile (one-way) route is mostly flat and has no traffic. Bright Angel Bicycle Rentals, located at the Grand Canyon Visitor Center, rents bicycles for adults and older children, as well as Burley trailers for carrying little children.
The South Rim's accessibility to bikes is one of its outstanding features. Visitors can rent bikes from Bright Angel Bicycles and ride to Yaki Point along Hermit Road or the South Kaibab Trailhead.
Furthermore, one of the best spots to take the kids for a bike ride is the Hermit Road Greenway. The 2.8-mile walk between Monument Creek Vista and Hermit Rest is densely packed with overlooks and is not connected to the road, so there are no vehicles to bother with.
Grand Canyon Railway
The train is one of the more entertaining and unique ways to visit the Grand Canyon with kids. The Grand Canyon Railway departs from Williams, Arizona, and drops passengers near the El Tovar Hotel, which is just steps from the Grand Canyon rim.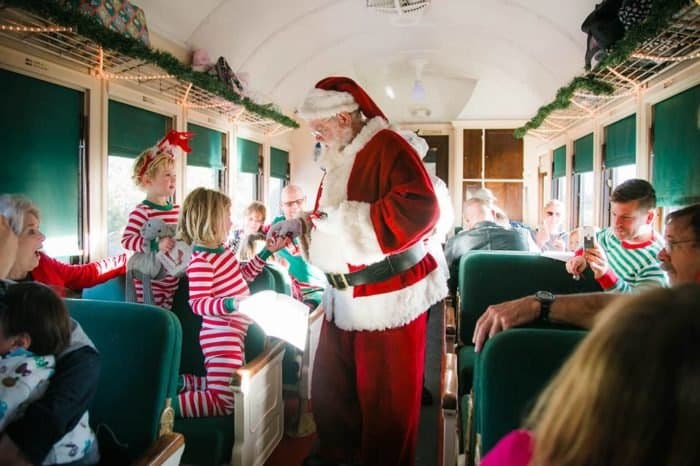 The railway offers six different levels of service, ranging from a simple Pullman car from the 1920s to a luxury parlor with its bar and afternoon snacks.
On the two-hour voyage to and from the Grand Canyon, guests are entertained by live entertainment and breathtaking sights. On the way back to Williams, there's even a fun "train robbery." Guests can stay in Grand Canyon lodging overnight as part of special booking packages, giving them additional time to explore the area.
During the 2-hour and 15-minute train voyage there and back, there's pre-departure entertainment, a singing cowboy, and even a train robbery to contend with as you return to the days of the old Wild West.
The Rim Trail
The 13-mile Rim Trail follows the Grand Canyon's rim and is generally flat and well-paved. From Yaki Point on Desert View Drive to Hermit Rest at the end of Hermit Road, the trail stretches for miles.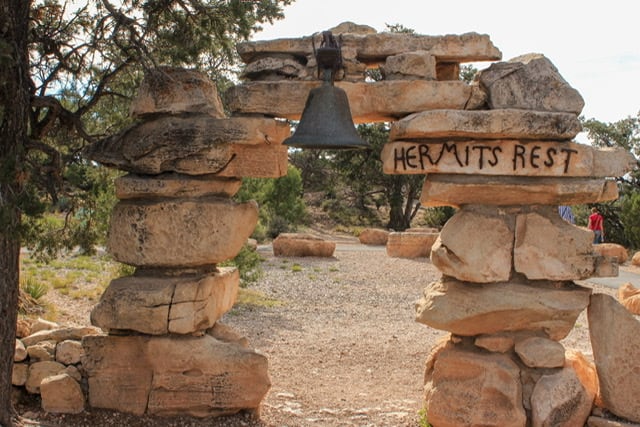 It's perfect for families because you can hike specific sections of the path and then hop on the Grand Canyon shuttle bus when the kids need a break.
The Rim Trail is ideal for families seeking a short trip with little elevation gain; this well-marked, popular trail is mostly paved and runs from the South Kaibab trailhead to Hermit's Rest.
The trail can be found at several shuttle bus stops around the Rim, as well as at any viewpoint in Grand Canyon Village or along Hermit Road.
Remember to bring plenty of water because there are no refill stations along the trail, so stock up before leaving Grand Canyon Village.
Grand Canyon Mule Ride
Mule rides are available for your Grand Canyon vacation with kids. A 10.5-mile descent down the Bright Angel Trail is included in the South Rim Phantom Canyon Ranch mule ride. You'll stop for lunch at Indian Garden and then take a suspension bridge across the Colorado River.
A mule ride is a unique Grand Canyon experience for older kids (ages 9 or older and at least 4 feet tall). Since the late 1800s, when visitors first experienced this means of transportation, mule rides have become synonymous with the Grand Canyon.
A mule ride to the bottom of the canyon and a night at Phantom Ranch are possible, but the four-mile Canyon Vista mule ride is a milder introduction!
Only ten riders per day are permitted to ride down the canyon's bottom for an overnight stay at Phantom Ranch before returning to the rim the next day.
Grand Canyon Skywalk
One of the most popular Grand Canyon attractions is the Skywalk at Eagle Point, which is located in Grand Canyon West.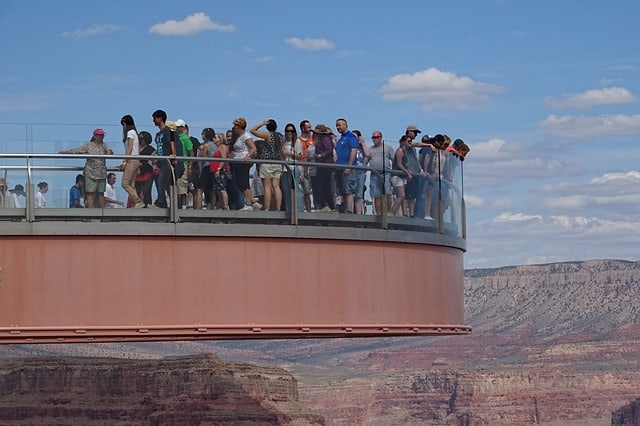 The 10-foot-wide glass bridge, which stretches 70 feet out over the canyon wall, is located 4,000 feet above the canyon. Don't worry about safety; the Skywalk is strong enough to support the weight of 70 747 passenger jets. Bring the whole family.
Outside food and drink are prohibited at Grand Canyon West, but there are numerous dining options. The cost of tickets varies based on your activities, which may include river rafting or a helicopter tour of the canyon.
Keep in mind that the trip from the South Rim to Skywalk will take approximately 4 hours. From Las Vegas, the Skywalk and Grand Canyon West are the most accessible attractions.
Bright Angel Trail
The Bright Angel Trail is wide and fairly graded, with restrooms located a mile and a half and three miles below the South Rim (a good place to turn around).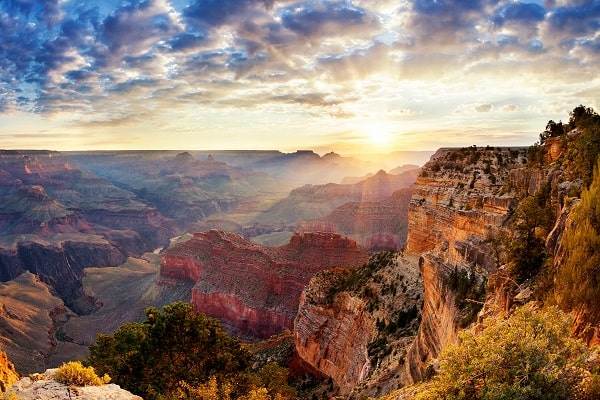 Bright Angel Grand Canyon trail begins approximately west of Bright Angel Lodge on the South Rim. Once past the trailhead, the path is easy to follow. It is wide and well-maintained, making it more suitable for children than many of the Grand Canyon trails that descend below the rim, which are steep and undeveloped.
Hiking this trail with children poses the risk of misunderstanding the trail's steepness and the energy and exertion required to "get back up,", especially in warmer Grand Canyon temperatures.
The best advice is to keep track of how long it takes you to arrive at any given area. It will take twice as long to return to the trailhead after covering the same distance. This rule of thumb holds regardless of age, fitness level, or stride length.
This trail offers shaded areas and multiple water stops, which add to its appeal. While children may enjoy traveling down the trail, hiking back up can be exhausting for both children and adults, and should be avoided during the midday heat.
Havasupai Falls
Havasupai Falls is one of the Grand Canyon's most beautiful and remote locations. Only a few people are permitted to visit this breathtaking spot, which is located on the Havasupai Native American Reservation.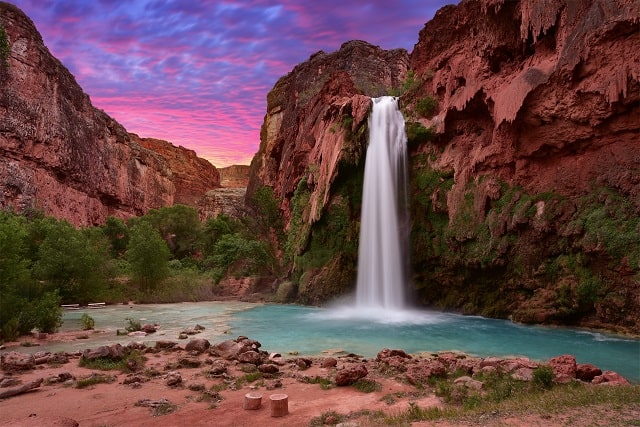 Reservations are required to hike to Havasupai. Day trips are not permitted, and camping requires a three-night stay. To stay at the campground, you'll need camping reservations or you'll need reservations at the lodge. It will, however, be well worth it if you are successful! Learn how to apply for permits, what to expect, and fees.
The most well-known of the five stunning waterfalls in this area is Havasu Falls. To get to the falls, you'll need to have a full day of hiking, a helicopter flight, or a horse or mule ride.
Wildlife Spotting
Your children will enjoy spotting the unique Grand Canyon dwellers on the South Rim, which is home to some magnificent species.
Elk and mule deer are common sights, with California condors, turkey buzzards, and squirrels also prevalent.
You can see Big Horn sheep along the rim walk at any time, but when visiting Joshua Tree with your kids, you'll have a far better chance of seeing them!
Yavapai Geology and Museum Center
The Yavapai Geology Museum and the Visitors Center are also excellent places to learn more about the Grand Canyon.
Grand Canyon Visitors Center: Taking a break from the trails and visiting the Visitors Center theater can be a relaxing experience. A 20-minute film, Grand Canyon: A Journey of Wonder, is shown. The Visitors Center also has many interesting exhibits.
Moreover, The Yavapai Geology Museum features some wonderful installations illustrating how the Grand Canyon was produced, in addition to its panoramic vistas. Ranger Programs, which aim to educate visitors about geology, are also held at the Museum.
Trail of Time
The Trail of Time is a nearly 3-mile level paved walk that begins at the Yavapai Geology Museum and represents 1 million years of history with each meter traversed. It's a stunning visual picture of the Grand Canyon's formation.
Take a walk along the 1.7 miles (2.9 km) Trail of Time to help children better grasp the Grand Canyon's history, geological significance, and massive age.
The Trail of Time is an interpretative chronology that runs from the Verkamp Visitor Center to the Yavapai Geology Museum on the South Rim. At each of these locations, walking guides are also available.
Visitors can study the magnitude of geological time encoded by various rock layers in the Grand Canyon through exhibits along the walk.
Hopi House Grand Canyon
Hopi House is another attraction on the Grand Canyon's South Rim. Hopi House was built in 1904 as a market for Native American crafts created on-site by local artists. The Hopi tribe was chosen as the featured artisans because they are the original occupants of the area, and the building was built to look like a traditional Hopi pueblo.
Hopi House, is a must-see attraction in the Grand Canyon, mixing retail shopping with museum-quality artifact viewing. Hand-crafted kachina dolls, Native American jewelry and pottery, and hand-woven Navajo rugs are among the many native arts and crafts available for purchase.
It is open all year and has seasonal hours. It is still run by an actual Hopi.
Shoshone Point
The Shoshone Point Trail begins at a gate and unsigned parking area on Desert View Drive just west of mile marker 246.
The quiet trail is a fairly level dirt road with only 100 feet of elevation change over a mile. Hike across the plateau through a ponderosa pine-covered forest.
After about a mile, you'll come to a loop with benches, grills, mule hitching posts, and pit toilets. The covered pavilion can be rented for gatherings; however, the overlook does not require a permit.
The views of the eastern Grand Canyon from the rim are spectacular, but thrill-seekers continue to Shoshone Point's very edge. Keep an eye out for loose rock and narrow ledges; a fall might be fatal.
At this point, check out the cool mushroom/headstone rock formation. Try to spot Hance Rapids, Desert View Tower, Vishnu Temple, Horseshoe Mesa, and other notable locations.
Retrace your steps back to the parking area after enjoying the peacefulness of this uninhabited beauty. This is also a famous spot for sunset viewing.
Take a River Trip
Grand Canyon Youth is a non-profit organization that provides rafting trips on the Colorado River in the Grand Canyon and the San Juan River in southern Utah to youth aged 11 to 19.
Grand Canyon Youth collaborates with the National Park Service and the United States Forest Service. The river trips will be educational, with a focus on science, natural history, or the arts, according to the Geological Survey.
The river tours also teach children leadership and outdoor stewardship skills, as expert guides boat through the rapids while the children handle meals, set up camp, and other tasks.
One of the prerequisites for participating in a Grand Canyon Youth trip is that the children complete a specified number of hours of community service and assist in the fundraising of a part of the trip's cost. Scholarships are also given to deserving families.
Recent Posts