10 Sedona Swimming Holes – where to go swimming in Sedona, Arizona
Sedona Swimming Holes: wondering where to cool off when it starts getting hot, hot?!? There are some great swimming holes in Sedona you won't want to miss so read on to find out the best places to swim in Sedona.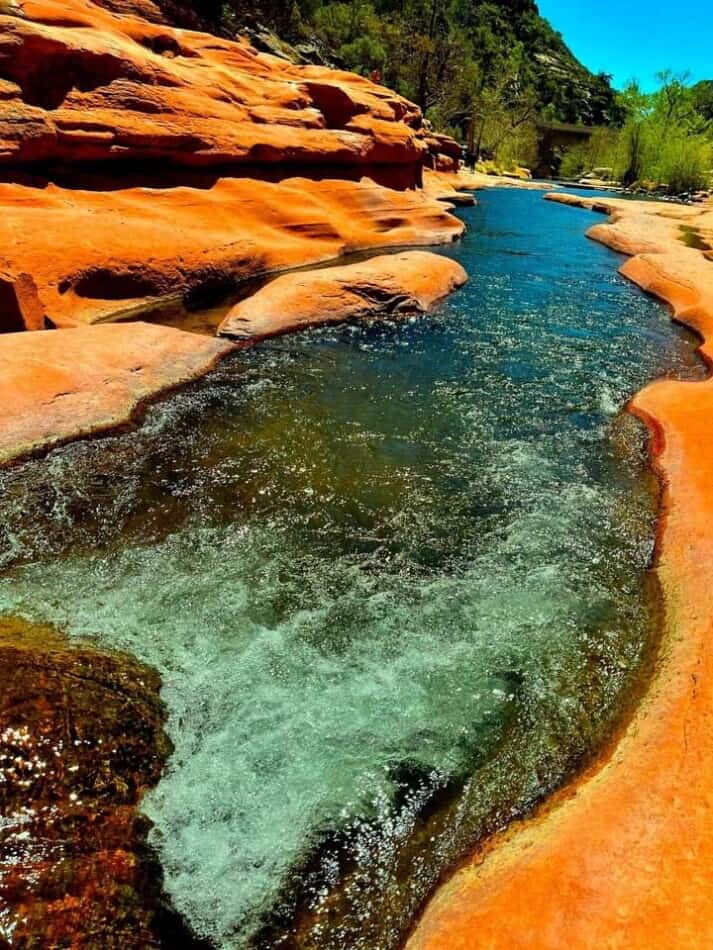 This list has the best Sedona rivers, and lakes in Sedona to go swimming. Along with a few hidden gems perfect for all water activities in Sedona.
I do have to say though that you must check out Grasshopper Point Sedona – one of the best Sedona swimming holes.
If you are looking for more water options take a look at my post of the best hikes to waterfalls in Arizona, the best lakes in Arizona to go swimming this summer, or the best beaches in Arizona. And of course, I have a post on the Best Swimming Holes in Arizona if you are looking for more places to go swimming.
10 Water Holes in Sedona to cool off this summer
Grasshopper Point, Sedona
Grasshopper Point is an all time favorite for locals and tourists in Sedona. This beautiful swimming hole set with a landscape of gorgeous rock formations and greenery is a go-to, especially when in warmer weather.
Grasshopper Point rose to popularity because they are one of the best in the State: a beautiful swimming hole paired with amazing rock formations that are perfect for cliff diving.
It's an all in one package and it's accessible in Sedona, Arizona. Swimming, cliff diving, and lounging. There are also a handful of swimming holes to choose from with various depths that can accommodate all guests depending on their preferences.
Aside from swimming in the clear green waters, Grasshopper point is also known for its hiking trails, biking, and sightseeing. The area is gorgeously lush and it's no surprise that it remains to be a crowd favorite.
Parking: There is a small parking lot that might fill up quickly on weekends and throughout the summer. A day permit costs $8 per vehicle (up to 5 persons) and $2 for a walk-in, bicycle, or additional person. If you park along the side of 89A and hike down the Midgely Bridge Trail, you can avoid the cost.
Slide Rock, Sedona, AZ
Known as the ultimate getaway destination no matter the weather, Slide Rock offers fun, sun, and excitement right at Sedona, Arizona.
The swimming hole itself is beautiful with the contrasting colors of the red rock formations and the clear blue waters of the swimming hole itself.  There are many swimming pools to choose from with different depths that would suit even children or adults who prefer to wade in shallow waters.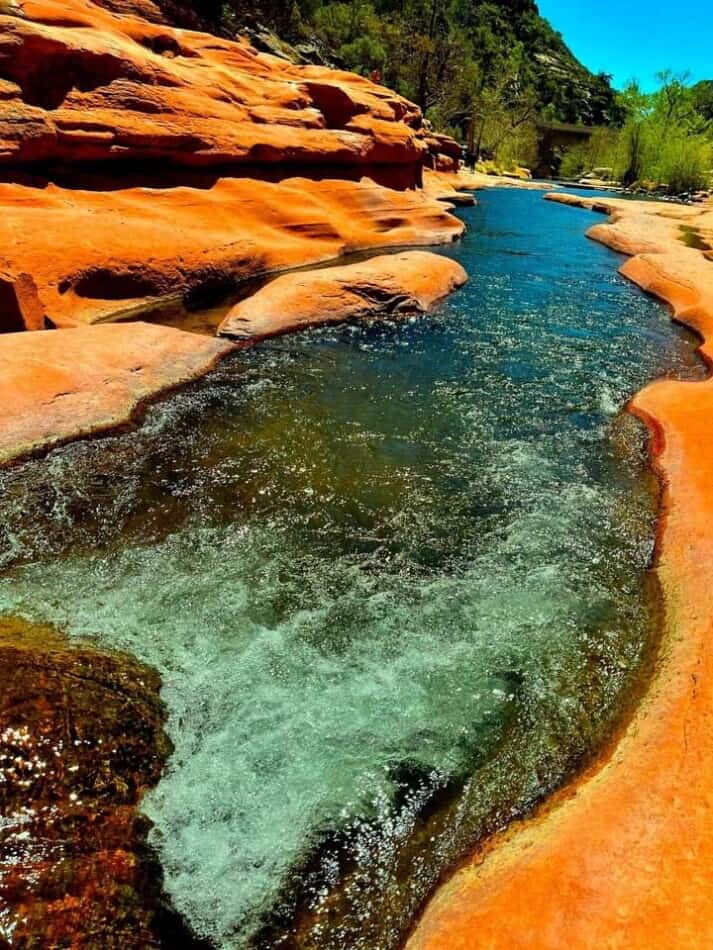 Aside from swimming, you can also enjoy sliding in Oak Creek, an 80 foot long slippery chute that is worn into the sandstone.
There are different cliffs of different heights that can be used for jumping off into the cool waters. Slide Rock is surrounded by gorgeous landscapes of the Slide Rock State Park, making the entire experience unique and so Instagram-worthy no matter the angle.
Parking: There is a special parking area at Slide Rock State Park that costs $10 per vehicle (cash only). Because this park is so popular in the summer, parking may be scarce.
There is, however, a secret entrance point if you're like us and want to avoid paying for parking. An area about 0.5 mile north of the park entrance, on the west side of 89A, can accommodate four to five cars. A trail runs parallel to the road all the way down to the bridge. Slide Rock is accessible from there.
The Crack at Wet Beaver Creek
With the unique name it has, Wet Beaver Creek a.k.a. The Crack is one of Arizona's best and secluded natural swimming holes.
Although the trip and hike to Wet Beaver Creek are a little long, the location itself is definitely worth it. Red rock formations perfect for cliff diving, beautiful swimming waters, and an amazing view is everything that you could ask for in Wet Beaver Creek.
The long hike to the swimming hole makes it less likely to be visited by large crowds. That's why guests may enjoy the place to themselves and a handful of other people and may even solo the location.
Locals and tourists enjoy camping, picnicking, and just sunbathing in Wet Beaver Creek. 
Parking: There will be signs for Beaver Creek Work Center off of Forest Service Road 618. There you'll find a well-marked Bell Trail parking lot. The trailhead does not charge a fee or require a pass to park.
Crescent Moon
When in Sedona, visiting Crescent Moon Ranch is an absolute must. Packed with a swimming area, picnic grounds, stunning views, and great ambiance, Crescent Moon Ranch is a one stop destination for all things fun and exciting. Crescent Moon Ranch was established in 1880 and is currently serving as a day use facility for the U.S. Forest Service.
The location itself lies below Cathedral Rock, one of the most iconic towering monuments found in Sedona.
Swimming is a popular recreation for locals and guests, as well as camping, picnicking, barbecuing, and photography. There are several swimming holes to choose from whether upstream or downstream and the waters are clean and warm. Hiking is also a go-to activity in Crescent Moon Ranch as the views from the top are stunning.
There is always something to do in Crescent Moon Ranch, making it one of the best getaway spots for any occasion.
Chavez Crossing
Located in the Red Rock district of Arizona lies Chavez Crossing, a unique swimming hole that is cradled in between sycamore and cypress groves and beautiful red rock formations. Offering a stunning view of nature at its best, Chavez Crossing is popular for its scenery, the cool waters, and the overall vibe of the location.
Perfect for any occasion and weather, Chavez Crossing offers swimming, fishing, and wading on the waters. On the grounds, they feature picnicking, camping, and hiking. There are also nearby shops and restaurants in the area that is conveniently near Chavez Crossing.
Red Rock Crossing in Red Rock State Park
With the stark contrast of blazing red-orange rocks and cloudy blue skies and equally blue waters, Red Rock State Park is a sight to see.
A quick weekend getaway trip to one of Arizona's best would truly be a memorable experience. Red Rock State Park is located in West Sedona and welcomes many day activities on their grounds. In the backdrop is Arizona's Cathedral Rock making Red Rocks Crossing one of the most scenic swimming holes in the area.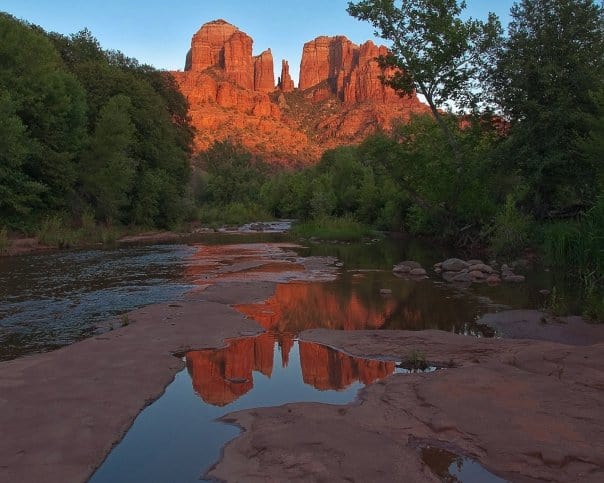 The area allows swimming and cliff jumping into the swimming hole itself. Most anticipated in the area is their fun natural rock formation slide.
Aside from swimming in the deep gorgeous waters of the swimming hole itself, they also offer picnics, hiking, biking, and day camping. Enjoy a day out in the sun and lounge or sunbathe while viewing the stunning landscapes of mountain vistas and blue skies in the Red Rock State Park. 
Parking: Most people pay $10 cash for parking at the Red Rock Crossing picnic area, but we went through the trouble of locating a cheaper alternative.
Another option is to park at the Baldwin Trailhead and approach the park from the other side of the creek. A Red Rock Pass ($5 per day / $15 per week) or a valid National Park Interagency Pass is required. Take Baldwin Trail down to Red Rock Crossing Trail from here. You'll be on the opposite side of the park, but a quick plunge in the creek will make up for it.
Secret Sliderock
The Secret Sliderock is Sedona's hidden gem of a hike. Known for its beauty and lesser crowds, this underrated trail and watering hole is worth the visit any time of the year. The location is easy to navigate and it's an accessible hike to the small watering hole that it features.
The view from the location itself shows a clear view of Cathedral Rock and is a stunning sight to behold. The watering hole itself is small and is not suitable for swimming but is a great subject for photo sessions.
Make sure to visit during the rainy season when the watering hole is filled up and the pool reflects the view of the gorgeous landscape of Sedona. 
Seven Sacred Pools
Sedona is known to have a handful of trails that lead to gorgeous swimming holes or watering holes and the Seven Sacred Pools is one of them.
Located near the Soldier's Pass Trail, the trip to the pools is short, easy, and accessible for all guests. With the scenery so beautiful and with the contrasting colors blending into each other, it's easy to miss the Sacred Pools so always keep your eyes peeled for it.
The pool itself is naturally made from years of erosion and rainfall and presently, its water source originates from rainwater and water that flows from upstream creeks.
It's clean, stunning, and worth the trip. Although swimming is not permitted, the view from the Seven Sacred Pools is worth the hike and the trip altogether. Make sure to take photos because every angle is picturesque and memorable. 
Bull Pen Swimming Pools
Bull Pen is a great place to swim for people of all ages. The water is large and crystal blue, and there is something for everyone.
Bull Pen's water has a gentle current that makes swimming a breeze. A rock formation for cliff jumping can be found on the other side of the creek. The deepest stretch of water is roughly 10 feet, with plenty of locations to cliff jump from various heights.
On the north side of Bull Pen, there is a shallow, sandy pebble-bottomed beach that is ideal for wading with little children. Although the footing is relatively smooth, I would recommend wearing water shoes.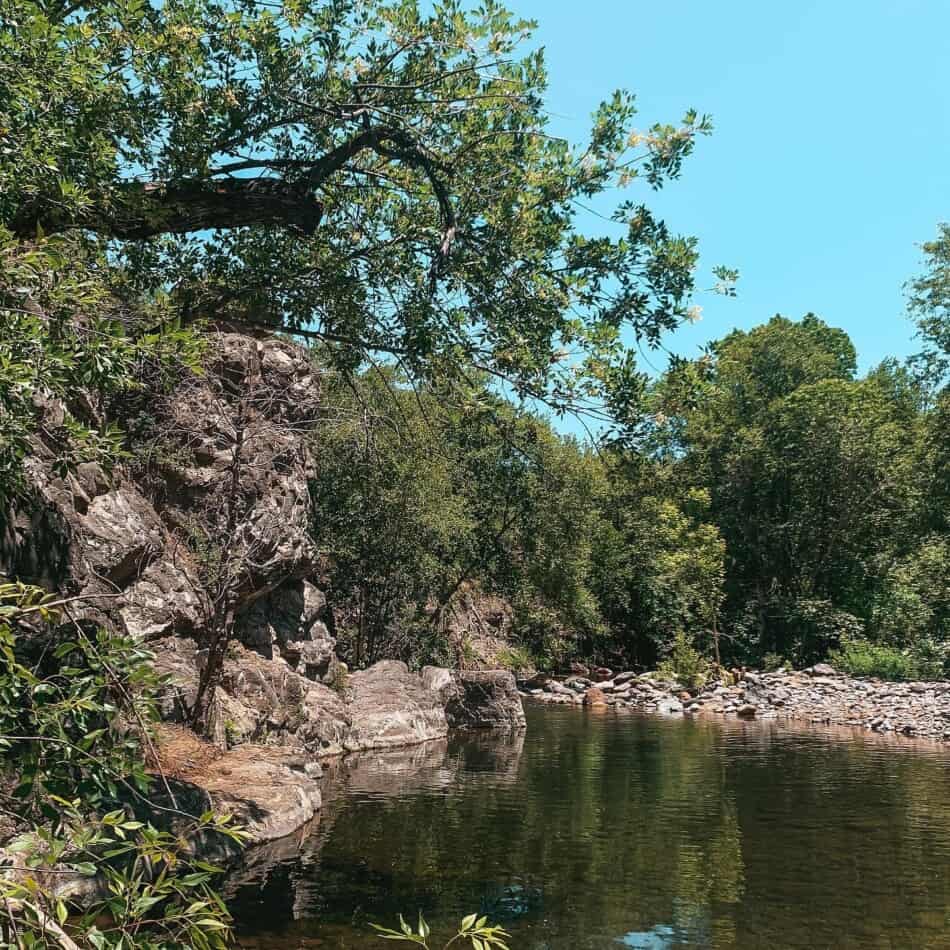 At the trailhead, there is no parking fee. The hole is located 15 miles east of Camp Verde on West Clear Creek.
To reach there, drive five miles down a gravel road and then stroll almost a mile along a level track. The reward at the end of the trek is well worth the time and effort.
Sharing is Caring! Pin this article to save for later.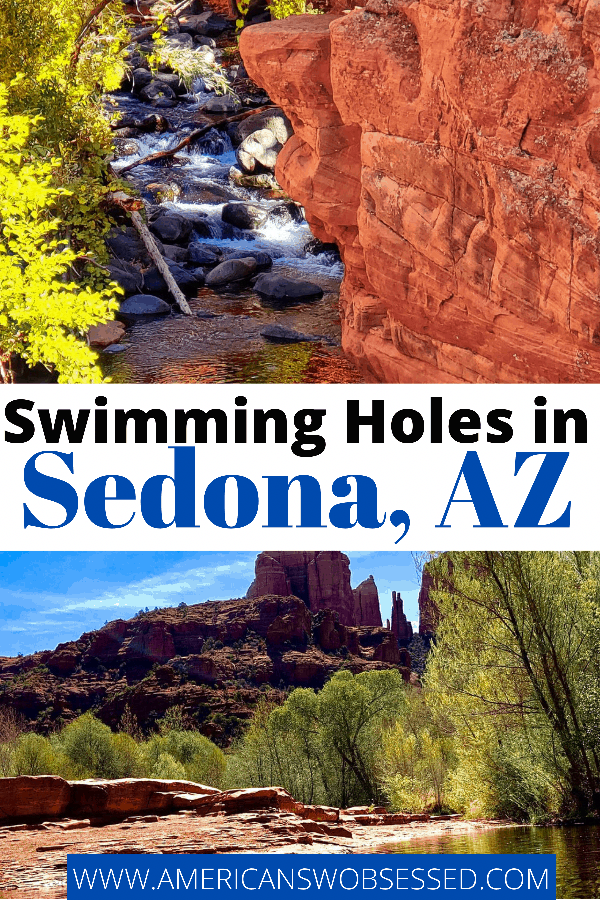 Recent Posts