Airbnb Utah Zion: Are you looking for the Best Airbnb near Zion National Park? This list has the best Airbnb Zion National Park.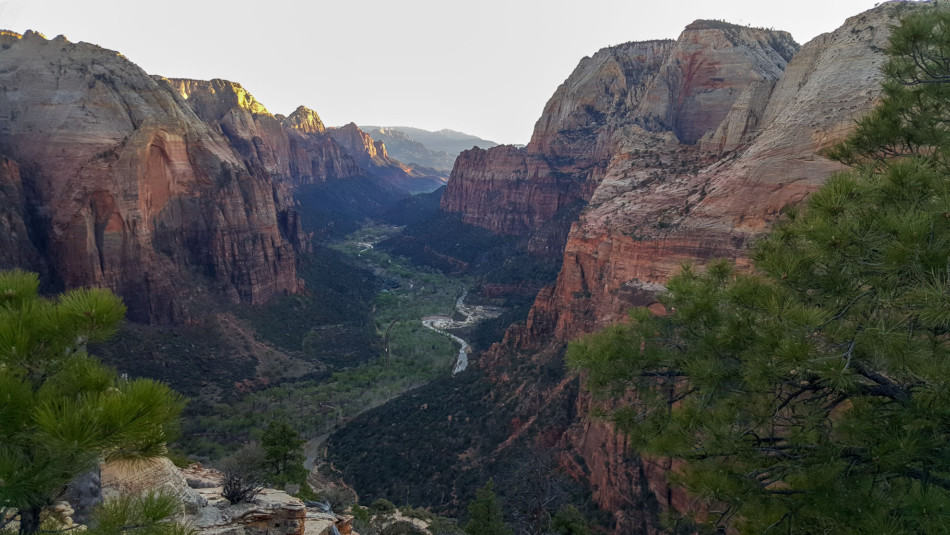 This list has several different price points so that you can find the perfect Zion Airbnb within your budget.
I think a Zion National Park Airbnb is the perfect place to stay when you are visiting Zion. There are no Airbnbs in the national park but there are several airbnbs close to Zion for you to choose from.
There are several cities you can stay in if you are looking for an Airbnb near Zion National Park. This is the order the Airbnbs appear in on the list so you can find the right place for you to stay.
Springdale – located right at the South Entrance
Hurricane – located 21 miles from Springdale
St. George – 34 Miles from Springdale
Kanab – 30 miles from the East Entrance
You can check out my other posts on the best Airbnbs in the area:
15 Best Airbnb Zion National Park
Thank you for supporting this website written by an American. This post may contain affiliate links. This means I earn a small commission on these links at no extra cost to you.
Airbnbs in Springdale, UT
Zion National Park Juniper 1 Bedroom Villa
Guests: 4
Bedroom: 2
Who wouldn't to stay in a gorgeous apartment that is surrounded by big mountains and natural landscape? This treetop apartment is one of the best airbnb rentals that you can stay in Springdale and it has a beautiful kitchen, sprawling gardens, and amazing views of nature.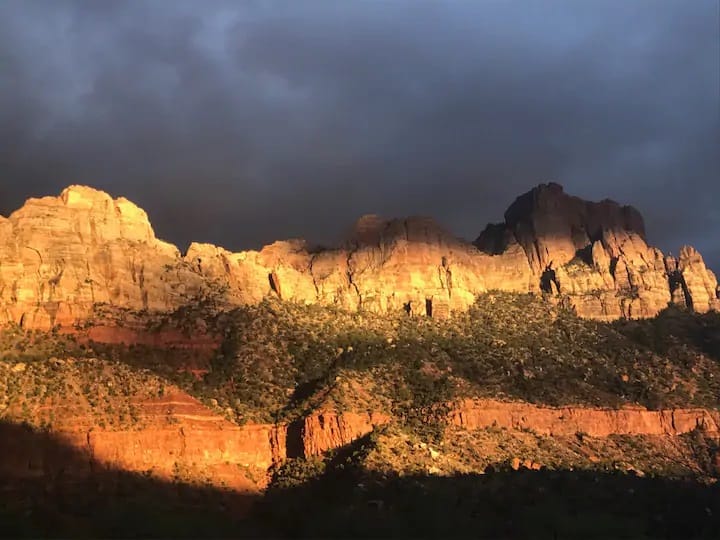 And this apartment is jus ta 5-minute drive to Zion National Park. This is a great home base if you want to explore the beautiful sights that Springdale can offer and you can just easily walk around and do some shopping or eat at the restaurants.
The Juniper at Watchman Villas in Zion Canyon
Guests: 4
Bedroom: 1
The Juniper at Watchman Villas is a well-equipped 1 bedroom condo with all the comforts of an 850 square foot home. The layout of the house features an open concept with a full kitchen, dining table, living area, and writing desk. It also has a private balcony area that lets you enjoy uninterrupted views of Zion National Park.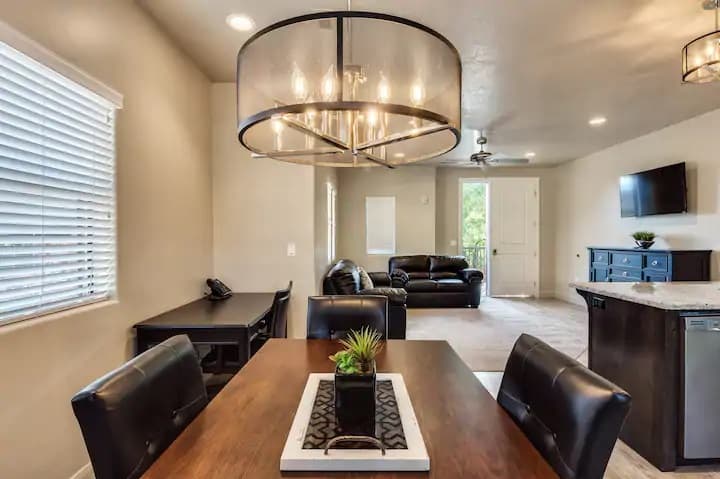 In terms of location, this is a great home base if you want to explore Zion because it is just about a mile away from the entrance of the park. It is also very close to restaurants and business districts. You will definitely love and enjoy staying at this beautiful and spacious house.
Harvest B&B Entire Guest Suite
Guests: 2
Bedroom: 1
If you are looking for a premier bed and breakfast lodge close to Zion, the Harvest Lodge is the perfect place to stay. The moment you walk into the property, prepare to leave all your worries behind and just enjoy the beautiful scenery that this B&B can offer. This B&B features rustic-elegant suites, a comfortable queen size bed, and well-equipped kitchenette that will make your stay.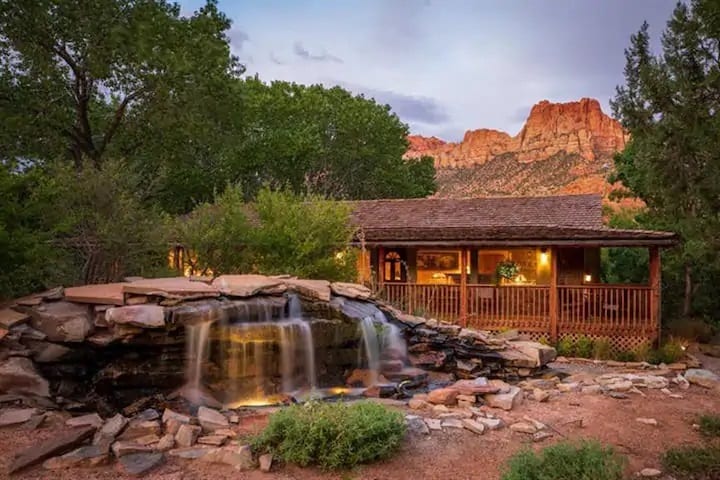 The property is situated on the riverside and it is surrounded by trees and several beautiful landscapes. And you'll fall in love with their spacious grounds that have a hot tub, a riverside patio with fire-pit, organically grown trees, and chair swings for reading and relaxing.
Stand Alone Charming Historic Cottage
Guests: 3
Bedroom: 1
One of the simplest yet charming airbnb rentals that you can book is this stand alone historic cottage that is located on the Main Street in the heart of Springdale. It is a very pleasant place perfect for couples, three adults, or a couple with one or two kid.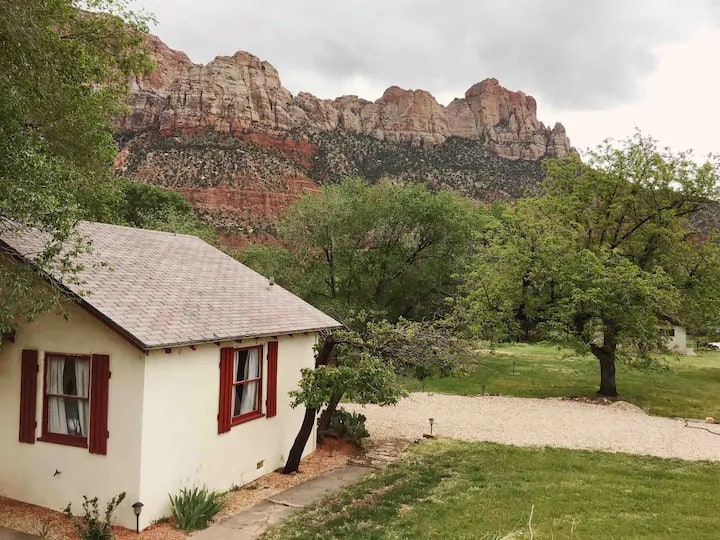 This cottage is furnished with one bedroom, one bath with tub and shower head, spacious living room, and a cozy kitchen with new appliances and countertop. And the property is located in a beautiful wilderness that allows you to explore the place with privacy and tranquility. 
Nama-Stay Suites
Guests: 2
Bedroom: 1
Nestled next to canyon views in a zen-inspired living space, Nama-Stay Suites is a brand new guesthouse that will serve as your sanctuary space during your visit in Springdale. In fact, this is one of the most highly rated airbnbs in Springdale because of its one-of-a-kind comfort and convenience.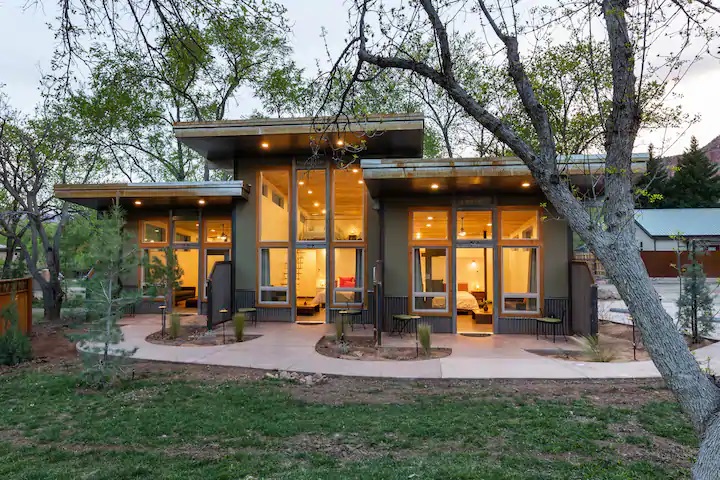 It has a beautiful spacious zen interior with high wooden ceilings that are elegant and very luxurious. The suite room has a luxurious shower, kitchenette, refrigerator, AC, and a full king size bed. You will also have an own private patio and parking lot.
Airbnbs in Hurricane, UT
Luxury Zion Home with a Private Hot Tub
Guests: 4
Bedroom: 2
Avoid the noisy crowds in Springdale and book this private luxurious Zion Home in Hurricane that ensures a clean and enjoyable space for you to stay. This house was originally built in 1940 and it took 2 years to convert this home into a luxurious space for guests to enjoy. Although it is 20 miles away from Zion National Park, this house still has the best location because you can easily explore other sights in the area such as the Bryce Canyon, Antelope Canyon, Grand Canyon, and more.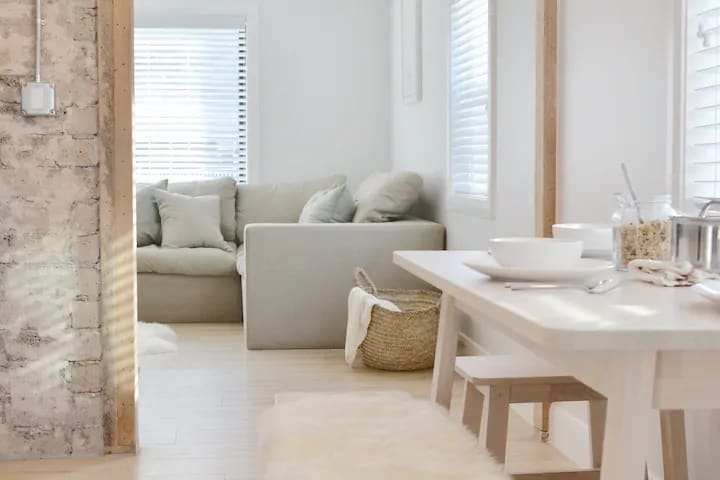 The design of the house is ideal for solo travelers or a group of four and you can have full access to all areas of the property. Everything about this place is very clean and gives a relaxing ambiance. The location is perfect too with a lot of local restaurants, stores, and gas stations nearby. 
Zion's PLAY-cation TownHome with a VIEW
Guests: 2
Bedroom: 1
Couples and solo travelers will instantly love this brand new Zion's PLAY-cation TownHome with a VIEW that is right next to the park with full views from every corner of the room. This place has all the comforts of home with the best possible location, just 3 minutes away to the national park entrance.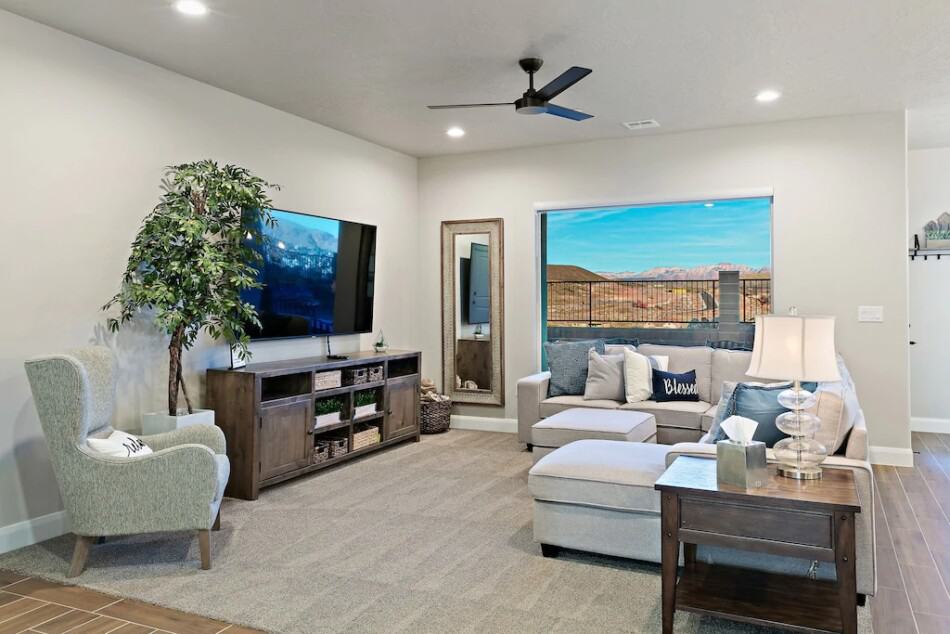 On the lower level of the building is a brand new boutique coffee shop where you can have your daily dose of caffeine. And if you are curious if you will stay be able to enjoy your privacy, the host has ensured that the floor is insulated so that noise will not interfere with your stay. This place is worth recommending to anyone looking for a cute place to stay at Zion.
Luxury Zion Farmhouse | Huge Pool/Spa
Brand new townhouse that is your hub for exploring Southern Utah! This property is located only a short drive away from attractions such as Zion National Park and Sand Hollow & Quail Creek Reservoir.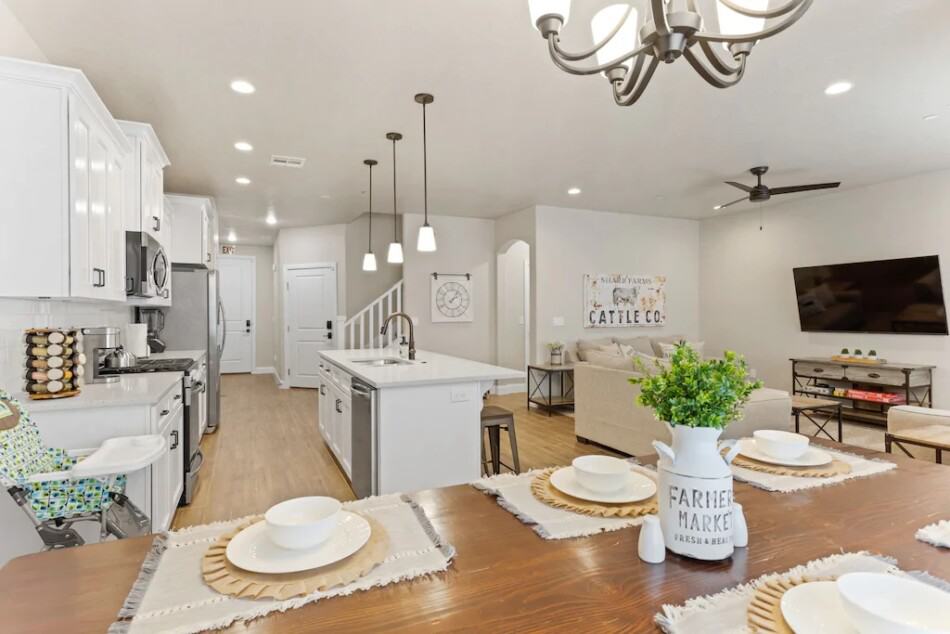 The majestic views of the Zion National Park and Pine Valley Mountain will remind you of all the reasons you want to keep coming back to this enchanted retreat! Tailor-made for large and small groups needing to get away and re-vitalize!
Airbnbs in St. George, UT
Cozy St. George Condo near Zion National Park
Exploring the majestic Zion National Park will be easier for you by staying in this cozy one-bedroom condo in St. George. This luxurious and private condo is very close not only to Zion National Park but also to the famous attractions that St. George can offer.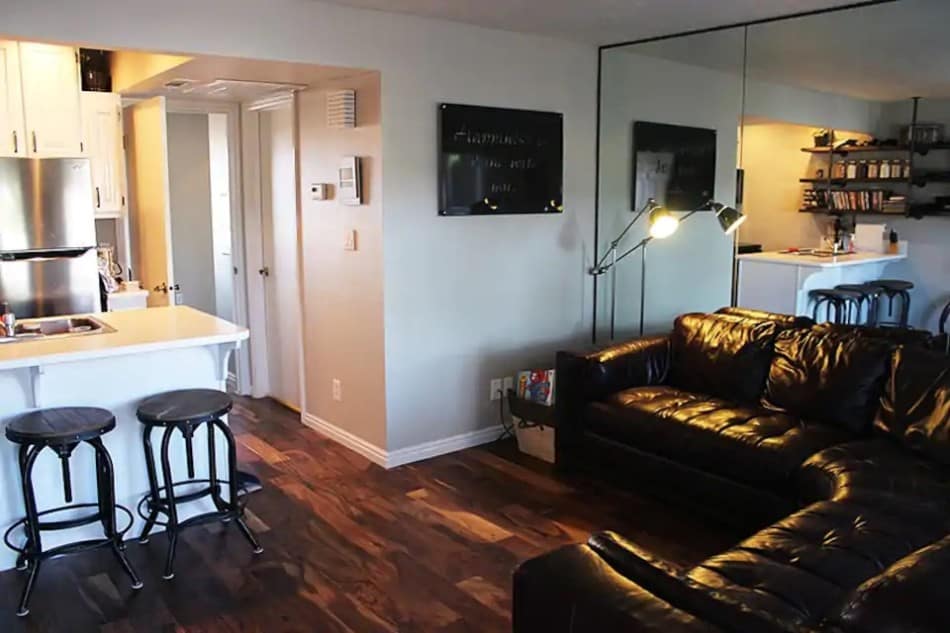 This condo unit has one bed and one bath and can accommodate up to 4 guests. The front room has a large and comfy leather couch and space for extra sleeping. There is also a huge that allows you to stream contents on Netflix, and a DVD players with many movies. The fully-stocked kitchen allows you to cook great meals for your family or friends.
And just a few steps from the condo, you can have full access to the Sports Village Clubhouse that features heated pools, hot tubs, playground, tennis court, basketball court, and more.
Comfy Condo in Sports Village
This one-bedroom condo in Sports Village is perfect for singles or couples who want a little getaway in St. George. It is very close to Zion, Bryce, and Snow Canyon National Parks so it would be easier for you to explore the best sights in Utah.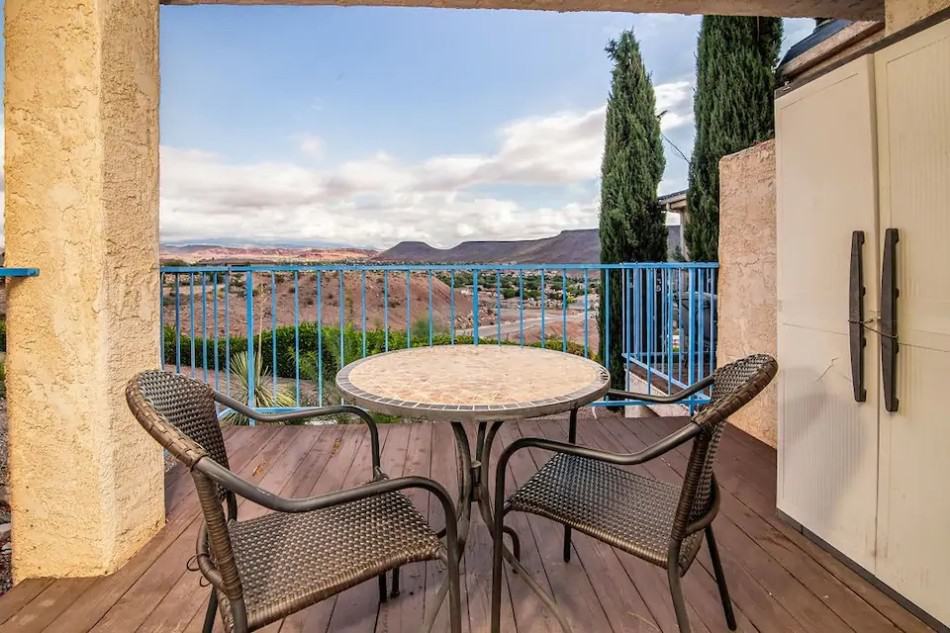 The condo is located on the corner with a private patio and there are no stairs to climb and no one above you so it's going to be a very private vacation. Inside the condo are a queen sized bed, a roomy kitchen, and a comfortable spa. You can also access the clubhouse which is just across the condo where you can play tennis, shuffleboard, racketball, pickleball, and a lot of other activities. This condo is also open for a nightly, weekly, or monthly stay.
Sunny St. George Condo in Sports Village
This clean and quiet condo in Sports Village contains free wifi, two flat screen TVs, one bedroom, one bathroom, and a full kitchen that can fit up to 4 people inside. The interior is decorated nicely and it's a great place to regroup after a whole day of exploring the wonderful sights in St. George.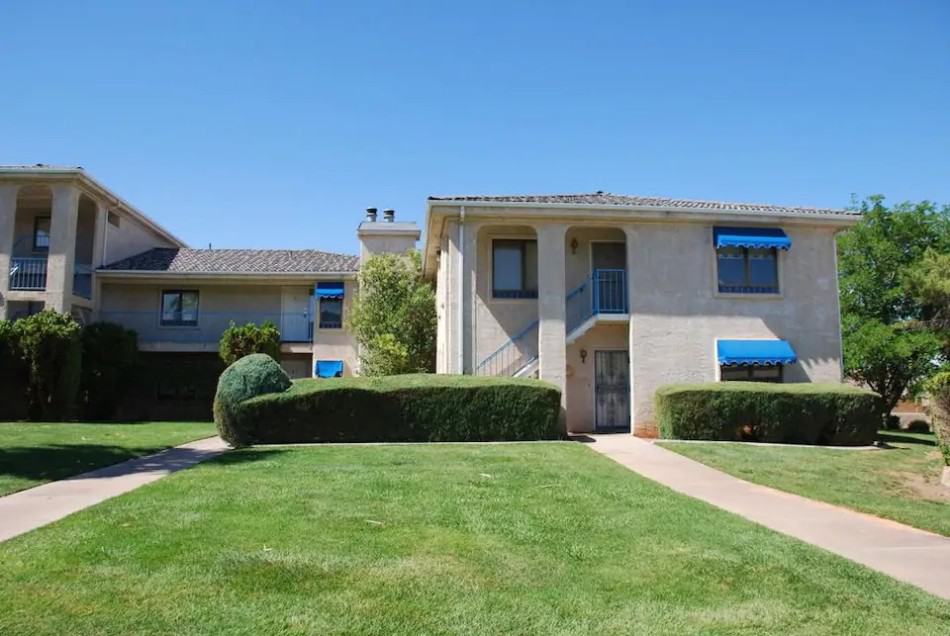 You can also make use of the amenities provided in the condominium such as play racquetball or tennis, swim at the two full size pools, two hot tubs, playground, basketball, mini golf, pool table, air hockey, and a lot more. This airbnb condo is definitely safe, family-friendly, and budget-friendly.
Beautifully Remodeled Cozy Condo with Fountain Views
This beautiful and cozy condo is inviting you to rest and have a peaceful vacation in St George, particularly in Sports Village. It has a very comfortable space and relaxing one bedroom with 3 beds. It also has stainless, granite counter tops, fully stocked kitchen, and washer and dryer.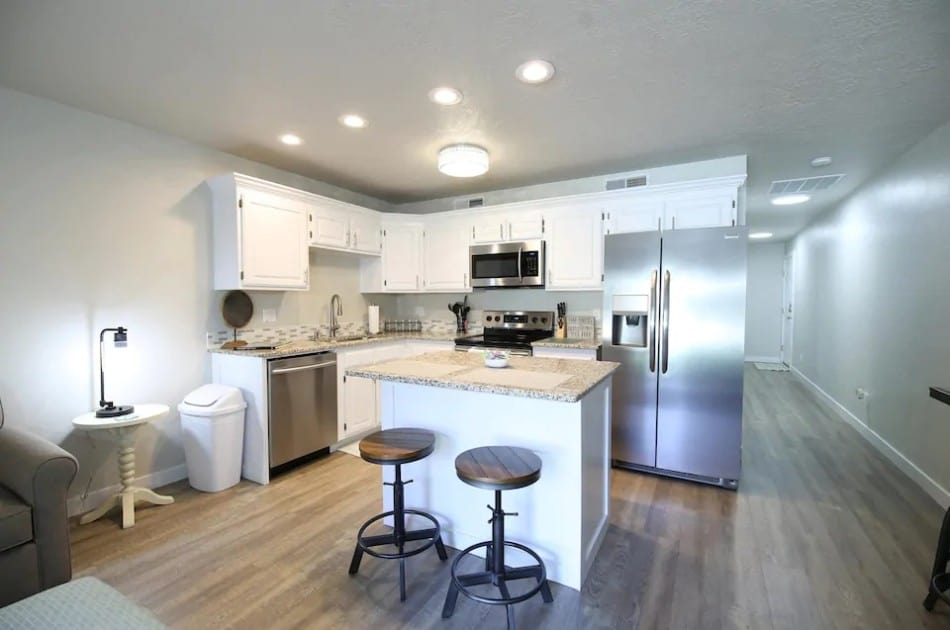 The condominium also has a resort-like amenities which you can make use of such as two large swimming pools, two hot tubs, tennis, pickle ball, and racquetball courts with equipment. This is a great little condo good for 4 guests at a very reasonable price.
Airbnbs in Kanab, UT
Juniper Forest Inn
This bright and cozy home will provide the perfect respite between adventures in the high desert of southern Utah. The views are the best you'll find for miles, and the amenities will make you feel right at home.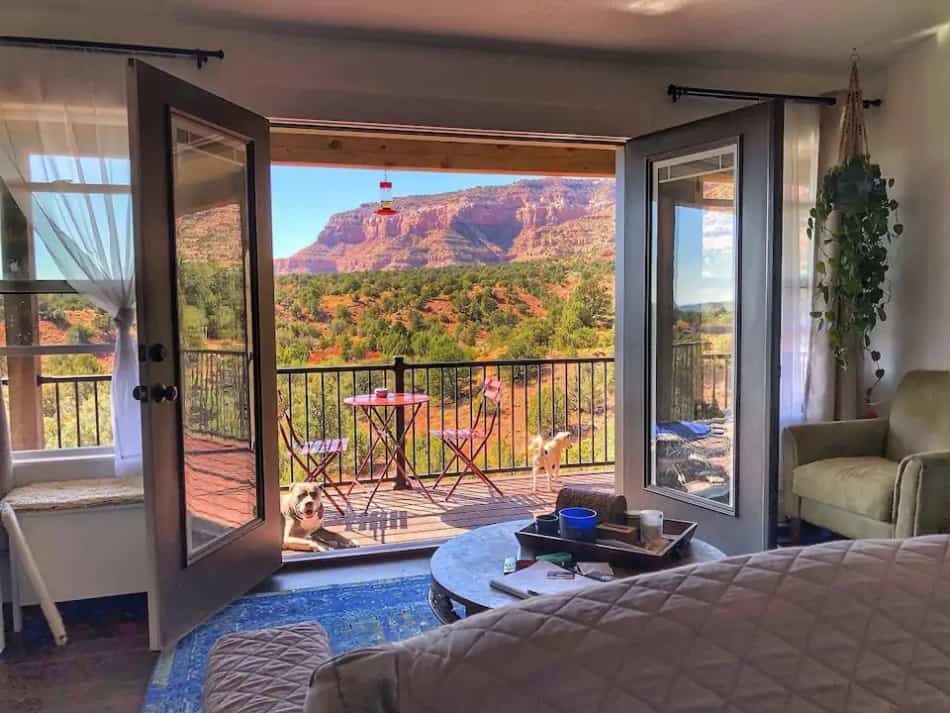 This is a two bedroom, two bathroom home. It is fully equipped with washer/dryer, fenced in back yard, and full kitchen. It includes a pull-out couch for fitting additional guests.
Townhome by Zion, Bryce, Grand Canyon in Kanab
Enjoy this relaxing townhome getaway nestled in the heart of the Grand Circle near all of your favorite National and State Parks. The Grand Canyon, Bryce Canyon, Zion National Park, Coral Pink Sand Dunes State Park and countless other natural retreats await you.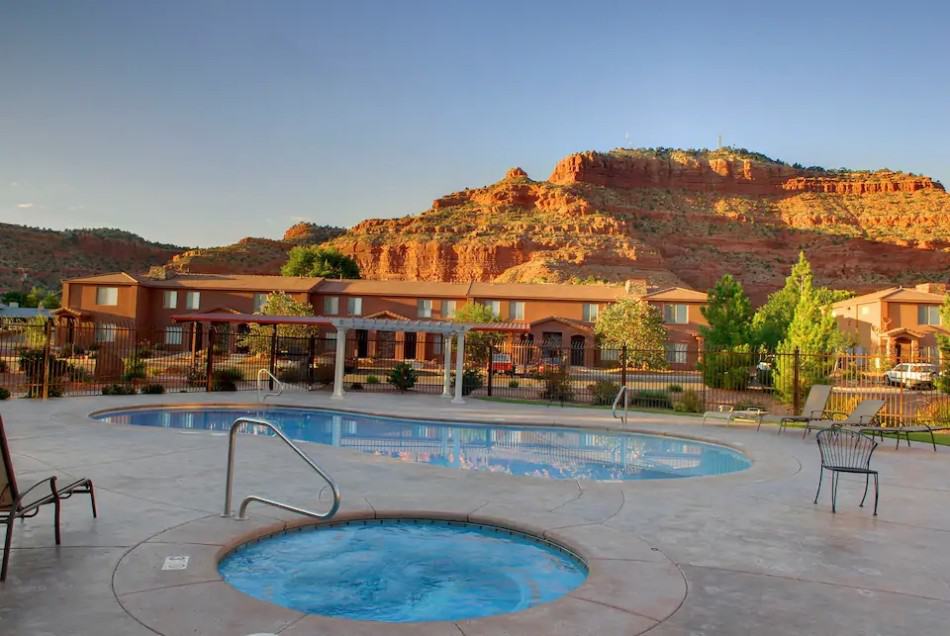 Review: Expect a beautifully clean and nicely furnished place where you can spread out to relax. Check out the pool and hot tub area. Just stop by Honey's Marketplace for your groceries and enjoy your time in Kanab!
If you are planning on visiting Arches and Canyonlands National Parks as well you can check out my Moab Accommodation Guide or Moab Airbnbs as well.
The three closest airports to Zion National Park are Las Vegas, Phoenix, and Salt Lake City. I have an accommodation guide for each city.
17 Best Airbnbs in Salt Lake City, Utah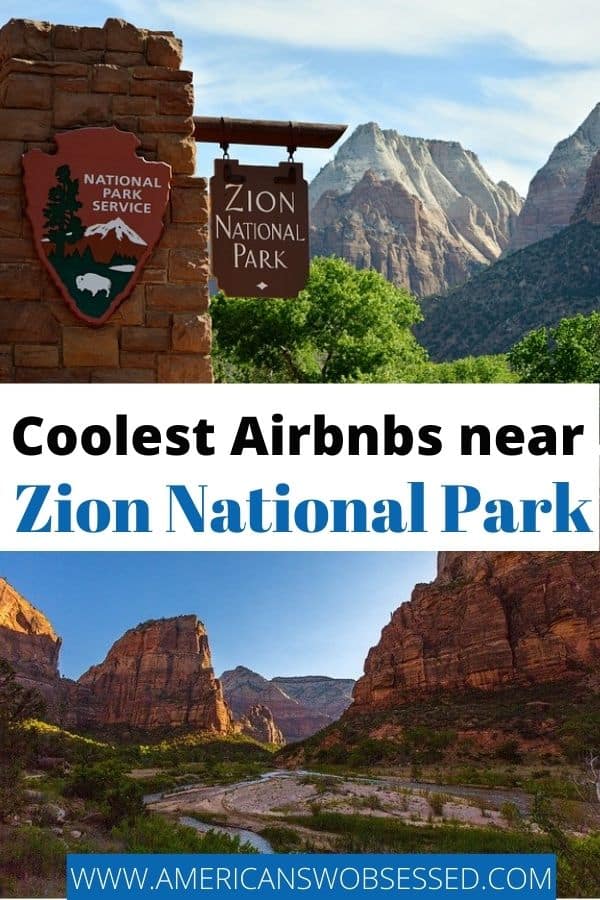 Recent Posts