13 Best Airbnbs in Gilbert, AZ
Airbnb Gilbert Arizona: Are you looking for the best Airbnb in Gilbert, Arizona? This list of Gilbert Airbnbs has something for everyone and every budget!
Although Gilbert is a smaller city than Phoenix it still has a lot of great things to do and see such as the Riparian Preserve or Shopping Centres. It also has a hub of spas, resort hotels, golf courses, and of course trend-setting restaurants.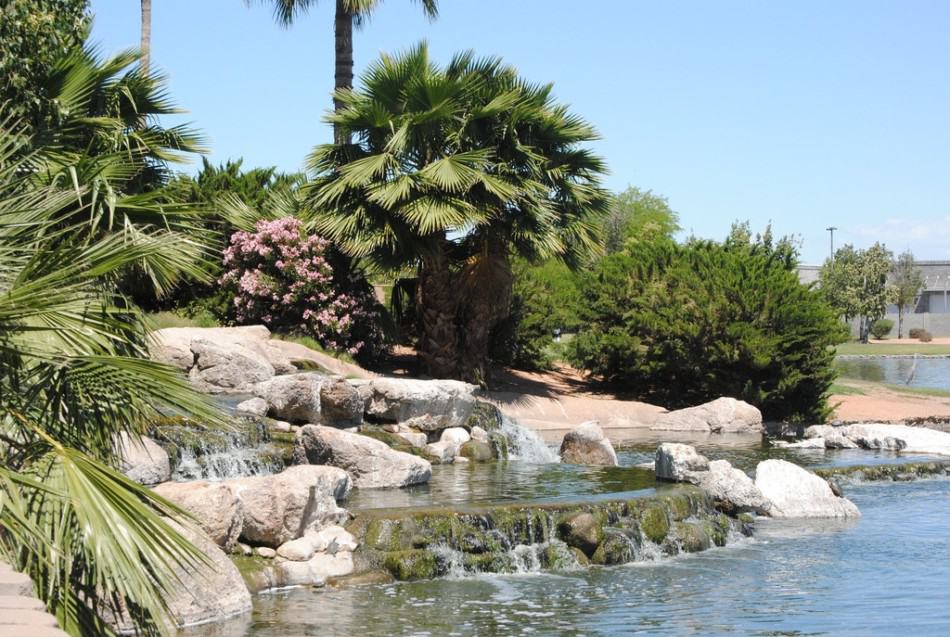 "Set in Arizona's "Valley of the Sun" just a stone's throw from Phoenix and the rocky San Tan Mountains, Gilbert is the biggest small town you'll ever meet."
Not sure if Gilbert is the right area to stay in when you are visiting Phoenix? Check out my other guides to Airbnbs in the surrounding suburbs.
The Best Airbnbs in Scottsdale, Arizona
The Best Airbnbs in Tempe, Arizona
The Best Airbnbs in Mesa, Arizona
The Best Airbnbs in Chandler, Arizona
Thank you for supporting this website written by an American. This post may contain affiliate links. This means I earn a small commission on these links at no extra cost to you.
The Best Airbnbs in Gilbert, AZ
Work from Home Paradise
Guests: 12
Bedroom: 4
You may think that Gilbert, Arizona is all about desert and countryside living but this 4-bedroom paradise home will prove you wrong.
This home features modern and comfortable furnishings that also has all the amenities of a home away from home. All rooms are equipped with cozy and comfy beds, plenty of pillows and soft sheets, smart TVs, as well as basic toiletries and other linens.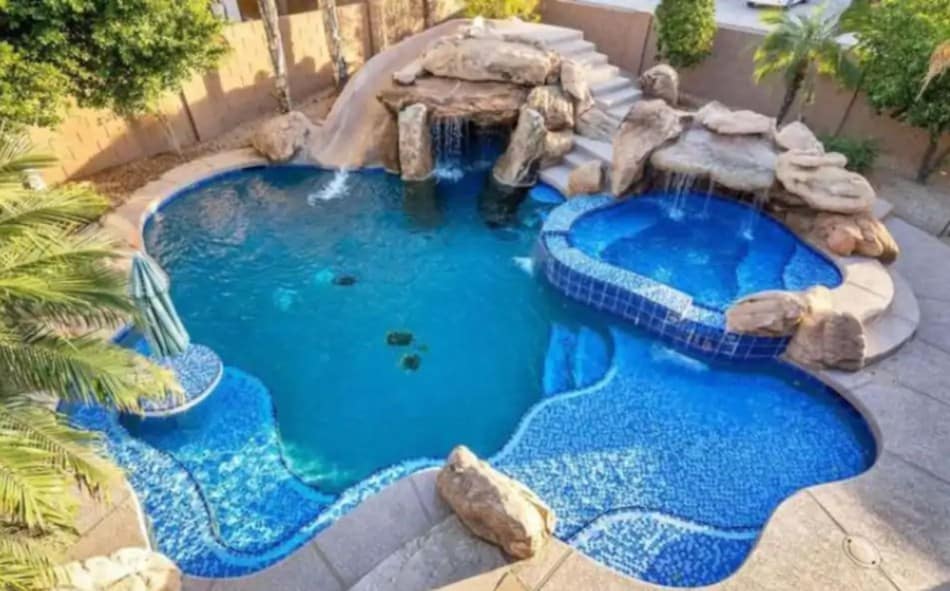 This house has a resort-style backyard that includes a propane powered fire pit, a heated pool with waterslide and grotto, a spacious jetted jacuzzi, and an airy outdoor kitchen.
Aside from those amenities, this house is also perfect for working from home because it has multiple work spaces and very fast wifi. This house is an absolute dream. 
Four-Bedroom House with Heated Pool
Guests: 8
Bedroom: 4
If you are looking for a private house that can accommodate a number of guests,this four-bedroom house with a heated pool is perfect for you. Aside from being private, this house is also close to a mall and some commercial areas in Gilbert.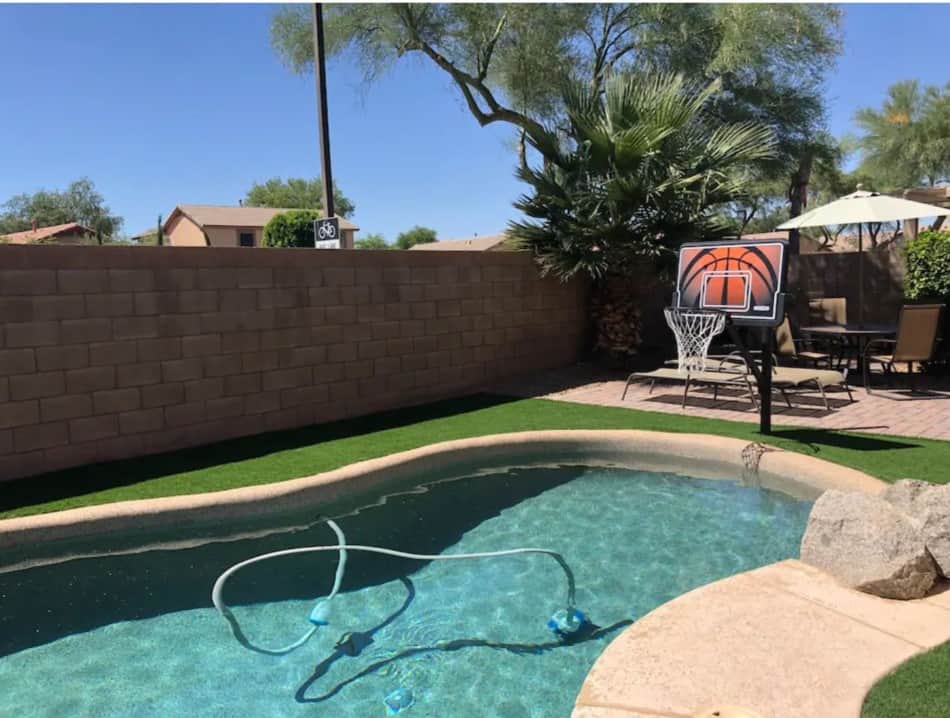 It comes with basic amenities such as a well-equipped kitchen, living area with TV, and a great outdoor place perfect for gatherings and entertainment. You will instantly love this place and you'll be meeting a great host who is easy to communicate with and will make sure that you will have a good rest in this house.
Gorgeous contemporary lakefront with pool
Guests: 6
Bedroom: 3
This charming and cozy cottage will easily capture your hearts as it includes everything you need for a relaxing getaway in Gilbert, Arizona. It has a total of 3 bedrooms that can accommodate one to 6 travelers and it is well equipped with amenities too. It has a fully stocked kitchen, washer and dryer, smart TVs, and a huge backyard.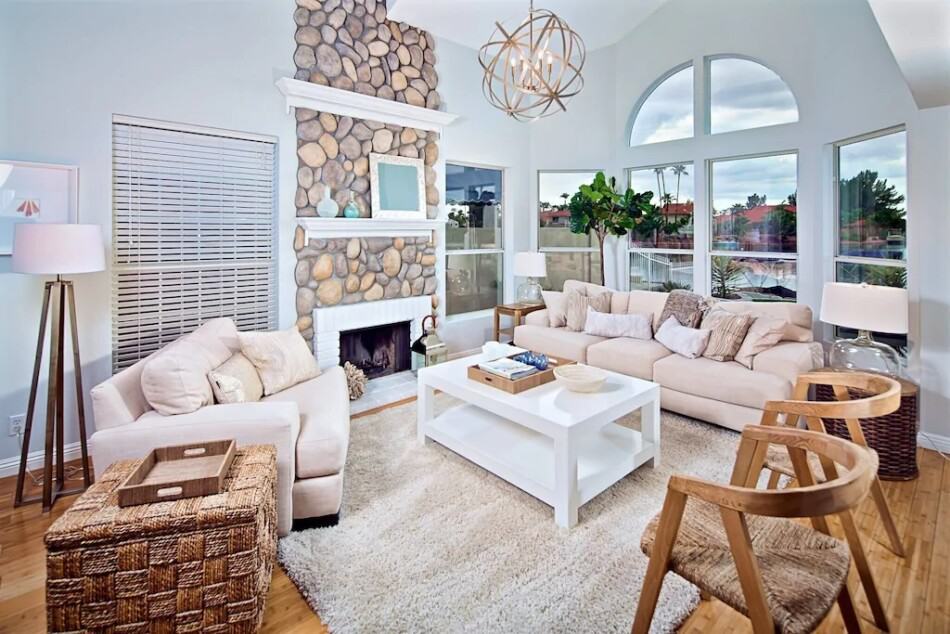 So if you are staying in Gilbert or in the Phoenix area, this is a great place to stay. It is not only comfy but also very clean and private. And the host is easy to communicate with and will do anything to provide the things that you need.
Relaxing & Upgraded Vacation Home – Pet Friendly
Guests: 8
Bedroom: 3
From its facade, you may think that this is just an ordinary airbnb in Gilbert. But once you get inside, you will see an amazing home that has a lot to offer and is ready to welcome 8 guests.
Although it has a total of 3 bedrooms, this home has up to 4 separate sleeping areas – a master suite with a king size bed, a private bedroom with queen size bed, another private room with two twin size beds, and a living room with a queen size sofa bed.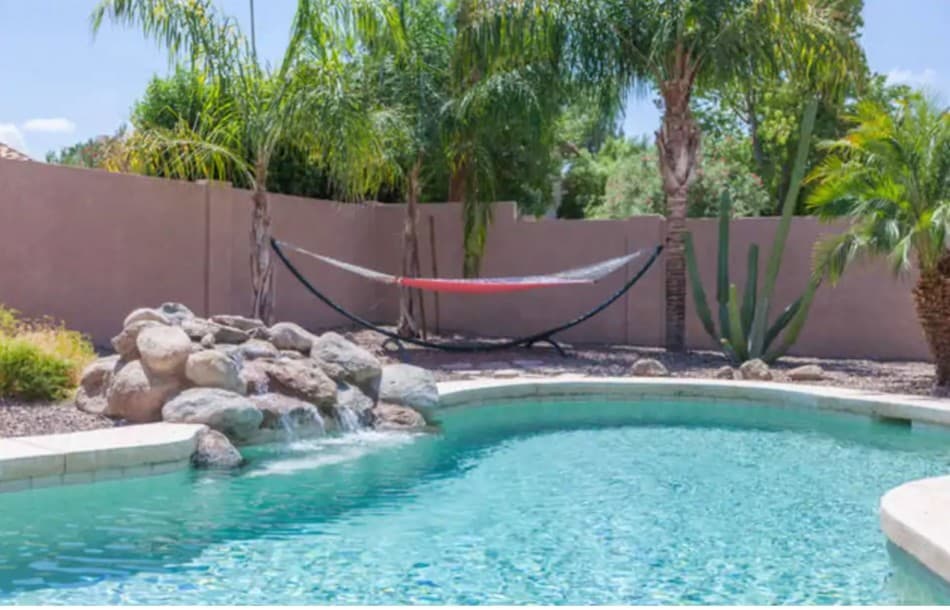 In addition, you will also love the large kitchen and dining area that has upgraded kitchen appliances, stainless steel fridge, granite counter tops, coffeemaker, microwave, and many more.
It also has an almost-perfect outdoor space that features a backyard oasis with swimming pool, lounge area, BBQ grill, and billiards table. This house is perfect for a weekend getaway, a week away, or even a month log stay with your family or friends. 
Gilbert Sanctuary with Pool
Guests: 10
Bedroom: 4
One of the most pristine homes that you can book in Gilbert is this 4-bedroom sanctuary that has a nice and simple design that is inviting you for a great relaxation.
It is perfect for families wanting to have a peaceful vacation in Gilbert as it features a well-stocked gourmet kitchen, incredible outdoor space with backyard BBQ, dining area, and a relaxing pool that both kids and adult will love.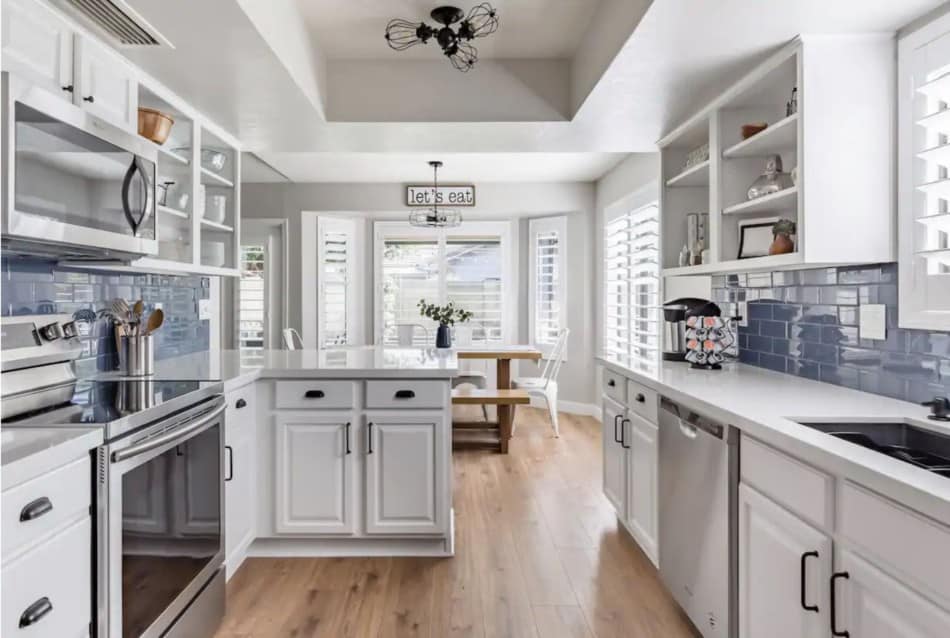 Its location is also perfect as it's easy to drive to downtown Gilbert and have a sumptuous dinner and eat ice cream. And the house is so wonderful and well-styled that you would love to stay here forever. And not to mention two incredible hosts that are quick and easy to communicate with.
Two-Bedroom Apartment with Excellent Amenities
Guests: 5
Bedroom: 2
Staying in this two-bedroom apartment in Gilbert, Arizona is like staying in an elegant and well-serviced apartment-hotel. And this is a fully-furnished apartment which includes an open living space with a fully equipped kitchen, living room, bathroom, wifi, smart TV, and all utilities.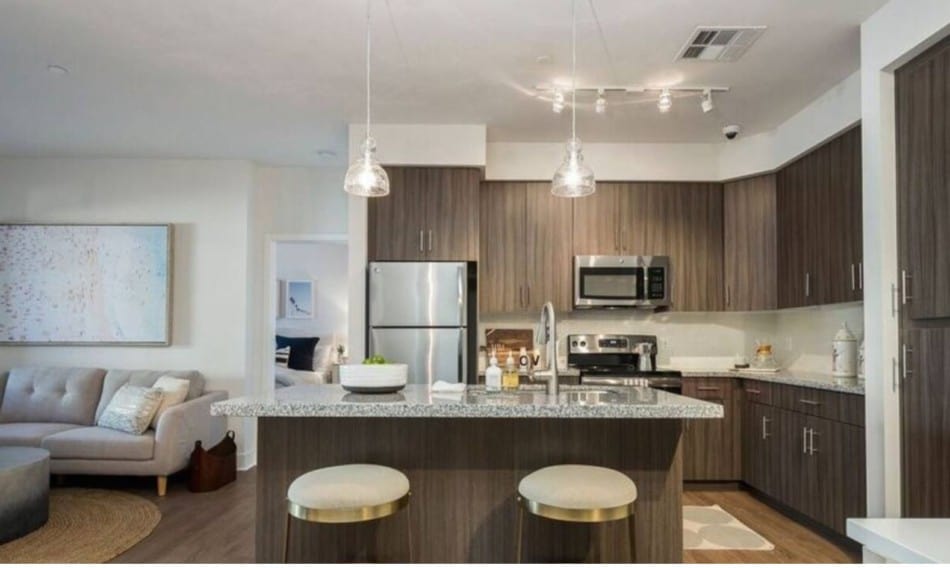 And what makes this apartment even more great is that you can access all the amenities in the building such as the stunning swimming pool, designer clubhouse, private poolside cabanas, and a two-storey fitness center with a yoga studio. So even though you are just staying here temporarily, you will instantly feel like you are a resident and feel fully at home.
Art Gallery Vacation House
Guests: 6
Bedroom: 2
The Alley House is a unique place located in the historic downtown Gilbert district just a few steps away from the famous restaurants on the area. The house is also uniquely designed with an enjoyable and fully landscaped outdoor space perfect for family gatherings and entertainment.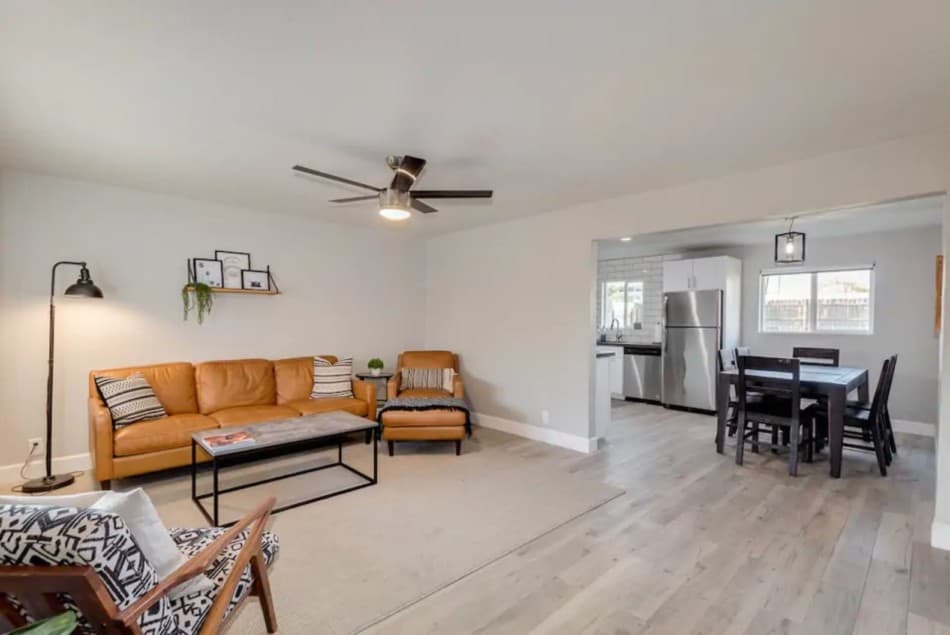 Inside the house is a well-equipped two bedroom and one bath with a family room ready for movie night. You will also love the amenities offered such as TV, wifi, towels, blankets, and pillows. Basically, you get to enjoy the whole house and yard to yourself at a very worthy price.
Cozy Gilbert Condo
Guests: 4
Bedroom: 2
This cozy two-bedroom condo located in the heart of Gilbert is ready to welcome you to enjoy the warm Arizona winter. Everything you need for a warm and relaxing vacation is here and all you need to do is bring your suitcase.
It is fully equipped with basic amenities including a kitchen, living space with TV, small dining area, and a nicely decorated and comfortable furnishings.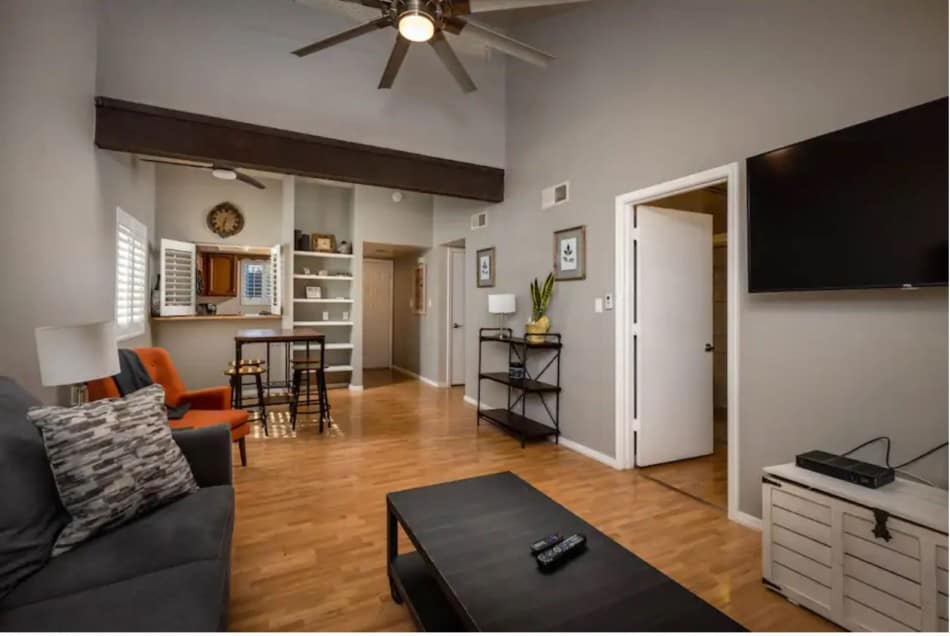 If you are looking for a place that is very cozy and has a great location, then this is perfect for you. It's very close to walk and experience downtown Gilbert. And prior to your stay, all the essentials you need are provided 24 hours in advance. Hassle-free indeed!
Two-Bedroom and Two-Bathroom Apartment
Guests: 5
Bedroom: 2
You'll have the entire apartment to yourself at Heritage Pointe that features beautiful finishes and fully outfitted with kitchen, bedroom, and bathroom essentials. The floor plan design offers an open living space so that you can truly feel at home and there's also plenty of friendly-working space to set up your laptop or stretch out on the couch.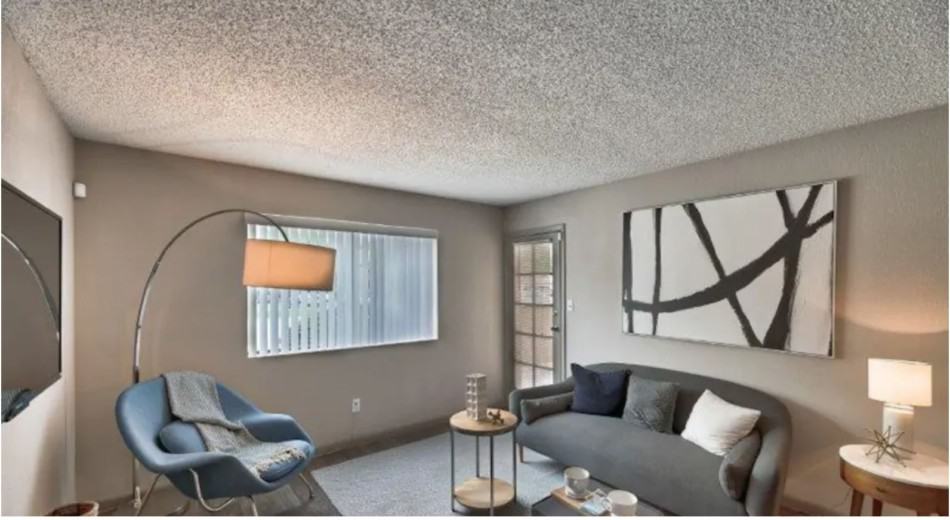 And to make your experience even more amazing, you can have full access to the amenities in the apartment such as the swimming pool, clubhouse, private poolside cabanas, and a two-story fitness center with a yoga studio. And this place is also even welcome for travelers who wish to stay longer or move-in permanently.
Gilbert Home Close to Downtown, Restaurants, and bars
Guests: 7
Bedroom: 3
This three-bedroom Gilbert home will let you experience the comforts of the urban lifestyle. It is located in a great neighborhood and is extremely close to Downtown Gilbert's nightlife, restaurants, and bars. There is also a nearby park in the area perfect for a great running and biking trail.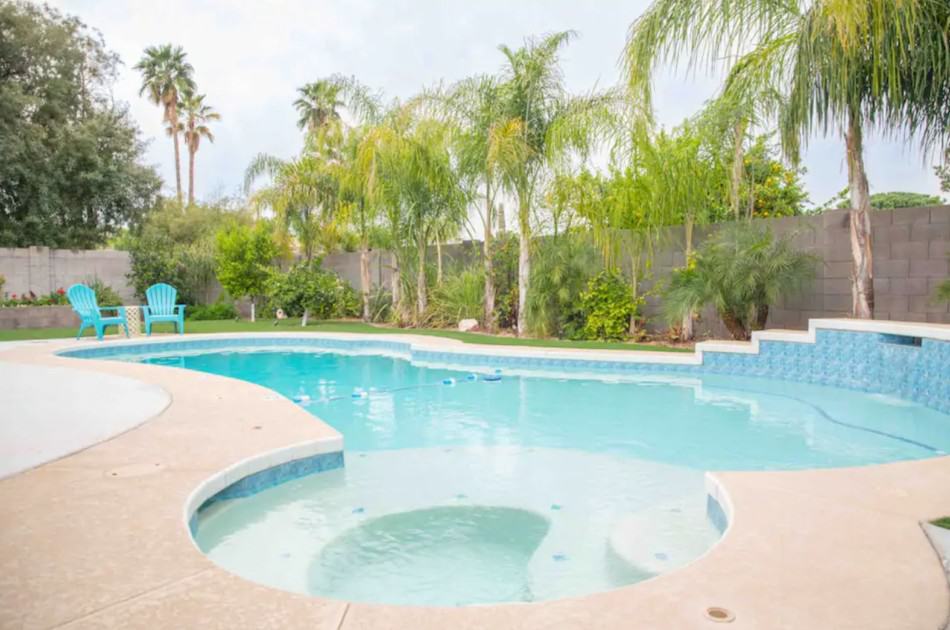 The house is fully equipped with amenities including a nice kitchen with granite, washer and dryer, tons of outdoor space including a day bed to lay by the pool, BBQ grill area, and a lush landscaping. Plus, you will be experiencing great service from an also great host who is willing to provide you with lots of information around the house and the restaurants to dine in the area.
Gorgeous Lakefront Retreat with Boats and Kayaks
Guests: 6
Bedroom: 3
Have you ever dreamed before living in a gorgeous house in front of a lake? Well, that dream can turn into reality with this beautiful lakefront retreat in Gilbert, Arizona.
This immaculate home is located in a peaceful cul de sac with a gorgeous community pool and hot tub. And want to know what's more amazing? This lakefront home comes with a Pontoon Boat and 2 Kayaks launch from your private dock. How cool is that?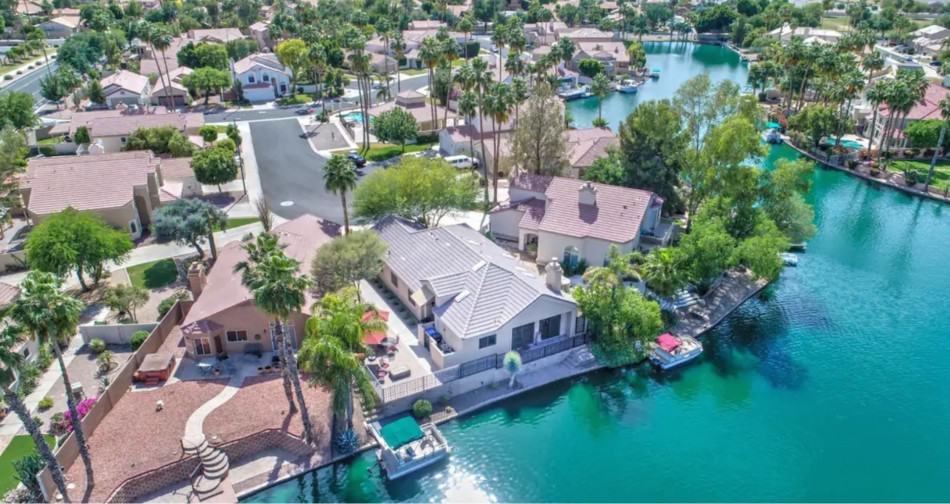 Inside the house, it has three bedrooms that are furnished with luxurious king size beds and the master suite comes with a huge walk-in shower. The open concept living and dining area is also perfect for family gatherings and entertainment complete with a large flat screen TV. And as to its price, it's very affordable and worth it.
Waterfront with Heated Pool and a Paddle Boat
Guests: 8
Bedroom: 4
Another amazing waterfront house that you can stay in Gilbert is this luxurious 4-bedroom house that comes with a heated pool and paddle boat. It is located on a quiet street in a gorgeous and well established neighborhood.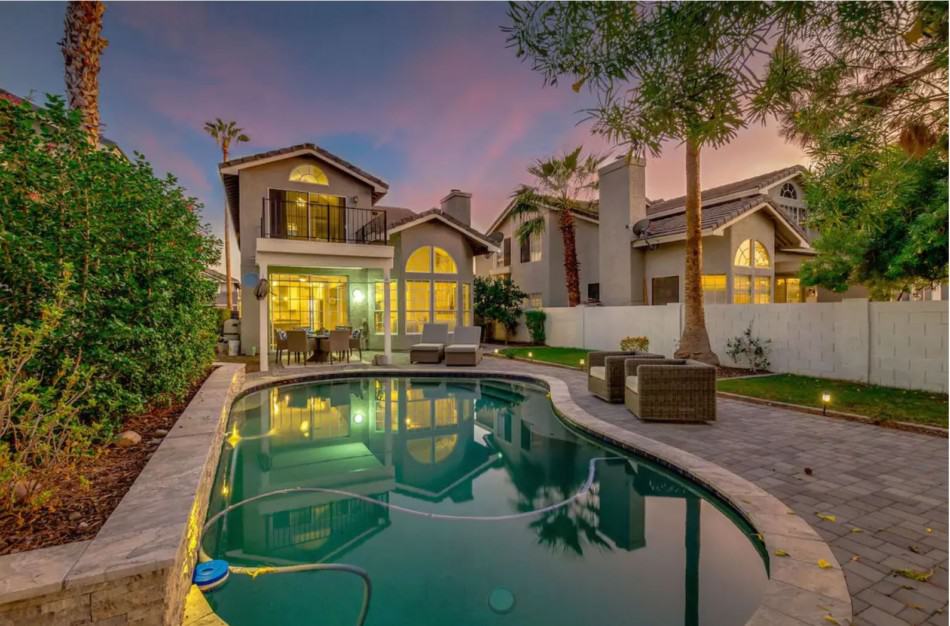 The house is a total dream that features a formal dining room, a living room with a fireplace, a newly remodeled kitchen with a breakfast bar, a large pantry, a bay area, and a lot more.
There is also an outdoor space for outdoor grilling where you can relax and enjoy some BBQs with the whole family. Truly, this place has all the amenities that you need and even more and the price per night goes really well with your budget.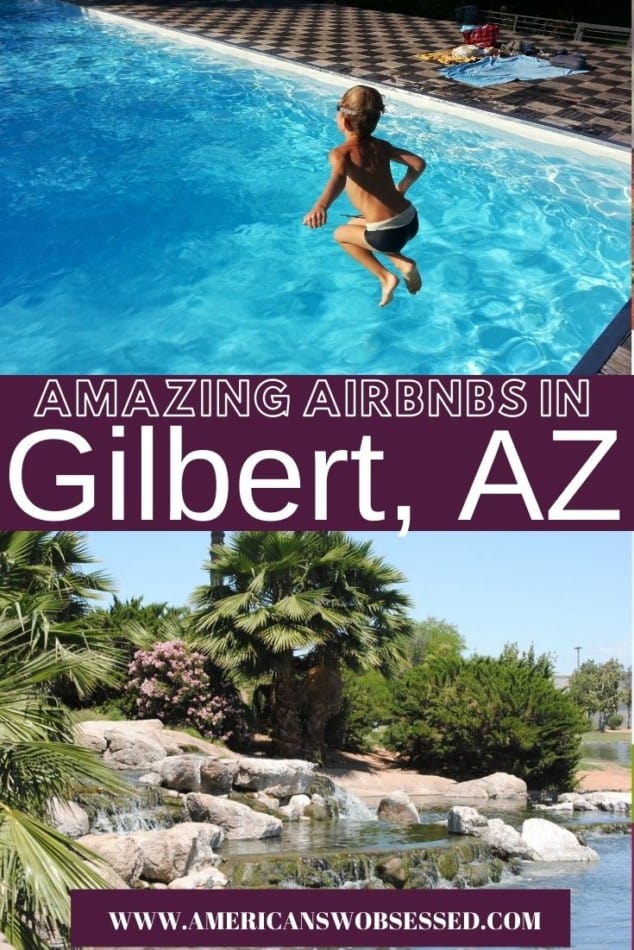 Recent Posts