17 Best Mesa Airbnbs – Where to find the Best Airbnb in Mesa, AZ
Airbnb Mesa Arizona: Are you looking for the best Airbnb in Mesa, Arizona? This list of Mesa Airbnbs has something for everyone and every budget!
Although Mesa is a smaller city than Phoenix it still has a lot of great things to do and see such as Mesa Historical Museum or Arizona Museum of Natural History. It also has a hub of spas, resort hotels, golf courses, and of course trend-setting restaurants.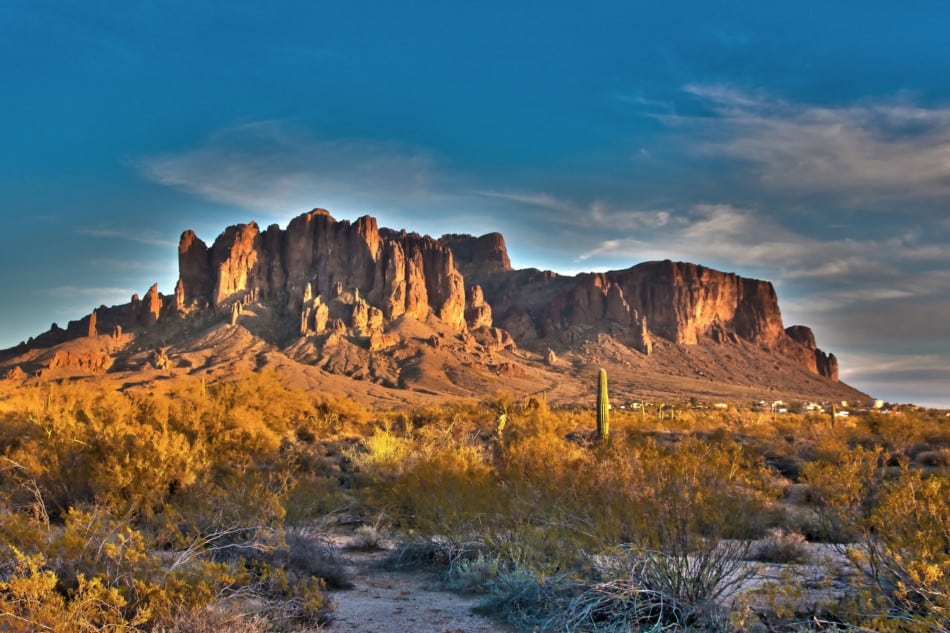 "With countless places for new discoveries, competitive sports, wild west adventures and farm to table cuisine, Mesa is a city that knows no bounds.
From urban to rural, mountain peak to the desert floor, arts and culture to wildlife and nightlife, each and every guest is given unparalleled access to one of the richest arrays of visitor offerings in the country"
Mesa actually has its own airport so if you are flying into Phoenix make sure you know which airport you are flying into. Mesa Gateway Airport is often much cheaper to fly into.
Not sure if Mesa is the right area to stay in when you are visiting Phoenix? Check out my other guides to Airbnbs in the surrounding suburbs.
15 Best Airbnbs in Arizona – caves, airstreams, domes, yurts and spas!
15 Best Airbnbs in Glendale, AZ
13 Best Airbnbs in Gilbert, Arizona – with pools!
15 Comfy Airbnbs in Chandler Arizona
15 Perfect Airbnb Scottsdale AZ
15 Best Airbnbs in Phoenix, AZ
Thank you for supporting this website written by an American. This post may contain affiliate links. This means I earn a small commission on these links at no extra cost to you.
The Best Airbnbs in Mesa, Arizona
Dog-Friendly Getaway w/ a Private Pool, Free WiFi, Central A/C, & a Washer/Dryer
Guests: 7
Bedroom: 4
Come home to relax at this single-level desert oasis tucked away on the east side, less than 30 miles from Phoenix and Scottsdale. Out back, soak up the sunshine while you splash in the saltwater pool with a rock waterfall, play in the fenced yard, or dive into a book in the furnished AZ sunroom.
Inside, this home offers a well-equipped, full kitchen with stainless steel appliances and a bistro-style table for two. Enjoy meals or play some of the provided board games at the nearby table for four, then meet up in the cozy living area complete with a cable and Netflix-equipped flatscreen TV.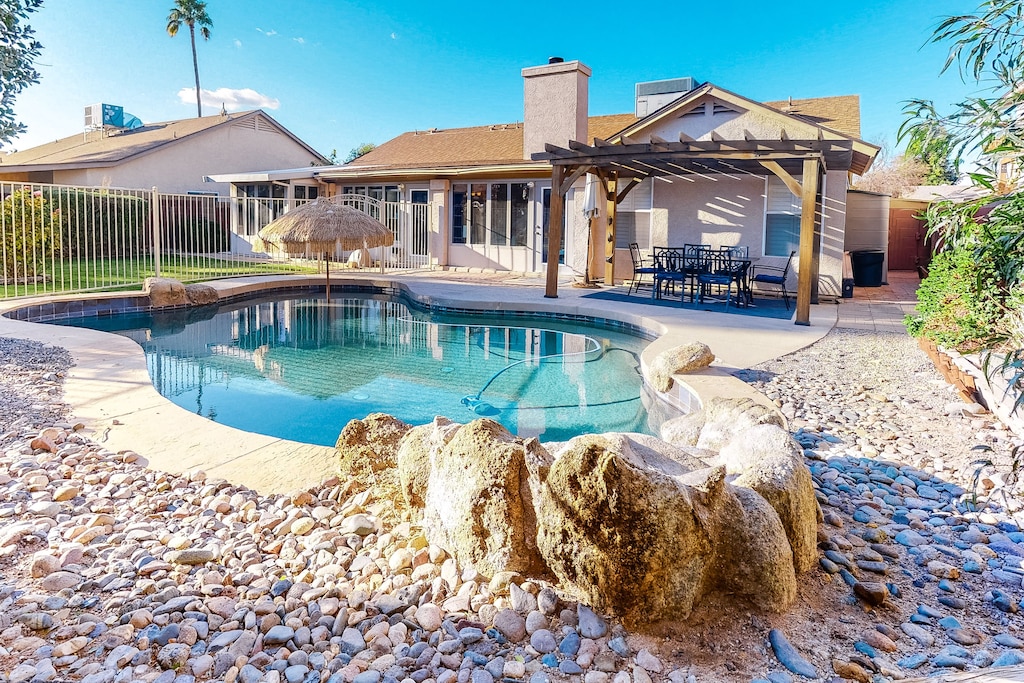 Inside the guest suite are a fully equipped kitchen with a refrigerator, electric range/oven, microwave, coffeemaker, pots, pans, and even baking ware.
There's also a flat screen, full-motion TV with Chromecast so you can project from any of your devices onto the TV screen, a collapsible desk and fold-away chair in case you need to get some work done, fully-body mirrored closet, and a lot more. 
Not only that, you can also enjoy some R&R either in the hammock or lounge chairs while sipping your favorite drinks under the patio. Or just fire up the charcoal grill and take a dip in the pool while watching the beautiful sunset. This is a quiet and private space to stay at if you are in the Mesa area.
Check Availability and Read Reviews
Comfy Pool Home in Central Mesa
Guests: 6
Bedroom: 3
If you are looking for a place in Central Mesa that is surrounded by lots of greenery, flowers, and trees, well this comfy pool home is the one for you.
This property has a gorgeous yard that you can totally make use of those features not only lots of greenery but also a private pool, a community pool, and a heated jacuzzi.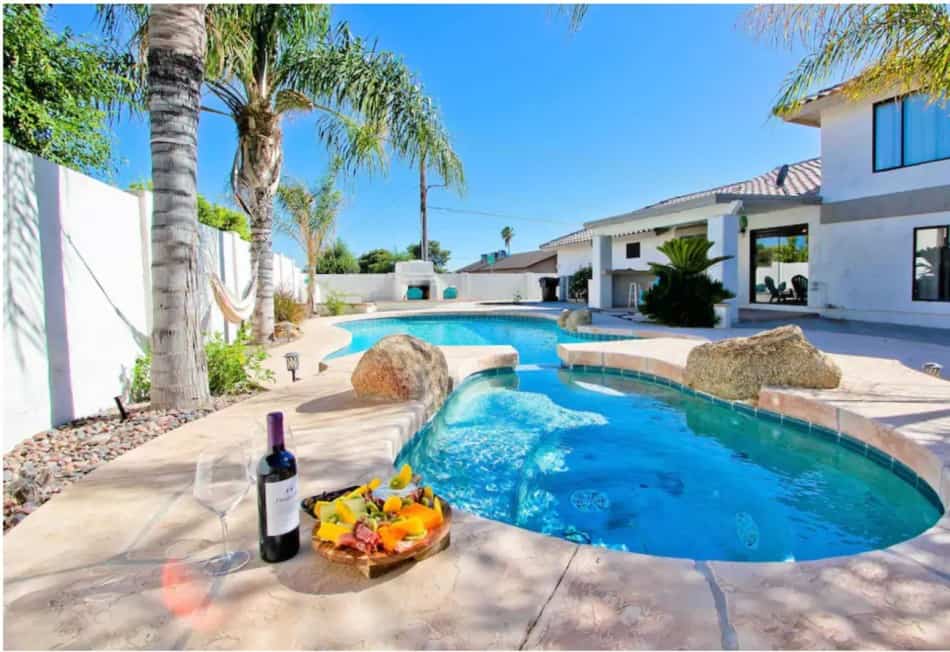 The living area has an open floor concept with kitchen, living room, and dining room. It has a total of 3 bedrooms that can let 6 people comfortably sleep.
The master's bedroom has a queen size bed and a private bathroom, while the second bedroom has a full size bed, and the third bedroom can be utilized as an office but there is an air mattress that you can sleep on. This is a great place to stay at and there's plenty of room for a family or a group of friends. 
Check Availability and Read Reviews
Upscale Old Town Mesa Guest House
Guests: 4
Bedroom: 2
At this upscale Old Town Guest House, you will feel the charm and warmth of a Bed & Breakfast plus with comforts, privacy, and modern amenities.
This place is the perfect one to stay if you want to unwind in a secluded area yet will have all the comforts that you deserve. 
It features two bedrooms, a bathroom, living room with a queen pull-out, flat screen TV's in each room both with Apple TV, kitchen with copper sink, mini fridge, coffeemaker, microwave and toaster oven.
This house also has its own tankless water heater so you will never run out of supply of hot water. 
And the outside too is also a wonderful and comfortable space to relax and unwind. You can listen to the birds, read some books, or jump in the pool. And to make your stay even more wonderful, you will be meeting a wonderful and warm host who will go out of her way just to provide everything that you need.
Check Availability and Read Reviews
House Close to Chicago Cubs
Guests: 6
Bedroom: 3
There are so many great things about this house that you will instantly love – a dog-friendly place, a few steps away from a large park, and lots of great food nearby.
The house itself is very warm and inviting and it was set up in a way that you could easily cook at home.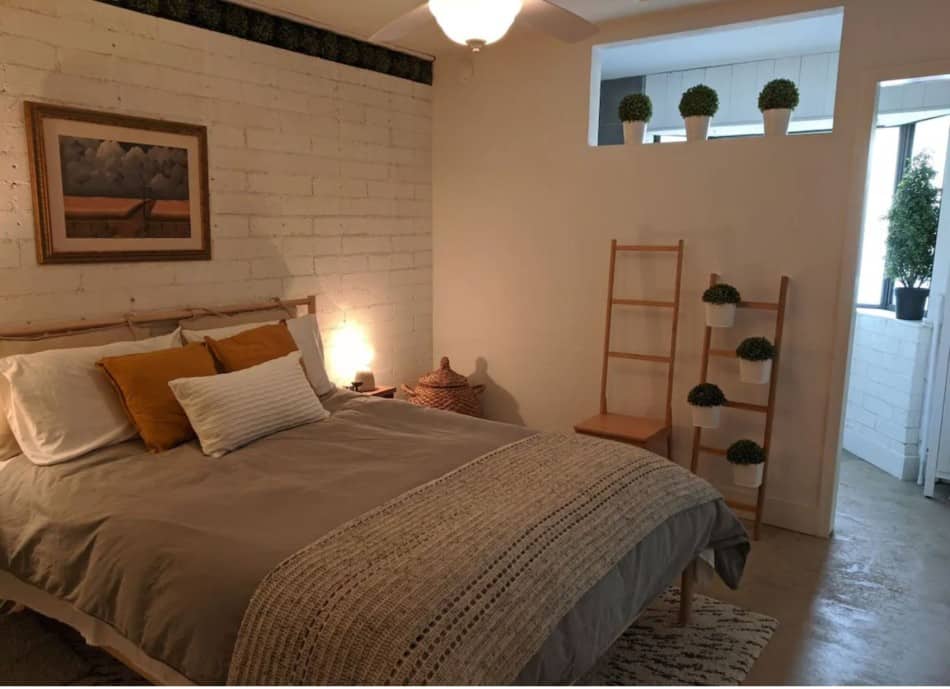 It also has a lovely covered patio so you could enjoy a lovely morning while sipping a coffee and eating a meal. And the host is very friendly and accommodating that you would want to stay here forever and such a great value too.
Check Availability and Read Reviews
Four-Bedroom Gated Townhome
Guests: 10
Bedroom: 4
Whether you are looking for a great place to stay for a weekend getaway, a week vacation or even a month-long stay, this home is perfect for you.
This house is located in a new and quiet gated community in Mesa and that has been recently furnished and features an amazing clubhouse with heated swimming pools, spas, and BBQ grills that you can make use of.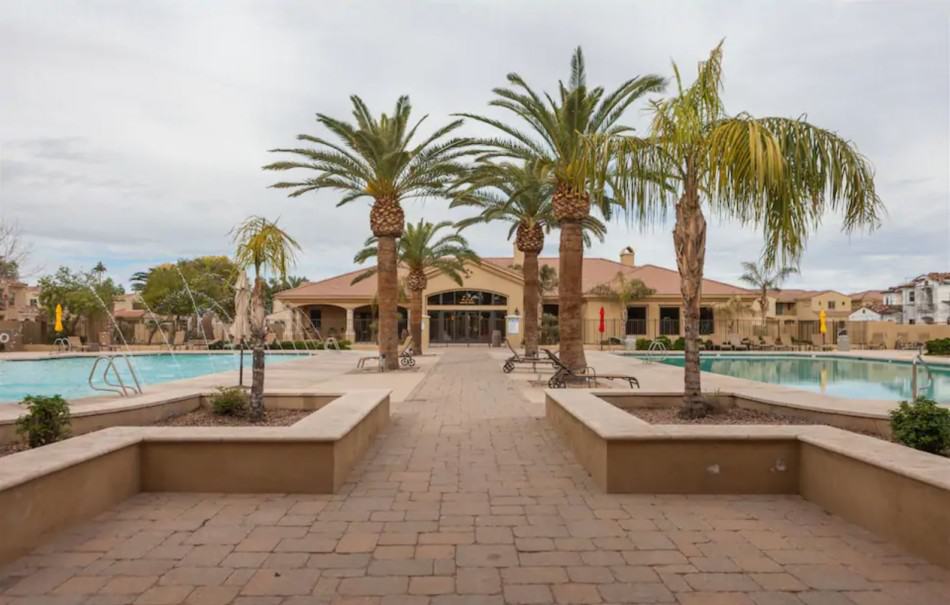 The home has a total area of 1800 square feet with high ceilings and it is furnished with all the essentials that you need for a comfortable stay including sheets, blankets, towels, bath and shower toiletries, and laundry supplies.
And there are up to 5 separate sleeping areas in the house that can accommodate 10 people. This house has plenty of space for a large group at a very reasonable and worthy price. 
Check Availability and Read Reviews
Private 5-Star, Two-Bedroom Home
Guests: 6
Bedroom: 2
Conveniently located in the center of everything, this private two-bedroom home is close to golf, shops, various restaurants, and grocery stores in Mesa, Arizona.
This house boasts of its spacious living room and two-bedroom, two-bathroom with two queen size beds and two air mattresses, 55" TV with cable + Hulu, and new furniture to make it even more comfortable.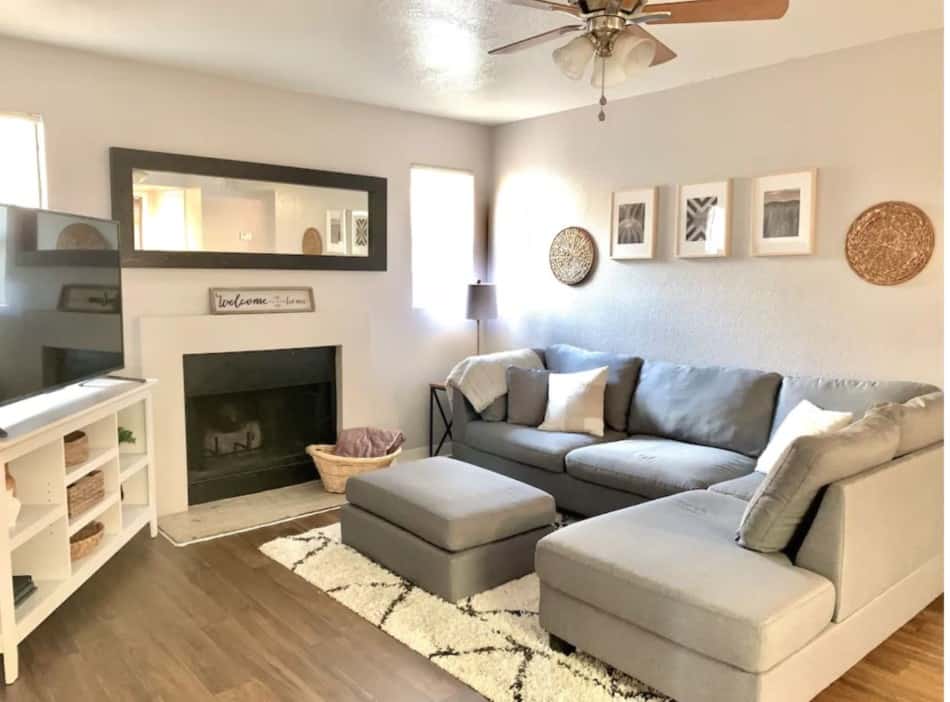 This is a recommended place if you wanna stay in a safe area without being too far from town.
Check Availability and Read Reviews
Two-Bedroom/Two-Bathroom Condo
Guests: 6
Bedroom: 2
This cozy and spacious condo is situated in the complex right next to the clubhouse and pool area. It also provides easy access to downtown Mesa, Sky Harbor, and Mesa airports and is centrally located in the Valley and a short ride to the hiking trails.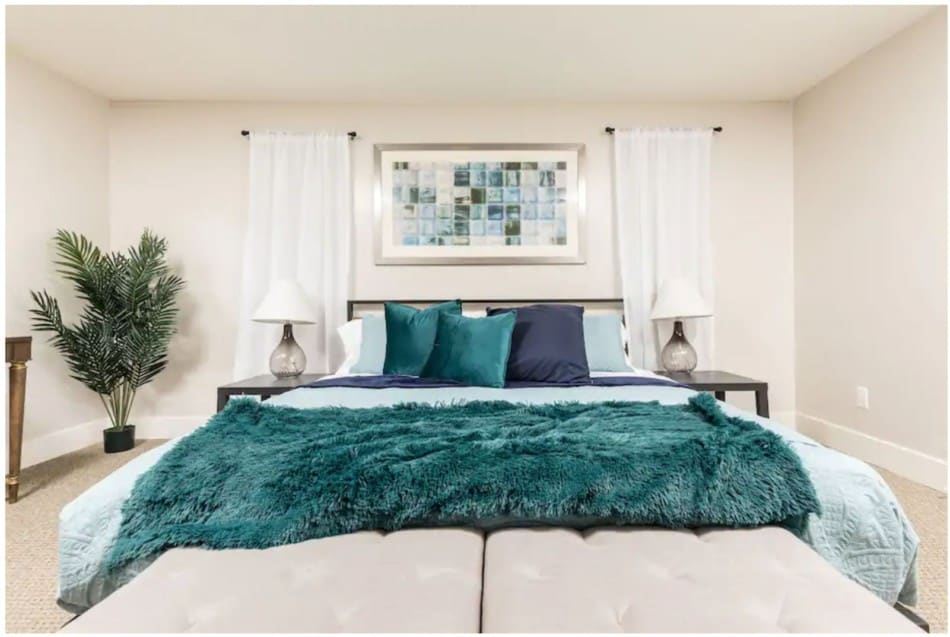 Although the place is a little bit dated, it has everything you need and is well stocked. It has a total of 2 bedrooms and can accommodate up to 6 guests. Plus, the added twin size bed in the loft is a perfect spot for kids to sleep or hang out in. It's a very well kept place and a great condo to stay for the price.
Check Availability and Read Reviews
Three-Bedroom Remodeled Home in Mesa
Guests: 7
Bedroom: 3
The owner has spent a great amount of time and energy to create this stunning space for the guests to feel comfortable and at peace. It is newly renovated and furnished with brand new facilities.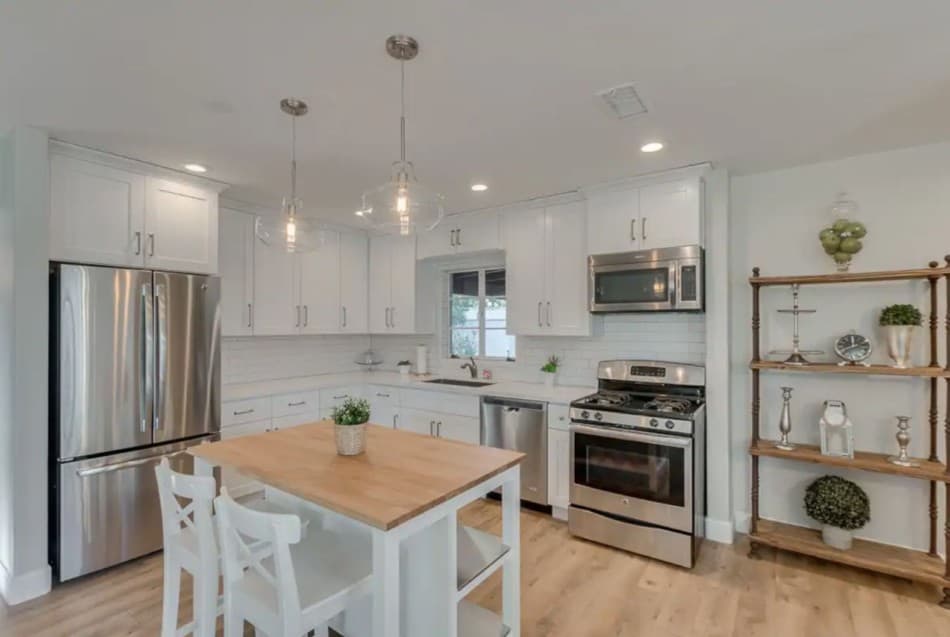 Guests can have full access to all parts of the home including the front and backyard and the designated parking space. It has also a great kitchen to cook sumptuous meals for the family, comfy beds, and an air conditioning unit to keep things very comfy and cool.
Overall, the place is very modern and clean and the hosts are very attentive to all your needs. This is a really great place with great value. 
Check Availability and Read Reviews
Grand Street Mesa
Guests: 6
Bedroom: 3
This modern updated home is a perfect place to stay in Mesa whether you are in town for leisure or business. It features three bedrooms, new furniture, new flooring, a modern kitchen, new lighting, newer appliances, 55" flat-screen TV in the living room, memory foam and latex mattresses, a huge covered back patio, and a wooden privacy fence.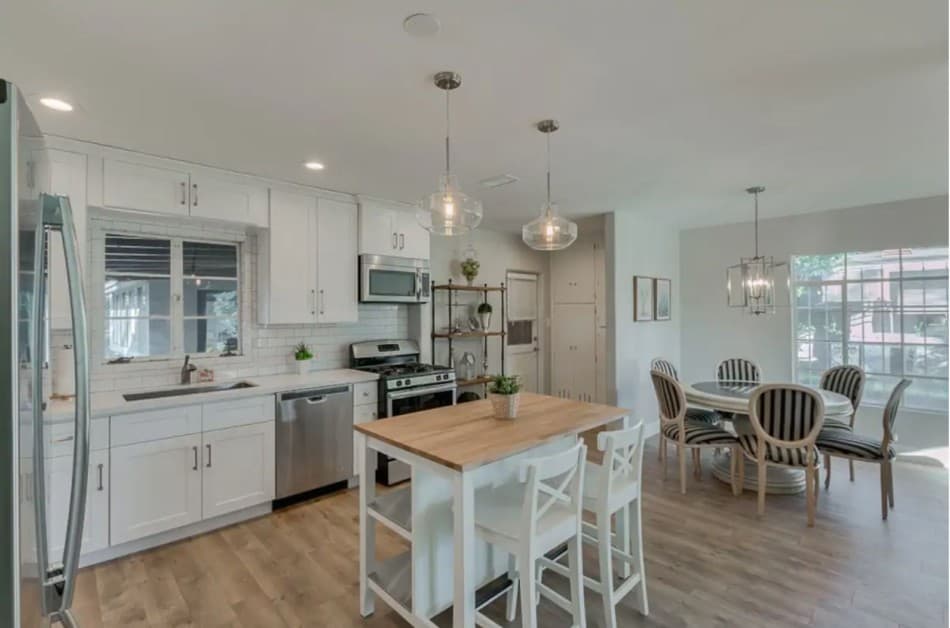 Truly, this is a very comfortable and cozy place to stay. And the check-in is very easy thanks to its wonderful and friendly host who will make sure that everything is perfect and clean before you arrive. You would love to stay at this very safe and spacious home in Mesa.
Check Availability and Read Reviews
Cozy and Inviting Condo
Guests: 6
Bedroom: 2
This beautifully renovated two level condo loft features a twin size bed, and fully furnished with great amenities. It has two bedrooms – a master's bedroom on the first level and the second bedroom upstairs, and a spacious living room with TV.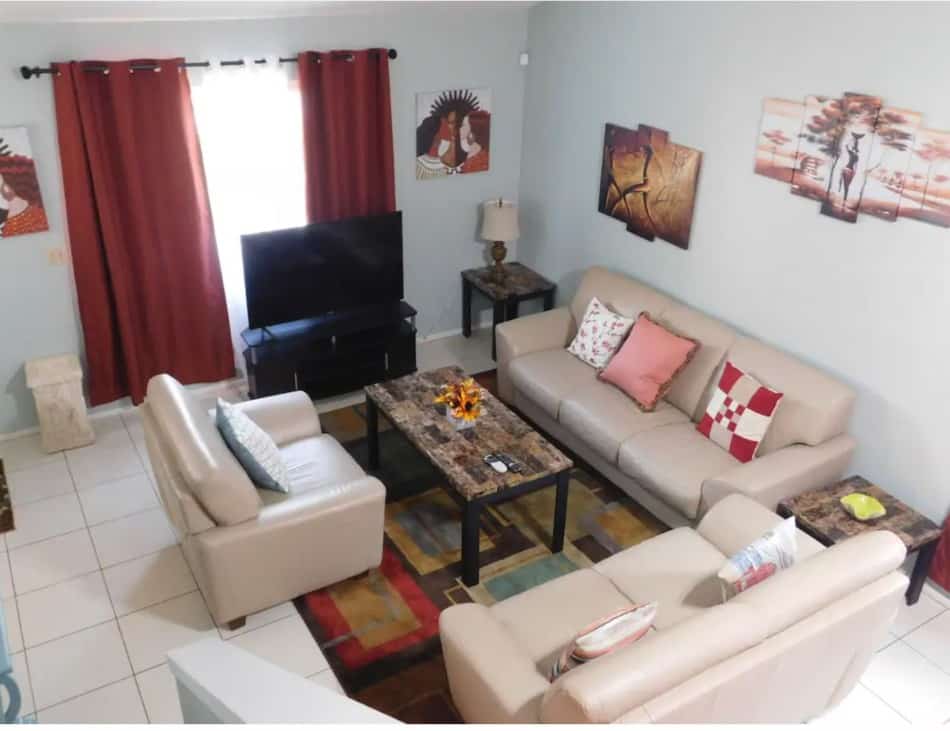 And what makes it more great is that it's very close to downtown Mesa on Main Street as well as to the local grocery stores, restaurants, and markets. This is a perfect place for your family with everything you need around.
Check Availability and Read Reviews
La Casa Verde with a Private Backyard
Guests: 5
Bedroom: 2
La Casa Verde is a newly renovated home where every corner of the house has its own vibrant charm. It features bold walls, emotive decor, backyard with a fire pit, grill, and a lot of chill spots to hang out and relax.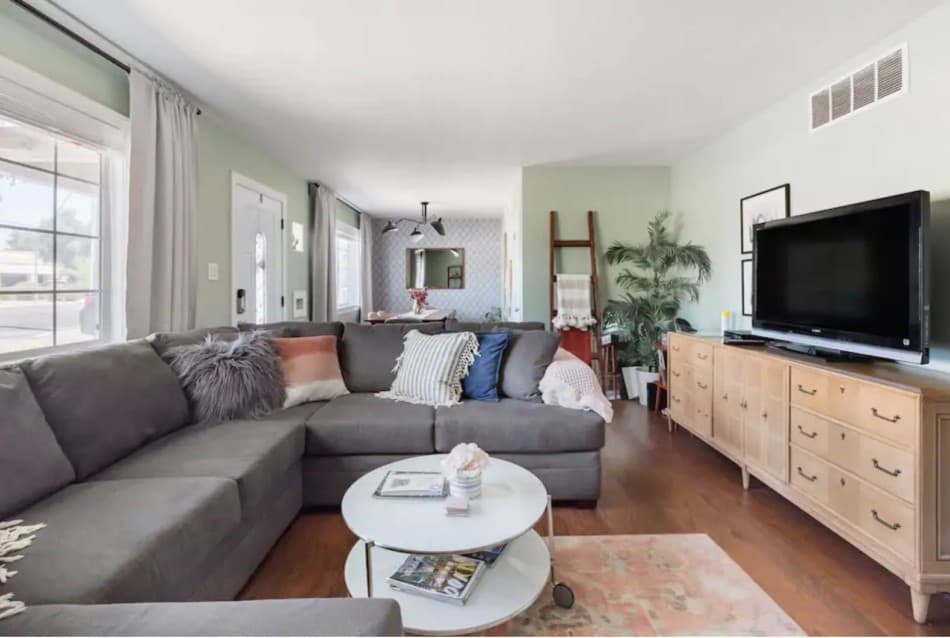 The house is said to have been decorated nicely for guests to feel at home. It has super comfortable beds and a well-stocked kitchen with extras to cook with. This place is perfect for small families or groups of friends for hangouts and bonding moments.
Check Availability and Read Reviews
Lovely Mesa Home
Guests: 6
Bedroom: 3
This 1108 square feet lovely home in Mesa is one of the most spacious places to stay in the area. It is very private and convenient to the expressway. It has a total of 3 bedrooms and is equipped with the necessary amenities to make your stay a pleasant one.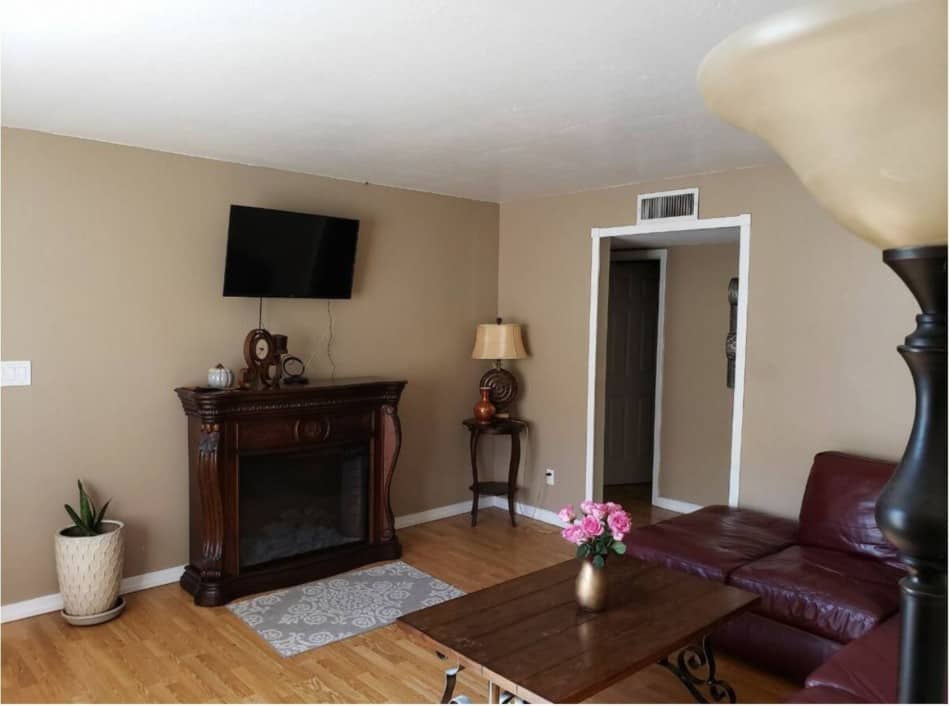 You'll totally love the outdoor area, specifically the back patio where you can enjoy your breakfast or have a glass of wine in the evening. And the host is so lovely that everyone from all walks of life are welcome to stay here short or long.
Check Availability and Read Reviews
Country Club 1128
Guests: 6
Bedroom: 3
This newly constructed home is located in a gated community that is very close to everything you need in Mesa, Arizona. It has its own attached 2-car garage, washer and dryer, two large flat screen TV's, two community hot tubs, and two large pools which you can totally make use of.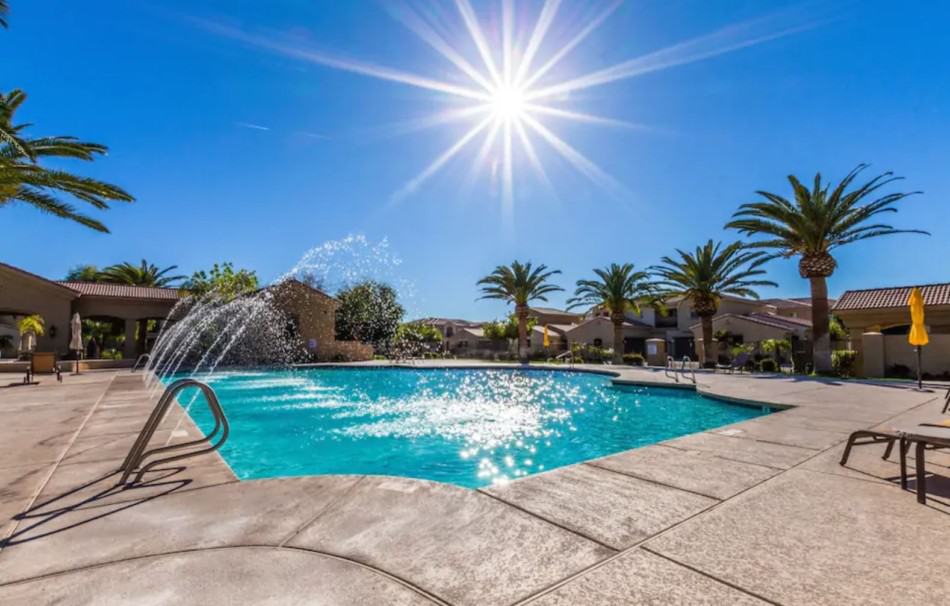 This is a gorgeous place to stay with your family and it has plenty of rooms to accommodate 6 guests at a very great price.
Check Availability and Read Reviews
Charming Remodeled House
Guests: 4
Bedroom: 2
This is a charming house that you can stay in Mesa is this two-bedroom remodeled house. The space is very amazing and it has 1 bathroom, kitchen, living room with 40" TV in the master's bedroom and living room.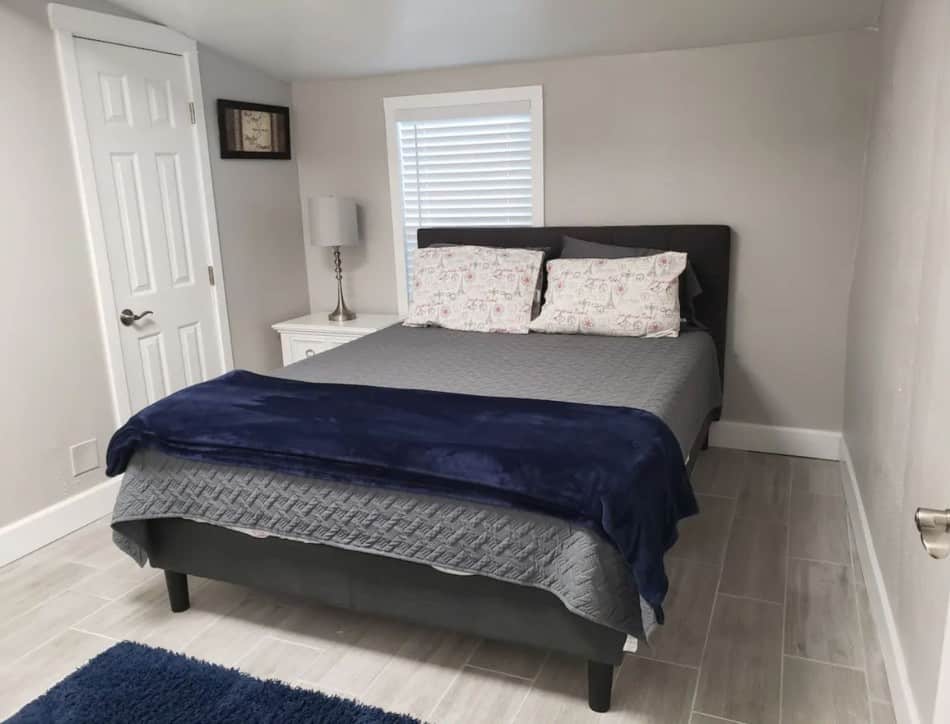 It is ideal for a couple's getaway or a family of 4 who wants to have some bonding moments together. Plus, the host is very easy to communicate with and will take care of everything for you.
Check Availability and Read Reviews
Modern and Conveniently Located Private Condo
Guests: 5
Bedroom: 2
This is a very private condo that feels like you are staying in a luxurious hotel. Sound great? Well, look no further because this two-bedroom condo will make you feel at home with the comfort of a luxury hotel. This condo offers an exclusive patio and personal garage place and it is conveniently located just a few minutes away from the best spots in the area.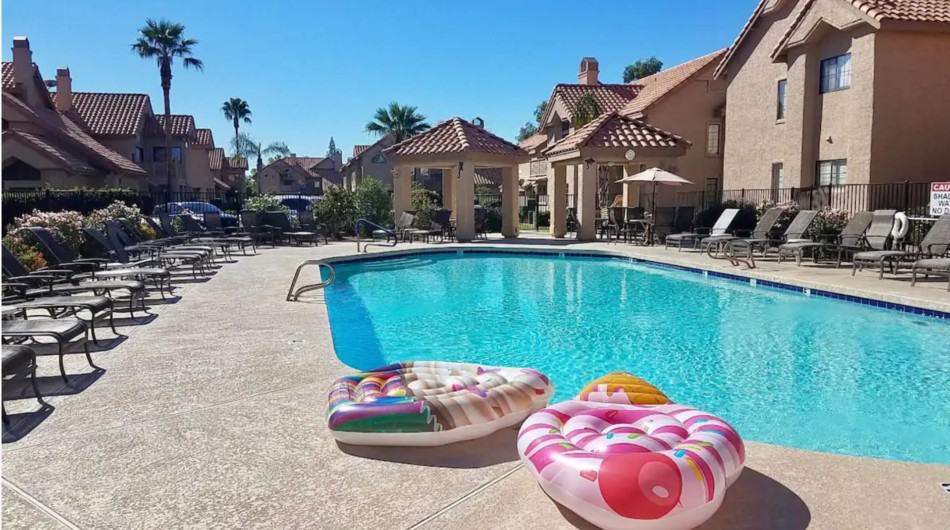 You can have full access to the condo including the amenities available such as the free parking spaces and swimming pool. This place is highly rated and it doesn't cost you an arm and a leg.
Check Availability and Read Reviews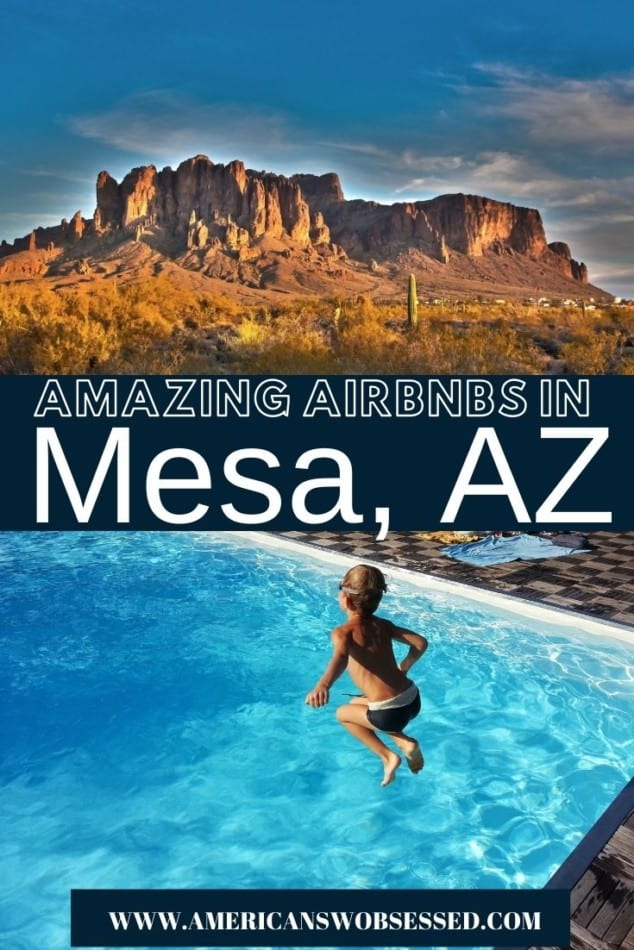 Recent Posts