11 Best Airbnbs in Tempe AZ
Airbnb Tempe AZ: Are you looking for the best Airbnb in Tempe, Arizona? The city of Tempe is part of the Phoenix metropolitan area and a great place to stay when visiting.
Tempe is a playground for the outdoor enthusiast. Tempe embraces an active lifestyle and laid-back atmosphere and it's a place where community matters.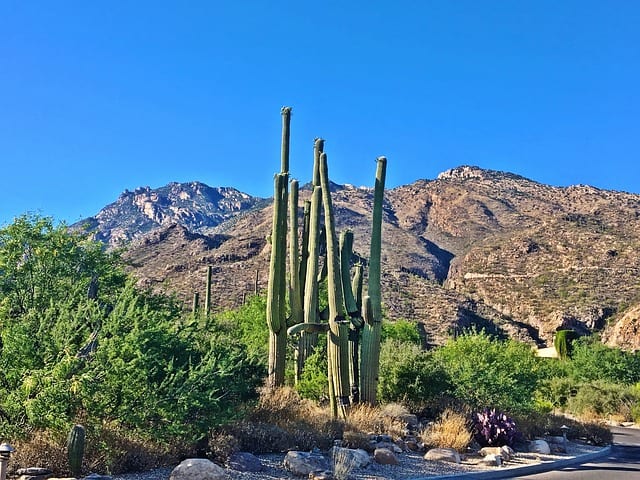 Tempe attractions include desert discoveries, splashing around on a lake, viewing contemporary art, learning a bit of history and being mesmerized by underwater creatures at an aquarium. No matter your age or interest, you will be sure to find something fun to explore in Tempe, AZ.
There are so many places to stay around Phoenix so if you decide that Tempe isn't the right area for you – check out my other Airbnb guides:
13 Best Airbnbs in Gilbert, Arizona – with pools!
17 Best Airbnbs in Mesa, Arizona
15 Comfy Airbnbs in Chandler Arizona
15 Perfect Airbnb Scottsdale AZ
15 Best Airbnbs in Glendale, AZ
Thank you for supporting this website written by an American. This post may contain affiliate links. This means I earn a small commission on these links at no extra cost to you.
13 Best Airbnbs in Tempe, Arizona
Upscale Apartment on Tempe Lake
Guests: 4
Bedroom: 2
First on our list of the best Airbnb in Tempe is this upscale apartment that features a contemporary style elevated by an aesthetic that is a perfect combination of dark wood and white fixtures accented by bold patterns.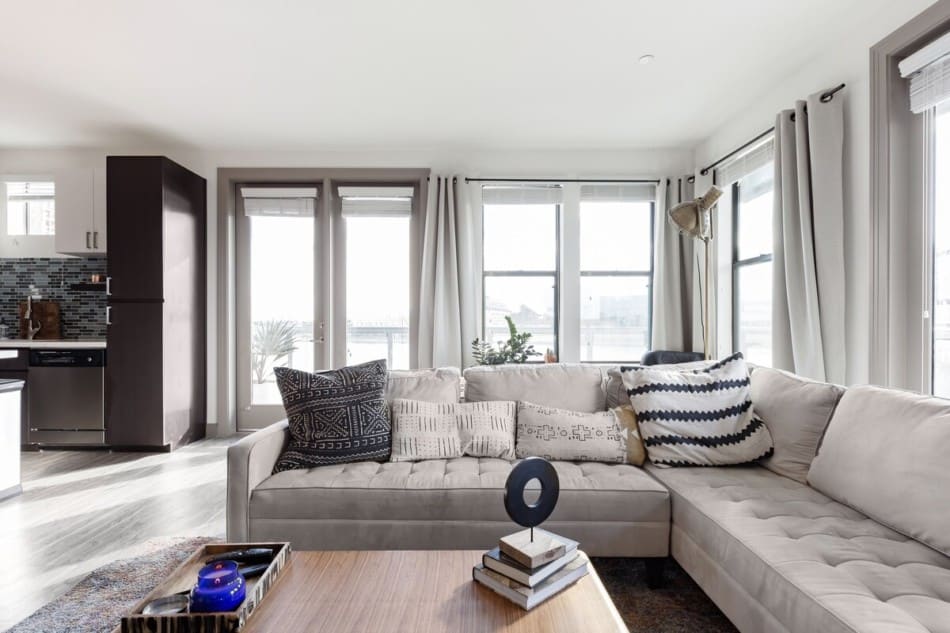 Aside from its aesthetically appealing interiors, this apartment has also a great corner location with an amazing view of the lake. It can accommodate up to 4 guests with 2 bedrooms, a living room, kitchen, dining area, and surround sound throughout the house. You couldn't ask for more with this elegant apartment in Tempe.
Mid-Century Bungalow with Backyard
Guests: 4
Bedroom: 2
You are going to absolutely fall in love with this mid-century bungalow that gives a vibrant retro vibe in every corner of the house. The interior features original finishes, vintage decor, warm woods, a back porch, fire pit, a vine-covered pergola with a dining area, and much more.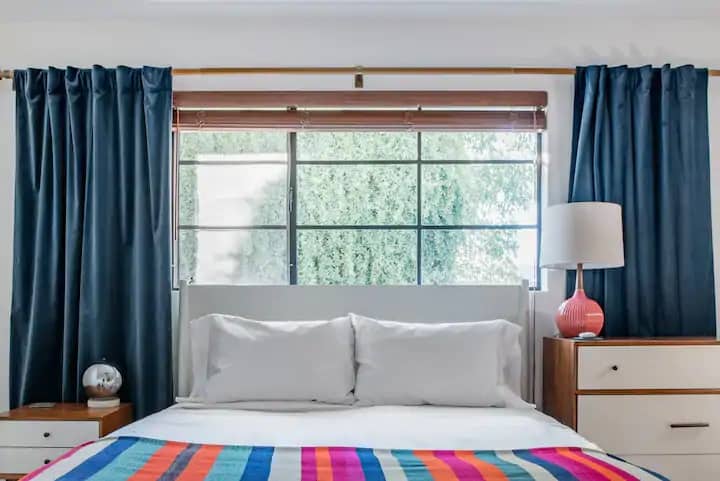 The home itself is very comfortable, clean, and stylish-decorated, and it is located in quiet neighborhood and close to downtown Tempe. This is an ideal home for travelers who want to experience a calm and peaceful stay in Tempe, yet has close proximity to airport, shopping center, and coffee places.
Comfortable Tempe Apartment
Guests: 6
Bedroom: 3
Staying at this relaxing house in Tempe will let you experience all the comforts that life can offer. It has a total of 3 bedrooms that can accommodate up to 6 guests. The beds are extremely comfortable and all the linen and towels are provided for everyone.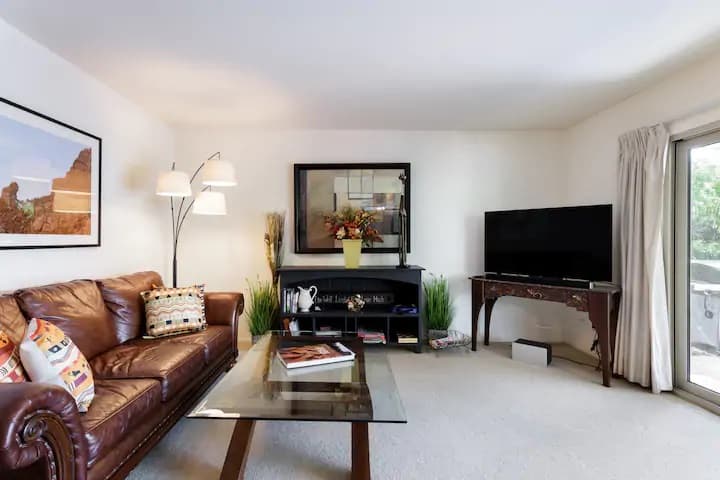 You'll love every bit about this house and what makes it even more amazing is that it has its own gym and home theater that you can totally make use of. This is a perfect getaway in Tempe with your family and friends, plus the location is very nice and convenient to nearby stores.
Tempe Art Home near Arizona State's Gammage Theater
Guests: 8
Bedroom: 4
This Tempe Art Home is one of the most beautiful and stylish airbnbs that you can stay in Tempe. It features an amazing interior and furnishing that will mesmerize your eyes, as well as a light-soaked floor plan and French doors that lead to the fully enclosed tree-shaded backyard with fire pit, outdoor dining table, and sun deck.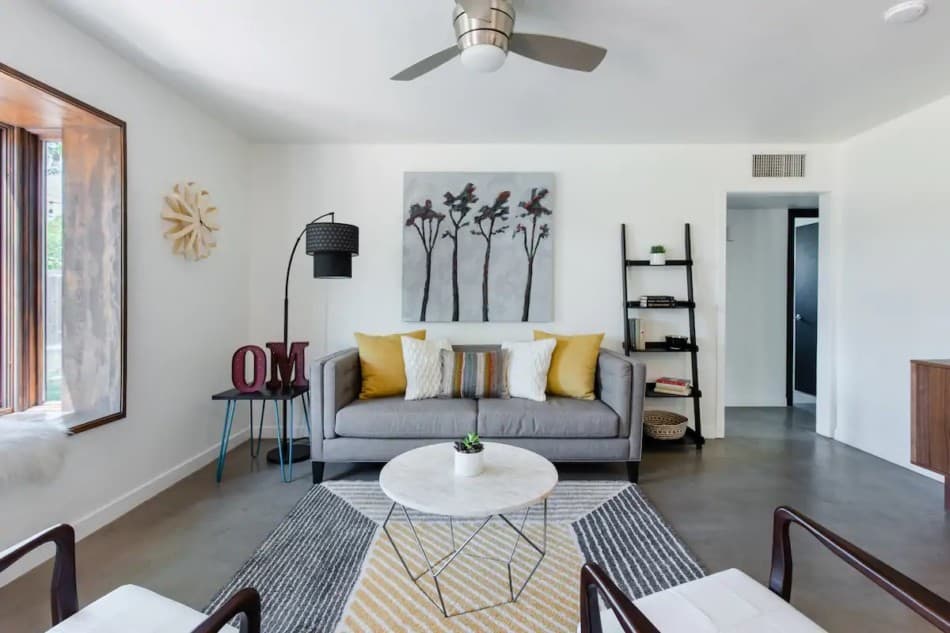 If you are a very artsy person, this home is definitely for you. Plus, it's very close to Gammage Theater at Arizona State University, Art Gallery, and some great restaurants along Mill Ave.
Spacious WATERFRONT Apartment
Guests: 5
Bedroom: 1
You'll be staying in your own elegant, fully-furnished apartment including WiFi, smart TV, and all utilities. The floor plan provides an open living space with a fully-equipped kitchen, living room, and bathroom. 
In addition to that, you can also take advantage of the amenities provided in the apartment such as the pool, hot tub, gym, and parking space. And this condo is located in a very convenient place and you can do lots of outdoor activities near the area like cycling, paddleboarding, kayaking, and even walking.
Newly Remodeled Apartment in the Heart of Tempe
Guests: 4
Bedroom: 1
One of the perks of staying at this newly remodeled apartment is that you will be in the center of Tempe and it's very close to most of the attractions in the area. In fact, this apartment is just about a mile from the heart of the Mill Ave entertainment district which is known as a spot for famous restaurants, bars, and other entertainment.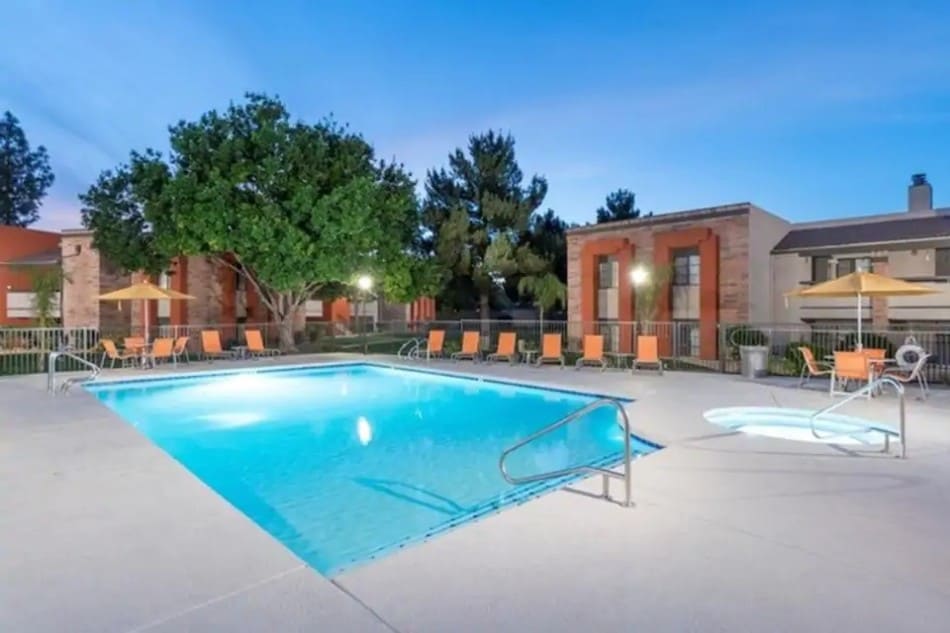 And as mentioned, this is a newly remodeled apartment so you can expect brand new furnishing and style. It can sleep 4 adults and 2 children with its one bedroom with 2 beds. And it has an on-site 2 heated pools and 2 spas that both kids and adults can take advantage of.
Rare and Modern Home in Tempe
Guests: 7
Bedroom: 3
This newly remodeled modern home is one of the biggest and most comfortable airbnb's that you can stay in Tempe. This house can accommodate at least 7 guests with 3 bedrooms and 3 beds.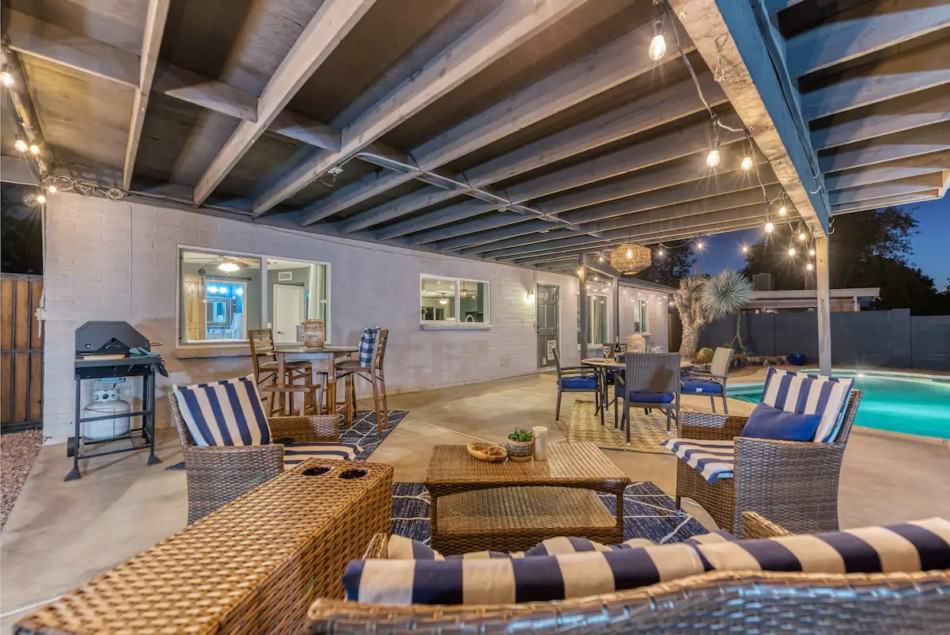 But the real standout of this house is the beautiful backyard with heated pool that is perfect for family gatherings. And the location is perfect and it's close to the airport and not too far from other cities in Arizona.
Stylish Apartment in the Heart of Downtown Tempe
Guests: 4
Bedroom: 1
There would be no reason why you shouldn't stay in this stylish and vibrant apartment located in the heart of downtown Tempe. This place is so beautiful and everything is just so close – restaurants, bars, and activities are within reach that there would be no reason to get in the car.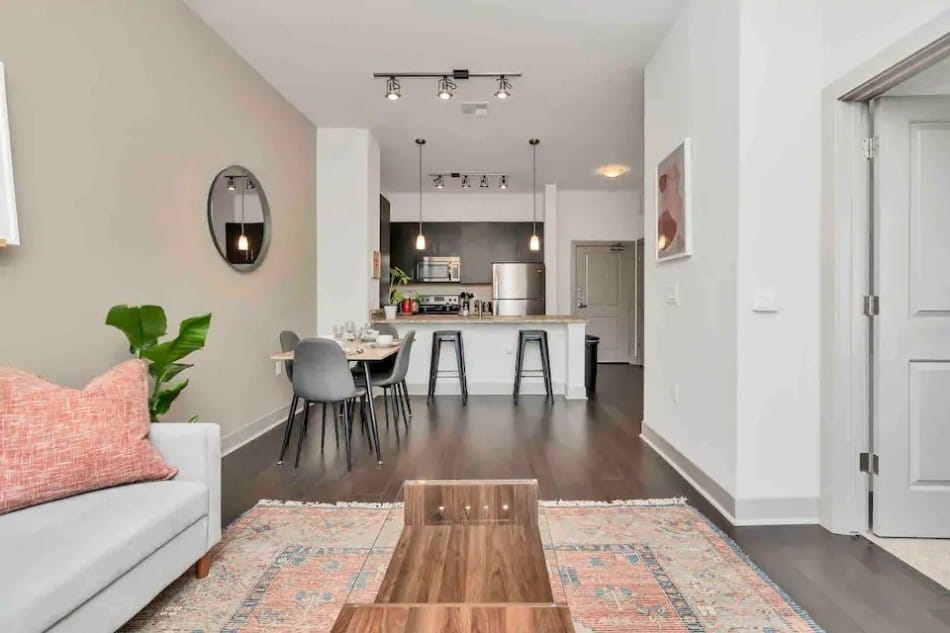 This house features two beds, dining area, living area, wifi, cable TV, and more. Guests can also have access to the amenities available in the apartment such as the pool and gym so you don't have to skip your workouts even while you're on vacation.
This place is highly recommended if you wanna stay in downtown Tempe.
Updated Two-Bedroom Apartment with Parking
Guests: 6
Bedroom: 2
This modern two-bedroom apartment is a wonderful airbnb that features two queen size beds, a couch, and an air mattress. It also has a fully stocked kitchen where you can cook sumptuous meals for everyone, smart TV with Roku and Netflix for entertainment, and free wifi.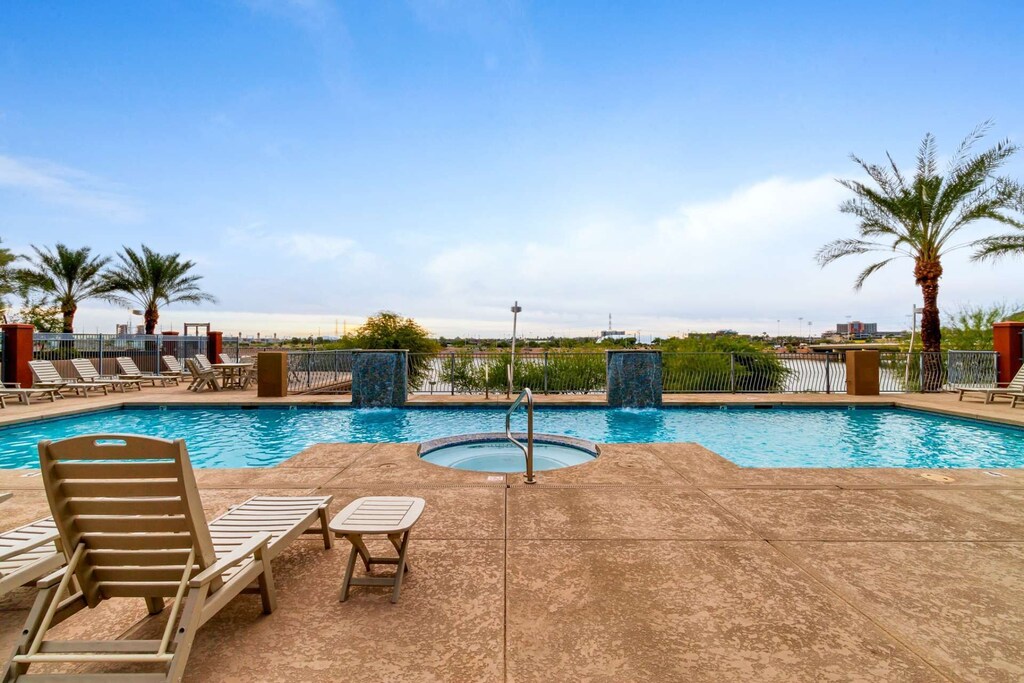 This home is perfect for families or friends who are visiting Tempe for a relaxing weekend, although the hosts highly discourage any form of partying or gathering that would create loud noises. Still ,this is a great place to stay with all the amenities that you need for a hassle-free vacation.
Newer 2 Bedroom Condo In Downtown Tempe
Guests: 2
Bedroom: 1
Gorgeous 2 bedroom, 2 bath condo overlooking the community pool. Located right next to Tempe Beach Park & Town Lake! Walking distance to downtown Tempe, ASU campus and the light-rail for easy access to downtown Phoenix. Close to freeway for easy access to Scottsdale and the airport.

Relax in the community pool, take a stroll along the shore of the lake or workout in the complex's fitness facility. This condo features 2 bedrooms and 2 full baths, a gourmet kitchen with granite counters, WiFi, cable and utilities all included.
Downtown Tempe Apartment
Guests: 4
Bedroom: 1
Brownstone style townhouse less than 2-blocks from Mill Avenue & ASU. Walking distance to restaurants, bars, light rail, Tempe Town Lake and Beach Park. The airport is a close 5 minute drive. Private balcony, community pool, green belt area and 2-car garage. Garage contains storage racks at approx 70″. A large SUV will fit in the middle or 2 cars / small SUV's.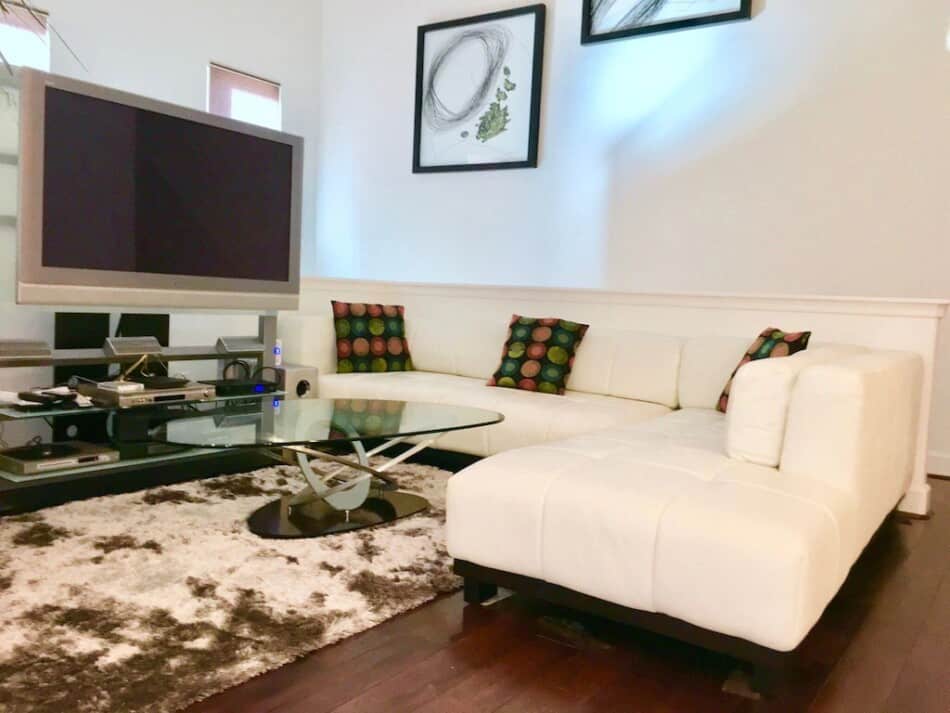 Loft is 3-stories. 1st floor: 2-car garage, downstairs patio, sitting area. 2nd floor: dining room, bedroom / bathroom, family room, kitchen, washer / dryer. 3rd floor: Loft contains queen size bed, open area with computer / desk / printer, free weights and bathroom.
Conclusion: Finding the right Airbnb in Tempe
No matter where you stay in the Phoenix metro area I hope you have a great trip. I have a lot of guides to Phoenix from hiking to shopping to water parks that you must check out when you visit. I hope these help you plan the perfect getaway.
101 Things To Do in Phoenix, Arizona
Best Hotel Pools in Phoenix Hotel Water Park
Best Hikes in Phoenix Arizona you won't want to miss
7-Day Action Packed Arizona Road Trip Itinerary
15 Awesome Weekend Getaways in Arizona
17 The Best Hot Springs in Arizona
Grand Canyon in One Day: Grand Canyon Day Trip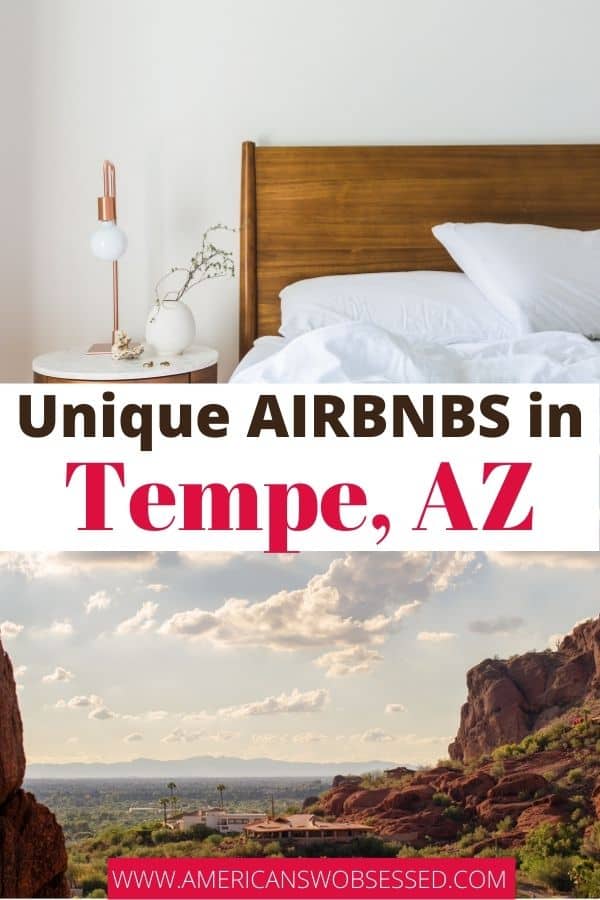 Recent Posts