Best Airbnbs in Chandler, AZ
Airbnb Chandler, AZ: Are you looking for a comfy Airbnb in Chandler, Arizona? Chandler is a suburb of Phoenix and located south of the city.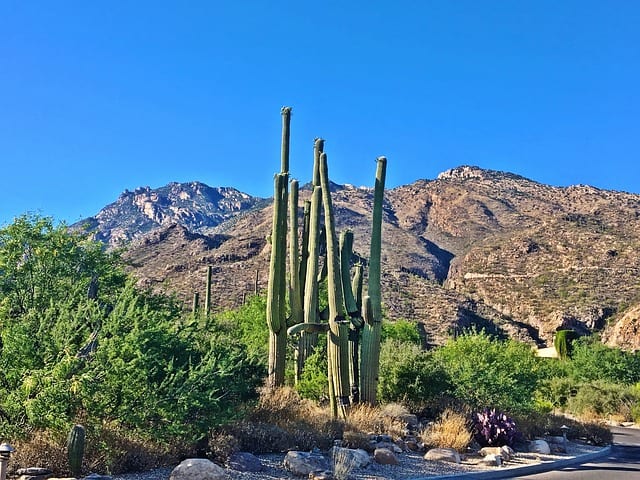 This suburb is well known for its museums, parks and recreational areas. This is a beautiful part of Phoenix to explore and relax.
Staying in Chandler is a great idea if you are planning to visit Phoenix and the surrounding area. There is a Chandler Airbnb for every budget on this list.
15 Best Airbnbs in Chandler, Arizona
La Casita – Cozy Guest Home
If you are looking for a very nice place to stay in Chandler that is conveniently close to shopping, you should choose La Casita. This guest home is very clean, comfy, and well-stocked for either a short or longer stay.
It offers a complete and efficient living space including a fully stocked kitchenette, walk-in closet, comfy couch, and a charming breakfast nook and dining area. It also has one bedroom with one bed good for 2 guests.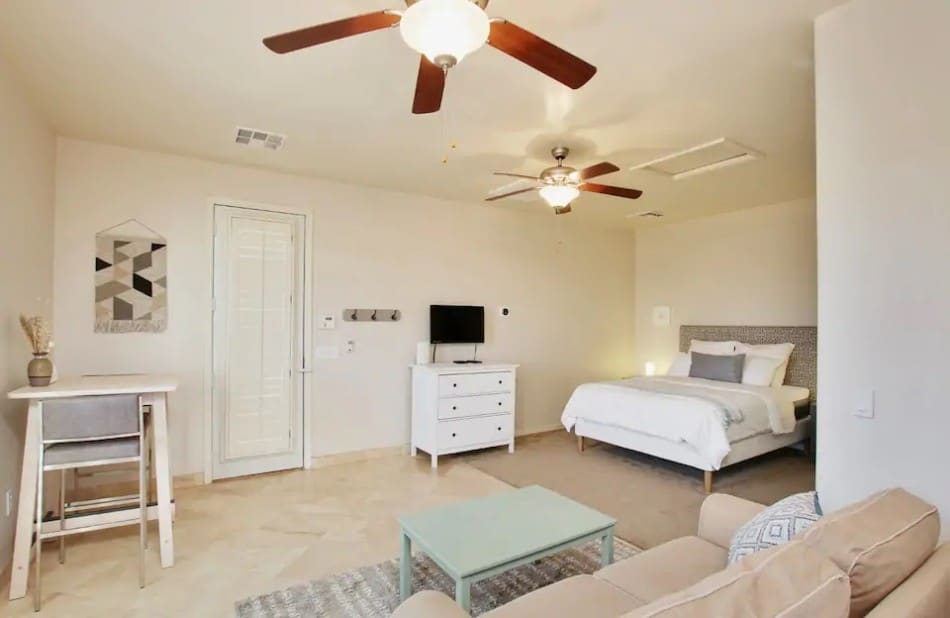 Guests can access the house through the gated courtyard/patio and the property is located on a very quiet street so you can enjoy the peaceful vacation that you deserve.
Private and Charming House Located in a Secluded Street
One of the most affordable yet charming airbnb's that you can stay in Chandler is this private room hosted by David and Mary.
The room has a queen size bed, bathroom dedicated for guests, ample living room, kitchen, and dining area. It is located in a very quiet and secluded street that has a backyard surrounded by trees that brings a warm atmosphere throughout the property.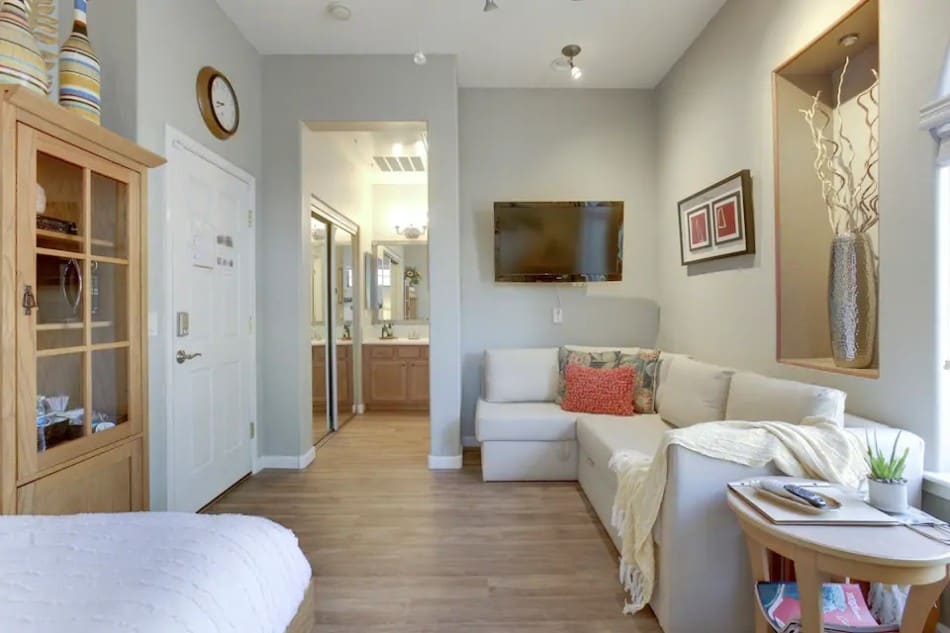 Guests can have access to the non-heated swimming pool with a lounge area to relax. This house is also very conveniently located to SanTan 202 that connects with all major roads in Phoenix.
This is a highly recommended place for couples who are on a budget yet complete with basic amenities. 
Beautiful and Private Casita
This gorgeous and private casita is close to some golfing, shopping, restaurants, and theaters in Chandler, Arizona.
It is very peaceful and cozy and the host is super cool and outstanding that she would go out of her way just to make all the guests feel comfortable and well-taken. Plus, the casita provides everything that you need for a great vacation.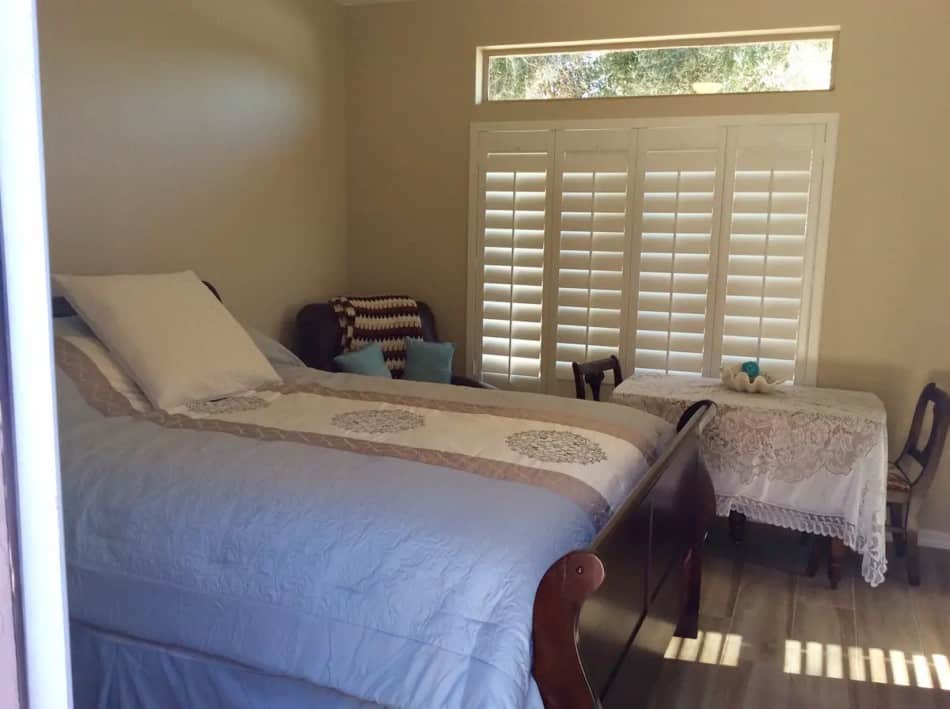 Since this is just a small and private casita good for 2 people, the price is also very affordable and great for any budget.
Detached Private Guest Unit with Courtyard
This private guest unit will amaze you with its affordability yet it still gives you that clean and comfortable feeling as if you are staying in a luxury suite.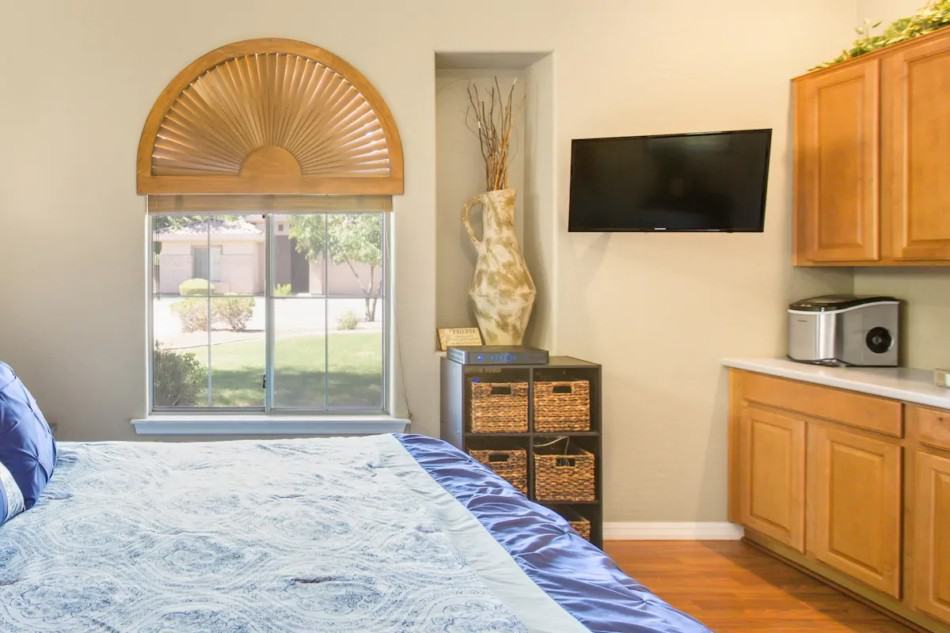 It is located in a very nice and safe neighborhood and it is close to some shops, restaurants, and groceries. The unit is furnished with luxury linens, microwave, fridge, ice maker, and more.
You can also lounge on the outdoor patio with a fire pit while gazing at the beautiful night sky. This place is good for couples and singles who are on a budget without compromising comfort and cleanliness. 
One-Bedroom Condo at Lakeshore At Andersen Springs
One of the most relaxing airbnbs that you can stay in Chandler is this one-bedroom condo that overlooks Andersen Lake.
This condo is well-stocked with the things that you need for a hassle-free stay, plus you can have access to the 3 pools on the property that are all heated during winter. It has 2 beds and 1 bath and the place is good for 2 guests.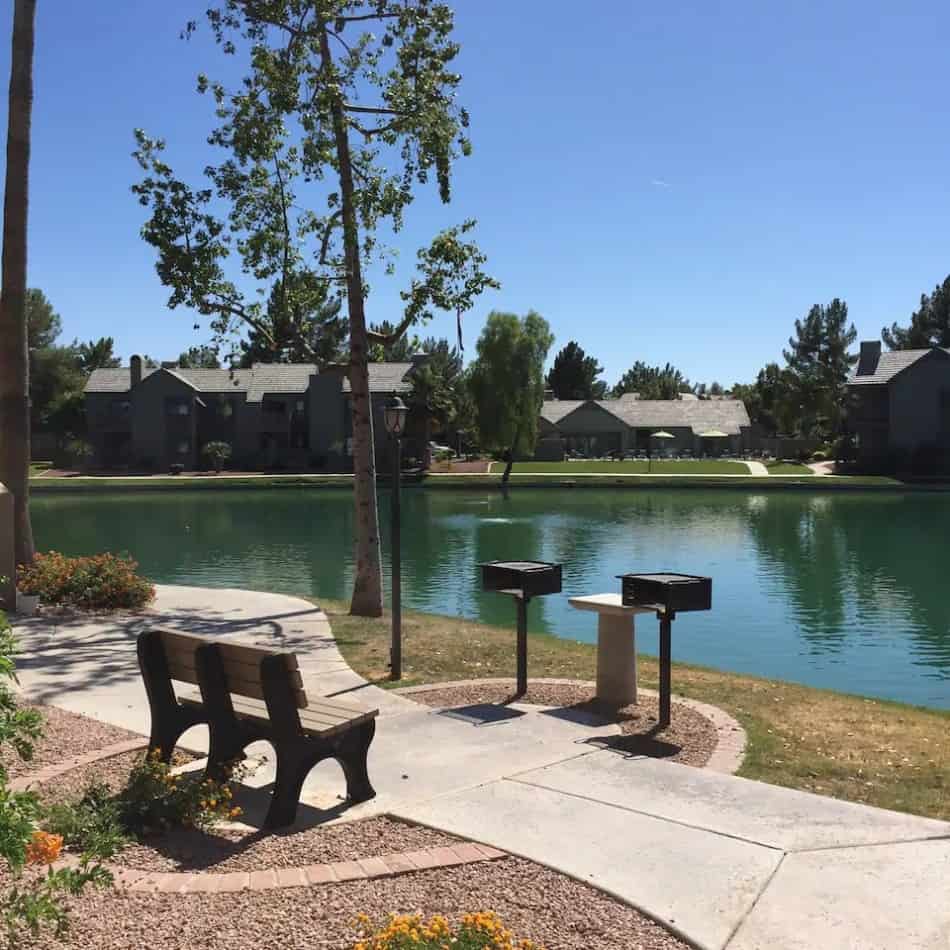 It is also conveniently located to all the places that you want to see in Chandler and there are plenty of nearby shops, groceries, and restaurants. And the host is very accommodating and easy to communicate with.
Casa Collins
Casa Collins is a family friendly airbnb in Chandler that is committed to provide all the amenities that a family or business traveler could want. This is a whole house that features a full kitchen, 3 bedrooms, office, smart TV, and a gorgeous pool.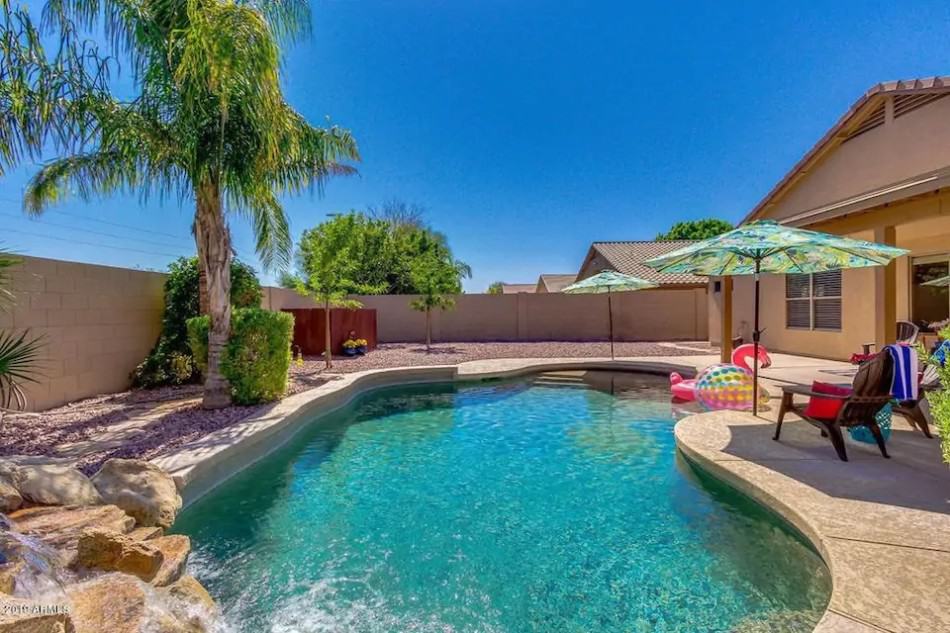 There are many lounging areas inside the house where you can relax like the zero gravity chairs or at the couch where you can watch local TV or any streaming channel that you prefer.
This house can accommodate 7 guests at a very reasonable price. So if you are looking for a family and budget-friendly airbnb in Chandler, this is highly recommended. 
Beautiful and Clean Modern Home
At first glance, this house may look so bland from the outside but once you get inside, you will start to appreciate it. It is located in a great neighborhood and it is a few miles away from many golf courses and gyms in the area.
This is a typical modern house in Chandler that is furnished with one bed, private bath, walk-in closet and it can accommodate 2 guests. However, smoking, partying, and bringing pets inside the property are highly discouraged.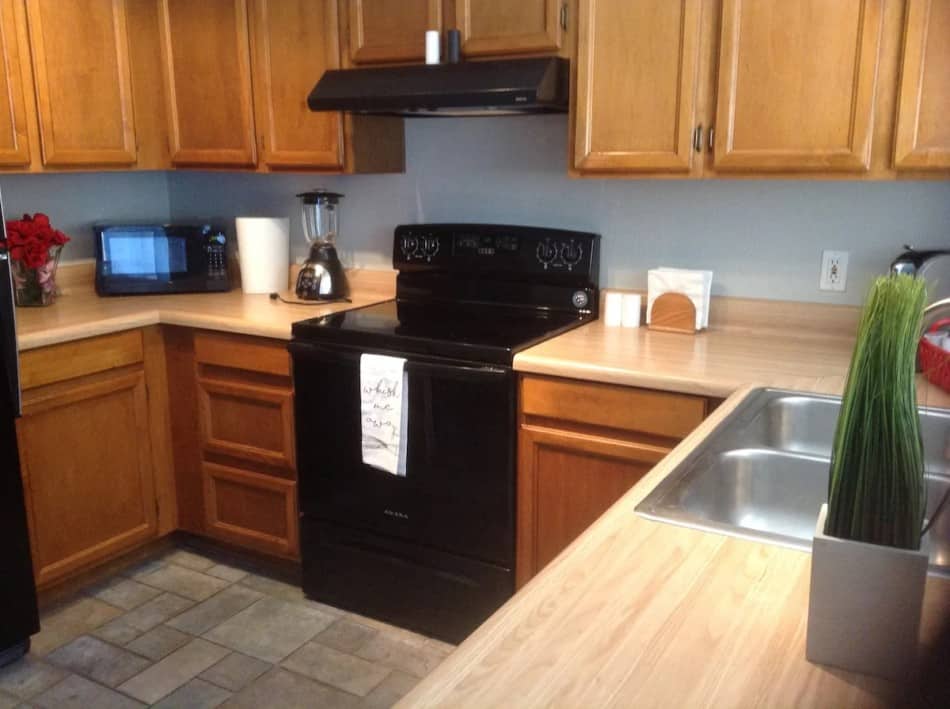 It is worth noting that you will be sharing this home with the owner. But you don't need to worry because you will still get the privacy that you need and the owner is very kind and accommodating.
Private Spacious Home with Backyard Pool
This fully furnished and equipped home is perfectly located in the east valley on the Tempe/Mesa border in a gorgeous community with parks, lakes, and trails. It is conveniently close to some restaurants and dining options in a quiet and friendly neighborhood.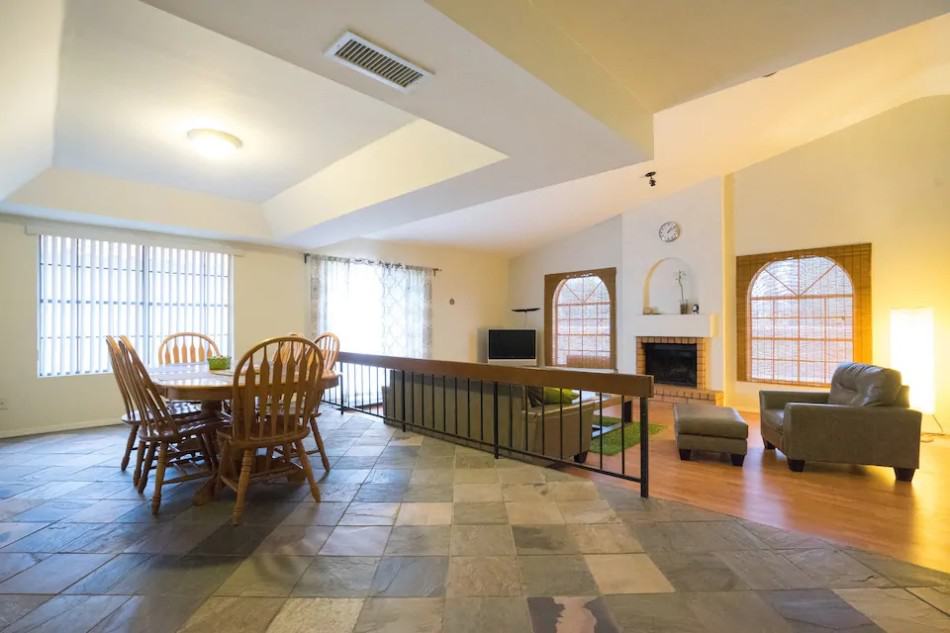 The house is very spacious and it can fit up to 6 guests. It also has 2 large bedrooms with comfy beds, 2 full bathrooms, a high ceiling, living room, dining area, breakfast space, and more. This is an ideal place for families, couples, or even solo travelers who prefer living in a spacious house.
Elegantly Renovated Bungalow
Staying in this renovated historic home with abundant design details will let you experience everything that luxury has to offer. It is perfectly located near downtown Phoenix in a very quiet residential neighborhood.
This airy living space is filled with white brick, natural light, and comfy furniture. You can really tell from the interiors of this house that the design was well-thought and the furniture were carefully picked.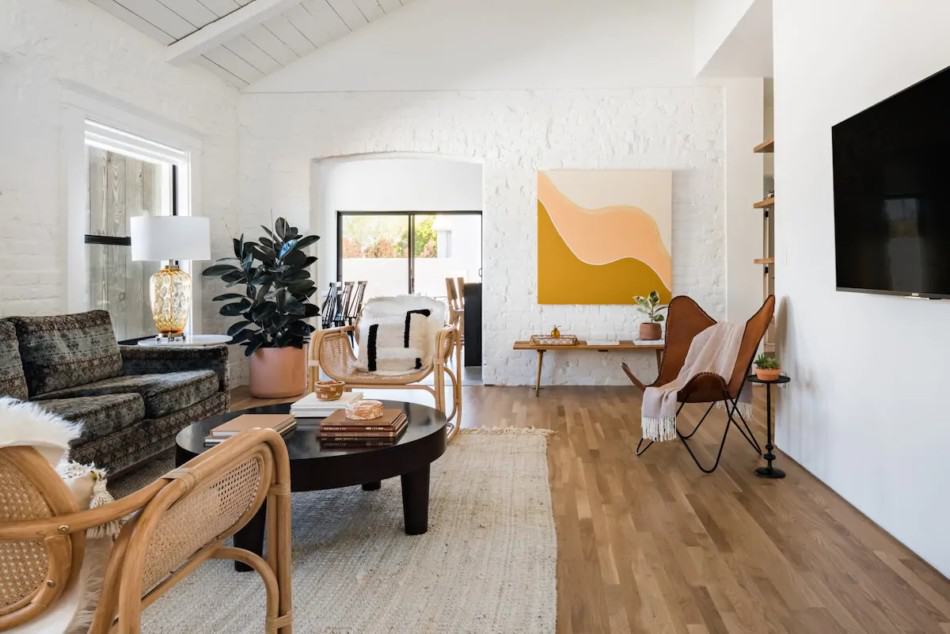 Plus you can easily explore the surrounding area because it has a very friendly neighborhood and you can just take a short walk going to coffee shops and restaurants.
Beautiful One-Bedroom Attached Apartment
This one-bedroom apartment is a perfect spot with an amazing location if you want to feel at home while you are away. Although it is attached to the main home, this apartment still gives the privacy that you deserve.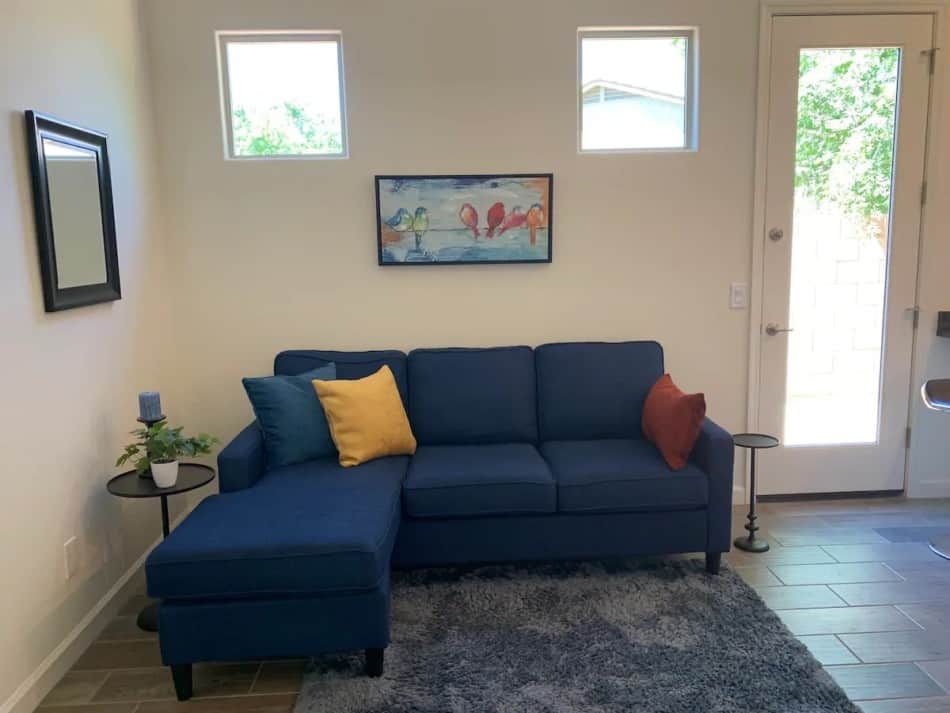 The place is very immaculate and it provides the basic things you need such as a queen sized bed, kitchen, walk-in shower with frameless glass door, and more. This home is nestled in a quiet neighborhood with parks, trails, biking spots, and more. Plus, the host is very accommodating and will do her best to provide everything that you need for an amazing stay.
Modern Mountain View Retreat
This may look like a tiny space from the outside, but once you get in you will see that this place is big enough to let 3 guests roam around.
This modern guest suite promises all travelers that they will wake up from a restful night sleep with their extra fine cotton sheets. And it has all the amenities you need including a full kitchen, satellite TV, fast internet, bathroom shower with toiletries, AC and warm heater, and more.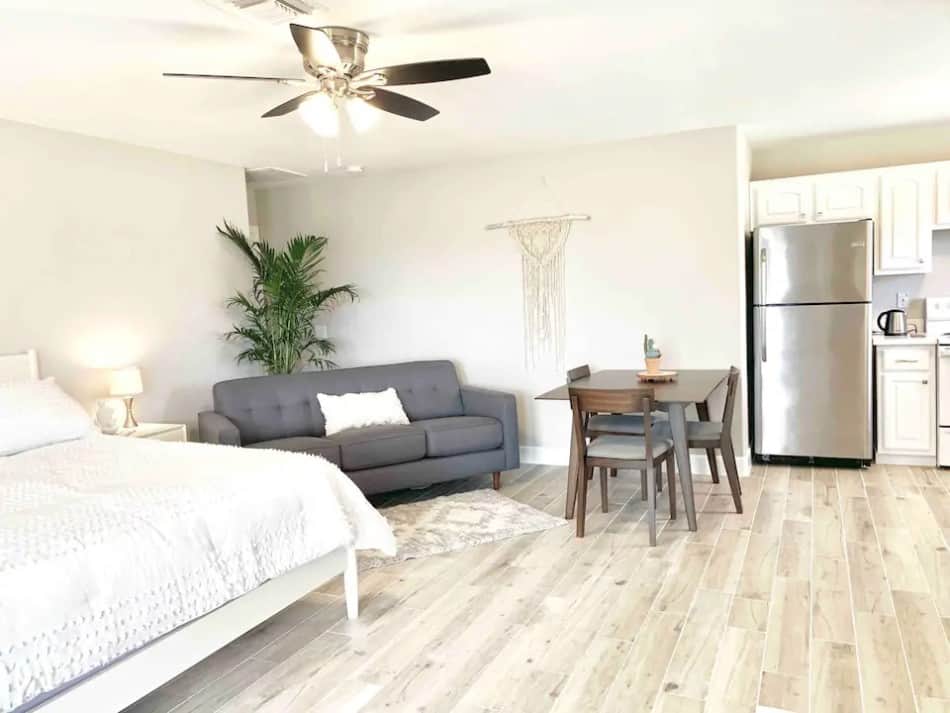 The warm breeze that this place has invites you to walk out to the street and gaze at the purple silhouette of the San Tan mountains or the charming sunsets.
You can also lounge on the private patio and yard that is overlooking the fruit trees. Basically, this place has everything you need for a peaceful and quiet vacation that you truly deserve without costing you an arm and a leg. 
Newly Built Two-Bedroom Guest House
This clean and new apartment is very close to downtown Gilbert where all the fun nightlife and restaurants are. It is located on an acre of land that feels like you are in the countryside without leaving the city.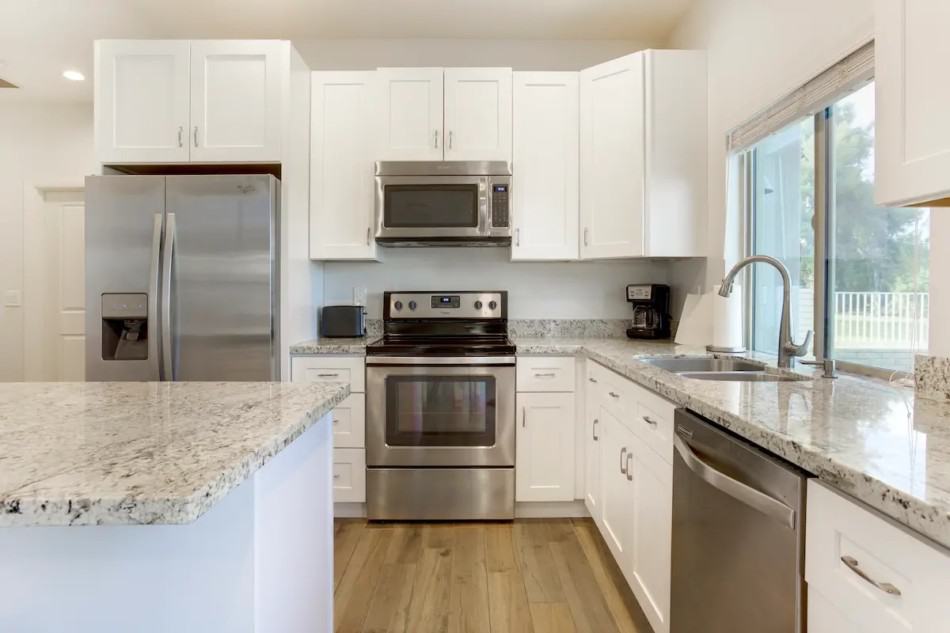 The house has 2 bedrooms with 4 beds and it is very well-maintained and gorgeously decorated with a slice of modernity. It has a kitchen that lets you cook dishes and a dining area. And you won't have any problem contacting the host because he is very responsive to any requests. Great place and location at a budget-friendly price for 6 guests.
Luxurious Guest Suite in Tranquil Adora Trails
This luxurious and comfortable guest suite is located in the sought after community of Adora Trails that features plush bedding atop a king size pillow-top mattress to give maximum comfort and relaxation.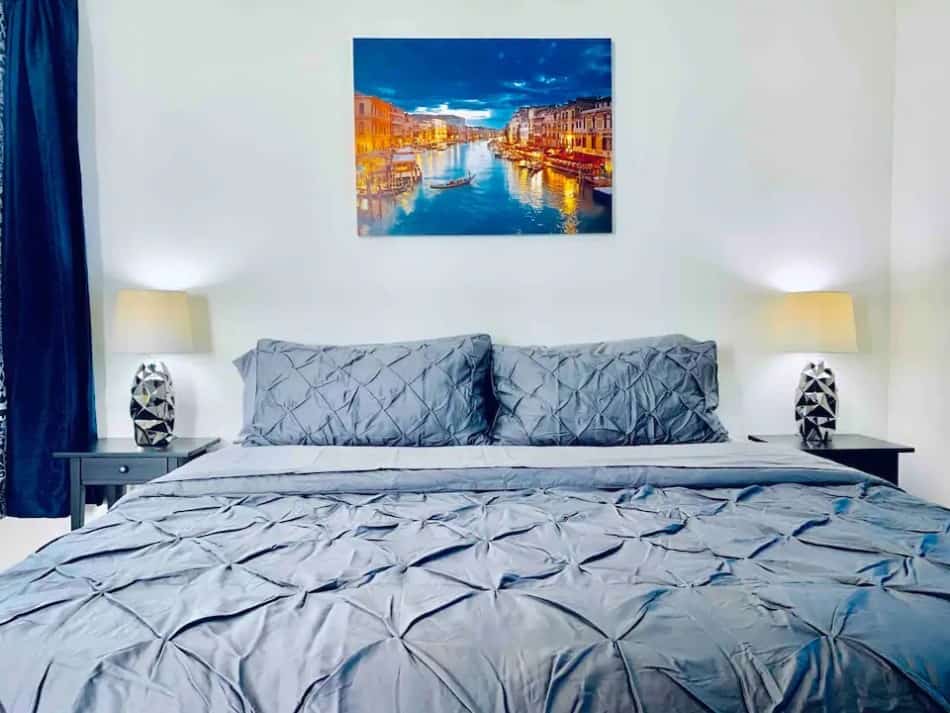 This house also has a spacious walk-in closet, smart TV, premium coffee, and more. And the hosts are truly wonderful because they will do everything they can to make you feel at home. You will truly feel blessed to stay in this luxurious guest suite with a budget-friendly rate.
Urban-Oasis with Resort Style Pool
Upon entering this gated Urban Oasis, you will be astonished by the amount of trees that surround this lush and enormous property in Phoenix, Arizona.
On the left side of the property is a field of grass followed by a circular patio designed to enjoy the fire pit year-round, while on the right side is a covered parking.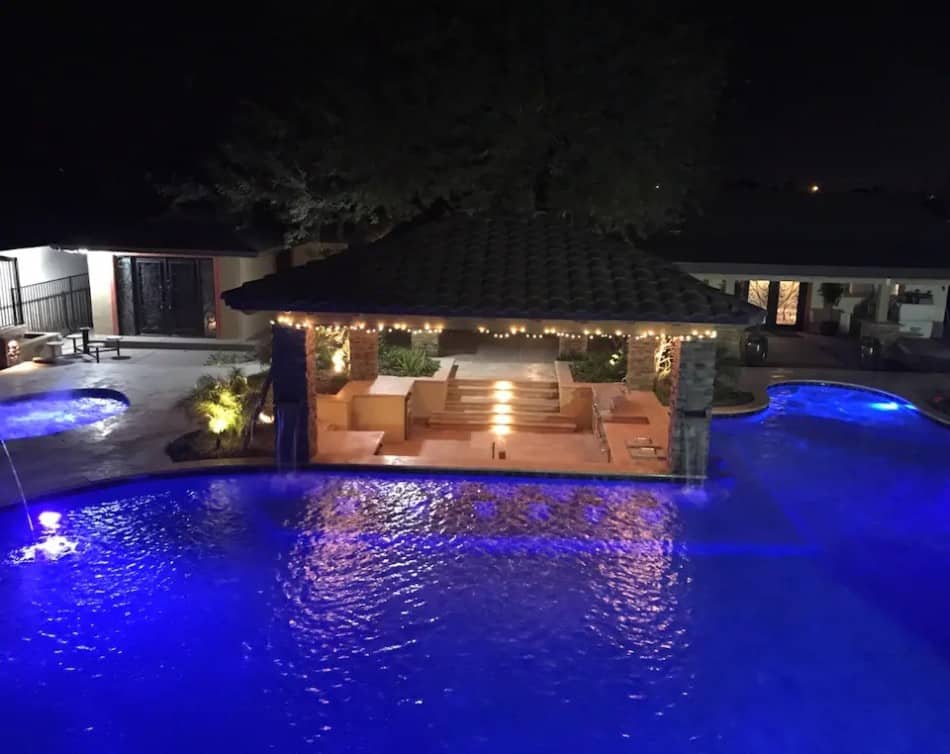 The house itself is so huge, comfortable, and clean that it can accommodate up to 12 guests. It features 5 bedrooms with 6 beds, 3 bathrooms, a fully-stocked kitchen, an enormous swimming pool, and more. This place offers a lot of entertainment that you wouldn't want to leave the house. So, if you are thinking of booking this place, don't hesitate to do it because it's truly worth the price.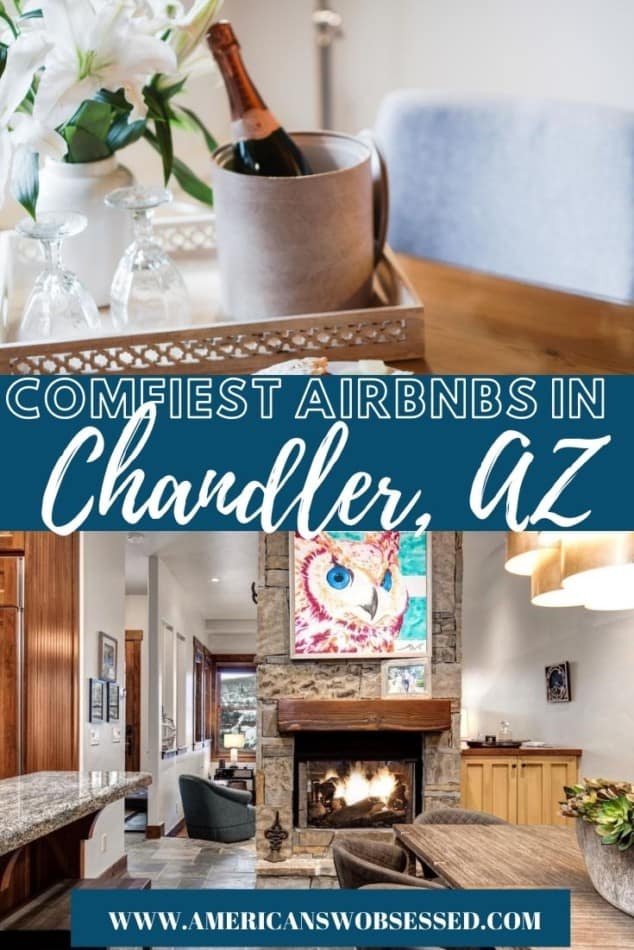 Continue Reading more on my website about Phoenix, Arizona:
15 Perfect Airbnb Scottsdale AZ
18 Best Luxury Resorts in Arizona
The Best Hot Springs in Arizona
Best Hotel Pools in Phoenix Hotel Water Park
Recent Posts