15 Best Airbnbs in Moab, Utah
Moab Airbnb: Are you looking for the best Airbnbs in Moab, Utah?
If this is your first time using Airbnb, Moab is the perfect place to start! These are unique places such as tipis, domes, airstreams, and more. Each of the places on this list has an amazing aesthetic and has an incredible design to make sure you are comfortable for the night.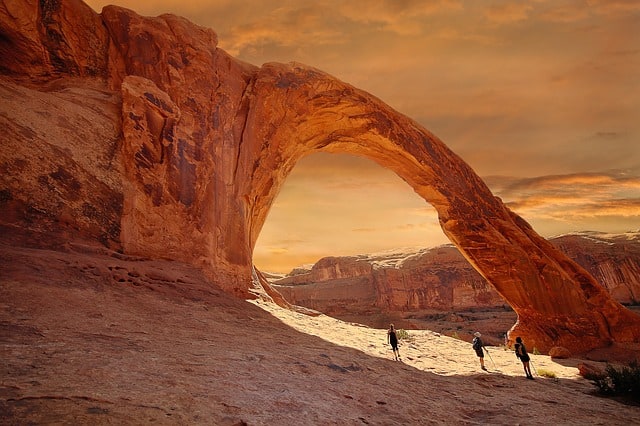 You will definitely want to check out these amazing properties. I guarantee you will be surprised at how affordable they are and close to both Arches and Canyonlands National Park! You can also check out my post on Where to Stay near Arches National Park for more information.
To visit any of the National Parks in the USA, I recommend buying a National Park Pass. The America the Beautiful Pass is valid for one year and costs $80. Plus 10% of sale proceeds go to the National Park Foundation.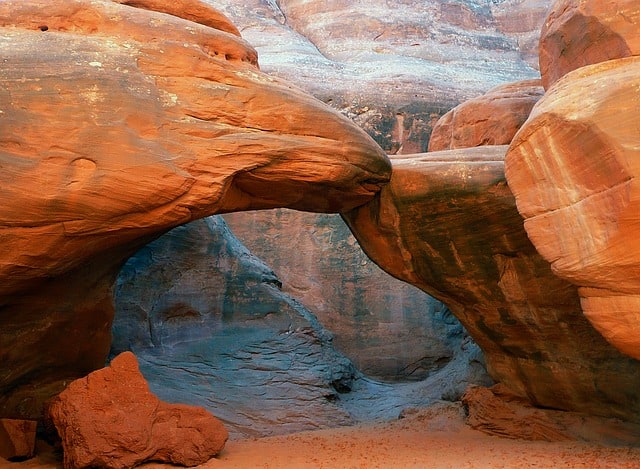 You can also check out my other articles on hiking in the area:
Best Hikes in Moab, Utah and Things to do in Moab
One Day in Canyonlands National Park
Mesa Arch at Sunrise – Canyonlands National Park number one attraction
Best Hikes in Arches National Park
Thank you for supporting this website written by an American. This post may contain affiliate links. This means I earn a small commission on these links at no extra cost to you.
15 Best Airbnbs in Moab, Utah
Moab Digs Contemporary Rustic Apartment
Moab Digs is a very clean, well-appointed apartment that is within close proximity to some restaurants, shops, and parks in the area. It is a fun apartment with an industrial-chic design and it really shows that the host has put thought and care into it.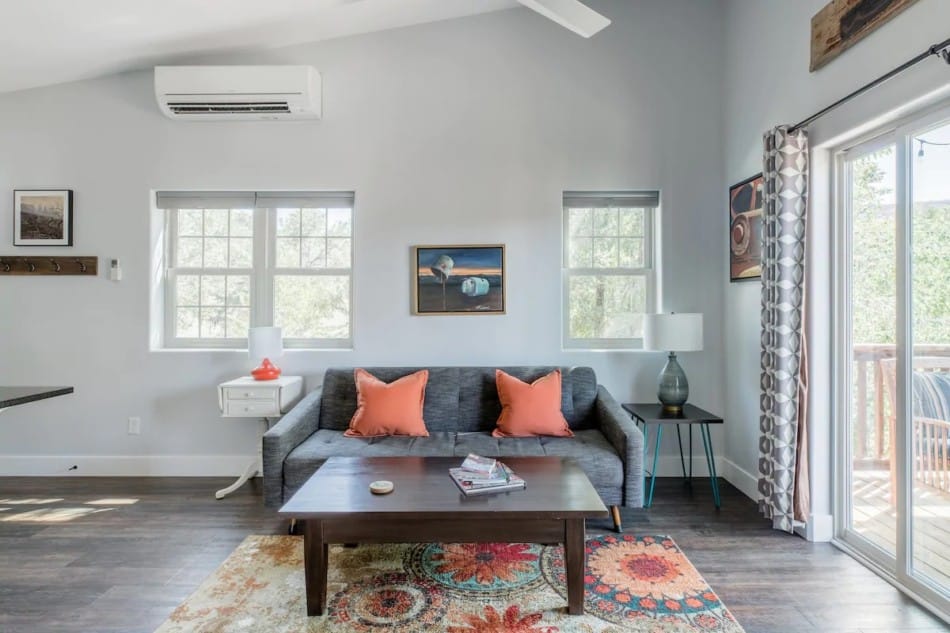 The interiors have copper colors, wooden textures, and some local art pieces that can be found throughout the apartment. It has a stunning patio outside with seating areas where you can grill some BBQ at night or just lounge in the area and drink coffee.
Although this is on a pricier side, it is still a great and romantic place good for 2 people and the hosts are very friendly and thoughtful and would go above just to make their guests feel comfortable.
Moab Oliver House Suite # 1
Oliver House is a newly built private suite situated in a very small and private neighborhood within one mile of downtown Moab. It is close enough to the busy Moab business district but far enough away from the bustling noise.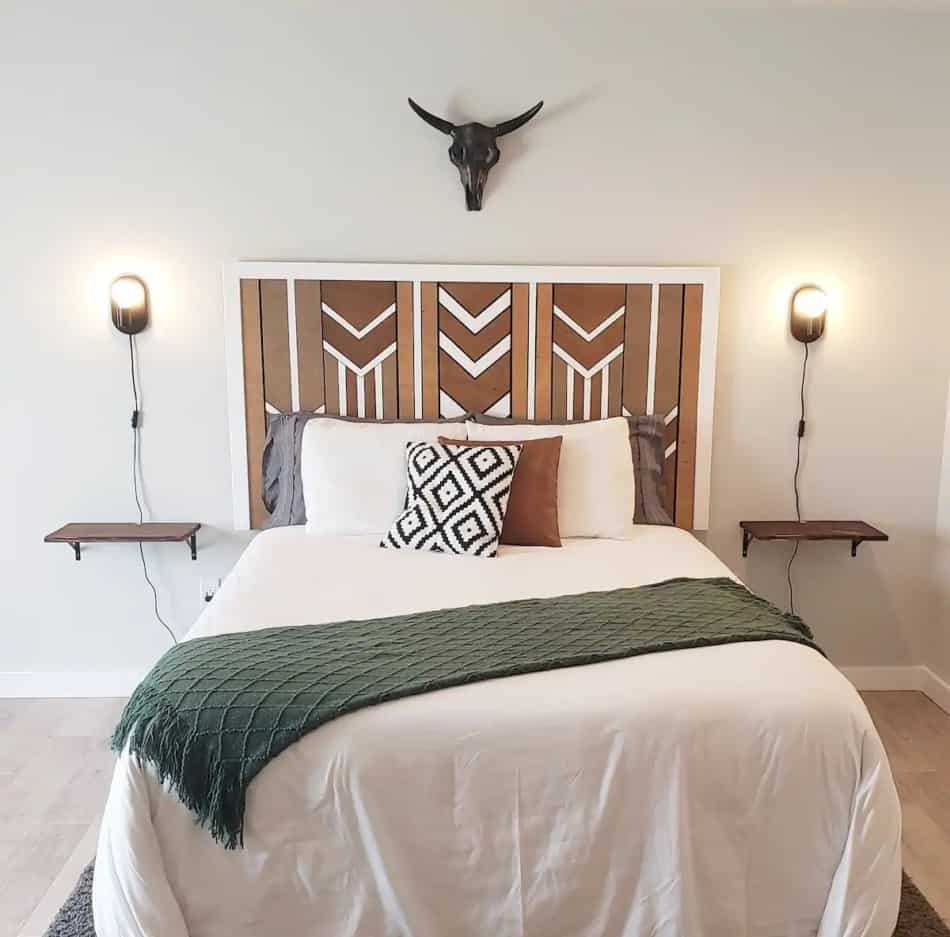 This suite has a personal wood deck area, private bathroom, kitchenette, living area, and one bedroom with two beds good for 4 guests. And what makes this place so special is that there are trees in the yard where you can pick some fresh grapes from vines along the fence. You can also play with their dog Tank but make sure not to let him outside of the gate.
Honestly, the pictures do not give justice how beautiful this place is. It is very comfortable and it has everything you need for a relaxing weekend getaway in Moab.
Brand New One-Bedroom Condo
This brand new 1 bedroom 1 bath condo is ideal for couples, friends, and outdoor junkies out there. It features large windows that let the natural light come in so you can enjoy the beautiful sun the whole day. You can also cook in the fully-stocked kitchen.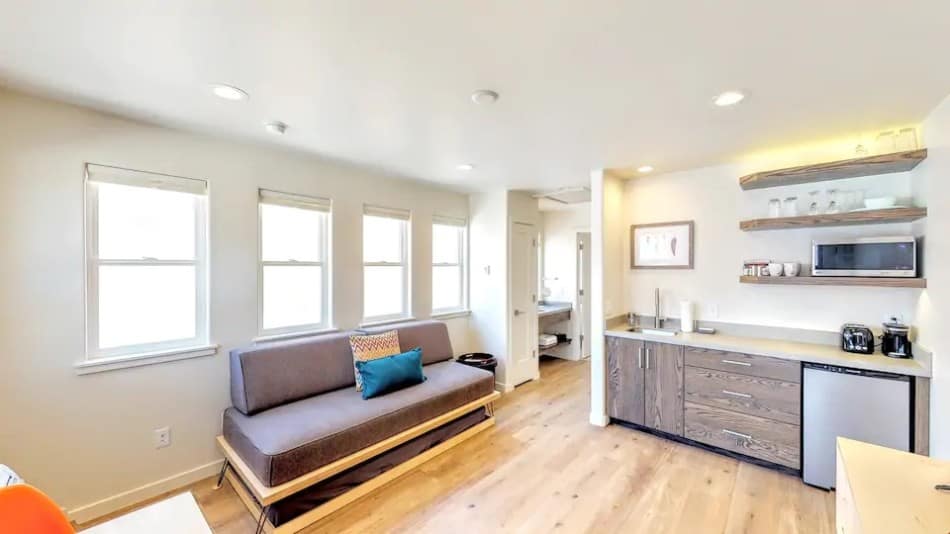 And although the unit is small and good for 4 guests, it is very clean, cozy, and stylish. Plus, it is just right off of Main Street so it's very convenient to go to the town to buy food or go shopping.
The Moab Sweet Suite
The Moab Sweet is a small yet cozy 1 bedroom suite located just 4 miles south of Moab, Utah. It is very close to town, Arches National, and Canyonlands National Park in case you wanna explore these places. This is good for two people at a very cheap price for every night of stay.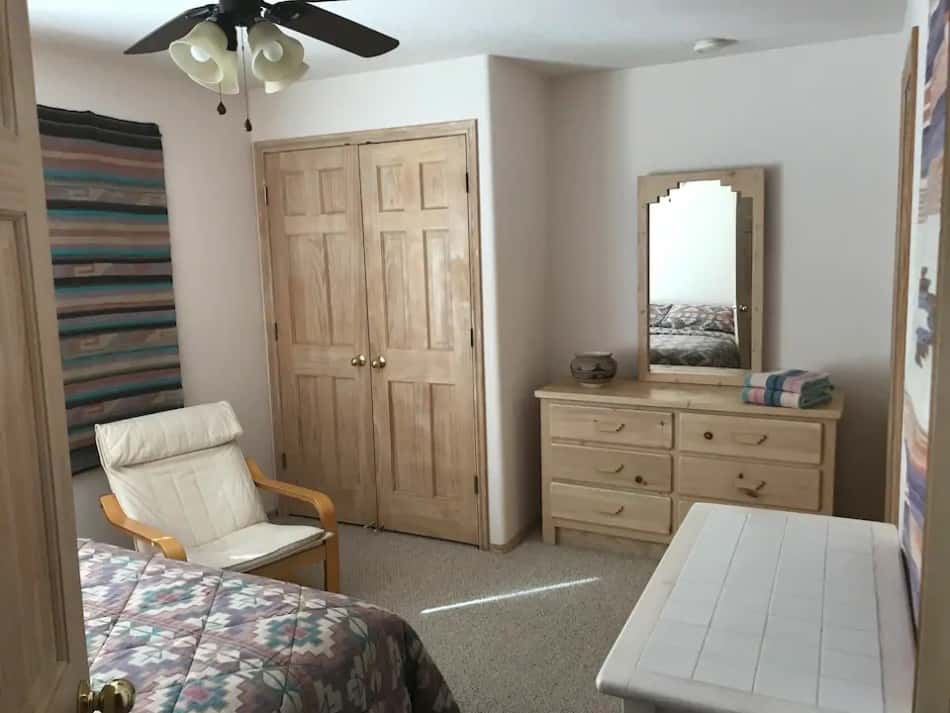 This Sweet Suite features a double bed, private ensuite bath, private entrance, refrigerator, microwave, coffee maker, and wifi. Also included are some extrea like toiletries, hair dryer, kitchen supplies, extra pillows, towels, and a large closet and dresser. And in case you need something that is not on the available amenities, you can just ask anything from the host and they would be happy to loan or provide you if they can.
Cheerful Desert Retreat
This townhouse lets you enjoy the comforts of home after a day of exploring the beautiful city of Moab.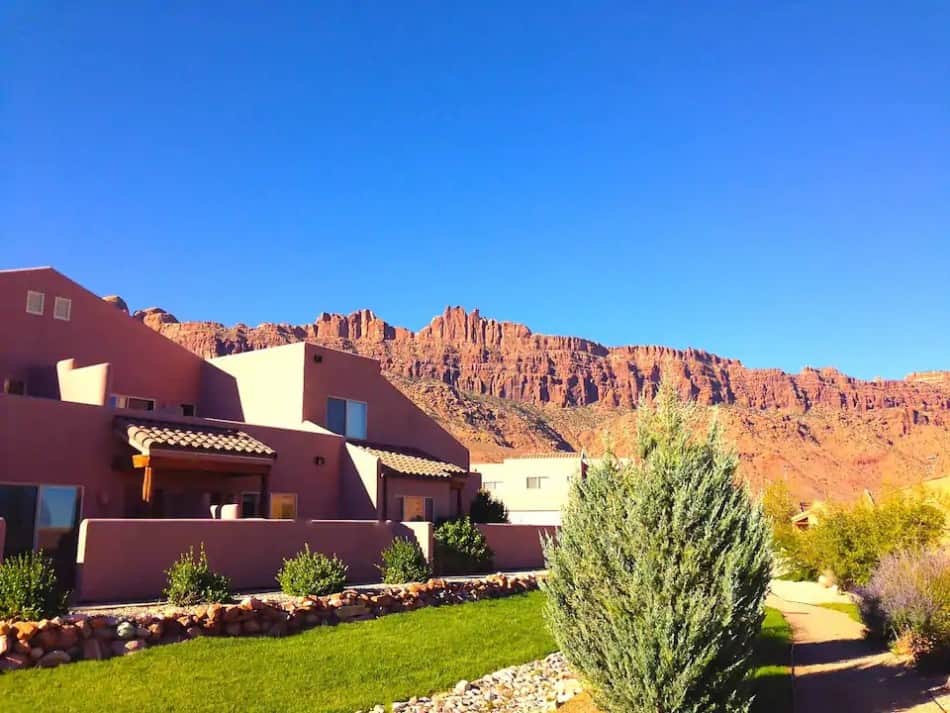 The house has a very beautiful and unique design that features 3 bedrooms with 4 beds that can accommodate 6 guests. The kitchen, on the other hand, is fully equipped with basic things that you need for cooking. Plus, it is very close to some restaurants in Moab in case you want to splurge on some good food.
The property has also a designated garage to park your cars, as well as a private master patio where you can drink cocktails while watching the stars at night.
Three Bedroom Condo
If privacy is your top priority in choosing a place to stay in Moab, then this three-bedroom condo is perfect for you.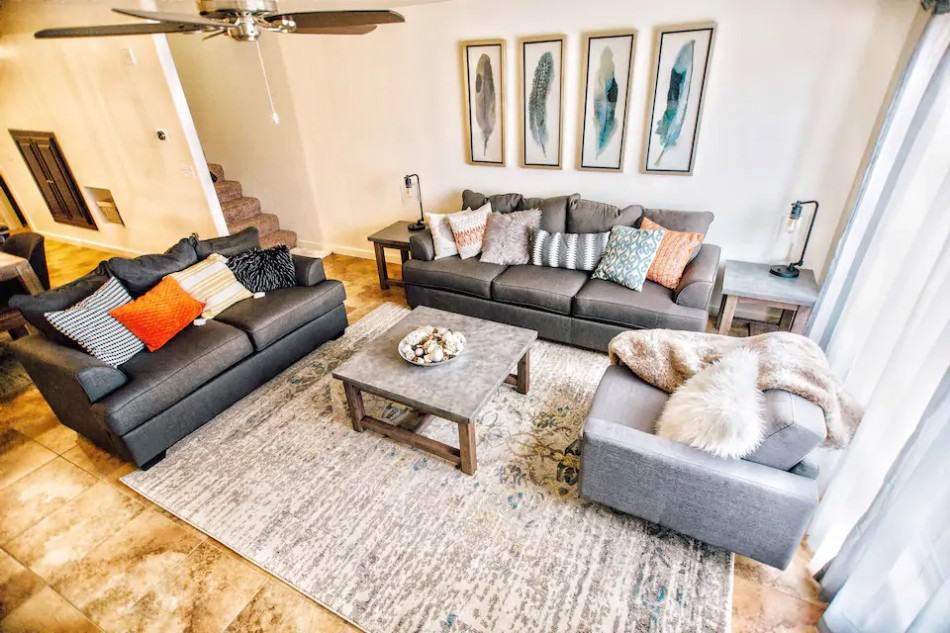 This brand new townhouse features 3 private bedrooms with 2.5 bathrooms good for 6 guests. It also has brand new appliances including a gas stove, blendtec blender, washer and dryer, high-speed internet, BBQ gas grill, air conditioning, seasonal pool, and hot tub. There are 2 private garage and a large driveway to park your RV.
Arches Abode Guesthouse
One of the bestsellers in Moab! The holiday home features 3 bedrooms, a TV with cable channels, an equipped kitchen with a dishwasher and a microwave, a washing machine, and 2 bathrooms with a hot tub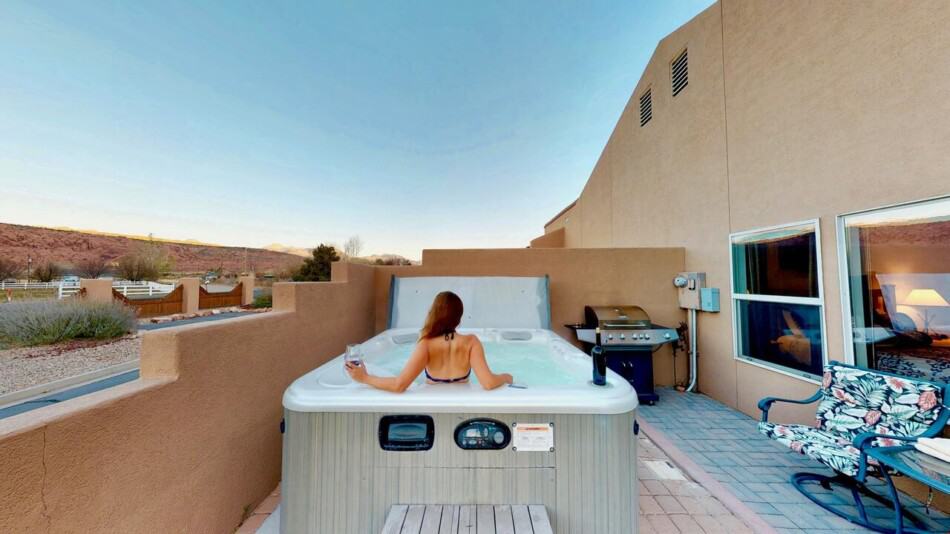 This super cozy home features 6 beds that are super comfortable and a covered deck for star gazing and wildlife viewing, and the powerful AC will keep you cool during hot summer days. Plus, this place is also close to everything in Moab. It is even close to some attractions like the Arches and Canyonlands.
Ranch House Bungalow at Moab Springs Ranch
Staying at Moab Springs Ranch entitles you to your own private ranch house bungalow that features 2 beds, basic kitchenette, smart TV, private furnished patio, and parking unit. Plus, you can also benefit from the amenities of the ranch such as an outdoor pool, hot tub, private park, BBQ, hammocks, trails access, viewpoints, and more.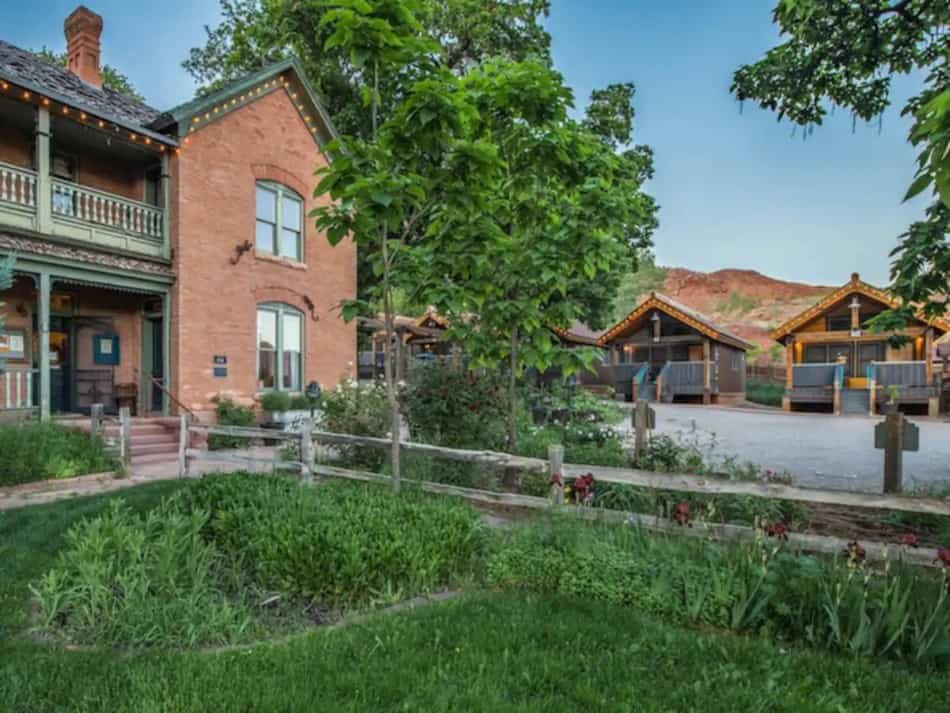 This bungalow is perfect for a family of four and you can get to choose from the various bungalow options available on the ranch.
Townhouse with Amazing Desert Sky Views
The views that this townhouse can offer to its guests are just amazing and astonishing and you can just simply get it anywhere in Moab. It is located in Rim Vista Village and it's just 5 miles from town and close to Arches and Canyonlands National Park.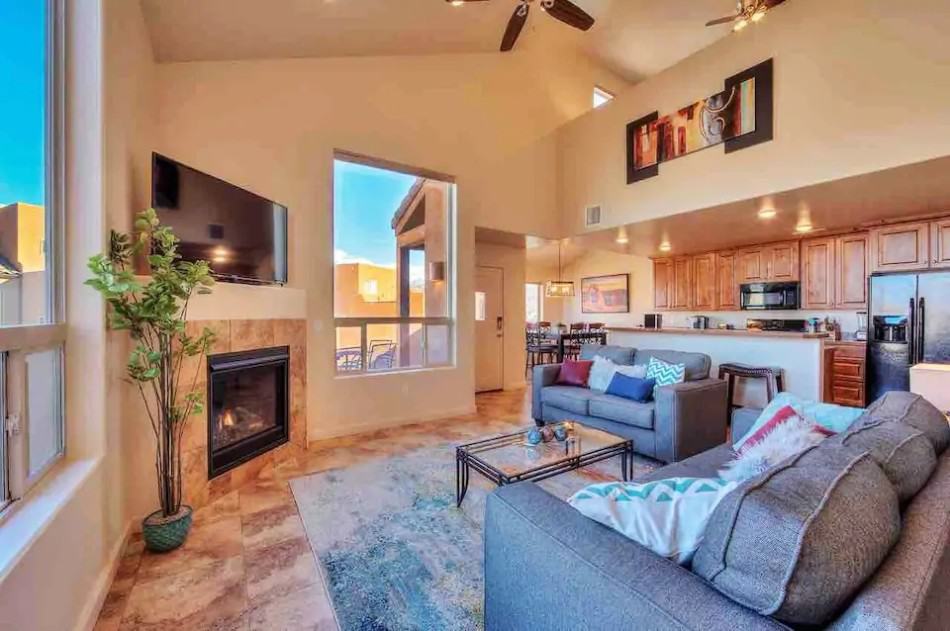 The whole townhouse can accommodate 8 guests and it is a good alternative for staying in hotels that are quite more expensive. There are 3 bedrooms with 4 beds inside and there's patio that is perfect for outdoor grilling and dining while looking at the magnificent desert sky. It has a total area of 1,600 sq ft and it entitles you to use the facilities in the condo such as pools, hot tub, playground, tennis, and basketball court.
Camper/RV in Moab
If you like to explore around the areas in Moab and ditch the usual hotel accommodation, you can opt to stay in this off-grid camper that comes with everything you need for a great camping experience.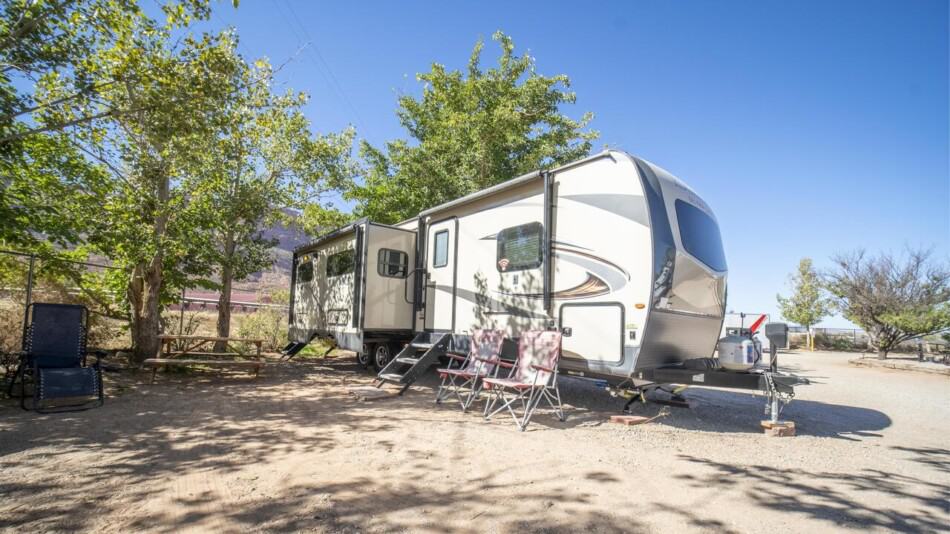 It is good for 3-4 people and it has a queen sized bed with an extra 4" mattress topper, and double-over double bunk beds. It is also loaded with all your lodging needs like pots, pans, utensils, dishes, fridge, full bathroom, and more.
The sunset views are also lovely in this area and the host is easy to communicate with. She can even give you local tips. This is such an amazing place that you would want to stay here forever.
OK RV Park Glamping Tipi
Staying in the tipi at OK RV Park would give you an amazing and one-of-a-kind glamping experience. The inside of the tipi is so gorgeous and comfortable and it features 1 bed and additional camping pads and sleeping bags good for 4 guests.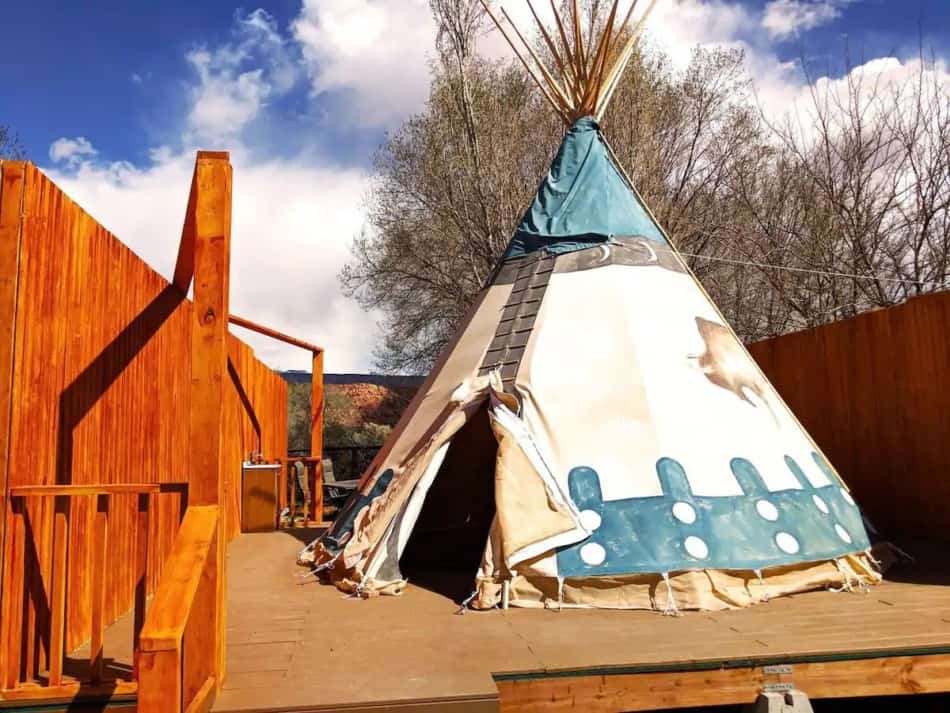 There is a space heater and AC unit to help you regulate the temperature. Plus, there is an assigned parking spot for your car just right outside your tipi. So if you are looking for a very safe and private glamping experience, this is a great option.
Modern Downtown Moab Home
This modern twin townhome was first built three years ago and it is located in the heart of Moab, two blocks off Main Street in a private and quiet neighborhood. A family of 5 will definitely fit in this modern house plus it has a perfect location and close to everything.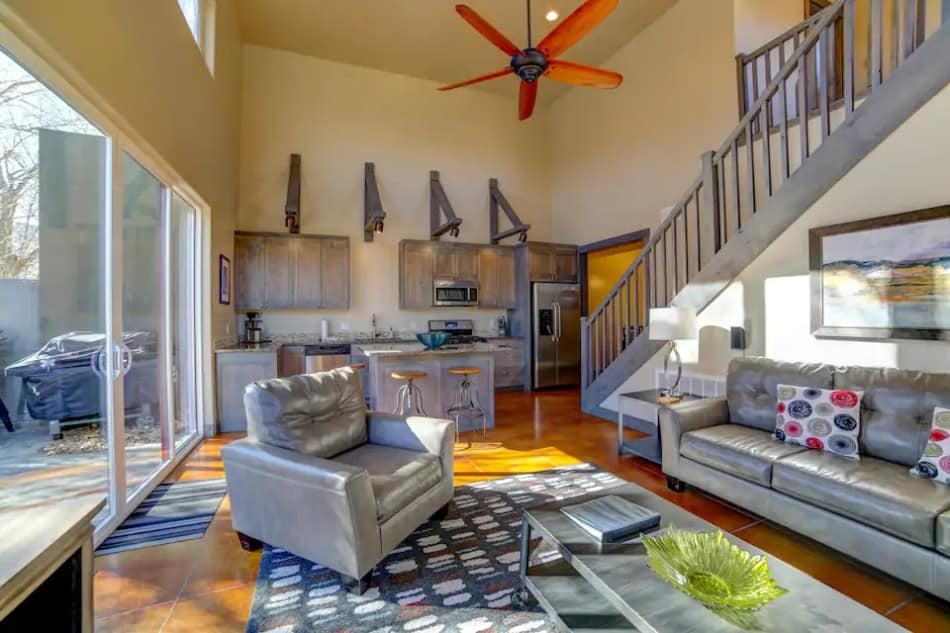 It features 3 bedrooms with 3 beds, plus a fully stocked stainless steel kitchen with cookware, dishes, and utensils that will allow you to cook sumptuous meals for the whole family. There are plenty of spaces inside and it has a chill and private patio area where you can grill some BBQs and enjoy dinner outside while admiring the beautiful cottonwood trees along the back fence.
Red Moon Lodge
The Red Moon Lodge is a retreat style bed & breakfast situated on a 6-acre land outside of Moab. This is a unique sanctuary perfect for people who are seeking for a quiet and healing vacation in Moab. The host is very dedicated to organic practice which is evident in the rooms and grounds of this property. Each room has a lovely and nice decor with air conditioner and heater.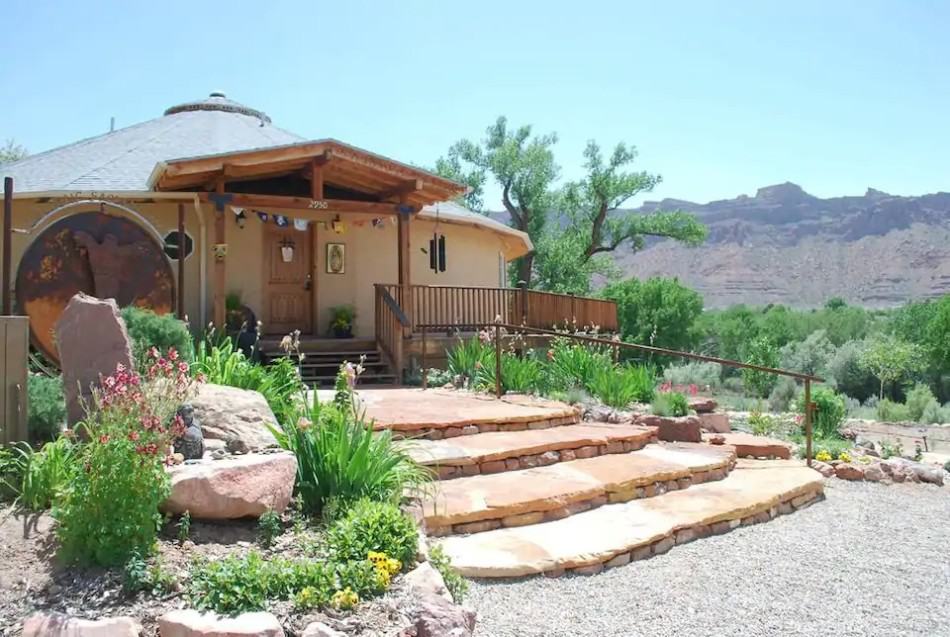 There are gardens, green houses, trees, and patios, and flowers around the area that offer a tranquil and scenic environment. This is a great place for couples who want to enjoy a romantic yet peaceful getaway in Moab with a budget-friendly price.
Entire Bungalow with year-round hot tub!
The location was great. Just outside the main city it was quiet but close enough to enjoy the National Parks and restaurants. It was immaculate and a well laid out condo.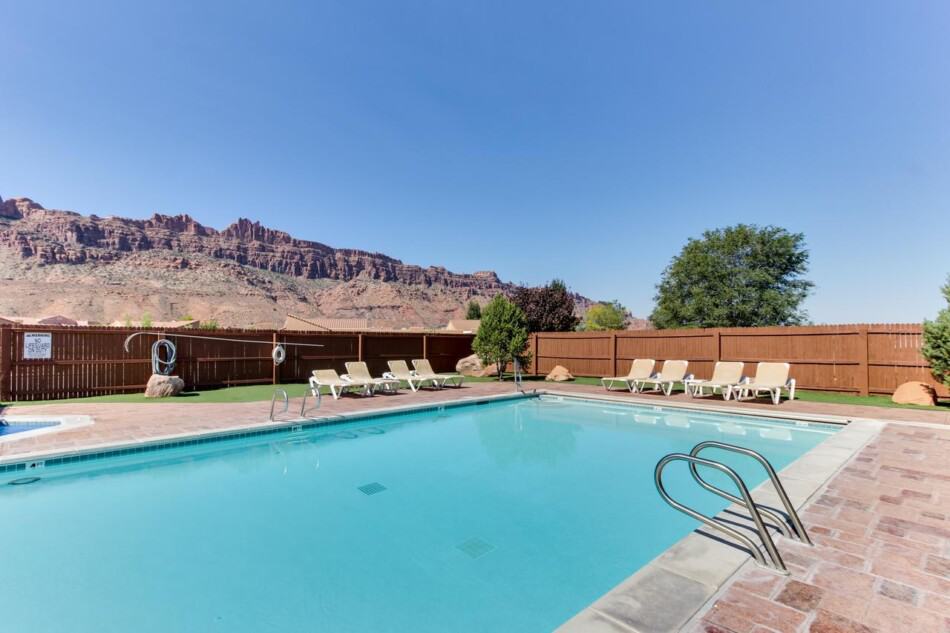 Reviewer says – Fantastic location just outside town. The neighborhood was beautiful and so was the house. Clean and spacious property, kitchen was well equipped, the beds were super comfortable, and the shower was great! Outdoor seating area was lovely! Would definitely stay here again.
FunStays Glamping Setup Tent in RV Park
Have a fun and peaceful night's rest in one of the best glamping places in Moab. This tent is super comfy and clean with great amenities such as an outdoor dining table, swing chair, and grill.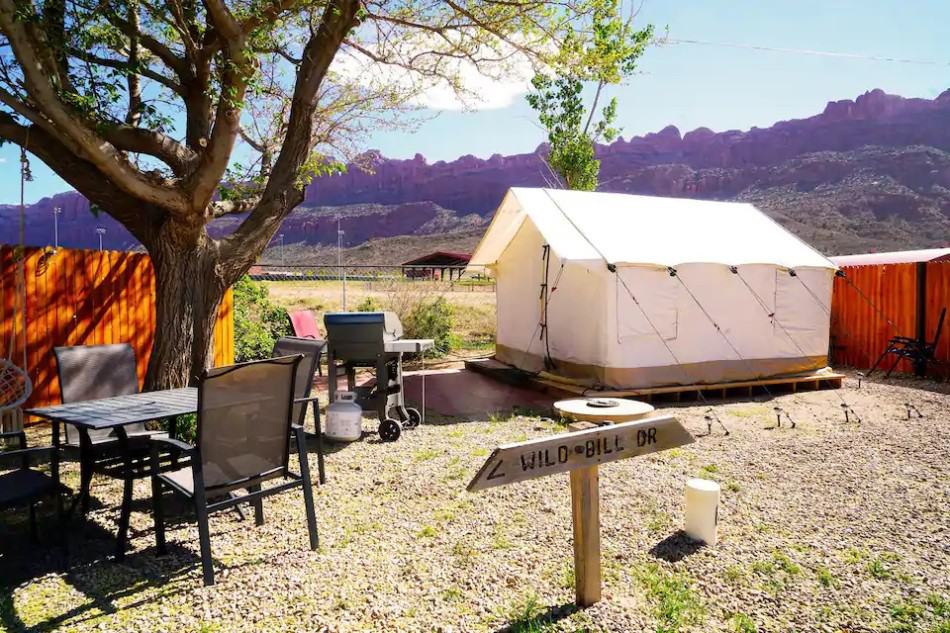 All linens, blankets, and shampoos are provided so you can have a hassle-free glamping experience. The bathroom is shared by all guests but it is well-maintained by the host. The tent is just small and it can only fit 2 guests inside. Plus, this is a great home base if you are visiting Arches National Park.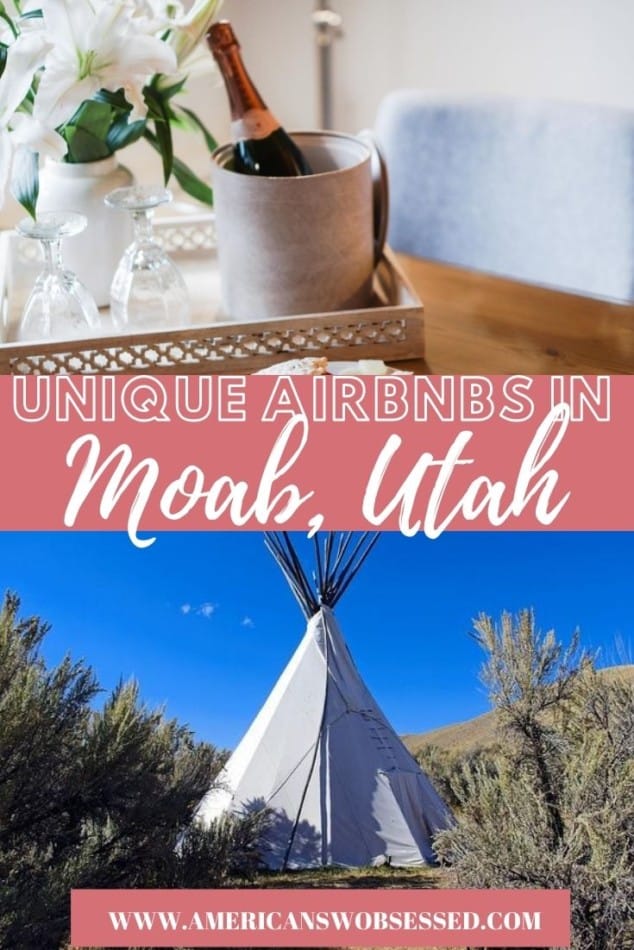 Recent Posts