11 Best Backpacking Chairs for your next trip
Best Backpacking Camp Chair:  Are you looking for the best backpacking chair? This list has the best lightweight camp chair for every budget.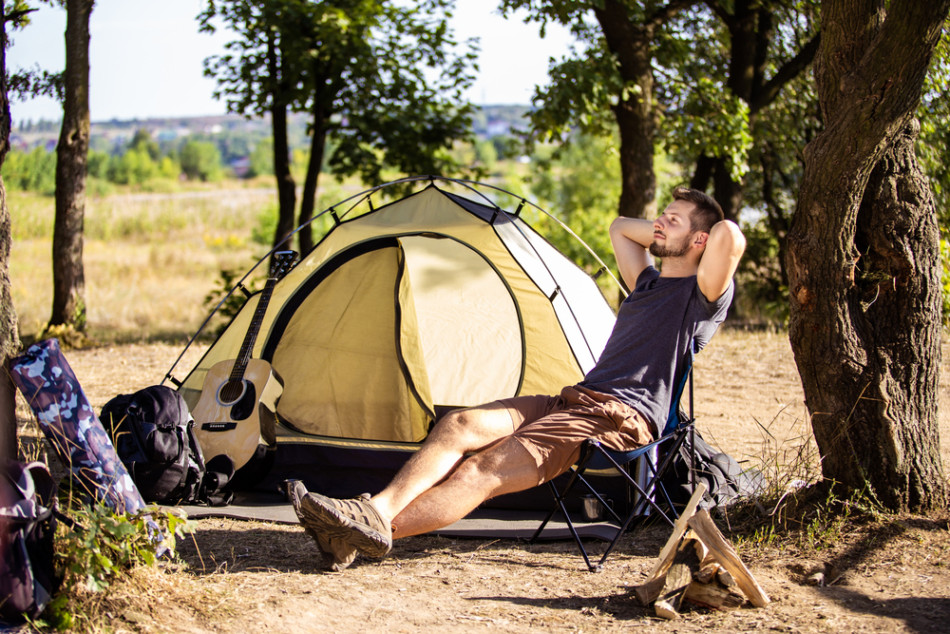 There is nothing worse than hiking all day and then not having a place to sit down and rest a bit. Or worse carrying a heavy backpack chair all that way and then its still not comfortable.
I've put together some of the best ultralight chairs and backpack stools that will give you some comfort at the end of the day.
TLDR: My Pick for the Best Backpack Chair
The Big Agnes Backpacking Chair claims to be the champion of ultralight because it only weighs over 1 lb, packs down small, and uses a patented frame for a perfect strength-to-weight ratio.
This is the best hiking chair and the best lightweight backpacking chair for campers and backpackers who are always on the go. 
The 11 Best Backpacking Chairs – Tested and Reviewed
Sunyear Compact Folding Backpacking Camp Chair Lightweight
Portable, breathable, and comfortable are the three words that would best describe this backpacking chair that is not only perfect for camping, but also for hiking, and picnic.
This Sunyear collapsible camping chair is made of nylon and weighs 2.1 lbs and packs down to 13.8". The chair is larger and more comfortable than other similar backpacking chairs that you can find on the market. The ergonomic seat design provides maximum comfort and the soft mesh panels offer plenty of space to relax. 
When it comes to setting up and folding it down, you won't have a problem with it because its aluminum shock-cord pole structures make it easier to set up. And it also has a strap that holds the frame together so it can easily be collapsible for storage and transport.
However, the problem with this chair is that the fabric is sticky and it can stick to your clothing when you sit on it. But overall, this is a good purchase especially if you are on a budget.
Pros: Portable, breathable, budget-friendly
Cons: Sticky fabric
Travelchair Joey Backpack Chair
One of the best things that you would love about this TravelChair Joey is its stability and comfort. It is a lightweight backpacking chair that is sturdy.
It has a powerful anodized aluminum frame with a 300 lbs weight capacity. It is very compact and lightweight which makes it ideal for travel or camping/hiking. This is a great choice if you are looking for a backpacking chair that is comfortable, portable, and reasonably priced. 
TravelChair has also updated the style of this Joey Chair. It is crafted with shock cord technology to avoid lost parts and the breathable mesh panels lets you cool off after a long day of hiking or backpacking. Also, it has an anti sink feet technology by using specialized rubber disk feet to optimize the chair performance and stability especially if you place it on mud, sand, and other soft surfaces.
Pros: compact, spacious, stable on soft surfaces
Cons: Heavy
Big Agnes Skyline UL Ultralight Backpacking Chair
This Big Agnes Backpacking Chair claims to be the champion of ultralight because it only weighs over 1 lb, packs down small, and uses a patented frame for a perfect strength-to-weight ratio. This is the perfect hiking chair for campers and backpackers who are always on the go. 
Unlike other brands of chair that rely on flimsy poles and plastic hubs for support, Big Agnes has a patented hub-less frame that is made of heavy-duty aircraft aluminum for optimum support so it weighs less, packs smaller, and provides a sturdier seat.
This backpacking chair is also revolutionary in comfort due to its pre-bent poles and stronger frame for a deeper and wider seat. The material of this chair is made with ultralight nylon ripstop combined with high-tenacity robic yarn that adds 25 to 30% more strength. And not only that, it has a waterproof UTS coating that can withstand mountain weather.
Pros: Waterproof coating, ultralight, hub-less frame
Cons: seat is way too low
Big Agnes Big Six Camp Chair
The Big Agnes Big Six Chair is a versatile chair that can be used either as a backpacking chair and comfy car-camping chair. Unlike most backpacking chairs that are designed to be compact and lightweight, this chair is tall and wide and has a headrest to make it even more comfortable and distinct from others. 
In terms of comfort, this has a wide seat to make it more cozy and spacious to accommodate small and large users. You'll also love the super high back with a headrest to give you that maximum comfort. And once you fold this chair, its fairly small considering that it weighs 51 ounces.
The stability of this chair has also been graded the highest score. The feet are spaced apart and the base size makes it impossible to tip over. So when you sit on this chair, you will feel at ease knowing that it's so stable and durable.
When it comes to its ease of use, this Big Agnes chair requires a little effort and time to set it up because the notch in each pole requires to be lined up and threaded through a matching hole. But don't worry because the Big Six has instructions printed on the inside of the bag.
Pros: Spacious, has a headrest
Cons: Heavy and bulky, takes time to set up
REI Co-op Trail Stool
If you are looking for an affordable backpacking or camping chair that is just enough to get you off the ground in between short hikes or day trips, then this is definitely the one for you. The REI Trail stool is made of ripstop polyester and the frame construction is made of aluminum, while the total weight of the stool is 1 lb. 2 oz.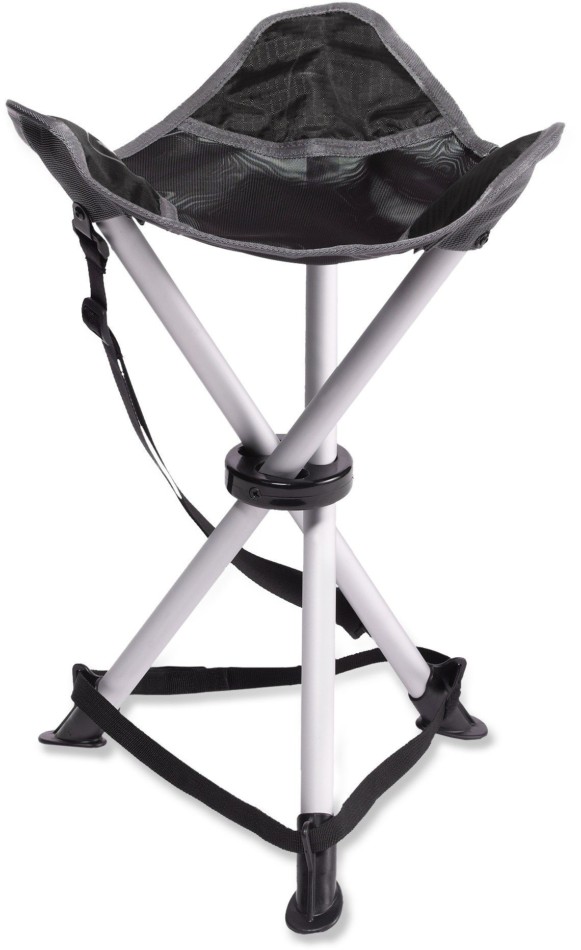 This REI Trail Stool is a quick and easy stool if you want to get out or put away on the trail. Although this doesn't provide back support for best comfort, still it does its job for giving a temporary relaxing feeling during hikes especially if your knees are hurting.
Pros: Affordable, convenient
Cons: No back support
Helinox Chair Zero 
Helinox Chair Zero is one of the most popular lightweight chairs among hikers and backpackers. It is also hailed as one of the most comfortable and lightest backpacking chairs in the market today.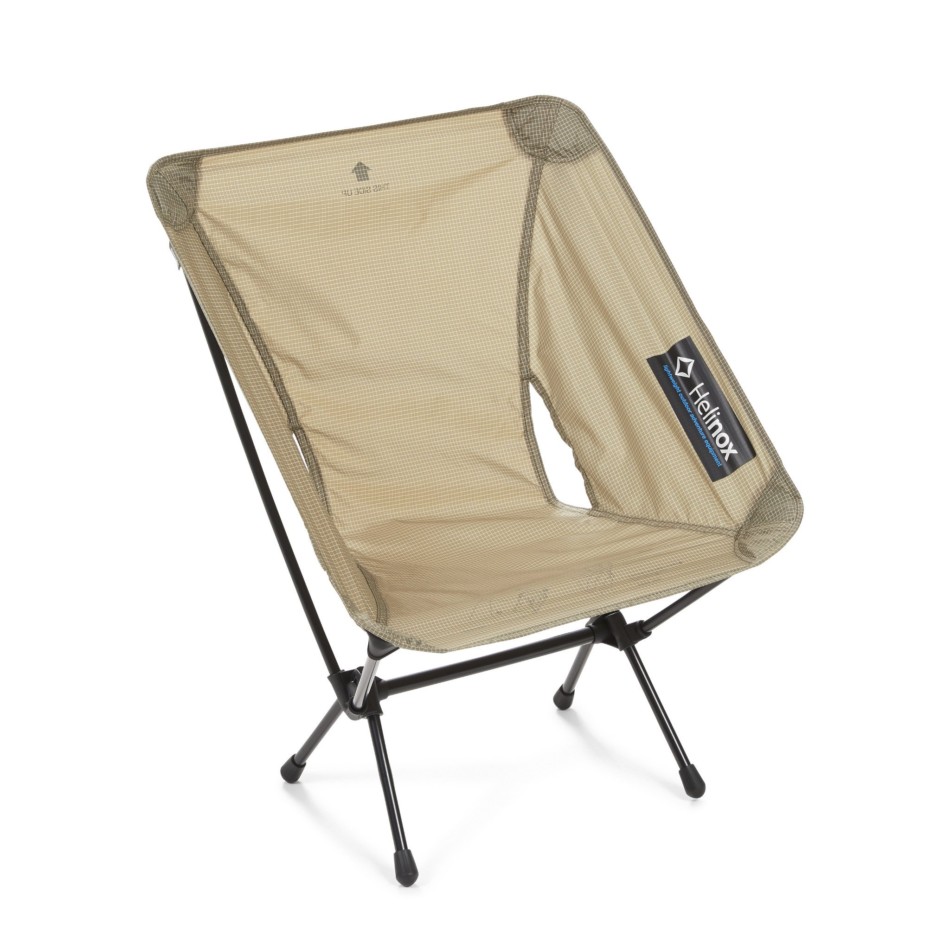 If you are a weight-conscious user, this chair is probably the best ultralight backpacking chair. The material is made of polyester with an aluminum frame and it only weighs 17 oz. Plus, the soft fabric of this Chair Zero lets your arms rest comfortably over the edges. It has also slits located on the back edge of the chair for breathability. 
However, when it comes to stability, this Chair Zero is not among the top list due to its lightweight materials that cause you to move unsteadily from side to side when you sit. And the small feet of this chair will likely sink into soft ground easily. But the good thing is, in terms of its ease of use, this is so easy to pack or fold because the instructions are located at the back of the chair.
Pros: Extremely lightweight
Cons: Not too stable
Therm-a Rest Z-Seat Pad
Some people find backpacking chairs bulky and adds weight to things that they carry during a long hike or other outdoor activity, that is why Therm-a Rest introduced this Seat Pad to the market for people who love to bring a backpacking chair without the added burden. Because of its weight and utility, this Therm-a Rest Z Seat pad is a budget-friendly backpacking chair that is perfect for ultralight backpackers. 
This seat pad is actually a piece of foldable foam that only weighs two ounces. It is durable, super light closed-cell foam with an accordion-style design that allows the seat to fold up compactly. Basically, this seat pad is just enough for you to sit down or kneel. So it's not like any other ordinary backpacking chairs that let you sit for hours comfortably without hurting your back.   
Pros: ultra lightweight, compact, affordable
Cons: zero back support
Helinox Swivel Chair
Helinox Swivel Chair was uniquely designed to give comfort to backpackers and hikers during outings. It has a spacious seat and sturdy design and the unique swivel lets you turn around and keeps your back straighter and comfortable even for longer periods of sitting. 
What you will love about this swivel chair is that the back doesn't squeeze the shoulders unlike other backpacking chairs, plus the leg rest is wide open so it can accommodate users of any body size.
However, when it comes to its weight, the Helinox Swivel Chair may not be a good idea for light backpacking enthusiasts. This swivel chair may be too heavy and it weights 46 ounces, which is nearly three times as heavy as the ultra lightweight backpacking chairs available in the market today. But one of the good things about this swivel chair is its stability. It has a strong hub and larger diameter poles for excellent stability but at the expense of weight.
Pros: swivels, stable
Cons: weighs 46 ounces
REI Co-op Trail Chair
The REI Trail Chair is a relatively lightweight trail chair that supports lower back, even the aging ones, and fits well on your backpacks. It is made of ripstop polyester fabric with two fiberglass supports that run lengthwise through the chair. You can also find two buckled straps on the side for easy adjustments when you want to sit up straight or just recline. 
Even though it is a non-inflated backpacking chair, this trail chair is so comfortable. There is enough padding on the whole chair to protect you from rocks or thorns. However, since it does not have legs, you can really feel the roll of the ground under you and that is probably the downside of this trail chair even if it is so compact and lightweight.
In terms of ease of use, this is very easy to fold. You can either leave it flat or curve it to fit it inside your backpack.
Pros: Ultra lightweight, durable, affordable
Cons: sits on the ground
REI Co-op Flexlite Camp Chair
If you are looking for a good portable camping chair that does not compromise breathability and comfort, then this REI Flexlite Camp Chair is for you.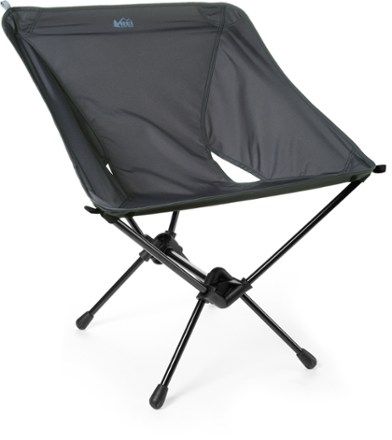 The material used for this camp chair is made of ripstop polyester so it's breathable and gives added support to the weight. Additionally, the abrasion-resistant ripstop polyester seats also have a Durable Water Repellent finish to resist moisture and stains. 
However, despite being comfortable and breathable, this Flexlite Camp Chair is not very stable. Its legs are quick to sink on the ground especially into the sand and any other soft surfaces. And it's not that versatile compared to other similar backpacking chairs but it's still a decent one if you are looking for a chair that is reasonably priced.
Pros: Reasonably priced, comfortable
Cons: Not versatile, lacks stability
Helinox Sunset Chair
The Helinox Sunset Chair is one of the most comfortable, lightweight, and compact backpacking chairs that you can find in the market today, plus it supports a massive 320 lbs weight capacity. The multiple mesh sections of the chair provide breathability for users and it doesn't trap the heat. 
The Sunset Chair uses high-quality materials and one of it is the poles. They used DAC poles that are exactly the same used in high-end tents and trekking poles which is very impressive in terms of stability. The hubs are also made by DAC and are made with high-strength nylon material, while the feet on the bottom of the chair are made from rubber it prevents the chair from sinking into the ground. 
In terms of seat design, the Sunset Chair is also impressive because it has a bucket seat design that makes you feel like you are being hugged by the chair without the feeling of discomfort, of course. But it doesn't have an armrest and it may be a disadvantage for some people especially if their arms do not sit naturally on their legs or lap.
One bonus feature of this Sunset Chair is the carry bag that you can use as a neck pillow or headrest. No wonder, this product is loved by many campers and hikers alike due to its comfort and super quality.
Pros: Stable, quality materials, comfortable seat design, lightweight,
Cons: Pricey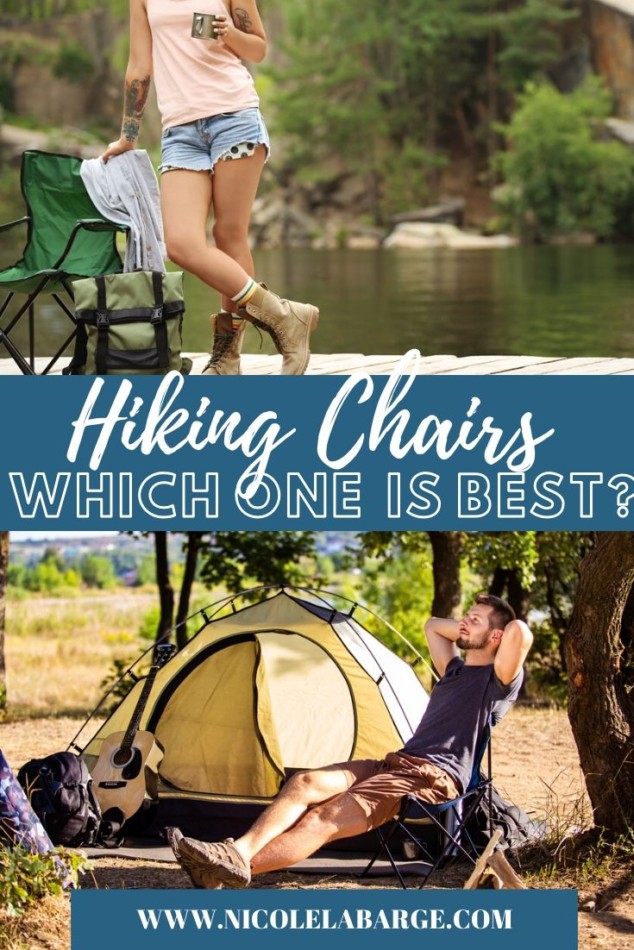 Best Backpacking Chair 2019 | Best Backpacking Chair 2018 | Best Backpacking Chair 2017 | Best Backpacking Chair 2016 | Best Backpacking Chair 2015 | Best Backpacking Chair 2014
Continue Reading more on my website on gear:
The 13 Best 4 Person Tents in 2020
Best Hammocks with Mosquito Nets
Best Hiking Shirts for Women and Men
Best Women's Daypack for Hiking
Best Sleeping Pad for Side Sleeper: Ultimate Guide 2020
Recent Posts