The 15 Best Hiking Shirts for both men and women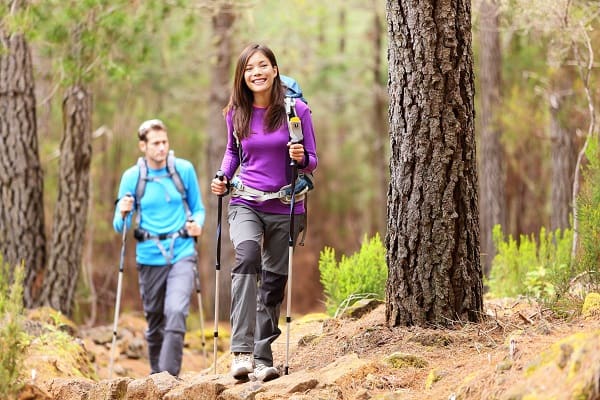 Are you looking for the best hiking shirts? I've put together this list of hiking shirts for women and hiking shirts mens. I've tested a lot of walking shirts to find the best shirts for hiking for you.

Whether you are looking for best moisture wicking shirts, best hiking t shirts, merino wool shirts for hiking, many of which can be used for desert hiking clothes that are fast drying shirts.

TLDR: These are the Best T Shirts for Hiking
Overall best hiking t-shirt : Arc'teryx Cormac Crew T-Shirt
Best hiking shirts for women : Icebreaker Motion Seamless Short-Sleeve
Best hiking shirts mens : REI Co-op Sahara T-Shirt
Best moisture wicking shirt : NRS Hydroskin Hiking Shirt
Features of the best shirts for hiking:

Here are the things to consider when looking for hiking shirts, women's and men's hiking shirts.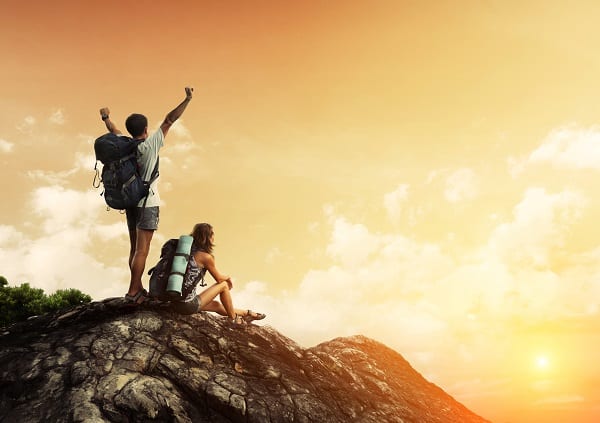 Quick Dry Shirts – Cotton vs Synthetic vs Merino Wool

Cotton material is very common and great for a lot of things but when it comes to being the fabric of your choice for a hiking shirt, it may not be ideal. Cotton provides low breathability and can stop sweat from evaporating. And if the fabric gets wet, it will stay wet a lot longer than other fabrics. Wearing a cotton fabric is ideal in the desert where the coolness of wet fabric could be a good relief.

Synthetic fibers are ideal to have on your body when facing wetter climates. Aside from being cheaper than the merino wool fabric, it is also extremely moisture-wicking, and if ever it gets extremely wet, it dries quickly. In fact, synthetic fiber is the most common fabric that you will find in most outdoor clothing stores. However, the only catch is that synthetic fibers don't have strong microbial properties.

Merino wool has natural antimicrobial properties that prevents odor-causing bacteria from growing because of its amazing moisture control. It can absorb and retain up to 30% of its weight in moisture and you can still feel dry. Since the fabric can draw off moisture, the smelly bacteria won't have a chance to thrive. Plus, it's very soft and comfortable even on sweaty days, and hypoallergenic too so you won't have any skin reactions at all. These are the best sweat wicking shirts you can buy.
Comfort – Seams and Fit

When choosing the best hiking shirt, you have to consider a lot of features such as the overall fit, style, flexibility, and the seams. Many hiking shirts have a "flatlock" seam design which means the seams don't overlap and stick out so they won't create chafing.

But you can also choose hiking shirts with fitted styles where the shirt will move with you, thus making it comfortable for you even while doing extreme outdoor activities.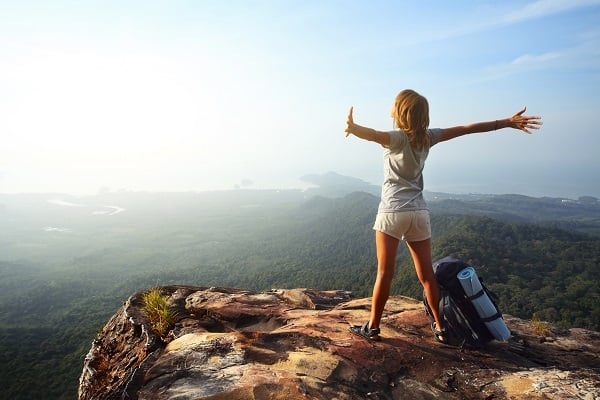 UPF

All shirts come with some level of innate sun blocking so getting a high UPF shirt may or may not be necessary. However, if you have sensitive skin especially on higher and sunny elevations, you may want to pick a hiking shirt that has a high UPF rating for added protection.

Darker colors of the garment are well-known to be absorbing more UV rays, while the lighter colors will help to repel them. The polyester and nylon fabrics are the best when it comes to blocking UV light rays, while cotton is the least effective.

Design – Pockets, Buttons, etc

Hiking shirts come in various designs from crewnecks, short sleeves, long sleeves, to V-neck. There are also some shirts that are styled with zippers, pockets, and built-in vents. But the most ideal design for a hiking shirt is a button-up shirt because it is more durable and the fabric doesn't have to be washed as often. Plus, it has zippers or button pockets that could be very useful in securing your important things.

Bug Repellent

If you will be hiking in a location where it is prone to mosquito and bug alley, pick a hiking shirt that has an additional feature of built-in insect or bug-repellent technology because it may be a real life-saver.
Hiking Clothing for Men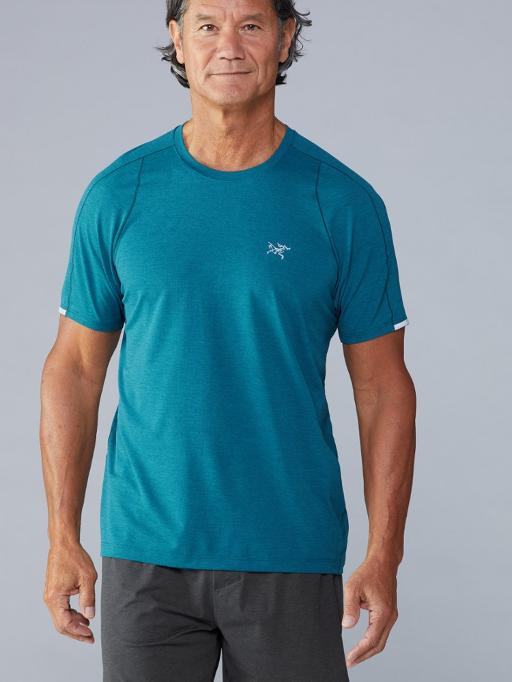 This Arc'teryx Cormax T-shirt is considered to be a fan favorite for summer hikes, bouldering, hitting the gym, or dusty trails because of its Ostria fabric material that wicks sweat and dries quickly to give you cool comfort. Plus, it stretches easily to accommodate any activity. In fact, this shirt was designed to perform across a range of activities and environments.

This is a great light and breathable shirt and may well be the best hot weather shirt that you can purchase! It provides UPF 45+ sun protection and it has gusseted underarms to add breadth and reduce stress from tight-fitting clothing. The design and pattern of this shirt are carefully selected to maximize fabric performance, enhance freedom of movement, and elevate air flow.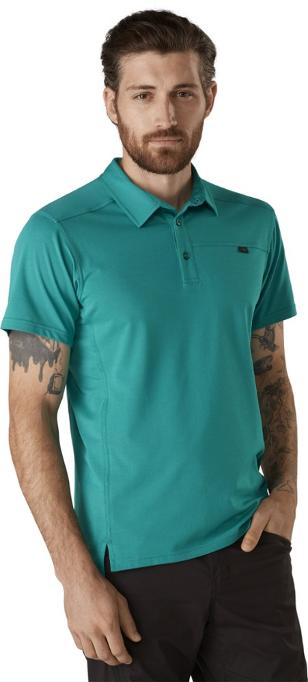 If you are looking for a versatile shirt that you can use for hiking and for every day use to look presentable, this Arc'teryx Captive Polo Shirt is a great choice. The blend of cotton and polyester will make you look good and feel great while also giving you excellent breathability. This is the best sweat wicking shirts with moisture wicking DryTech technology helps you stay cool and dry even during hot summer days.

The features of this Captive Polo Shirt include gusseted underarms to give you freedom of movement, the front placket has button closures, and a stretchy, technical cotton/polyester/spandex blend textile is very lightweight and helps manage moisture and is very comfortable and soft to the skin.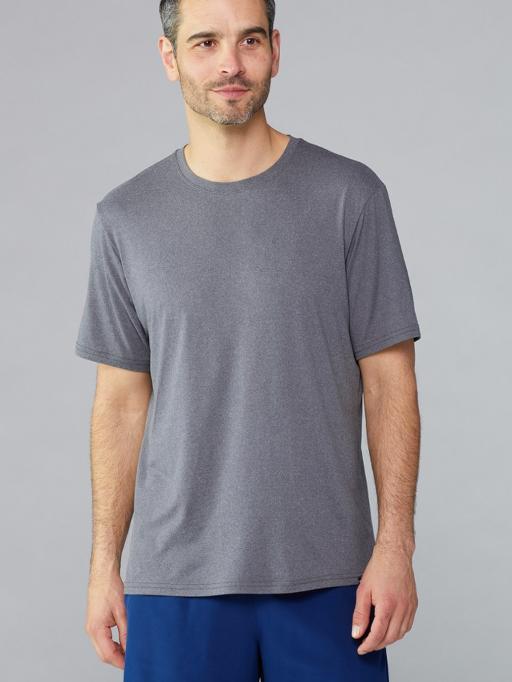 The men's REI Co-op Sahara T-shirt wicks sweat, breathes and shades you with solid UPF 30 sun protection. It is made of quick-drying polyester/spandex that gives you soft and comfortable stretch.
It has an anti-microbial treatment that helps keep odors at bay even while you are doing extreme outdoor activities. Its shoulder seams are rolled forward to avoid chafing under pack straps.
This Woolly Ultralight Merino Wool Tee Shirt is made of 100% Merino Wool specially designed for outdoor performance. Base layers that are made of Merino Wool retains warmth, are odor-resistant and features better breathability compared to Polyester base layer.

This shirt is perfect for hikers, mountaineers, and backpackers. Since it is made from 100% 150 GSM 17.5 micron Australian merino wool, its fabric is thin and very soft, therefore, it is breathable and comfortable to wear. A lot of people who tried this shirt did not feel any itching when wearing the shirt.
This shirt has anti-microbial properties and is odor-resistant, so no matter how long you wear them, they won't smell. Do note that this shirt dries very fast due to its thin fabric.
The Icebreaker Merino Men's T-shirt is made of super soft, stretchy and durable merino wool. The Merino Wool regulates the body temperature that will help provide you comfort for your active lifestyle.
This Anatomica Short Sleeve V shirt is breathable, odor resistant and very comfortable to wear even during hot or cold weather conditions. The material is crafted of 83% merino wool, 12% nylon, and 5% LYCRA. It is 100% odor free no matter how many times you wear them. 

It's also lightweight which helps keep your load light whether you are backpacking, skiing, camping, hiking, or for daily wear.
The CloudLine merino hiking shirt is made of 87% of Merino Wool. This is a great base layer used for running, camping, hiking, and backpacking. The shirt's flat lock seams helps reduce chafing and makes the shirt comfortable to wear. The good thing about Merino Wool Shirt is that it wicks always odor and sweat and dries quickly.

It is a decent shirt that you can use on any occasion whether you are hiking, skiing, or just for everyday use. This shirt is very comfortable that it perfectly fits your body without the feeling of unease. And if you are looking for a more athletic styled Merino blend shirt, this is a perfect choice.
Women's hiking shirts and hiking t shirts – best hiking shirts women's review
Here are the best hiking shirts for women that I have found and tested.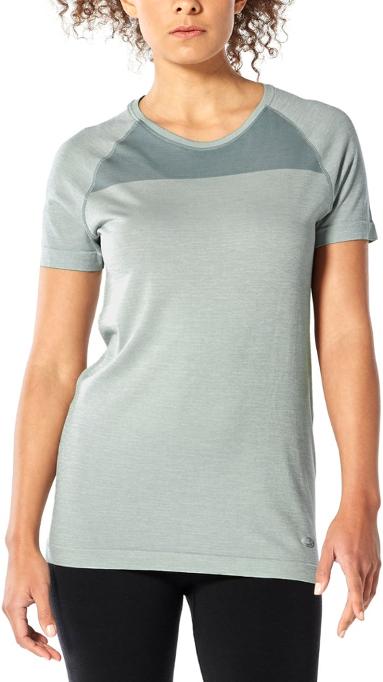 The Motion seamless Short Sleeve Crew is a lightweight and technical women's merino wool training base layer that gives incredible breathability, stretch, and wicking performance. It is made of 35% merino wool, 35% Tencel lyocell, 18% polyester, and 12% nylon.

It's 155gm continuous knit seamlessly stretches and breathes with your body even while you are doing extreme activities like hiking. It has seamless mesh panels to give you enhanced ventilation. And on top of that, it gives you a 25 UPF sun protection.

In choosing a size for this shirt, make sure that if your body measurements are midway between two sizes, select the smaller size to get a tighter fit, or the larger size if you want a looser fit. It is the best hiking shirts women that I use.
If you are looking for a great outdoor shirts long sleeve wool top that you can use for any season, the Smartwool Merino hiking shirt long sleeve is a great choice. You can either use one of these outdoor long sleeve shirts as a base layer in fall, or when summer hiking calls.

This breathable, soft, and lightweight fabric gives next-to-skin comfort, and moves sweat away from your body. The Merino fibers are wrapped around a nylon core for added durability while still regulating the temperature and moisture.

It is a slim fit long-sleeve top and its raglan sleeve design eliminates the need for shoulder seams. The side seams are wrapped onto the front for enhanced fit but it still gives you comfort and style.

Don't let a long sleeve hiking shirt (womens) fool you. This is one of the best lightweight long sleeve hiking shirt and best hiking shirts for hot weather. Wool is very breathable and the long sleeves give you sun protection.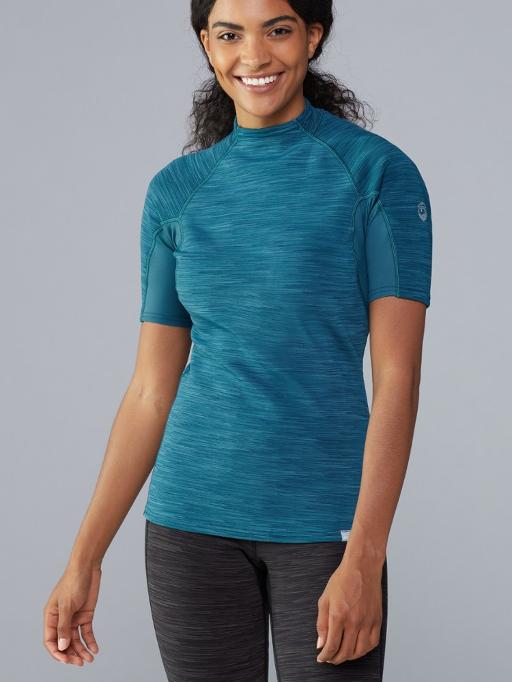 This NRS Hydroskin women's short sleeve is a good base layer because of its heat-reflecting titanium features that locks in your body's warmth. The thin neoprene delivers optimal warmth without restricting performance especially when you are hiking or doing some extreme outdoor adventures.

The four-way-stretch PowerSpan exterior technology allows an unparalleled range of motion and the soft ThermalPlush lining delivers comfort. Also, it has a durable water repellent exterior coating sheds water to help reduce evaporative cooling and the form restricts water entry and intensifies the insulation properties making it the best sweat wicking shirt.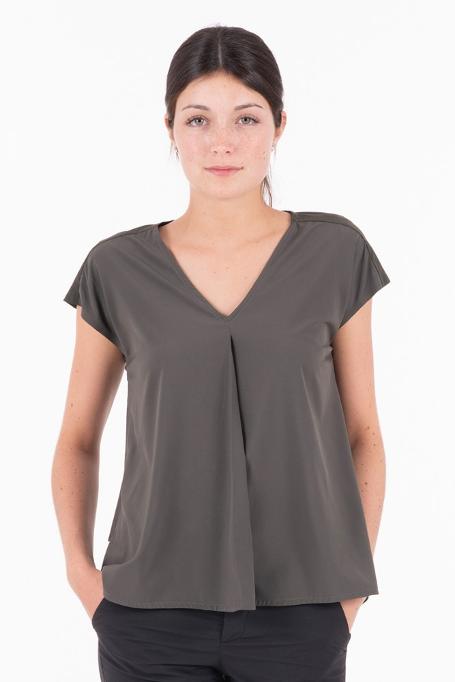 Calling out all V-Neck shirt fans out there, this Indygena Karui is for you. It's got stylish detailing that elevates it above a typical hiking shirt, plus it is very comfortable that you can even use it everyday when you just want to go to the grocery. This shirt is made of 86% polyester and 14% spandex.

The fabric of this shirt is silky and light woven stretch-blend that allows freedom of movement, and wicks moisture and dries quickly. And it has a reflective logo that improves visibility in low light. This perfect for hiking and traveling because of its UPF 50+ rating.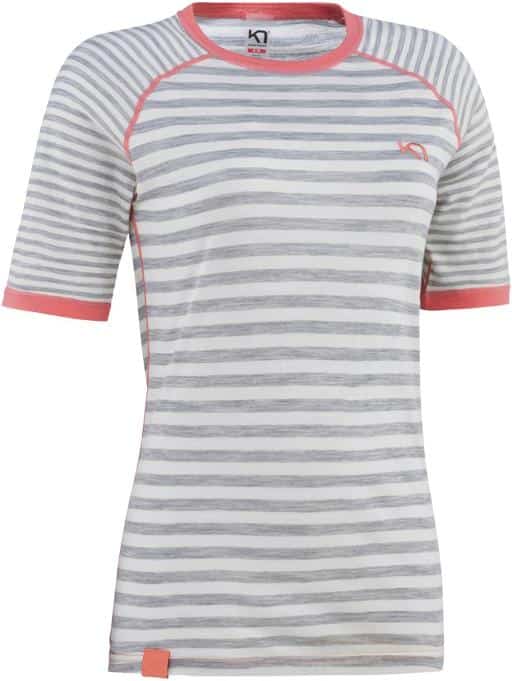 The Kari Traa Smale base layer t-shirt is made from soft and itch-free 100% merino wool and is highly breathable and naturally odor-resistant. The slim and snug fit of this shirt makes it easy to layer for warmth especially when you are hiking on harsh cold weather conditions.

The striped knit pattern of this shirt creates a fun and retro-inspired style which means you can also use this for casual days. The flatlock seams provide a smooth feel and look. And as a tip for your sizing, if you are in between two sizes, order the larger size to achieve a looser fit, or pick a smaller size for a tighter fit.
The 95% 150 GSM 17.5 micron Australian Merino wool is soft to touch, non-itching, and is moisture wicking that will help you keep dry when you need to. This shirt is great and comfy enough for trail and even for daily wear. It has anti-odor properties, fire resistant and is durable to wear.

This is a versatile piece of wear and is a one stop shirt that will make you want to replace all your cotton in your closet. And no matter what size you choose, it will fairly fit your body without the feeling of skin tight. However, some purchasers of this shirt think that the material is too sheer which means they are quite see through in the sun.
Woolx Mia Tee – Merino Wool T-Shirt For Women – Lightweight – Wicks Moisture – Repels Odor

The Mia Merino T-Shirt from Woolx is comfortable fit shirt that's very lightweight, soft, and breathable that your body will surely love. Like any other Merino made shirts, this one has the ability to wick moisture away and reduces irritation and prevents chafing.

You do no have to worry of stinking after a long day of hiking or a hard train at the gym because it turns out that this shirt is anti-microbial and odor-resistant. Another thing that is great about this shirt is that it comes with a variety of six colors to choose from perfect to wear for gym everyday. The shirt is made of 100% Merino Wool, non-chafe seams and a quick drying fabric.
The Icebreaker Tech Lite Short Sleeve Scoop Refraction is a Merino Wool Shirt that is perfect for four seasons of hikes, trails and travel.

Made from 87% of Wool and 13% Nylon, this shirt is highly breathable, soft and comfortable to wear. The feminine scoop neck silhouette and the core spun fabric helps add strength and enhanced durability. To add a unique look of the shirt is the screen print original artwork of Jennifer Cooke.
Conclusion: Best Shirts for Hiking
I hope you enjoyed this list of the best hiking shirts to help you find the best hiking shirt for you! This is the one I like to use to keep cool in the desert sun and for sun protection.
You can also check out my post on the best merino wool shirts as I'm a big fan of merino wool for hiking.
Continue Reading More on my website:
Best Women's Daypack for Hiking
Best Sleeping Bags for Women – Backpackers Sleeping Bag
Best Self Inflating Sleeping Pad
Best Hiking Shoes for Grand Canyon
Recent Posts