15 Best Glamping Spots near Zion National Park
Zion Glamping: Are you looking for the Best Glamping near Zion National Park? This list of Zion Glamping Spots has something for everyone!
These Zion Glamping Adventures are bucket list worthy places to stay. All of these glamping spots are near the south entrance of Zion as Zion Lodge is the only place to stay inside the park. A glamping tent is perfect for a unique experience in Zion with private decks and hot showers.
Zion Luxury Camping is a very sought after experience – and taking a look at the photos you will see why! These are unique places to stay near Zion National Park. Glamping in tents has never been so luxurious.
If you are looking for more places to stay, I have a whole post on Where to Stay near Zion, including the following Airbnb posts:
15 Vacation Rentals and Best Airbnbs in Springdale, Utah
15 Vacation Rentals and Best Airbnbs in Zion National Park 2021
15 Amazing Airbnbs in Kanab, Utah
15 Best Airbnbs in St. George, Utah
21 Best Airbnbs in Utah 2021 Ultimate Guide
Thank you for supporting this website written by an American. This post may contain affiliate links. This means I earn a small commission on these links at no extra cost to you.
15 Top Glamping in Zion National Park Spots for your bucket list
Under Canvas Zion
Experience glamping on a new level when you stay at Under Canvas Zion in their luxury tents at Zion. This property gives you a unique lodging experience with its dramatic surrounding of the Park's red rock landscape.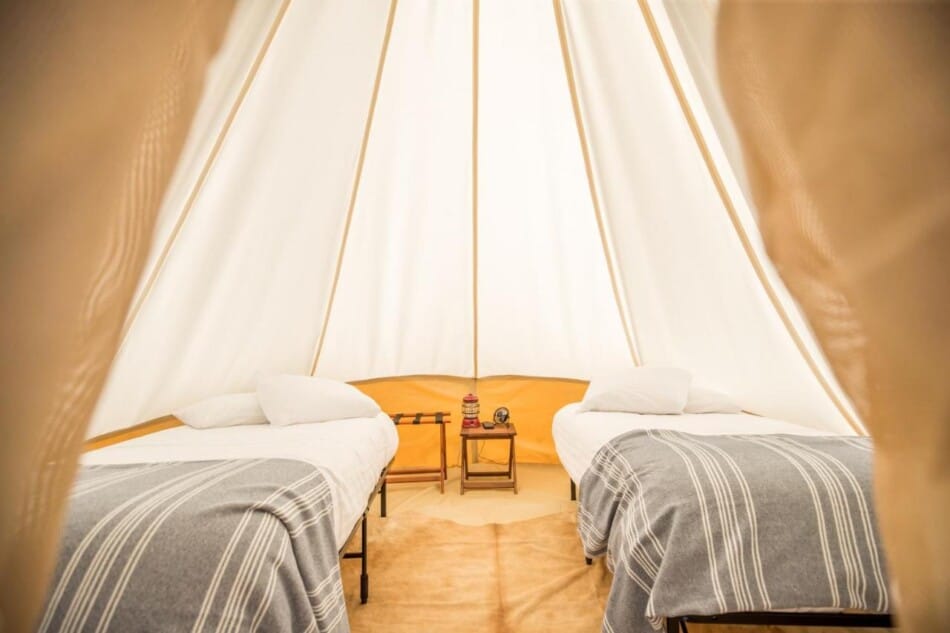 The place offers three luxury canvas tent options that allow you to enjoy the incredible and beautiful Utah desert without compromising the comfort of home. Within the park, you have plenty to explore from rock climbing, canyoneering, safari, hot air ballooning, biking, air tours, kayaking or ATV or UTV tours. 
You can also enjoy yoga sessions that are available for all guests. Breakfast is available every morning with choices of American or vegetarian breakfast.
Tents offered include a bed and a private bathroom and some come with Kids Tents perfect for guests with families.
Sound Interesting? Check out the reviews and book now
Zions Tiny Oasis
This luxury tiny house retreat will let you experience Zion National Park in a new way. These retreat houses are located on the west side of Zion with incredible views of the river valleys of Southern Utah. Staying at Tiny Oasis offers a mixture of comfortable tiny homes and an outdoor experience.
Each house features an outdoor gazebo, a barbecue grill, hot tub and fire pit that complete the ultimate glamping experience. Each house also is connected to electricity, water, wifi and free parking like a real home.
Although the location is secluded, the Zion National Park and nearby shops and restaurants are just a few minutes away.
If you want to explore more of the area, you can go hiking in the surrounding area.
Sound Interesting? Check out the reviews and book now
Zion Wildflower
Whether you're new to glamping or an expert to the glamorous world of camping, Zion Wildflower Resort definitely is a glamping destination offering an unforgettable experience in the wild with its glamping and luxury bungalows just a few minutes away from Zion National Park.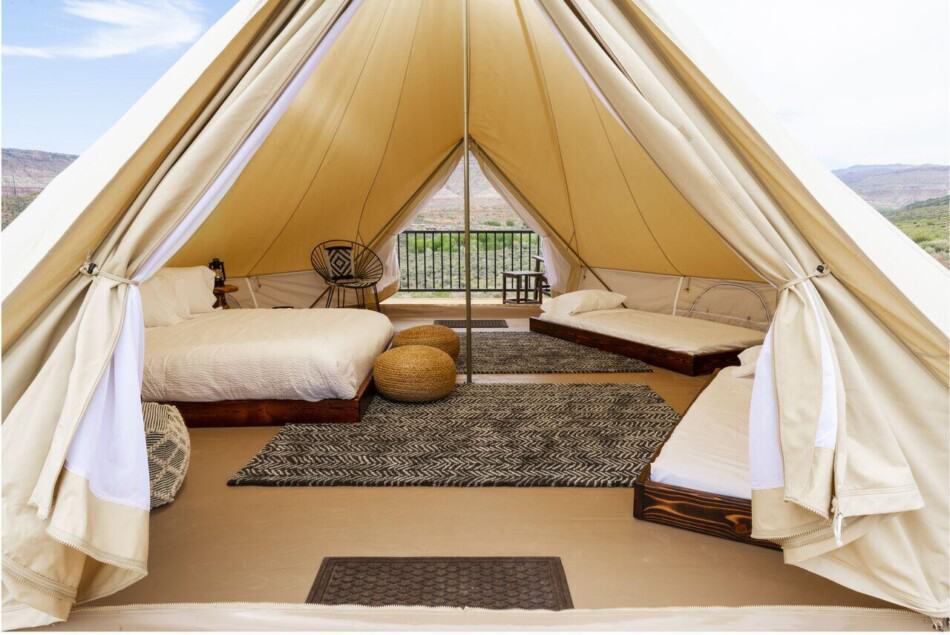 Its luxury canvas glamping tents feature an air conditioning unit, feathertop beds, mini fridge, microwave, and a private bathroom just like all comfort you get from any hotel. They have spectacular views of the sandstone cliffs in this area.
Their covered wagons are equipped with air conditioning, a king size bed and bunk beds and a balcony.
You may also opt to stay in their covered tents equipped with 2 twin beds with an electric blanket and a balcony.
The resort also offers entertainment and recreation activities for guests on site, from yard game, fire pits to hammocks where you can relax under the afternoon sun.
Sound Interesting? Check out the reviews and book now
Zions View Camping
Experience camping at its finest when you stay at the Zions View Camping. It is located on private property in Hildale, Utah with a stunning view of Zion and the Canaan Mountain Range.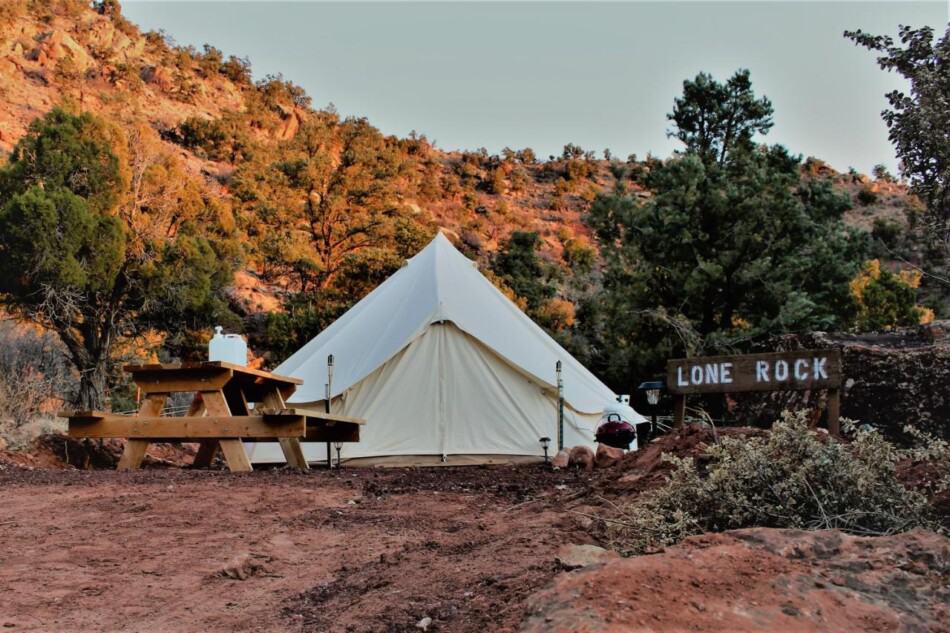 The tents are big and spacious with ventilation for a comfortable stay. The tents come with either 2 queen size beds or 1 king size bed. Chairs, tables, a barbecue grill, and a bathroom are also available right next to the tents. 
Experience waking up in the morning with a beautiful view of the mountain, getting away from distractions of technology, and embracing the peace and calm feeling that nature offers.
You can also enjoy your seclusion while stargazing at the incredible night sky. Gas stations, grocery stores, cafes and bakeries are located nearby.
Sound Interesting? Check out the reviews and book now
Zion Glamping Adventures
Zion Glamping Adventures will give you an experience like no other. Located in a secluded and private canyon away from the busy and noise of the city and a few minutes away from the highway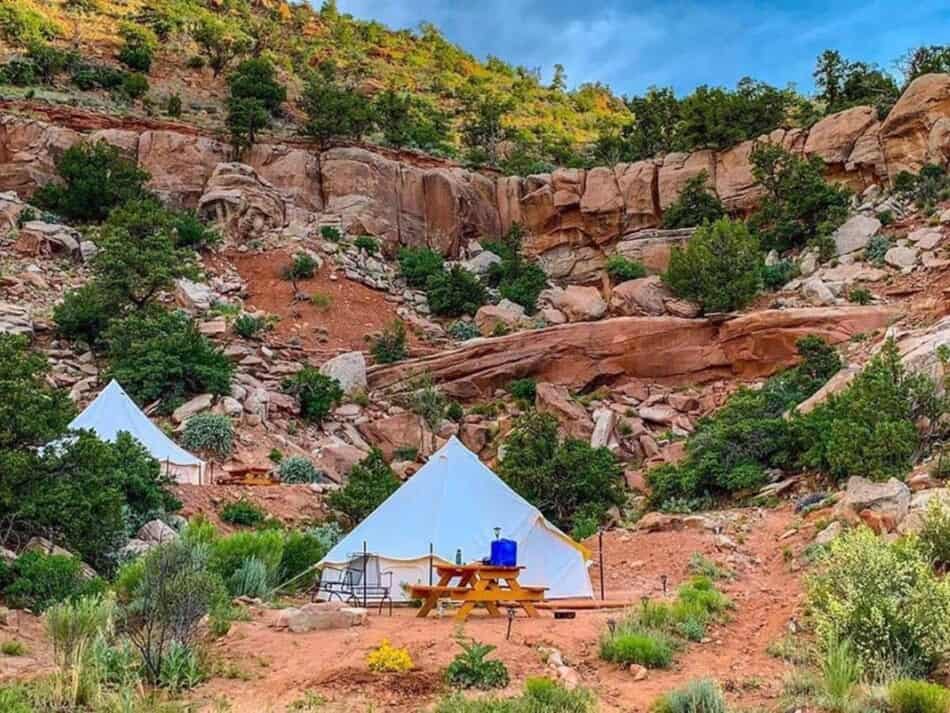 Conveniently located near ZIon National park, Bryce Grand Canyon and many other areas in the Grand Circle of National Parks. It is also a walking distance of the Water Canyon trail offering views of the waterfalls, rock bridge and pure spring water.
Each tent offers both luxury and privacy while providing you with an experience of nature inside the red rock canyon walls.
The multi tents on site offer parking space for guests and are space far from other tents providing you privacy.. The deluxe tent is equipped with queen beds with comfortable and luxurious bedding, table, chairs, and lantern. All tents are air conditioned with a seating area. Outside of each tent includes a fire pit, picnic table and a barbecue grill.
Other activities on site include marshmallow and hot dog roasting, horseshoe playing, or learning the roping skills that will definitely give you the best time to bond with your friends, families and even other glampers.
Sound Interesting? Check out the reviews and book now
Zion's Cozy Cabins
The Zion Cozy Cabins are cozy and offer a perfect sanctuary to refresh your soul. Located in Hildale, Utah, this place is perfect for spur of the moment long weekend exploring Zion National Park.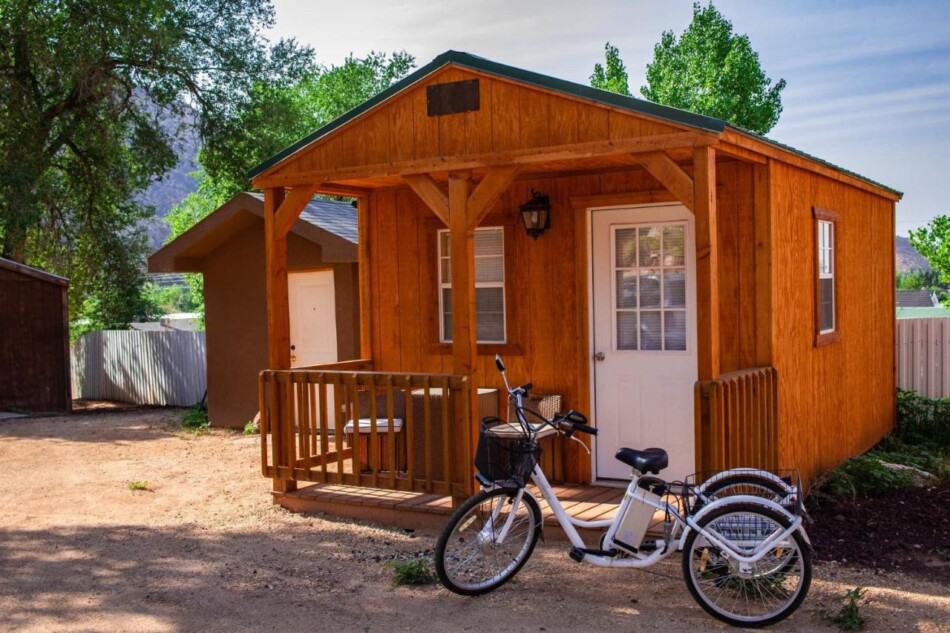 Each cabin is equipped with a queen size bed, air conditioning, toilet and bathtub. The cabins also have a patio with an incredible mountain view especially in the morning.
Free private parking and barbecue grill are available on site.
If you want to go on a hike, trails are within close proximity from the place.
Sound Interesting? Check out the reviews and book now
Tiny Home W/ Mountain View, Hot tub, Garden
The Tiny Home with Mountain Views has a Hot tub and the Garden features a One Bedroom Air Conditioned Villa is equipped with a kitchen, fireplace, heating, and a flat screen TV. It also offers a barbecue grill, a garden and terrace.
A free complimentary on site parking is possible and reservation is not required. The hot tub or jacuzzi are available if you want to relax after a day of activities at Zion.
It is located in Hildale, Utah and is 41 km away from Kanab and 21 km from Springdale.
Sound Interesting? Check out the reviews and book now
Camp Valhalla at Zion
Camp Valhalla at Zion is located in Colorado City, Arizona and provides mobile home accommodation with free parking.
All mobile units feature a sofa seating area, a dining area and a fully equipped kitchen with microwave, oven, stovetop and a fridge. A two bedroom Mobile home has 1 queen bed, 1 twin bed and 1 full bed while the one bedroom Mobile home has a 1 queen bed
Each mobile unit also has a patio offering a beautiful mountain view. You can also use the barbecue facilities and terrace to complete your camping experience.
From Camp Valhalla, Springdale is 22 miles away, Hurricane is 24 miles away, and the nearest airport in St. George Regional Airport is 29 miles away.
Sound Interesting? Check out the reviews and book now
Valhalla Campground South Zion
Experience a unique and unforgettable camping experience when you stay at Valhalla Campground South Zion. Located at the tail end of the world famous Zion National Park, this camping site treats you with a view of the natural beauty of the landscapes and lets you stay in their luxury tents.
You will experience one of the best times of your life with the spectacular view that Zion offers. There are also many hidden trails nearby that only locals know and some say that the trails are much better than the actual Zion trails.
Each tent features a standard king size bed, and access to a shared modern shower & bathroom facilities. It also comes with a night stand lantern, camping chairs, fire pit and a barbecue grill.
On site, there are 10 individual tents that are spaced far enough from each other providing each tent a privacy.
A gas station and grocery store are just five minutes away from the campsite.
Sound Interesting? Check out the reviews and book now
Sandstone Wagon Ventures
At Sandstone Wagon Ventures, you will be staying in a canvas covered wagon which will definitely give you a unique glamping experience. This wagon offers a comfortable king size bed, a seating area with couch, chairs, fire pit, pellet grill and an electric outlet.
Air Conditioning and heater, portable bathroom, shower house and a parking space are also available for you.
The campsite is located in a private property and a gas station is just a few miles away. Nearby hiking trails near the area will give you a daytime adventure during your stay. You will also be treated with the stunning and incredible red cliff views right outside your wagon.
Popular attractions such as the Water Canyon Trailhead hike, Bryce National Park, Coral Pink Sand Dunes, Zion National Park and many more are just near the campsite.
Sound Interesting? Check out the reviews and book now
The Boundary Cabin 2
Experience having this tiny house to yourself during a stay in the Boundary Cabin. Its location is perfect and away from the hustle and noise of the city and provides comfort and warmth.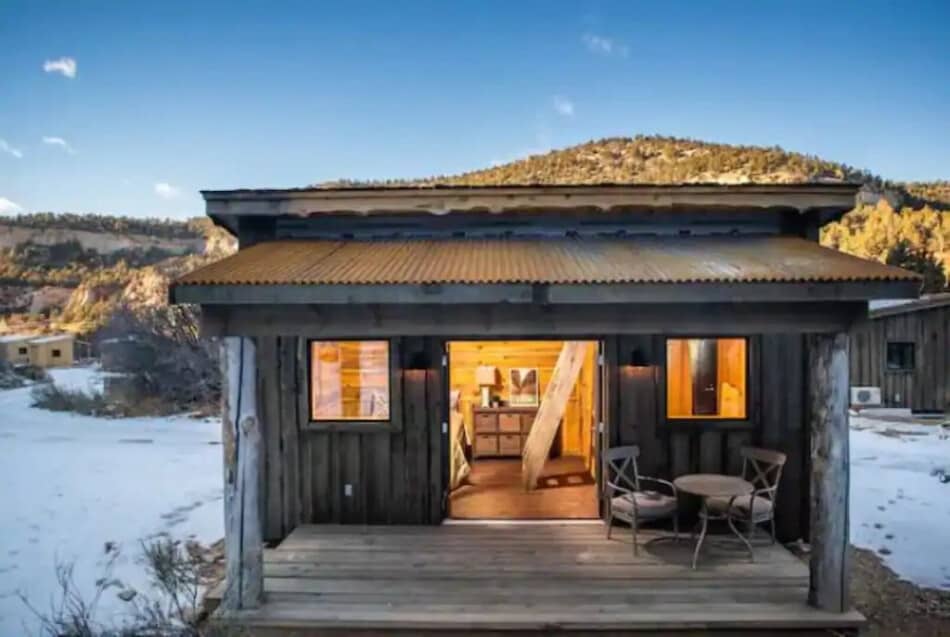 This 400 sq ft cabin is big and comfortable enough and the luxury it provided is unusual for a rustic lodging. It has a great furnishing and amenities providing a cozy ambience during your stay.
The cabin is conveniently close to the entrance of Zion National Park which is a plus factor when you are choosing a place to stay in Zion.
The cabin is equipped with 1 queen size bed, full bathroom, air conditioning unit, heater and a loft fit for 1 adult or 2 children. The loft has no bedding and only has a mat for sleeping. If you want to use the loft area, you may need to bring your own bedding.
The cabin is located in Kane County, Utah and is part of a 6,000 plus acre of land so you don't have to worry about loud and noisy neighbors.
Sound Interesting? Check out the reviews and book now
Tiny Cabin at Zion Canyon Campground and Resort
While staying at Tiny Cabin, you will be staying in this contemporary cabin that will let you experience the countryside beauty of Zion National Park. Enjoy camping with comfort in this cabin located at Zion Canyon Campground RV Resort, Zion National Park.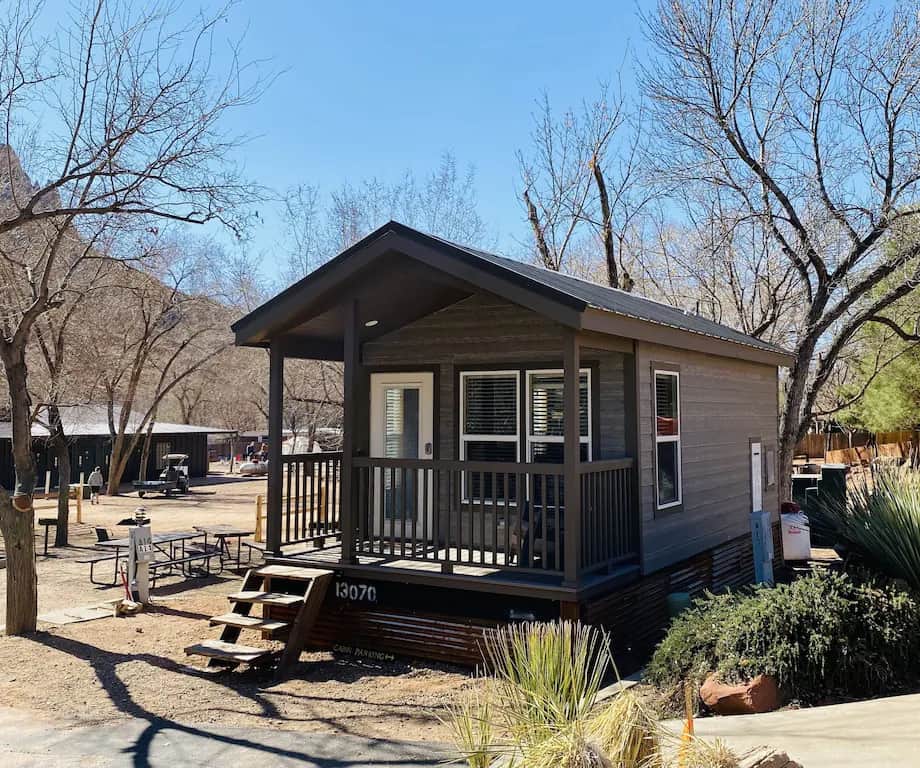 If you opt for day trips, the cabin is conveniently located near Bryce Canyon National park, Lake Powell Grand Canyon National Park, Capitol Reef National Park and many more. The good part of its location is the beautiful scenery that it offers.
The cabin is furnished with a queen size bed, two bunk beds, air conditioning, a heater, and a fully equipped kitchen with a refrigerator, coffee maker, microwave, and toaster. Located only half a mile from Park Entrance
Also, amenities available on site are free to access to WIFI, a swimming pool, free parking and access to the river nearby.
You may also enjoy a good and picturesque evening on the cabin porch with a provided fire ring where you can do marshmallow roasting with your group.
Sound Interesting? Check out the reviews and book now
Treetop #9 at East Zion Resort
The Treetop Houses at East Zion Resort will make your stay a unique and captivating experience. You will be treated to beautiful stunning views from all directions and amazon sunsets every day.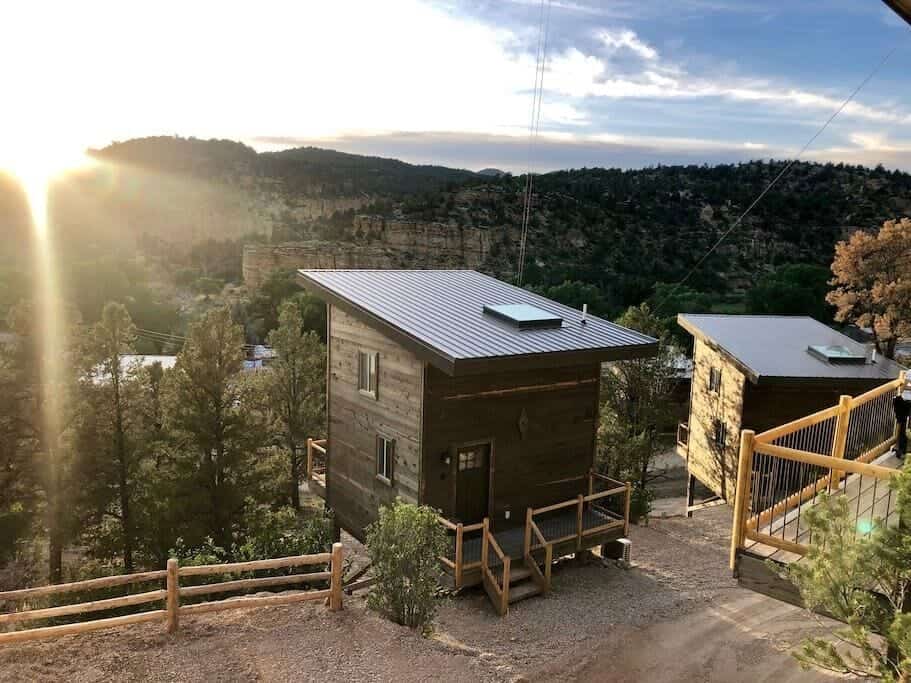 The house is beautifully crafted and decorated in a modern style with rustic finishes. The house is equipped with its own private bathroom, air conditioning, heating, kitchen, fire pit and a gas grill.
It also has a 1 king size bed and a sofa bed and access to free WIFI, pool, hot tub and a parking space.
The treehouse is located in elevated land with an incredible hillside view of the 12 acres of countryside land of Southern Utah.
Everything about your stay here is beyond your expectation from a seamless check in and check out, accommodating host, clean and private amenities.
Sound Interesting? Check out the reviews and book now
The Treehouse Summary
The Treehouse is amazing. If you are looking for something different and unique place to stay in Utah, then this place is definitely for you. The trunk of a 100 year old cottonwood tree was preserved and a treehouse was built around it creating a unique home to stay.
Another unique thing about this place is that you can access the treehouse thru a hobbit door that opens up to the inside of the trunk. A climbing wall was also carved out inside the trunk for an additional exciting adventure. An exterior staircase was also built for easier access.
The Treehouse has everything you need during your stay. It is equipped with a private bathroom with toiletries and a fully furnished kitchen with fridge, stove, coffee maker, toaster and a microwave. The loft area has a king size and a pull out sofa for other guests.
Also included are access to free WIFI and TV with Netflix and other streaming service sites.
The windows also treat you with the stunning views of the Sugar Knoll Plateau. You can stargaze at night right from your bed which is really exciting.
Gas grill and fire pit are available on the patio for marshmallow and hotdog roasting at night.
The Treehouse summary is located at Orderville, Utah in between Zion National Park and Bryce National Park.
Sound Interesting? Check out the reviews and book now
Upscale Yurt Near Zion and Bryce
This upscale Yurt is located in a secluded area in the mountains and 25 miles away from the Zion National Park. This family owned ranch is situated among the Pine and Quaking Aspen trees.
After spending a long day at the National Park, you can unwind and relax at the deck area where you will be treated with stunning views of cliffs and mountains. Enjoy the breeze of the evening air with the breathtaking views and the wildlife that lives in the area.
Amazingly, the yurt was built by the owners and the lumbers used are sourced from the ranch itself. It is powered by solar energy that gives comfort just like home.
The yurt is furnished with a master bedroom with a king bed, a family room with a queen bed, two size bed and two roll out beds in the loft area.
It is also equipped with a private bathroom, kitchen with utensils, Smart TV and a free WiFi access.
Air conditioning is not necessary during cool days. Screen door can be opened to let the heat escape during warmer days. A heater is available for cool nights.
Sound Interesting? Check out the reviews and book now
Sharing is Caring! Pin this article to save for later.
Recent Posts