Nevada Hot Springs: Are you looking to soak in the natural hot springs in Nevada? I've put together this list of hot springs near Las Vegas, hot springs near Reno, and natural hot springs Nevada.
I've even included a Nevada hot springs map to make it easy for you to plan your trip.
18 Spectacular Nevada Hot Springs
Spencer Hot Springs in Las Vegas
Spencer Hot Springs is one of the most reliable hot spring soaks in Nevada. The hot springs in Nevada near las vegas are some of the most popular.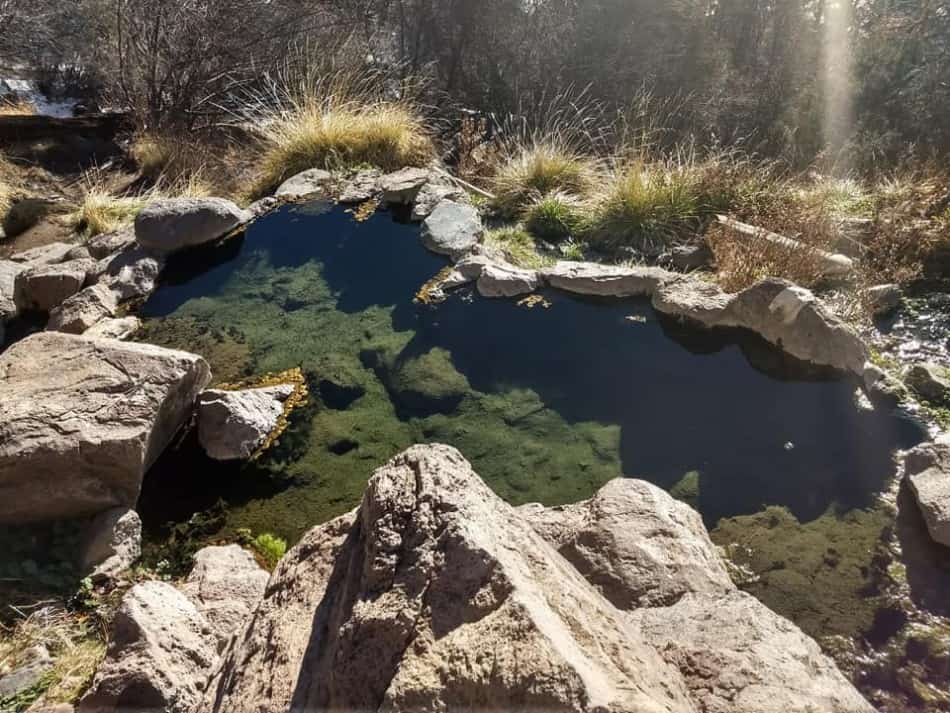 A lot of visitors and locals flock to Spencer Hot Springs just to experience a perfect getaway especially with its water temperature and panoramic views. A handful of tubs and small ponds filled with naturally hot water are some of the things that you can expect in the place. It is on a public land managed by the Bureau of Land Management, and it is open to all, with no admission fee.
If you can find an open spot, call dibs on it. But if not, you may have to wait for other bathers to emerge and head out. It has a first-come first-served basis and you may want to bring a book to read while soaking. The water temperature of the hot spring is consistently at or about 130 degrees Fahrenheit year-round, so it is particularly enjoyable in the winter season.
Kyle Hot Spring, Nevada
Kyle Hot Springs is known for its epic sunset views, two plastic soaking tubs that have gorgeous views of the mountains, and with average water temperatures in the low-90s. It is a great place for couples who wish to have a quiet time together. The place has also a historical vibe with the abandoned remnants of an old hot springs resort including an original concrete tub.
When it comes to accessibility, you can drive up to the hot springs However, you need to go on a dirty road especially during wet season and it does not require hiking.
Alkali Hot Springs, Nevada
The Alkali Hot Springs located in the remote part of Western Nevada. It features two rustic rock walled tubs where guests can soak and enjoy the warmth of the water at around 105 degrees. But don't worry because you can easily adjust the temperature of the two man-made rustic pools with pipes and hoses. And these hot springs won't give you that sulfur-like smell, but apparently they make have lithium.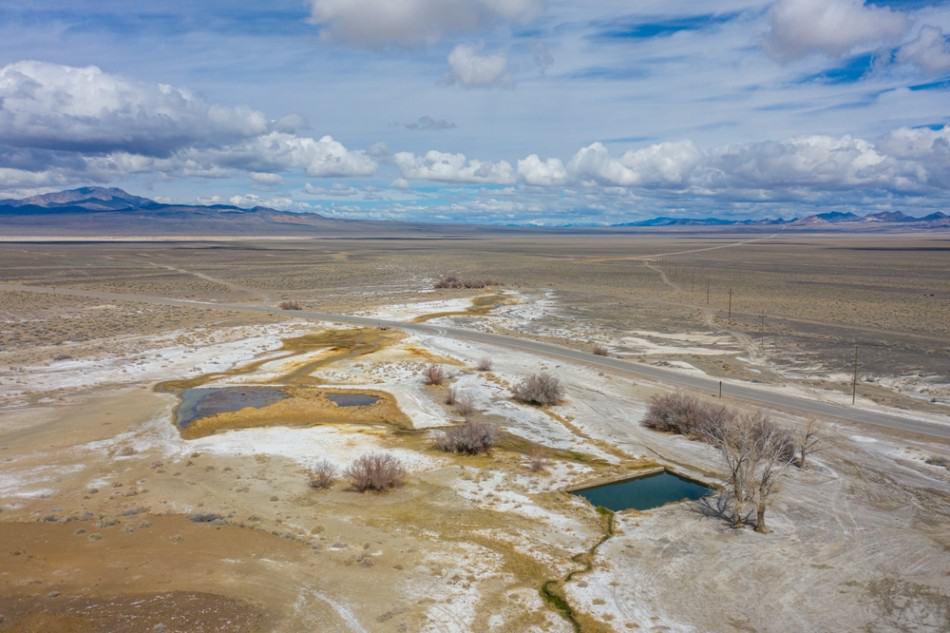 The smaller pools can fit 2-3 adults each and you may share it with other guests. There is a small concrete pad next to the deeper pool and some metal poles where you can place and hang your towel and other valuables. The larger pool, on the other hand, is located just below the hot springs and seems to be about 4-5 feet deep.
As a tip for travelers who wish to go to Alkali Hot Springs, you may want to fuel up first before making a drive out there and bring your own food and drinking water. You can also camp in the area and check out some wild horses drinking from the hot spring runoff.
Virgin Valley Warm Springs, NV
Located in the hidden high desert of Northern Nevada is the Virgin Valley Warm Springs where you can have an escape and be one with nature. The hot springs are located near the Oregon-Nevada Border at the northeastern edge of Sheldon National Wildlife Refuge that is well-known for some rare animals such as Mustang, American pronghorn, and even migratory birds.
Virgin Valley Warm Springs has a clear emerald pond which has a dimension of 30 by 35 feet across and 5 feet deep with the sandy-gravel bottom. The mineral water is transferred into the pool form other hot springs at a temperature of 90 degrees Fahrenheit. However, the temperature in the pod varies from 80 to 90 degrees, depending on the season, air temperature, and wind.
Visitors and tourists wont have a hard time dipping on the pond because there is a concrete pad and a step ladder built for added convenience. There is also an on-site bathhouse that can be used as a changing room. There are no garbage disposal services available in the area so clean as you go. Picnic tables are also available in the area where you can bond with your whole family.
Gold Strike Hot Springs
If you love hiking and enjoy soaking in hot springs at the same time, it is highly suggested that you take on the adventure of going to Gold Strike Hot Springs. The scenery en route to the hot spring will surely amaze you especially its enormous, red rock vertical canyon walls coupled with lush native plants and Desert Bighorn Sheep.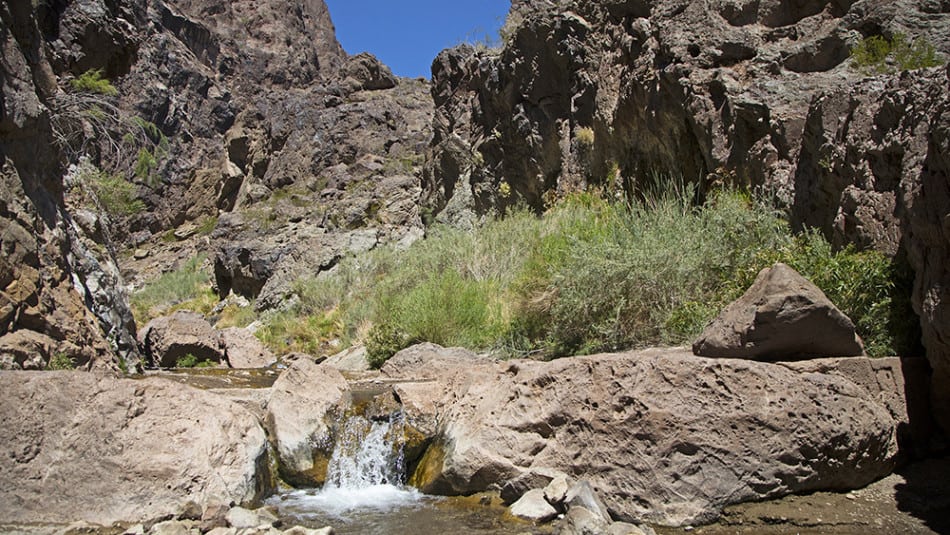 Even if you are not an experienced rock or mountain climber, don't worry because the trail is easy. The first 40 to 50 minutes of the trail are pretty easy, and you'll walk through a wash and weave through the canyons. You will also encounter your first set of ropes, the rock is slippery so watch your step, but it's definitely easy to get down. And from there, you will climb down two more ropes before you can take a glimpse of water. Don't forget to take a lot of pictures on your adventure going to the Gold Strike Hot Springs.
As a tip for first timers who wish to go there, Gold Strike Canyon is narrow and prone to flash floods, depending on the season. Make sure to bring lots of water and snacks on the hike. And it's impossible for you to conquer the hike with close toed shoes. Plan your trip ahead especially on what you are going to wear. The hike going back is more challenging and you will most likely be wet or will have wet feet so watch your step on the slippery boulders to avoid accidents.
Soldier Meadows Hot Springs
If you are looking for a hidden hot spring in Nevada where you can have a quick escape, The Soldier Meadows Hot Springs is your perfect getaway. This desert oasis is nestled in the massive desert and can be found in the Black Rock Desert of Gerlach, Nevada. It has a total of 6 hot springs where you and your friends can soak in.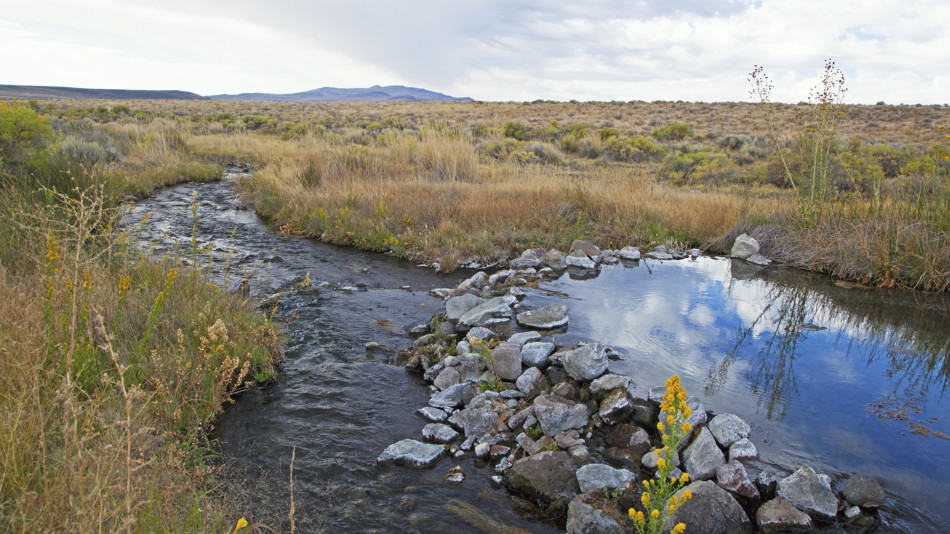 The hot springs are located on a property of a cattle ranch and there's a charge of $10 per person. And what is amazing is that these springs are available year-round. And if you want to bring pets with you, you may do so with the same fee of $10.
It is worth noting that it can get hot in the desert, so plan ahead your trip and bring lots of water and snacks. However, the lodge can provide botttomless cold or hot drinks with a $2 fee, in case you forget to bring drinks. You can also have a mini picnic inside the ranch.
The hot springs are a habitat to different aquatic life, so it is suggested that you don't use soaps and sunscreens when using the hot springs. But if you insist, you may bring eco-friendly sunscreen brands that do not contain harmful chemicals.
Trego Hot Springs
Nevada has a lot of hidden gems that is just waiting to be unfold and one of it is the isolated hot spring of Trego Hot Springs. Even if it is slightly remote, it is one of the easiest hot springs to locate. Just take route 49 and head for Sulphur, Nevada. About 30 miles up the rock strewn gravel washboard, you'll see Trego Crossing. And a short distance further, you will see the Trego Hot Spring.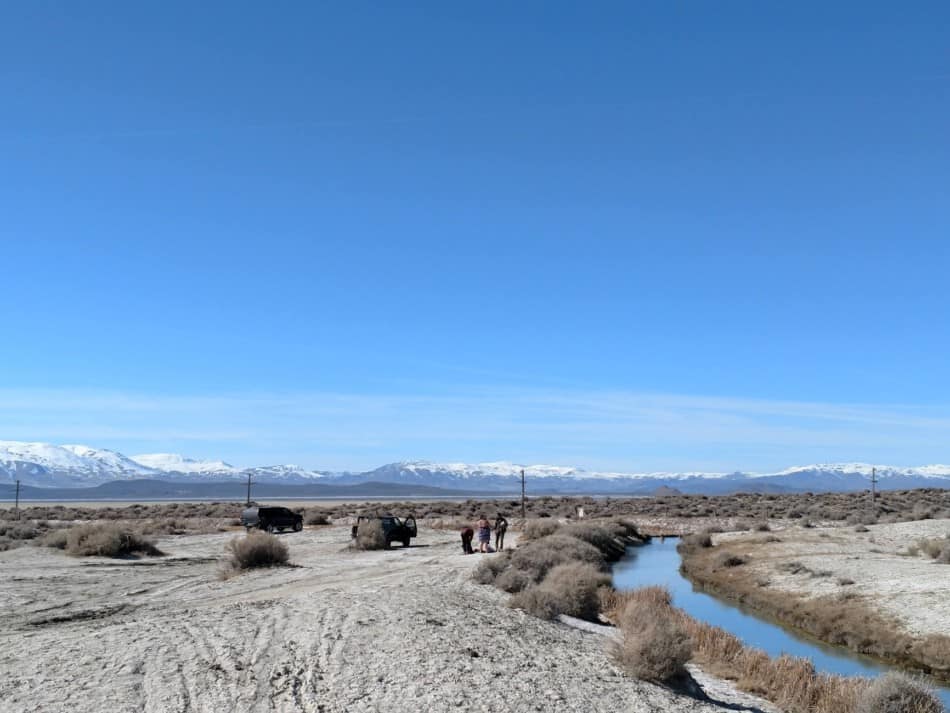 Trego Hot Springs is a man-made spring that has a long trench with a soft mud bottom located in the Black Rock Desert and the springs are adjacent to railroad tracks. Out of all the hot springs that you can find in the Northern part of Nevada, Trego Hot Springs is the warmest. But it is always a safe practice to check the temperature before entering the pool.
Camping is also allowed but it should be 300 feet or more from the hot spring and you can find a lot of nearby fire pits. Since the area is un-maintained, you should practice the principle of "clean as yo go" and pick any trash that you can find in the area to maintain its beauty.
Fish Lake Valley Hot Springs
Nestled in the quiet, agricultural community of Dyer, Fish Lake Valley Hot springs is one of the best soaks that you can find in Nevada. This country-managed hot spring is open to all and it features an impressive flow into a small concrete tub, complete with a stepladder and handrails.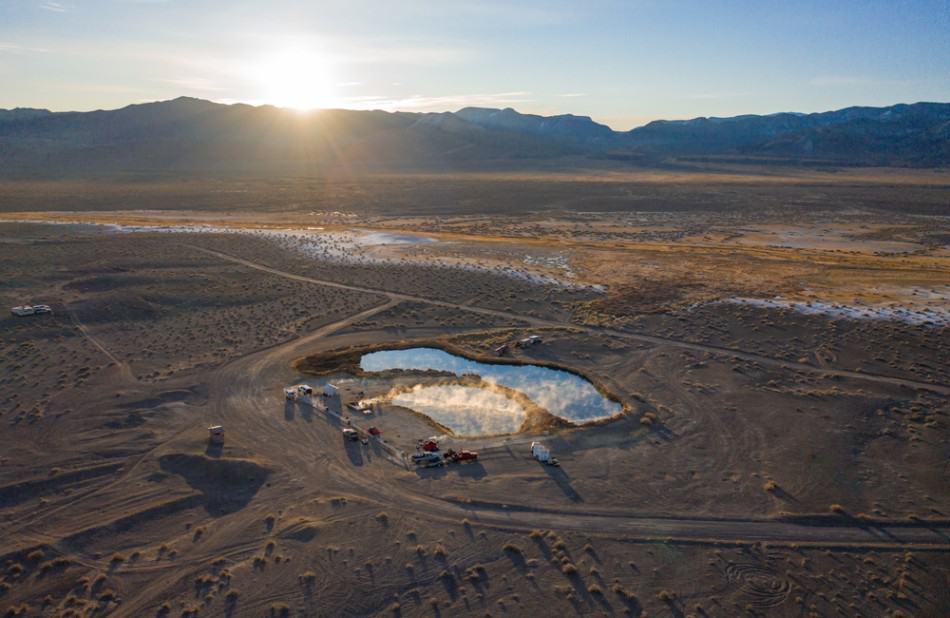 Fish Lake Hot Springs, or also known as Fish Lake Hot Well has an outdoor 4×6 cemented hot spring tub about 4 foot deep with a gravel bottom. Aside from boasting its hot spring, you can also camp, fish, and spot wildlife in the area. The camping ground is situated in the desert near the border between the state of Nevada and California. And as a camping etiquette, make sure not to camp directly on top of or within 100 feet of the hot spring.
Ruby Valley Hot Springs
Ruby Valley Hot Springs is considered as a hot spring gem in Nevada because of its natural pristine hot springs. You can find various pools and runoffs in a mash area coupled with different temperatures depending on your mood There is a deep large hot spring pool that averages 99 degrees in temperature.
There are various hot spring pools in the area. The largest hot spring pool is about 30 feet deep, has an emerald color, and has a temperature of about 100 degrees. You can also find smaller pools that vary in temperature.
When it comes to accessibility, Ruby Valley Hot Springs is an off road adventure so beware of the road conditions before going there, especially when it's wet season. This hot spring is for off road vehicles and you will need to be able to walk to the springs in a marsh area.
And good news for fur-parents out there, Ruby Valley is a pet friendly place, which means you can bring your furbabies with you but they need to be on a leash.
Twelve-Mile (Bishop Creek) Hot Springs
Twelve-Mile, or Bishop Creek Hot Springs is one of the largest outdoor hot springs in Nevada. It is named Twelve- Mile because it is literally 12 miles north of Wells, Nevada. The hot springs is an ancient long man-made concrete pool with a dimension of 40 feet long and 3 feet deep, and the bottom is gravel.
If you are fond of hiking, this is a great place to hike. The actual hike will take about an hour. But you can also ride a bike from the parking area to the hot springs. Accessibility is also good for driving. The road is concrete, although a little rough pavement with lots of potholes.
This place is a unique oasis if you want to spend far away from civilization. You will be amazed by the clear and odorless water of the Bishop Creek Hot Springs. You can also bring your furbabies with you. However, dogs are not allowed on the hot spring itself.
Paradise Valley Hot Springs
You can find a lot of amazing and jaw dropping hot springs in Nevada and Paradise Valley Hot Springs is no exception. It is nestled a few miles off of Route 95, near the historical town Paradise Valley in the north central part of the state. It belongs to a private property but the owner is generous enough to permit visitors to relax in the area as long as they respect the hot springs property by leaving no trace.
Although it is an undeveloped hot spring, a lot of tourists, locals included, visit this place because it is a tranquil isolated place, which is a perfect spot if you want to relax and enjoy a beautiful area on the bank of the Little Humboldt River. The geothermal water flows along a channel and is piped into a plastic commercial trough, and the temperature is about 10 degrees that can be adjustable.
Dyke Hot Springs
You can find a lot of hot springs in Nevada but nothing beats Dyke Hot Springs that has a perfect view of the beautiful landscape and the low sky of the Nevada high desert. Although this destination is not so popular among tourists, a trip in this area is always worth it.
Dye Hot Springs is situated at the northeastern tip of the Black Rock Desert in a small isolated valley at the foot of the Pine Forest Ridge. In this area, you will see a collection of a few springs coming out of the ground at extremely hot temperatures.
Hot mineral water comes out of the hill and flows down forming a stream that runs into a man-made pool pond filling it up. And finally, you can soak and relax in the mineral water while reading a book and have a majestic view of nature.
When it comes to accessibility, any type of cars can go to the hot springs during dry weather conditions. And overnight camping is not allowed in the area.
Rogers and Blue Point Hot Springs
Rogers Spring is a warm spring situated near Lake Mead off of Northshore Road. You will be astonished at how much this spring pumps water per minute. It pumps approximately 1,000 gallons per minute and the water temperature differs depending on the season, but it has an average of about 85 degrees.
A lot of travelers who already experience the beauty of this spring suggest that the best time to soak here is in the summer. Kids will also love it here because they see small fishes in the pond. Furparents can also bring their dogs but they must be on a leash.
The National Park Service gives a huge importance to these springs because of its ecological and recreational standpoint, visitors and guests are advised to observe cleanliness in the area.
Black Rock Hot Springs
Black Rock Desert in Nevada is known for its stunning landscapes, so it is no surprise that Black Rock Hot Springs is also a lovely and favorite destination for both tourists and locals. Black Rock Hot Springs is one of the best natural hot springs that you can find in Nevada. It is a remote and free access geothermal desert oasis.
Since the area is quite remote, you need to travel across the Playa in order to access Black Rock Hot Springs. The area is commonly dry especially it is baked in extremely high desert temperatures, but is is completely impassible when wet. So if the conditions are dry and it passable, look for the pointed black rock formation on the horizon.
And from there, you will find a large blue pool of natural hot spring water surrounded by reeds and wetlands. However, as a caution, make sure to test the temperature of the water first as this may cause burns on your skin. The larger, more shallow pool has very hot temperatures.
Bailey's Hot Springs
Bailey's Hot Springs is a good place to start if you wanna explore Nevada's numerous list of beautiful hot springs. Situated just five miles outside of Beatty, visitors can already enjoy an enjoyable and relaxing soak at Bailey's Hot Springs' crystal clear waters.
Bailey's features four rustic and ancient cemented walled bathhouses that vary in temperature. Visitors can choose between 102, 104, 106, or 108 degrees, depending on your preference.
What makes Bailey's Hot Springs unique from other hot springs in Nevada is that it is situated in a historical location, and there are 14 RV spaces and hookups on site. It is no surprise that a lot of campers and tourists love this place because it is a perfect road trip soak. It has also a picnic table area where you can relax and enjoy the southern Nevada desertscapes.
Bog Hot Springs
If you are driving to Sheldon Wildlife Refuge and you have no idea what to do or what attractions to see, it is suggested that you experience the magnificent Bog Hot Springs. It is situated between the Pueblo Mountains and Steen Mountain.
Unlike many hot springs that you can see in Nevada, Bog Hot Springs are a stream flowing within a canal into an irrigation reservoir. It is also an undeveloped natural hot spring ditch. But the hot spring itself is actually a creek that has been damn in a series of pools. The average temperature of the lower pools is 105 degrees so better check the temperature first before soaking in.
One thing that sets Bog Hot Springs from some if not all, hot springs in Nevada is that it is difficult to go there. As a tip, make sure to pan your trip ahead.
Diana's Punchbowl
Diana's Punch Bowl is a giant hidden hot spring in Nevada. Although this hidden hot spring is too hot to soak in, still, it is worthy to catch a glimpse of this fascinating gem hidden in a remote section of Nevada's Monitor Valley.
The hot spring has a vase-shaped depression about 50 feet across and the dome-like hill is made of travertine and about 500 feet in diameter. Be catious enough once you go to the top and approached the edges of the 50 foot wide pit, especially when you are bringing kids with you. What you will witness down the pit is a nearly vertical limestone with a steaming pool of water at the bottom. The water has a dark blue color. The temperature could reach up to 200 degrees Fahrenheit.
Steamboat Hot Springs
Steambot Hot Springs is considered as the longest standing therapeutic hot springs in Nevada. It is a natural spring with geothermal mineral water that is believe to contain calcium carbonate, magnesium, sodium sulfate, and impregnated with carbon dioxide. It contains all good stuff and it is said to contribute to your overall wellness.
Now, aside from is therapeutic mineral water, Steamboat Hot Springs offer a lot more. Here, visitors can unwind and de-stress. It is actually located in a resort and it is not just your typical resort because the staff are expertly trained and they offer variety of classes and workshops such as Yoga, Tai Chi, Breathe Practice, and more.
Smith Creek Valley Hot Springs
If you are looking for one of the best hot spring in Nevada, you can never go wrong with Smith Creek Valley Hot Springs. It is located on a dry desert lake bed in the middle of northern Nevada. It has two troughs that get filled from pipes attached to the very source. The tricky part here is that the road going en route to Smith Creek can be confusing due to some unmarked dirt roads. But if you are game for some rustic adventures in Nevada, then this is a great place to be.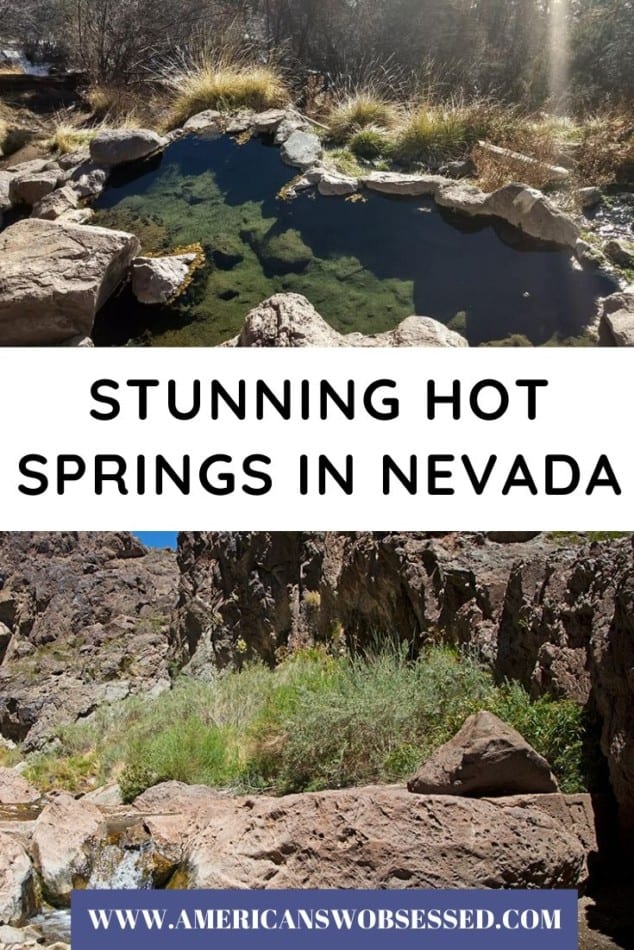 Continue Reading More on my Website:
Nevada National Parks: The Most Beautiful National Parks in Nevada
50+ American Southwest Bucket List Places
19 Amazing Day Trips from Vegas
National Parks near Las Vegas, Nevada
Must do in Vegas for first timers
Recent Posts