15 National Parks close to Las Vegas
If you are looking to leave the strip for a day and get out and see some National Parks, you are in the right place.  I've put together 15 different National Parks near Las Vegas.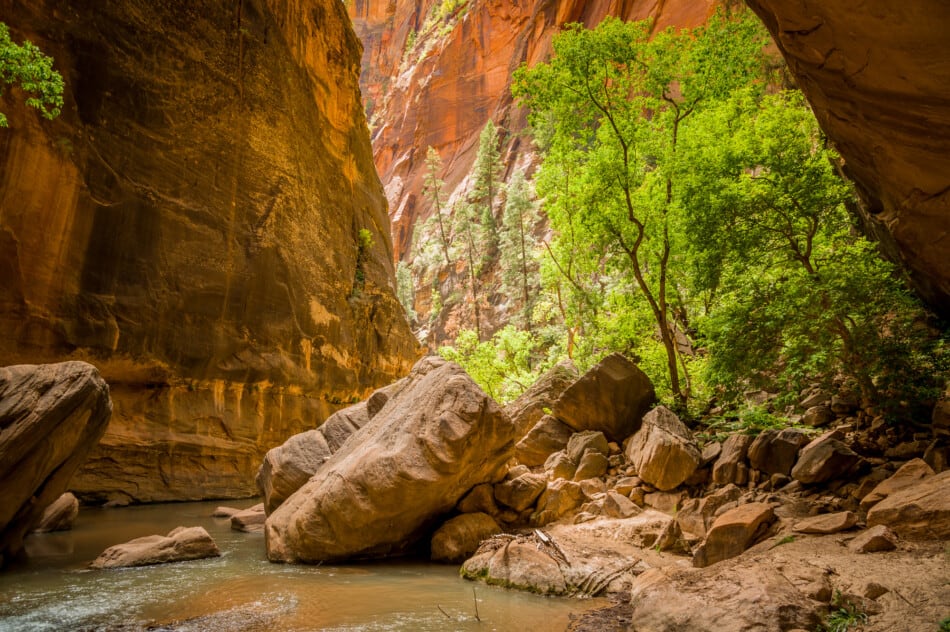 If you are looking to visit the Southwest National Parks, Nevada is a great place to base yourself to get there. Visiting the National Parks in Las Vegas is great as there are so many national parks that are close. Some of the best places to visit in the Southwest are the National Parks near Vegas.

Tips for Renting a car for your road trip
It's awfully hard to get to Provo without a car. The closest airport is Salt Lake City and you can use  Discover Cars to rent a car for your travels. You'll be able to pick up a car at any airport or in your hometown.
Check availability and get a quote for a rental car for your trip here.
Read More about what to do in Vegas your first time
15 National Parks near Las Vegas
Zion National Park – the closest National Park near Las Vegas
The park is Utah's first national park, having been established in 1919. There is a long history of agriculture located around the park that still remains to be of importance there today.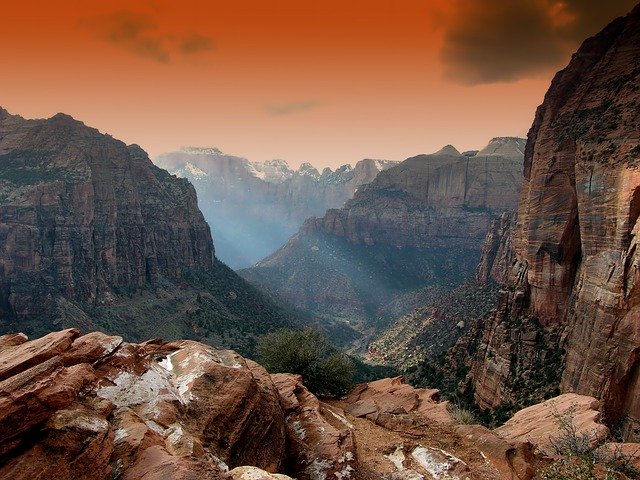 Zion National Park is located just outside of the southern Utah city; Springdale.  How far is Zion National Park from Las Vegas? ZIon is approximately a 3 hour drive northeast of Las Vegas. 
Along with the history and breath-taking scenery, Zion NP is also home to great hiking trails, bike trails, many annual events as well as countless activities nearby. Due to the park being a reasonable drive from Las Vegas it would make for a great day trip for those wanting to experience beautiful scenery, rich agriculture and many fun family-friendly activities such as hiking trails, art galleries, farmers markets and shopping centers. 
Tour guides are also located within the park for those wanting to learn more about the history or those simply wanting a guided tour.
Check out my posts on Zion in Winter, The Best Hikes in Zion, Best Airbnbs near Zion, Where to Stay near Zion National Park.

Arches National Park
Arches National Park located in northern Utah can be anywhere from 7-10 hours driving from Las Vegas, depending on the chosen route.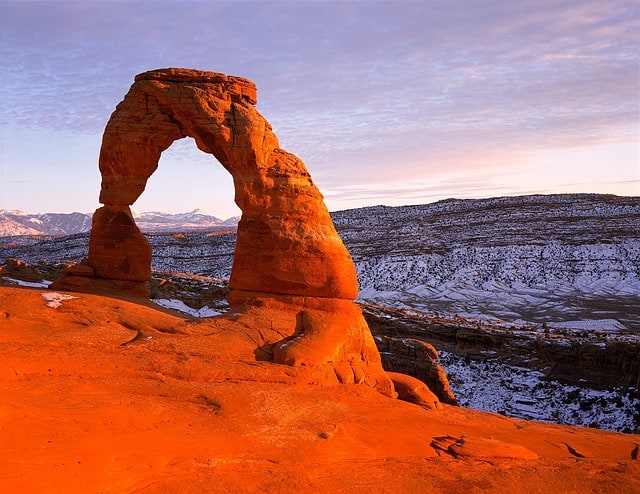 Although far, Arches NP is well worth the long trek due to the beautiful natural wonders featured throughout the park. over the last few decades, the landscapes at Arches NP have changed due to weather conditions and natural occurrences. 
Some of these changes have been included new mammoth rocks and arches forming while some changes include the destruction of these formations. Along with the beautiful and unique landscapes, Arches NP is home to an abundance of wildlife and plant species. Due to the ever changing scenery, it is recommended by many that you visit the park as it may not look the same for very long.

Check out my post on the Best Hikes in Arches National Park, Best Things to do in Arches, and how to spend One Perfect Day in Arches.
Bryce Canyon National Park
Bryce Canyon National Park located in southern Utah is an approximate 4.5hour drive from Las Vegas. Contrary to the name, Bryce Canyon NP is not home to the canyon(s) but rather a series of natural wonders called hoodoos.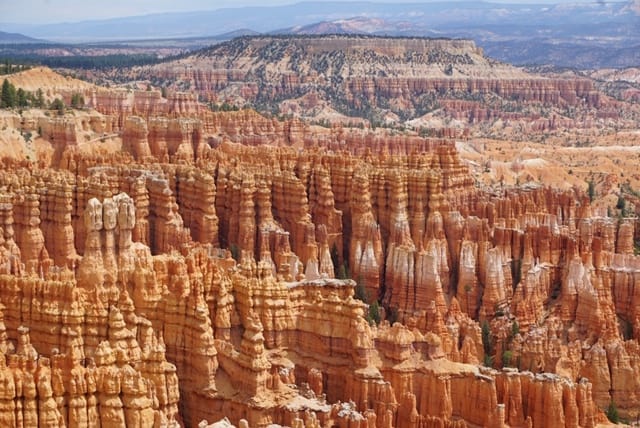 The hoodoos at Bryce Canyon NP are a series of irregularly shaped rocks protruding from the ground that has been eroded over time. Along with the unique landscapes and wonderful viewpoints, there are also many walking/hiking trails, astronomy programs, information centers and tour guides as well as evening hikes for those clear sky nights, specifically when a full moon is out.
To add to the experience, Bryce Canyon NP also hosts two campground sites for those wanting to expand their trip longer than a single day. Due to the more remote location (in comparison to other NP), Bryce Canyon NP doesn't receive as many annual visitors, so it makes for a great choice for those wanting to escape and feel the serenity and peace of nature away from big crowds.

Read more about the Best Hikes in Bryce Canyon National Park
Capitol Reef National Park
Capitol Reef National Park is located in south-central Utah and takes about 6-hours to travel by car from Las Vegas. Capitol Reef is filled with many hidden treasures through the cliffs, domes, canyons and bridges.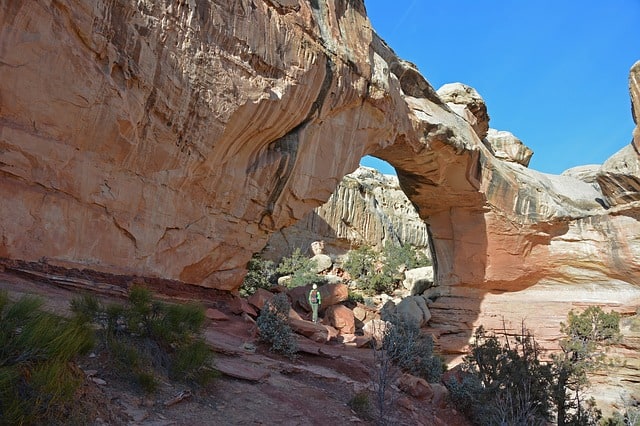 The National Park is located right on the Waterpocket fold – a geological monocline of 100miles, of which the earth's structure is dropped slightly. Capitol Reef NP is open year-round to visitors and is a popular spot for tourism due to the uniqueness of the landscapes and location.
The park was established as a national park in the early 1970s to protect and preserve the desert land, more specifically the waterpocket field that the NP is located on.
There are a series of walking/hiking trails located within the park for those wanting to experience the park by foot, however, there are also scenic driving routes for those wanting to experience the park without leaving their car.

Check out the Best Hikes in Capitol Reef National Park
Grand Canyon National Park
Grand Canyon is located in Northern Arizona, anywhere from a 4-5-hour drive from Las Vegas, depending on what rim you choose to visit. The Grand Canyon NP is arguably one of the most well-known and most visited national parks in the country and it's not hard to understand why.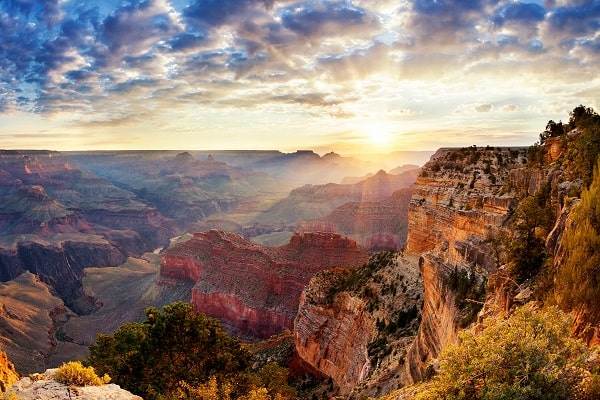 If you are short on time, you can consider taking a helicopter ride to the canyon. There are several helicopter tours from Las Vegas to choose from.
The main attraction in the park is the large canyon stretching over 270 miles and showcasing some amazing geological and natural views. Millions of people travel to the Grand Canyon NP each year to breathe in the natural beauty and experience the park for themselves. There are a number of walking/hiking trails, viewpoints and driving scenic routes scattered throughout the park on both the north rim and south rim, ensuring that there is something for everyone. 

You can read my post on North Rim vs South Rim of the Grand Canyon
Joshua Tree National Park
Joshua Tree National Park located in southern California is approximately a 3-4-hour drive from Las Vegas. The park is open year-round and due to the central location to many big cities such as Las Vegas, Los Angeles and Phoenix; Joshua Tree National Park is a hot spot for tourists.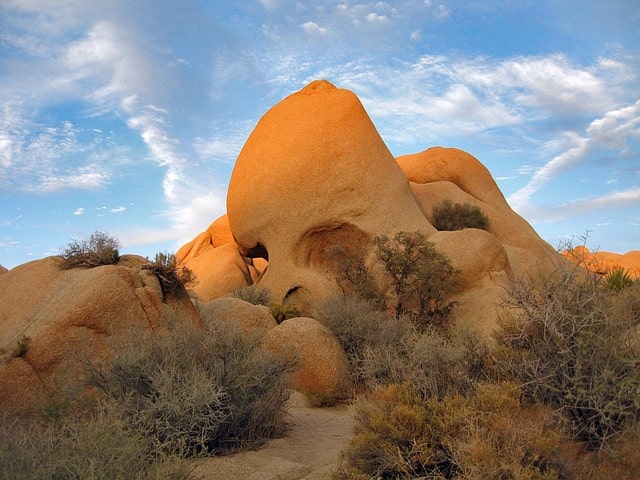 The most well-known attraction to the park is the Joshua Tree – the name sake for the National Park. The tree straddles the two ecosystems that the NP sits on and has received great attention in recent years. There are many activities throughout the park including many hiking and scenery trails, campgrounds, rock-climbing as well as campgrounds for those wanting an extended overnight experience.
There are also multiple visitor centers, all offering exhibits, book and gift stores, picnic and park areas and all the information you will need of the park.

Check out the Best Hikes in Joshua Tree National Park
Yosemite National Park
Yosemite National Park located in Northern California is an approximate 8-10-hour drive from Las Vegas. In the 1,200 miles of nature of Yosemite there are numerous natural beauties including stunning waterfalls, flower fields, clear water lakes and the unique to California, Sequoia tree.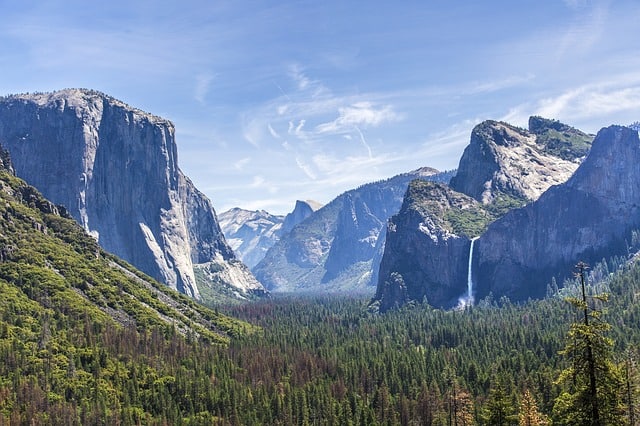 Yosemite NP is best known for its beautiful and breath-taking nature and amazing landscapes, so no wonder this park brings in millions of annual visitors. Due to the natural beauty, Yosemite NP has been declared as a UNESCO World Heritage Site on the grounds of it being a natural significance.
There are many things to do at Yosemite NP, including the walking trails through the sequoias, the hiking trails leading to beautiful viewpoints, the stunning waterfalls and flower fields, be able to see the wide range of incredible animal life, such as seeing black bears and the chance to camp overnight to extend your visit even longer.

Read more about Where to see the Giant Redwoods
Death Valley National Park
Death Valley National Park located in southeast California is approximately a 2-hour drive from Las Vegas. This is one of the largest national parks in the United States with over 3 million acres of land and wilderness.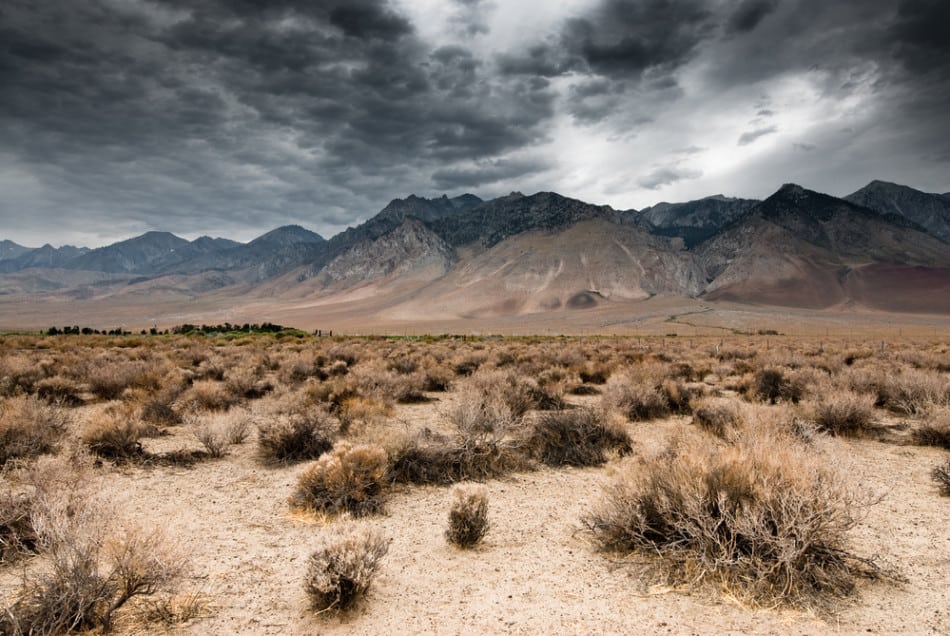 Along with being one of the biggest, Death Valley NP is also the hottest and driest location in America. although, contrary to the name, there is a big diversity of wildlife that thrive and live in these conditions.
On a rare occasion, the NP sees rain storms which is accompanied by fields of wildflowers that grow adding to the unique charm of this desert. One very popular activity at Death Valley NP is stargazing, due to the park having one of the darkest night skies in America.
Riding through the park in a four-wheel drive, motorcycle or dirt-bike is also a popular activity within the park and is permitted. Although, mountain biking is only permitted on established roads within the park.

Great Basin National Park, Nevada
Great Basin National Parks in Nevada, is approximately a 5-hour drive from Las Vegas.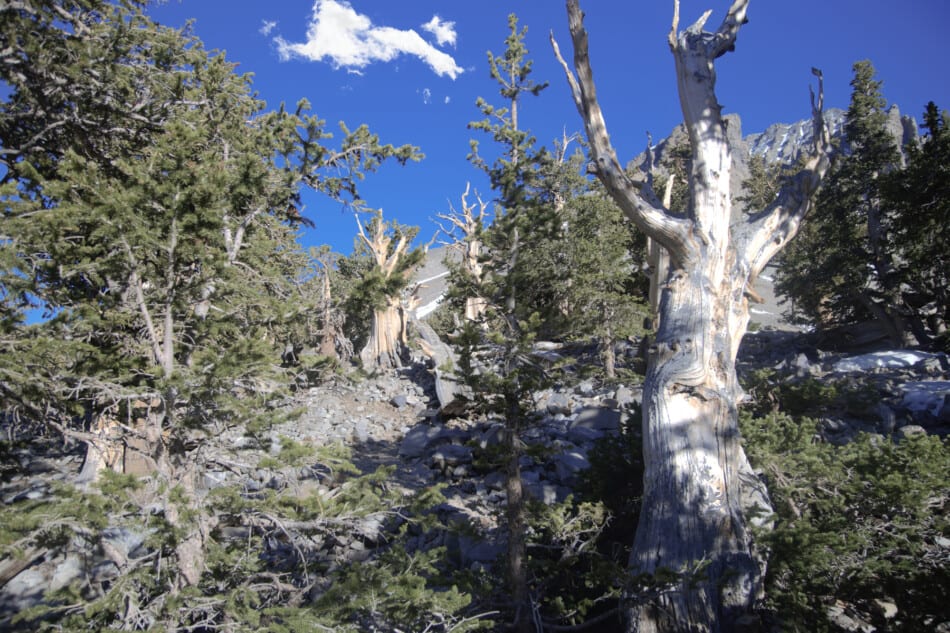 Great Basin NP is a place of great extremes, with great rugged mountains to underground caves and tunnels. Great Basin NP stands out from many other national parks in many ways, but specifically the amazing opportunities for star gazing. Due to the minimal light pollution in the area, the park is a perfect location for astronomers and those wanting to gaze up into the beautiful night sky.
There are also many beautiful nature spots around the park and fabulous trails to really take in the serenity and breath-taking views and surroundings. Another great attraction to the park is the Lehman caves, which have been in formation for an estimated 2-5 million years! There is rich history, gorgeous landscapes and many activities scattered through the park making for a great and unforgettable experience.

Canyonlands National Park
Canyonlands National Park is located near Arches National Park. You can visit both in one day if you would like. Canyonlands is about 30 miles from Arches.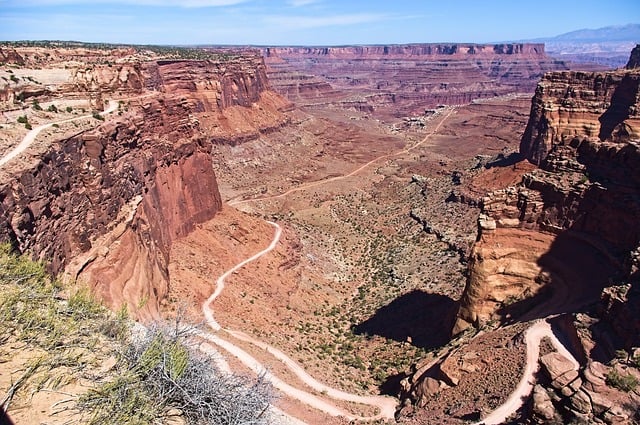 One of the top things to do there is to visit Mesa Arch. This Arch is the most photographed place in the park. It is located in the "Island in the Sky" portion of the park which is the most visited section as well.
Canyonlands is located about 8 hours from Las Vegas

Check out my post on the Best Hikes in Canyonlands.
Monument Valley and Four Corners
Technically, Monument Valley is not a National Park as it is located on Navajo land but if you are going to visit Four Corners National Monument it is worth stopping at Monument Valley along the way.
This is another geology site where towers of red rock jut up from the ground and after years of wind erosion, they create these different shapes in the rocks.  It is a 30 miles loop through Monument Valley
Four Corners can easily be visited while exploring the Monument Valley area, or as part of a Grand Circle trip including Arches, Canyonlands, Mesa Verde and other national parks. This point marks where the four corners of Arizona, New Mexico, Utah and Colorado meet.

Don't Forget About Travel Insurance!
Before you leave for your trip make sure you have a valid Travel Insurance Policy because accidents happen on the road. I have used World Nomads when I travel since 2015 when I went to Africa and I love them.
Getting coverage is important as you never know what will happen and need assistance when you are more than a hundred miles from home in case of an accident, sickness, theft, etc.
Get a travel insurance quote for your trip here.
Conclusion: The Best National Parks near Las Vegas
I hope you enjoyed this list of the Best National Parks near Las Vegas. There are so many beautiful places so close to Vegas its time to get off the strip and explore!
Recent Posts