Sedona with Kids: Thinking of planning a family vacation to Sedona and wondering what to do there? There is so much to do in Sedona with Kids of all ages.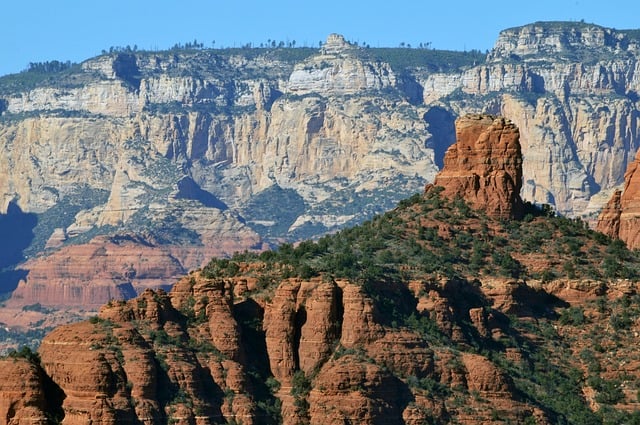 There are a lot of great hikes to do in Sedona with Kids but there are also a ton of kid friendly things to do if you don't want to hike. Check out the fun things to do in Sedona with kids.
Thank you for supporting this website written by an American. This post may contain affiliate links. This means I earn a small commission on these links at no extra cost to you.
Tips for Renting a car for Sedona
It's awfully hard to get to Sedona without a car. The closest airport is Phoenix and you can use Discover Cars to rent a car for your travels. You'll be able to pick up a car at any airport or in your hometown.
Check availability and get a quote for a rental car for your trip here.
Where to stay in Sedona
Sedona makes for a great weekend escape. Fresh air, beautiful scenery and being in nature does a world of good for the soul. I recommend staying a few nights and even treating yourself with a cabin with a spa pool to relax at night.
There are lots of fantastic Airbnbs in Sedona. There are many beautiful places to stay and this allows you to spend most of your time experiencing Sedona. There are a lot of great places to stay with friends.
I stayed at the Amara Resort & Spa This is one of the best Sedona Hotels and it has amazing amenities and is close to everything.
Tips for Visiting Sedona:
You'll want to spend a few days in Sedona. There is so much to see and do there. Sedona gets very busy on the weekend so it is best to go during the week. It also gets very hot in the summer.
Red Rock Pass – you'll need a Red Rock Pass to park at the trailheads. It costs $5 per day or a weekly pass is $15
Plenty of water – I have a life straw water bottle that filters water. I also carry a gallon of water in the car so we can refill our bottles when we go back to the car.
Your camera – get ready for some epic views! You'll want to bring your camera. I like to travel with a budget action camera but you can also check out my list of the best cameras under $300 with even a few under $200.
Sunscreen – I always carry sunscreen so I can reapply but as I mentioned before most of these hikes do not have any shade so it is important to wear sunscreen and a hat.
Hiking Sandals – I like to wear hiking sandals when I hike. I wrote about choosing between Chacos vs Tevas which are two of the best hiking sandals.
21 Best Things to do in Sedona with Kids
Devil's Bridge Trailhead
Despite its sinister reputation, Sedona's Devil's Bridge Trailhead is a fantastic hiking trail that is fairly easy.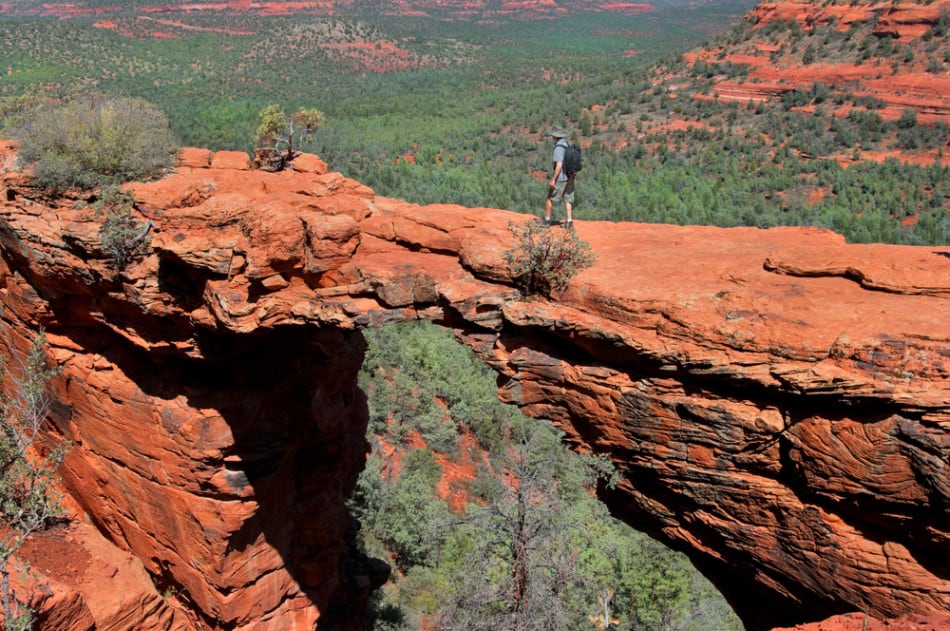 The hiking track is relatively simple, and the surrounding red rocks add to the beauty of the landscape. Here, it's customary for hikers to take photos and post them on the red granite arch as a reminder of their climb.
Depending on your fitness level and pace, the hike can take anywhere from one to three hours. Because the scenery is so breathtaking, it's easy to become distracted.
To go on a hike, you must buy a day pass for $5; if you intend to return for a week straight, you should choose the weekly pass, which costs $15. You can avoid paying for this pass if you have an America the Beautiful Pass.
If you have a 4X4, you may drive straight to the Devil's Bridge trailhead and walk the last two miles. If you don't have a 4X4, you'll need to drive to the dry creek road lot and then walk the 4.6 miles of dirt road until you reach the trailhead.
A mile-long trail could be taken to reach the Devil's Bridge trail; alternatively, you could drive to the Mescal Trailhead on Long Canyon Road. As you take in the stunning desert scenery, be aware of bikes as you travel along the bike trail.
You can also check out my post on easy hikes in Sedona for more options.
Airport Mesa
The hiking trail on Airport Mesa offers stunning views of Arizona. It's a popular location for photography and gives a stunning sunset vista over the red rocks.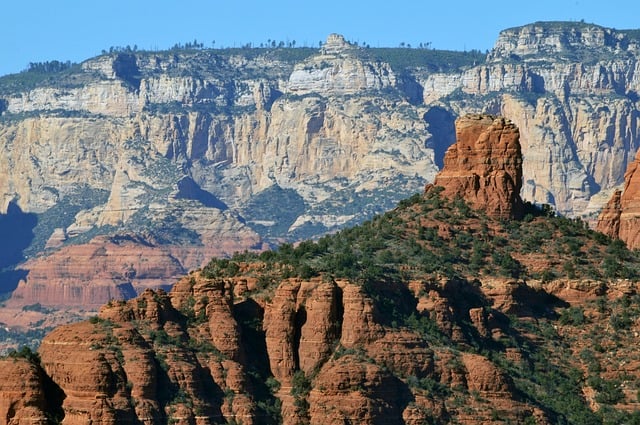 From here, you can also enjoy some fantastic views of Uptown Sedona. Although the hike is not particularly challenging, you will have to navigate the area's abundance of red rocks, many of which are uneven underfoot.
You can navigate the trail around Airport Mesa's summit. It is a 3.5-mile round trip that takes a couple of hours to complete. One of the most popular places to come in the Sedona area is this trail, particularly for photographers who want to catch sunsets.
Spend some time in reflection while admiring the mesmerizing sunsets over the red cliffs. Additionally, this place is revered as a mystical vortex spot. The Sedona Chapel of the Holy Cross contains several vortex sites. Many visitors travel the Airport Mesa trail to experience the unique energy that the vortex emits.
You may maximize your time there by joining a trip like the Scenic Sedona Tour. You pay a fee, but you also get hotel pickup and drop-off service as well as a knowledgeable guide through Sedona.
The tour is conducted in a van, so you can easily bring small children, and you get to see some of Sedona's most well-known attractions.
You can check out my post on the Best Hiking Trails in Sedona
Chapel of the Holy Cross
This building is not just an engineering feat, but it is also undoubtedly one of the most beautiful cathedrals on Earth.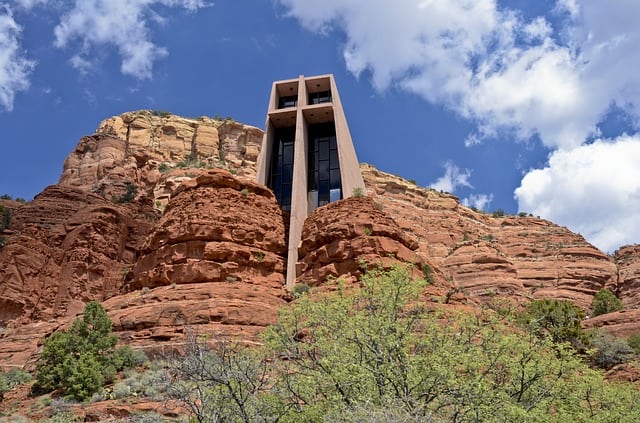 The chapel was constructed over 18 months on land owned by the Coconino National Forest. It took three years to build and a magnificent $300,000; it was finished in 1956. It is located in Sedona on top of a few red rocks.
The primary stained-glass windows, which have breathtaking views of Sedona and the Verde Valley, are held together inside by a huge cross. Due to the inconvenient fact that most of the parking spots are very far from the church itself, it is important to arrive early when coming with your family to avoid long hikes.
Going early will allow you time to take in the scenery in peace before crowds of people arrive because the site gets crowded.
Sedona Airport Scenic Lookout
The Sedona Airport Scenic Lookout is a fantastic vantage point, and if you're coming by plane, it's only outside the airport!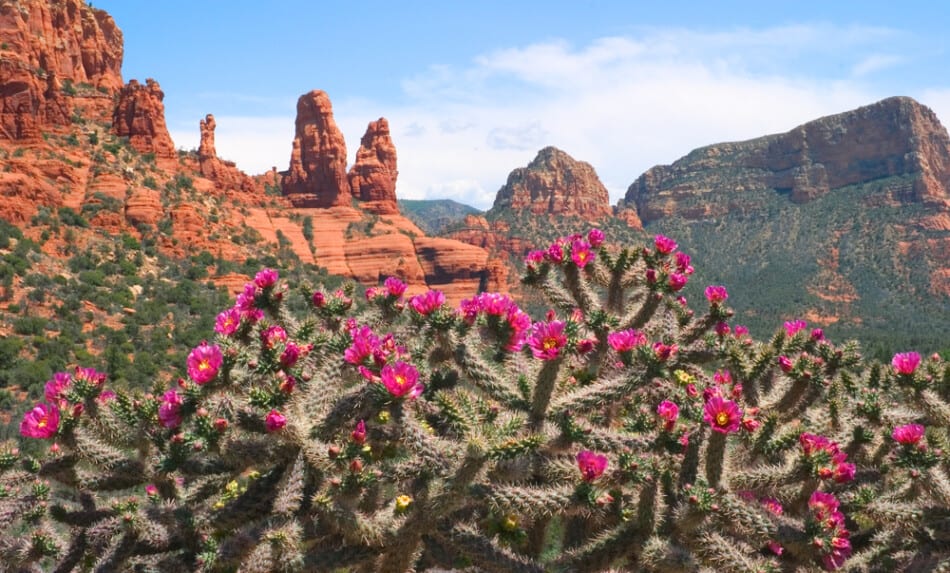 This part of West Sedona offers stunning views and red rock formations. The overlook is located at the end of the airport road, and there is a big lot where you can simply park your car for $3.
Although there are some limits in place, you should check, pets are welcome here. Take the approximately 3.5-mile Sedona Airport Loop Trail if you're looking for challenging hiking trails. Strong walkers can complete it in about 2 hours despite its moderate difficulty.
The overlook is a wonderful place for families with young children to take in the breathtaking views without having to take them on all of the hiking trails. Without having to do strenuous hikes, there are several locations in the vicinity where you may take in the scenery.
One of the best views in every direction may be found at the neighboring Chapel of the Holy Cross, a piece of world architecture set between two red rocks. As you enjoy your trip, Oak Creek Canyon Scenic Drive will bring the scenery to you.
Amitabha Stupa and Peace Park
At the base of Thunder Mountain in Sedona, overlooking Sedona, are the Amitabha Stupa and Peace Park. It is situated on a 14-acre plot of land that serves as a Buddhist center for spiritual regeneration.
People come to this holy place known as the renewal ground when they are going through difficult times and need a spiritual check-up or simply to take in the breathtaking vistas and beautiful scenery as they connect with their higher power.
The park features two stupas, magnificent Shakyamuni Buddha statues made of wood, a Native American medicine wheel, and quiet areas for meditation.
The Amitabha Stupa and Peace Park are open every day of the year from early dawn until late at night, and admission is completely free. To help maintain this magnificent location at the base of Thunder Mountain, you can donate.
Midgley Bridge Picnic Area
In Sedona, close to the bridge across Oak Creek Canyon, is where you'll find the Midgley Bridge picnic area.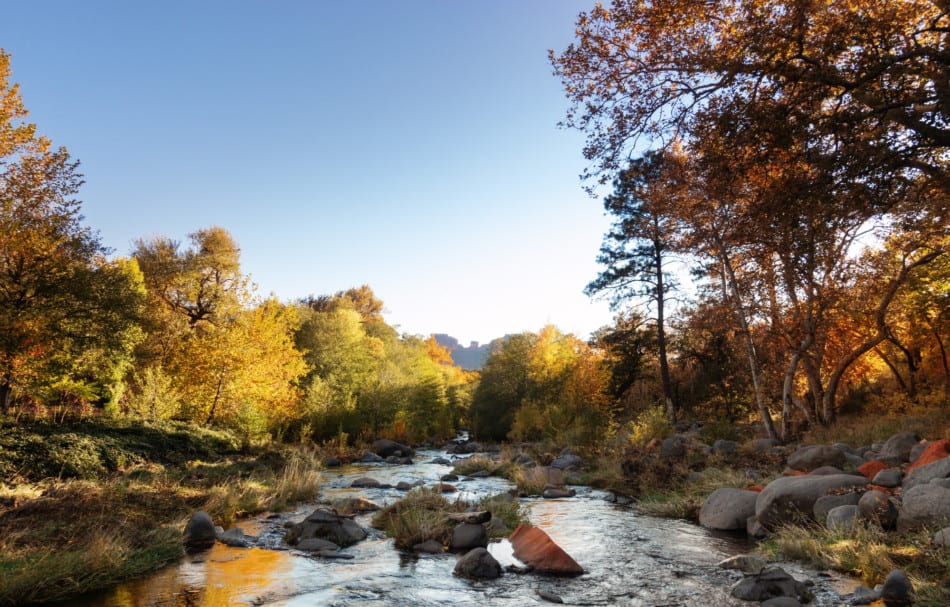 A parking lot east of Midgley Bridge serves as the trailhead for trails like Wilson Mountain Trail, which is 5.6 miles roundtrip and has a 2400-foot elevation, Huckaby Trail, which is 2.6 miles long and is a gentle trail, Jim Thompson Trail, which is 3 miles long and has a 100-foot cliff, and Wilson Canyon Trail (2.2 miles, 500-foot elevation).
Given that it starts directly beneath the Midgley Bridge, the trailhead is easy to locate. It will bring you to all the hiking trails if you simply follow it down.
Due to the attractiveness of the area's pristine views, red rock formations, and lovely cooling spot by the river, there is a lot of foot traffic at the location. It's an excellent destination for families, especially on hot days.
It has a private parking area, bike storage, and bathrooms. It will be beneficial to arrive early, especially if you need to find parking if you're traveling. You will need a day pass to venture into the area which can be automatically purchased from a vending machine on site.
You can check out my post on the Best Swimming Holes in Sedona for cool places to go swimming.
Boynton Canyon Trail
Another site considered to be a healing energy vortex is where the Boynton Canyon path is located. Every year, a lot of people use this trail because it is so well-liked.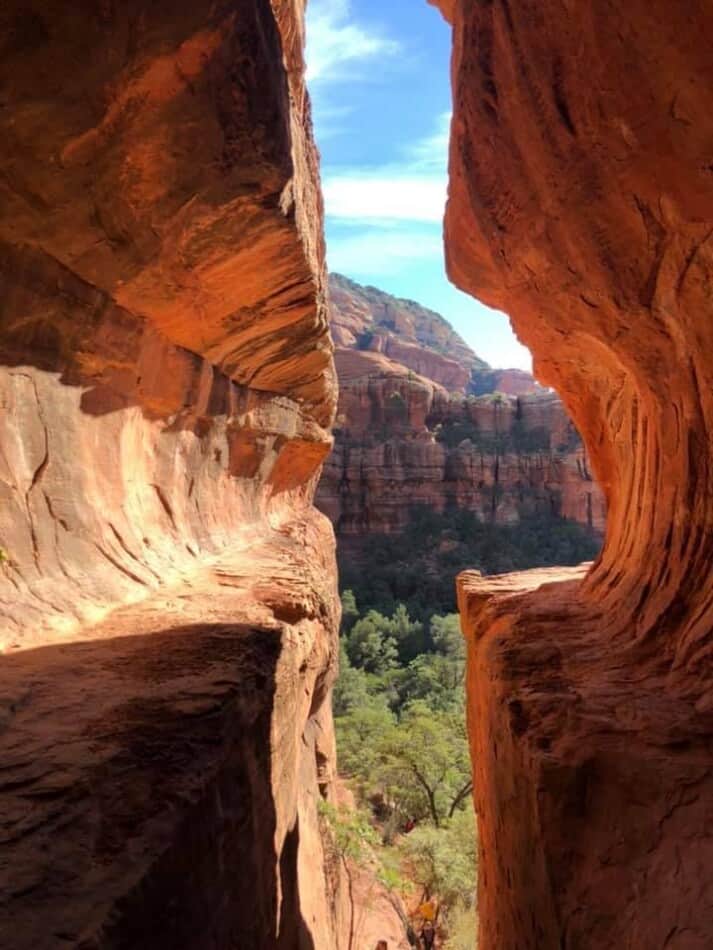 You can enjoy the beautiful scenery along this 7.2-mile hiking trail as you observe the variety of plants that have adapted to this challenging environment
Keep a lookout for the numerous animals in the area while you hike. animals including timid whitetail deer and beautiful songbirds. Here, you are allowed to walk your dog, but they must always be on a leash. The park authority will slap you with a hefty fine if you let your dog run loose.
The Secret Mountain Wilderness charges a daily fee for entry per vehicle. Red Rock Passes are required to enter the park, which is open all year round. Once more, if you have an America the Beautiful Pass, you can exchange it.
The trail is one of the closest to Sedona, and you don't have to bounce around in a jeep to get there thanks to the nice roads. This also implies that due to simple access, crowds gather rapidly.
Thanks to the good roads that make the hike much simpler for children, the trail is family-friendly. They also pick up some historical knowledge and even obtain some beautiful photos for social media. Near where the trail begins, an opulent resort has just been built, providing an exquisite home base.
Check out my post on Caves in Arizona
Verde Canyon Railroad
The Verde Canyon Railroad is a fantastic destination for a memorable family trip. The railroad is a great way to explore the area and provides some of the best views of the Arizona environment.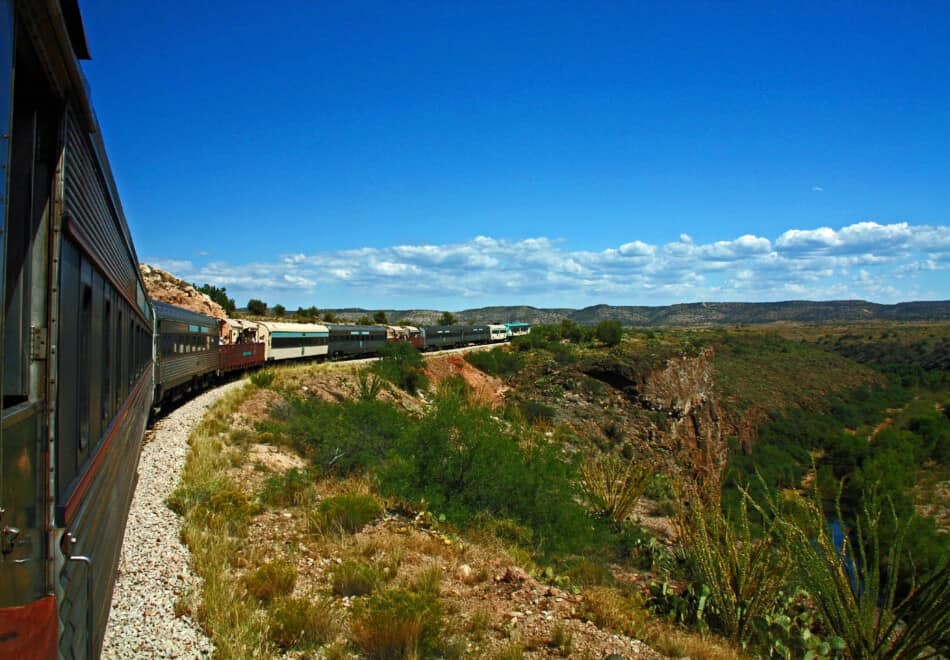 Kids will have a blast on the train ride since there are many activities available to them. You can also take a Verde Canyon Railway tour, which makes stops at verdant canyon walls, historic ruins, and more if you're up for a bit more adventure.
Accordingly, Verde Canyon Railroad is sure to satisfy you whether you're seeking a day trip or a longer vacation. You can buy your tickets here.
Sedona Heritage Museum
The Jordan Historical Park is home to the Sedona Heritage Museum, which is located there at 735 Jordan Rd, Sedona. A renovated building from a movie set, a replica tent house, and three historic landmark buildings make up the museum.
The museum's holdings are more concentrated on the pioneers of the area who lived after the Civil War, from 1876 to the present. It is run by the Historical Society of Sedona and has as its primary goals the study, research, and preservation of Sedona's history.
The Sedona Orchard Industry, Local Pioneers, Sedona's Winemaking Heritage, Arizona Cowboy Life, and Local Art History are just a few of the topics covered in the museum. Your kids will undoubtedly love Sedona's presentation from the movie-making era.
The area around the museum offers impressive panoramic vistas as well. A gift shop and a few picnic tables are available at the museum, which also provides audio tours. There are also spacious rooms available that can accommodate 100 people for gatherings for meetings or other occasions. Even marriages are held here!
You can stop by the Elote café whenever you feel peckish for delectable fare and first-rate services. The Sedona Heritage Museum is about 0.4 miles away, so you can easily walk there in 10 to 15 minutes.
Sedona/Red Rock Country
In the Coconino National Forest lies Sedona/Red Rock Country. Giant red sandstone spires and red sandstone cliffs make up the breathtaking panorama of the Red Rock Country.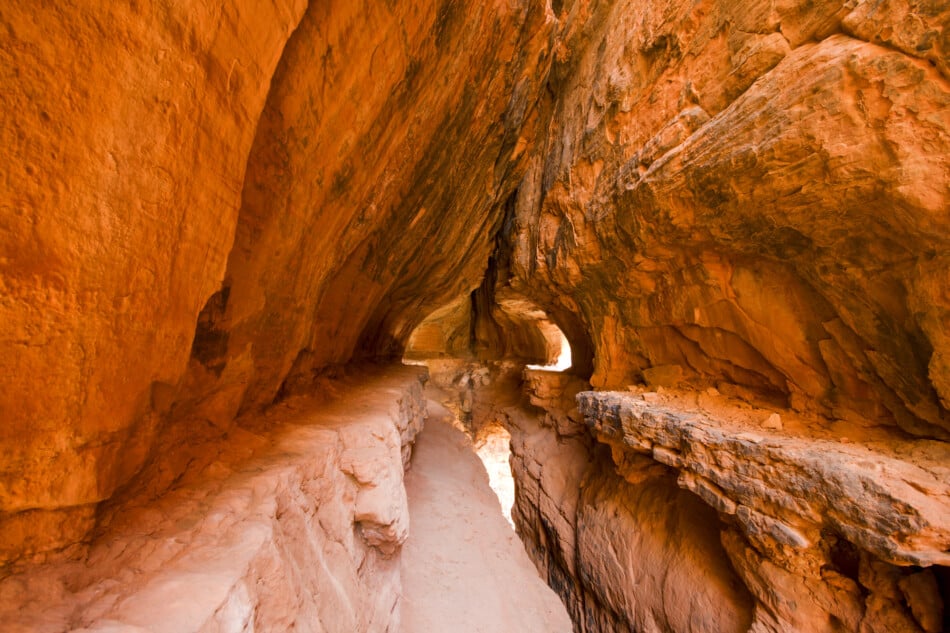 Due to its breathtaking landscapes, the Red Rock Country is particularly well-liked by tourists. All types of travelers can find accommodations in the area, from camping to staying in opulent resorts.
You should stop by one of the two Forest Service Visitors Centers before entering the forest to get a map of the area that will make it easier for you to navigate and show you the locations of points of interest.
It will blow your mind to visit Sedona/Red Rock Country in the spring if you and your family love flowers. Particularly after a wet winter, the unmatched display of spring wildflowers here is breathtaking. The California poppy, evening primrose, lupine, owl's clover, globemallow, and paintbrush are some of the flower species on display.
Visit the Hot Springs
Be sure to include a trip to one of Sedona's many hot springs in your itinerary if you're searching for a genuinely distinctive and unforgettable activity to do in Sedona with kids.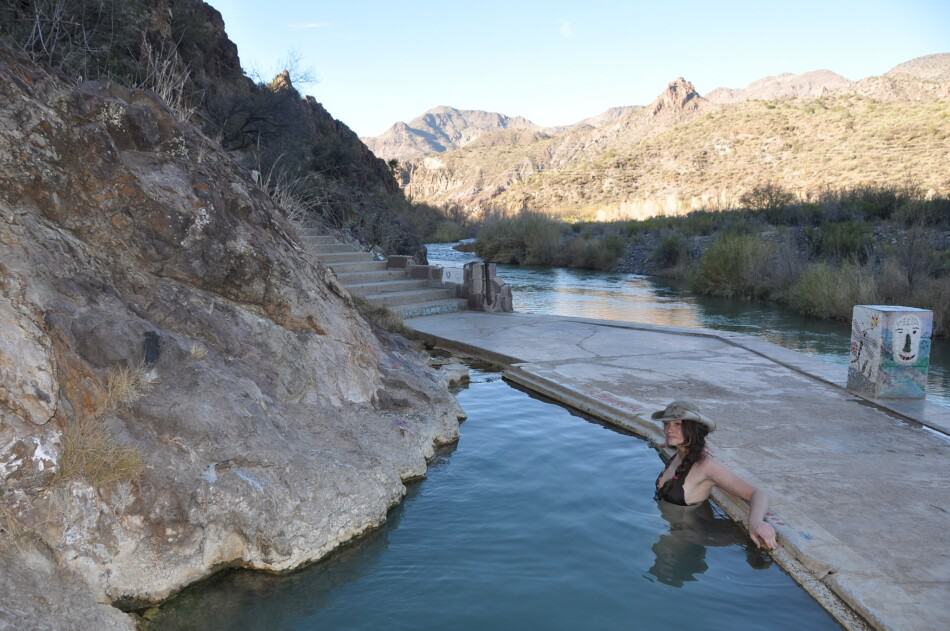 Although there are hot springs throughout the world, Sedona's are undoubtedly some of the most stunning and tranquil. You won't soon forget the feeling of soaking in the warm waters amidst magnificent red sandstone formations.
You may choose from a variety of hot springs in Sedona, so you're sure to discover one that's perfect for you. Try Honeymoon Grove if you want a more private experience. Only a short hike off the usual road will get you to this tiny pool.
Check out my post on Hot Springs in Arizona
Red Rock State Park
A few miles west of Vegas in Sedona Red Rock Loop Road is where you'll find the Red Rock State Park. The Arizona State Parks Board acquired it and turned it into a public park after it was formerly a part of the Smoke Trail Ranch.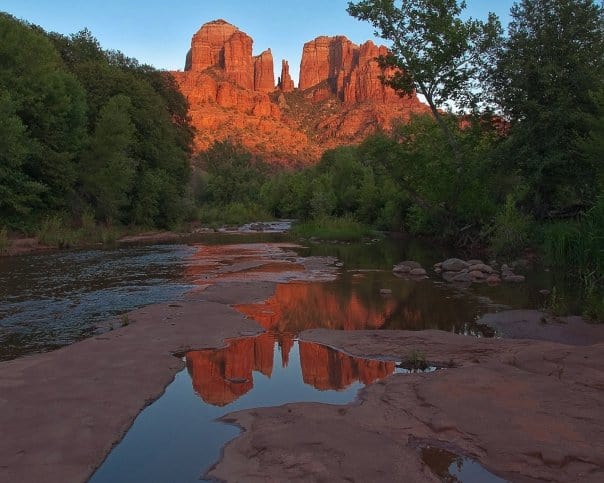 The park was established on October 19, 1991, as an environmental preserve with breathtaking beauty that serves as a resource for the general public, educational institutions, and nonprofit organizations interested in learning about local species and riparian habitat protection.
When you go to Red Rock State Park, you may get a close-up view of the red rocks that encircle Sedona. You can either pick a peaceful location and enjoy some time to yourself or you can take your family on a walking adventure in the park.
You can witness a variety of native wildlife species in the park, and the informative exhibits will teach you everything there is to know about them. A movie theater, a gift store, and a Junior Rangers program are also present.
There are also ramadas that you may reserve for usage if you want to have a party or even a wedding at the Red Rock State Park. In addition to various outdoor activities that you may enjoy together as a family, there are trails and choices for biking or horseback riding.
Crescent Moon Ranch
When exploring Sedona and its surroundings, the Crescent Moon Ranch is a great spot to stay. John Lee, a cattleman, established the homestead on the property, although ownership has since shifted.
The ranch allows guests to stay in both the house and the campgrounds. An availability grid is used to display which campsites are available and the relevant dates. The sites that are taken are marked with a green box that reads "FF," while the locations that are still available are marked with a blue box that reads "A."
Three bedrooms, a sizable living room, three bathrooms, a covered sun porch, and two kitchens make up the main house, which offers plenty of space for you and your family. There is also running water, electricity, and additional beds for the living room in case you have more visitors than you expected.
Visit Bell Rock
Bell Rock is a well-liked destination in Sedona, Arizona, and is distinguished by its enormous sandstone formations. The Bell Rock Pathway is around Bell Rock's base and offers breathtaking vistas and access to many smaller rocks that are excellent for discovery.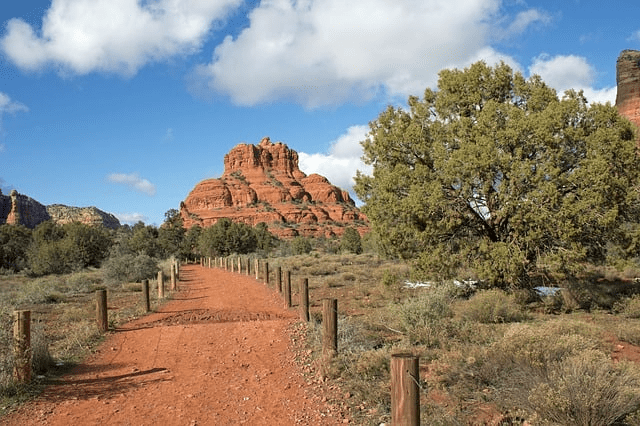 Children will enjoy clambering over the rocks and looking for intriguing crystals and fossils. Bell Rock is a fabulous location for picnics and watching the sunset.
It's simple to tour Bell Rock since there is a ton of parking available nearby.
Tlaquepaque Arts and Shopping Village
To complete your Sedona experience, you must pay a visit at the internationally renowned shopping area Tlaquepaque, Sedona's Arts and Crafts Village.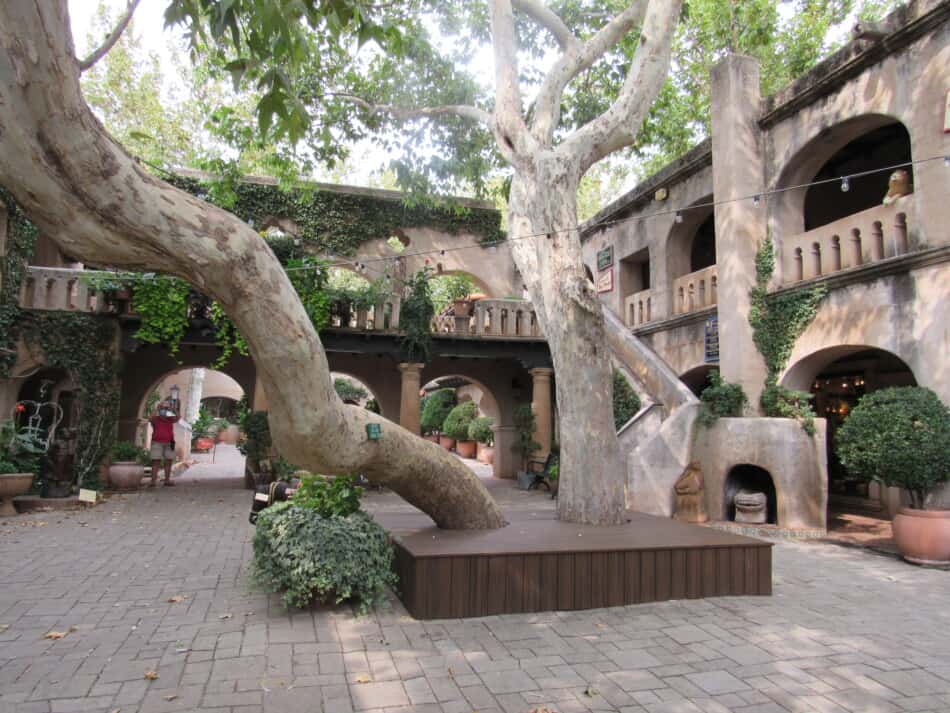 Tlaquepaque (pronounced as T-la-keh-pah-keh) is the most distinctive Sedona shopping experience that you can find in the Southwest. It has been a Sedona landmark since the 1970's.
Even if you don't want to shop, this is still a beautiful place to stop. The architectural buildings and settings will take you to another place and you will feel transported to a small village. There are a lot of places to dine and shop ranging from various medium of art and knicknacks. 
Tlaquepaque is one of the best things to do in Sedona, Arizona
Ride the Sedona Trolley
Sedona Trolley has been running since 1993. Not many people know about the trolley but it is a fun ride on one of the four trolley cars named Bob, Cathy, Snoopy, and Lucy.
They claim this is the best first thing to do in Sedona because their one hour tours give you an intro to the city. There are two tours to choose from for the Trolley.
Tour A is a narrated tour, where you will experience the South side of Sedona, passing by Tlaquepaque's Art district, and onto amazing vista views and a 15 minute visit at the famous Chapel of the Holy Cross.
Tour B is a fully narrated tour, where you will experience the West side of Sedona, passing well-known formations such as Thunder Mountain and Chimney Rock and into the towering red rock walls of Sedona's Canyons located within the Coconino National Forrest.
Pink Jeep Tours
In Sedona, Arizona, families may enjoy a variety of entertaining activities. The Pink Jeep Tour is one of them. This is a fun activity you can do with your family while exploring the area. The expert tour guides will make sure that everyone has a good time.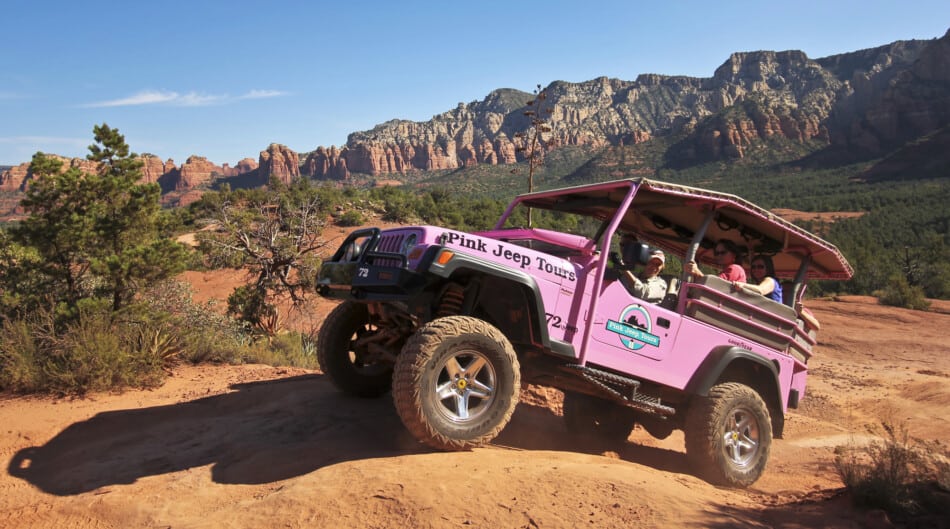 Adults pay $85 for an hour-long trip, while kids pay $50. There is no set minimum or limit for the number of participants on these trips since they can be self-guided.
You can reserve your personalized tour in advance for groups of ten or more. Additionally, by doing it this way, you won't have to bother trying to get payment later on from each individual.
Check out my post on the Best Pink Jeep Tours
Recent Posts