Flagstaff Sledding: There are excellent sledding spots in Flagstaff for both locals and visitors. With its average winter snowfall of over 100 inches, the city boasts several popular sledding spots.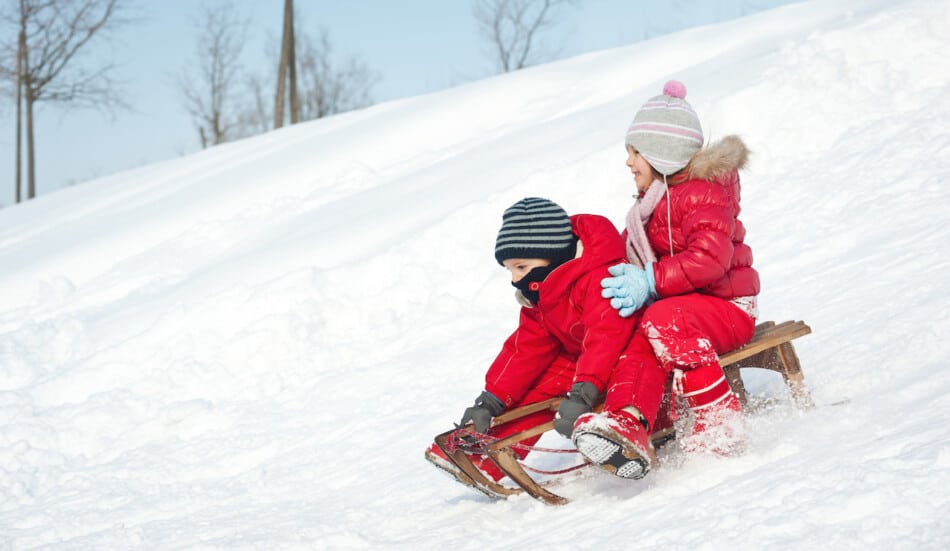 One of the most well-known locations is the Wing Mountain Snow Play Area, which features designated sledding lanes and ample parking. This is one of my top recommendations as it is family friendly and convenient. It helped that we had fresh snow and there was a sense of community between the people who were there that day.
Another popular spot is the Arizona Snowbowl, a ski resort that also offers sledding options for all ages. Additionally, locals often enjoy sledding on the hills surrounding Buffalo Park and Thorpe Park.
Flagstaff, Arizona, is known for its snowy winters, making it a great destination for sledding and winter sports. Here are some popular places for sledding in Flagstaff: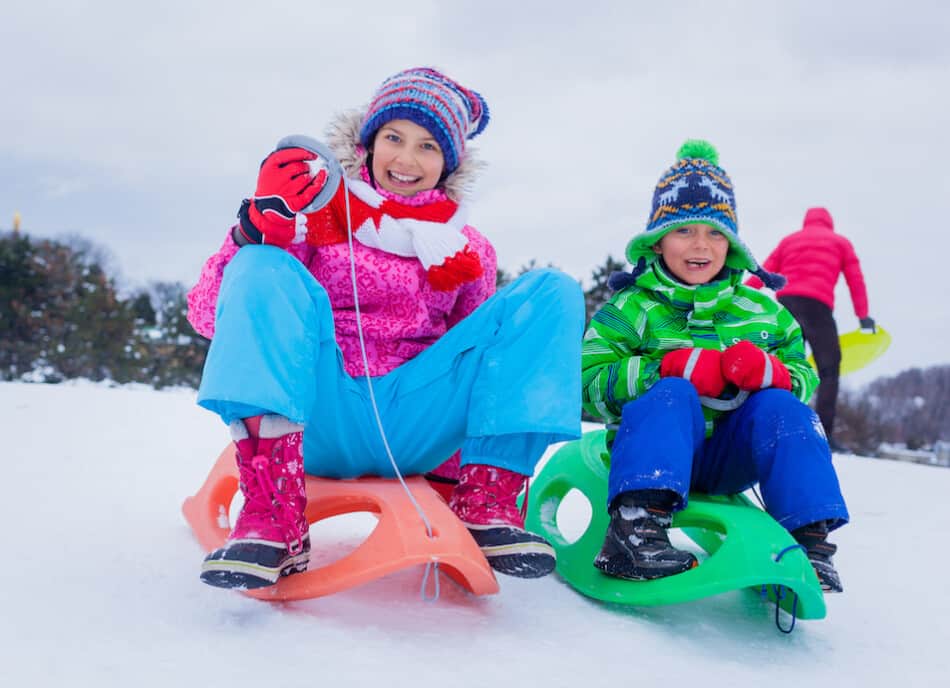 Wing Mountain Snow Play Area:

Why: Wing Mountain is a designated snow play area located just outside of Flagstaff. It offers a variety of slopes suitable for different skill levels, making it a great spot for families. The area is maintained, and there are usually vendors renting sleds.

Crowley Pit:

Why: Crowley Pit is another popular sledding spot near Flagstaff. It's a natural snow play area, and locals often flock here during winter. The slope is gentle enough for beginners, and it provides a scenic setting for winter fun.

Fort Tuthill County Park:

Why: Fort Tuthill offers a range of winter activities, including sledding. The park has designated areas for sledding, and the slopes are usually well-maintained. Additionally, the park has facilities like restrooms and parking, making it convenient for visitors.

Arizona Snowbowl:

Why: While Arizona Snowbowl is primarily known as a ski resort, it also offers opportunities for sledding. The resort may have designated areas for sledding, and you can enjoy the thrill of sledding amidst the beautiful mountain scenery.

Thorpe Park:

Why: Thorpe Park is my favorite park in Flagstaff that transforms into a winter wonderland during snowy months. While it might not have designated sledding areas, locals often use the slopes for sledding. It's a convenient option if you're looking for a place within the city.
Remember, conditions can change, and it's essential to check the current weather, snow conditions, and any regulations or restrictions before heading out. Additionally, be sure to bring appropriate gear such as sleds and warm clothing for a safe and enjoyable sledding experience.
Whether you're a beginner or an experienced sledder, Flagstaff provides a winter wonderland for all to enjoy. You can also check out my other posts on Flagstaff:
Tips for Visiting Flagstaff in Winter – 2023 Ultimate Guide
15 Things to do in Flagstaff with Kids – Top Rated Attractions
15 Best Cabins in Flagstaff, Arizona 2023 Ultimate Guide
17 Vacation Rentals, VRBOs and Best Airbnbs in Flagstaff, Arizona
15 Best Hikes in Flagstaff, Arizona – For All Fitness Levels
Where to stay in Flagstaff, Arizona
The Flagstaff makes for a great weekend escape. Fresh air, beautiful scenery and being in nature does a world of good for the soul. I recommend staying in a resort and treating yourself with a spa pool to relax at night.
If you are taking a road trip remember to reserve a car in advance using Discover Cars .
Tips and Tricks for Tobogganing in Flagstaff
Sledding in Flagstaff can be a fantastic winter activity, but there are some important considerations to ensure a safe and enjoyable experience: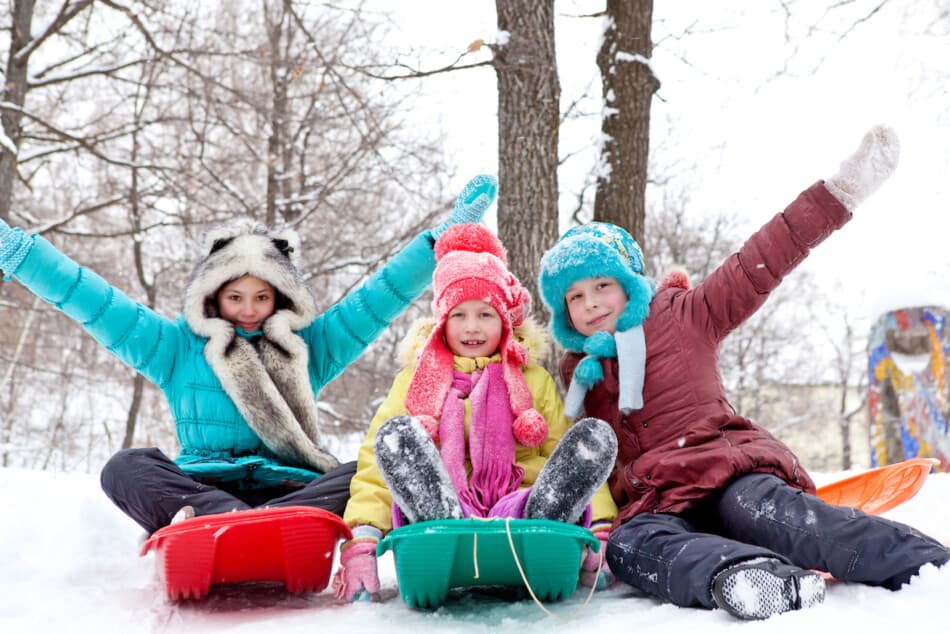 Weather and Conditions:

Check Weather Conditions: Flagstaff's weather can be unpredictable. Check the weather forecast and road conditions before heading out. Snowstorms and icy roads can affect travel and safety.

Equipment:

Bring Your Own Sleds: While some areas might have vendors renting sleds, it's a good idea to bring your own to ensure availability and quality. Make sure your sled is suitable for the type of terrain you'll be sledding on.

Safety Gear:

Wear Protective Gear: Dress in layers to stay warm, and consider wearing a helmet for added safety. Cold temperatures, combined with the speed of sledding, can increase the risk of injury.

Location-Specific Rules:

Respect Rules and Regulations: Different sledding areas may have specific rules and regulations. Respect these rules to ensure the safety of yourself and others. Some areas may also have designated sledding zones.

Parking and Facilities:

Plan for Parking: Popular sledding areas can get crowded, so plan for parking accordingly. Arrive early to secure a parking spot, and be mindful of any parking regulations.

Trash and Litter:

Pack Out What You Pack In: Be responsible and clean up after yourself. Bring a trash bag to collect your waste, and leave the area as you found it. Respect the environment and the beauty of the snowy landscape.

Crowd Considerations:

Be Mindful of Others: Sledding areas can attract large crowds, especially on weekends and holidays. Be mindful of other sledders and share the space. Avoid creating obstacles for others on the slopes.

Emergency Preparedness:

Have Emergency Supplies: Carry essentials like water, snacks, and a first aid kit. Cell phone coverage might be limited in certain areas, so it's wise to be prepared for emergencies.

Altitude Considerations:

Be Aware of Altitude: Flagstaff is at a higher altitude, which can affect your body differently. If you're not acclimated to high altitudes, be mindful of potential symptoms of altitude sickness, such as dizziness and shortness of breath.

Check Local Information:

Stay Informed: Check with local authorities, parks and recreation offices, or online resources for the latest information on sledding conditions, closures, and any specific guidelines for the area you plan to visit.
By being prepared and considerate of others, you can make the most of your sledding experience in Flagstaff while ensuring the safety and enjoyment of everyone around you.
15 Best Places to go Sledding in Flagstaff, Arizona
Flagstaff Snow Park
The Flagstaff Snow Park is one of the best places to go sledding in Flagstaff, Arizona. You may find all you need right here to enjoy a day of snowy memories.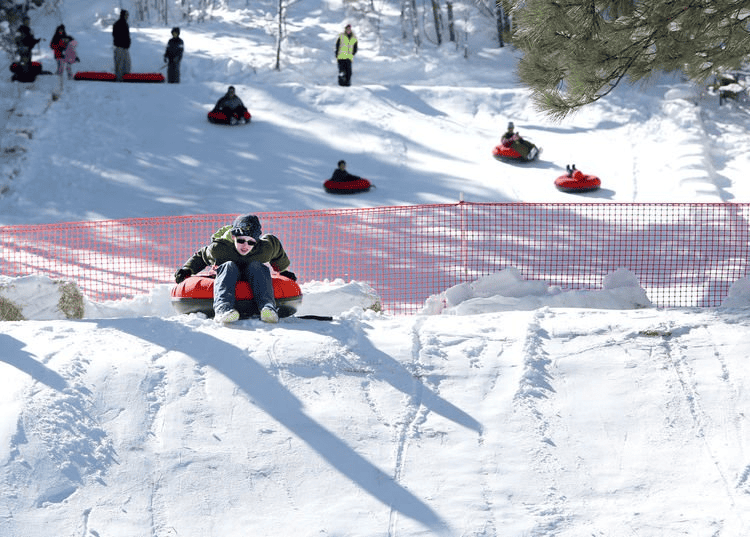 Hours of sledding enjoyment can be had on the many groomed snow tubing runs, one of which is designated as a kiddie hill. You don't need to bring your sled because unlimited tube use is included in your ticket purchase. Restrooms, picnic tables, and outdoor fire pits are also accessible.
You don't have to leave if you get hungry. Several food trucks may be found at Flagstaff Snow Park. Also, you can bring marshmallows to roast over the fire pits to make your s'mores. Moreover, you can purchase extra hats, gloves, hand warmers, and neck gaiters from the merchandise truck if you start to get cold.
Tickets for Flagstaff Snow Park must be purchased online and are required for entry. Non-tubers pay a lower entry price but can still use the park's amenities, make a snowman, or just unwind while watching their family members slide down the slope. Typically, the park opens around the middle of December. The snow for the tubing runs is artificial; however, the snow for the snow play areas comes from nature.
Fort Tuthill County Park is home to Flagstaff Snow Park, which is only 15 minutes south of the city core of Flagstaff.
Foxglenn Park
Another park for top-notch sledding is Foxglenn Park. The family can go sledding on the gentler hills because they are farther from the steeper ones, keeping newcomers safe.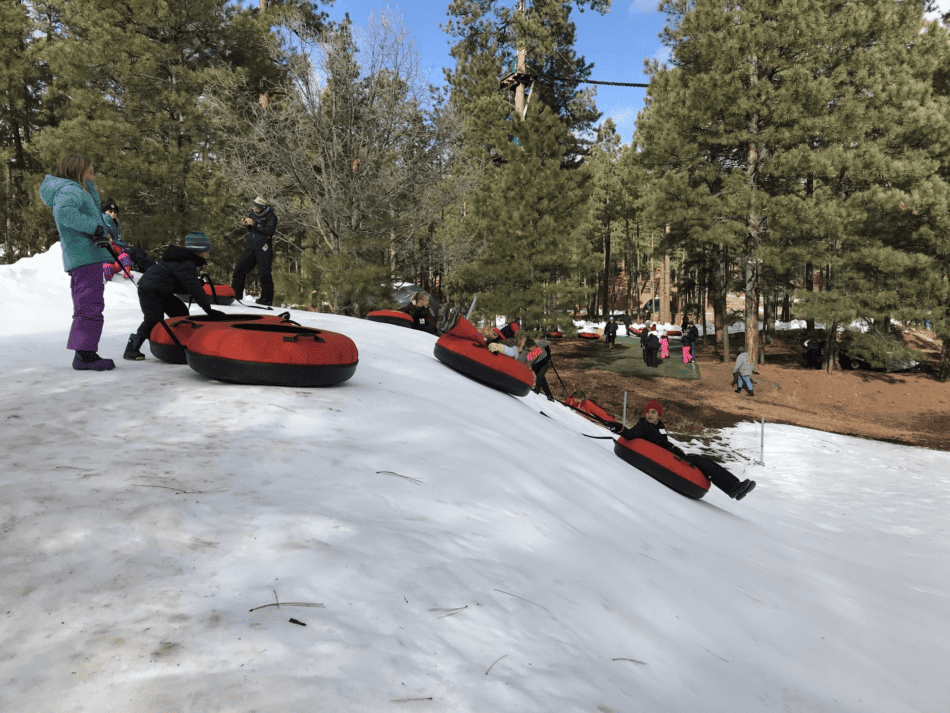 Foxglenn Park is conveniently situated in the center of Flagstaff and is very accessible. They also have a ton of space to play. You can find a smaller hill to the left that is perfect for younger sledders if you continue past the baseball fields.
There are places in the area to create a snowman or have a snowball war as well. Permanent restrooms, covered picnic tables, sports fields, a skate park, and a playground are available as amenities.
There is also a sizable sledding hill for the older crowd to the right. A playground and huge open fields ideal for playing in the snow are also present in Foxglenn Park.
Happy Jack Lodge
Happy Jack Lodge & RV is an all-inclusive resort that is tucked away along 100 acres of Arizona's Mogollon Rim. They have a lot of sledding slopes and snow play areas on their expansive, forested grounds.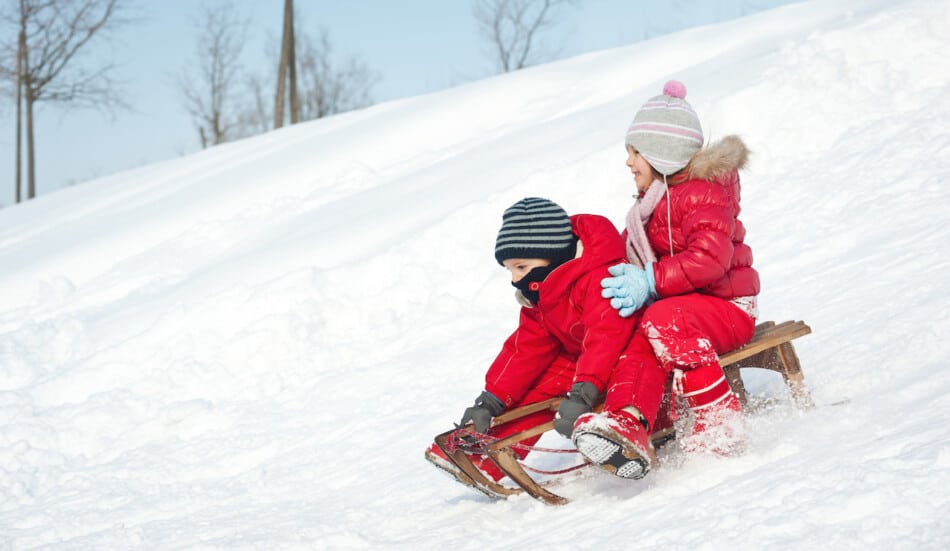 Non-guests are welcome to use the property as their winter playground for a modest cost. Bring your sled or use the resort's rental service. Although you must sign a waiver, the rest of the day is up to you. Ask about the snow conditions right now.
Happy Jack Lodge's on-site restaurant, Jack's Place, serves breakfast, lunch, and dinner on the weekends. Together with traditional barbecue sides, this BBQ grill serves inventive Arizonan fusions of burritos, tacos, and smoked meats.
The Happy Jack Lodge may be reached via I-17 in 2.5 hours from Phoenix or an hour and a half from Flagstaff via Lake Mary Road.
Thorpe Park
Although there isn't a specific sledding area in Thorpe Park, the park itself has several hills that are shaded by trees. A good park and a fantastic playground are also there.
The gently sloping slopes at Thorpe Park create the perfect sledding runs for young families to enjoy together. And kids love exploring the two playgrounds between runs. There are also onsite restrooms.
It's free to use because it's just a park. Also, parking is no problem. Most of the hills are smaller, so you simply need to be a little creative about where you go sledding. This is great for little kids, but not as exciting for thrill seekers.
In the vicinity of Thorpe Park, there is a dog park where dogs can play and run around in the snow. But if you go to the park and sledding areas, they must stay on leashes.
Fort Tuthill
Fort Tuthill, which lies a short distance south of Flagstaff, is rather near the Flagstaff Snow Park. If you want to avoid having to pay for the ski park, this is an excellent choice. You'll need to bring your sleds, though.
There are many hills around, big and little, for people of all ages. There are also restrooms, picnic tables, and plenty of parking. The only drawback is that because it's free, it may get very busy, especially on weekends.
Although it is possible to bring leashed dogs here, it is more challenging due to the heavy traffic. Yet, due to its position, it is the Phoenix area's closest and shortest drive.
Forest Roads
Everyone in Flagstaff is aware of the different woodland roads that are strewn across the town. They are fantastic if you want to go sledding close to snow parks and in neighboring locations.
Keep in mind that these woodland roads don't take up a lot of room or land, either. These might therefore be scaled-down versions of the aforementioned snow parks and sledding hills. But you may note down these places in case you ever think of sledding at a nearby location.
To reserve tickets for sledding, you can also visit their website or give them a call. This is due to recent modifications made to the hours and the maximum number of visitors permitted in parks.
Buffalo Park
Since its a little less well-known than other sledding spots and situated on the northern edge of Flagstaff, it's less busy here.
It's a wide-open park with hiking trails and plenty of space. The hills are a bit smaller, so they're great for the younger kids. But, as this is a dog-friendly area, feel free to bring along your four-legged friends and allow them to enjoy the snow as well!
Buffalo Park is arguably the largest place where sledding and snow play are allowed. So, you will undoubtedly have more private areas to play in if you don't mind walking and some smaller hills.
Oak Hill Snow Play Area
It has been operating since 1950, making it one of Flagstaff's oldest snow parks. It is situated in the Kaibab National Forest and is easily accessible without any steep roads or rugged terrain.
It features two separate sledding runs that you can pick from. As the hill on which it is placed is 900 feet long, it is best suited for adults. Children who come to this snow park are, however, very carefully supervised at all times.
The local authorities strictly forbid the use of plastic sleds. As a result, you will need to bring your foam-based sleds, as they tend to maintain quality and resist cracking or breaking. This action has been taken to prevent unwanted litter around the campus, which is something that other parks tend to do rather frequently.
Also, they provide tourists with up to 25 parking spaces. As a result, you do not need to be concerned about parking your car too far from the main campus. This snow park also has a warming area where you can relax with your friends and family while enjoying a drink or some cuisine.
Mormon Lake Lodge
In Flagstaff's southeast, this is one of the most prestigious ski park locations. This is one of the most popular snow parks in the US, offering everything from sledding to extravagant cabins. Mormon Lake Lodge offers a variety of amenities to its visitors, making it an excellent place for families to spend some quality time.
Each person's ticket here costs about $8. On the other side, a group of four people will pay about $25. The hours of operation are from 9 a.m. to p.m. To ensure hassle-free admission, it is advised to arrive a few minutes before your reservation.
The aspen and pine trees in this area contribute to the perfect wintertime scenery. If you want to indulge in some delectable dishes here once you are done sledding, you must stop by their steakhouse.
You can spend a few days away from home with their cabin rental services. They represent the perfect mental rest you require when on vacation. They also offer salon services, so you can rest easy knowing you will be pampered while on vacation.
Walker Lake Sledding Area
The US Forest Service has looked after this snow park, which spans 2000 acres of land. The Kendrick Park fields are close by.
This snow park is excellent for visiting now that the pandemic has passed because it is less crowded than the other snow parks. Due to its seclusion, this location is home to a variety of wildlife.
The parking lot and the sledding area here are about a mile apart. Therefore, it is recommended that you wear suitable footwear so that you can navigate the snow. But there is a space just next to the parking lot that may be used for these activities if you wish to have a snowball battle or make a snowman.
Keep in mind that since they don't provide a sled here, you'll need to bring your own. As it is operated by the US Forest Service, such facilities are not available.
Crowley Pit Snow Play Area
Situated at US-180 in Flagstaff, it is one of the most prominent snow play areas for sledding in Arizona. They provide some very good service and facilities to its visitors; this place has also been awarded accolades.
Due to its popularity, arrive a few minutes before the time for which you have reserved tickets. This will enable you to avoid long lines and make the most effective use of your time.
When you rise higher in the hills, this snow park is renowned for exhibiting some of the most spectacular scenery. Make the most of the clouds that cover the landscape, the highways, and the atmosphere as a whole. A few indie films and local TV shows have also been filmed here thanks to the breathtaking scenery that this location offers.
The primary sledding hills are three. Due to their size and steepness, two of these hills are ideal for adults. The other hill, however, is shorter and flatter, which makes it the perfect hill for kids of all ages. As your kids are playing here, you must tread cautiously.
Elk Ridge
This is one of Flagstaff's more contemporary snow parks, in comparison. The cost here is determined by the size of the gathering. Typically, the range is $50 to $600.
Families should go here because of the incline of the runs. Although the gradient is not particularly steep, extreme sledding is inappropriate here. Elk Ridge is renowned for being the perfect setting for families because of this.
Also, they have bathrooms, but due to the post-pandemic limitations, you must bring your food and sled.
You can also enjoy the spectacular journey up here. Bring your camera along for some Instagram-worthy pictures. The touristy vibe of this place makes it a wonderful destination for some excellent fun and adventure.
Sunrise Park Resort
On a visit here, you will undoubtedly see a stunning sunrise, as the name says. Both experts and novices can enjoy the breathtaking snow runs and tubing areas here.
You may also view live footage of this park on their website to get a better understanding of it. The live webcam feature on their website gives you a glimpse of the alluring sights you can see here.
The price of a ticket depends on how many people make up a family. The typical range is $15 to $55. Also, it depends on the day and time that you have scheduled it.
In this location, you can go tubing and sledding. So, you can be sure to participate in a variety of activities. One of the most popular things in every snow park is the support they provide for beginners.
There is a snack bar included as well. This implies that you can unwind and savor some delectable meals here after a long day of activities.
The accessibility of this location to other areas of the city is another key attraction. If you choose to explore the campus' surrounding neighborhoods, you will also find several shopping centers and restaurants close by.
Thus, after a delicious treat, you can eat dinner at one of their neighborhood restaurants. This location serves as a hub for several cultural activities. The holiday decorations on the street next to this snow park are worth noticing, especially around Christmas and New Year's.
Lone Tree Sledding Area
With an infinite parking facility, this is another sledding location that you may visit this winter. It is surrounded by snowy mountains, pine trees, and some local breweries.
It is mostly advisable for experts or adults due to its extremely steep runs. Your children may enter, though, under close supervision. Moreover, there are no restrooms present. As a result, you might have to forgo drinking water while visiting!
Here is the place to be if you want to go sledding in a spot with hardly any other people around. You must be aware that you must also bring your sled. There are none available for rent.
The location's proximity to the town makes this sledding place's location its best feature. While there are no nearby food or warming centers, you can enjoy yourself at the restaurants in the area. You must thus pack some food and extra clothing in case you change your mind and decide to stay at this place for a few days. Overall, a trip here around the holidays is very worthwhile.
Benham Slow Play Area
This ski area is located close to Williams. Even though they do not yet have a website of their own, you can contact them by asking any neighborhood shop for a recommendation. The main road leads right up to it.
At a height of 7195 feet above sea level, this intersection is a favorite spot for families to spend time together. In this location, snowball fights are also held. As a result, kids enjoy themselves here with one another.
Here, sledding is quite simple. Hence, if you have never tried sledding before, you can do it at this snow park with ease. In case of an emergency, they also have a facility for medical assistance.
They do not supply sleds. You must therefore bring your sled, and you must take care to keep the area clean since they are very picky about that. In addition, if you are caught littering or throwing trash around the campus, you might even be charged.
Just like Elk Ridge, this is also one of the most family-friendly snow parks. So, if you are an expert at sledding, then you may not find it very interesting. But first-timers and those looking for a fun weekend activity should try this snow park without a doubt.
Recent Posts