The 15 Comfiest and Best Park City Airbnb
Park City Utah Airbnb: Are you looking for the Best Airbnbs in Park City, Utah? Park City is a fantastic weekend away and finding a great Airbnb to stay in is easy.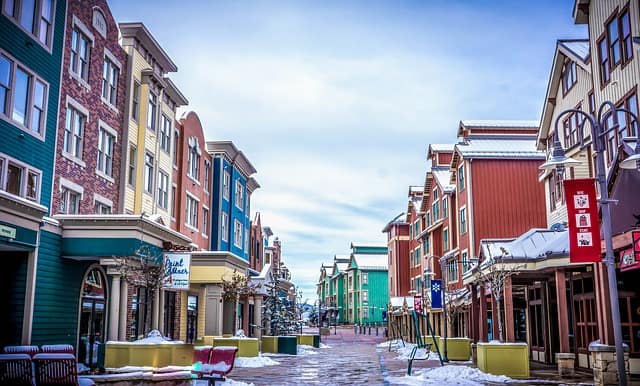 This list of Airbnb Park City has something for every budget. Luxury places to stay with rooftop hot tubs or unique places to stay in the city.
You can check out my other list of Airbnbs in Utah:
17 Best Airbnbs in Salt Lake City, Utah
15 Incredible Airbnbs Moab Utah
The Perfect Airbnbs in Park City, Utah
15 Incredible Airbnbs in St George Utah
15 Unique Airbnbs in Springdale, Utah – near Zion National Park
15 Best Airbnbs in Zion National Park
Thank you for supporting this website written by an American. This post may contain affiliate links. This means I earn a small commission on these links at no extra cost to you.
15 Best Airbnbs in Park City, Utah – you need to see to believe
Old Town Luxury Home with Mountain View & Rooftop Hot Tub
Price:
Guests: 12
Bedroom: 4
This charming and contemporary house is perfect to share with family or friends who are longing to have a great and relaxing vacation in Park City, Utah.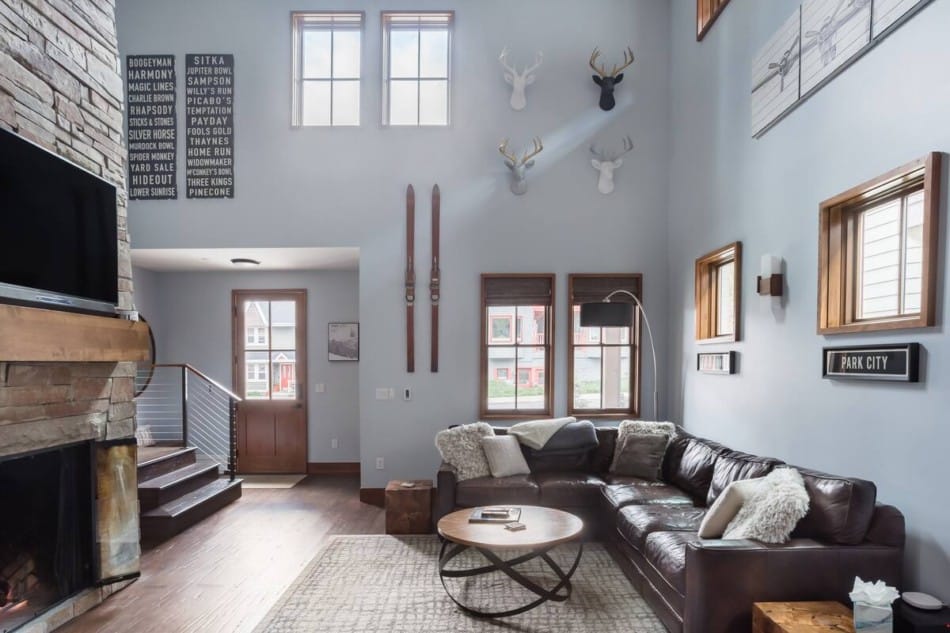 The main floor of the house is warm and well-timbered space and it features a gourmet kitchen and a living room with a rare wood-burning stone fireplace. And if you want to enjoy the mountain views from the house, you can head to the rooftop that has a ho tub and fire table lounge area perfect for get-together with the whole family or friends.
This spacious and luxurious home has a total of 4 bedrooms with 7 beds that can let 12 people sleep comfortably. Everything about this place is just perfect and amazing. The location and quality of comfort that you will experience are exceptional for a price that is totally worth it.
Dreamy Treehouse Above Park City, Utah
Price:
Guests: 2
Bedroom: 1
Most kids (including those of you reading this) have dreamed of living in a treehouse at least once in their lives and now is the time to turn that dream into reality by booking this extraordinary treehouse in Park City. This beautiful treehouse is situated 8,000 feet and embraced by a 200 year old fir.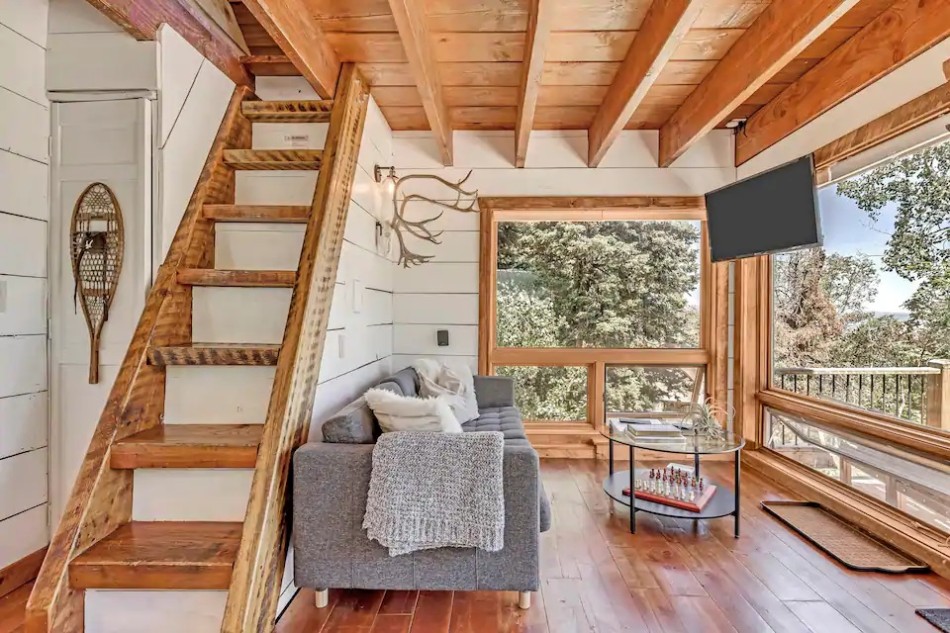 This treehouse features a lofted bedroom with skylight, kitchen, hot-water bathroom, and a main room with 180-degrees glass windows and large deck. In addition to that, it is also complete with amenities that you'll need for a comfortable stay such as an apartment-style kitchen with mini fridge, essential supplies and cookware, single induction stove top, microwave, and more. You can also spend your time unwinding and watching TV, DVD, or stream Netflix/Hulu/HBO.
Staying in this tree house would definitely be a dream come true and it can fit two guests inside.
Urban Chic Mountain Base Apartment with Balconies
Price:
Guests: 8
Bedroom: 2
This urban chic apartment with balconies has an ambiance of a resort-like accommodation. It showcases rustic accents, a cozy fireplace, chic furnishings, and neutral tones.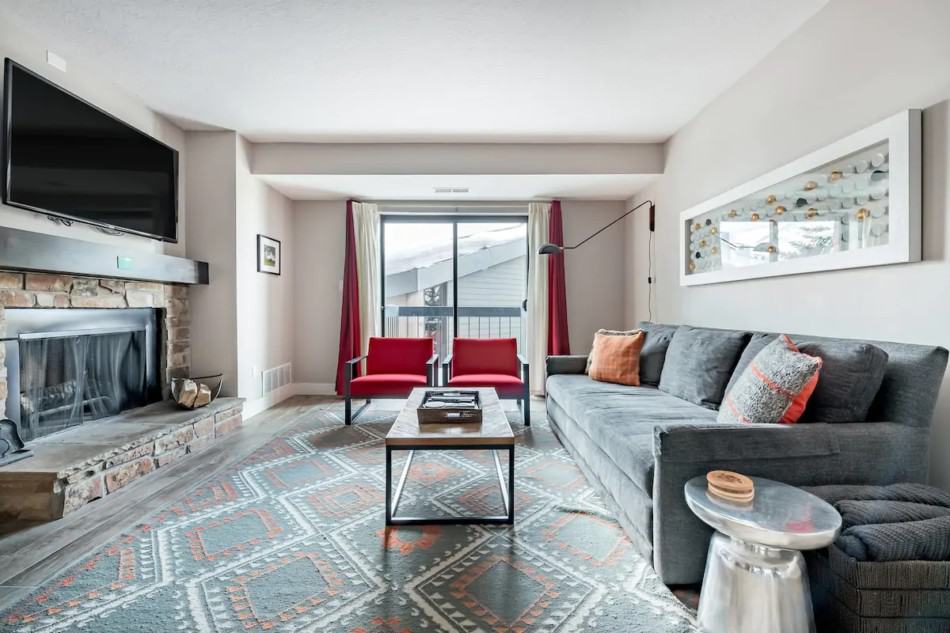 It has 2 bedrooms with 3 beds and it can accommodate up to 8 guests inside. Plus, you can have access to the shared amenities such as a gym, hot tub, sauna, and an outdoor heated pool. It is also centrally located and very close to everything you might be needing. This is a highly recommended place for big groups and big families.
Inviting and Homey Residence
Price:
Guests: 6
Bedroom: 2
If you are looking for a lovely place with very nice touches and is in a great location, this is a perfect choice for you. It is complete with 2 bedrooms, 2 bathrooms, living area, dining room, full kitchen, outdoor space, and indoor fireplace.
Everything about this place is so homey, And you can just walk or ride a bus going downtown in case you need something to buy. Plus, you will be meeting two lovely hosts who are not just helpful but also excellent hosts.
Trendy Designer Townhouse with Hot Tub
Price:
Guests: 8
Bedroom: 3
This trendy designer townhouse is set in Park City and just within walking distance from Main Street's array of restaurants, shops, and art galleries. This is a great place to recharge after a day on the slopes and feel the warmth beside a rustic stone fireplace in the airy living room with mezzanine ceilings and exposed wood beams.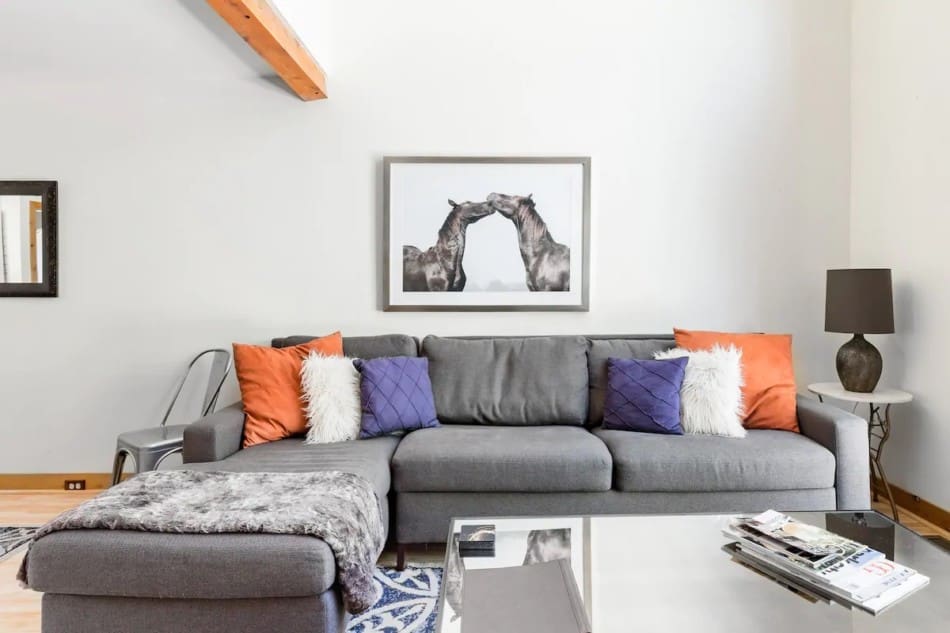 The townhouse has a total of 3 bedrooms and 3 beds good for 8 guests. And even though the host won't be on the property, they would be available for anything you need during your stay.
Classic Comfort Condominium with PCMR Skiing on the Doorstep
Price:
Guests: 6
Bedroom: 2
This harmoniously designed condo is your perfect sanctuary at the end of a day on the slopes of Park City. The place features eclectic ornaments and splashes of color blend with a neutral palette to give a relaxing vibe for guests. The decently stocked kitchen allows you to cook meals while the comfortable beds and nice linens will let you sleep peacefully at night.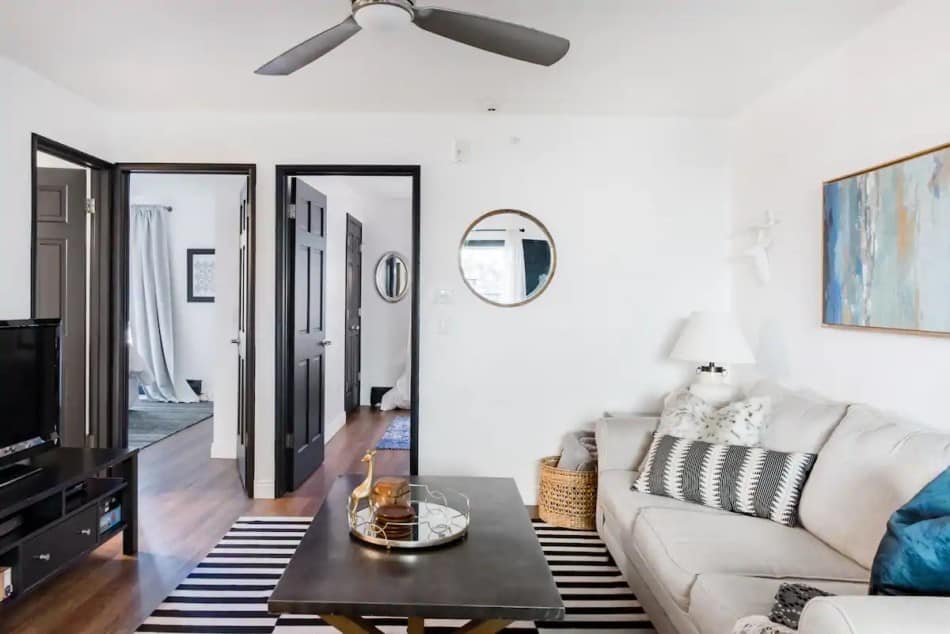 If location is what you value the most, this airbnb is a perfect choice. It is just located across the street from Park City mountain and a 15 minute walk from Main Street.
Tentrr State Park – East Canyon State Park: Mormon Flats Site 5
Price:
Guests: 9
Bedroom: 1
If you have never experienced staying in a campsite before, now is the time to do it and book this beautiful campsite in the Mormon Flats area of East Canyon State Park. The standard amenities include a 10'x12' safari-style canvas tent on an elevated platform, and a queen size single or bunk bed inside. You'll also be furnished with a 6-ft picnic table, outdoor fire pit, 2 Tentrr Adirondack chairs, and a heating source.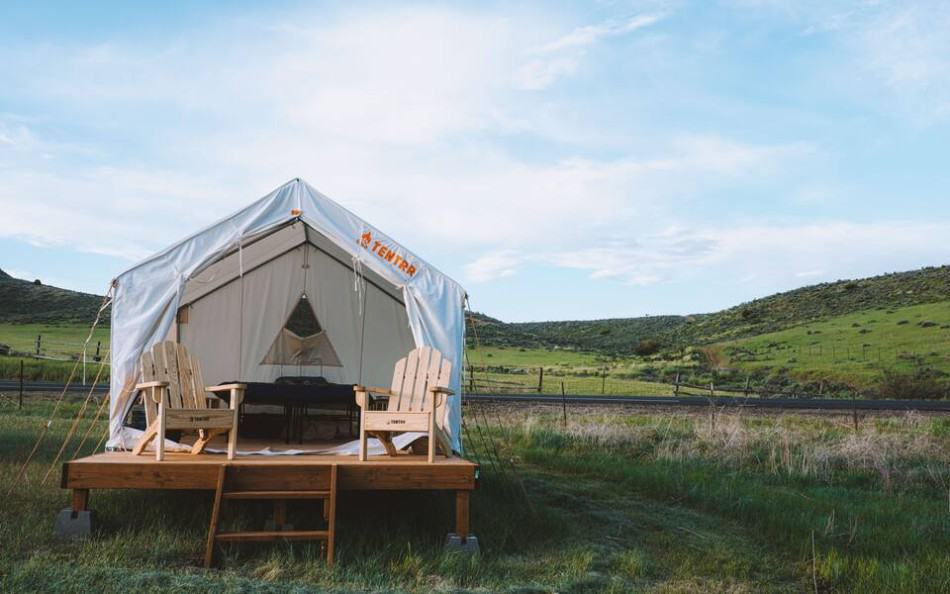 However, there is no available electricity or wifi in the campsite and the cell service may be hard and intermittent. But if you enjoy detaching yourself from the real world and just grab the chance to relax and unplug, then this is definitely for you.
Barn with Best Views and Near Park City Mountains
Price:
Guests: 7
Bedroom: 2
This newly restored barn that has been converted into a private guest home is nestled within a 2.5 acre Park City ranch. The guest house/barn features rustic contemporary furnishings, completed with hardwood floors and sunlit windows, and high ceilings.
It is also fully furnished with 3 beds, new kitchen, laundry, covered parking, and more. You'll be able to enjoy your mornings as you wake up to panoramic mountain views and breath the crisp mountain air before embarking on an outdoor adventure in the beautiful Park City.
Sweetwater Three-Bedroom at PC Resort
Price:
Guests: 10
Bedroom: 3
This three-bedroom condominium unit is your perfect accommodation for your summer Park City vacation that showcases their first-class amenities such as gym, hot tub, and swimming pool.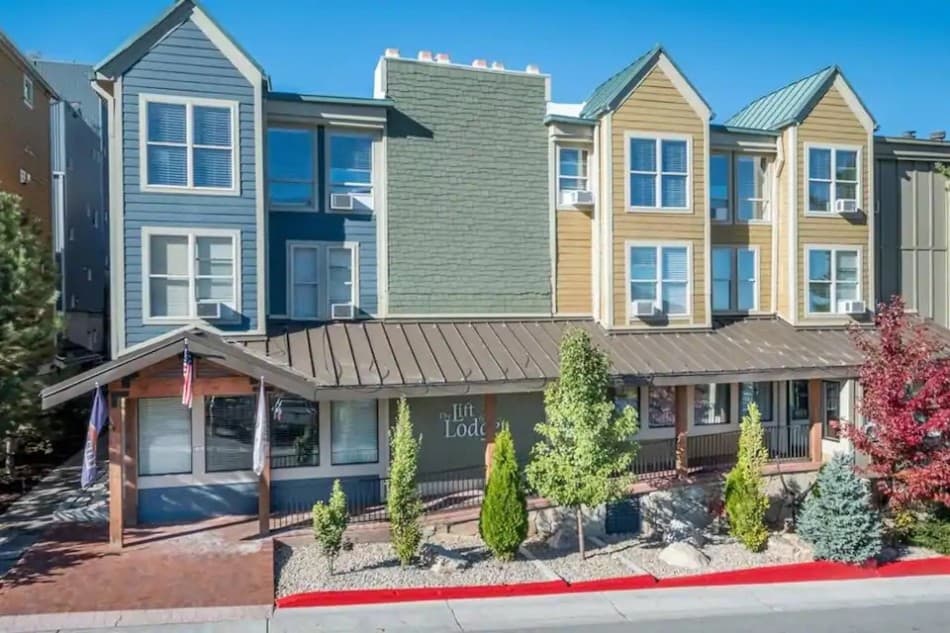 Inside the condo unit are 7 beds good for 10 people, 2 bathrooms, kitchen, and more. And you'll be able to enjoy the serene environment here as it is away from the noise and bustle and at the same time it's right at the Park City Mountain Resort.
Modern Studio with Hot Tub and Pool
Price:
Guests: 2
Bedroom: 1
This 315 sq foot studio condo is ideal for singles or couples who want a quick getaway in Park City and yet can still work around their budget. It is an upgrade studio located in the heart of Park City and it features gorgeous mountain views, free high-speed internet, a jetted tub, smart HDTV with Netflix and Hulu, queen size bed, and a kitchenette. It is also furnished with appliances such as a mini fridge and freezer, microwave, toaster oven, coffee maker, and 2 burner stove top.
And on the main floor of the condo is a common space with a few seats to relax in, while on the 1st floor are the hot tub and pool which you are very welcome to use.
Blue Door Bungalow
Price:
Guests: 2
Bedroom: 1
Blue Door is a bungalow-type house that is located in a safe and quiet residential neighborhood and yet still very close to all of Park City's amenities. It has easy access to other ski resorts in the area. The hosts are very willing to accommodate guests and travelers on this humble abode all year round.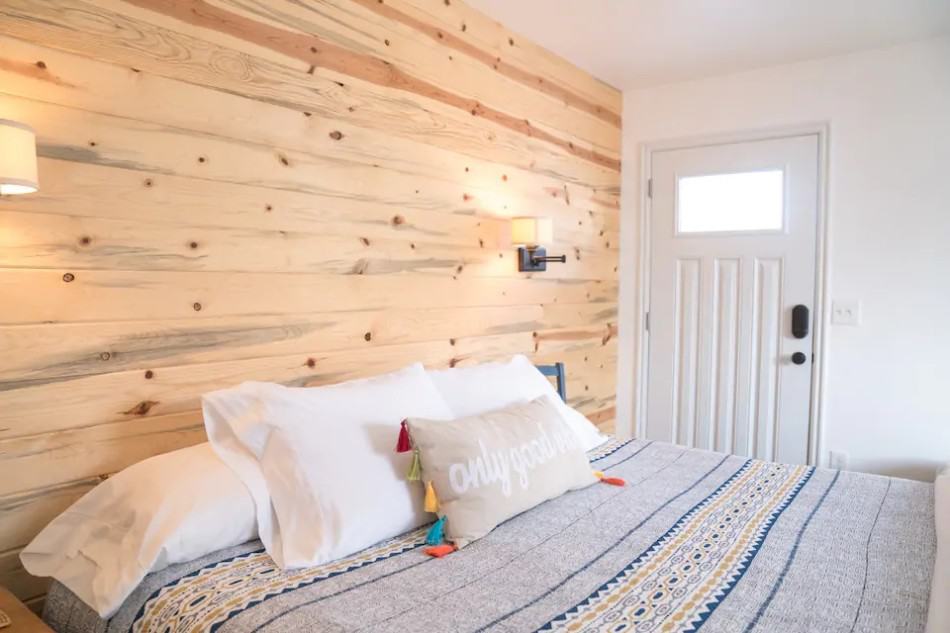 This bungalow is set up like a hotel room with a separate private entrance and private bathroom. It has a king size bed and amenities like free wifi, TV, air conditioning, Tv, and free parking on premises. This place is highly recommended for couples and singles.
Light and Bright Studio Apartment
Price:
Guests: 3
Bedroom: 1
This apartment has a perfect location with mountain and golf course views that will surely delight your eyes any time of the day. It is located just right on the free Park City bus line so it's easier for you to explore the charming Park City.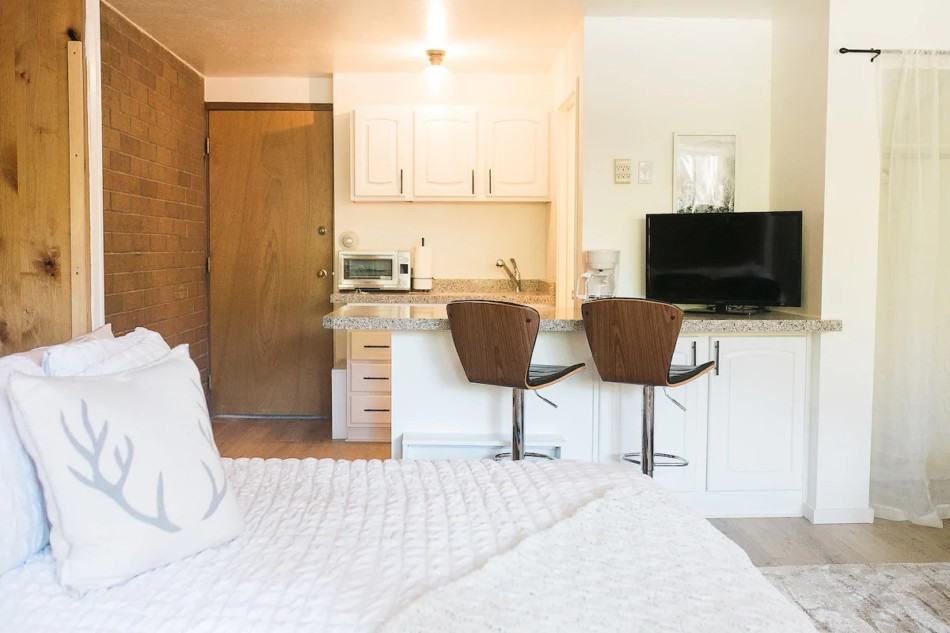 This studio apartment features a cozy queen size bed and a convertible sofa bed which allows enough space for other people to sleep comfortably. Although there is no kitchen available, you can still make use of the refrigerator, dishes and silverware, and coffee maker available inside the studio. And guests can also have an access to the hot tub and pool available in the condo.
Marriott Summit Watch Luxury Studio
Price:
Guests: 4
Bedroom: 1
This luxury studio accommodation is one of the best places to stay in Park City. It will let you experience what it feels like living in a comfortable and hassle-free accommodation. Their well-appointed villas have enough living and dining space for the whole family or your squad. And it also features a lot of amenities that you could not possibly imagine.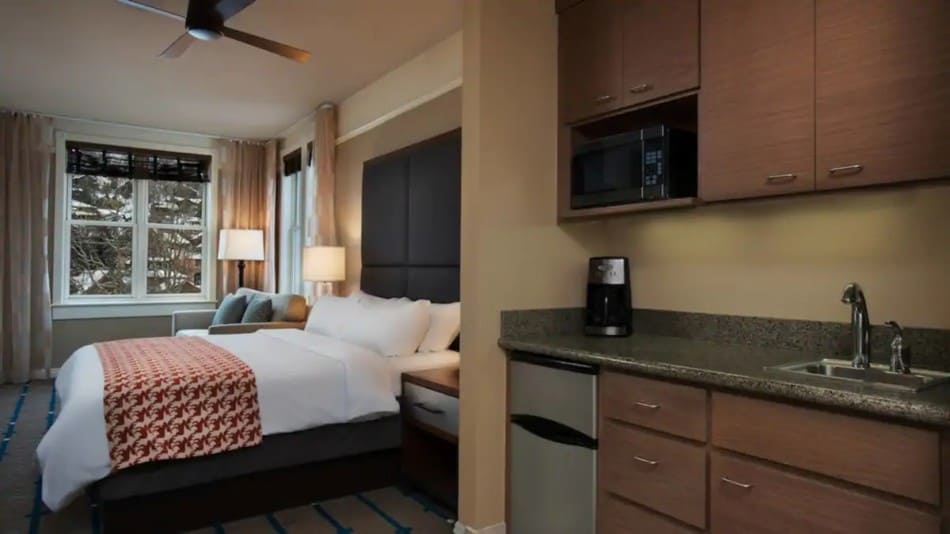 The number of outdoor activities that you can do here are overwhelming but the most popular one is skiing. You can try cross-country skiing or take an enchanting sleigh ride across the beautiful terrain. This is an absolutely wonderful place to stay without hurting your bank account.
Classy Upper Condominium Unit
Price:
Guests: 3
Bedroom: 1
This classy upper unit 360 sq ft condominium is centrally located to a lot of popular sights in the area such as resorts and shopping centers, as well as a short distance walk to several good restaurants and to Old Main.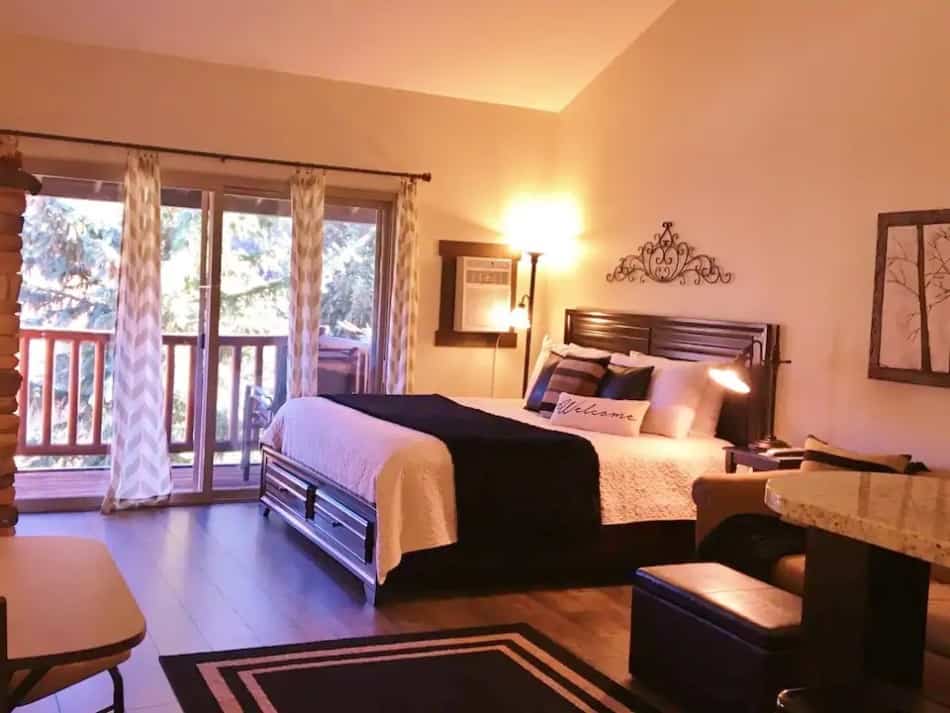 The space has a great view of Rail Trail and you can even hear the stream flowing from the bedroom. It is complete with a super comfy king size bed, 50" flat screen HDTV w/ cable, and a kitchenette. And the host will get you informed on things prior and during your stay.
Romantic Historic Cottage
Price:
Guests: 3
Bedroom: 1
This newly renovated studio cottage is located two blocks from Main St which is a perfect place for a romantic and intimate getaway with your loved one.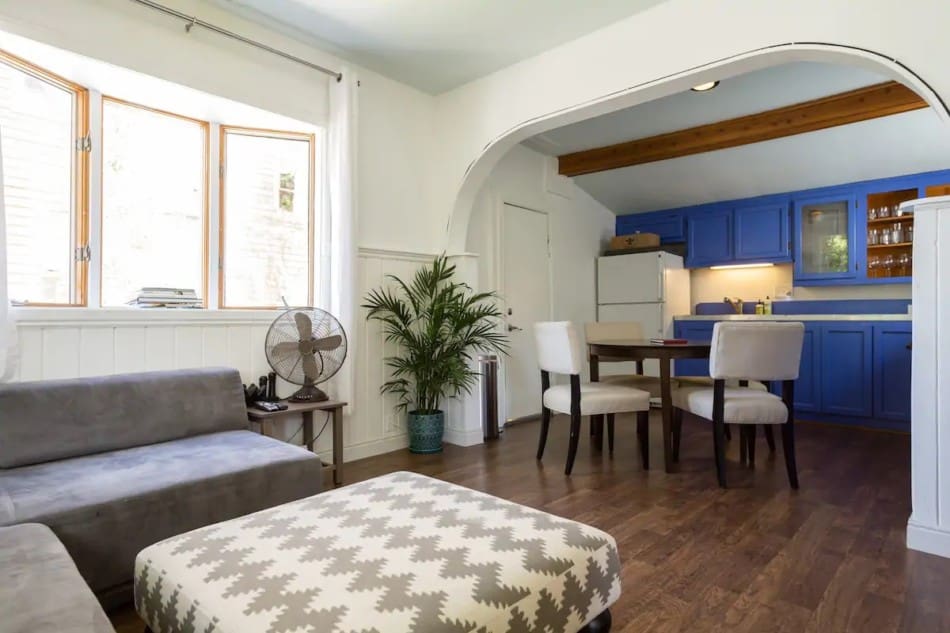 The cabin has a living room with astonishing views of the town and the slopes, a private yard and porch, a cozy bedroom, and a renovated bathroom. The place itself is authentically rustic and the host is a fantastic one that he would even recommend some cool places to go to near the area.
Family-Friendly Home with Fire and Hot Tub
Price:
Guests: 9
Bedroom: 3
This family-friendly townhouse is perfect for get-together or reunion with families because it's very spacious and well-decorated. It can accommodate up to 9 guests and it is in a super convenient location to Park City Mountain.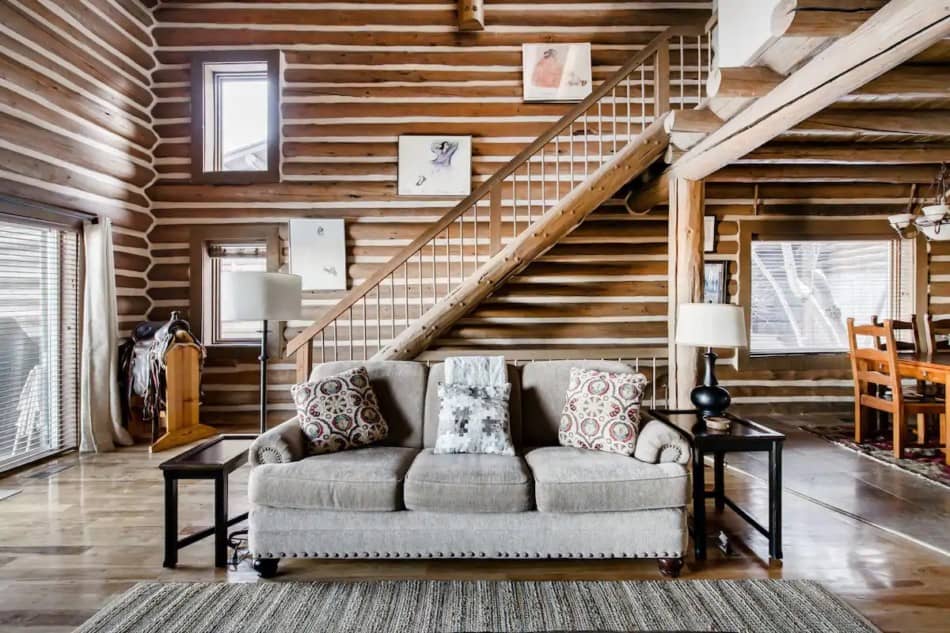 This house is complete with everything you need such as 6 beds, 3 bathrooms, balcony, cable TV with DVD player, full kitchen, private hot tub, washer and dryer, and more. Kids will also enjoy playing video games in one of the living areas while the adults can enjoy a dip in the outdoor pool, hot tub, or steam room. And if you have any questions, the very accommodating host will answer your queries.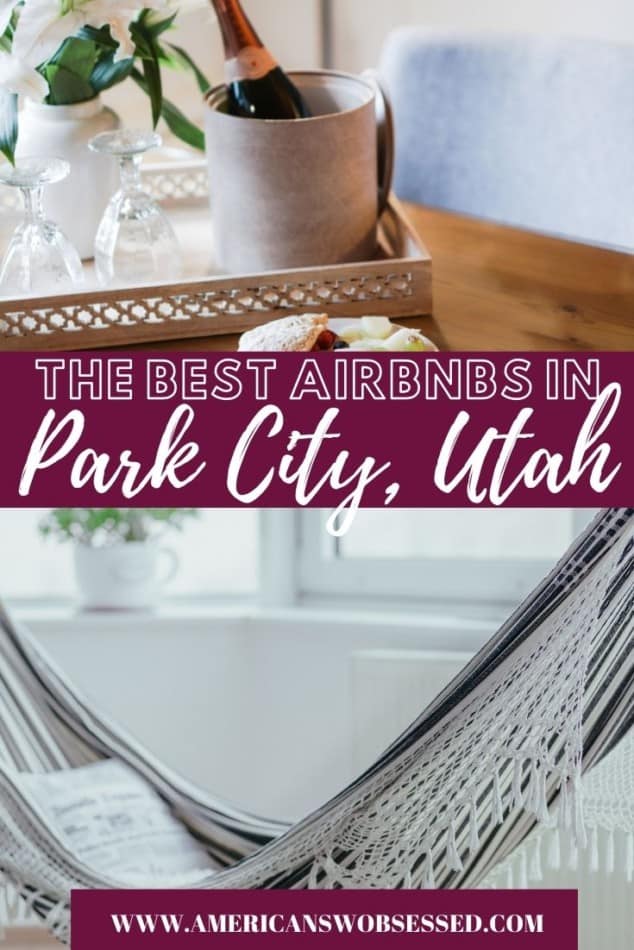 Recent Posts