15 Amazing Airbnbs in Salt Lake City that are close to everything
Airbnb Salt Lake City, Utah: Are you looking for a Salt Lake City Airbnb? I have put together this list of the best Airbnbs in Salt Lake City. There is even an Airbnb in downtown Salt Lake City Airbnb. When choosing an Airbnb Salt Lake City, downtown is a great place to stay.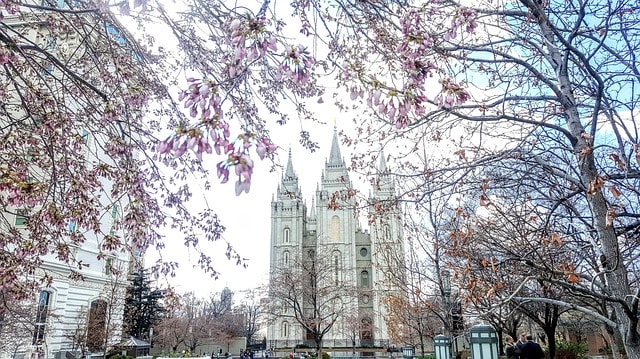 There is such much to do in Salt Lake City. Make sure to check out my guide to the Best Hikes near Salt Lake City to get out and see the beautiful scenery near the city.
I have articles for each of the major cities in Utah. If you are looking for more options feel free to check out these posts:
The Perfect Airbnbs in Park City, Utah
15 Incredible Airbnbs Moab Utah
The Perfect Airbnbs in Park City, Utah
15 Incredible Airbnbs in St George Utah
15 Unique Airbnbs in Springdale, Utah – near Zion National Park
15 Best Airbnbs in Zion National Park
Thank you for supporting this website written by an American. This post may contain affiliate links. This means I earn a small commission on these links at no extra cost to you.
15 Best Salt Lake City Airbnbs
The Art Cottage at Historic Baldwin Radio Factory
Price:
Guests: 4
Bedrooms: 1
If you are seeking a charming and artsy stay while still looking for fun and adventurous things to do in Salt Lake City, the Art Cottage is perfect for you. You'll be at ease while staying here because of its convenient location. It is very close to some ski resorts and juts a few steps away from a park, cafe, yoga studio, and library.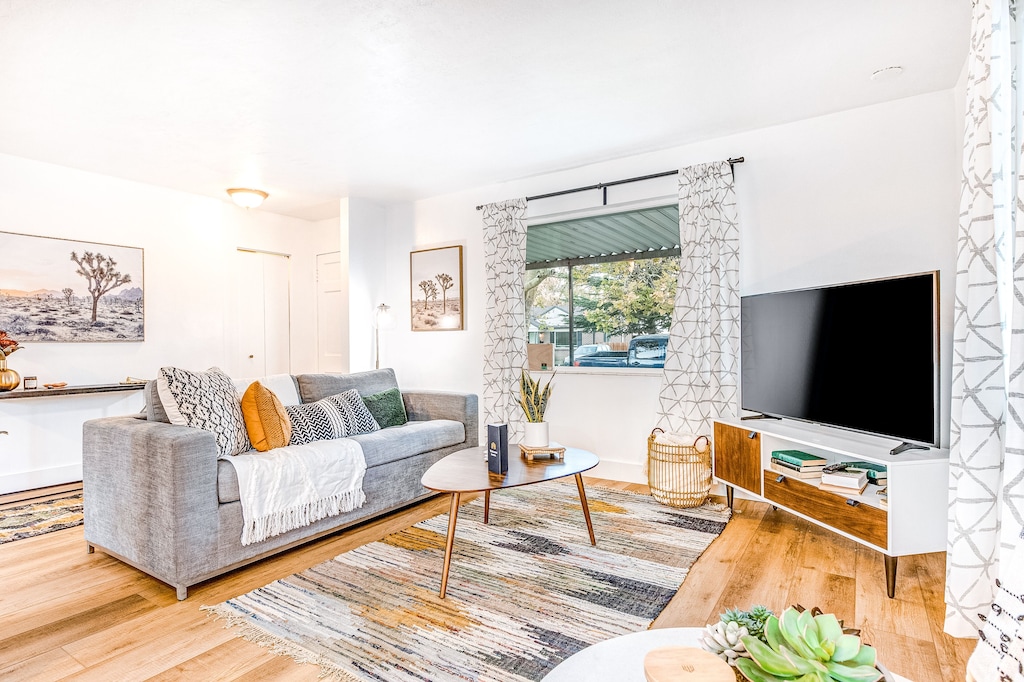 This recently remodeled tiny cottage used to be an artist studio for painters and musicians but this is now exclusively used as an airbnb. There are 2 beds available inside that can let 4 people sleep comfortably on it. And some of the amenities include a kitchen, indoor fireplace, laptop-friendly workspace, and more.
The host is also excellent and easy to reach out and he would even offer plenty of great advice on what to do in Salt Lake City.
Modern 2-Bedroom Home in the Historic District
Guests: 2
Bedrooms: 1
This modern two Bedroom home is for people who value a high standard of cleanliness and a carefully thought space. It is a very compact and stylish space that is also spotlessly clean, well organized, and full of amenities. It has one bed only good for singles or couples and the unit is located on the ground floor.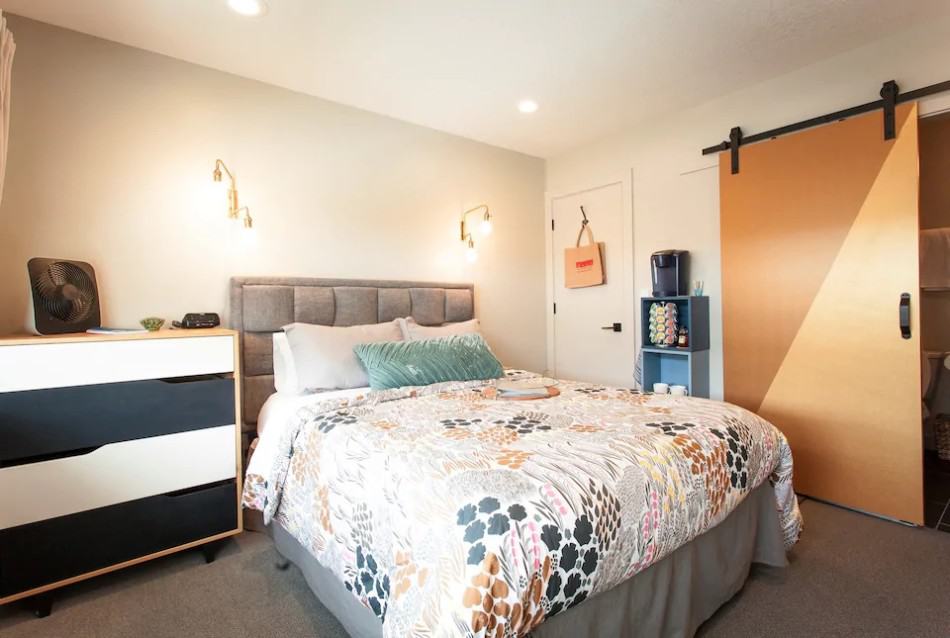 Even though there is no kitchen available in the studio, the location of Studio B is very great because you can just walk to many coffee shops, restaurants, taverns, and corner markets in the area. This is also an excellent place to stay if you are a Sundance Film Festival goer because it is very close to all SLC film fest venues.
Ideal location near downtown, airport, canyons & across from Sugarhouse Park
Guests: 4
Bedrooms: 1
This super cute and outstanding apartment has the most stunning views of Salt Lake City and the views can be enjoyed both outside or inside. The location is also very close to miles of trails and you would definitely be in awe of Salt Lake City at the same time.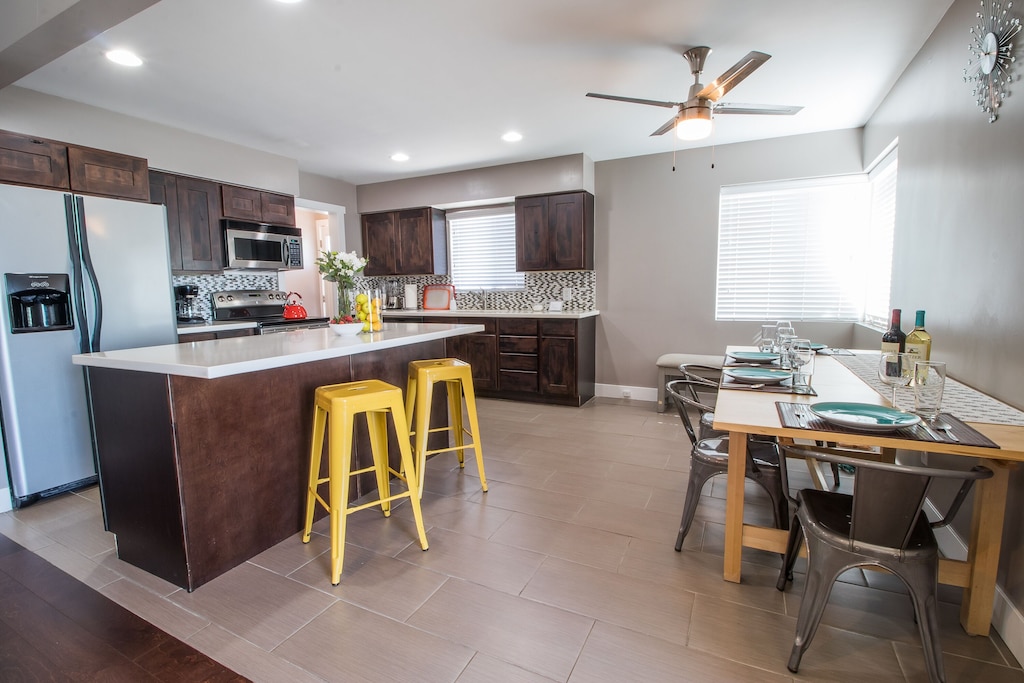 The entire place feels so private and it is loaded with amenities that you need for a great stay such as a full kitchen with free coffee and tea, queen size bed, closet, large and comfortable couch, and many more. And you will be encountering two amazing hosts that are very quick to respond and would even give a complimentary bottle of wine and some snacks to welcome you. 
Sugarhouse. If you know Salt Lake, you know that this is the hottest, most centrally located neighborhood in the valley. Walking distance to great restaurants, a half-mile to the freeway, 15 min to the SLC airport, 10 min to downtown or the University of Utah, and your favorite ski resort is less than 30 minute away.
Enchanting SLC Home near Downtown & Ski Resorts
Guests: 8
Bedrooms: 4
Wonderful hosts, exclusive use of a gorgeous pool, clean towels, and a comfy bed – these are some of the many great things that you will experience while staying in this quaint cottage in Salt Lake City.
The place is also very private and serene and the yard outside is a cool place to unwind and enjoy nature. This is a great staycation place for the whole family as it features a private pool outside the door and a hot tub that both kids and adults will enjoy for a price that is totally reasonable and worth it.
Ski trip? Convention? Visiting family? 'Kensington Garden' home is the perfect base for your trip to Salt Lake! Downtown is just a few minutes away. World-class ski and recreation destinations are a short drive up the canyons. After a hard day of work or play, return to this enchanting home-away and soak in the hot tub in the lush, private backyard while your group's chef prepares your dinner in the well-stocked kitchen. This is the place to rest and relax in comfort and style.
Private Designer Home+Fully Fenced Yard+Walk to Downtown+Gazebo w Kitchen Island
Guests: 10
Bedrooms: 5  
Turn your childhood dreams into a reality by staying in this beautiful and rustic treehouse with great linens and modern conveniences. And even though this is a tiny treehouse, it is complete with basic amenities such as a TV, refrigerator, microwave, iron, and more. There is also a private patio and lounging chairs where you can relax while enjoying nature.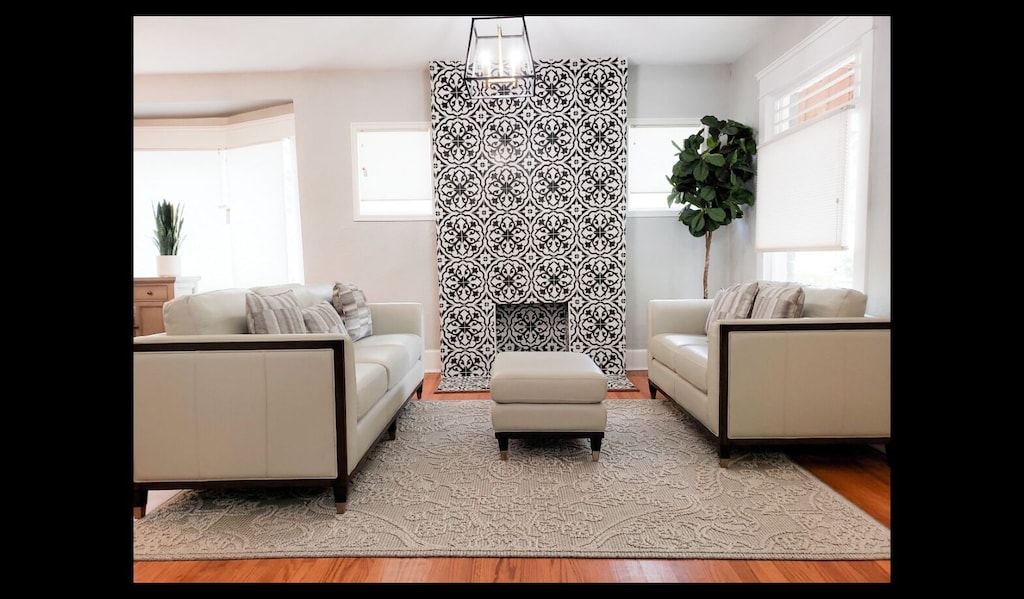 And what this property boasts the absolute best downtown Salt Lake City location. This is a fully updated bright and historic 4 bedroom 2 full bath one of a kind Marmalade jewel with easy airport and resort access. This property has been lovingly updated for comfortable modern living. This is a private stand alone home. Don't be fooled a by listings that may be twin or shared homes especially if there are no or limited exterior photos. This property is elegant and updated both in terms of its interior and exterior and is guaranteed to impress any traveler.
Original hardwood floors, moldings, stain glass, and other characteristics have been preserved and complemented with new high end improvements, including a new kitchen, new bathrooms plus much more. The property enjoys large windows to maximize natural light throughout its spacious floorplan. There is a large fully fenced back yard perfect for furry friends.
Salt Lake City Home w/ Koi Pond & Furnished Deck!
Guests:12
Bedrooms: 6 
This newly renovated studio is nestled on the back of a stunning Victorian Manor that was built in the 1980s so you will be literally staying next to a piece of Utah history.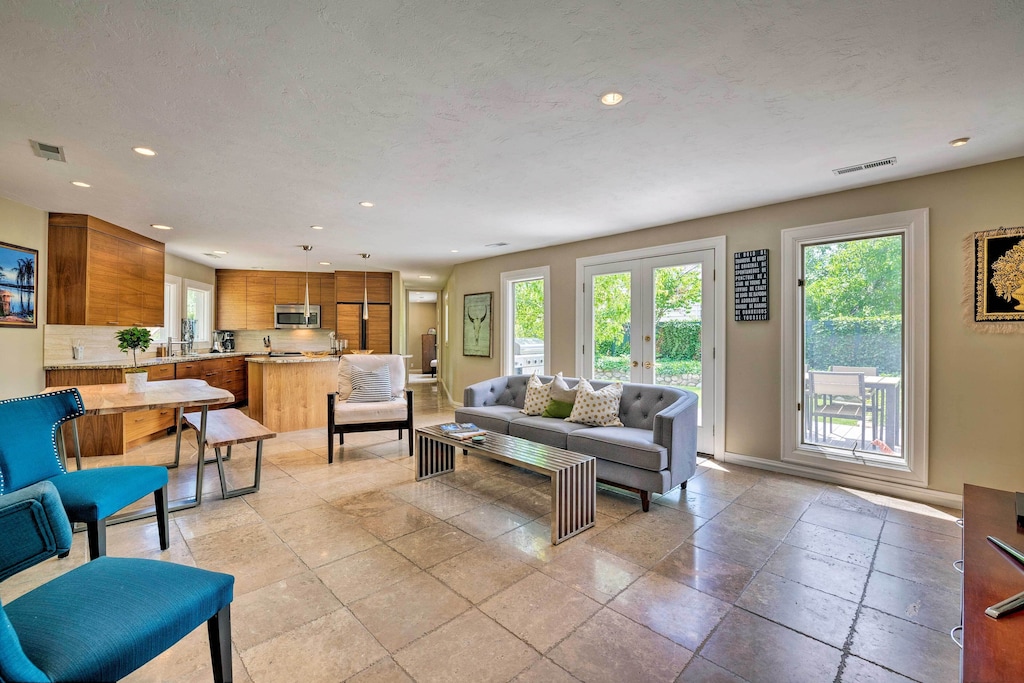 This place features 2 beds, a small kitchen with dining space, a bathroom, and a tiny home backyard. This is perfect for weary travelers who are looking for an easy and serene place to relax and unwind.
Downtown 5-Bedroom Home with a Big Back Yard
Guests: 14
Bedrooms: 8  
If you are looking for a really large place to stay in Utah that can accommodate a large number of guests, this farm place is perfect for you. This house can let 24 people sleep comfortably and it is perfect for a family to get together.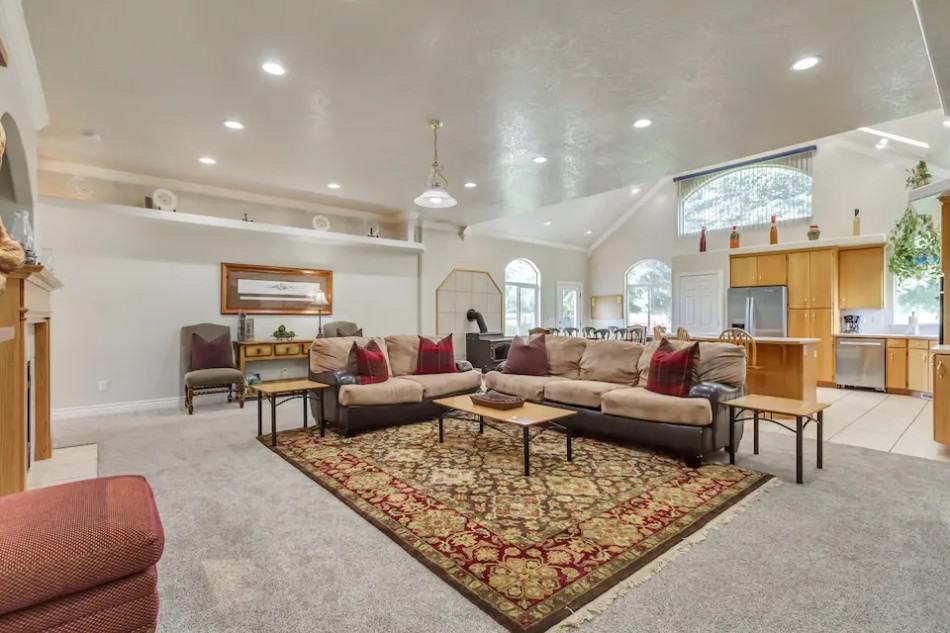 It is loaded with great amenities such as a kitchen, 10 beds, 3 bathrooms, a huge living area, indoor fireplace, and more. Plus, it is very close to East Canyon state park and reservoir where you can do boating, swimming, fishing, hiking, and biking. Truly, there is nothing like being out in the country on the farm.
Brand New Build
Guests: 6
Bedrooms: 3
This cozy garden-level apartment is a completely private space and it sits at an elevation of 4500 and is on the This is a brand new build; 3 bedroom, 3.5 bathroom, modern home. There is an office that can be converted into a fourth bedroom. The house has been professionally decorated by the best mid-century modern design team in the city. The kitchen has a gas stove, there is a gas grill on the main balcony adjacent to the kitchen, and a maid service comes weekly to make sure the house is looking it's best.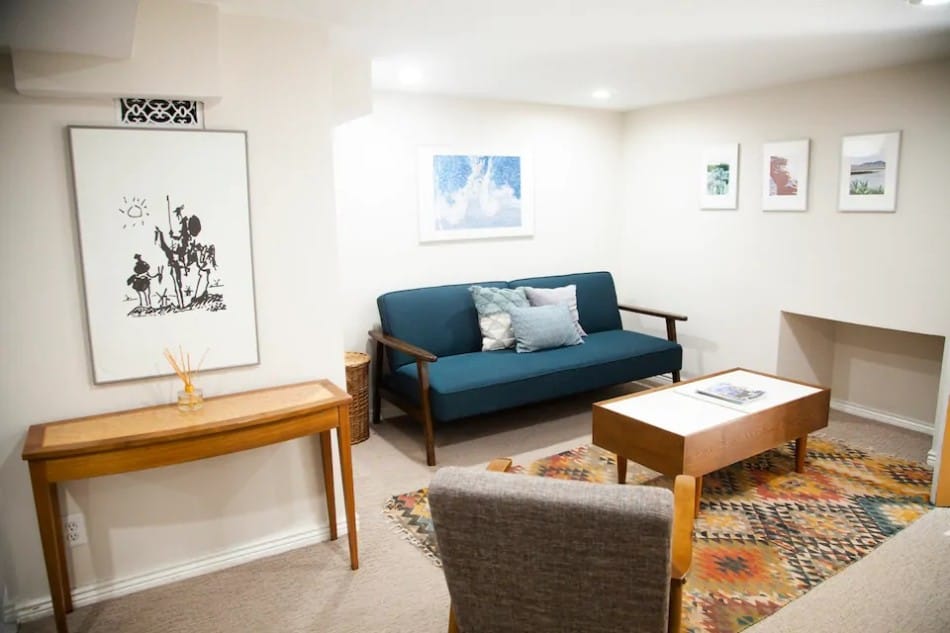 This home is also a great for the airport, Great Salt Lake, Wasatch Mountains, downtown, and ski resorts. And the host is very great at giving you some tips about what to check out in the area including the incredible sights to see.
Modern Retreat with Pool and Hot Tub by the Canyons
Price:
Guests: 4
Bedrooms: 2
This newly remodeled 1300 sq ft daylight basement apartment offers a private hotel suite-like accommodation. It features a well-appointed kitchen for cooking and dining, a private hot tub located outside the basement entrance, shared pool with mountain views, quality mattresses and pillows, and more.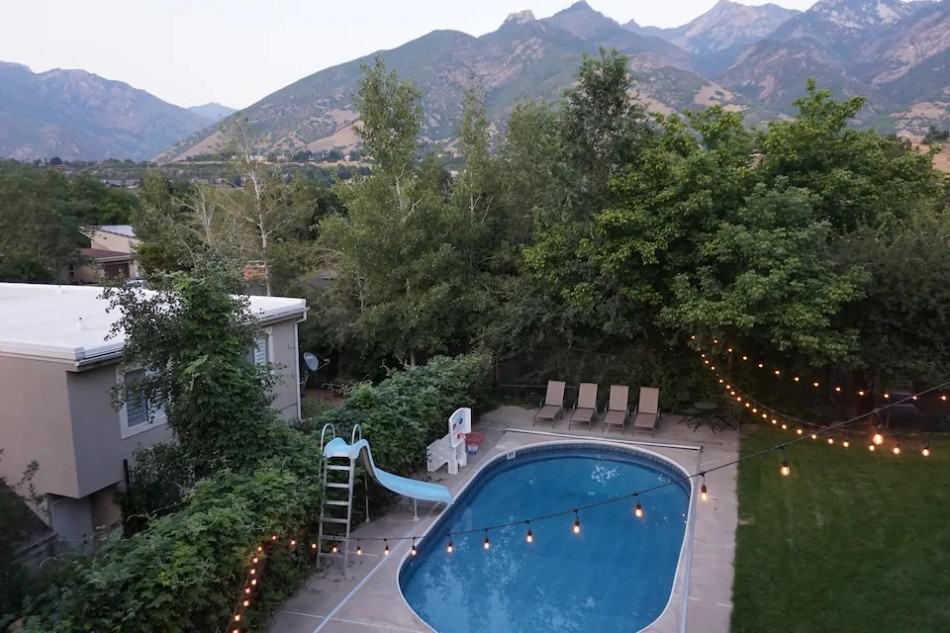 Whether you are staying here for a night or for a couple of nights, the hosts will make sure that you experience maximum comfort and convenience that you deserve.
Townhouse with Mountain Views from Rooftop Terrace
Price:
Guests: 4
Bedrooms: 2
This 1500 sq ft townhome is very convenient in terms of location because it is only 20 minutes from downtown Salt Lake City and 40 minutes away from world class skiing and snowboarding. And at the end of the day of exploring the beautiful Salt Lake City, this humble abode will be your place of relaxation.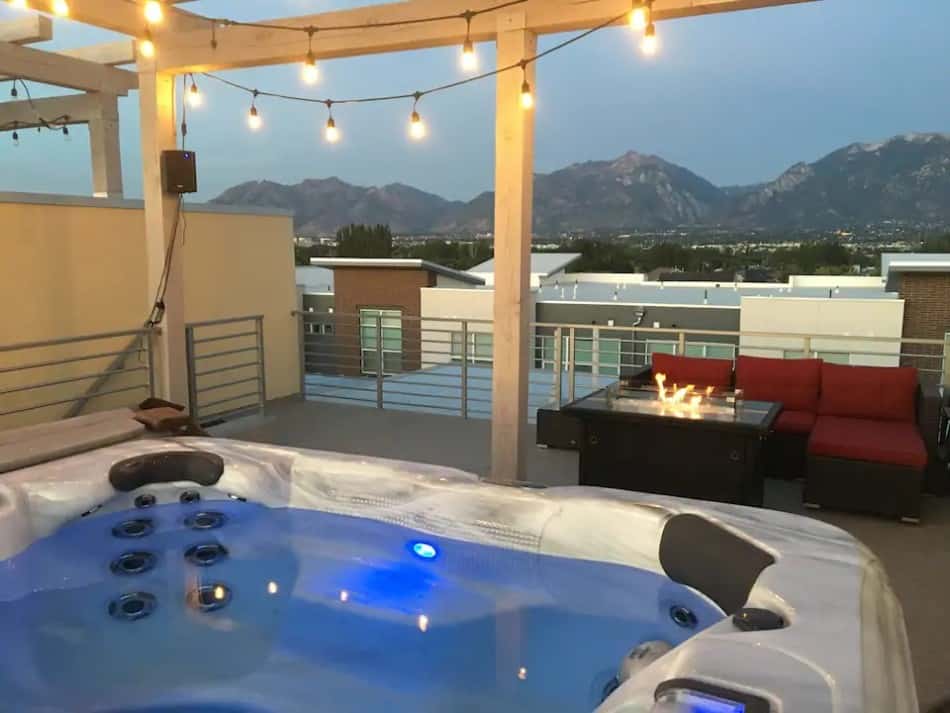 It is complete with amenities such as a fully stocked kitchen so you can cook great meals for everyone, an indoor fireplace to keep you warm and cozy, and a private rooftop terrace where you can stare at the amazing night sky while listening to some good music with the blue tooth speakers. Overall, this is a great place with amazing views, perfect little touches, and a budget-friendly price.
Spacious and Sunny Central 9th Gem
Price:
Guests: 6
Bedrooms: 2
This entire bungalow will serve as your home away from home plus featuring all the amenities that you need for a great stay. It has 2 beds, a fully stocked kitchen with dining area, living room with fireplace, a mini garden, and more.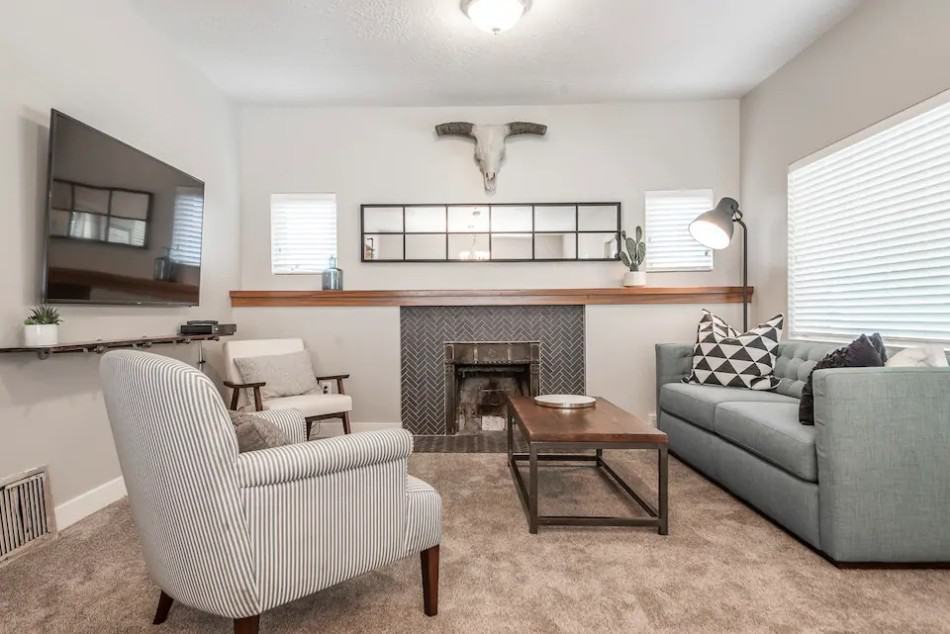 And you'll love the fact that it is very close and convenient to some shops, restaurants, and SLC sites. And the hosts are very responsive and they would make you feel at home. This home is everything you need for a price that is totally worth it and reasonable.
BeauDowntown Condo Near the Salt Palace Convention Center
Guests: 9 
Bedrooms: 5
This brand new apartment will let you experience what it's like living in a 5 star hotel but with more comfort. The design of this apartment is ideal for business and family travelers complete with all the latest amenities to make your stay a more memorable one. It is complete with a kitchen, washer and dryer, 55" smart TV, appliances, dishwasher, luxury bed, and many more.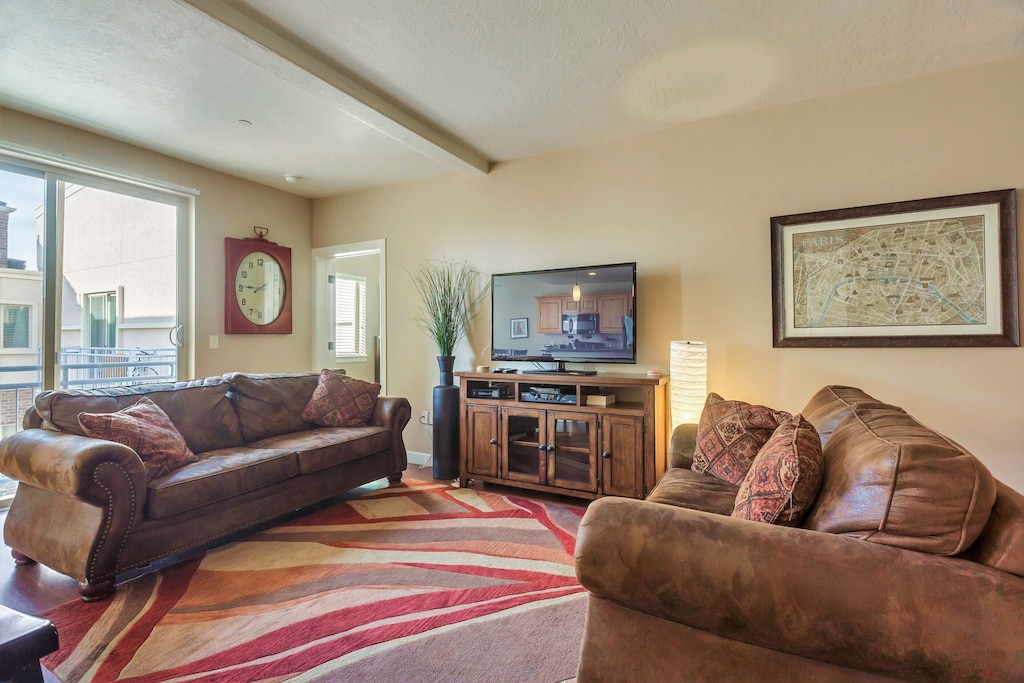 And guests can have access to the entire apartment including all the amenities in the building including the seasonal pool., hot tub, pool side cabanas and lounge area, theater room, gym, yoga studio and a lot more. And as to the price? It's totally worth it. This is a highly recommended place to anyone looking for a place to stay in the city.
New Downtown Townhouse Gem
Price:
Guests: 6
Bedrooms: 3
The open concept and modern stylish design of this newly built townhouse bring a lot of light and airy vibes inside. It is a beautiful space with West Elm furnishing and everything about this house is brand new. You can surely say that every detail is carefully thought out and will please your eyes.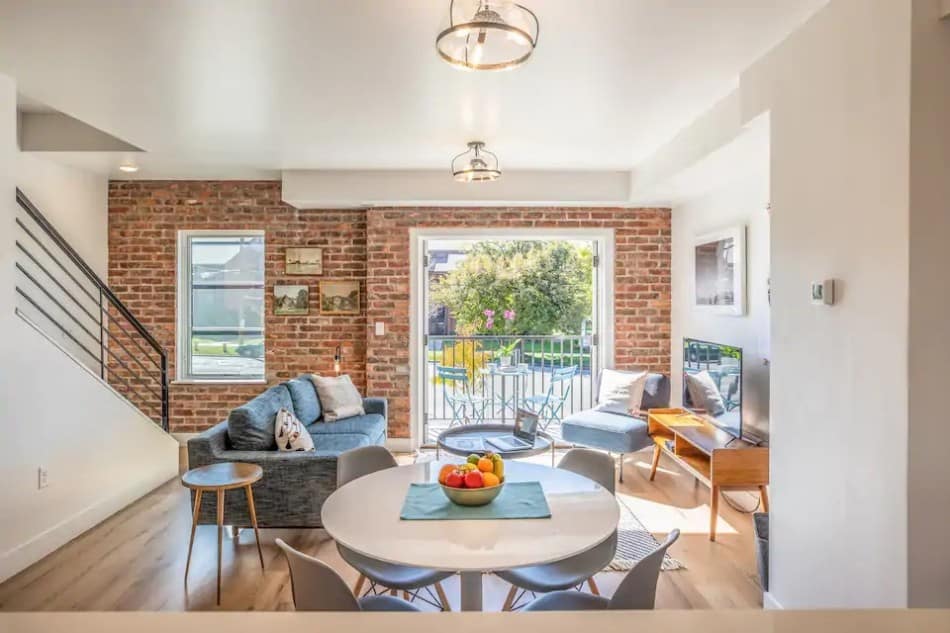 Aside from that, it is also complete with amenities including a fully stocked kitchen, 4 beds, 2 bathrooms, fast wifi, laptop-friendly workspace, TV, a charming balcony, and more. You will also have access to the entire place as well as the inside living areas and the car garage. And even if it is located far enough from downtown, you will be still close enough to the beautiful nature and surroundings that you can walk on a good weather day.
Exceptionally Cool Basement Space
Price:
Guests: 3
Bedrooms: 1
Clean, comfortable, and functional – these are the words that would best describe this self contained apartment in Salt Lake City.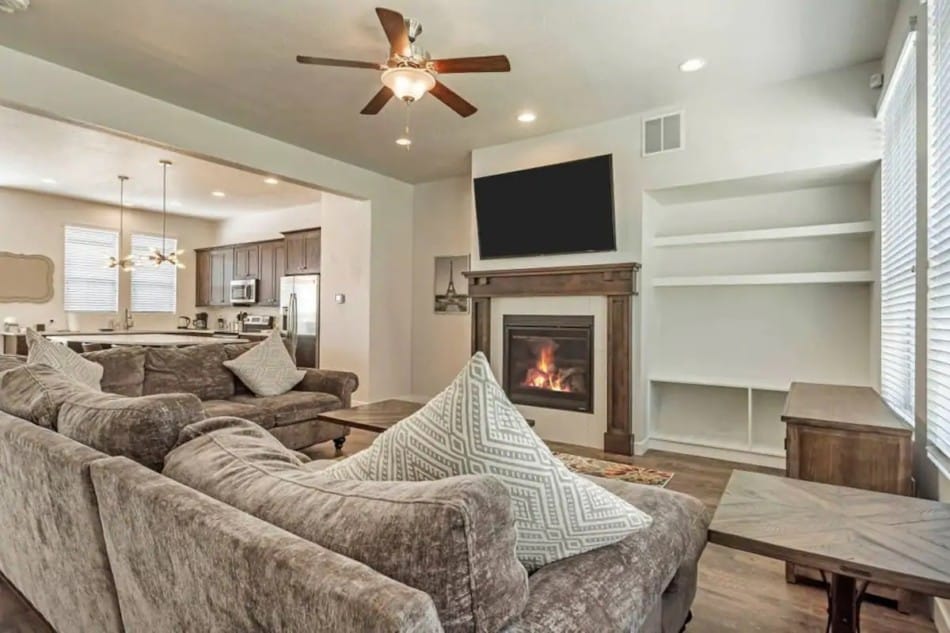 It is a very private apartment that offers amenities like a fully equipped kitchen with modern appliances, a smart TV with Netflix, Youtube, and Amazon Prime, free wifi, and more. The space has its own entrance and it is separated from the upstairs by a lockable door so you can ensure privacy from other occupants. This is recommended for couples or small families looking for a comfy and cool place to stay.
Urban Oasis in the City
Price:
Guests: 4
Bedrooms: 1
If you are going to Salt Lake City for the first time, this is the perfect apartment to stay in. The location is just walking distance to almost anything in the area.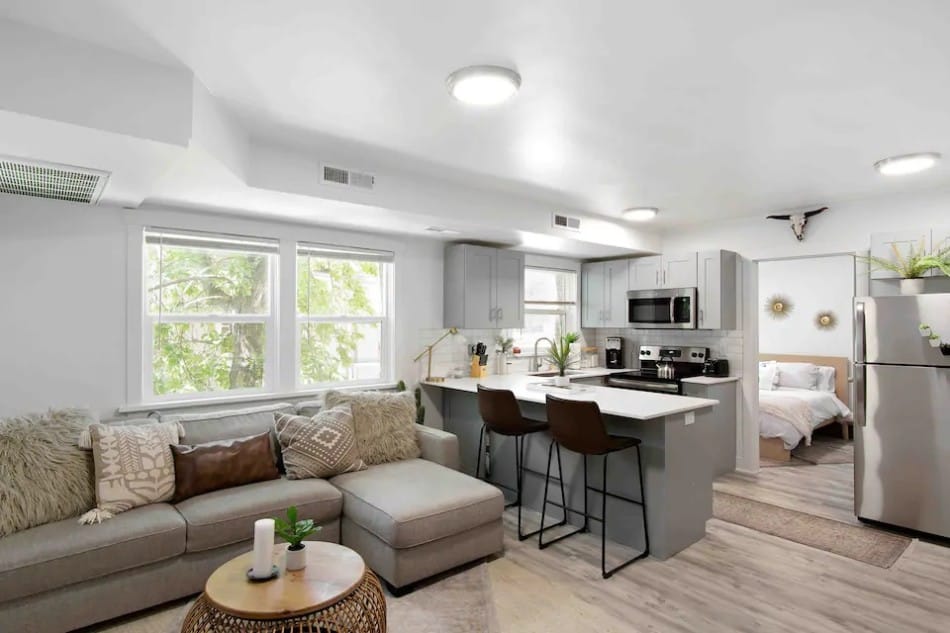 The city is full of dining options for you to try and that will satisfy your food cravings. But if you don't want to go out, you can always cook sumptuous meals at the fully stocked kitchen with appliances. In addition to that, it is also complete with other amenities such as 40" smart TV, queen size bed with full size pull out bed, outdoor BBQ etc.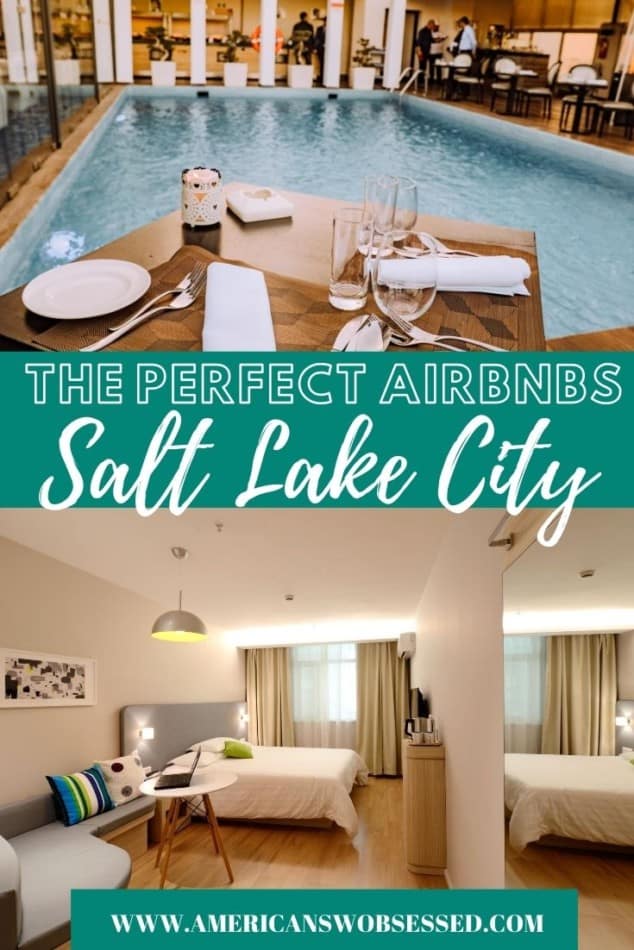 Continue Reading more on my website about Utah:
11 Best Hikes in St George Utah
15 Incredible Airbnbs in St George Utah near Zion National Park
15 Incredible Airbnbs Moab Utah
Recent Posts