Ultimate Arizona Road Trip Itinerary – 7 Action Packed Days
Planning an Arizona Road Trip: There is so much to do and see in Arizona you will not be disappointed.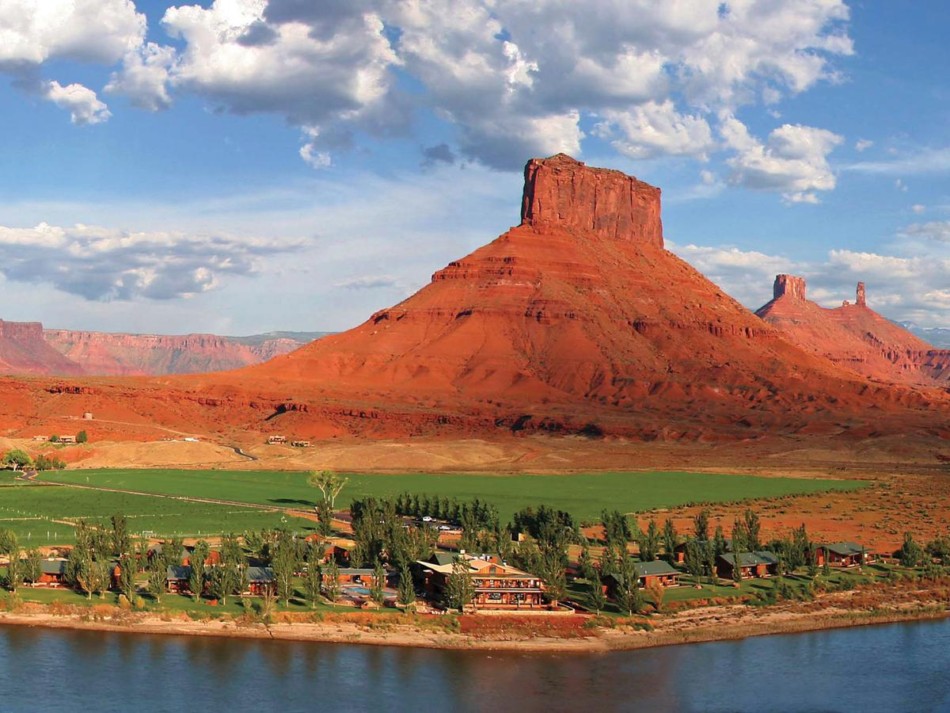 On this Arizona Road Trip we will visit all of the Bucket List Places in Arizona including the Grand Canyon, Horseshoe Bend, and Antelope Canyon and much, much more.
This road trip in Arizona is perfect for first time visitors and those who are looking to explore a bit more of the Grand Canyon state.
I also have a full dedicated article to each of these destinations which I have linked under each day if you are looking for more information on a location or more ideas.
I also have a post on road trips from Phoenix to give you a few more ideas as well.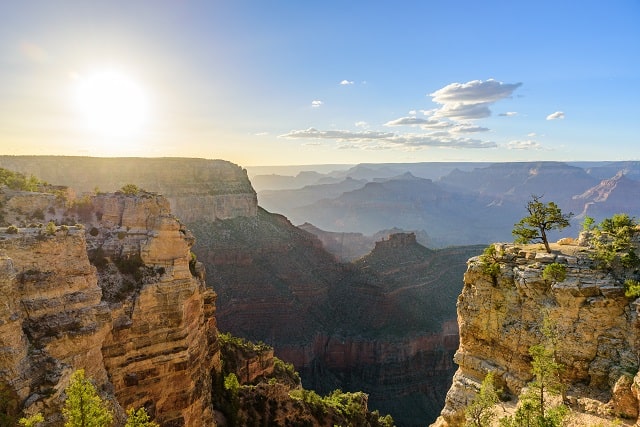 This is what one of the best road trips in Arizona looks like and where you will stop along the way.
Day 1: Phoenix to Sedona
Day 2: Sedona
Day 3: Sedona to Grand Canyon
Day 4: Grand Canyon
Day 5: Page, Arizona – Horseshoe Bend, Antelope Canyon
Day 6: Monument Valley
Day 7: Return to Phoenix
Day 1: Phoenix to Sedona
You can start your ultimate Arizona road trip by driving to Phoenix to Sedona. Phoenix is the capital of Arizona and it is considered as the 5th most populated city in America.
It is also referred to as "The Valley of the Sun" due to its location in the Salt River Valley. It is the home to real cowboys, red-rock buttes, and cactus.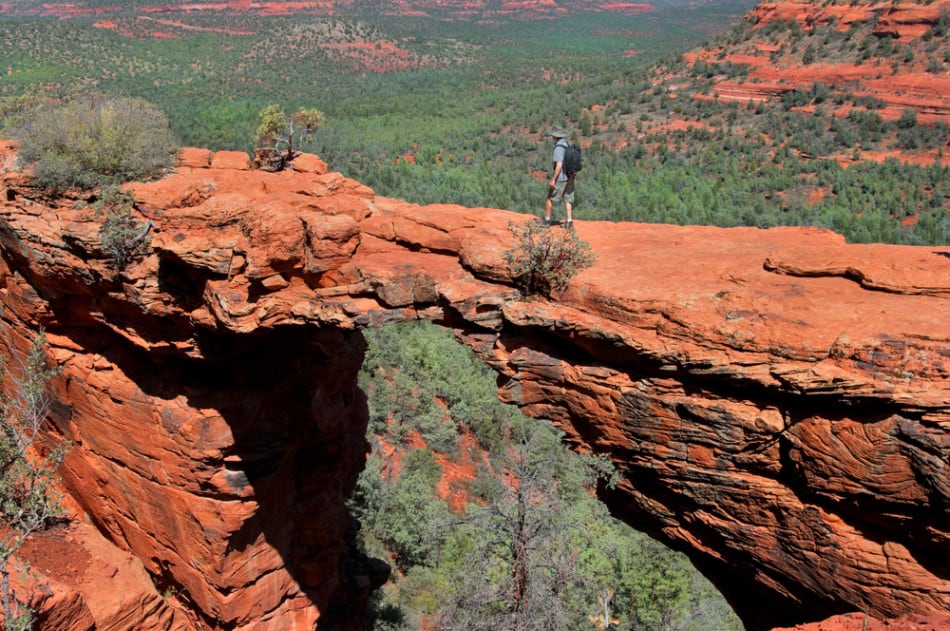 I have a full article on the drive from Phoenix to Sedona and what to do once you get there. The drive usually lasts for two hours via State Route 179. And there are a lot of beautiful stops that you can take from Phoenix to Sedona.
Stop 1: Black Canyon City (46 miles from Phoenix)
This quaint desert town is 45 minutes away from Phoenix and squeezes the western edge of the Tonto National Forest. It gives you a slice of Arizona's nature at its finest with its picturesque location such as Bradshaw Mountain along the Agua Fria River.
Black Canyon City has an interesting history because this area served as a stage stop on the Phoenix to Prescott line in the late 1800s and a military stopover between Fort Whipple and Fort Verde during Arizona's territorial days.
There is a 62-mile trail that you can explore in the area which is the Black Canyon Trail. The trail lets you see more of the Sonoran Desert and Bradshaw Mountains.
You can do lots of outdoor activities including hiking, mountain biking, and horseback riding.
Stop 2: Agua Fria Monument (67 miles from Phoenix)
The Agua Fria National Monument is a 71,000-acre of unadulterated natural beauty. Here, you will find an expansive mosaic of semi-desert landscapes and prehistoric sites carved into the rocks that has been recorded for more than 2,000 years.
It is a perfect place to view and photograph wildlife such as antelope, mule deer, javelina, bobcats, and a lot more. There are also other outdoor activities that you can do in the area such as hiking, camping, four-wheel driving, birdwatching, and hunting.
Stop 3: Montezuma Castle (94 miles from Phoenix)
Montezuma Castle is one of the most popular Indian Ruins in Arizona and well worth a visit.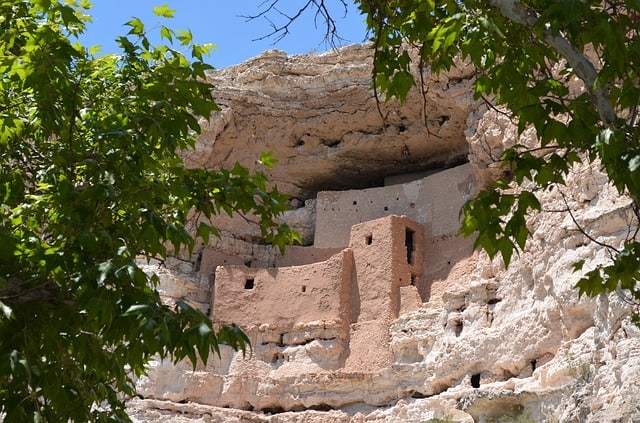 Montezuma Castle is a 5-story structure that features the well-preserved cliff dwellings built and used by the Sinagua people.
There is an entrance fee of $5.00 per person and you can also find a gift shop and interpretive center inside. 
Although visitors are not allowed anymore up inside the actual ruins, you can still do other things such as walk the loop trail and take a lot of pictures around the site.
Stop 4: Wine tour at Verde Valley
There are a lot of wine tours in Sedona that not only offer wine tasting but also other activities including enjoying the amazing sights of Sedona, shopping, and fine-dining.
Check out my post on Arizona wineries and where they are located.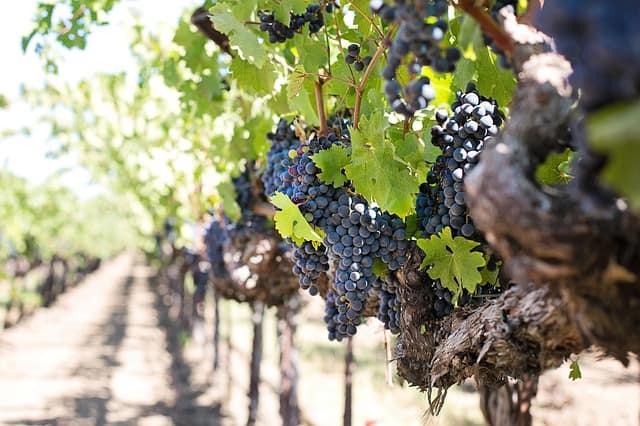 Where to Stay in Sedona
There are a number of Airbnbs in Sedona that are fantastic. Stunning views, hot tubs, treehouses – just really unique places to stay that you must check out.
Whispering Creek Bed & Breakfast – this is one of the most luxurious bed & breakfast in Uptown Sedona that offers cozy and comfortable accommodation and breathtaking views of the Sedona Red Rock Mountains. Their four rooms range in size and price, from smaller rooms to a more spacious and luxurious private sites. All rooms have a private entrance and bathroom, as well as flat screen TV, free WiFi and complimentary menu style breakfast.
Arabella Hotel Sedona – This is located in the heart of Sedona, just a few steps from the famous Tlaquepaque Arts and Shopping Village. All rooms are equipped with air conditioning and a private en suite garden. They also offer complimentary breakfast and complimentary cruiser bikes who will take you around Sedona.
Day 2: Sedona
For your second day, this is the time that you explore the charming city of Sedona. This city has a lot to offer because it is considered as one of Arizona's premier tourism, recreation, art centers, etc.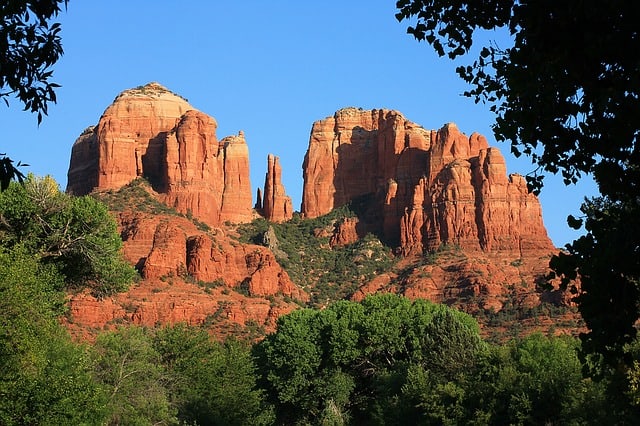 It has some of the most amazing hiking trails that you can explore in the world. In other words, the trail and hiking adventures are limitless in Sedona.
Stop 1: Slide Rock State Park
Slide Rock State Park is one of the most popular recreation spots in Sedona and it is a 43-acre historic apple farm situated in Oak Creek Canyon.
This park features a natural rock water slide that is 80 feet long and it is surrounded by famous red rocks and desert scenery. The park also has short trails and a nature trail and it is close to several Coconino National Forest hiking trails.
Aside from hiking and water slides, this park is a habitat to an array of animals that may offer wildlife viewing opportunities for visitors. You can see whitetail deer, javelina, coyotes, and black bears within the park. A huge variety of bird species, smaller mammals, and various reptiles can also be seen here.
Stop 2: Devil's Bridge
One of the most popular trails that you can hike in Sedona is the Devil's Bridge. This hike is actually on top of the list of many tourists and visitors to Sedona because of its easy hiking trail and mesmerizing rock scenery.
A lot of visitors take this hike because it is just a short but steep hike.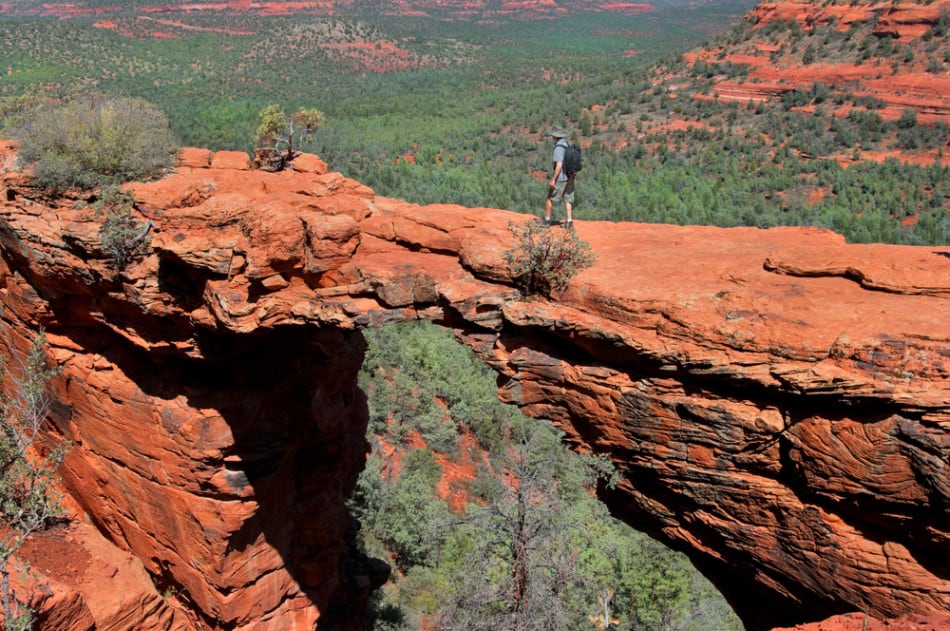 The official trailhead starts off the unpaved portion of Dry Creek Road but you need to secure first a high clearance vehicle to access, only then you are allowed to park at the Dry Creek Road trailhead at the paved section.
And about 3/4 mile from the parking area the trail will come to a fork and you will turn left, and you'll end up at the base of the bridge. Then you will continue up a natural rock staircase from which you will witness beautiful views of Sedona.
This is a fairly easy hike in Sedona – except for the last 15 minutes where you go up to the Devils Bridge.
Stop 3: Cathedral Rock
Sedona is famous for its rocky formations and stunning views of nature and one of the best ways to get a glimpse of what Sedona can offer is taking a hike to Cathedral Rock.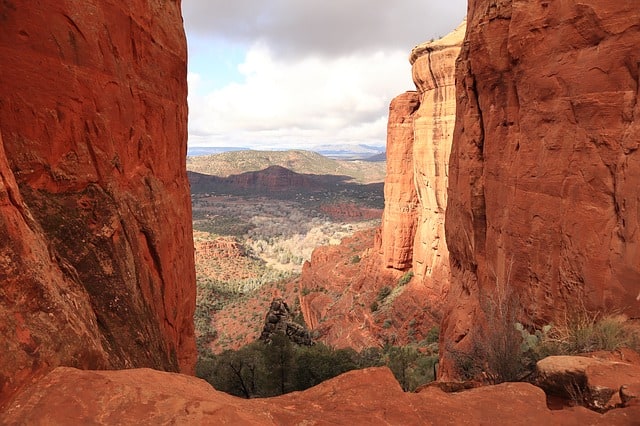 The total hike to Cathedral Rock is only a mile long and you'll cross the junction between Cathedral Rock Trail and Easy Breezy Trail before you begin your ascent.
The initial climb is fairly easy but occasionally you will encounter staircases of rocks. And just before you reach the junction of Cathedral Rock Trail and Templeton Trail, you will arrive at a plateau where you can rest for a bit and savor the breathtaking view of Sedona.
When you reach the second plateau, this is where most hikers get some rest and you will also see how close you are to the summit. A sign at the top stating "End of Trail" will greet you and it is the indication that you have reached the summit. And prepare your eyes to be mesmerized with Sedona's natural beauty.
Check out my post on all the Best Hikes in Sedona for more information on the best hikes and the best views.
Stop 4: Oak Creek Canyon
The Oak Creek Canyon is just one of the scenic stops that you can visit en route to the Grand Canyon. It is well-known for its colorful rocks and unique formations. But before you drive into the canyon, you might want to stop at Oak Creek Canyon Vista where you can get a bird's eye view of the road.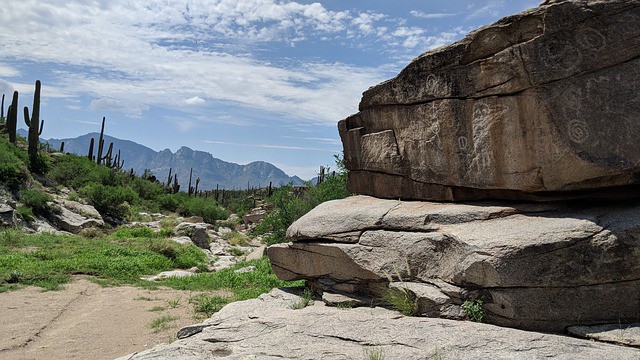 You can actually enjoy the scenery of the Oak Creek Canyon without leaving your car. But you can also visit the crimson cliffs and crystal pools. There are plenty of overlooks, picnic areas, swimming holes, and hiking trails along the drive.
Stop 5: Tlaquepaque
To complete your Sedona experience, you must pay a visit at the internationally renowned shopping area Tlaquepaque, Sedona's Arts and Crafts Village.
Tlaquepaque (pronounced as T-la-keh-pah-keh) is the most distinctive Sedona shopping experience that you can find in the Southwest. It has been a Sedona landmark since the 1970's.
Even if you don't want to shop, this is still a beautiful place to stop. The architectural buildings and settings will take you to another place and you will feel transported to a small village.
There are a lot of places to dine and shop ranging from the various mediums of art and knickknacks.
Where to Eat in Sedona
Red Rock Cafe – for a great food adventure, you can head to Sedona's premier cafe, Red Rock Cafe. They offer a diverse menu using the freshest ingredients. They quickly became a local favorite for breakfast and lunch, and guests who come to dine at this place always have a positive experience with them. And you should definitely try their all day breakfast and their famous giant Cinnamon Roll.
The Hudson – The Hudson serves lunch and dinner daily and they take pride on their bruschetta, burgers, salads, hand cut 45 day aged prime steaks, ribs, fresh seafoods, specialty cocktails, wine, and local craft beer. Aside from their delicious food, their patio dining and spectacular views are the things you look forward to at this restaurant that will surely delight both your tummy and eyes.
Cucina Rustica – It is a rustic Italian kitchen in Sedona. They take pride in their 16-years of award-winning cuisine and incredible service. Aside from their array of vegetarian and vegan specialties, classic pasta dishes, and perfectly grilled steaks, they also have an extensive selection of wines.
Day 3: Sedona to Grand Canyon
The drive going to the Grand Canyon from Sedona usually takes 2 hours. To maximize your time at the Grand Canyon, take the fastest route by sticking on interstate and state highways.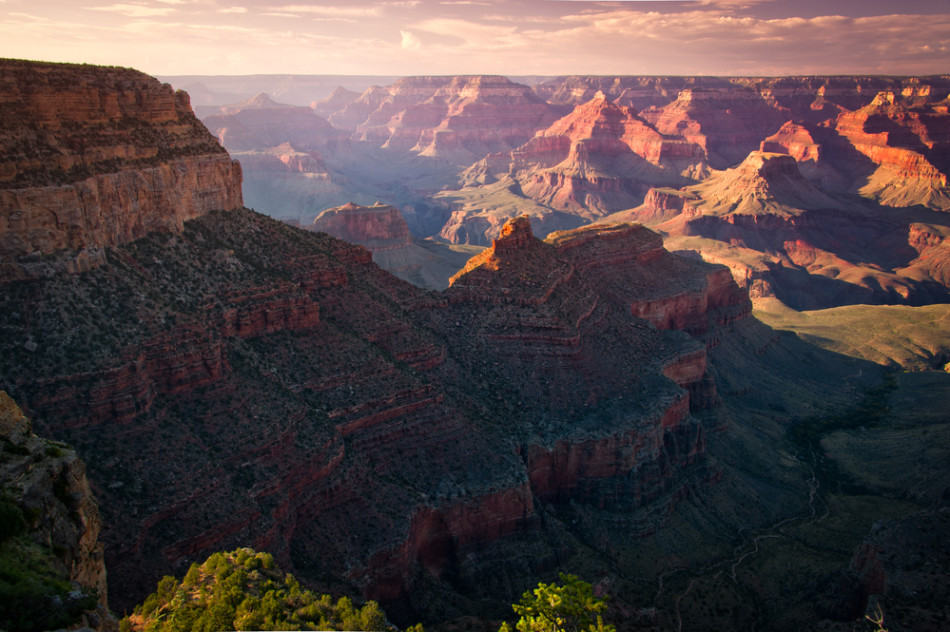 Stop 1: Museum of Northern Arizona in Flagstaff
This museum is located in Flagstaff, Arizona and it is one of the great regional museums of the world that is surrounded by great geological, biological, and cultural resources.
It showcases the beauty of the Colorado Plateau and it will also give you a better understanding of this unique region. 
If you want to learn about the lives and culture of the indigenous people who live in this area, this is a great place to stop by before heading to the Grand Canyon.
If you have a bit more time, Flagstaff is a great place to stop off and explore. You can ready more about the Best Hikes in Flagstaff and check out these cool Airbnbs in Flagstaff for a place to stay.
Stop 2: Sunset at the Grand Canyon at Yavapai Point
Yavapai Point is an easy walk from Mather Point which is right next to the Visitors Center at the South gate entrance.
Many visitors choose to park at the easily accessible parking at Mather Point and walk over to Yavapai Point because vehicles over 22 feet are not permitted at the small parking lot near this point.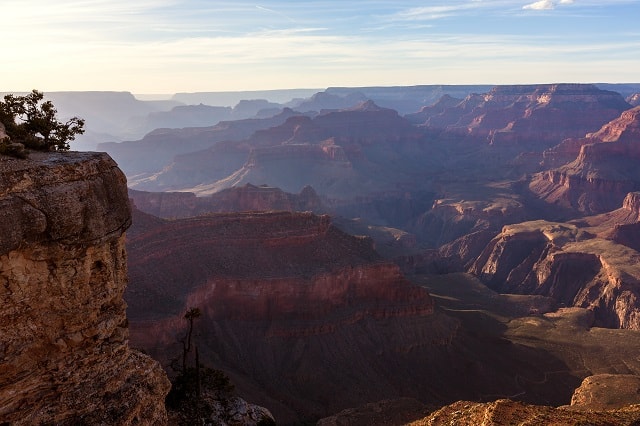 Yavapai Point is one of the best viewpoints at the Grand Canyon – click through to see which other viewpoints I recommend.
There is the Yavapai Observation Station nearby which is a simplistic visitors center that has books and geographical information about the Grand Canyon.
Out of the three points that comprise the southern rim of the Grand Canyon it is well known that Yavapai offers the most panoramic views because it is the most northerly point and is located nearest to the impressive Colorado River.
Those who are hiking need to take note that the hike takes twice as long to get back as it does to initially get to Yavapai Point due to inclines. This is important for those hiking later in the day.
Stop 3: Grand Canyon Imax at Tusayan
The Imax Theater at Tusayan features a giant six-story movies screen and over 12,000 watts of digital surround sound. It lets you experience the history of the Grand Canyon while sitting comfortably in the theater.
Check out my guide on Where to Stay near the Grand Canyon
There are a number of fantastic Airbnbs near the Grand Canyon. It is great to stay so close to the Grand Canyon so that you can spend all of your time visiting the canyon, not driving to it.
Quarter Horse Inn & Lodge – located at the base of the mountains in Williams, Arizona, the Quarter Horse Inn & Lodge gives you a relaxing and romantic vibe plus it is an excellent base camp if you want to tour around Arizona, especially the Grand Canyon. Their accommodations are very spacious that can fit up to eight people inside. Every room is decorated with antiques and artwork pieces and is equipped with a bathroom, fireplace, TV with cable, and a lot more.
Sheridan House Inn – This Arizona B&B is located at the base of Williams Mountain in a Ponderosa forest. All of their rooms are uniquely decorated with free WiFi and a refreshment tray with complimentary tea and coffee. Their guest rooms are equipped with a TV with DISH satellite channels, DVD player, and a mini fridge to complete your great travel experience. Their bathrooms offer boutique toiletries and bathrobes.
Day 4: Grand Canyon
For the fourth day of your ultimate Arizona road trip, you will be exploring the famous Grand Canyon. What you will love about this place is the numerous activities that you can do.
In fact, the Grand Canyon is one of the world's natural wonders. I have an entire post on how to spend one day in the Grand Canyon.
Wondering what to pack for the Grand Canyon? Check my Grand Canyon packing list.
Stop 1: The Main Visitor Center
The Grand Canyon Visitor Center is a great starting point to begin your journey to the Grand Canyon National Park. It is situated at the South Rim and it offers an interesting and educational overview of Arizona's famous landmarks.
You will be guided by their knowledgeable local representatives, as well as their helpful staff who will provide you with information about hotels and restaurants near Grand Canyon.
Stop 2: Desert View Point
Desert View is a small settlement on the South Rim just 25 miles east of Grand Canyon Village. If you are visiting the Grand Canyon for the first time, this is a great place to be if you want the first views of the Grand Canyon.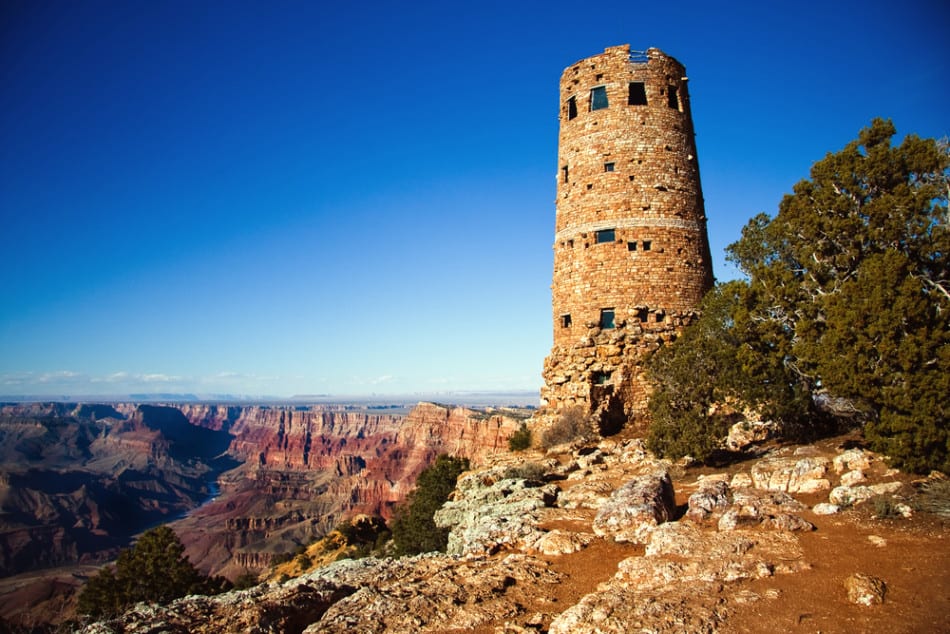 One of the attractions inside the Desert View includes the finest view of the Colorado River and canyon geology, park ranger programs and cultural demonstration, and Tusayan Museum that features the story of American Indians of the region.
Stop 3: Rim Trail
Rim Trail is a paved walking path that follows the rim of the Grand Canyon. This trail offers hikers the chance to see the Main Amphitheatre from above and it extends from Fairyland Point to Bryce Point. It has a one way distance of 5.5 miles and has several steep elevation changes.
Stop 4: Hermits Rest Scenic Drive
Hermit Road is a popular 7-mile route located at the west end of the south rim and takes its visitors along many beautiful scenic viewpoints before arriving at Hermit's rest.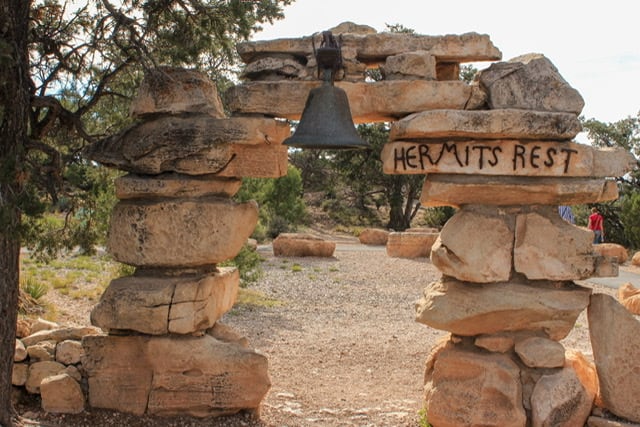 During the winter months, this road is open to private vehicles, while during the rest of the year, you will need to hop on the park's shuttle bus to access this point. This route offers some of the best views in the canyon, including Hopi Point, Mohave Point and Pima Point.
Stop 5: Helicopter Tour over the Canyon
There really isn't a better way to experience the Grand Canyon and soak in all the beautiful views, than doing it from a helicopter flying above!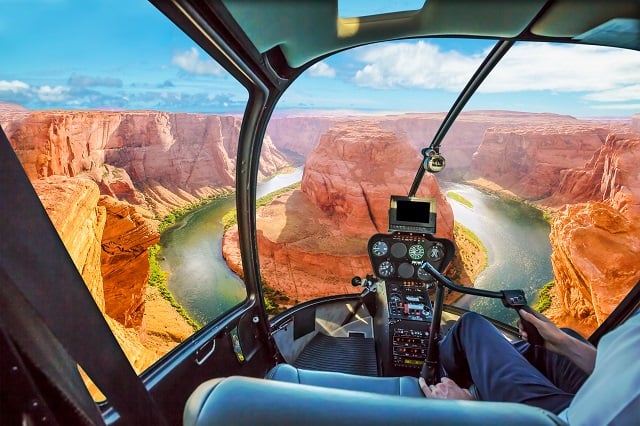 Helicopter rides above the Grand Canyon provide a truly unique experience and give visitors views of the canyon you can't get anywhere or anyway else. These tours can be a bit on the pricier side; however, you won't regret this experience at the Grand Canyon.
Day 5: Page, Arizona – Horseshoe Bend, Antelope Canyon
There are so many Page AZ attractions and things to do in Page Arizona you won't want to miss this northeastern Arizona city. Page is full of amazing and jaw-dropping natural and interesting formations such as Antelope Canyon and Horseshoe Bend.
Stop 1: Antelope Canyon
Antelope Canyon is just one of the picturesque and awe-inspiring natural formations that you will witness here. It is just located east of Page and it comprises tall, winding, and sandstone walls.
It is considered a haven for photographers because of its unique geological formations.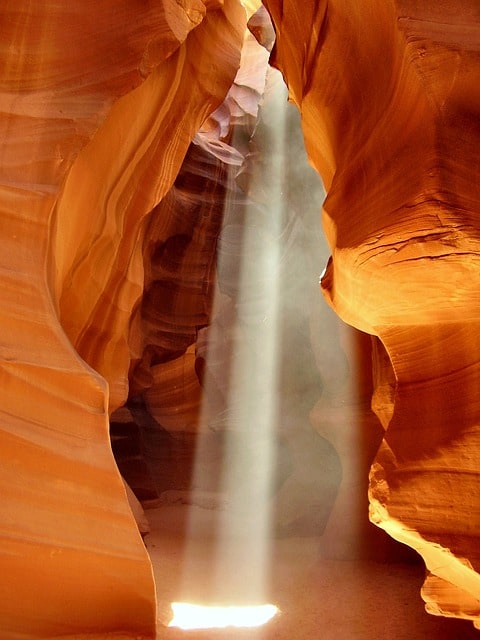 The best way to explore this natural wonder is through a guided tour. There are numerous authorized tour operators that you can choose that will give you a breadth of information about this area.
You can read my post on Upper or Lower Antelope Canyon – which one is best to help you decide.
Stop 2: Horseshoe Bend
The Horseshoe Bend Hike is a 3/4 mile hike from US Route 89 and the trail is partly steep and partly deep sand. Although the hike is just a short distance, prepare yourself for a challenge.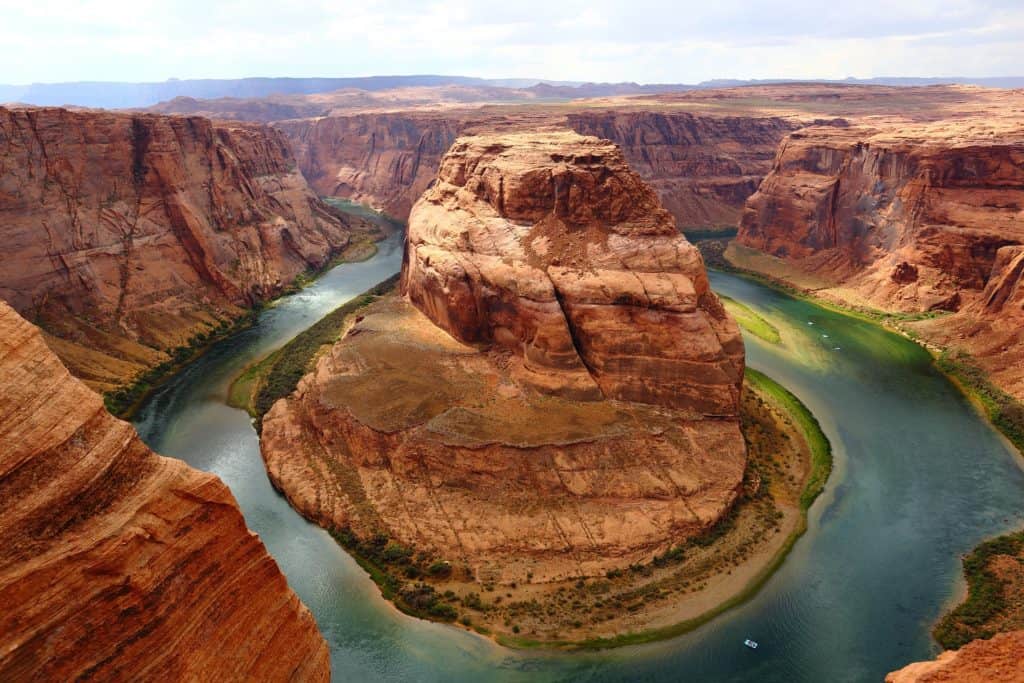 But the steep hike is definitely worth it once you reach the area. And the best way to get the best results photographing this magnificent wonder is by bringing a wide angle lens.
Stop 3: Rainbow Bridge National Monument
Situated on the edge of Lake Powell, Rainbow Bridge National Monument is the largest naturally occurring bridge in the world with the height being 88 meters and the width being 83 meters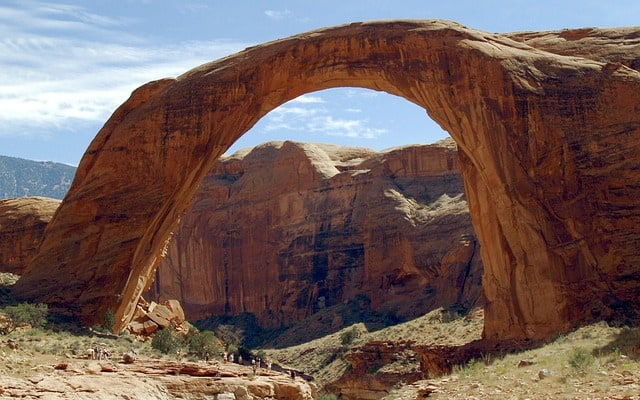 This bridge also holds special importance to the people of Navajo culture as they believe it is responsible for giving soul to the life of the desert by creating clouds, rain, and rainbows. The best thing about this bridge is that it doesn't have an entrance fee.
I recommend staying at one of these comfy Airbnbs in Page, Arizona.
Day 6: Monument Valley
Monument Valley is located on the border of Utah-Arizona and it is considered as one of America's iconic landscapes – from sandstone buttes, huge mesas, to panoramic vistas. It has been a famous shooting location of popular movies like Forrest Gump, Mission: Impossible II, and National Lampoons Vacation.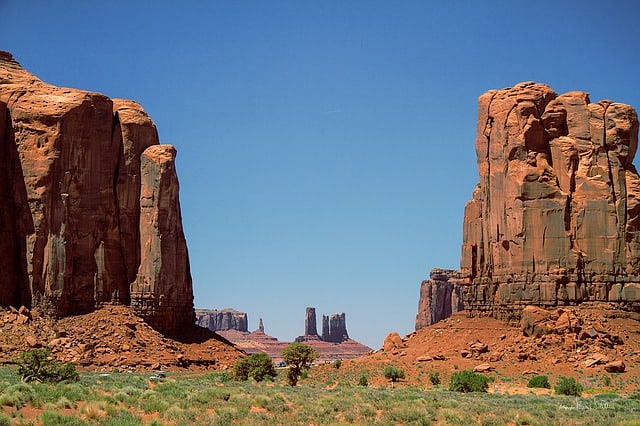 The distance from Page, Arizona to Monument Valley is 125 miles.
Stop 1: Tribal Park Loop (Valley Drive)
This is a scenic 17-mile loop that drives past some of the well-known sites in Monument Valley. It's a bumpy and dusty road and you can self-drive this loop (4×4 car is not necessary).
The first few miles of the scenic drive will take you to a group of red cliffs. If you want to be extra adventurous, you can avail the horse rental or a basic tour of the valley. But if you are running out of time, you can just drive the loop.
Stop 2: Lower Monument Valley
This is the second loop in Monument Valley that veers off Valley Drive. However, this site can only be accessed by tour. But this will definitely be worth it because it takes you up close to some of the rock formations and mesas that you would miss if you only did the Valley Drive.
The average price of the tour starts at around $80 per person and lasts for three hours. If you have a lot of time to spare, then this will be perfect for you.
Day 7: Return to Phoenix
I hope you have enjoyed this Arizona Road Trip Itinerary. Its so each to get around Arizona and see all of the beautiful places along the way.
If you have some extra time today, check out my post on 101 Things to do in Phoenix, Arizona. There is something for everyone.
Where to Stay in Phoenix – did you know there are a lot of 5-star resorts in Phoenix and also there are lots of Phoenix hotels with pools?
The Camby, Autograph Collection – The Camby is a 5-star luxury resort hotel located in Downtown, Phoenix that gives guests the freedom to choose from either mountain or city views. No matter which room you get, you will be pleased with the surrounding scenery.
Arizona Grand Resort and Spa –This family-friendly resort hotel gives guests a kind of pleasure perfect for families and traveling groups. All suites are air-conditioned and feature cable television, a sofa bed, and a mini-bar. You can have a splash at their first-class waterpark or head over for some relaxation at their Spa Center.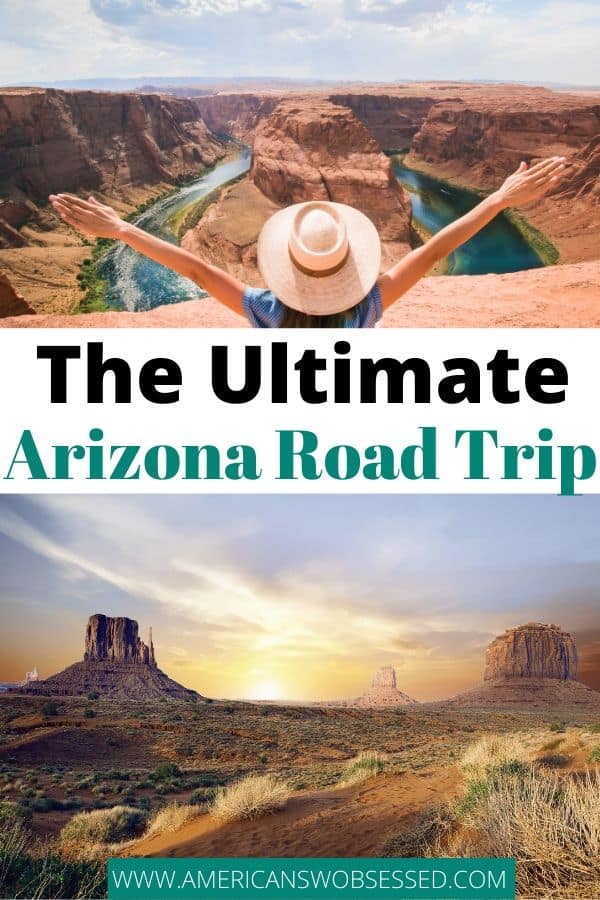 Continue Reading more on my website about Arizona:
The Best Waterfall Hikes in Arizona
The Best Hot Springs in Arizona
Recent Posts