15 Amazing Airbnbs in Phoenix, AZ
Best Phoenix Airbnb: Are you looking for the best Airbnbs in Phoenix, Arizona?
So you are visiting the Grand Canyon State and want to find the perfect Airbnb in Arizona? You're in the right spot! There is so much to see and do in Phoenix you will want to spend a few days.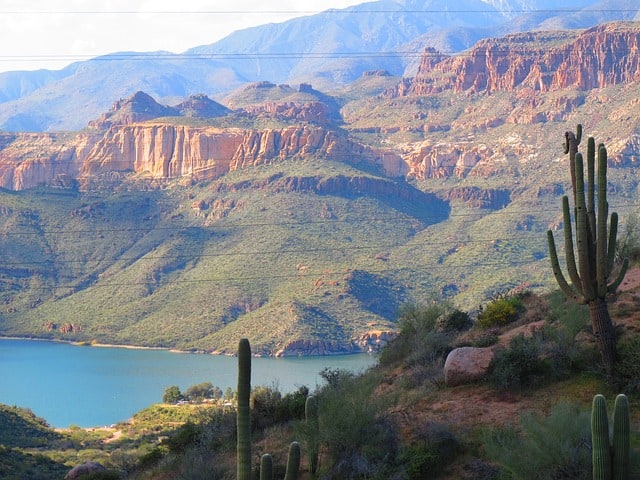 All of these Phoenix Airbnb are located downtown but I have mentioned a few unique places around the Phoenix metropolitan area as well. I have several dedicated posts on finding the perfect airbnbs around Phoenix:
15 Best Airbnbs in Arizona – caves, airstreams, domes, yurts and spas!
15 Best Airbnbs in Glendale, AZ
13 Best Airbnbs in Gilbert, Arizona – with pools!
17 Best Airbnbs in Mesa, Arizona
15 Comfy Airbnbs in Chandler Arizona
15 Perfect Airbnb Scottsdale AZ
Thank you for supporting this website written by an American. This post may contain affiliate links. This means I earn a small commission on these links at no extra cost to you.
15 Best Airbnb Phoenix, AZ
Striped Lounger at a Luxurious Urban Oasis
Guests: 2
Bedroom: 1
Located in the historic community of Encanto, this tranquil guesthouse is an amazing luxury Airbnb in Phoenix that features a modern design home.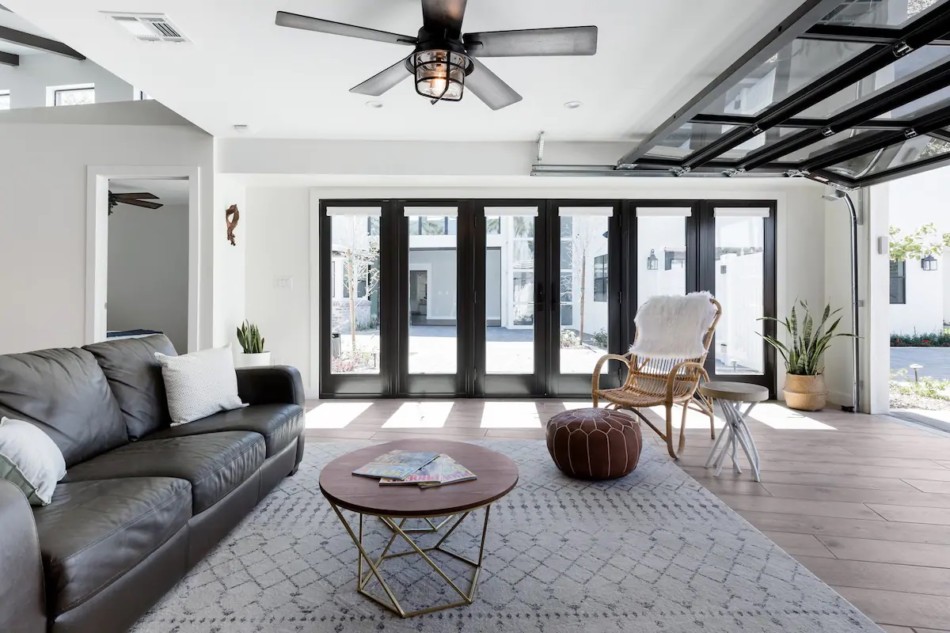 The indoor-outdoor living space with an automated glass door is one of the lovely touches in this home that will make you feel like you are in a fairytale. It has a very cool and spacious ambience with an absolutely gorgeous yard and heated pool and the space itself was thoughtfully designed. You will surely get your money's worth on this urban luxurious home.
Mid-Century Modern Bungalow
Guests: 8
Bedroom: 4
If you don't mind spending a hefty amount of money just to experience staying in a very comfortable and luxurious airbnb in Phoenix, this is the perfect space for you to stay at. This 1920s craftsman home is located in the heart of the Roosevelt Historic District and it's close to the airport, shops, restaurants, and freeways to get around.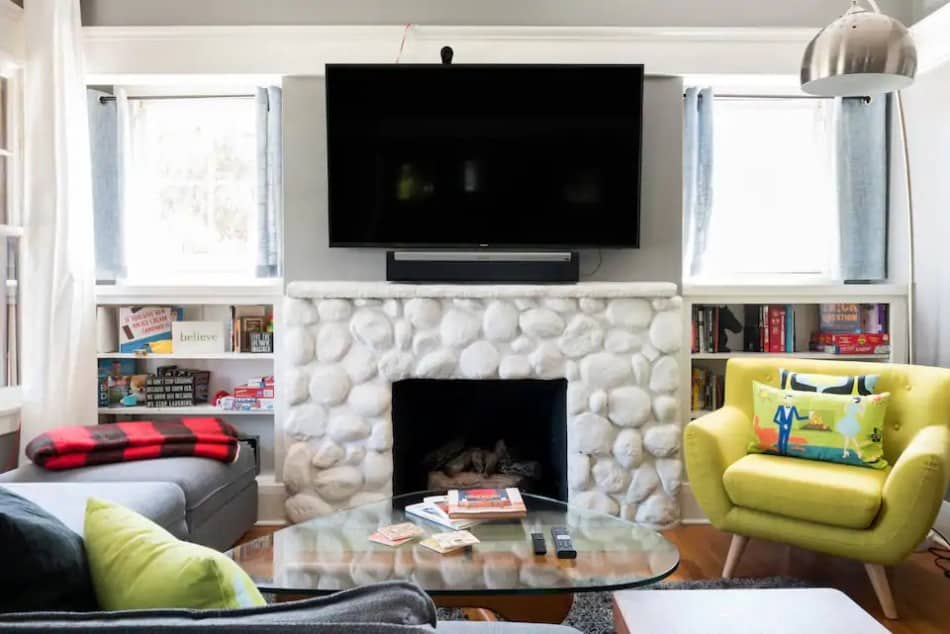 There are a lot of beautiful corners to chill at this home. You can curl up in the swivel chair, pick a book from the built-in shelves and relax in front of the stone fireplace, or soak up the sun on a poolside lounger. And what's great about this historic home is that it can accommodate up to 8 people so it's perfect for your next quiet vacation with your friends or family.
Converted Shipping Container
Guests: 4
Bedroom: 1
Experience uniqueness and stay in this well-traveled shipping container that is well-polished, cozy, and filled with modern amenities that won't make you feel like you are inside a shipping container.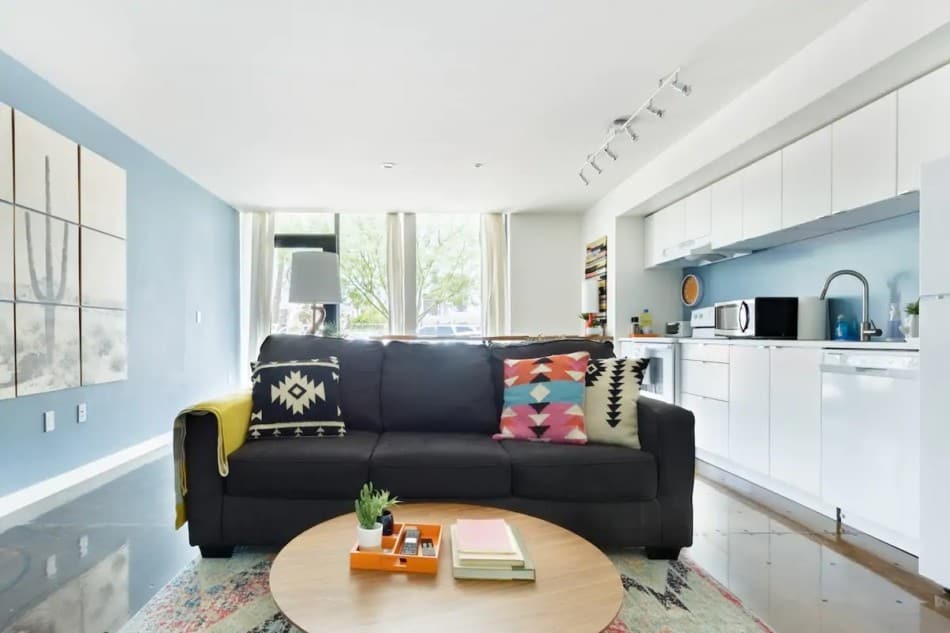 The interior is well designed by the award-winning design team and it features one bedroom with a queen size bed, kitchen, wifi, TV, washer and dryer, and more. The property is located on the developing neighborhood of Roosevelt Row, a walkable arts district in downtown Phoenix. So if you are into arts, you'll love this area and you'll find a lot of artsy stuff and cultural events that will make your vacation worthwhile.
Creative Condo
Guests: 2
Bedroom: 1
This marvelous condo in Phoenix is perfect for solo travelers or couples that is looking for a comfy place that is worth the money. You'll find yourself obsessed with this little and art-filled space, with inspiring pieces of arts hung on the walls and colorful accents throughout. This condo also provides a beautiful view from the windows and the kitchen is stocked with everything you need for a cooking.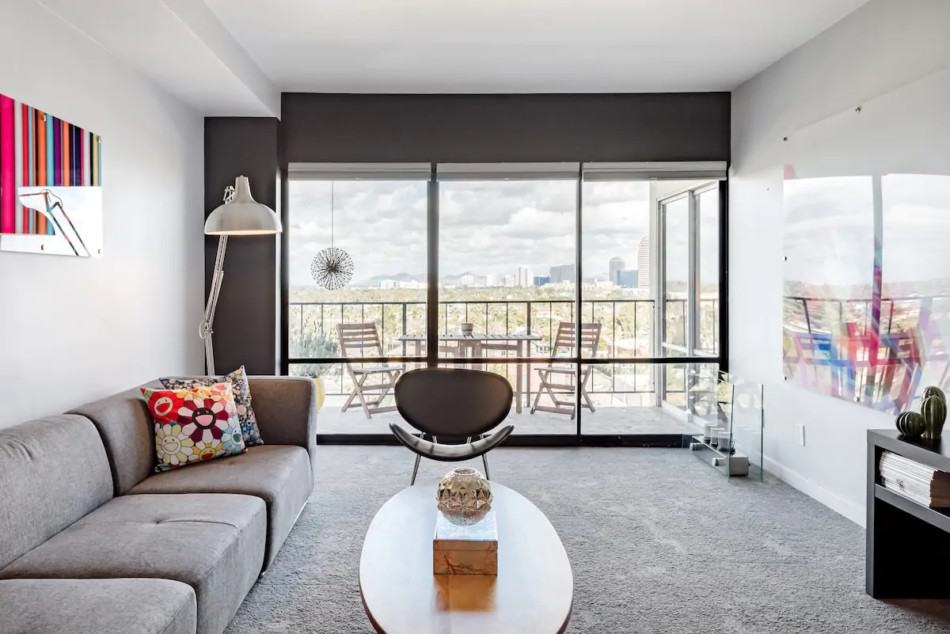 And in terms of location, it is very perfect and it is near downtown Roosevelt Row Arts District where you can walk to galleries, quirky shops, art exhibits, award-winning restaurants, boutiques, and live music events.
Historic Home in the Heart of Roosevelt Row
Guests: 7
Bedroom: 2
There are many beautiful and artistic home rentals in Phoenix that you can definitely book that are so worth the price and one of them is this historic territorial home located in Roosevelt Row.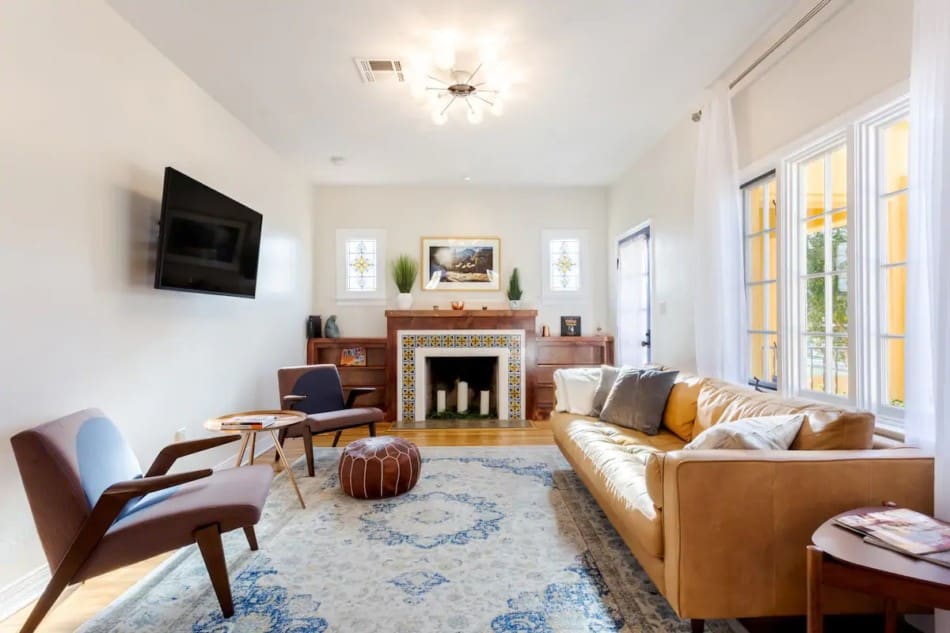 This is such an amazing and wonderful home to stay at and it features modern design blends with a touch of the Old Southwest. From colorful tiles to macrame art, exposed bricks, and a sleek, glass-topped dining table, everything about this house is well-thought-out and well-designed, yet without compromising comfort and luxury.
Unique Remodeled Airstream
Guests: 4
Bedroom: 1
Perfectly air conditioned, clean, and expertly renovated, this unique and remodeled airstream is one of the best airbnbs for your next stay in Phoenix.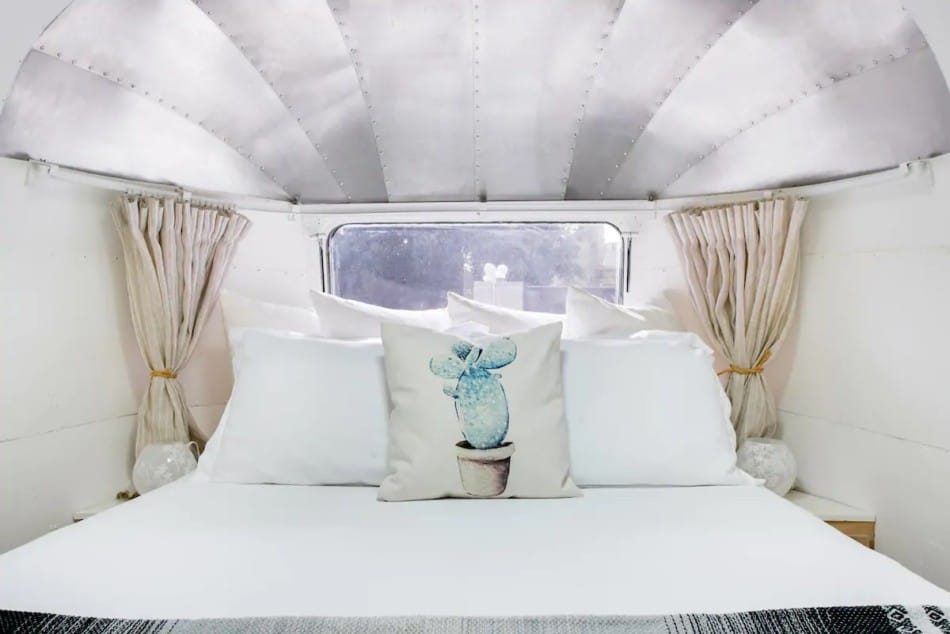 The airstream is super cozy and well-taken because it feels like you are staying in a cool hotel. It comes with a comfy bed, dining area, kitchenette, TV, wifi, and more. You'll also love the outdoor setting as it features a yard, deck area, BBQ grill, and hammock so you can chill with your squad under the beautiful Arizona night sky.
Spanish-Style Retreat
Guests: 4
Bedroom: 1
This Spanish-style home in Phoenix is fully equipped with great amenities that will make your stay worthwhile. It has a full kitchen, washer and dryer, wifi, TV, free parking, and more.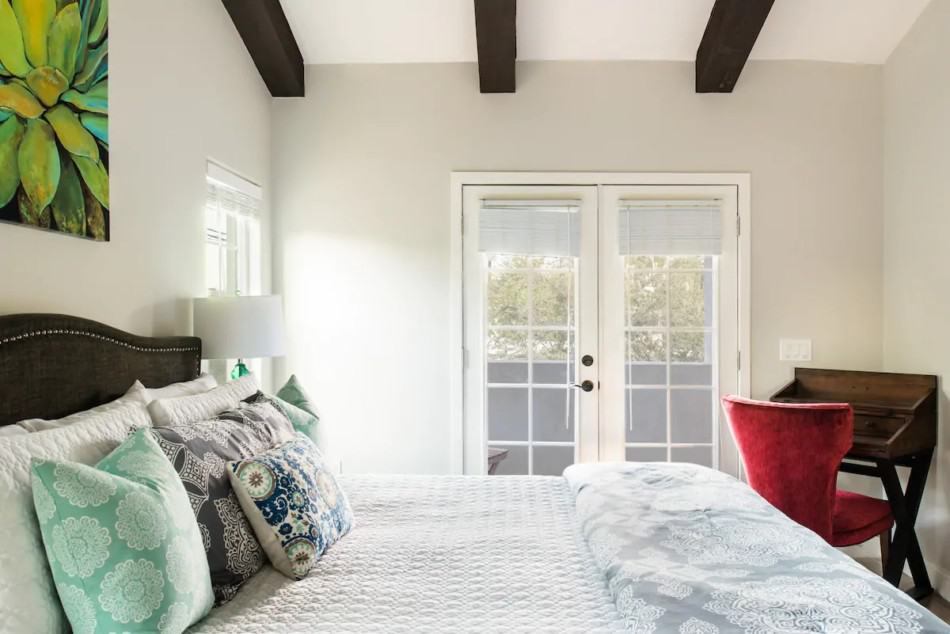 The home itself is very inviting, clean, and comfortable and the location is very great and you can even walk to restaurants and parks nearby. But if you wanna cook great meals for everyone, you can dine on the spacious veranda with views of downtown.
Two-Bedroom Apartment
Guests: 6
Bedroom: 2
Whether you are staying in Phoenix for the weekend or just looking for an extended stay, this two-bedroom apartment is perfect for any occasion. The place is designed to give you a beautiful stay in Phoenix.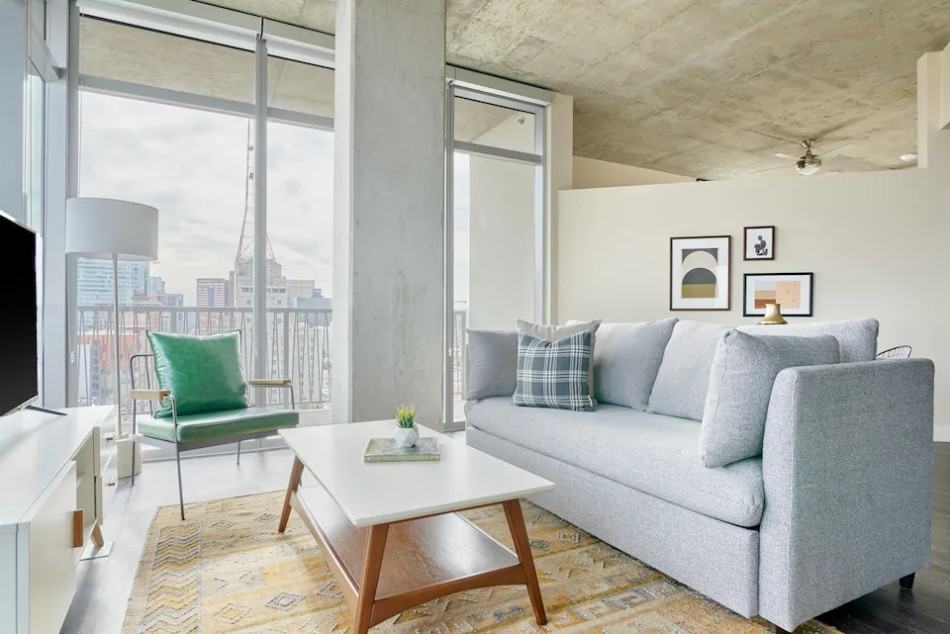 And aside from the basic amenities provided, this apartment has included features like the private balcony, in-suite laundry, fully equipped kitchen, and one private parking space. Additionally, you can also make use of the building amenities such as the outdoor pool, fitness center, pool table, and BBQ facilities.
Downtown Phoenix Executive Retreat on Roosevelt
Guests: 4
Bedroom: 1
This large loft-style condo with sophisticated urban mid-century design is a great place in a good location just north of downtown Phoenix. It gives you a view of the north side and a lot of the west from the huge balcony of this condo. It also comes with a kitchen with brand new appliances, airy living space, soft close cabinets, LED lighting, TV, and so much more. You can also have access to the amenities of the condo such as the gorgeous pool, sun deck with BBQ, fitness room, and club room.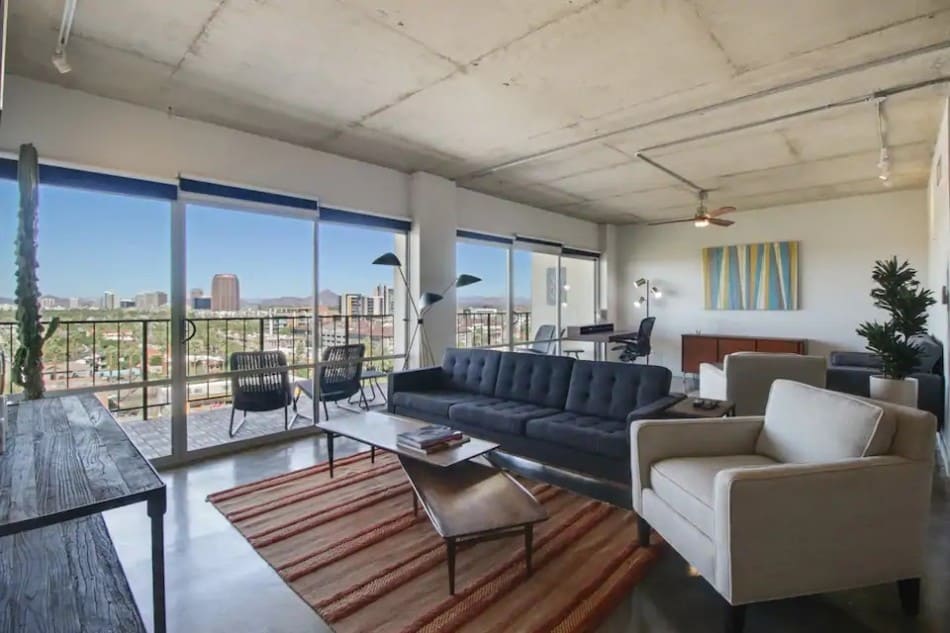 To anyone who would love to enjoy a beautiful accommodation plus an amazing view of downtown Phoenix, you should definitely book this condo.
Girls' Getaway at The Pink Cactus
Guests: 12
Bedroom: 4
Planning to go to Phoenix with your girls for a weekend getaway? Or perhaps to have a bachelorette party? Well look no further because this Girls' Getaway House is perfect for you and your girl friends. The Pink Cactus is perfect for any occasion with your girls and it is a four-bedroom gram-worthy gem tucked away on a quiet Scottsdale street.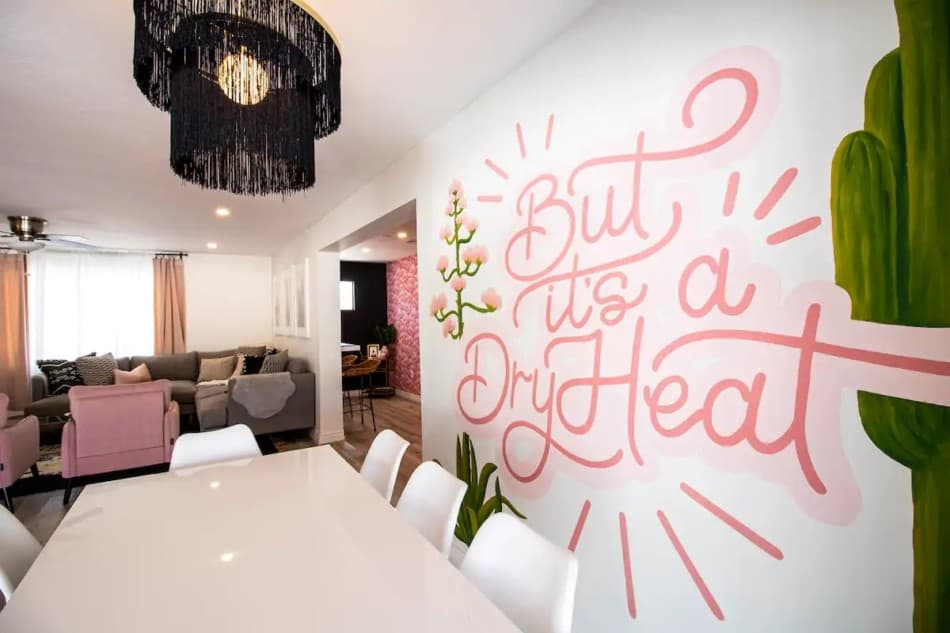 It features colorful murals, custom graphic patio patterns, and dreamy Palm Springs decor that is so IG-worthy. It also comes with a comfy lounge chair, spacious yard, kitchen, pool, and more. This house is a total dream with so many cool hangout spaces to chill at.
Charming Boho Farm Carriage House in the Heart of Downtown
Guests: 3
Bedroom: 1
This lush garden boutique carriage house located in the heart of Downtown Phoenix is considered as the perfect hidden gem that offers panoramic city views from the second floor. You'll be blown away by every little detail in this home. It features an eclectic mix of classic furnishings, original historic touches, organic gardens, urban orchard, and many common outdoor seating areas to lounge.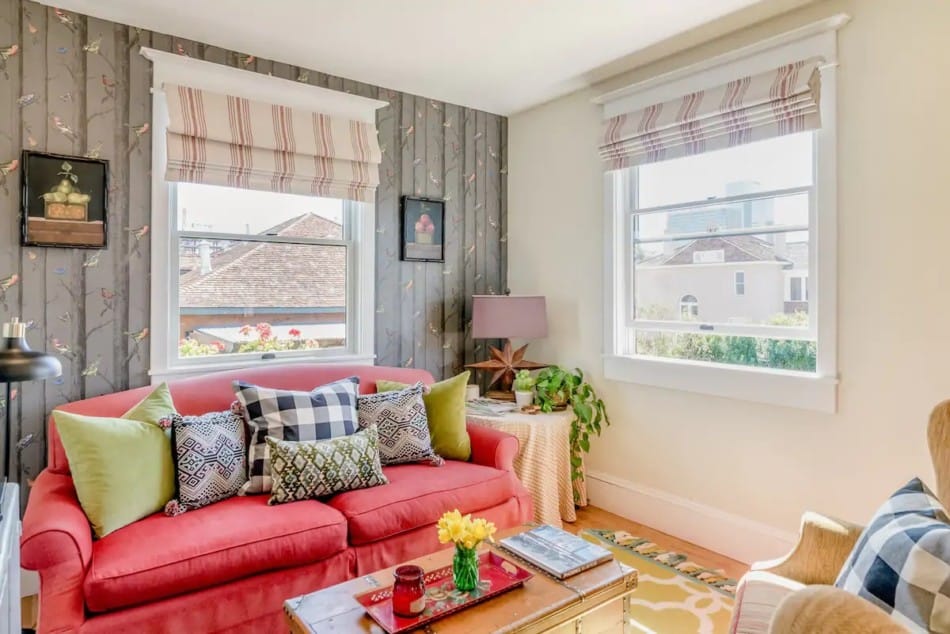 It also comes with a kitchen with a well-stocked fridge, cookware, and utensils, bathroom with toiletries and bathtub, TV, cozy living space, and more. This is truly a gorgeous place and a perfect home if you want to explore more of Phoenix.
Unique Urban Oasis in the Heart of Downtown
Guests: 2
Bedroom: 1
As a solo traveler, you'll definitely have a good night's sleep in this one-bedroom urban oasis in the heart of downtown Phoenix. It features floor-to-ceiling curtains, fireplace, breakfast bar, and a leather couch.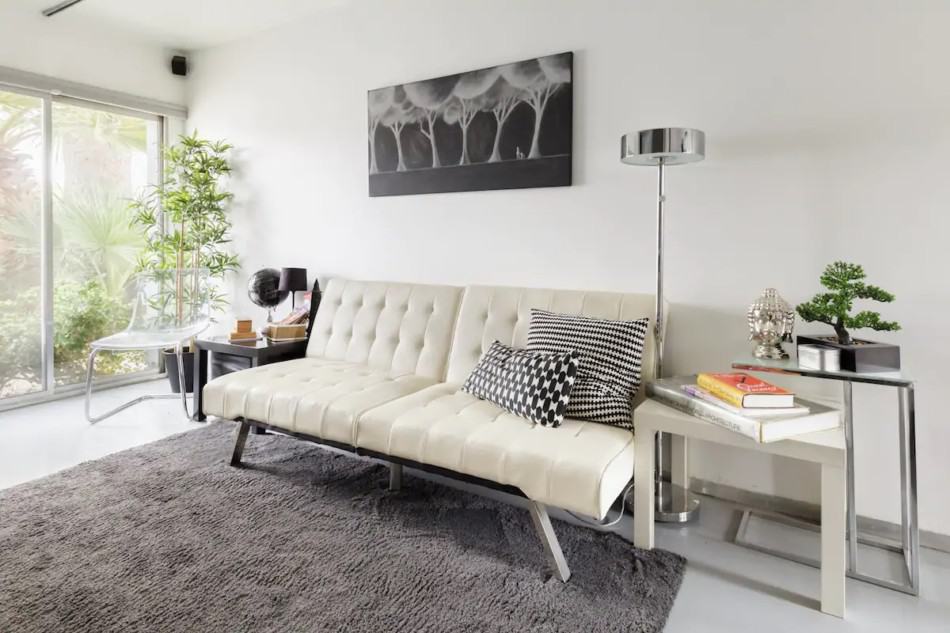 The decor is modern and very stylish without compromising comfort. It is also equipped with wonderful amenities such as the gym, pool complex, outdoor grill, and private patio. Overall, this is a very comfy and aesthetically pleasing place perfect for solo travelers without harming your bank account.
Paradise House with Pool
Guests: 6
Bedroom: 3
If you have a lot of money to spend for a stunning house with a pool, you'll find this paradise house in Phoenix perfect for you. This airbnb is perfect for any occasion and you can relax with your family and friends, or use this as a home base for business within the downtown area. It is also close to a lot of local attractions and major arteries so you won't have a hard time exploring the best places that Phoenix can offer.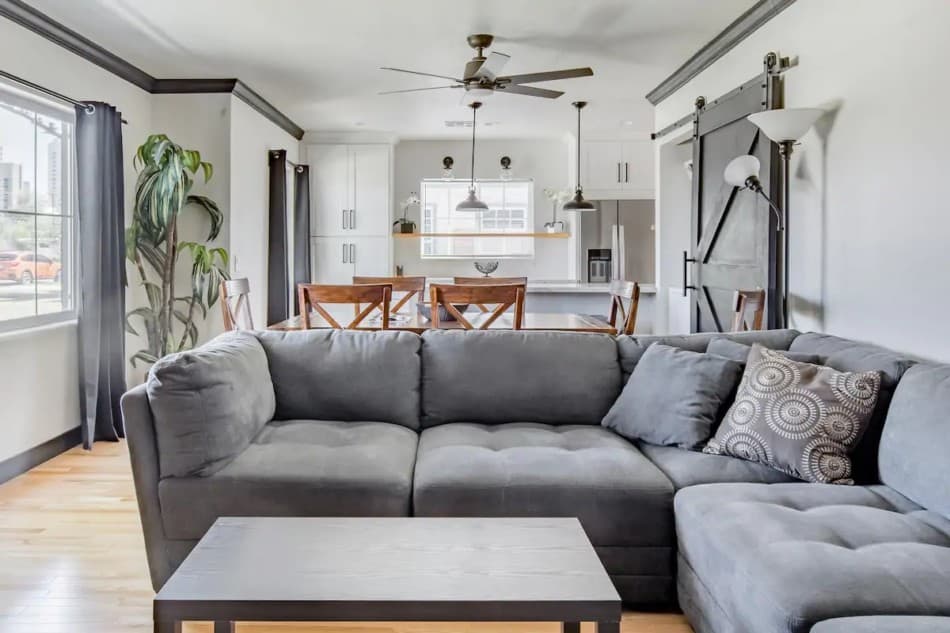 Inside this paradise house area luxurious beds good for 6 guests, dreamy and cozy living space with 65" 4K TV, a fully equipped kitchen, an outdoor pool with a shaded patio, and more. Overall, this is a great and luxurious place to stay at and ideal for any occasion.
Studio B Guesthouse
Guests: 2
Bedroom: 1
Studio B is an industrial designed studio located in central Phoenix and tucked away in the historic F.Q Story Neighborhood. This studio is surrounded by charming historic homes as you explore and walk the neighborhood and it's very close to local restaurants, parks, and even museums.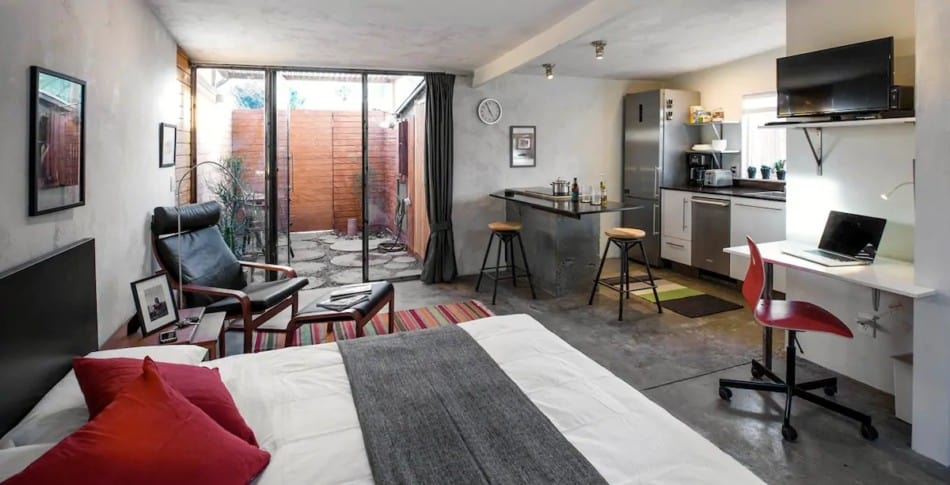 This studio is a detached guest house from the main house and it offers maximum privacy to all guests. It has a fully equipped kitchen, extraordinary bathroom, private washer and dryer, queen size bed with memory foam mattress, and a lot more. This is a small guest house ideal for couples who are spending some romantic getaway in Phoenix at a very budget-friendly price.
air b and b phoenix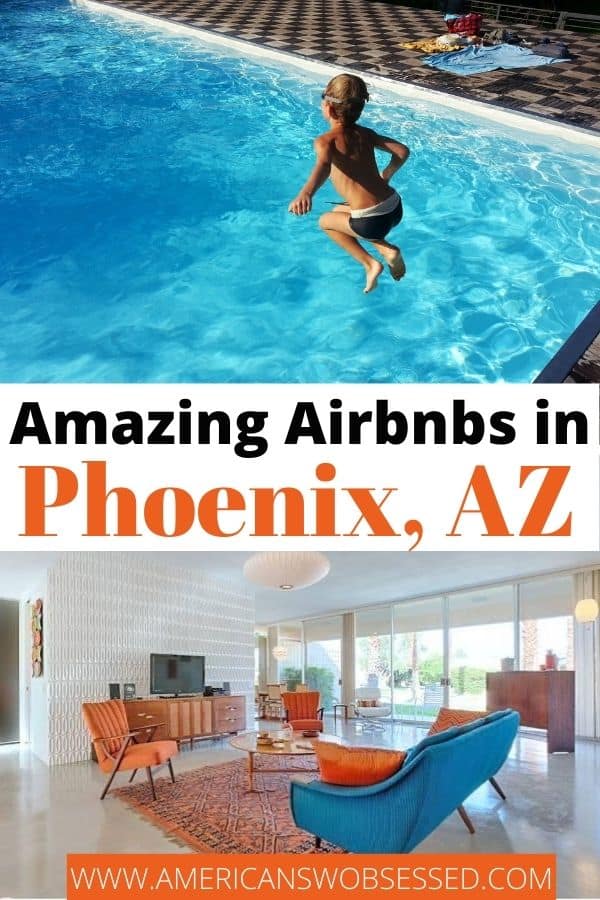 Recent Posts