10 Best Backpacking Flashlights: Ultralight and Compact
Lightweight Flashlight: Are you looking for the best backpacking flashlights? This list of hiking flashlights are compact and ultralight. Perfect for your next backpacking adventure.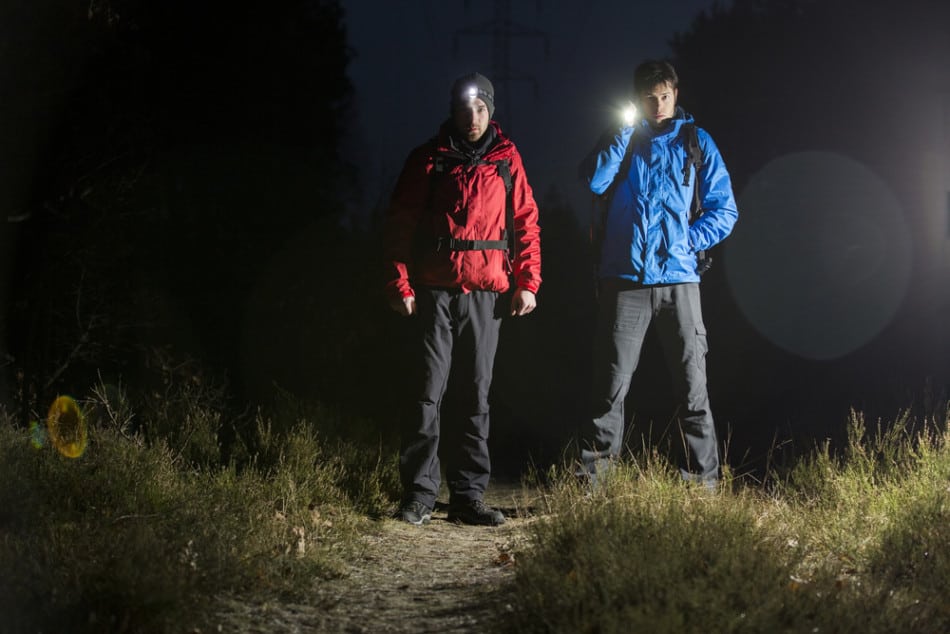 There are many features to look for in the best hiking flashlight.  The best hiking flashlights should have enough lumens to provide you with enough light but you do not want it to be bulky.  That's why I've put together this list of my favorite and best flashlights for camping, hiking, or backpacking.
Thank you for supporting this website written by an American. This post may contain affiliate links. This means I earn a small commission on these links at no extra cost to you.
Best Backpacking Flashlight: Reviews
Anker Rechargeable Bolder LED Flashlight – best flashlight camping
Pros: Extremely bright, water resistant, rechargeable
Cons: Not the lightest flashlight
If you are looking for a dependable and durable backpacking flashlight that can sustain you for many hours, this Anker Bolder LC90 flashlight is for you. This flashlight is made out of steel which makes it heavier than other regular flashlights but you can be assured that it'll last for a long time even if you drop it many times.
It has a light output of 900-lumen so it's extremely bright and its beam can sweep over the length of about two football fields and reaches nearly 1000 ft. It goes to show that you can really depend on this one for navigation in dark areas.
It has an IPX5-rated system which means it is water resistant and designed for use even in heavy rains. Its durable aluminum body and shock resistance can endure rough handling. And the battery is long lasting so you can use it up to 6 hours and recharge it after.
Nitecore Thumb 85 Lumens USB Rechargeable White & Red LED Keychain Light
Pros: lightweight, versatile, rechargeable
Cons: not durable
This NITECORE THUMB keychain light is your friendly and versatile key chain light that is ideal for camping or while walking. It has a light output of 85 lumen which falls under the category of basic backpacking flashlight. The brightness can be adjusted to three levels and it's a very lightweight (1 oz) keychain light that you can count on anytime and anywhere.
Another added feature of this keychain light is that it comes with a clip and tiltable head that offers over 120 degrees adjustable angles so you can just clip it on your cap, bag strap, or pocket instead of holding it. It also has a built-in USB charger and rechargeable Li-on battery that has a runtime of 45 minutes on high and 22 hours on low. This keychain light is perfect for stargazing, map reading, navigation, and hunting because it is equipped with a red light.
OLIGHT 21 Baton 500 Lumen Compact EDC LED Flashlight – best flashlight for hiking
Pros: very compact and lightweight
Cons: Non-rechargeable battery
This OLIGHT S1 Baton is the smallest side switch LED flashlight in the history of Olight. It has a length of 2.4 inches and only weighs 1.06 ounces which allows you to take it anytime and anywhere you go with extreme ease. It boasts of its 500 lumens light output that can light up an entire football field plus some with its ultra-far 120 yard beam.
You can easily adjust the brightness levels from one to three to illuminate your surroundings and it ranges from .5 lumens on Moonlight Mode to 500 lumens on high. This is a highly recommended flashlight for any outdoor activity or even as an everyday use as you can just place it in your bag or pocket without taking too much space and weight.
Nitecore TIP 360 Lumen USB Rechargeable Keychain Flashlight
Pros: rechargeable and long battery runtime, waterproof
Cons: Clip is not durable
Small in size and big on performance – that is the best caption that would describe this Nitcore TIP keychain flashlight. It has a dimension of 2.39" x 0.96" x 0.54" and weighs 1.13 oz so it has an ultra compact body that you can easily grip on your hands. And despite its size, it can produce up to 360 lumens with four brightness levels and max beam distance of 81 yards.
And it doesn't have much complications and you can easily operate it by using the power button to turn it on/off and the mode button to cycle through settings. But one of the added features of this keychain flashlight is that it offers Daily Mode with a 30 second auto off timer for battery conservation and Constant On Mode for total control. And if you wanna switch modes, just press and hold both buttons until the Tip flashes.
The batteries are rechargeable and it has a longer battery runtime compared to other brands. It can last up to 46 hours on lower mode, and 90 minutes at 150 lumens. It also has a built-in 500mAh Li-ion battery and USB charging port with red charge indicator light for easy and accessible charging.
ThruNite Ti3 V2 AAA Keychain Flashlight
Pros: waterproof, small but incredible light output,
Cons: Batteries not included
One of the latest series that ThruNite launched is this Ti Series that is built to be a portable and economical EDC light. It is made from aircraft aluminum construction for extra impact resistance even if you accidentally drop it many times.
What makes this flashlight perfect is its combination of small size and high lumen output of 120 which adds to one of the most convenient everyday carry keychain flashlights. You can also choose among the 3 brightness levels from low to high and strobe.
This flashlight is also waterproof and ideal for use even in fire and rescue, camping, trekking, hiking, or basically any outdoor activity. And you can place it in various ways, either hang it with a key ring, clip it on your hat, or hold on your pocket.
Nitecore MH10 v2 1200 Lumen USB-C Rechargeable Flashlight
Pros: Powerful light output, longer battery life, rechargeable
Cons: no zoom option
If you are looking for a very powerful and multifunctional backpacking flashlight that will last for hours, this Nitecore MH10 v2 Rechargeable Flashlight is for you.
It has a powerful and intense light output of 1200 lumens at 220 yards of throw. You can count on it to give you light with 3 hours and 45 minutes of runtime on turbo. It also comes with a USB-C charging cable that lets you directly charge the flashlight at amazing speeds. There is a blue charging LED indicator located under the switch that lets you know when it's fully charged.
And just over six inches in overall length, it remains to be a great choice for a compact EDC flashlight with durable hard holster, pocket clip, and lanyard. You can use it for multiple ways – whether it's for professional use, everyday carry, emergency lighting, and even for outdoor activities.
Olight S1R Baton II Red 1000 Lumens Magnetic Rechargeable Side-switch EDC Flashlight
Pros: compact, powerful light output, rechargeable
Cons: the button is hard to find with your finger in the dark
This incredibly stunning red limited version of S1R Baton II is your ultimate pocket light in terms of performance and convenience with a beautiful look. It is an extremely compact light but incredible in terms of light output that reaches a maximum output of 1,000 lumens and thanks to the included high discharge rate battery.
It features a premium beam that has a perfectly balanced hot spot for optimal clarity and a soft transition to maintain comfortable vision during use. There is also a three-color power level indicator located in the center of the side switch and it shows the power level in three colors – green, yellow, and red.
You can use this flashlight for travel and you would be surprised that such a bright light could be packaged in a small space.
Olight S2R USB Rechargeable 1020 Lumens CREE LED Flashlight
Pros: Rechargeable, compact, powerful light output
Cons: Pricey
This Olight S2R Rechargeable Flashlight can live for up to 60 days in lowest mode, that is how powerful and efficient this flashlight is. It has 1020 lumen maximum output and it can rechargeable through the magnetic contact charging port. Now, you don't need to constantly buy new batteries for the same flashlight and you'll be saving a lot of money in the long run.
This flashlight is hard to beat in terms of its quality and durability. You can stretch the run time to basically forever and you can count on this anytime. This is a nice small flashlight ideal for backpacking and everyday use.
Cree XP-L LED Rechargeable
Pros: Waterproof, rechargeable, 5-level brightness, easy to operate
Cons: Requires a slight long-press to turn it on and off
This easy to use and rechargeable CREE XP-L flashlight is made of aluminum that has a stainless switch steel that lets you control 5 levels of brightness. It has an added temperature control system that automatically starts, and the brightness of the flashlight will jump to lower gear to ensure safe use. And in terms of light output, it has a powerful 1000 lumens maximum for 150 minutes and it is waterproof with an IPX8 rate and 2-meter submersible feature.
This flashlight is considered as one of the toughest, most rugged, and respected flashlight manufacturers in the world. The materials used were for military standard manufacturing and it is ideal for emergency hiking, camping, travel, and even for everyday use.
Foxhawk USB Rechargeable Tactical LED Flashlight
Pros: adjustable brightness and the width of the beam
Cons: only certain USB-C cables will plug into the flashlight
This Foxhawk USB Rechargeable flashlight is one of the most powerful flashlights that you can find in the market today. It provides bright light of 1000 lumen over the length of about 220m with maximum throw distance 1,010 feet. It is also very durable and long lasting with an IP66 water resistant and impact resistant features.
It has 5 light settings – low, medium, high, strobe, and SOS that allow you to adjust the brightness and the width of the beam. It can also be recharged on the go via any USB charging device and the included USB charging cord.
However, only certain USB-C cables will plug into the flashlight because a ridge near the outlet prevents certain cables from plugging in. In other words, you'll have to be picky when selecting a cable for your charging kit.
WISSBLUE H1 3800 Lumen Rechargeable Tactical LED Flashlight

Pros: High light output, waterproof, low battery reminder
Cons:
Among the flashlights that have been mentioned in this article, this WISSBLUE rechargeable is the most powerful of all in terms of light output. It has a powerful 3,800 lumens and it can achieve a beam distance of over 3,200 feet. It is made from aerospace grade aluminum alloy and an IPX8 waterproof rate for superior durability no matter what the weather condition is.
It has a run time of 100 to 400 minutes depending on the mode and it has multiple power sources that can charge the battery. There is also a low battery reminder that lets you know if it's time to charge it. This is a powerful and durable flashlight that you can rely on on your next backpacking trip.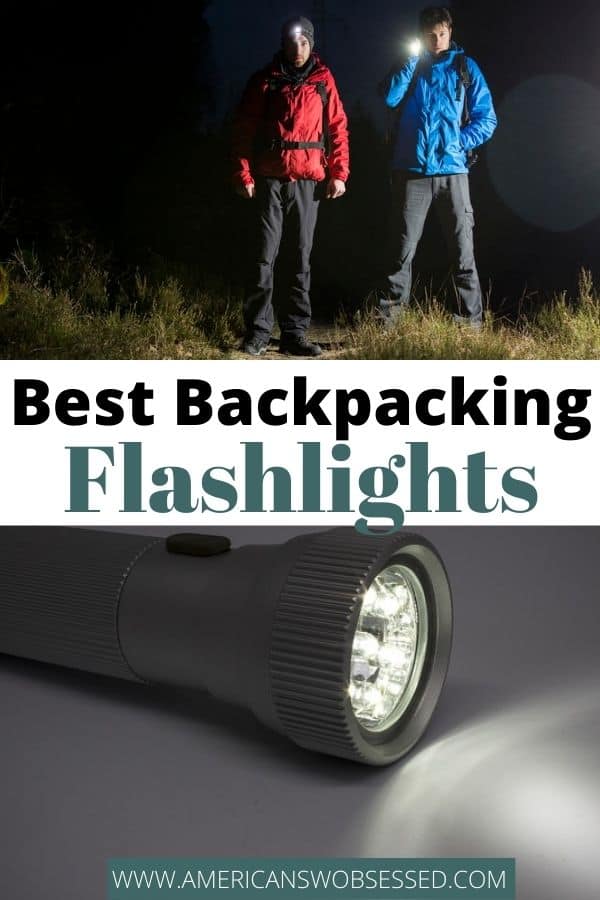 Continue Reading more on my website:
11 Best Backpacking Chair in 2020 – Reviews and Guide
The 13 Best 4 Person Tents in 2020
Best Hammocks with Mosquito Nets
Best Self Inflating Sleeping Pad
Recent Posts