11 Best Hikes in St George
Hikes in St George Utah: If you are looking for things to do in St George, hiking in St George is a great activity to get out and enjoy the beautiful scenery.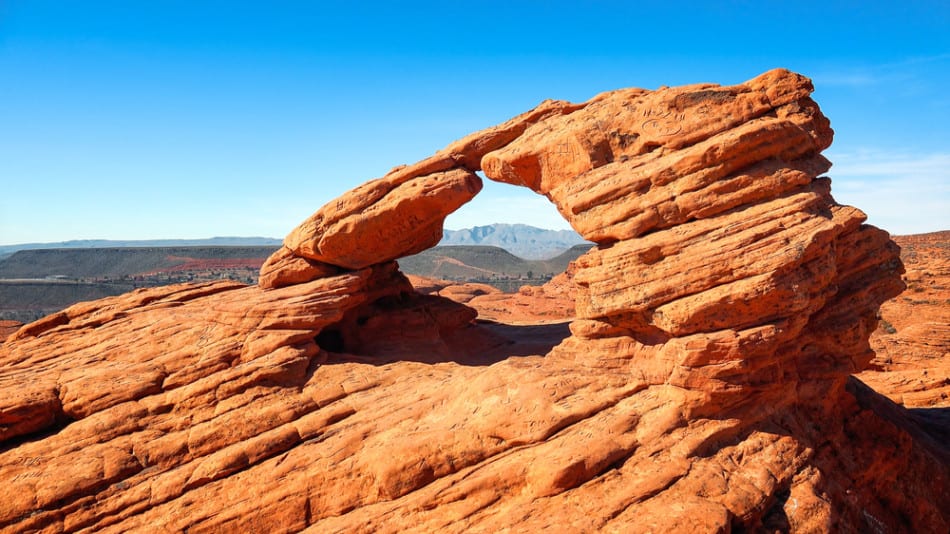 These hikes near St George are great any time of year. The weather in St George is quite pleasant to enjoy these hiking trails in St George Utah.
I have a post on the best hikes in Utah and some of these hikes are the best hikes in southern Utah as well.
Be careful, be prepared, and do your research on all hikes before you go. Check out this helpful hiking-safety guide from the National Park Service.
Tips for Hiking in St George, Utah
St. George is perfect for outdoor enthusiasts.  There is a hike for everyone on this list and for different fitness level.  Also, note that it is dry and hot (in the summer) and make sure you know what you are getting into before you start.  Here are a few tips for St. George hiking:
Hiking St George Utah
1. Yant Flat Cliffs
The Yant Flat Cliffs is a not widely known hike located northwest of St. George. It is a stretch of red and orange rocks and a sandstone layer that extends 3 miles long at the southern boundary of a rocky plateau.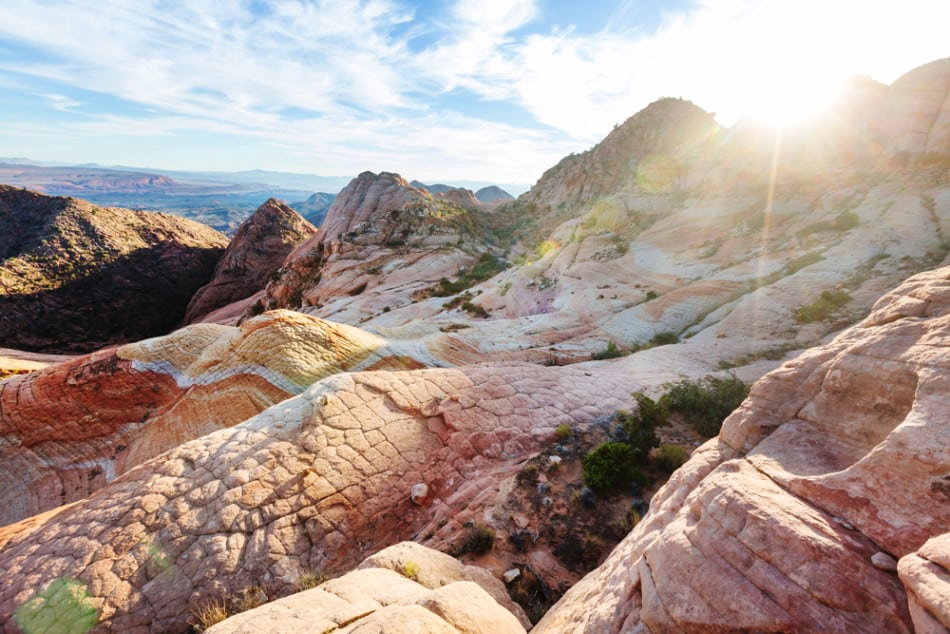 The Yant Flat can be accessed from the west starting at St. George but the route can be rough and rocky. But it can also be accessed from the east, beginning at Leeds along I-15.Then take exit 23 and drive road FR032. And the best time to hike and explore this site is Spring or Fall, or before the weather gets extremely hot and unbearable.
One of the best things about the Yant Flat Cliffs is that once you reach the point, you have the liberty to explore the area on your own. There are no official trails or famous sites to see and that's what makes the journey more special.

2. Lower Sand Cove Trail
Hiking the Lower Sand Cove Trail lets you experience some of the beautiful views and unique sandstone in Navajo. It is a moderate hike but it is not ideal for a stroller and is not family friendly. As a caveat, this hike can get super hot in the summer so you have to be careful and bring lots of water and apply sunscreen.
This trail can be accessed from 1-15, and take exit 6 onto Bluff Street and head north toward Pine Valley Mountain. Bluff Street turns into Hwy 18 and just continue up the hill about 18 miles. And as you pass through Dammeron Valley, turn left on a dirt road and follow it for 5 miles past Upper Sand Cove Reservoir.
This trail is definitely a moderate challenge for hikers but with a rewarding journey and worth the trek. The trail traverses lava flows, sandy walkways, and red and white sandstone rocks. The round trip length is about 2.16 miles and the average hike time is about one to two hours round trip.
Anasazi Trail
The Anasazi Trail is a family-friendly and easy hike in St. George that anyone can totally enjoy. You can even take the stroller and bring along your kids if you want to have a fun activity with your family.
This trail highlights a short, rocky semi-technical section, amazing views of the Santa Clara River, and ancient petroglyph rock art figures engraved into the cliffs. The petroglyphs are about a mile east of the Anasazi trailhead. They are fairly obvious and you can easily recognize them.
There are two ways to get up the trail. You can either choose the short way or long way. But most hikers would prefer to take the main and well-developed trail that slowly winds its way to the top of the hill.

4. Signal Peak
Signal Peak got its name when signals were placed on it during World War II to help guide the planes. This may not be as dramatic as other peaks in Utah, it has beautiful views of the surrounding desert and the St. George area.
The route scrambles steeply for the first 2.5 miles and it can be a strenuous hike. And this area is so forested and you may experience a little trouble finding the actual peak. Nonetheless, the Signal Peak is still a worthy hike and it is the tallest peak in Washington County and in southwestern Utah.

5. Red Mountain
Red Mountain trail is a hidden gem in St. George and it has some of the most amazing views of any hike in Southern Utah. The trail traverses along the jaw-dropping Snow Canyon Overlook and it can be done on foot or horseback. To reach Red Mountain, you need to drive north on highway 81 from St. George towards Dammeron Valley for about 18 miles. Then turn left at the signed Red Mountain Trail sign.
Although this trail is rough and strenuous, the views are definitely rewarding. It overlooks down into Sand Hollow and the Pine Valley Mountains on the east. This trail is perfect for families who want to have an ultimate bonding experience, and it only gains 360 feet. The area has plenty of shades in case you need to take a break. You can also bring your furbabies but they must be on leash.

6. Yellow Knolls Trail
The Yellow Knolls Trail is nestled on Cottonwood Springs Road and it is a generally easy hike with some steep portions and deep sand that some people may find it difficult. There is little shade in the area so it can be very hot during the summer.
Although Yellow Knolls Trail is rated as a moderate hike, it can still be enjoyed by any type of hiker, and kids included! The path offers magnificent views including a wide range of flowers and wildlife. The trail also offers a serene and quiet hike which makes it great for people who love to explore and be with nature. The Yellow Knolls Trail is a highly recommended hike in St. George!

7. Owens Loop Trail
Hiking Owens Loop is one of the most recommended hikes in St. George. This trail offers incredible views of St. George, Santa Clara, and Ivins and it is a great adventure that will surely reward you with outstanding vistas without being too difficult.
There are many ways to access this trail. You can begin at Pioneer Park and walk under the Red Hills Parkway via the pedestrian tunnel, or park at Brooks Nature Park at the far northern end of Main street in St. George.
The great thing about Owens Loop is that you don't need to go too far to enjoy the view because the trail itself quickly leads you to scenic viewpoints of St. George. This can be a great place to bond with your kids or families because the trail doesn't gain a lot of elevation and the views are extremely astonishing.

8. Sandstone Quarry Trailhead
Sandstone Quarry Trailhead is a fun and easy trail that is not only suitable for adults but for small children too. The trail traverses along next to the Red Hill Golf Course and leads to the historic monument built by the Sons of the Utah Pioneers.
The trail has a total round trip length of .6 miles and a total average hike time of 20 to 45 minutes. The trailhead can be accessed from Exit 6 in St. George, then head north on Bluff Street for 2.6 miles and turn right on 700 North. Then turn left on 700 West and cross over Diagonal Street to the end. Look for the fence for Red Hills Golf Course, and your adventure starts there.

9. Chuckwalla Trail
With lots of rocks to scramble, trails to choose from, and scenic views for great pictures, Chuckwalla Trail is a great place for a quick escape from a busy week at work or school. This trail is family-friendly and it is very close to the city of St. George.
The trailhead can be found on north Bluff Street and the trail is technically part of Snow Canyon State Park. There is enough space for cars in the parking lot and you can also begin your trail there. The trail is well-marked and you can do a short or long hike based on your ability.
The best thing about this trail is that it is very simple and you can take your kids because there are so many places to explore. But it is not recommended that you bring a stroller because the path is a rocky terrain. But, kids will still enjoy it and they are so free to run and play without worry.

10. Scout Cave
Scout Cave Trail is located south of Snow Canyon State Park and it is a combination of easy and moderate hike. The trail is open year-round and it passes over lava low fields, stream beds, and Navajo Sandstone rocks.
This trail can be accessed in many ways but the most popular path is via Johnson Canyon trail. The first part of the trail is rocky and you will be crossing over lava fields. It has a total hike length of 3.5 miles round trip and can be completed in 1.5 to 2 hours depending on pace.
The trail has a rocky terrain but it is not that much of a hassle for you to work hard for it. And you will be rewarded with an amazing pair of shallow sandstone caves once you reach the final goal. Don't forget to enjoy the view and take lots of pictures.
You can also check out my post on Caves in Utah to see more incredible caverns around Utah.

11. Johnson Canyon Arch Trail
Another trail within the Snow Canyon State Park that you can explore is the Johnson Canyon Arch Trail. This is another great and easy hike for the whole family and it passes through a lava flow field, dry stream bed, and into a canyon. It also offers amazing views of the Red Mountain and Paradise Canyon.
To begin your hike, you need to cross at the crosswalk and open the swinging gate. And immediately, the volcanic rock emerging from the sandy trail will slowly unfold in your eyes. However, the path can be too rocky and you might wanna take out your nice and comfortable pair of hiking shoes/boots.
There are stops where you can have a picnic with your family. Or you can just sit down and enjoy the serene sound of nature that slowly calms your soul.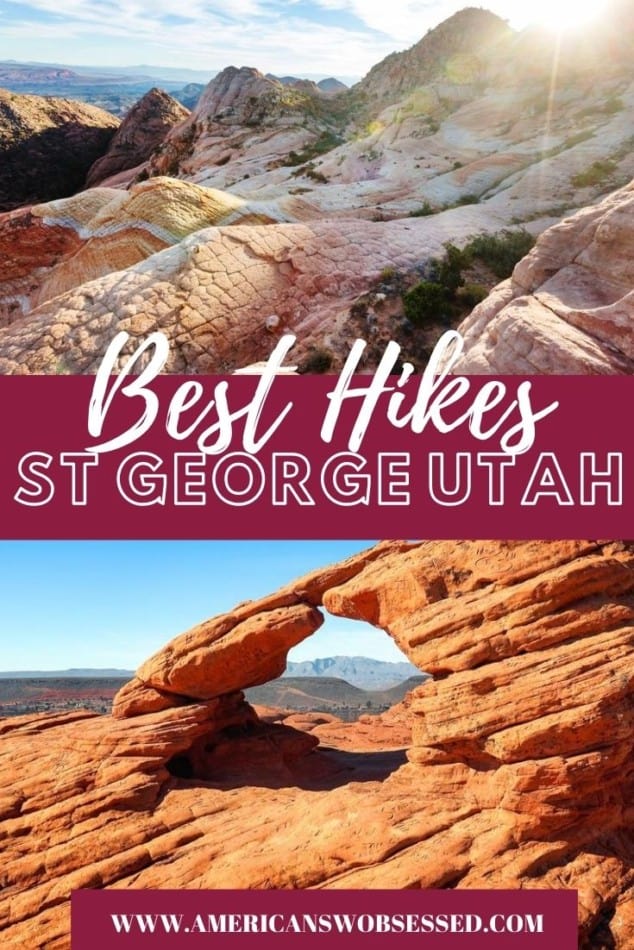 Recent Posts