How to Make the Most of a Half-Day at the the Grand Canyon – the Highlights!
Wondering what to do if you only have half a day to visit the Grand Canyon? Planning a day trip to the Grand Canyon can be a bit overwhelming.  This post is full of useful tips and an itinerary so you can make the most out of your trip to the Grand Canyon in half a day.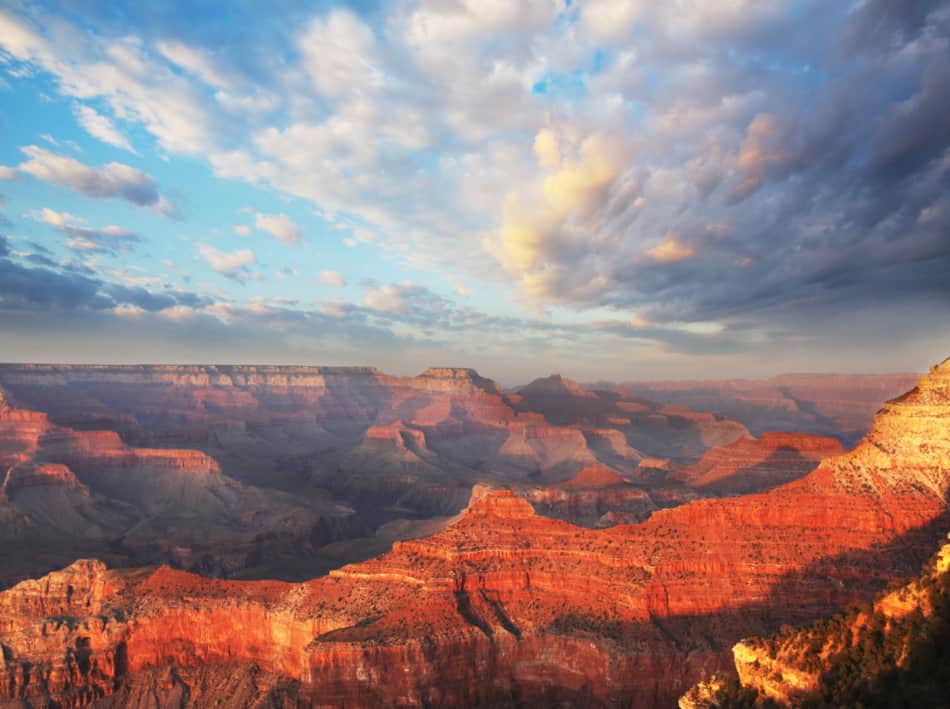 Visiting for a half day Grand Canyon will just touch the surface of this amazing site.  But its still worth visiting for half a day in Grand Canyon.  I'm going to show you how to make the most out of a day trip to the Grand Canyon.  
I've put together the perfect Grand Canyon Itinerary for you to see all the best sites in Grand Canyon in less than a day. Below I cover all of the highlights to make the most of your time in the Grand Canyon.
Thank you for supporting this website written by an American. This post may contain affiliate links. This means I earn a small commission on these links at no extra cost to you.
To visit any of the National Parks in the USA, I recommend buying a National Park Pass. The America the Beautiful Pass is valid for one year and costs $80. Plus 10% of sale proceeds go to the National Park Foundation.
Tips for Renting a car for your road trip
It's awfully hard to get to Grand Canyon National Park without a car. The closest airport is Phoenix and you can use Discover Cars to rent a car for your travels. You'll be able to pick up a car at any airport or in your hometown.
Check availability and get a quote for a rental car for your trip here.
Half Day at The Grand Canyon: Best Things to do in the Grand Canyon
Here's What to see in Grand Canyon in half a day
Catch the Sunrise at Mather Point
This is one of the best and most popular spots in the Grand Canyon to see the sunrise. This spot is in very close proximity to both the visitor center and a large parking lot, making it an easy spot to access. Mather's Point also provides stunning panoramic views over the canyon, making it a truly magnificent spot to view the sunrise.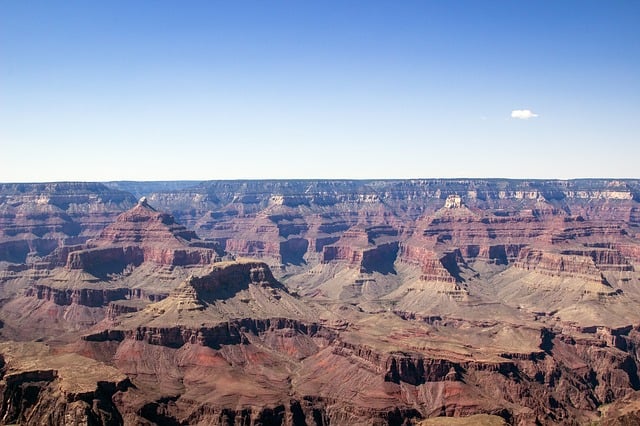 Visitor's Centre
An important first stop at any visit to the Grand Canyon. At the visitor's centre, you will find out all the information you need to know for your trip through the Canyon. You will be informed on any trails and viewpoints that may be temporarily closed; the ones that are too dangerous to visit and the ones that are the safest to visit. There is also a short film available to watch which takes you through a visual experience of the canyon before being able to jump in yourself.
Visitor Centre Winter Opening Hours: 9am – 4pm
Visitor Centre Spring, Summer & Fall Opening Hours: 8am-5pm
Take a Shuttle Bus to Viewpoints
Shuttle Busses are highly recommended during winter months, as some roads may be too dangerous to drive private vehicles on, due to snow fall and other wintery conditions. Shuttle busses also operate year-round as there are many points through the canyon that can only be accessed through shuttle busses (i.e. Hermit's Rest Scenic Drive)

Rim Trail – Visitors Centre to Village
A flat and easy 2.5-mile trail from the Visitors Centre to the Village. The path is paved and mostly flat, making it a great and easy trail to walk while visiting the park. This trail also passes by some beautiful viewpoints in the canyon that are definitely worth stopping by and having a look.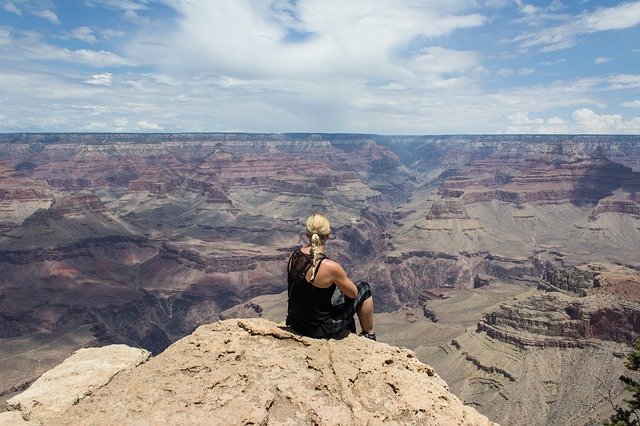 Check out my post on the best hikes in the Grand Canyon which includes some easy hikes you can do in a few hours.
Hermits Rest Scenic Drive
Hermit Road is a popular 7-mile route located at the west end of the south rim and takes its visitors along many beautiful scenic viewpoints before arriving at Hermit's rest. During the winter months, this road is open to private vehicles, while during the rest of the year, you will need to hop on the park's shuttle bus to access this point. This route offers some of the best views in the canyon, including Hopi Point, Mohave Point and Pima Point.
Desert View Drive
Just 1-mile west of the Grand Canyon Village is this 25-mile stretch of road offering some of the best views of the Colorado River you can find from within the Grand Canyon. There are many stops along the way which all provide beautiful views over the canyon, and the river. Two must-visit stops include Yaki Point and Duck on a Rock.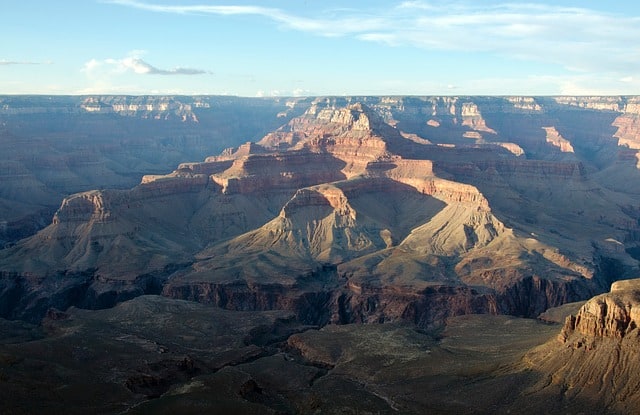 Helicopter Tour over the Canyon
There really isn't a better way to experience the Grand Canyon and soak in all the beautiful views, than doing it from a helicopter flying above! Helicopter rides above the Grand Canyon provides a truly unique experience and gives visitors views of the canyon you can't get anywhere or anyway else. These tours can be a bit on the pricier side; however, you won't regret this experience at the Grand Canyon.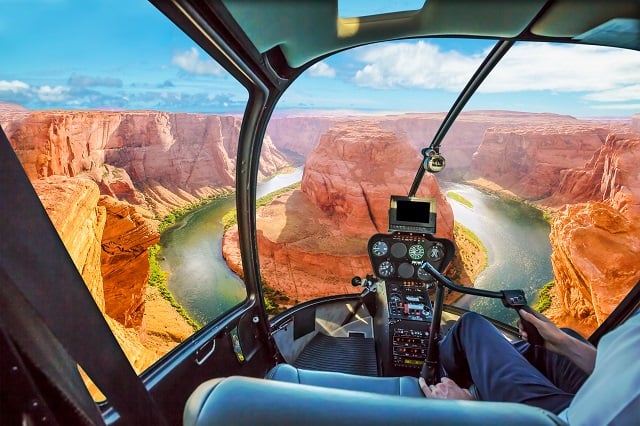 Check out my post on the Best Helicopter Tours of the Grand Canyon.
Grand Canyon iItinerary for One Day at the Grand Canyon
Start your day with Sunrise at Mathers Point. Even if you don't make it for sunrise it is worth a visit.
I have put together a guide to the best hikes in the Grand Canyon if you are looking for other options. Do remember if you spend about 30 minutes hiking down into the Canyon plan on it taking you 1 hour to get back up to the South Rim.
Go to Hopi Point – one of the best viewpoints at the Grand Canyon and take in the view.
Head to the village for lunch. You can either pack a picnic and eat in the village or visit the El Tovar Hotel or Bright Angel Lodge for lunch.
After lunch head to the Verkamp's Visitors Centre. After the visitors centre head to Hopi House. This landmark was constructed in 1904 and is a market for Native American handicrafts.
Take a Helicopter Ride into the Canyon – this is a great way to explore the Canyon especially if you don't have a lot of time. The views are stunning and you will cover a lot of ground. I have a whole post on choosing Helicopter Tours of the Grand Canyon.
Tips for Visiting in Grand Canyon National Park
The Grand Canyon is perfect for outdoor enthusiasts. Note that it is dry and hot (in the summer) and make sure you know what you are getting into before you start. Here are a few tips for visiting the Grand Canyon:
Bring a reusable water bottle and lots of water! Remember you are in the sun and you will need to drink lots of water. I love my LifeStraw Filtered Water Bottle.  I can refill this bottle anywhere and it comes with a carabiner to connect it to my daypack.
Check the Weather – days over 100 degrees are very common. Make sure to check.
Hiking boots or sandals that will protect your feet! I love good shoes.  I need all the support and help I can get.  I actually love these sandals for hiking and have a whole post on Merrell vs Keen shoes for hiking.  I also love these hiking boots which I used for Hiking in the Grand Canyon.
Bring hiking poles for balance and to protect your knees.  I know many experienced hikers (and even amateur ones) think that hiking poles are for old people who lose their balance.  Actually, hiking poles can help when going down steep inclines or when scrambling over rocks.  They are great to hike with even for the most experienced hiker. 
Wear a sunhat. I feel like this whole post is about how high you are in the mountains and how much closer you are to the sun but it is so true. At elevation, you are closer to the sun and more likely to burn. Wear sun protection such as a sun hat and sunscreen.
Be aware of the wildlife. This is the Southwest and you will need to watch out for snakes and other wildlife such as moose or a bear.  Please stay away from wildlife and do not feed them. 
Start Early – If you want to avoid the traffic and the heat you will need to start your hike early.  That way it will be nice and cool and the smog will not affect you either.
Leave no trace. If you are new to the concept of Leave No Trace it is all about preserving the environment to ensure it is in the same or better condition when you leave it.  This means that you should stick to the trails and carry out everything that you carried in.  This is a great explanation of the Leave No Trace principles!
Water shoes are great for water hikes– If you don't have a pair, I highly suggest it as they are affordable.  I have an article on the pros and cons of several pairs of water shoes.
Bring Bug Spray and a snack: Be sure to bring everything you need including a snack like a protein bar plus BUG SPRAY.
Where to stay near the Grand Canyon
Tusayan is the nearest city to the Grand Canyon. The population city of Tusayan is only 550. The city is located along Highway 180 about 70 miles from Flagstaff.
You will find shops and restaurants there, the Grand Canyon IMAX, and the Grand Canyon Airport is about one mile south of town.
Another benefit of going in the winter with less tourists is the fact that booking accommodation will be easy! I don't recommend just showing up though because some places will be closed.
Check out my post on Where to stay near the Grand Canyon for more options.  There are five cities near the Grand Canyon and this article gives you all of the best options depending on which direction you are heading after the Grand Canyon.
I also have a post on the Best Airbnbs near the Grand Canyon if you are looking for a house to rent when you visit the Grand Canyon.
Below are two of my favorite and affordable places to stay near the entrance of the Grand Canyon.
Canyon Plaza Premier Studio and Apartments
Views of the valleys and forest areas are featured in select Arizona apartments. Grand Canyon South Rim Entrance is 5 minutes' drive.
Studios feature a kitchenette and apartments offer a fully equipped kitchen at Canyon Plaza Premier Studio and Apartments. A balcony is provided in each unit.
JJK's Restaurant is open for breakfast, lunch, and dinner at the Studio and Apartments Canyon Plaza Premier.
Holiday Inn Express Grand Canyon
The Holiday Inn Express is located just two miles from the South Entrance of the Grand Canyon. The Holiday Inn Express has 164 rooms and is located centrally in Tusayan which means you can walk to the restaurants and shops.
The Holiday Inn Express has an indoor pool, a whirlpool, and a continental breakfast is included.
Recent Posts