15 Best Airbnb in Glendale, AZ
Airbnb Glendale AZ: Are you looking for the best Airbnb in Glendale? The city of Glendale is part of the Phoenix metropolitan area and a great place to stay when visiting. It was voted the #1 up and coming destination by Trivago and there is plenty to do there.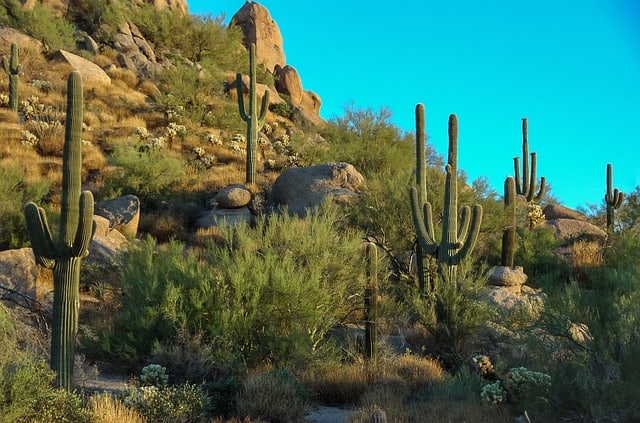 Glendale is a playground for the outdoor enthusiast. Glendale offers approximately 40 miles of hiking trails open from sunrise to sunset. Trails are expansive and not very demanding. I recommend checking out Thunderbird Conservation Park while visiting.
Glendale is about 9 miles northwest of downtown Phoenix. There are so many places to stay around Phoenix so if you decide that Glendale isn't the right area for you – check out my other Airbnb guides:
13 Best Airbnbs in Gilbert, Arizona – with pools!
17 Best Airbnbs in Mesa, Arizona
15 Comfy Airbnbs in Chandler Arizona
15 Perfect Airbnb Scottsdale AZ
Thank you for supporting this website written by an American. This post may contain affiliate links. This means I earn a small commission on these links at no extra cost to you.
15 Best Airbnbs in Glendale, Arizona
Comfortable Euro Style Private Apartment
Guests: 2
Bedroom: 1
Looking for a place near to numerous top Arizona venues? Well this place is for you. This private guest suite apartment in Glendale has a total space of 465 sq. ft. that features one bedroom, one bath, a dressing nook or sitting area, and a kitchenette.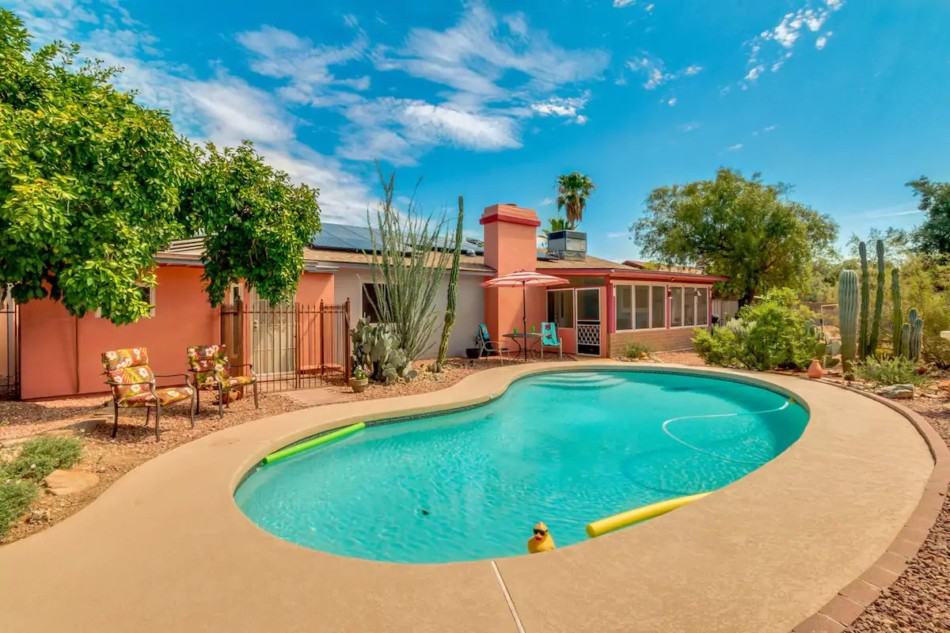 The bedroom has a queen size bed with a comfortable mattress, while the bathroom has a walk-in shower and furnished with a hair dryer, soaps, shampoo, and conditioner so you don't have to bring a lot of stuff with you. And the outdoor living space will also amaze that has an outdoor pool and BBQ grill perfect for bonding moments with family and friends.
This private apartment is also accessible to all the local Phoenix Metro sights including Sedona, the Grand Canyon, and many other beautiful destinations. And if you need some tips, the hosts are very happy to help and accommodate you.
Spacious Glendale Home with Sparkling Pool
Guests: 7
Bedroom: 3
This exquisite three-bedroom home has everything you need for a perfect getaway in Glendale, Arizona. It has been recently remodeled and designed so you can experience the perfect vacation home.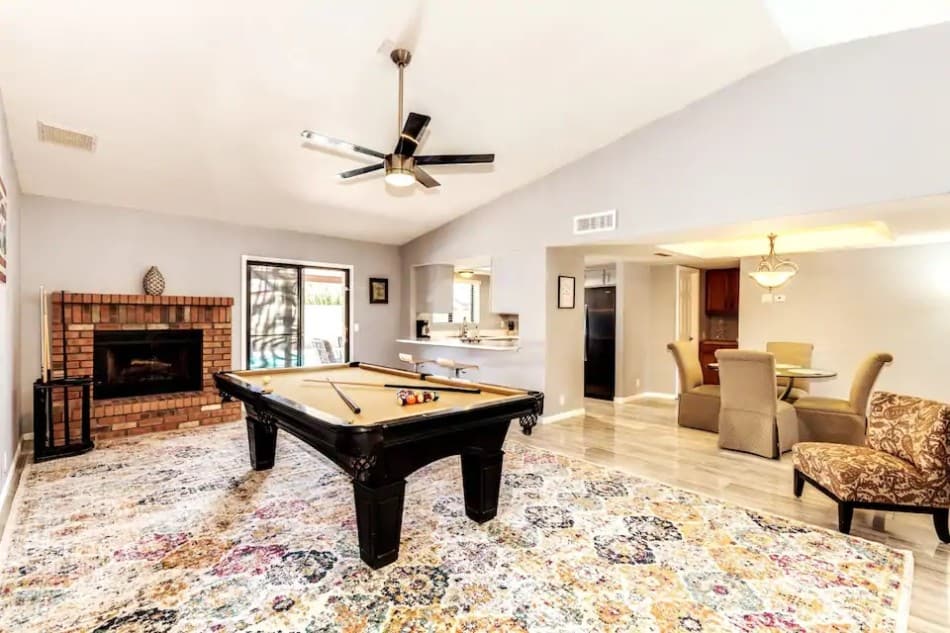 It features spacious bedrooms good for 7 guests, a beautiful pool table, cable, wifi, RV gate, and a pristine pool/spa. The bathroom is also equipped with travel-sized bathroom essentials such as shampoo, conditioner, lotion, and body wash. And once you arrive, a welcome gift awaits such as sunscreen, a phone charger, and fresh coffee. Now, that's called a hassle-free vacation!
The Orchard Casita
Guests: 2
Bedroom: 1
Located in a historic property in north of downtown Glendale, the Orchard Casita is one of the most relaxing airbnbs that you can book in the area. The property is surrounded by trees, grass, vegetable gardens, and it is considered as a habitat to some animals like chickens, peacock, peahen, and desert tortoise.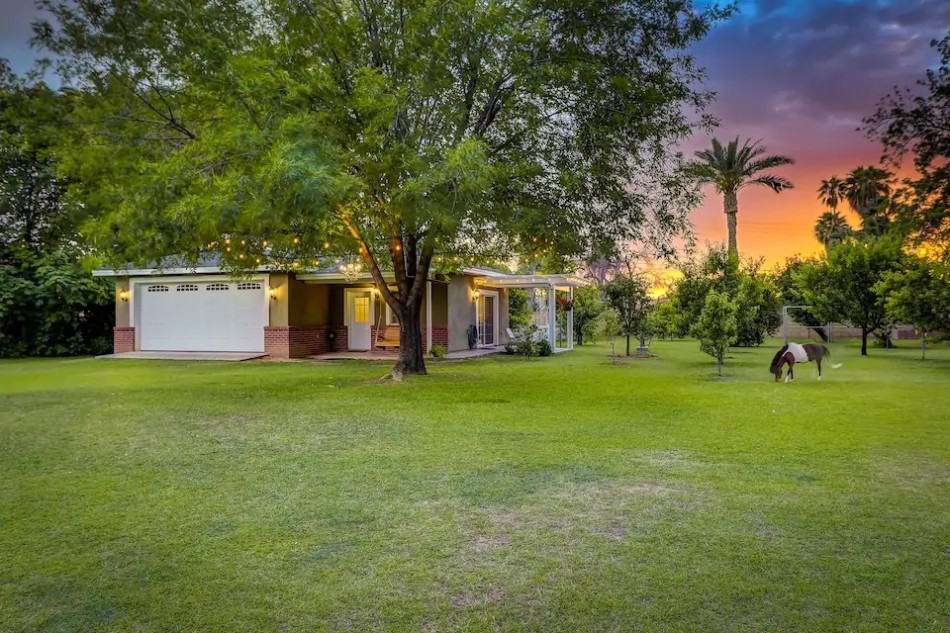 This adorable casita is a studio-type accommodation, with an open room concept with a bed, table, and two chairs. It also has a kitchenette with basic appliances like microwave, toaster, coffee maker, and undercounter refrigerator.
You'll have an entire access to the casita, as well its patios and you can roam around the entire yard and enjoy the palm trees and smell the roses in the garden. This place is definitely a sanctuary for people who want to spend some quiet and alone time in Glendale, Arizona.
Beautiful Modern Home
Guests: 9
Bedroom: 3
This beautiful modern home in Glendale offers a spacious, cozy, yet open vibe that you won't experience in any other airbnbs in the area. Its fabulous interior comes with 3 bedrooms good for 9 people, 2 bathrooms, neutral color palette, bonus room with a queen size sofa sleeper, and a lot more.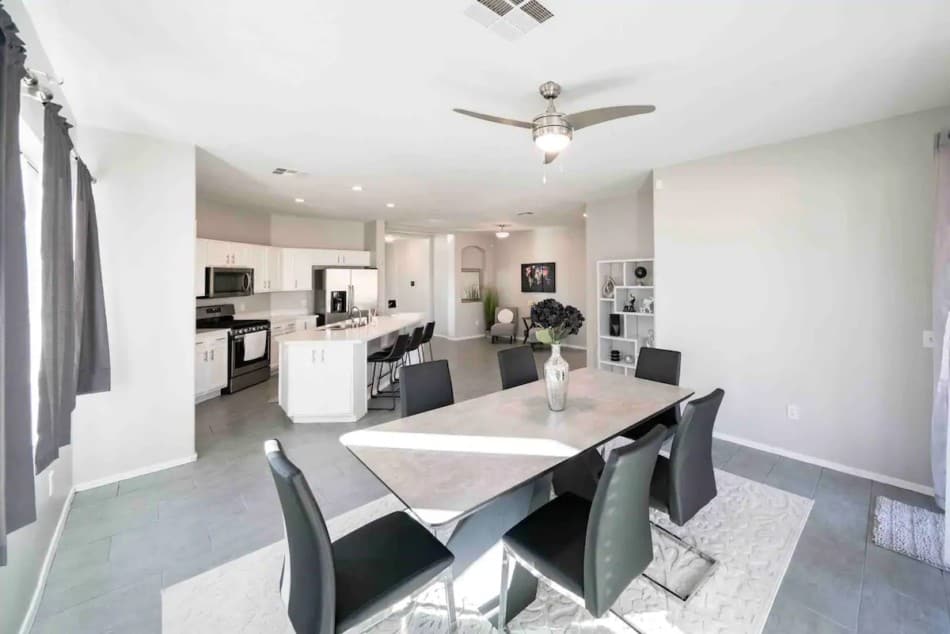 There's also a lot of spots in the house where you can chill such as the living room that lets you watch Netflix all day, or enjoy the sitting nook by yourself and catch up on your books, or have a good laugh and play some cards or board games at the kitchen table.
And this home is also located just 5 minutes away from the State Farm Football Stadium, and as well as some entertainment and restaurants in the area.
Waterfront home w/ Kayaks & Paddle boat, Private Heated Pool, Spa
Guests: 6
Bedroom: 2
If your looking for and extraordinary backyard experience with a heated pool & Spa on the water with beautiful views then make this your next getaway! Enjoy watching TV out on the covered back patio, grill up some burgers on the BBQ grill or after a long busy day take a dip in the pool (heated) or hot tub.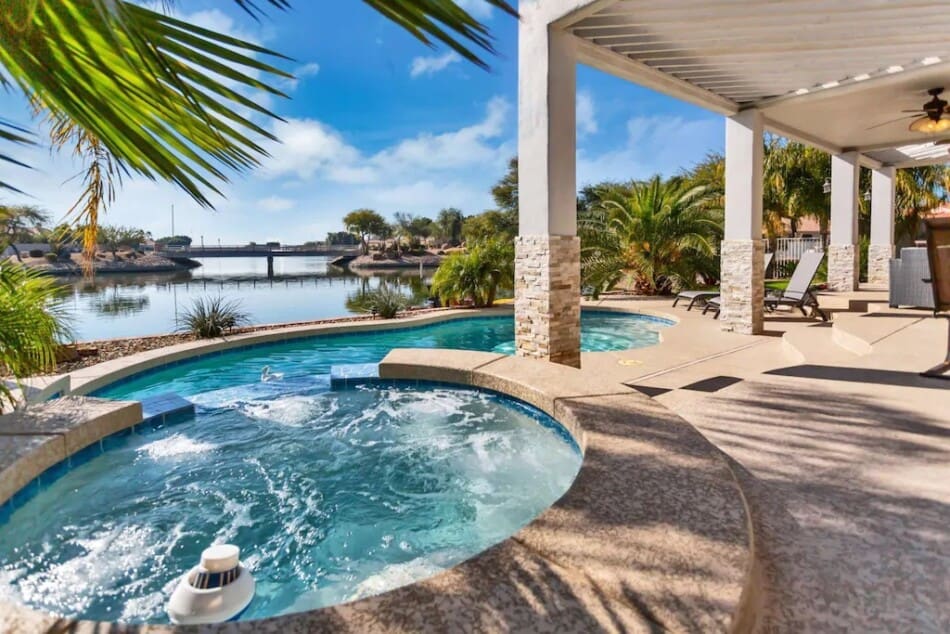 here are 2 kayaks and a paddle boat for the family to enjoy out on the lake. You just take them right off the dock and away you go. It really doesn't get any better than this. Whether you are visiting Arizona for the weather, golf, or spring training you will love our stunning waterfront home right on Arrowhead Lakes. It's conveniently located with quick and easy access to the loop 101 freeway making getting around a breeze.
Spectacular Home in Glendale
Guests: 8
Bedroom: 4
There are so many things that you will love about this stunning and newly remodeled house in Glendale. Aside from being nestled in a quiet residential neighborhood, it features 4 bedrooms and 2 bathrooms that is perfect for business, leisure, and families on vacation.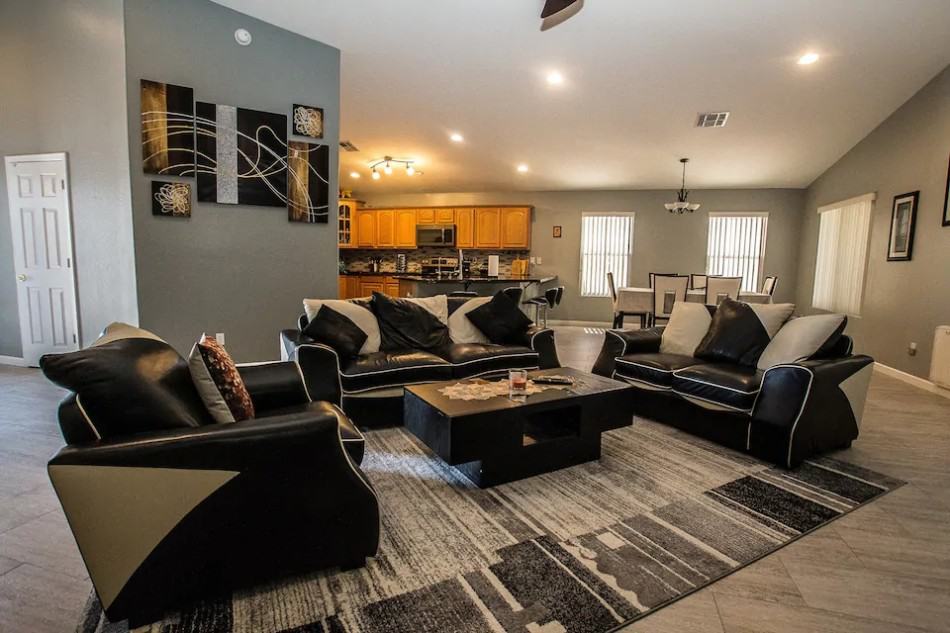 This home is fully equipped with basic essentials like a fully equipped kitchen, toiletries, wifi, comfortable living area, large covered patio, and much more. This place will definitely exceed your expectations with a price that's pretty worth it.
Gorgeous Two-Bedroom Condo
Guests: 4
Bedroom: 2
This fabulous condo may look tiny from the outside but it's extremely spacious on the inside and it can accommodate up to 4 guests. It is furnished with everything that you need for a comfy and hassle-free stay such as a kitchen, wifi, two full bathrooms, dining area, relaxing living space, and much more.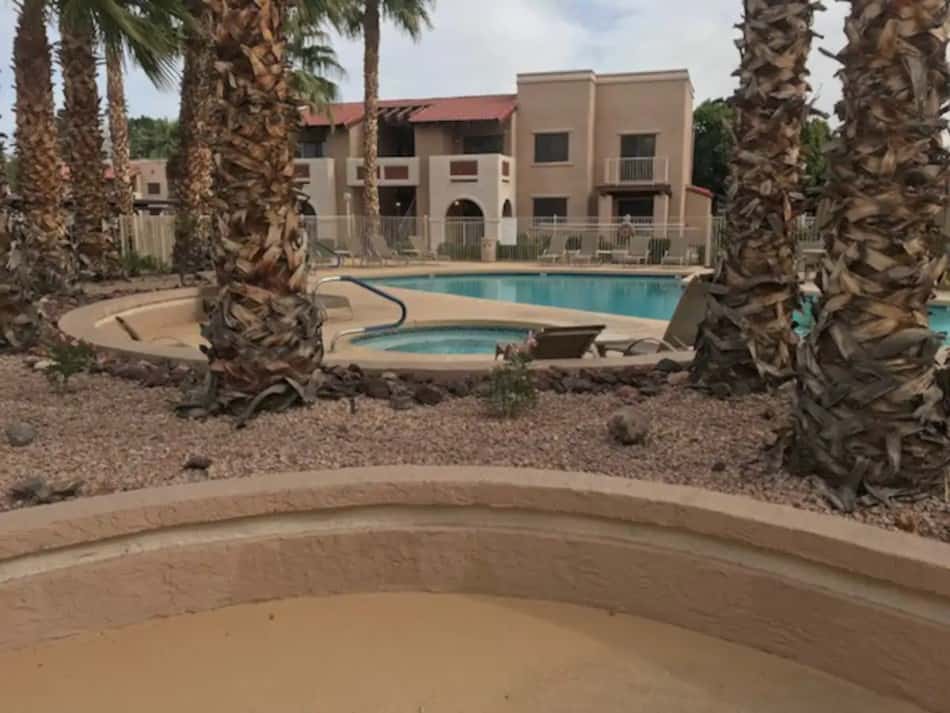 You'll also be given access to the amenities in the condo such as the pool, spa, and community room. And its location is very close to some attractions in Glendale like Peoria Sports Complex, University of Phoenix Glendale Stadium, and Sunrise Sports Complex.
Spartan Private Room
Guests: 2
Bedroom: 1
If you are looking for a private and comfy room that you can only stay overnight, look no further because this spartan private room is for you. One of the great things about this private room is that even though it is inside a private room, you will feel secured during your stay. The room itself has one bed, a closet space, and hardwood floors.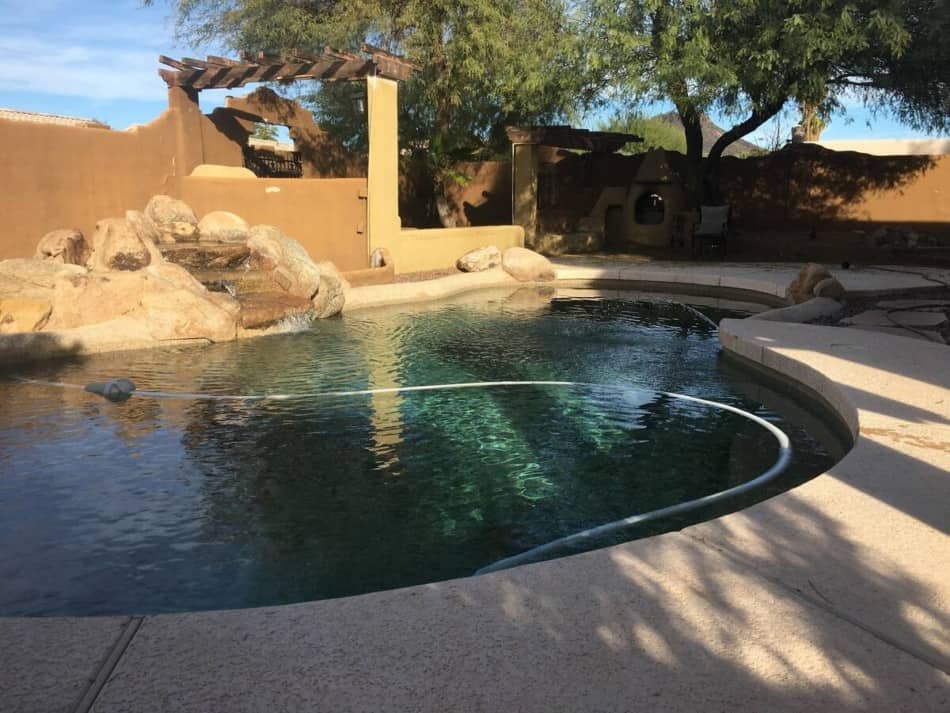 But you'll also have access to all the shared areas of the house such as the living, dining, kitchen, garage, and even the pool.
The location of the house is very close to a lot of spots in Glendale so it would be easy for you to explore the area. Plus, the host is very accommodating and would be glad to give you some tips.
Resort Style Home with Private Pool
Guests: 11
Bedroom: 3
Staying in this resort style home will make you feel what it's like to live your best life. It's one of the best airbnb's that you can book in Glendale and it's located in a very quiet and safe neighborhood and very close to dozens of major entertainment places.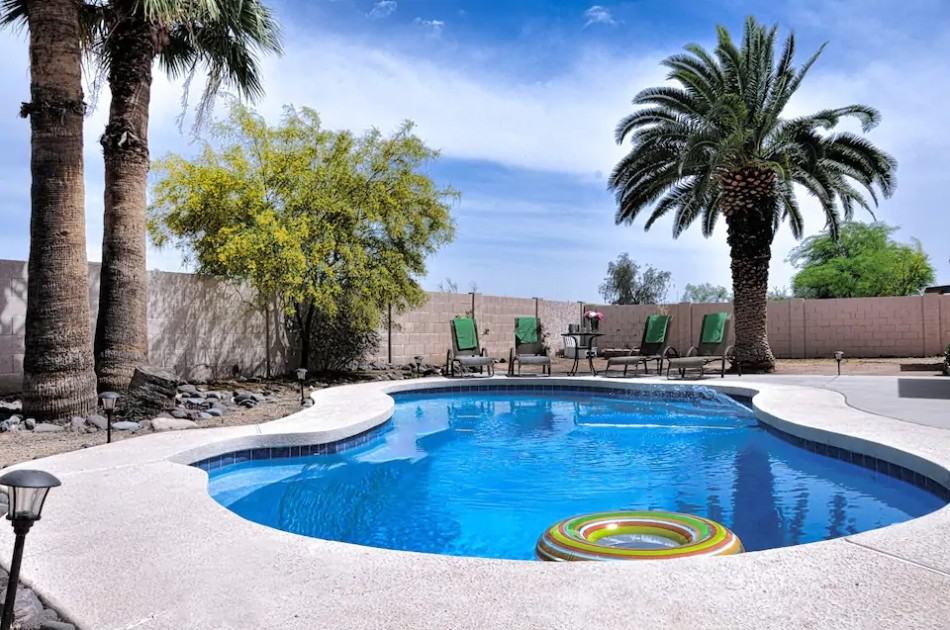 This house is extremely spacious that it can accommodate up to 11 guests and it's ideal not only for business or family adventures, but also for couples and solo travelers. It is loaded with amenities that you need for a great stay such as a fully equipped kitchen with dining place and futon, living room with sofa, fireplace, and smart TV, garage for 2 cars, and a private pool with patio table and chairs. Who wouldn't love to stay in this incredible and spacious place at a very reasonable price?
Hidden Gem House
Guests: 8
Bedroom: 4
You can grab your entire family or friends and have a relaxing weekend at this house in Glendale that is located in a quiet and peaceful neighborhood. It is a perfect getaway for anyone as it's very spacious and comfy and it can accommodate up to 8 or even more guests.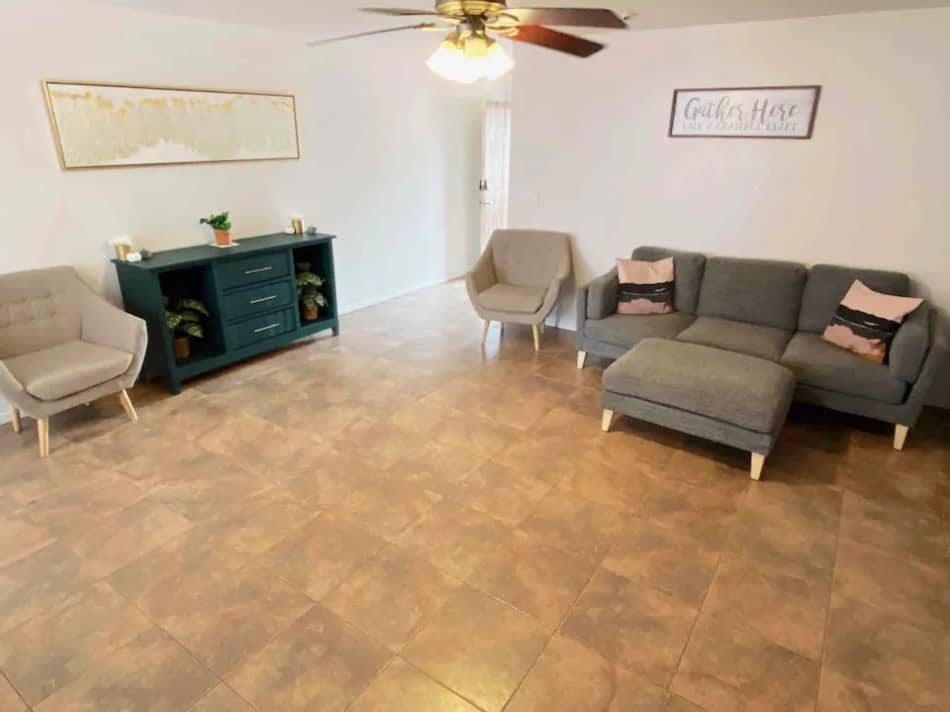 This house is equipped with amenities that you can make use of such as the kitchen with open layout and overlooks the living room, a fireplace that provides warmth during winter, and four bedrooms that are uniquely designed to give plenty of space for large groups. Whether you are in Glendale for a relaxing weekend or for a fun-filled outdoor adventure, this house is perfect for any occasion.
Cozy Modern Studio
Guests: 3
Bedroom: 1
Another beautiful and cozy studio that you can stay in Glendale is this guesthouse that can lodge up to 3 guests. It has been recently remodeled and it's actually a studio that's attached to the main house but with a private entrance and a designated parking space.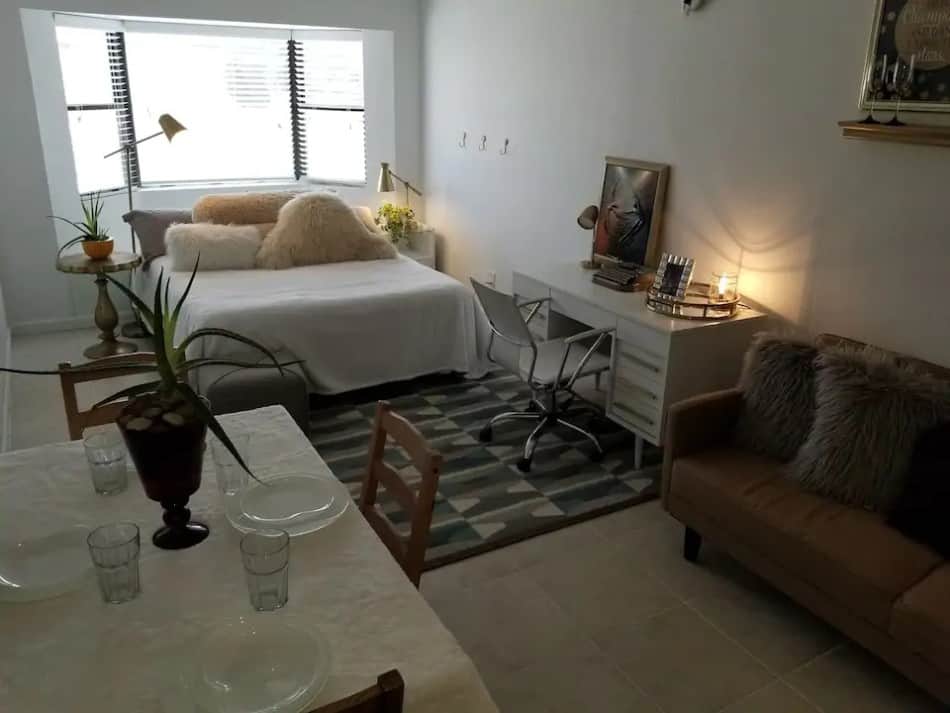 You'll instantly feel at home with its amenities like the kitchen, full bathroom, and a small front patio for you to relax and unwind. The studio is also well-located and very near to stores, groceries, and businesses. This is perfect for couples and singles who want a modern space to stay in Glendale.
Charming Ranch Style Farm Home
Guests: 4
Bedroom: 2
This ranch style farmhouse is the perfect place to put your feet up and unwind and be surrounded by nature. This farm home boasts of its numerous relaxing spots that will make you forget all your problems. There is a large front porch to sit on and watch the sunrise or sunset. And in the evening, you can sip a glass of wine and gaze at the night sky on the back patio.
Aside from its exterior spaces, this house has also an incredible interior. It has a fully equipped kitchen for cooking sumptuous meals, a dining room adjacent to the kitchen and open to the living room, and many more. You will never be disappointed with this farmhouse that has almost everything you need for a memorable vacation.
Casita West
Guests: 3
Bedroom: 2
This two-bedroom casita is one of the simplest yet very private casitas you'll ever find in Glendale. Aside from the basic amenities provided, this casita has many spots for chilling.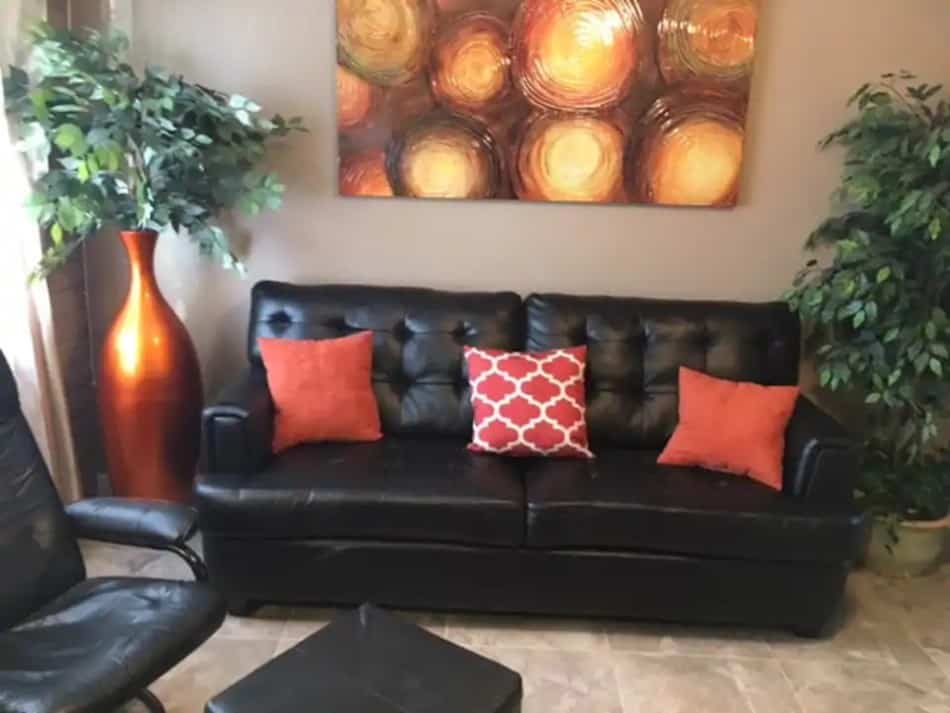 You can relax on the private patio outside, chill comfortably in the living area, or explore the beautiful spots that Glendale has to offer. This is absolutely a nice and quiet little place to stay at and perfect for a little getaway.
Westgate and Country Living Farm Home
Guests: 5
Bedroom: 1
This adorable farm home in Glendale is a great way to relax and have quality time with your friends or family. Even though it has only one bedroom, it has a total of 3 bedrooms that can accommodate 5 guests. It has a kitchen, wifi, cable TV, indoor fireplace, and a lot more.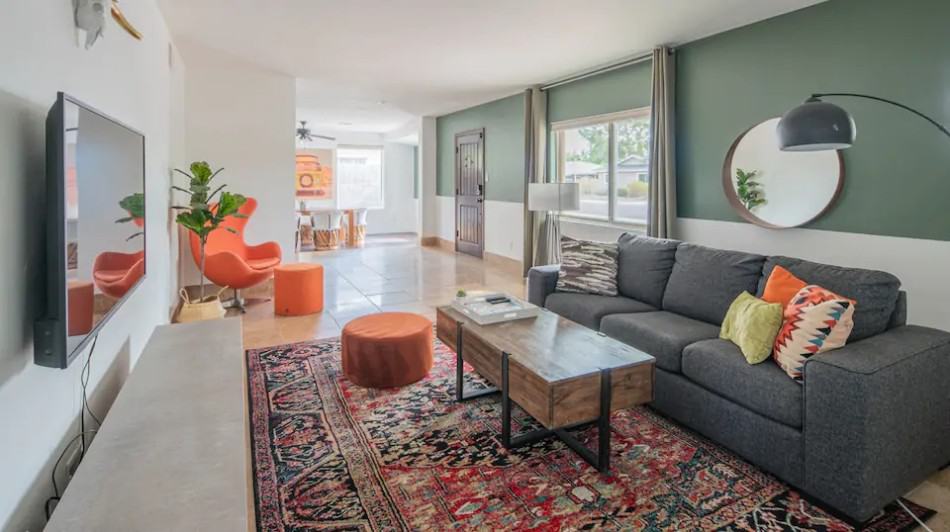 This farm home is obviously located on farmland and it is surrounded by animals that can roam freely inside the property. So you can expect to hear the usual farm noises but the experience is totally worth it. 
Recent Posts