Canyonlands Hotels: Are you looking for information on the Best Hotels near Canyonlands National Park? There are lots of Canyonlands lodging options depending on what area of Canyonlands National Park you want to visit. This guide will help you choose where to stay in Canyonlands.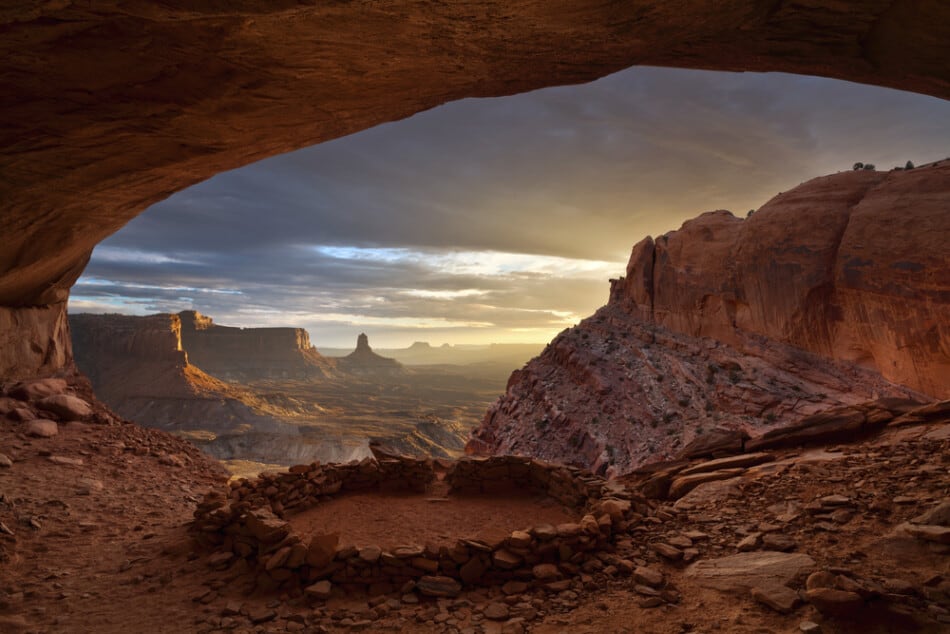 Canyonlands is a huge national park and there are four areas of Canyonlands National Park. Depending on which area you are looking to visit will depend on where you will want to stay. These accommodations near Canyonlands National Park are the best options.
Island in the Sky – the most visited area and closest to Moab, Utah
The Needles – this area is vast and if you are planning to spend a few days there you should stay in Monticello, Utah
The Maze – the most remote area of the park but a great base to stay is Hanksville or Green River, Utah.
The Rivers – the Colorado River and the Green River flow through the park. You can take day rafting tours from Moab.
Once you have decided which area of the park you are going to explore you can then choose the best area to stay near Canyonlands and the best lodging near Canyonlands National Park.
I recommend using Booking .com for all of your hotel bookings. I find they have the best prices on hotels and the more you book with them the more of a discount you get on your bookings. Also, they have free cancellations which is priceless if you need to change your plans.
Thank you for supporting this website written by an American. This post may contain affiliate links. This means I earn a small commission on these links at no extra cost to you.
Best Hotels near Island in the Sky Canyonlands
Island in the Sky is the most visited area of Canyonlands. It is also located near Moab and Arches National Park. From Moab the entrance to Island is in the Sky is 33 miles or about 45 minutes drive.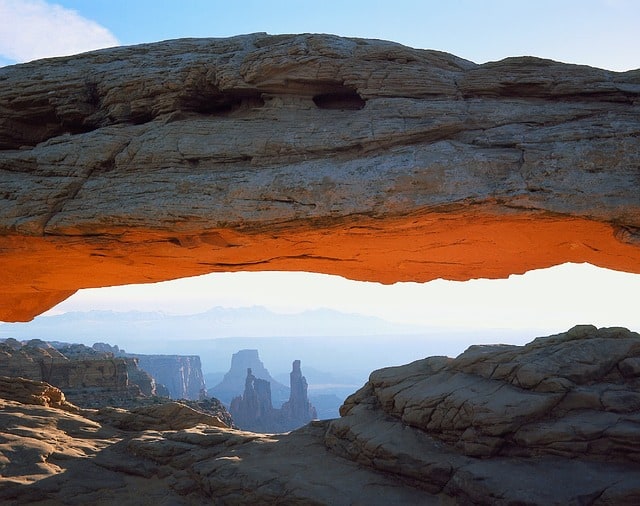 Mesa Arch is the number one hike in the Island in the Sky district. It is a must do! Check out my post on the Mesa Arch Hike.
I also like staying in Moab as there are so many things to do in Moab and great places to eat. I also have a post on Where to Stay in Moab, Utah and the Best Airbnbs in Moab, Utah for more options.

Sorrel River Ranch Resort & Spa
Sorrel River Ranch is an exclusive 240-acre riverside oasis surrounded by the picturesque scenery of Utah's iconic arches, canyonlands and red rock formations. They do have custom-built cabins, and campfires and they can cater to any type of accommodation whether it is just an intimate getaway or large gatherings.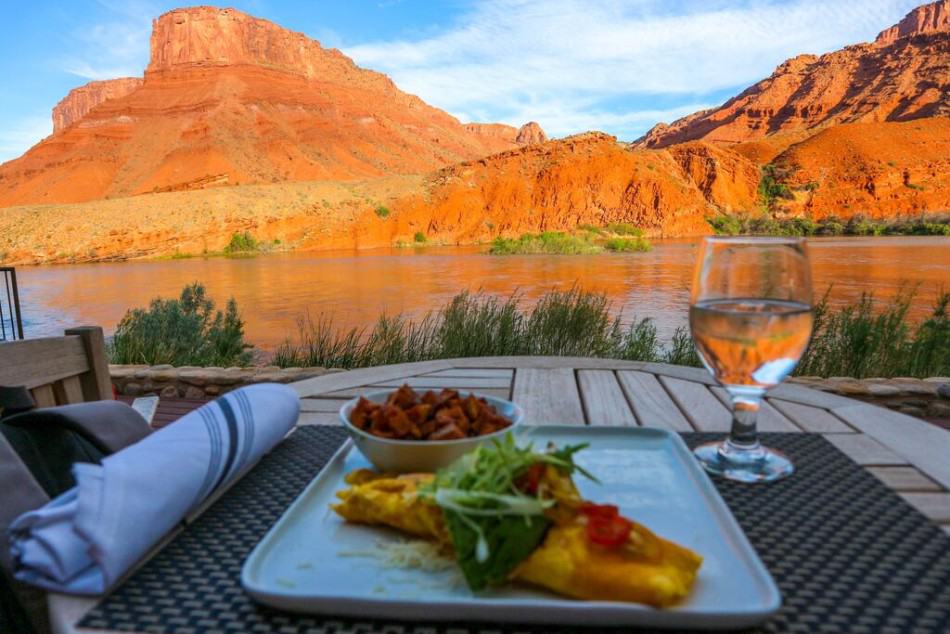 The offer premier lodging accommodations with views of the Colorado River from the private deck or living area. You can choose from: River Studio, Balcony Studio, Mesa Studio, Family Suite, and Ranch House Estate. Each accommodation offers a different vibe, from the most romantic rooms to spacious suites ideal for families or groups traveling together.
The food from their own restaurant is unbelievably fresh because they source out the ingredients from their own garden. You should definitely experience their fantastic farm to table dining.

Under Canvas Moab
This famous glamp-ground is one of the most popular places to stay in Moab that offers all the camping vibes without the feeling of discomfort. It is located upon 40-acres of slickrock landscape and it lies 7 miles north of Moab near the Arches and Canyonlands National Park.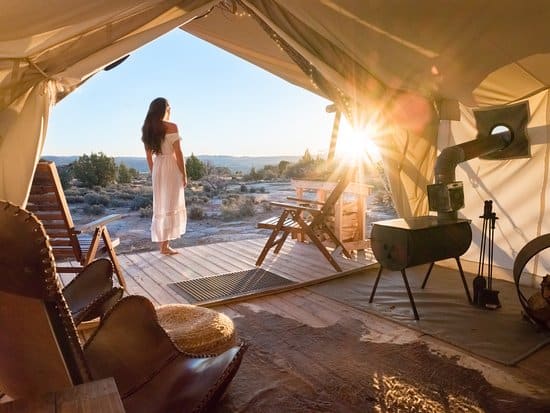 Camp amenities include daily housekeeping, organic bath products, USB battery packs, picnic area and grills, fire pit and s'mores, and more. However, the glamping tents do not include bathrooms so you will be using the on-site trailers for toilet facilities.
You can choose from their three glamping tents: suite, stargazer, or deluxe. All the tents offer a luxurious vibe and they have the most comfortable beds ever that you won't even feel that you are inside a glamping tent.

Homewood Suites by Hilton Moab
Homewood Suites is an all-suite hotel located 4 miles from Slickrock Bike trail and 5 miles from Arches National Park. It is a combination of a bright and modern hotel with the feels of a home. This is actually a go-to hotel for families who visit Moab because of its amazing service and family-friendly environment.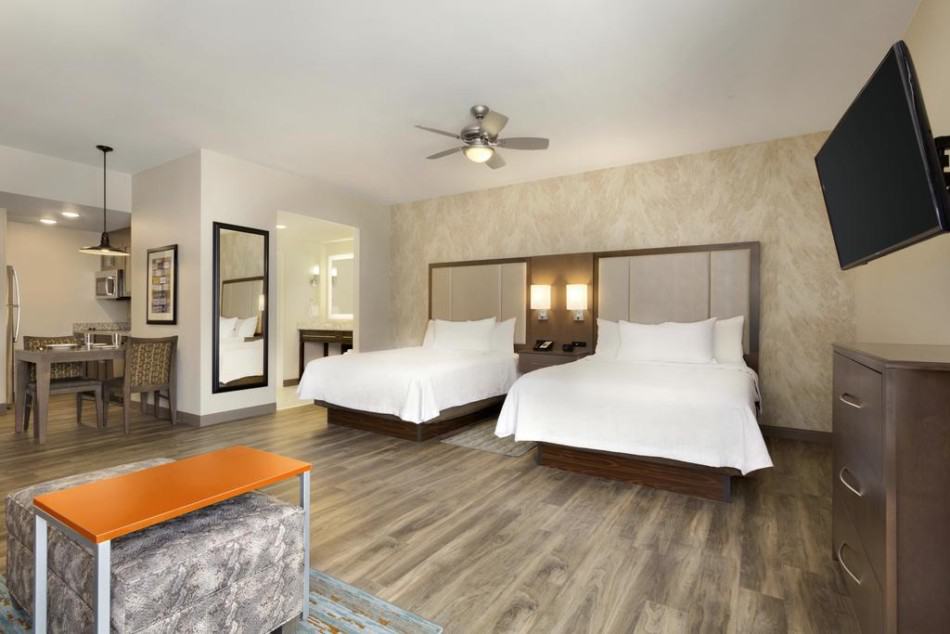 You can choose from their six suites that lets you experience an apartment-style living. They have studios, one-bedroom, and two-bedroom suites that are spacious enough to let you live, work, and relax. The rooms feature air conditioning, flat screen TV, kitchenette, microwave, refrigerator, a safe box, and more.
They also have a pool where the whole family can enjoy and soak, as well as a fitness center to make sure that you don't skip a workout even while you're on business or leisure travel. Free breakfast is also provided during your stay and you can bring your pets with you.
Since Homewood Suites is situated near the attractions in Moab, you can explore and hike to Canyonlands National Park, or do a whitewater rafting adventure with your friends and family on the Colorado River.
Hyatt Place Moab
If you are exploring Arches National Park and you are looking for a place that gives you a luxurious feel without hurting your pocket, Hyatt Place is the perfect hotel for you. Its location is just one mile away from downtown Moab and you can enjoy easy access to hiking, biking across the park's 76,518-acre property.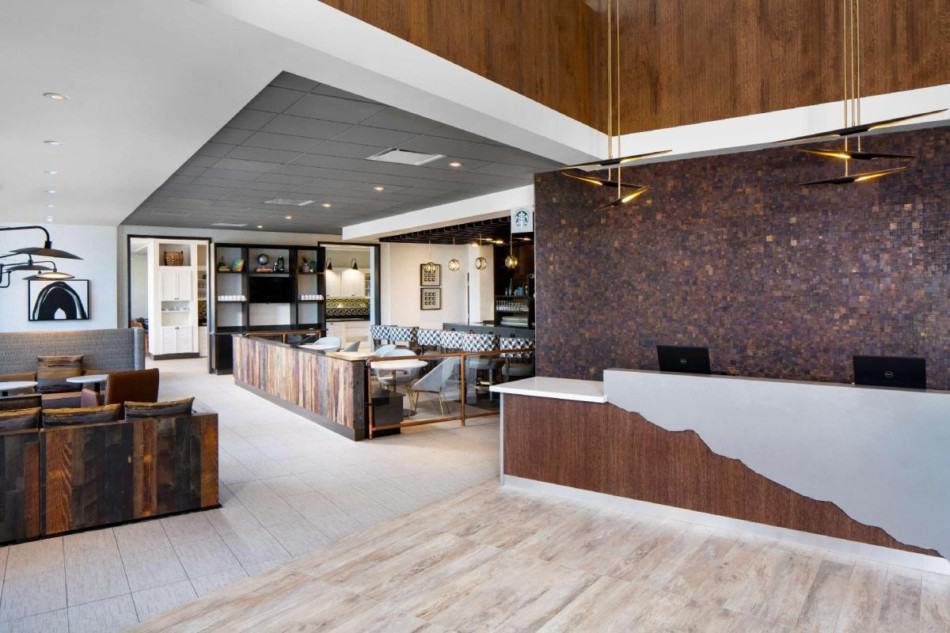 They have a different approach when it comes to giving service to their clients. It is focused on three landmarks: FEEL, FUEL, and FUNCTION. The thoughtfully designed rooms are super comfy and inviting. It features blackout curtains so the morning light won't disturb you, a desk, seating area, sofa bed, coffee/tea maker, and satellite TV.
And what makes this hotel even more amazing is their 24/7 dining! You can wake up to a breakfast served fresh every day and they use fresh and natural ingredients such as their all-natural bacon, cage-free eggs, steel-cut oatmeal and more. They also have a bar that serves premium alcoholic beverages and specialty coffee drinks. You will surely get your money's worth here!

Holiday Inn Express & Suites Moab
Holiday Inn is a prime location hotel in Moab that is surrounded by breathtaking red rock cliffs and stunning natural wonders. So, if you are looking for a hotel that can cater to families, outdoor, and business trips, this is definitely the one.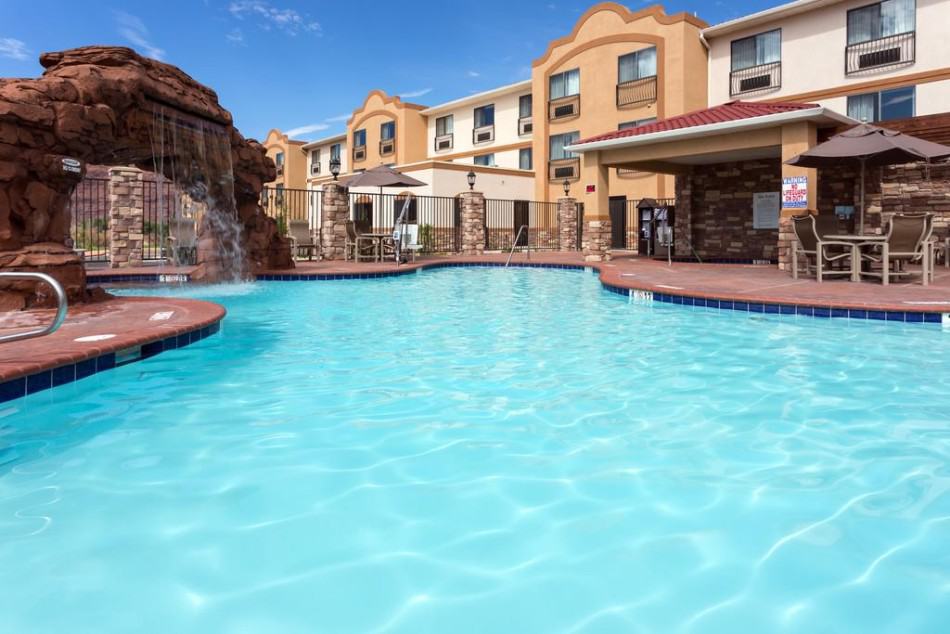 The guest rooms have exceptional features such as a great view of the red rock cliffs, a 37-inch HDTV, black-out shades, rollaway bed, A/C controls, private bathroom, hairdryer, and a lot more.
And if you are heading out for an outdoor adventure, you can fuel up by eating a hearty meal from their complimentary hot breakfast that features omelets, and world-famous cinnamon rolls.
And on top of it, they also have an outdoor pool, heated outdoor pool, and outdoor whirlpool that is open daily from 8:00 AM to 11:00 PM. A complimentary fitness center is also available that is open from 12:00 AM to 12:00 PM.
Hotels near Canyonlands Needles Area
The Needles Area is located in the south of the park near the Arizona border. The Needles Visitor Center is about an hour and a half from Moab or one hour from Monticello. While Monticello may only be half an hour closer to the entrance, the hotels in Monticello are much cheaper.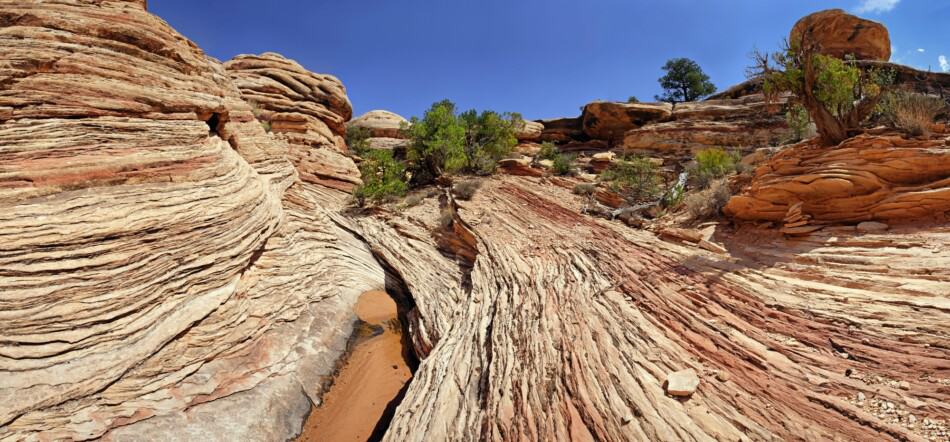 There are a few eating options in Monticello as well. Make sure to check out Wagon Wheel pizza.
Here are my suggestions for the best lodging near the Needles Area of Canyonlands.
Inn at the Canyons
We stopped here on our way from Monument Valley to Canyonlands. This is the best place to stay in Monticello. It is the perfect accommodation for your next Canyonlands, Utah vacation, with recently renovated lodging. It is nestled between the beautiful backdrop of the San Juan Mountains and Canyonlands National Park.
This Monticello hotel is 48 miles from the Needles Visitor Center. The hotel has a great indoor pool and hot tub. New beds, indoor pool, clean, great service and family owned!
Blue Mountain Horsehead Inn
Blue Mountain Horsehead Inn is a family run business with spotless rooms. Most rooms feature updated carpeting, beds, furniture and drapes. Each room has air conditioning, mini fridges, and flat screen TV with cable.
Their motto is "We want the property to be a relaxing and fun space, and when you stay with us you are helping us achieve that dream. " They also have wifi.
Grist Mill Inn
Grist Mill Inn is 50 miles from Canyonlands National Park. Each room includes a flat-screen TV with satellite channels. Free parking is provided for all guests.
All air-conditioned rooms feature a seating area and an en suite bathroom equipped with a hairdryer. All rooms also include free WiFi.
Rodeway Inn & Suites Monticello
Rodeway Inn & Suites is located in a great place. It is a very peaceful and lovely hotel. If you are in Monticello looking to have some fun and quality faily time you may visit the beautiful sceneries this city has to offer.
Rodeway Inn and Suites is a great budget option in Monticello. It is a two star hotel but offers good value for money.
Hotels near the Maze area of Canyonlands National Park
The Maze is Canyonlands' most inaccessible district. It's massive, wild, isolated, and untamed. High-clearance four-wheel-drive is needed on the roads. There are no basic necessities such as food, water, or fuel.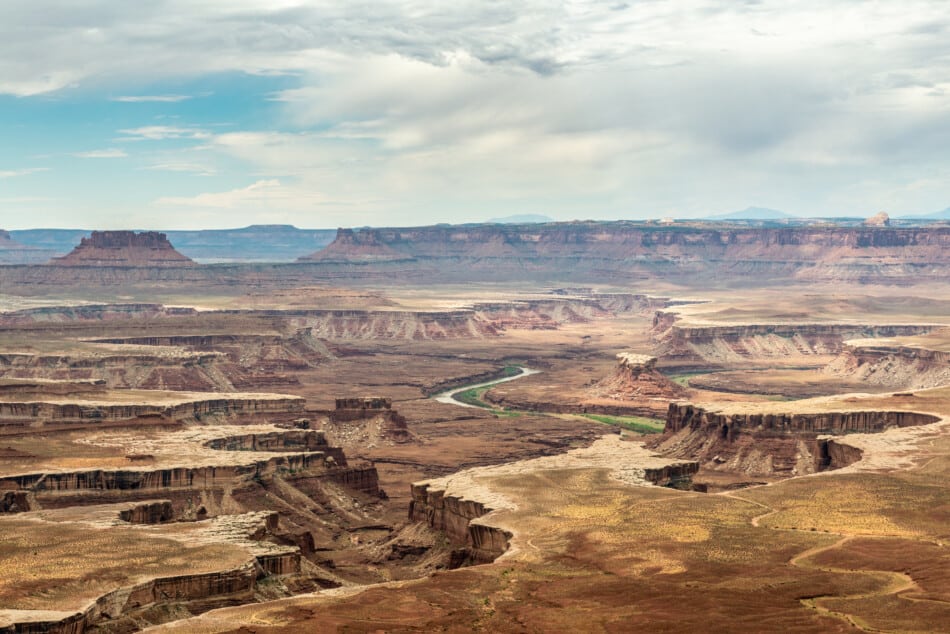 Traveling to the Maze takes longer and requires more self-sufficiency due to its remoteness and the difficulty of the roads and trails. The Maze is rarely visited for fewer than three days, and the area can easily accommodate a week-long stay. The following are some of the most famous attractions in the area:
The Doll House
Maze Overlook
Land of Standing Rocks
Golden Stairs
Orange Cliffs
Here are the best Hotels near Hanksville to access the Maze
Whispering Sands Motel
Whispering Sands Motel is located in Hanksville. The area's natural beauty can be seen at North Caineville Mesa and Town Point. Kayaking and water skiing offer great chances to get out on the surrounding water, or you can seek out an adventure with hiking/biking trails and rock climbing nearby.
Cathedral Valley Inn
Cathedral Valley Inn is located in Torrey. While the natural beauty of Capitol Reef National Park and Capitol Reef National Park Visitor Center can be enjoyed by anyone, those looking for an activity can check out The Hickman Bridge Trail. Take an opportunity to explore the area for outdoor excitement like hiking/biking trails.
OYO Hotel Hanksville, UT
This is a simple two star hotel that is clean and budget friendly. OYO Hotel Hanksville, UT is located in Hanksville. The area's natural beauty can be seen at North Caineville Mesa and Town Point.
I have several articles to help you plan your trip to Moab and Canyonlands and Arches National Park as well.
One Day in Canyonlands National Park plus the Best Hikes
Best Hikes in Arches National Park
Recent Posts