25 Best Places to see in Utah
Utah Bucket List: Are you looking for the best places to visit in Utah? There are so many cool places to visit in Utah so get ready to be impressed by this list of the best places in Utah.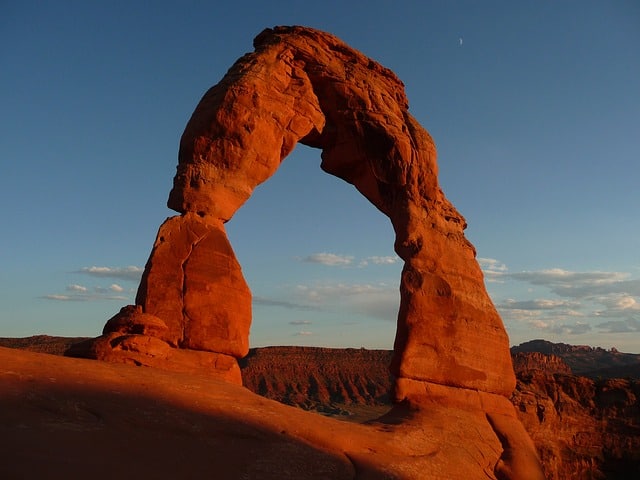 This list of the Best places to go in Utah has some of the best sights in Utah and famous places in Utah. You have to see these Utah Destinations and Utah Attractions to believe them.
Utah is known for its Mighty 5 National Parks but there are also many must see places in Utah that are outside of the National Parks. The National Parks are some amazing places in utah to visit.
These Utah tourist attractions and points of interest in Utah are some of the most scenic and beautiful sights to see in Utah. Its not called Beautiful Utah for nothing! Check out this Utah Scenery.
Most Beautiful Places in Utah
Here is the list of must see in Utah!
Zion National Park – Top Utah things to do
Aram from Megan & Aram
Zion National Park is one of the most beautiful and picturesque places located in the southwestern United States. It is also the 4th most visited national park in the US and more than 4 million people flock to the Utah national park annually.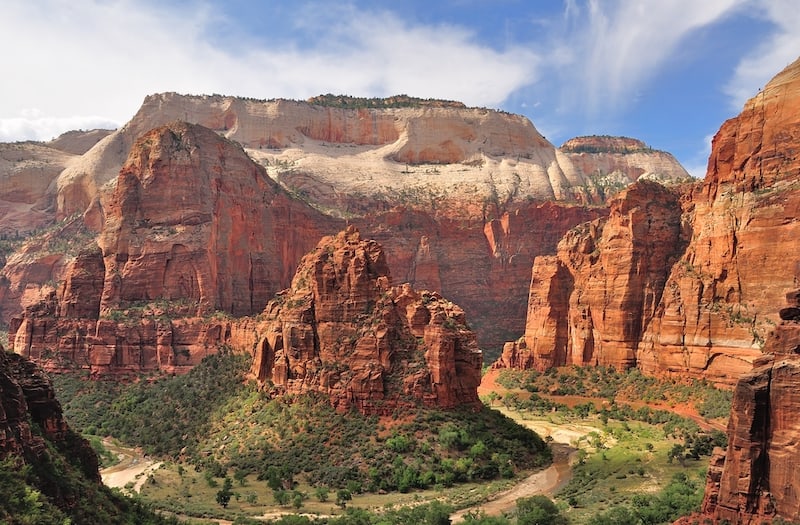 Not only is Zion National Park an outdoor lover's paradise, but it is also a bucket list destination in Utah for hikers. Along the Virgin River, you will find a 16-mile trail that will allow you to feel humbled by the magnificent nature and gigantic red rocks.
Another reason to visit Zion National Park is that it is a top destination for those that are into canyoneering and rappelling. It has some of the best rappelling in the world and you can do it regardless of whether you visit Zion National Park in winter or in summer.
Some of the other key destinations and places to visit in Zion are Angels Landing (a hike with one of the best views in the park), Weeping Rock, The Narrows, Kolob Canyon, Zion-Mount Carmel Highway, and more.  The red and rugged landscapes of Zion National Park make it one of the best places to visit in Utah.
Check out my post on The Best Airbnbs in Zion National Park, The Best Airbnbs in Springdale, and the Best Airbnbs in St. George – all close to Zion.
Midway, Utah Attractions
Lisa from Planningaway.com
A really great area to visit in Utah is Midway. Midway is located about 25 minutes south of Park City, UT. This area is beautiful in both winter and summer and has many attractions in Utah.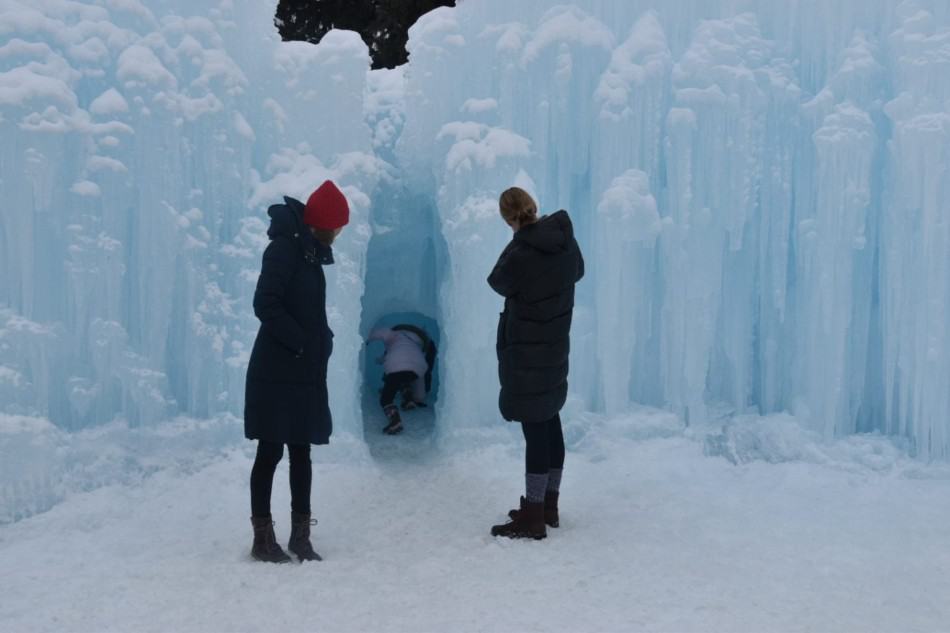 As you plan your trip to Midway be sure to stay at the Homestead Resort. It is a locally owned resort that not only offers nice accommodations but also has exclusive access to a natural thermo heated crater. You can enjoy a nice soak or even take scuba lessons.
Across from the Homestead is the Midway Ice Castle. This man-made ice sculpture is stunning. At night it is lit up with lights, making it a beautiful winter wonderland. There are also slides and instagramable pictures throughout the castle.
The Heber Creeper which is a themed train ride is available all year long. During the winter months the North Pole Express and Lakeside Limited rides are available.
There is lots of summer fun in this area as well. Golfing is the highlight of Midway. But if that isn't your thing, you don't have to go too far to find more exciting things to do. Timpanogos Caves National Monument is located nearby and is a great hike with a cave tour at the end. Also, Jordanelle Reservoir is a great place for boating and swimming. The Artisan Cheese Factory is also located near Midway.
Midway is one of the best places to visit in Utah and you will not be disappointed!
Shooting Star Saloon, Huntsville, Utah Tourist Attraction
Shannon Entin from The TV Travler
The Shooting Star Saloon in Huntsville, Utah, is the oldest continuously operating bar west of the Mississippi River. If you're 21+ and love a quirky, historic bar, you'll want to stop in for a beer and a burger. But don't even think of asking for fries!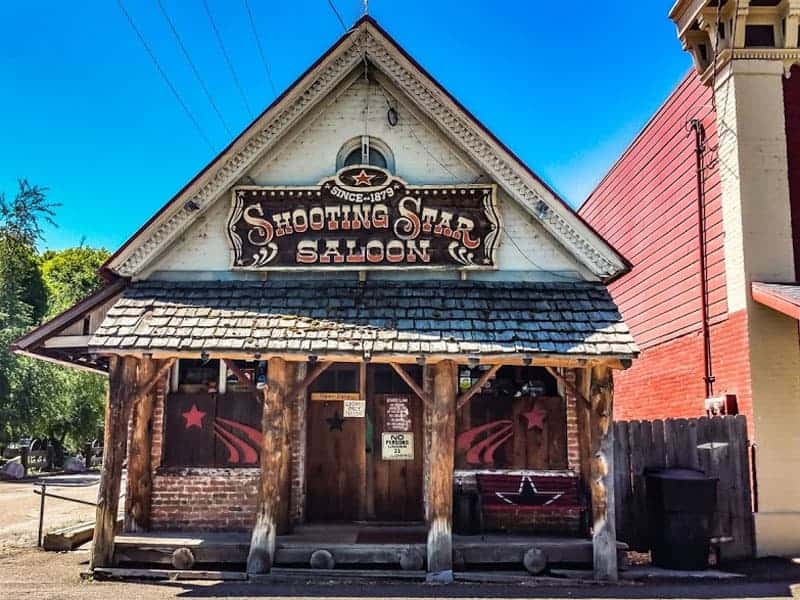 The Saloon opened in 1879 and has not closed its doors since – even through Prohibition. The exterior looks to be straight out of a John Wayne or Clint Eastwood western movie. And when you walk in, you don't quite know where to look first. The walls are covered from floor to ceiling with decades of local lore. Lanterns, bells, boots, teapots and a rubber chicken hang with tiny white lights above the bar. An old revolver is mounted next to an ancient cash register. Several entertaining – if somewhat lewd – signs are scattered about.
Their burgers all come with sauteed onions, seasoning, ketchup, mustard, pickles, lettuce, tomato and chips – and there are no variations. Signs around the establishment clearly state "we are not a restaurant" and "no waitress on duty." You place your order at the bar, and you order only what's on the menu. The Shooting Star Saloon is a fun, super-chill spot to enjoy some of Utah's history.
Park City – winter places to see in Utah
Dan from CabinCritic.co
Located only 40 minutes from Salt Lake City, Park City is one of Utah's gems. While the town is known for the ski resorts, snow, and Sundance Flim Festival, it is definitely a year-round destination. In the winter you can enjoy skiing at the Park City Cki Resort or visit the Utah Olympic Park viewing skiers completing huge jumps. You can even go down the Bobsled track that was constructed for the Olympics.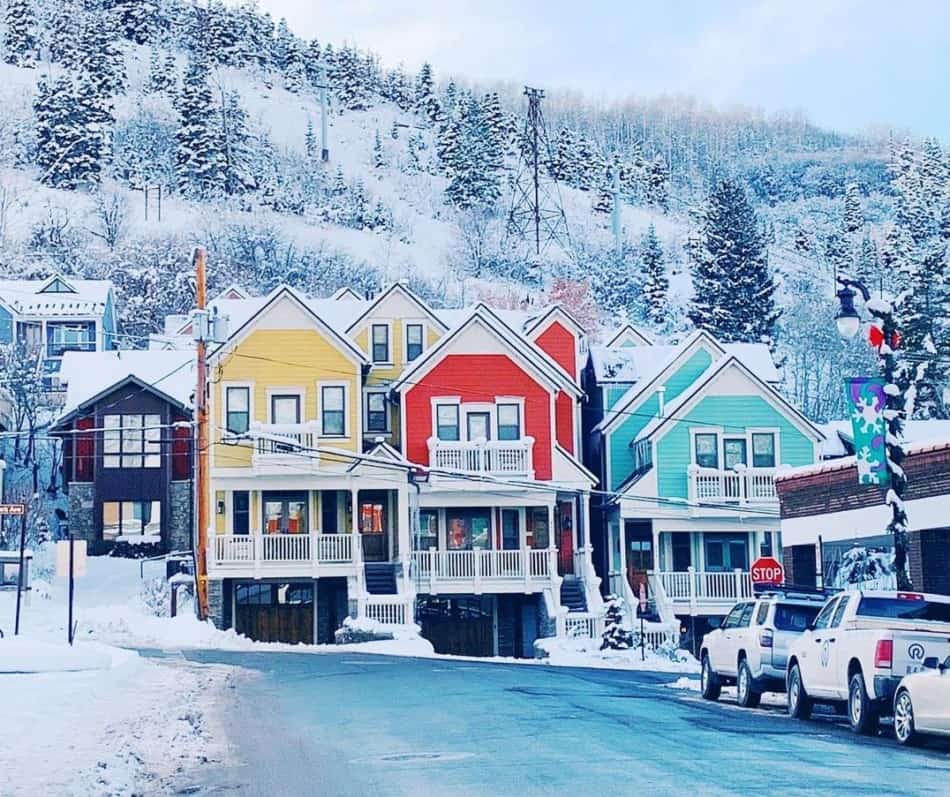 In any other season, Park City becomes a great place for hiking, mountain biking, kayaking, SUP, fishing, and other outdoor activities. You can still use a few ski lifts to take you into the mountains to make for a scenic route. During the fall you can enjoy a scenic drive around the area to see the leaves change colors.
You can't visit Park City without checking out the Historic Main Street area. There are numerous delicious restaurants, art galleries, and unique shops. Getting around is easy with the free Main Street Trolley Service and at night you can go to a few bars or music venues or head back to your accommodations to relax around a fire or soak in a hot tub.
Check out my post on the Best Airbnbs in Park City, Utah
Bryce Canyon National Park, Utah
Rachel from Adventure and Sunshine
Bryce Canyon National Park is a small yet unique park to explore and has many things to see in Utah. Famous for the proliferation of rock spires called hoodoos that are peppered throughout the moonlike landscape, Bryce Canyon is a must-visit destination on any Southwest road trip.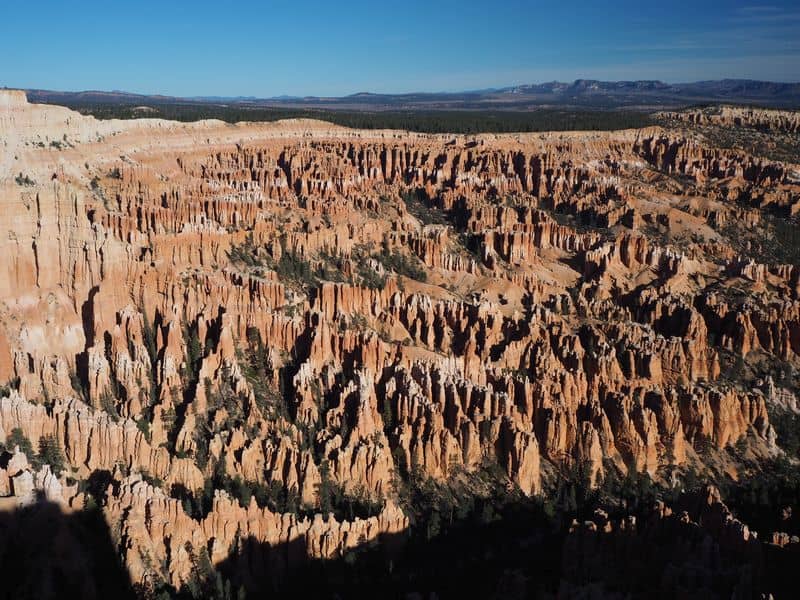 You can admire the hoodoos from the canyon rims or hike down to the valley floor and get up close to the spectacular rock formations through a series of short but fun hikes.
Trail highlights include the Navajo Loop Trail, Wall Street and the Queens Garden Loop Trail in the valley. The canyons are most impressive at Sunrise or Sunset when the red and orange hues of the pillars and canyon bowls are the most spectacular.
As the park is quite small it can easily be visited in one day. If you have a little more time to explore, sign up for a ranger talk on the trail or a night star gazing experience. With Bryce Canyon positioned in one of the darkest spots in the country, the night sky is a pretty impressive sight.
Capitol Reef National Park
Agnes from Travel on the Reg
Capitol Reef National Park may not be as well-known as the other parks in Utah's Mighty 5, but it's well worth a visit to see the unique features that make this park so special.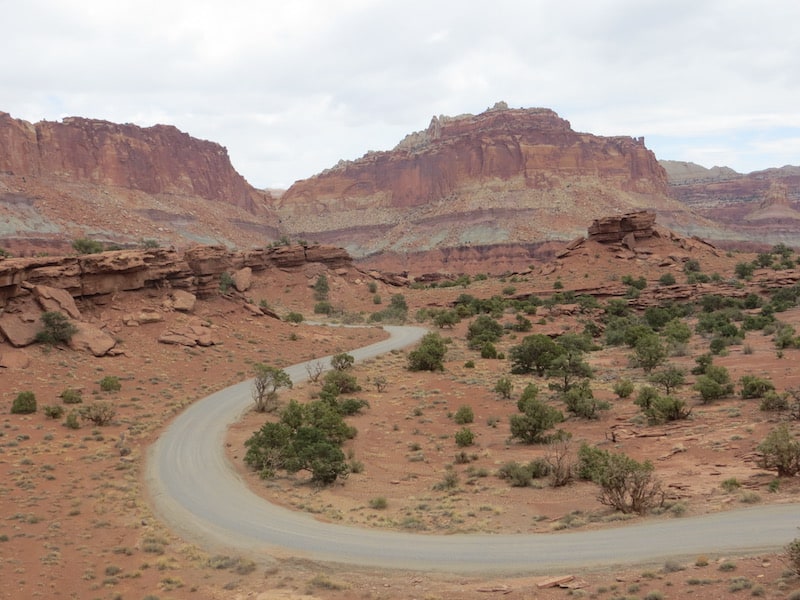 One of those interesting features is the Waterpocket Fold, a warp that has been described as a wrinkle in the Earth. That wrinkle has caused nearly 100 miles of soaring cliffs and colorful canyons that make for so much great exploring.
There are several sections to the park, the main hikes and sites near the town of Fruita and along the main drag of Scenic Byway 24, the Waterpocket District, and Cathedral Valley. If you only have one day to visit, you'll have plenty to do by sticking to the main road.
Kick things off with a 4.5-mile hike in the Grand Wash, a mini version of the Narrows hike at Zion. Follow that up with a series of vista stops to see the diversity in the park at the Castle, just across the street from the visitor's center, Panorama Point, and the Goosenecks Overlook. Those with more time have a wealth of hiking options at their disposal for all skill levels, including the impressive Cassidy Arch, which rivals what you'd see at Arches National Park.
Dead Horse State Park
Jamie Harper from Fly by the Seat of our Pants
With Canyonlands and Arches so close, Dead Horse State Park often gets overlooked. But don't miss a stop at this excellent viewpoint. Dead Horse Point offers a view from 2,000 feet above a massive curve in the Colorado River. Hike or bike along the Rim of the Canyon.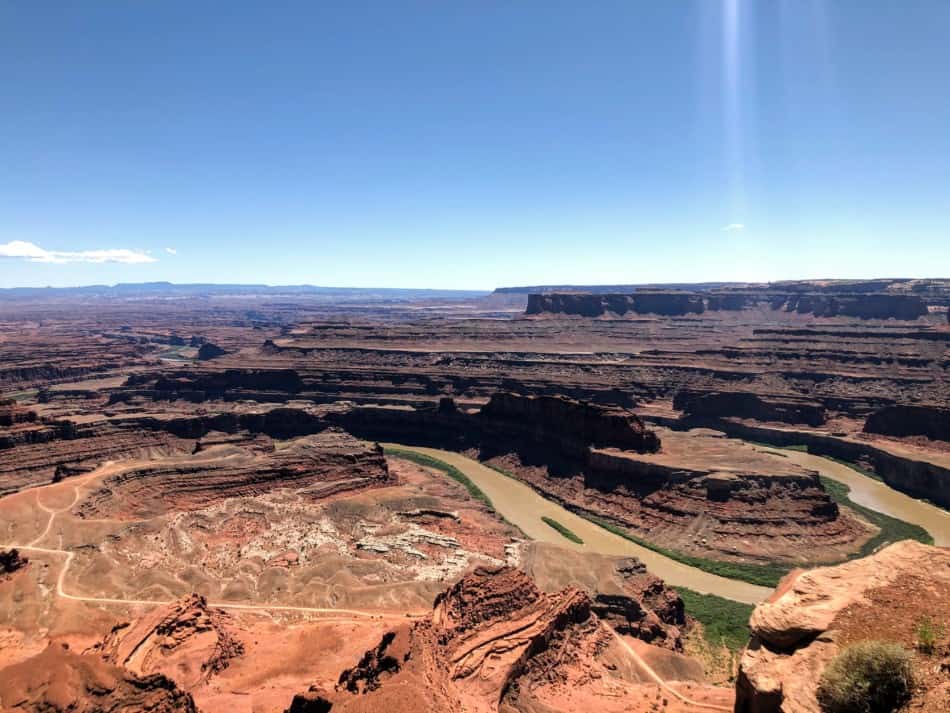 Head toward Canyonlands National Park. Turn left at the Knoll and you will and in 7 miles you'll arrive at the majestic overlook.
Kids of all ages will love the massive boulders and interesting formations to explore over, around and even under. Enjoy Hiking with Kids fun and interesting with these tips.
Try mountain biking miles of trails overlooking the canyon throughout this State Park. Start at the visitors Center. Try biking the short Intrepid trail. Continue to the Great Pyramid trail for a well-lined trail with a sweeping overlook of the Colorado River. Make your way back to the visitors center on the Raven Roll trail.
Spend the night for an unbelievable experience. Camp at Kayenta or Windgate Campground or stay in a yurt! The night sky is incredible from this remote area of Utah. You will see stars you never know existed with the naked eye.
Dead Horse State Park will delight the mind and wandering heart.
Natural Bridges National Monument – Utah Landmark
Lotte from Beste voor Kids
A must see in Utah is Natural Bridges National Monument. While much smaller than other more famous National Parks in Utah, such as Arches and Bryce, this National Monument is very much worth your time.
Within the area designated as a National Monument, there are three beautiful bridges, named Kachina, Owachomo, and Sipapu. These are Hopi names that reflect the Hopi history of this area in Utah.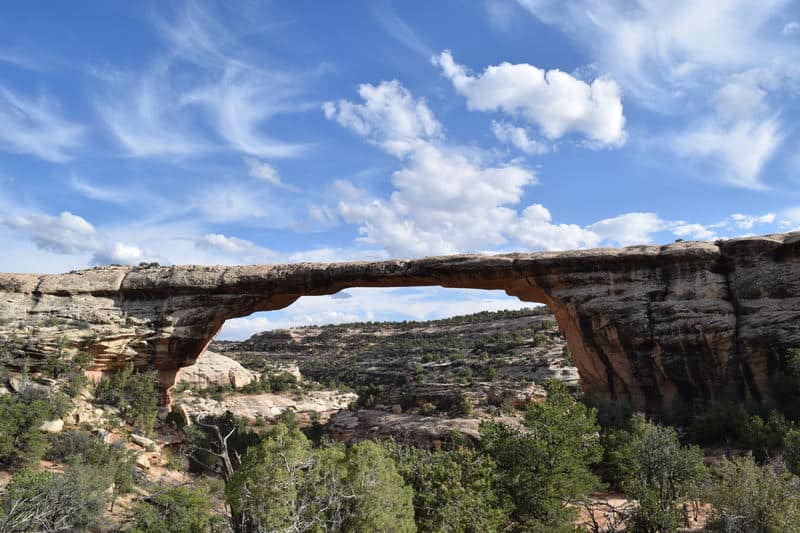 A natural bridge is formed through erosion by water flowing in the stream bed of the canyon and is actually much rarer than an arch. Owachomo Bridge is only 9 feet wide in the middle as rockfalls have continued to erode this remarkable natural structure.
While you (obviously) cannot walk on top of these impressive natural bridges, you can easily hike to several viewpoints from the Loop Road to admire the bridges from above and below. There is also a 5-mile hiking trail that connects all three bridges, though it's not well-maintained.  
Check out my post on the Best Airbnbs in Moab, Utah
Canyonlands National Park
Adriana from Czech the World
Breathtaking canyons, beautiful views, and fantastically formed buttes – that's Canyonlands – the largest national park in Utah. One can sit at these magical viewpoints for hours and it doesn't get old! Canyonlands is perfect for every nature lover – no matter if you just drive from one viewpoint to another or you are searching for an adventure like hiking, cycling, or rafting.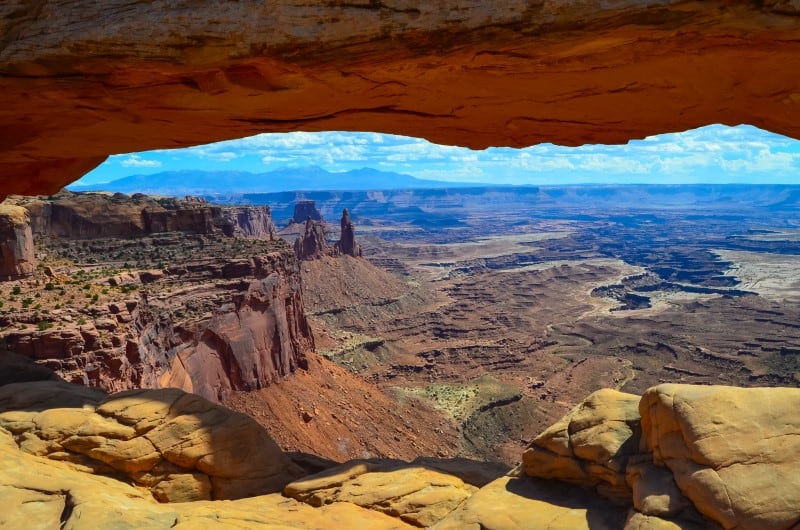 There are four districts in the national park: the Island in the Sky, the Needles, the Maze, and Colorado and Green river. The Island in the Sky is the closest district, which can be easily discovered while driving your car on a paved park loop. This is also the area, where the famous Mesa Arch is.
The Needles district is the perfect place for hikers because there are more than 100 hikes leading into a backcountry full of amazing sandstone spires! The Maze is the least accessible district of Canyonlands and requires more time, proper equipment, and self-sufficiency. In case you want to enjoy the rivers, several rafting companies offer guided tours from half-day excursions to week-long floats.
When staying overnight in the park, don't forget about stargazing! Canyonlands is one of the International Dark-Sky Parks and it's possible to see up to 15,000 stars throughout the night. Canyonlands is simply an amazing destination and shouldn't be left out from any West Coast Road trip.
You can check out my post on the Best Hikes in Canyonlands National Park and how to visit Mesa Arch at Sunrise.
Utah Olympic Park
James from teamajtravels.com
Located just outside of Park City is the complex that hosted the Winter Olympics back in 2002. Nearly 20 years later and the area is still buzzing with activity.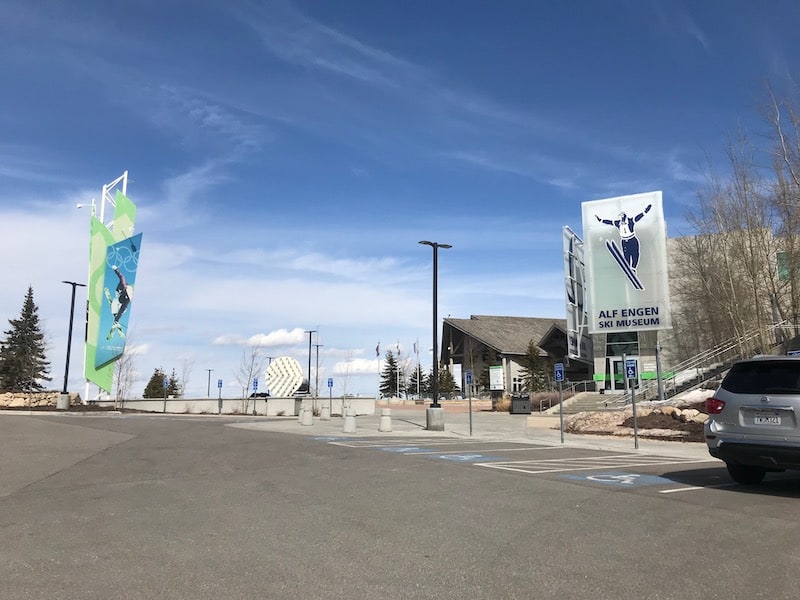 A number of activities have been built to accommodate visitors all year round such as a zip line, climbing wall, and a toboggan style slide. This is in addition to the winter sport facilities that were used in the Olympics which are still used for training programs.
The surrounding ski jumps include one that that lands skiers directly into a swimming pool – which I hope is heated! As much as I would have loved to have flung myself off this ramp and into the pool, I came here for one reason. To go down the Olympic Bobsled course!
Tourists are welcome to jump into a four man sled and be taken down this icy chute at speeds approaching 70 mph.
The ride is far more physically taxing than I expected it to be. You pull up to 5Gs by the time you get to the last corner and the strain of holding yourself in place is just starting to get to your neck and shoulders by the time it's done.
It is still a fun experience, but if you have any health or muscle issues you should skip this one.
Also check out the free museum if you are interested in learning more about the Salt Lake City Winter Olympics.
Check out my post on the Best Airbnbs in Salt Lake City, Utah
Lower Calf Creek Falls Escalante, Utah
Jamie from Photo Jeepers
Lower Calf Creek falls is located in the Grand Staircase-Escalante National Monument in Utah. The trailhead is along Utah Scenic Byway 12, between Escalante and Boulder.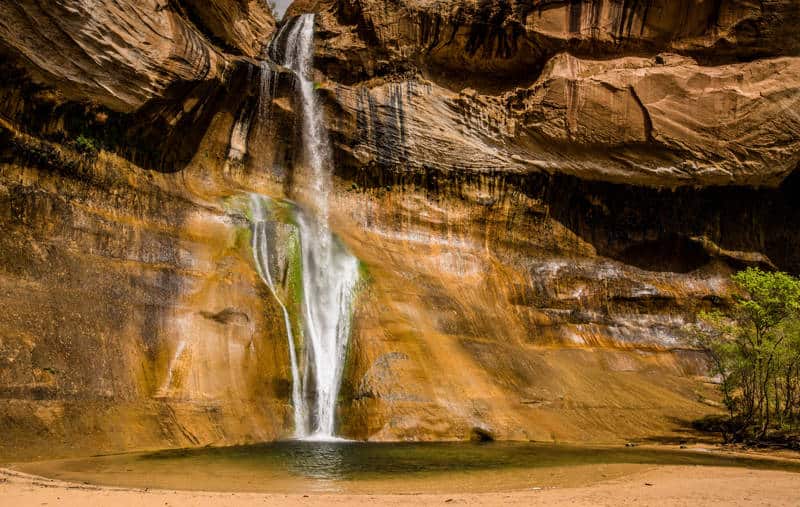 The hiking trail to Lower Calf Creek Falls rewards you with an amazing waterfall at the end! The water plunges 126 feet over a sandstone cliff into a pool of cold water.
The 5.8 mile roundtrip trail to Lower Calf Creek Falls is relatively flat, but can be considered moderately difficult due to long stretches of sand that will slow your pace. We recommend you pick up the trail guide to enjoy the interpretive stops along the way to the falls. Be sure to look for the two granaries and a pictograph panel as you walk along the trail that follows the creek.
During the summer the area gets busy so you'll need to get to the parking lot early if you want a place to park!
Salt Lake City, Utah
Christina from Travel2next.com
Salt Lake City sits in the foothills of the Rocky Mountains and is a Utah's capital city. As a destination with four distinct seasons and over 220 days of sunshine each year, Salt Lake City is a beautiful city to explore.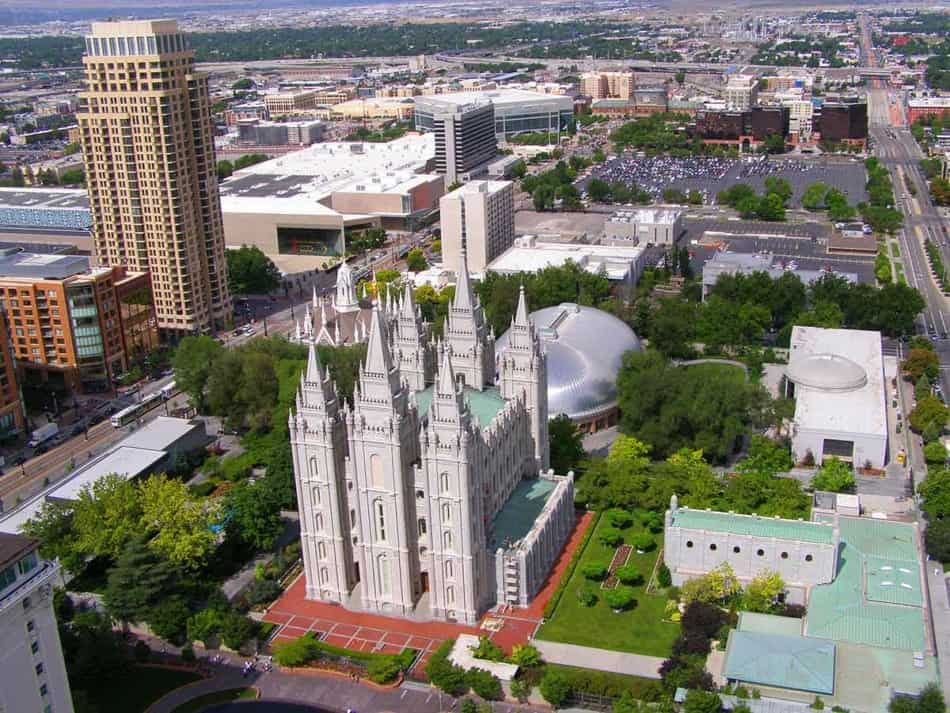 Utah Olympic Park hosted the 2002 Winter Olympics and offers activities both in winter and summer. With a rich history, the city has many excellent museums to explore. In 1847, the Mormons settled in the Salt Lake Valley, and the headquarters of the Church of Jesus Christ Latter-day Saints is in Temple Square, which has an impressive collection of monuments and buildings to see.
Hike Ensign Peak for a stunning view of the Salt Lake Valley. The best time to get a great photo is at sunset. And long after the sun has set, there are plenty of things to do in Salt Lake City. From craft beer and creative cocktails to dancing in nightclubs and enjoying live theatre, Salt Lake City has a raft of exciting options if you're looking for fun after the dark. 
Check out my post on the Best Hikes in Salt Lake City, Utah
Goblin Valley State Park
Ale from Sea Salt & Fog
There are some places that seem so out of this world, you need to visit them in person in order to fully appreciate their beauty. Goblin Valley State Park is one of those places.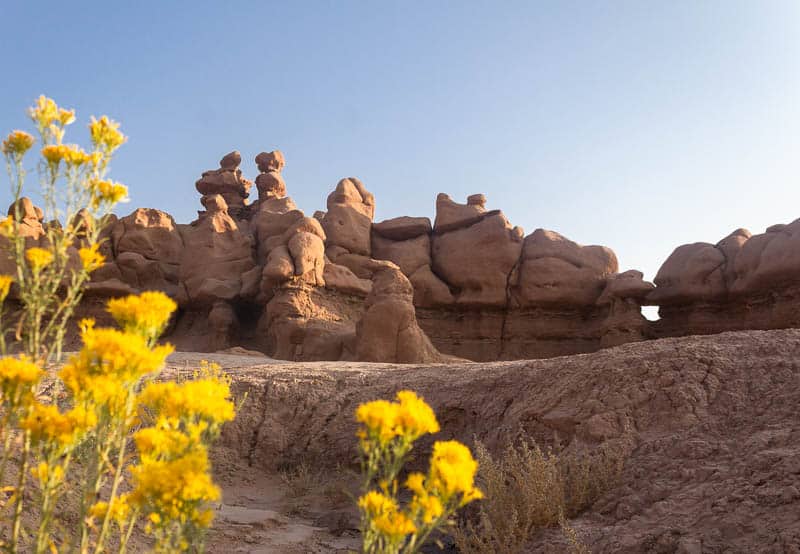 Located off Highway 24 near Hanksville, Goblin Valley is a hidden gem that often gets lost among Utah's famous national parks. This is actually a plus: you'll find smaller crowds!
The park's main attraction is a large valley made up of "goblins," which are sandstone rock formations shaped in strange ways. The landscape at Goblin Valley is often compared to that of Mars. In fact, Galaxy Quest used Goblin Valley as the landscape of their alien planet!
One of the coolest parts about this park is that there's no designated hiking paths through the goblins. Instead, visitors can make their way through the goblins at their leisure. Anyone can walk through, climb around, photograph and explore the goblins.
If you're able to stay through the night, you'll be rewarded with breathtaking starry skies. The park is an International Dark Sky park, and has almost zero light pollution. If you're looking for something different than normal, head on over to Goblin Valley. You won't be disappointed.
Bonneville Salt Flats, Utah
Andy from AvrexTravel
The Bonneville Salt Flats are a unique place to visit in Utah. The flats make a great day trip, located 1.5 hours west of Salt Lake City along Interstate 80. Although it is somewhat off the beaten path, you know the drive is worth it when you get that first view of the salt flats.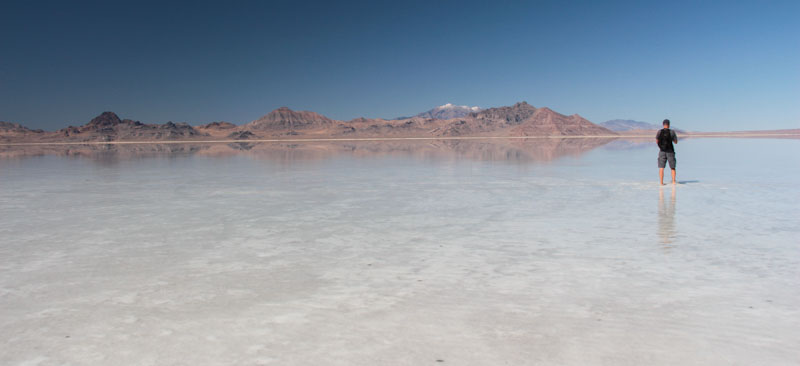 The flats look like a lake covered in snow. That white layer is actually a crusty layer of salt. This otherworldly environment is a photographer's dream.
The dry, white flats provide a stark looking backdrop. Many people, particularly couples have professional portraits done here. Some photographers bring along props to create intriguing horizon perspective shots. But you don't need to be a professional photographer to get amazing shots on your own.
You can also enjoy the thrill of speed here. The salt flats are the home of Bonneville Speedway, famous for its land speed records. There are many events open to the public during the year, with August's "Speed Week" being the most famous.
The Bonneville Salt Flats are definitely worth a day trip visit from Salt Lake City.
Wire Pass Trail & Slot Canyon, Kanab, Utah
Kristin from That Traveling Family
One of the most exciting and awe-inspiring experiences in the US Southwest is exploring a slot canyon. Everyone's seen pictures of the incredibly gorgeous Antelope Canyon near Page, AZ, but the lesser known Wire Pass slot canyon just down the road can be explored on your own and without the hordes of tourists.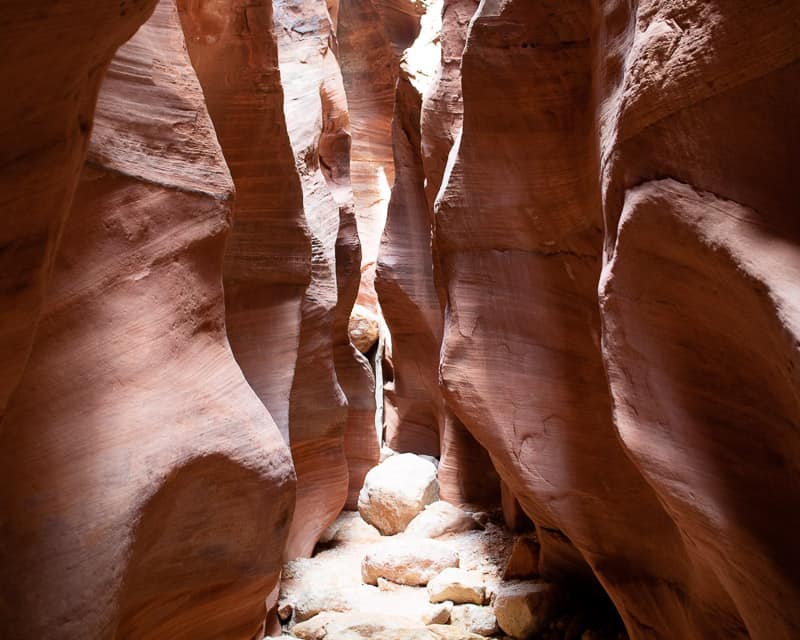 Just outside of Kanab, Utah, and sharing a trailhead with "The Wave", the Wire Pass trail is a relatively easy 3.4 mile out and back hike to the confluence of Buckskin Gulch, the longest slot canyon in North America. Not only will the hike lead through a deep and tight red sandstone slot canyon, but near the turn around point there are ancient petroglyphs carved into the cliffs to explore.
Wire Pass is an absolute MUST for any outdoor lover's bucketlist. And, for those looking to add to the adventure, continue on through Buckskin Gulch for over 15 miles of slot canyon to discover.
Moab, Utah
Mel from TravelingMel
Moab, Utah is known for its location adjacent to Arches and Canyonlands National Park, mountain biking, and as a popular spring getaway for people who spend their winters in snowy states. With its slickrock, arches, and the Colorado River running through town, there is no end to the hiking, biking, and river-running available to outdoorsy explorers.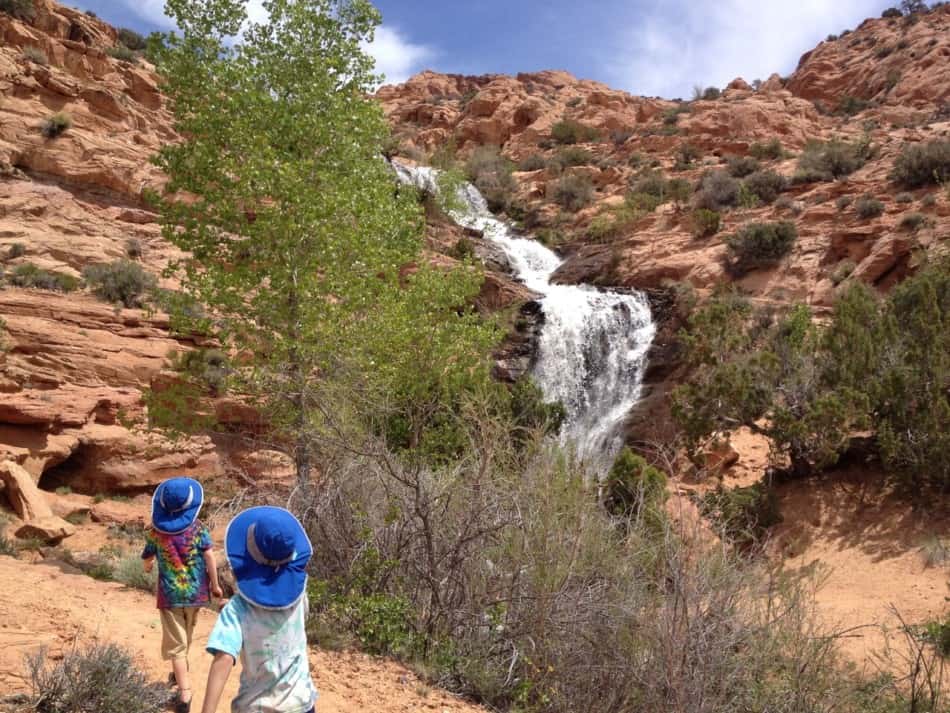 Arches National Park has lots of trails to iconic geological landmarks including Delicate Arch and Double O Arch. Corona Arch is outside the park and well worth the short hike. For river rats, the Colorado River gently flows through the area and in south to Canyonlands National Park. Mountain bikers will find miles and miles of slickrock and all trails for all abilities.
The Fremont, ancestral Puebloan, and Ute people left images all over the area between 600 A.D. and 1300 A.D. This "Indian Writing" can be easily accessed along the Potash Road, Scenic Byway 279.
While Moab is primarily known for outdoor recreation, there is a great public swimming pool complete with slides and a high dive.  The Museum of Moab covers area history from rocks, to dinosaurs, to mining, and early inhabitants and pioneer history.
Check out my post on the Best Hikes in Moab, Utah
Grand Staircase-Escalante National Monument
Melissa from Parenthood and Passports
Grand Staircase-Escalante is a national monument in Utah that spans nearly one million acres. This remote area of southeast Utah boasts some of the best slot canyons in the state. The national monument offers visitors breathtaking, rugged scenery and unspoiled nature. It is a place where you can truly get away from everything and feel immersed in nature.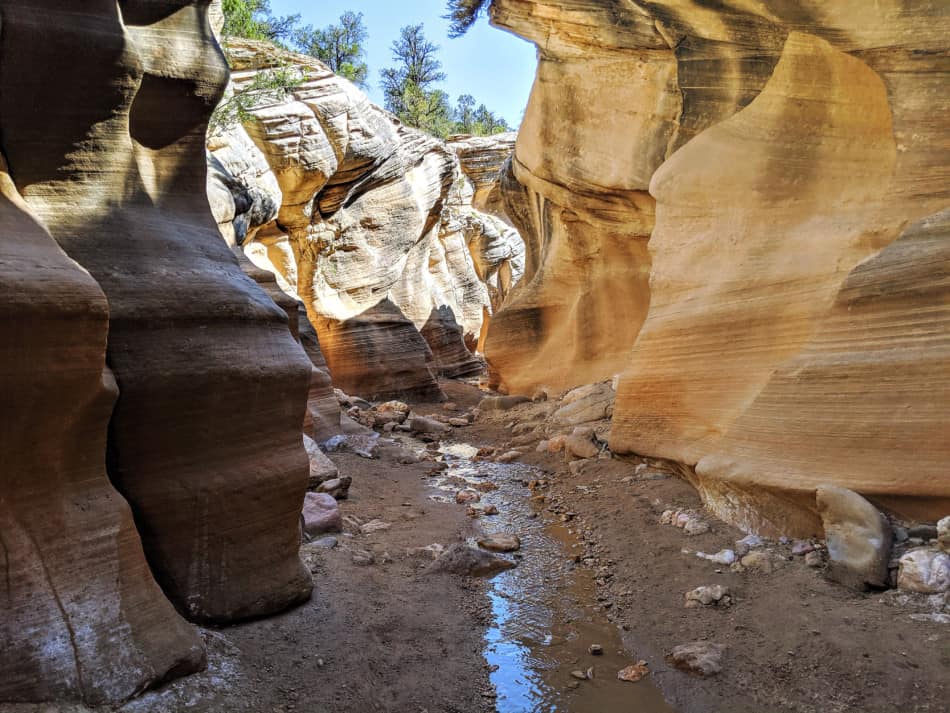 The unique area of public land has three distinct portions: the Grand Staircase, the Kaiparowits Plateau, and Escalante Canyon. As the last place in the lower 48 states to be charted and mapped, Grand Staircase-Escalante remains much less explored than many of the other popular places in Utah.
The area known as the Grand Staircase is a unique geological progression of the earth and its lifeforms over millions of years. It is home to the most extensive network of slot canyons in Utah. The Escalante Canyon is the most popular area of the national monument. With active waterfalls, narrow canyons, and arches, it is a popular place for backcountry hikers.
If wanting to explore this unique area of Utah as part of a Southwest USA road trip, a high clearance SUV is strongly recommended, as many of the trailheads are only accessible by dirt roads which are typically very bumpy and hard to navigate.
Little Wild Horse Canyon
Margie from DQ Family Travel
Little Wild Horse Canyon is one of the best places to visit in Utah. Located in the San Rafael Swell, just five miles from Goblin Valley, this is a classic slot canyon that has become a very popular hiking spot. In the most popular stretch, the canyon walls are so close that hikers have to turn sideways to get through. It is not a technical hike, yet it does involve a bit of scrambling at some points.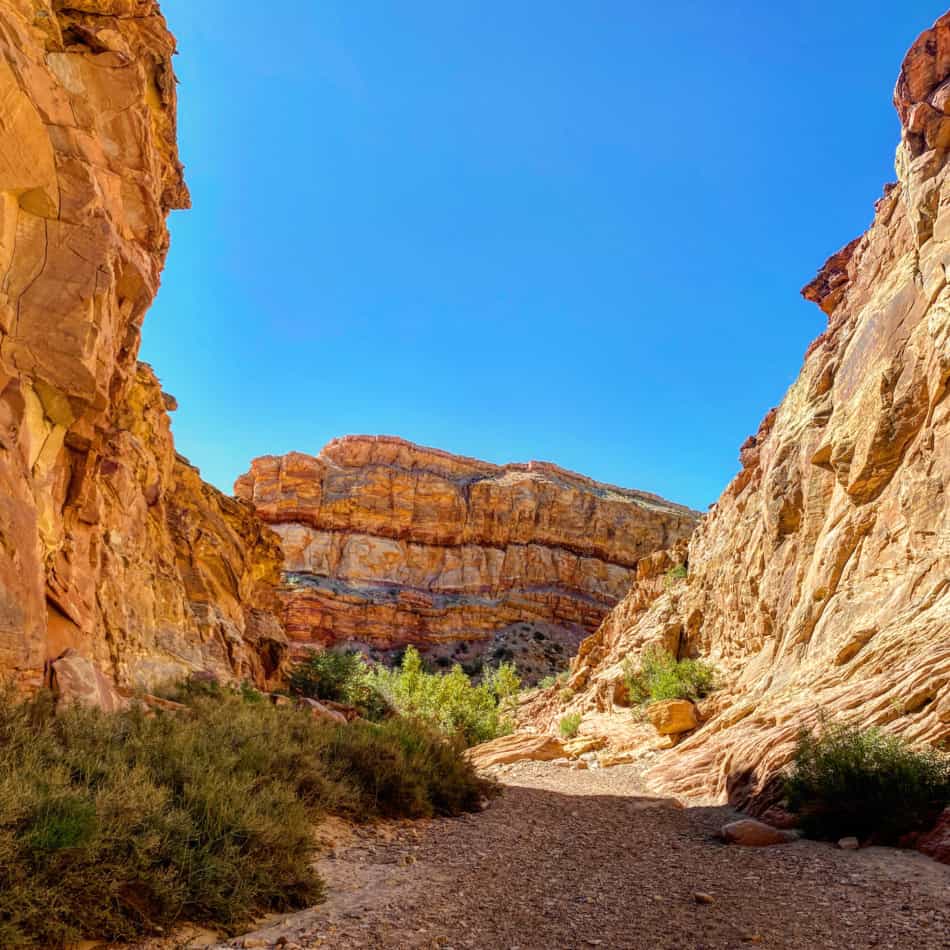 There are two popular approaches to hiking this area. Most people simply go into Little Wild Horse Canyon to hike out and back as far as they feel comfortable and then return the way they came in. Those who would like more of an adventurous and longer hike will make a loop by starting at Little Wild Horse and then crossing over and descending Bell Canyon, which is a total of 8 miles.
Spring and fall are the best times to hike Little Wild Horse Canyon as the weather is usually dry, and temperatures are mild. Summers are very hot but are doable if you hike early in the day. Since the slots are so narrow, they usually provide shade even during mid-day. This area can be prone to flash floods, and should not be attempted after heavy rain. While these canyons are normally dry, pools of water can collect during the spring and after summer storms.
I highly recommend a visit to Little Wild Horse Canyon if you are hiking in Southern Utah.
Arches National Park
Samah from God & Wanderlust
Arches National Park in Moab, Utah is a unique hiking experience with astounding scenery. The hike is quite accessible within the city and signs are clearly marked directing vehicles towards it.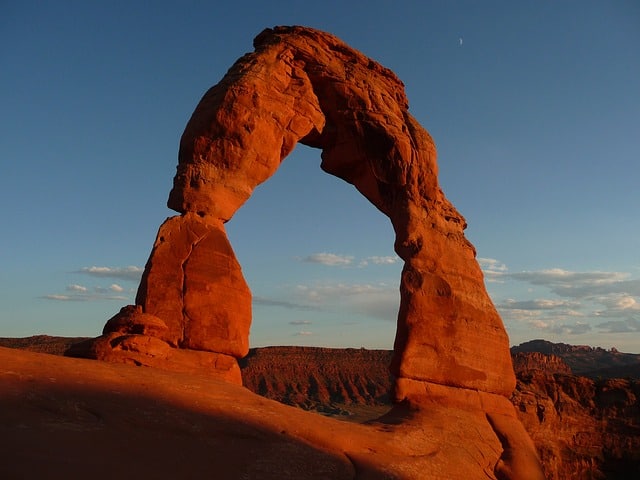 A long, winding drive up a mountain with take you past red rocks, buttes and tall red cliffs until your reach the parking lot. From there it's around a 15-20 minute hike to the Delicate Arch.
The Arch is a must visit for various reasons. Firstly, the hike there is beautiful as the red landscape swarms you freckled with greenery and wildlife sighting are quite possible. The hike takes you uphill and as you traverse up the red rocks, the scene below you echos into wide caverns as far as the eye can see. The Arch itself is no disappointment. It's huge and easy to make anyone awestruck as such a formation. It was formed by the movement of sandstone on top of underground salt beds, and erosion washed away the sandstone to create the Arch.
People usually swarm around it to take photos. I recommend going before sunrise to drive up during the changing sky and to miss the crowds.
Check out my post on the Best Hikes in Arches National Park
Coral Pink Sand Dunes State Park
Contributed by Allison Green of Eternal Arrival
For a unique place to visit in Utah, don't miss Coral Pink Sand Dunes State Park located near Kanab, Utah. This little-known state park is like a little slice of the Sahara Desert but in the heart of Southern Utah, and it's surrounded by beautiful Utah sandstone cliffs.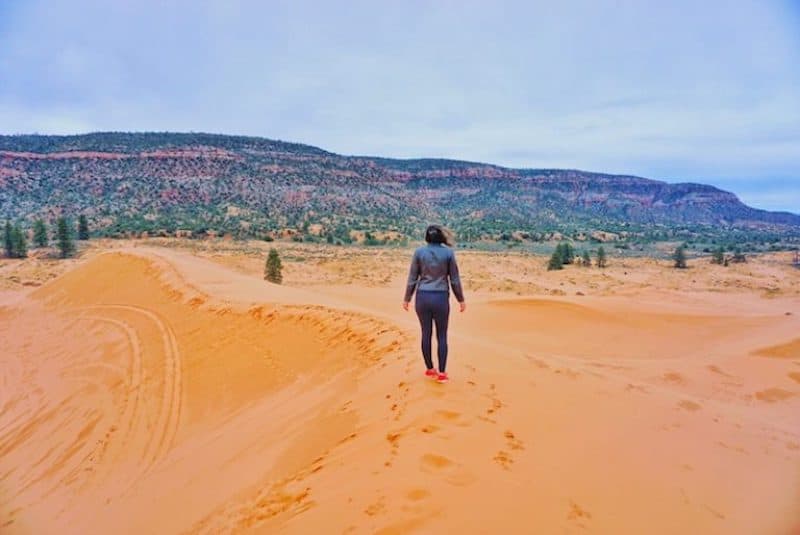 The sand here actually forms real, climbable sand dunes that are fun to run up and down, and as the name suggests, the sand is a beautiful peachy-pink color that has to be seen to be believed! It's become a popular place for ATV rentals, sandboarding, and sand sledding, but it's also a fun place to go to just to walk up and down the dunes (it's harder than it looks!).
If you're looking for somewhere to go in Utah that's a bit off the path of the normal Southwest road trip itinerary, Coral Pink Sand Dunes State Park is a fantastic and offbeat option.
Sharing is Caring! Pin this article to save for later.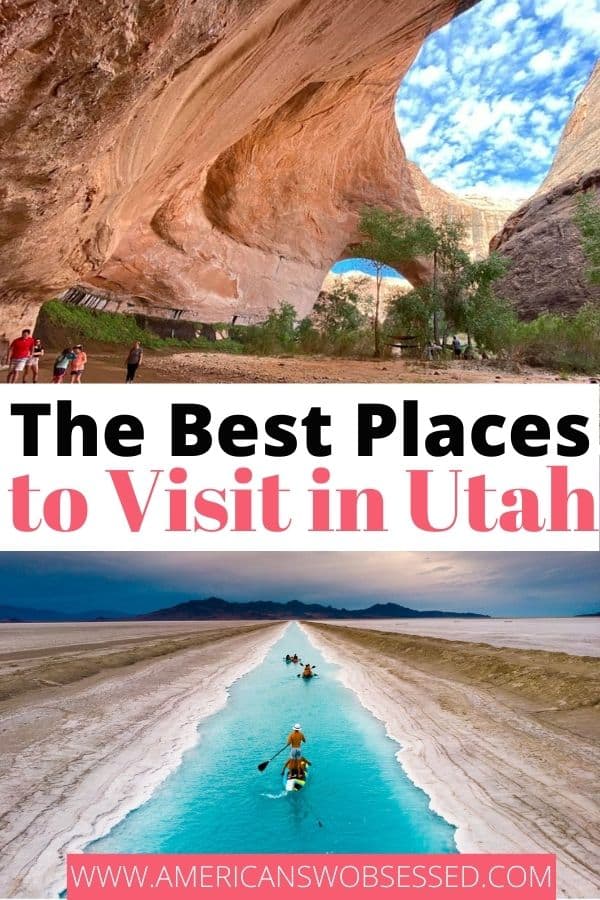 Recent Posts