21 Best Resorts in Utah: Luxury Hotels to Spoil Yourself
Utah Luxury Resorts: Are you looking for the top resorts in Utah to enjoy a weekend away? You're in the right place. This list contains some of the Best Resorts in Utah that you have to see to believe.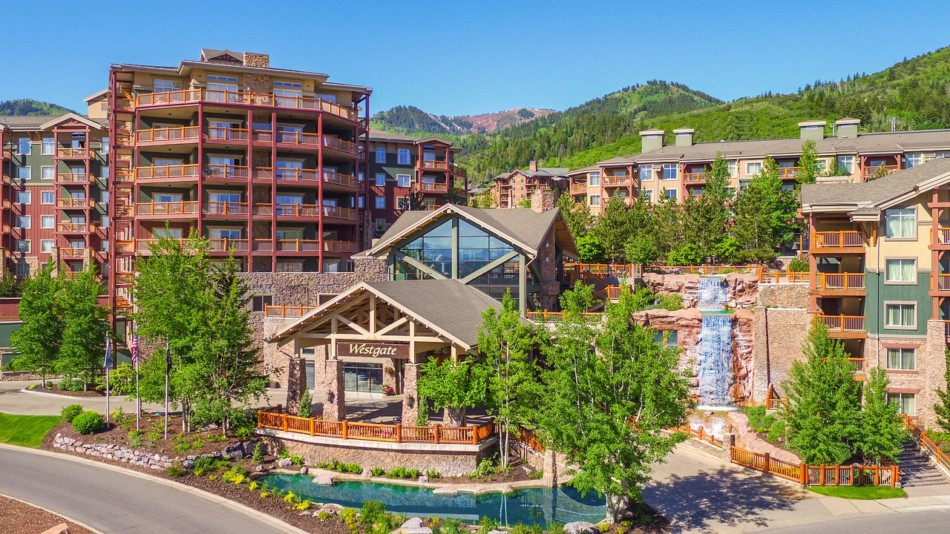 A Utah Resort can be one of the best places to stay in Utah as they are some of the best hotels in Utah – just look at the photos or click through to the glowing reviews on these 5 star resorts in Utah.
Best Luxury Resorts in Utah
Amangiri Aman Spa
This 5 star luxury hotel and resort is tucked away within Utah's southwest iconic canyons offers one of the most stunning views that you will ever find in the state. The property is a 600-acre sanctuary that highlights the beauty of the natural surrounding and blends with the dramatic deep canyons and towering plateaus.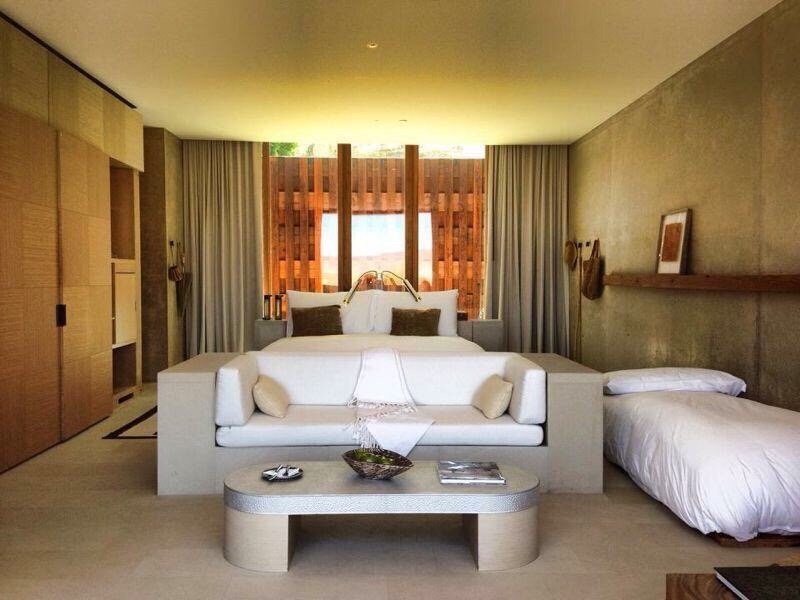 The suites are spacious that reflect the dazzling surroundings of the Utah desert. Each room is brilliantly designed that features white stone floors, concrete walls, natural timbers, and fittings on blackened steel. And to make each stay even more relaxing, each suite has an outdoor lounge and fireplace with expansive views of the desert.
The Amangiri Aman Spa is a must when you are staying in this resort. They have an extensive menu of massages, beauty treatments, and restorative therapies that is patterned by the holistic well-being traditions of the Navajo. In addition to that, you can also take a short hike to the top of a monolithic rock formation to have unique yoga experience high above the valley floor.
This resort isn't just your ordinary resort in Utah, it is a one-of-a-kind experience.

Sorrel River Ranch
Sorrel River Ranch is an exclusive 240-acre riverside oasis surrounded by the picturesque scenery of Utah's iconic arches, canyon lands and red rock formations. They do have custom-built cabins, and campfires and they can cater to any type of accommodation whether it is just an intimate getaway or large gatherings.
They offer premier lodging accommodations with views of the Colorado River from the private deck or living area. You can choose from: River Studio, Balcony Studio, Mesa Studio, Family Suite, and Ranch House Estate. Each accommodation offers a different vibe, from the most romantic rooms to spacious suites ideal for families or groups traveling together.
The food from their own restaurant is unbelievably fresh because they source out the ingredients from their own garden. You should definitely experience their fantastic farm to table dining.

Waldorf Astoria Park City – Resorts in Salt Lake City
Waldorf Astoria Park City greets its guests with the largest ski and golf resort in the United States and is one of the premier Salt Lake City resorts. The resort is situated in the pristine Wasatch Mountains, Park City, Utah, and the nearest airport which is the Salt Lake City International Airport is just 25 minutes away.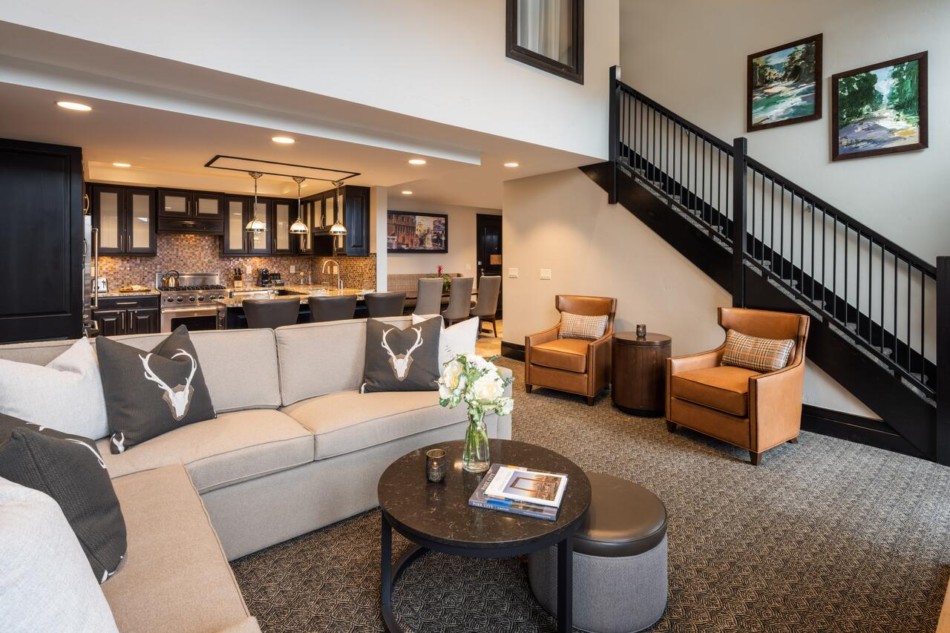 Aside from their sleek and cozy rooms embellished with wood and leather accents and fireplaces, they also offer top-of-the-line kitchens and amazing views of the ski slopes and the Wasatch Mountains as the backdrop.
Skiers and snowboarders find this resort a paradise because it is the only luxury hotel that offers slope-side access to the largest ski resort in the United States. The Frostwood Gondola is just a few steps away from the hotel's front door and it will take you to the Canyons Village at the base of Park City Resort. And from there, you will have access to over 7,300 acres of terrain, more than 300 trails, a 22-foot half pipe, and 16 on-mountain dining options.

Red Mountain Resort in St. George
Red Mountain Resort is one of the best adventure resorts in southern Utah that has everything you need to relax, renew, and reignite your passion for adventure. It is one of the most strategically located resorts in St. George because it is closest to Zion or Bryce Canyon National Parks, and Snow Canyon State Park is just about a quarter of a mile.
The Desert Oasis King and Double rooms can fit one or two guests, while the spacious one and two-bedroom villas are perfect for one to six guests. Each of their accommodations feature earth tones and eco-friendly materials that perfectly blends the astonishing red rock mountains surrounding the resort.
And just right outside the back door of the hotel, a world of outdoor adventure awaits you. The red and white Navajo sandstone is perfect for hiking, biking, and photography shots. And Red Mountain offers services if you want to reserve your outdoor adventures.

Moab Springs Ranch
Moab Spring Ranch is a privately owned and locally managed resort located beneath Moab's red cliff side. It is conveniently located on the north side of town. The natural springs of Utah flow throughout the resort and through the private meadow which gives the guests a relaxing feeling during their stay.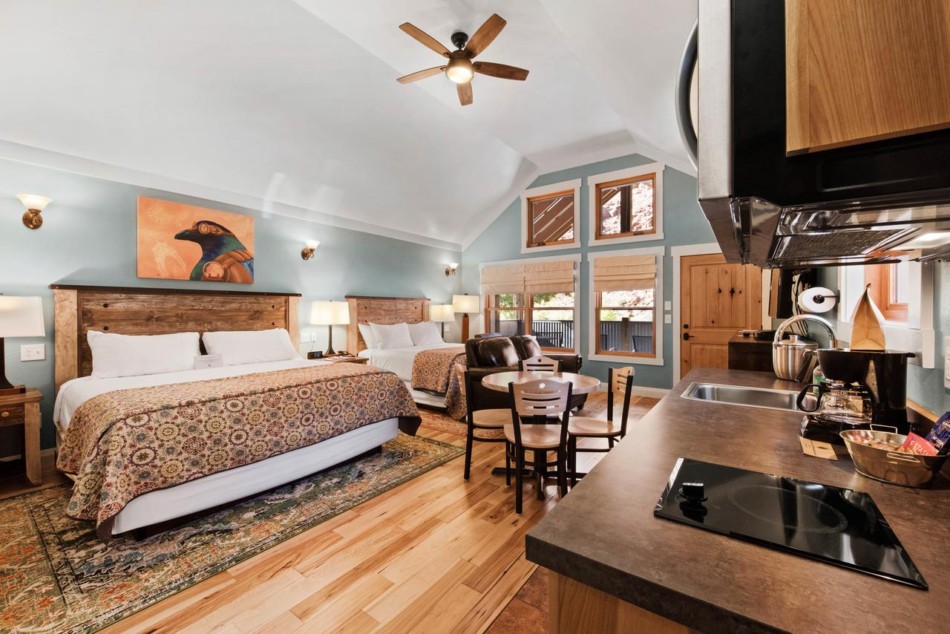 They offer two types of accommodation: Bungalow & Townhouses, but both offer a very unique and memorable experience to all the guests. The spacious studio style Bungalows feature a king-size bed, Murphy queen bed, patio with an outdoor dining set, oversized walk-in shower, and a kitchenette. On the other hand, the townhouses provide full kitchens, private patios & decks, and attached covered parking that can fit two cars.
The resort amenities that all guests can share and enjoy are a large private park, ponds, pools, flowing waterscape, hammocks, and shade. Not only that, they also have a heated swimming pool and hot tub, campfire circle and enchanting sunset views. The question is, what more can you ask for? It seems Moab Springs Ranch has everything that you need for a perfect vacation in Moab.

The Inn at Entrada
The Inn at Entrada is popularly known as one of Utah's premium luxury resorts. It offers incredible panoramic views of St. George's red cliffs and aesthetically designed rooms and suites.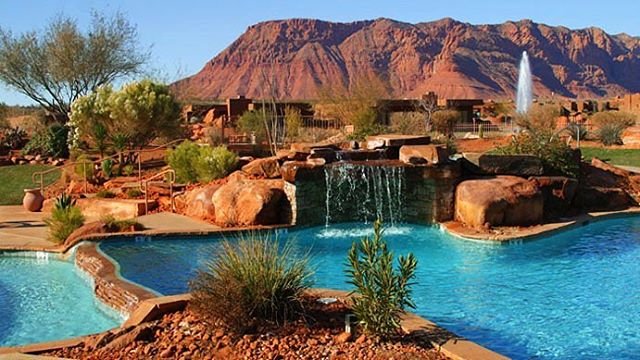 Whether you are a first-timer or a professional golfer, you will surely love The Inn at Entrada. Inside the property is a Johnny Miller Signature Design 18-hole championship golf course where you can make use of. In fact, Entrada is hailed as the No. 1 year-round golf course in the state by Golf Digest Magazine.
You can choose from their three available suites or casitas depending on how many of you are staying, but if you want to experience the ultimate luxury, you can book the 4,100 sq ft, five bedroom Johnny Miller Residence that has the best view of the Red Mountain and Snow Canyon State Park.

Holiday Inn Express Springdale – Zion National Park Area
The Holiday Inn Express is an unique hotel is located just outside of Zion National Park and it is tucked among the towering red cliffs of Zion Canyon. Recently, the hotel has just been renovated and it has introduced new designs to highlight the natural beauty and elegance of Zion National Park.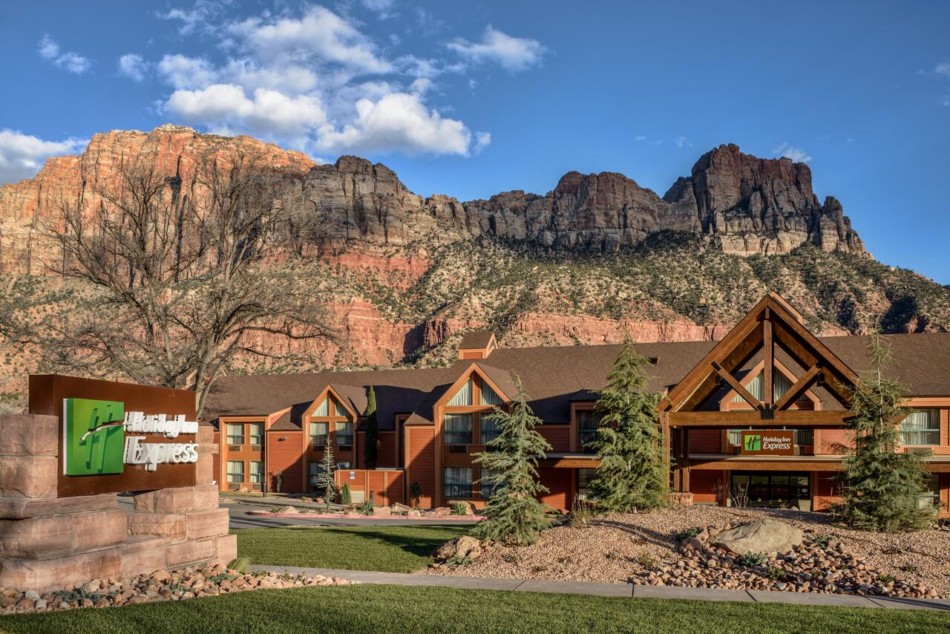 Guests can enjoy the updated furnishings of the hotel, as well as their comfy beds, superior bath products, convenient business centers, and 24-hour fitness center. They also have a seasonal swimming pool and year-round hot tub that offer amazing views.
Holiday Inn also provides an American style breakfast buffet with a variety of hot, baked, and fresh options.

Sunrise Lodge, a Hilton Grand Vacations Club
Sunrise Lodge is located at the base of the Sunrise lift at Canyons Resort that blends rustic architecture with modern elegance. It is one of the best lodges in Utah. The overall design and vibe of the hotel is inspired by Park City's natural surroundings and mountain heritage.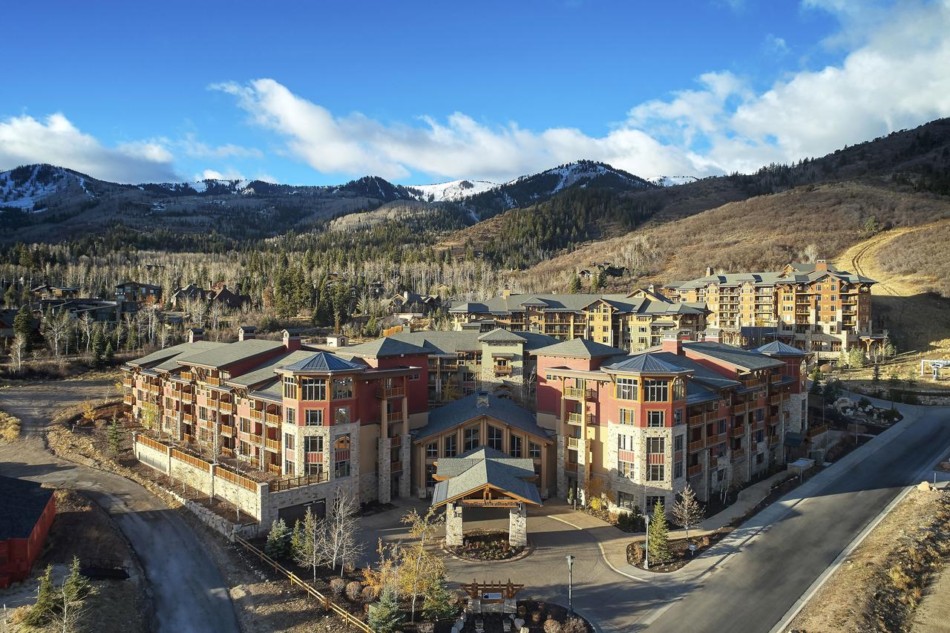 Their spacious studios have kitchenettes,queen-size bed, TV, and a separate bathroom with a standard tub/shower while their 1-2-3-4-bedroom suites are fully equipped with kitchens, balconies, terraces, or patios.
Some of the activities that you can enjoy at Sunrise Lodge are skiing or taking a dip in the heated pool.

Estancia Resort
Each private condo at Estancia Resort is professionally designed to bring comfort and energy efficiency by using the latest technology in construction materials and building concepts. The luxury condo suites range from 1200 sq ft to 2,100 sq ft.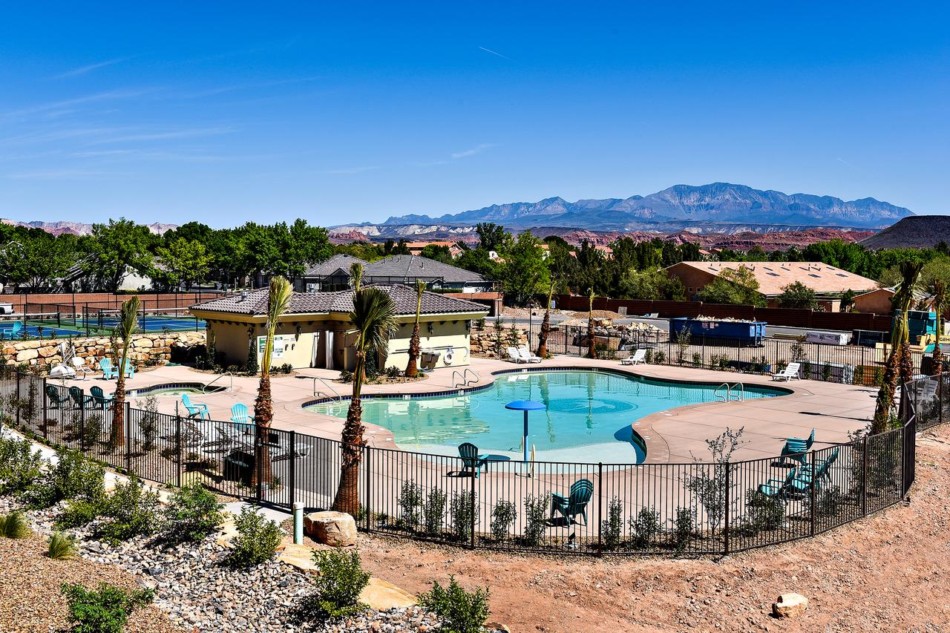 Each unit is equipped with a full kitchen, full living area, balcony with barbecue area, and multiple bathrooms. Guests can also enjoy the amenities in the resort such as a new outdoor pool, a hot tub, and two squash courts. This condominium resort is magically perfect for your next outdoor adventure in Utah and you can definitely call this as your second home.

Sundance Mountain Resort Utah
Sundance Mountain Resort is named the #1 ski resort in North America and one of the best mountain resorts in Utah. This resort is committed to its promise to all guests that they will experience some fresh mountain air and enjoy the breathtaking scenery.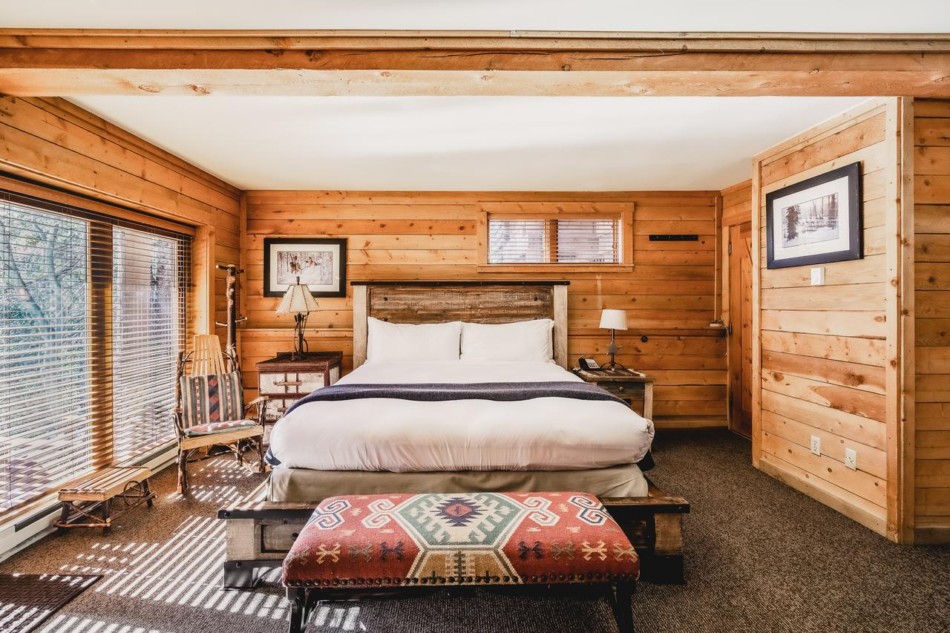 The lodging accommodations that they offer range from a standard room to a four-bedroom home. You can choose from their mountain home or rooms & suites. In addition to that, they also have award-winning restaurants, shopping outlets, catering services, and a lot more.
And what makes this resort even more amazing is the array of activities that you can do. They do have year-round activities such as art studio classes, fly fishing, spa treatments, and many more. And for their summer activities, you can choose zip tours, mountain biking, hiking, horseback riding, scenic lift rides, and more. And lastly for their winter activities, you can ski and snowboard.
Stein Eriksen Lodge Deer Valley
Stein Eriksen Lodge is an award-winning resort in Utah that has access to over 400 miles of trails. In fact, it was voted as the "World's Best Ski Hotel" at the World Ski Awards. Guests can expect authentic, European-style, ski vacations here.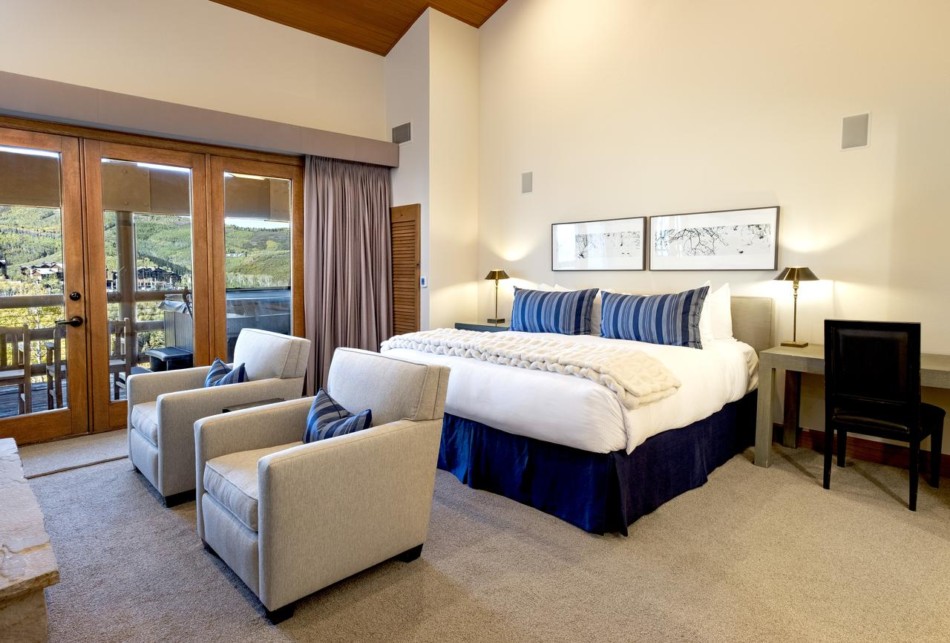 Each of the luxury bedrooms is unique in style, configuration, and decor. This only means that no two rooms are identical. It has approximately 700 sq ft size rooms and it can comfortably accommodate two to four people. Aside from luxury bedrooms, they also offer luxury home rentals for bigger groups.
Aside from being the best ski hotel, Stein Eriksen has also a Forbes-Four Star Glitretind Restaurant that will surely update your taste-buds with delicious and savory food.

Hyatt Centric by Lespri Management
Hyatt Centric is a unique accommodation in Utah that offers four apartments in Park City. Each air-conditioned apartment is equipped with a seating area with fireplace, a flat screen TV with a DVD player, and an en suite bathroom.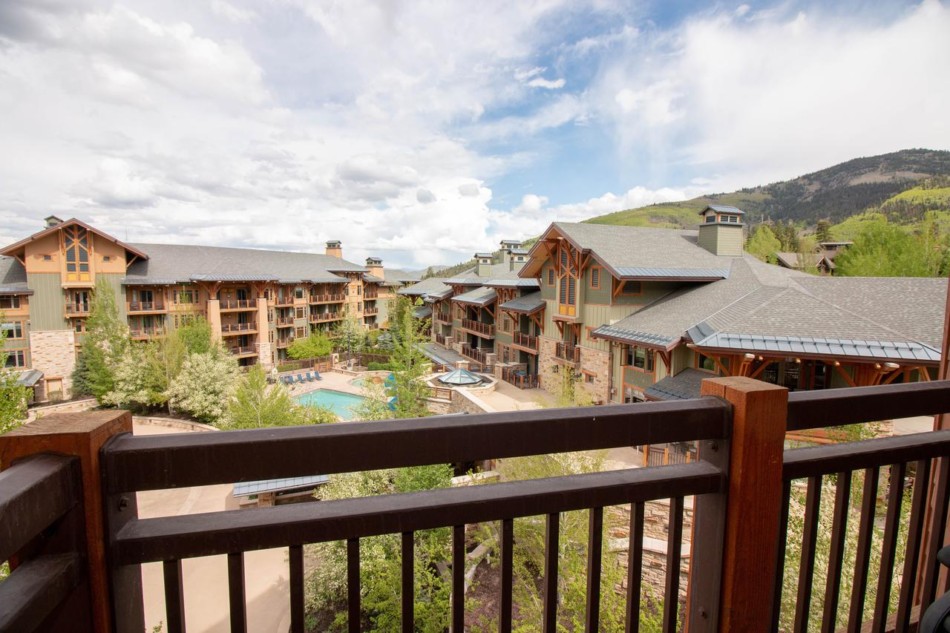 Guests can enjoy a year-round outdoor pool and a hot tub to keep them refreshed and renewed, or enjoy a ski lounge and wet and dry sauna at Park City Escala Lodges.

The Lodge at Blue Sky
The Lodge at Blue Sky is a luxury ranch set on 3,500 private acres in the Wasatch Mountain Range. Here you will experience what's like to reconnect with nature, from wildlife viewing hikes to kids camp, you will feel at home in this ranch.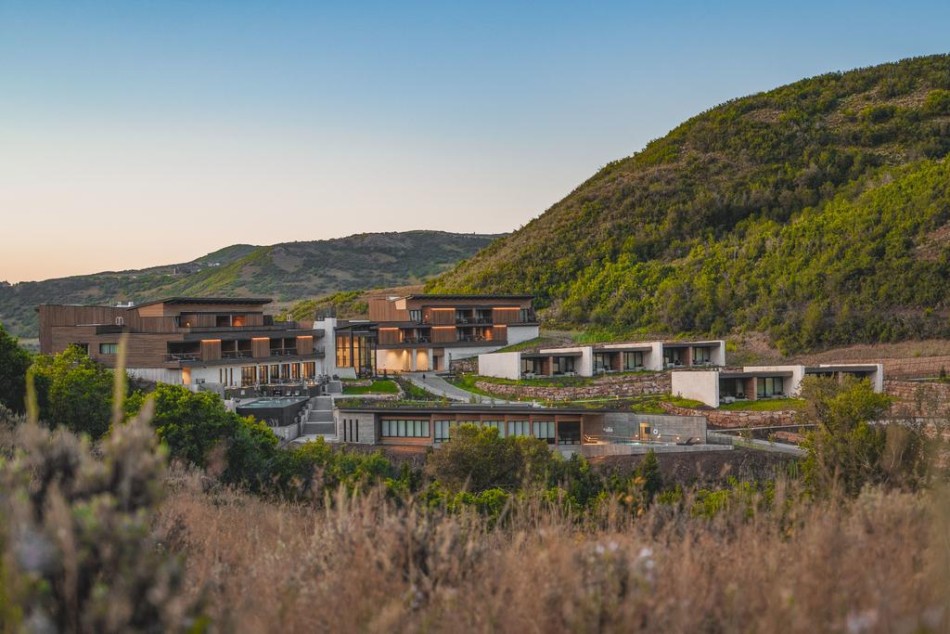 They have three unique accommodation styles and locations that you can choose from: Sky Lodge, Earth Suites, or Creek Houses. Each accommodation reflects the unique elements of the natural environment and are located within a 3-minute walk from the main amenities of this resort.
You can do a lot of outdoor activities in this resort such as horseback riding on private trails to fly fishing on miles of private waters, truly this resort is for the guests who are adventure-seekers.
The Cliffrose Lodge & Gardens
The Cliffrose Lodge is a low-key luxury resort hotel situated in the heart of the Desert Southwest. This resort is ideal for both couples and families who wish to escape the busy urban life and just have a great weekend.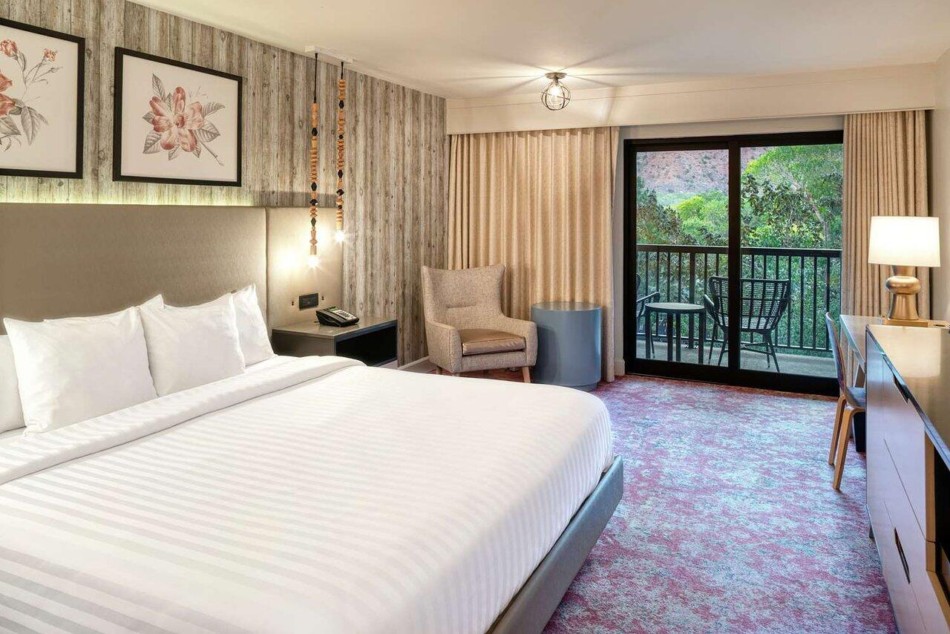 You can opt for a room, suite, or a villa but each accommodation has a touch of modern amenities and incredible views. Also, each room has a direct access to the botanical gardens set in the shadows of Zion Canyon.

Zermatt Utah
Zermatt Utah is a four star resort located in the heart of the Utah Rockies. There are a lot of recreational activities and adventures awaiting for you in this resort such as ski and snowboarding, snowmobiling, fly fishing, zipline, and many more.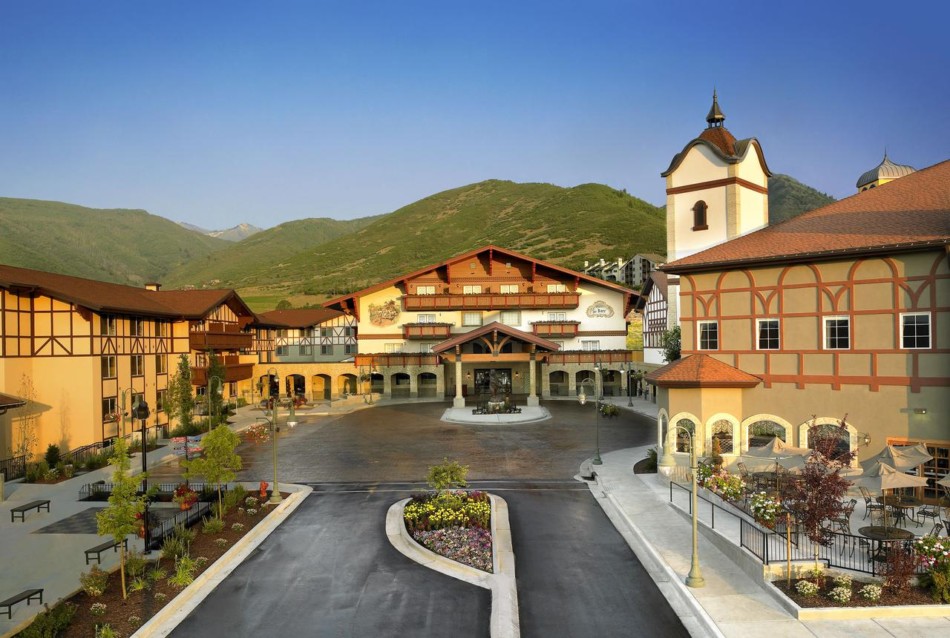 This resort boasts of its 65,000 sq ft of conference and exhibition space, plus a total 300 guest rooms. Their amenities include pools & hot tubs and wellness centers.
Your Zermatt Utah experience wouldn't be complete without booking for a pamper day at their spa. Their beautiful and peaceful spa offers a selection of well-known custom services and treatments that are a must-try when staying in this resort.

Cedar Breaks Lodge by Diamond Resorts
If you are looking for an ideal hotel that is closest Brian Head Peak Observation, Cedar Breaks Lodge is a great choice for you. Since it has a close proximity to Brian Head Peak Observation, guests can easily roam around the popular landmarks at Brian Head.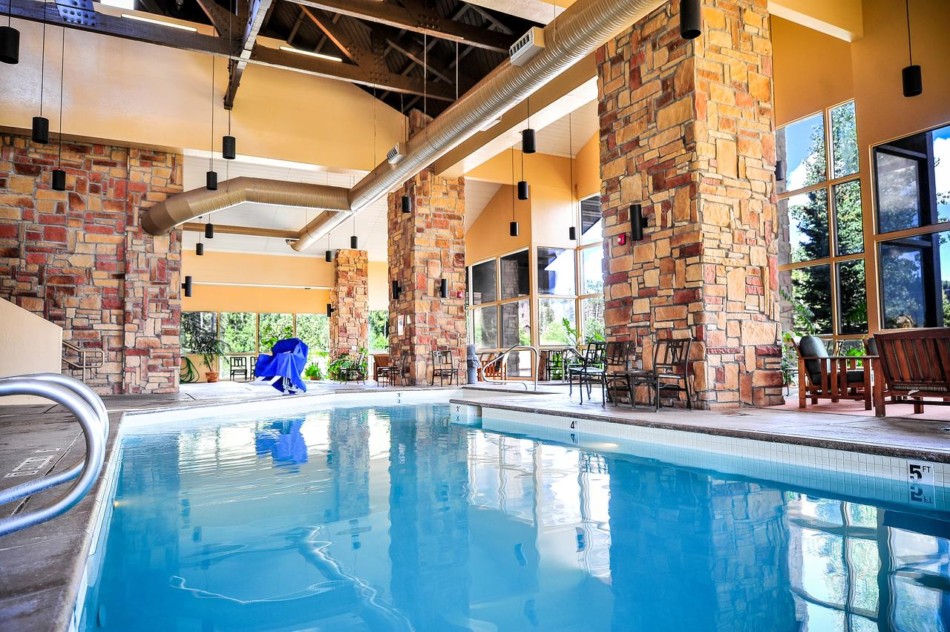 Each guest room at Cedar Breaks has a flat screen TV, a kitchenette, and air conditioning, and of course a free WiFi to keep you updated on your social media sites. Guests can make use of the amenities provided by the resort such as a 24-hour front desk, pool, a gift shop, and shop.

Movara Fitness
Movara Fitness is a resort and fitness place in Utah. This is the only resort that offers extensive fitness programs while on vacation. They have a great variety of exercise to offer such as kickboxing and circuit training and they can accommodate all fitness levels.
The food that they serve to guests are carefully planned and they have access to hundreds of nutritional recipes. They also offer informative health lectures so that you will gain knowledge to implement at home. You are not only vacationing here but you are also learning a lot about your health.
When it comes to accommodation, they have two types of room that you can choose from: King and Queen room. But each room is equipped with a comfortable bed with microfiber sheets, hypoallergenic blankets, TV, DVD player, WiFi, and more.

Westgate Park City Resort & Spa
The Westgate is an award-winning resort and spa offers world- class amenities, lavish accommodations, and first-class services in Utah. This is the best place to stay if you want to experience the slippery slopes of Utah because it has access to more than 7,300 acres and 300 ski runs and it is one of Utah's best ski resorts.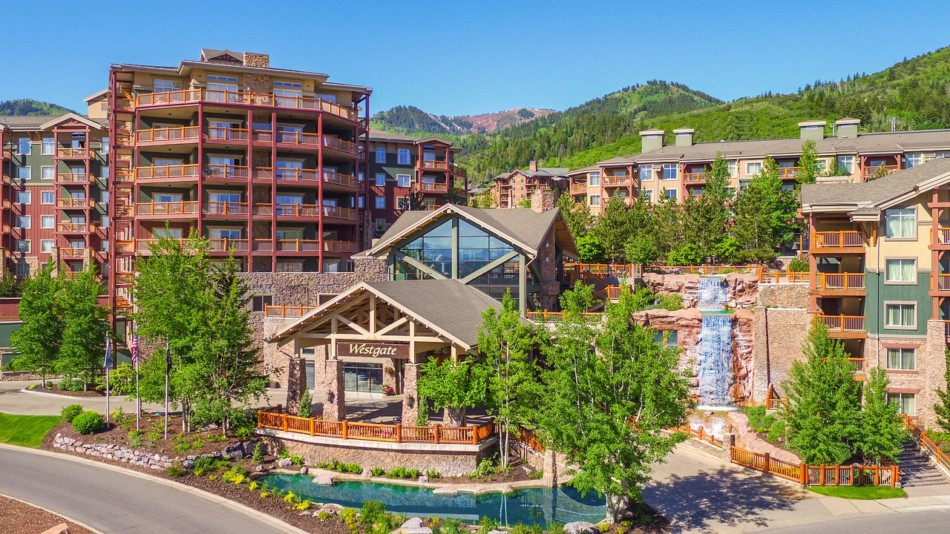 Their cozy Luxury Suites are perfect for a smaller group, sleeping up to 4 guests, equipped with amenities such as a kitchenette, while the Four-Bedroom Loft has a 2,150 sq ft of space and can accommodate up to 16 people.
You will be amazed with the activities and fun that this resort and spa can offer to you. They also offer distinguished dining, premium spa, indoor/outdoor pools and spacious modern villas.
Conclusion: Best Resorts in Utah
If you are heading to Utah, you will want to check out any one of these luxury resorts Utah.
I hope you have an incredible trip and let me know in the comments how was your stay!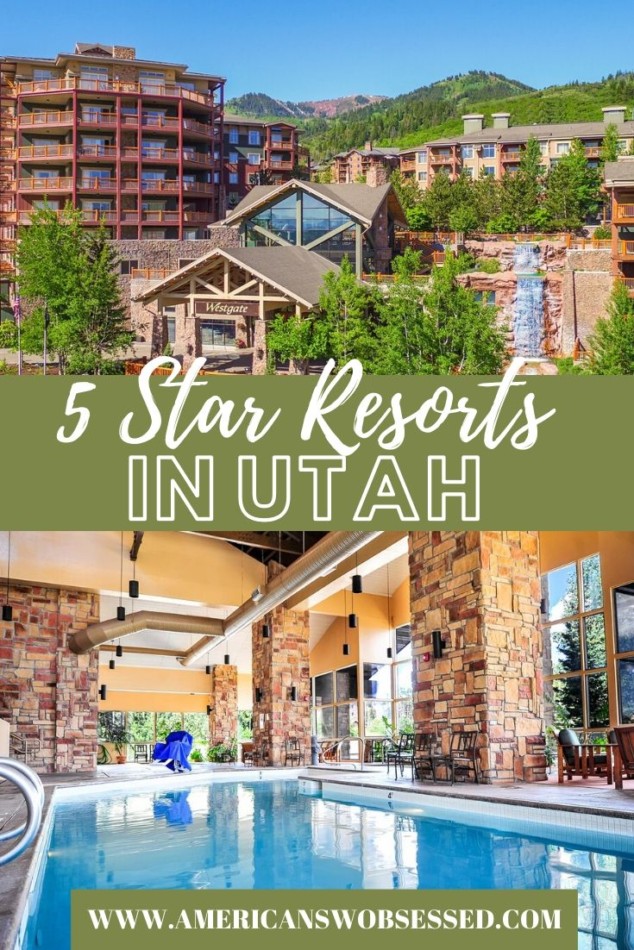 Continue Reading more on my site about Utah:
Recent Posts