15 Prettiest Waterfalls in New Mexico
New Mexico Waterfalls: You wouldn't think a place like New Mexico has a lot of water features but this list of 15 incredible waterfalls in New Mexico proves there is more to New Mexico than deserts.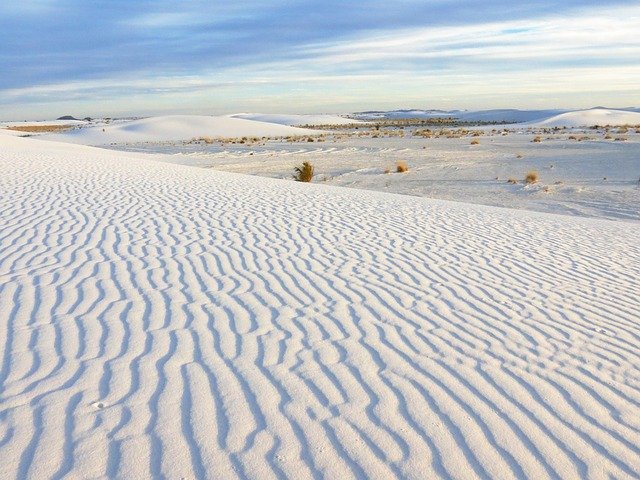 New Mexico has a diverse landscape and these waterfalls really stand out. You can take a quick hike to some of these waterfalls or take a picnic and spend the day cooling off in the waters. If you want to see something different, waterfalls New Mexico is the way to go.
Jaw Dropping Waterfalls in New Mexico
Nambe Falls
Nambe Falls is one of the most beautiful and anticipated falls in New Mexico. It is situated in the foothills of the Sangre de Cristo Mountains and it is a series of two waterfalls. The highest part of the Nambe falls is 100 ft tall, while the lower tier is 75 ft tall.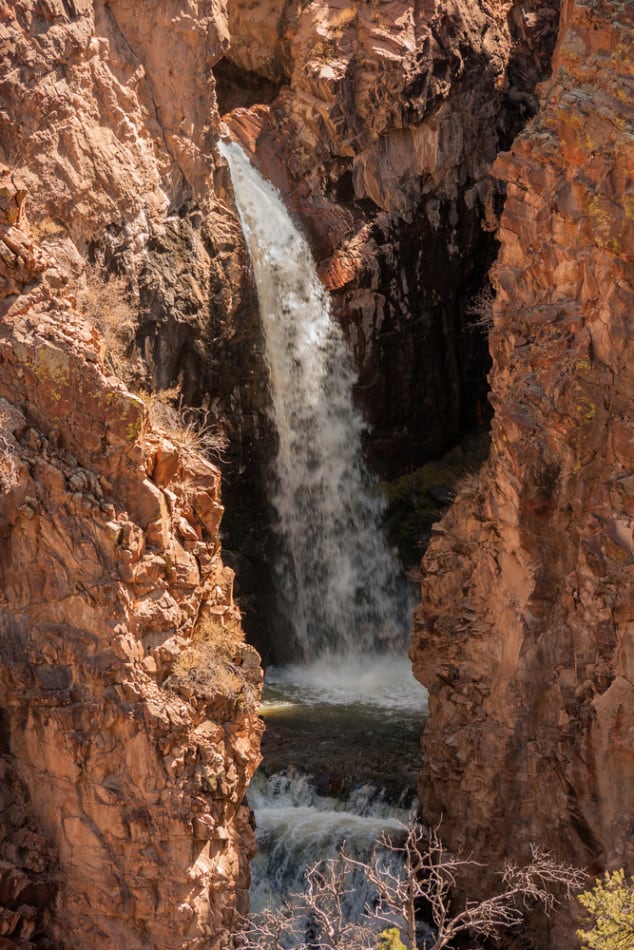 This is a must visit for anyone who is in the Santa Fe or Albuquerque area. It's just a short trip out of Santa Fe, and after a few windy roads, you will find the parking area.
To reach the waterfalls, you'll have to take two trails. One trail climbs up the hill ending in a breathtaking view of the waterfalls from above. The other trail traverses a river winding up at a beach area at the lowest pool.
If you are visiting in the summer, make sure to carry drinking water because the temperature may often go high.
Check out my post on the Best Airbnbs in Santa Fe, New Mexico

Jemez Falls
Jemez Falls has been hailed as the most stunning waterfall in New Mexico and it is located in Santa Fe National Forest. Although there is not much development in the area, locals and visitors still visit this site especially if they want to get lost in nature.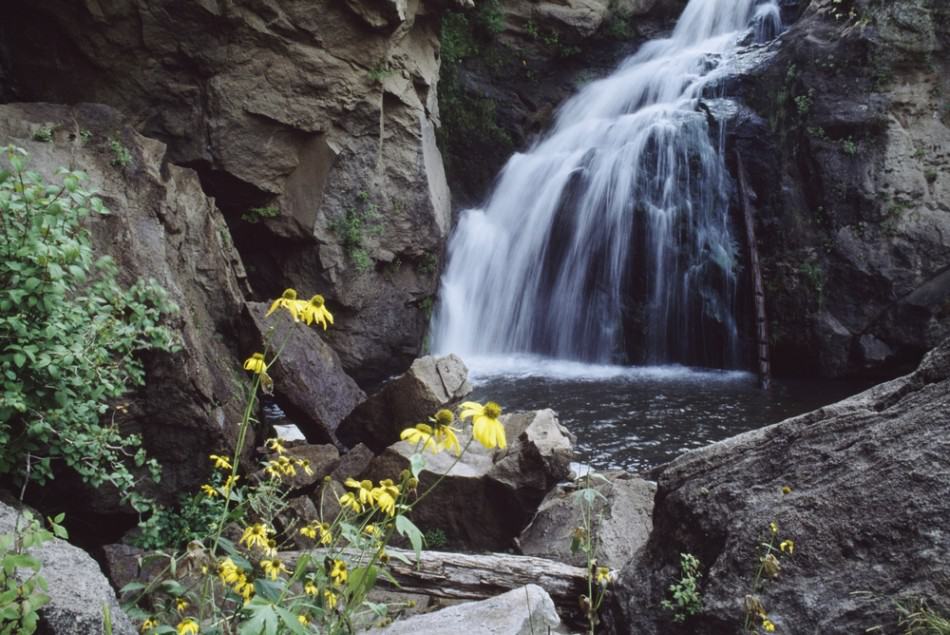 The falls has a total height of 70 ft and it appears to be not safely accessible for swimming. However, you can still take on the neighboring smaller waterfall that is more suitable and safer for swimming.

Catwalk Trail Falls
Catwalk Trail Falls offers a glimpse of the geologic and historic foundations of southwest New Mexico. Its name, The Catwalk, refers to the original plank walkway that was placed on top of a steel pipe that used to bring water to the ore processing plant.
The first part of the trail is nearly easy and leads to hidden pools and splashing waterfalls. But the more extremely thorough trails lead into the Gila Wilderness and you may need to consult with the Forest Service first before taking beyond the Catwalk trail area.
From the parking lot, just follow the trail and you will see an enchanting waterfall. Don't forget to bring your cameras and take lots of pictures especially in between whitewater canyons.

Sitting Bull Falls
The Sitting Bull Falls is nestled in the middle of Lincoln National Forest and it is a great place if you want to get out of the heat especially during hot weather conditions.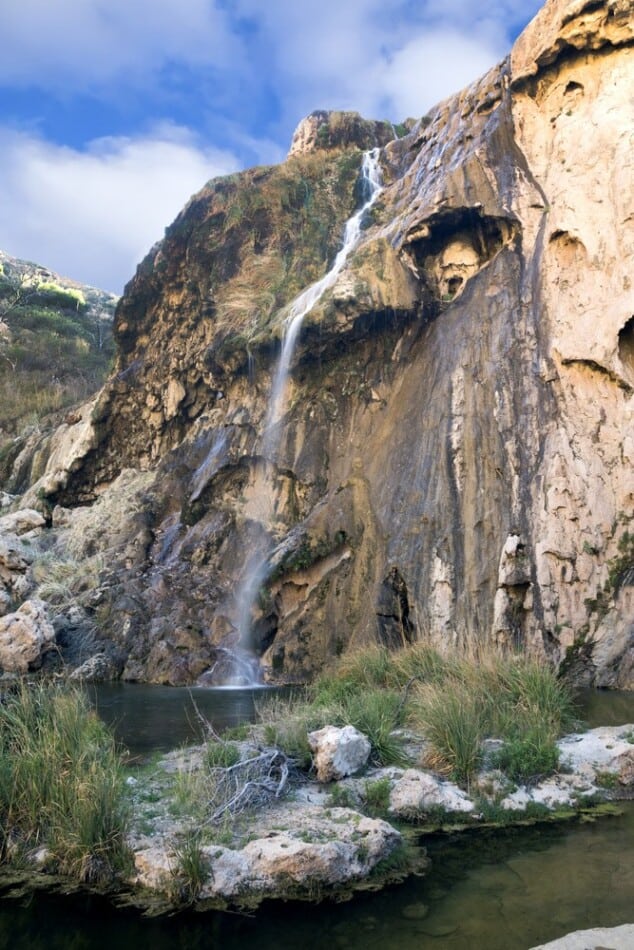 It is just a short walk going to the falls and the view will surely mesmerize you as it offers an amazing opportunity for great pictures and swimming. In addition to that, you can also do other outdoor activities in the area such as over 16 miles of day-use trails for hiking, biking, and horseback riding.
Sitting Bull is open year round and there is a fee of $5 per vehicle and $10 per vehicle who are carrying more than 10 people. There are also covered pavilions with picnic tables and charcoal barbecue grills in the area where you can bond with your friends or family.

Folsom Falls
Folsom Falls is situated in the northern east part of New Mexico and it showcases a beautiful waterfall that is surrounded by greenery. The falls are created from the edge of a primitive lava flow and what is amazing is that you can hike around the falls and the surrounding area.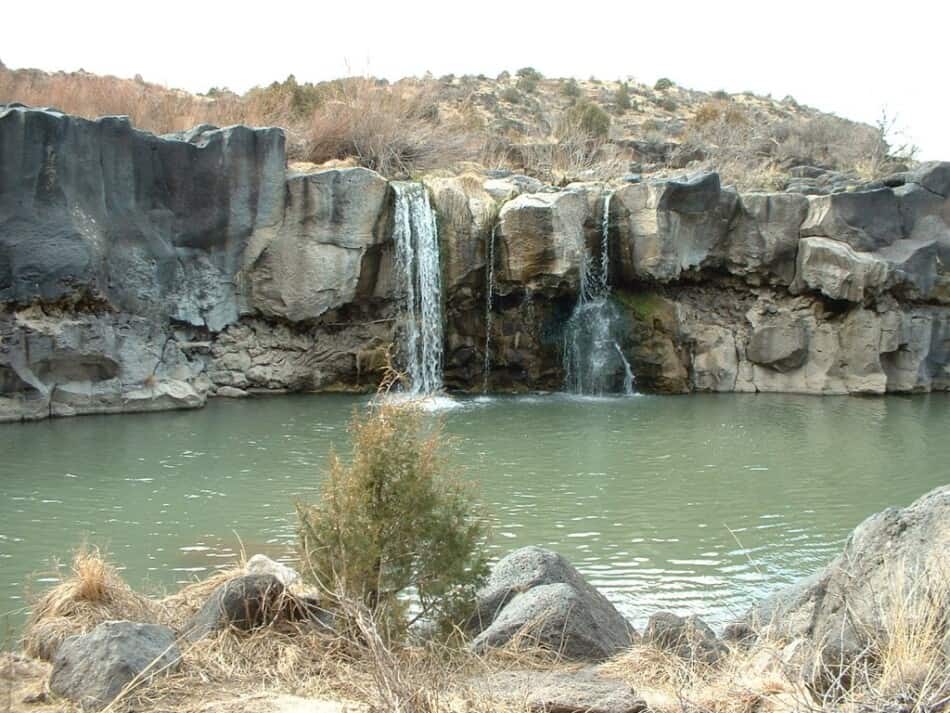 Even though it is not recommended to swim here, still it is a great place to visit and make sure to take symbolic photos to make it a worthy and memorable one.
Soda Dam
Soda Dam is located along the east side of New Mexico State Route 4, and just north of the Village of Jimenez Spring. This dam is estimated to be 7,000 years old and it is primarily composed of calcium carbonate and travertine, and has a height of 50 feet and 50 feet wide at the bottom.
It is so easy to access this site because it is just situated along the state highway and there is no charge when you visit it. It is a cool place to stop on a trip to Jemez, New Mexico and you can smell the overpowering sulfur. You can do a bit of climbing on the rocks to get an amazing view of this site.

White Rock Overlook Park Waterfall
White Rock Overlook Park is a favorite park of locals and tourists alike because it provides breathtaking views of the Rio Grande and it is a great place for outdoor sports and picnic areas.
Inside the park is a beautiful waterfall that is also known as Canada Del Buey Falls or White Rock Falls. The waterfall has a height of 130 ft and the views are amazing even though it emits a weird smell due to the sewage treatment plant near the area.
Still, this site is still a worthy visit because you can climb down the canyon and have a different view of the falls. Just plan your visit ahead and make sure you have a water bottle if you are visiting during summer.

Bar Canyon-Soledad Canyon Waterfall
This site is a junction of two canyons namely; Bar Canyon and Soledad Canyon and it is located in the western foothills of the Organ mountains. The area features a three-mile loop Bar Canyon Trail that offers an easy and picturesque hike.
As you walk around the loop, you will encounter the waterfall streaming narrowly through the canyon. It only takes less than a couple of hours to explore the site. This is a popular place among hiker, bikers, and horseback rider since it is open year-round

El Salto Falls
El Salto Falls is composed of nine falls situated on a private land in New Mexico. Its name was derived from Spanish which literally translates as "the jump". It has an elevation of around 9000 ft. and the falls are composed of 5 separate drops.
There is a fee of $5 per person if you want to visit this enchanting place. And you can locate these falls around 7 miles north of Taos. And if you are near the area, make sure to drop by and take an easy and quick hike to the falls.

Resumidero Falls
Resumidero Falls is a well-known ancient waterfall in New Mexico along with its camping area. It has been a favorite site of locals and visitors due to its numerous recreational activities that you can do around the place such as camping and picnicking. Plus, it can accommodate a lot of vehicles and large groups.
There are various trails that you can take around the falls, with a few hidden waterfalls that you can encounter along the way. And if you are taking the trail, it is suggested that you hike into the 25 ft Resumidero Box Falls that provides amazing views and worthy experience.
WILLIAMS FALLS
Williams Fall is a beautiful cascading waterfall surrounded by lush and green forest. To reach William Falls, look for the sign in the parking lot at the village of Taos Ski Valley that will point the way for your 2 1/4 mile hike to Williams Lake.
Along the way, there are rills and small cascades below Williams Falls that allow you to take a splash and enjoy the cold water.
This place is ideal for people who love to take a little adventure and be one with nature. Make sure to plan ahead your visit because the falls may still be iced especially in late May.

THREE RIVERS WATERSLIDES
Three Rivers Waterslides is actually a small waterfall but it is more of water cascading on the large rocks which makes it perfect for sliding. The site also has a rustic style campground with 12 campsites set at the base of the tallest mountain in New Mexico. And since it is located at a lower elevation, this is a great place to go when you want to avoid crowds.
You can also do other activities in the area such as hiking, horseback riding, and picnicking. There are available picnic tables, drinking water, and toilets in the area.

NORTH FORK CASA FALLS
The Casa Falls is a short 100 yard climb from the end of a four-wheel drive road and it can be visited easily by anyone. There are other falls that you can find in the area that vary in shapes and sizes but some of them are very difficult to reach.
UPPER FRIJOLES FALLS
Upper Frijoles Falls is hidden in the corner of the famous Bandelier National Monument and it is a spectacular site to visit because it features two waterfalls on the Frijoles River. It is surrounded by rocks and it may be hard to locate the area but the rocks are so colorful that you will be mesmerized by it.
To reach the area, you need to head west on NM-4 to the entrance to Bandelier National Monument. Then you have to pay the corresponding entrance fee and start driving down toward the parking area. And from the parking area, if you turn left, you will be closed to the trail head, and start hiking the distance to the falls. It's an easy hike so you will be able to enjoy the entire adventure.

FILLMORE Waterfall New Mexico
The route going to Fillmore Falls is relatively manageable but soon you will find yourself climbing on your way out. The trail is wide and well-maintained so you won't have any problem getting lost. However, the trail will get more difficult as you reach the top, but your effort will not be put to waste once you reach the scenic waterfall.

HOLDEN PRONG CASCADES
You will find this beautiful Holden Prong Cascades just right beside the Holden Prong Trail eight miles deep into Aldo Leopold Wilderness. Here, you can find diverse species of fish that need to be protected because you cannot find those fish species anywhere else.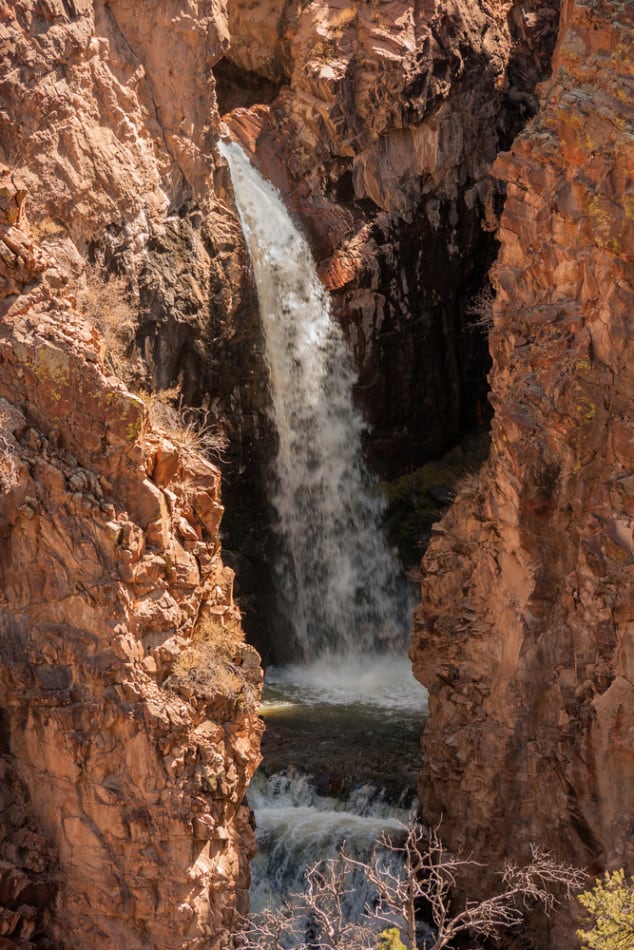 You can take trail 114 since it provides access through the beautiful canyons of Holden Prong.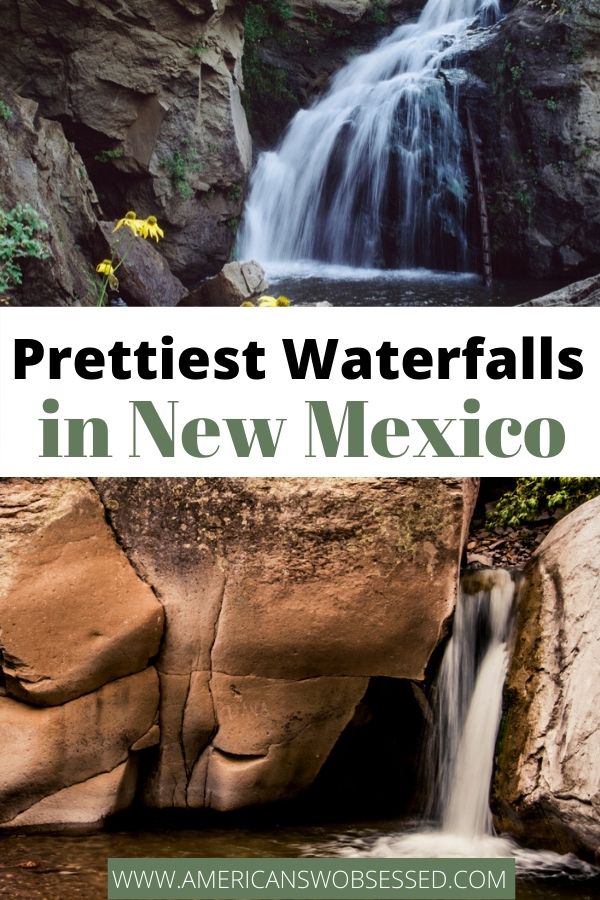 Continue Reading more on my website about New Mexico:
50+ American Southwest Bucket List Places
Best Hammocks with Mosquito Nets
Best Women's Daypack for Hiking
Recent Posts