The Best Hikes in Santa Fe you won't want to miss
Santa Fe is a wonderful place to go hiking. Santa Fe hiking trails are amazing.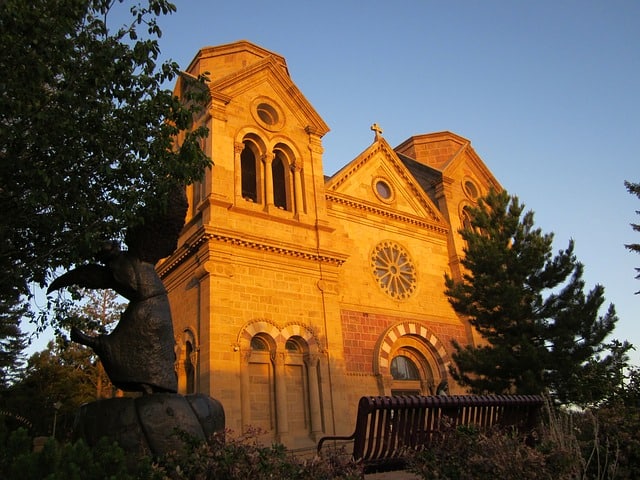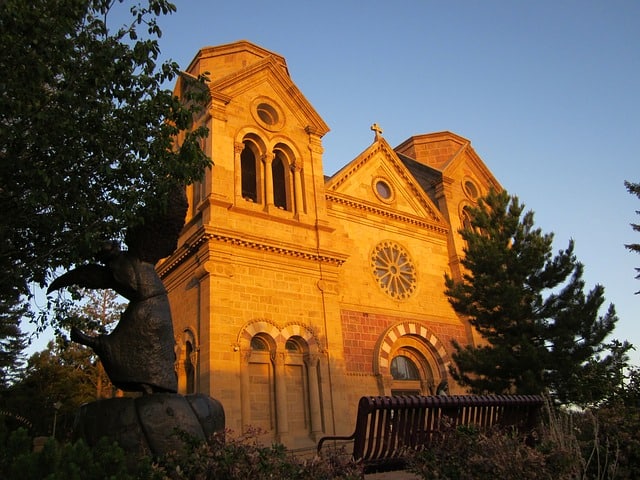 This part of New Mexico is stunning and a great destination if you are looking to get out and explore nature.  There are so many great hikes in Santa Fe that you can do including these Waterfalls in New Mexico hikes.
I've put together this list of the best hiking trails in Santa Fe so you can decide which ones to do while you are there. You can also check out my list of the Best Airbnbs in Santa Fe.
You also might want to check out my post on the best hot springs in New Mexico. Soaking in hot springs after a long hike would be the perfect remedy for tired muscles.
Tips for Hiking in Santa Fe, New Mexico
Santa Fe is perfect for outdoor enthusiasts. There is a hike for everyone on this list and for different fitness levels. Also, note that it is dry and hot (in the summer) and make sure you know what you are getting into before you start. Here are a few tips for Sante Fe hiking:
Bring a reusable water bottle and lots of water! Remember you are in the sun and you will need to drink lots of water. I love my LifeStraw Filtered Water Bottle. I can refill this bottle anywhere and it comes with a carabiner to connect it to my daypack.
Hiking boots or sandals that will protect your feet! I love good shoes. I need all the support and help I can get. I actually love these sandals for hiking and have a whole post on Merrell vs Keen shoes for hiking. I also love these hiking boots which I used for Hiking in the Grand Canyon.
Bring hiking poles for balance and to protect your knees. I know many experienced hikers (and even amateur ones) think that hiking poles are for old people who lose their balance. Actually, hiking poles can help when going down steep inclines or when scrambling over rocks. They are great to hike with even for the most experienced hiker.
Wear a sunhat. I feel like this whole post is about how high you are in the mountains and how much closer you are to the sun but it is so true. At elevation, you are closer to the sun and more likely to burn. Wear sun protection such as a sun hat and sunscreen.
Be aware of the wildlife. This is the Southwest and you will need to watch out for snakes and other wildlife. Please stay away from wildlife and do not feed them.
Leave no trace. If you are new to the concept of Leave No Trace it is all about preserving the environment to ensure it is in the same or better condition when you leave it. This means that you should stick to the trails and carry out everything that you carried in. This is a great explanation of the Leave No Trace principles!
Water shoes are great for the waterfalls– If you don't have a pair, I highly suggest it as they are affordable. I have an article on the pros and cons of several pairs of water shoes.
Bring Bug Spray and a snack: Be sure to bring everything you need including a snack like a protein bar plus BUG SPRAY.
Hiking near Santa Fe New Mexico
Santa Fe is located an hour from Albuquerque, New Mexico. It is located in the foothills of Sangre de Cristo.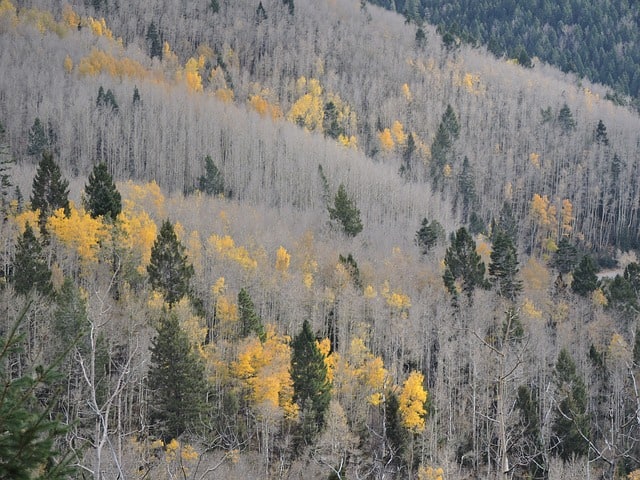 Santa Fe is a hiker's paradise with so many different trails to choose from in the city and the surrounding area. You will find hikes for every level of physical activity.
So let's get outside and explore the best hikes in Santa Fe!
Dale Ball Trail
The Dale Ball Trails are a system of trails you can join from downtown Santa Fe. These trails are extensive and interlocking. They are also well signposted along the way.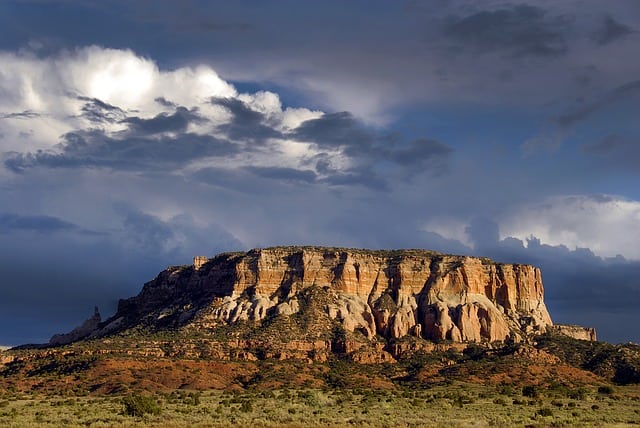 The Dale Ball North Trail is an easy hike that is a 4.4 mile loop. This is an easy track and dogs are allowed on it.
The Dale Ball South Trail is a moderate trail that is 5 miles long. This is a bit more hilly than the north trail.
This is an awesome system of trails running up and down through the forest and even up the mountains. Follow the maps at each intersection for a custom made route up to the top of mountains or around the loops.
There is something for everyone here. These trails connect to the two other sections of the Dale Ball Trail System.
Old Sante Fe Trail
You can pick up the Old Santa Fe Trail right downtown and take it all the way to Canada de los Alamos.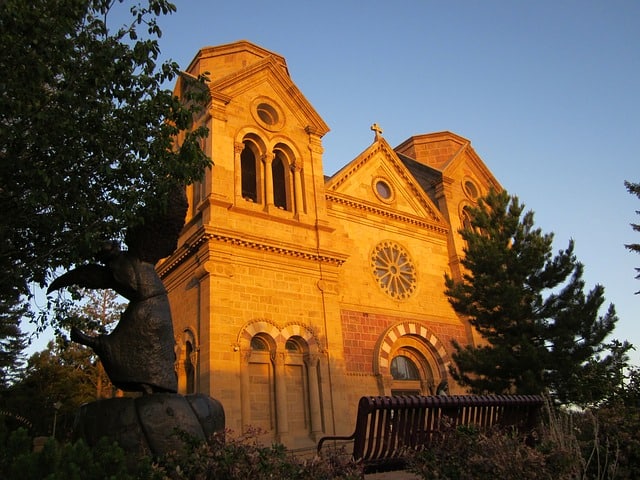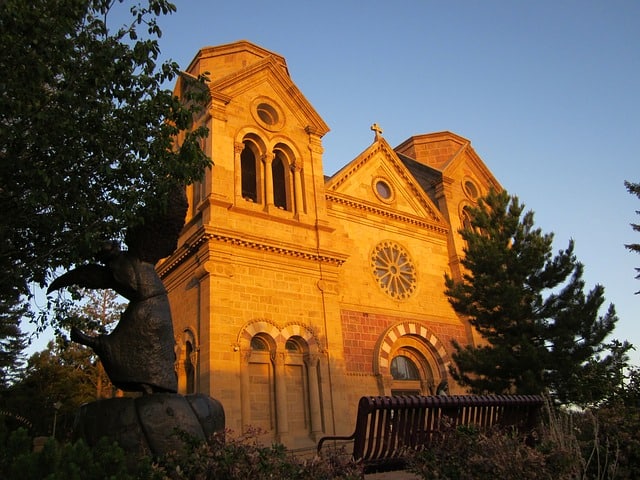 You can take this trail for 10 miles before it turns to dirt. You can turn around at any time and make it a loop.
The trail is narrow at the start in town but then widens as you leave the city behind. You will then be hiking along the rolling hills which will be mostly uphill.
Kasha Katuwe Tent Rock National Monument
This national monument was established by Bill Clinton in 2001 and is located 40 miles south of Santa Fe.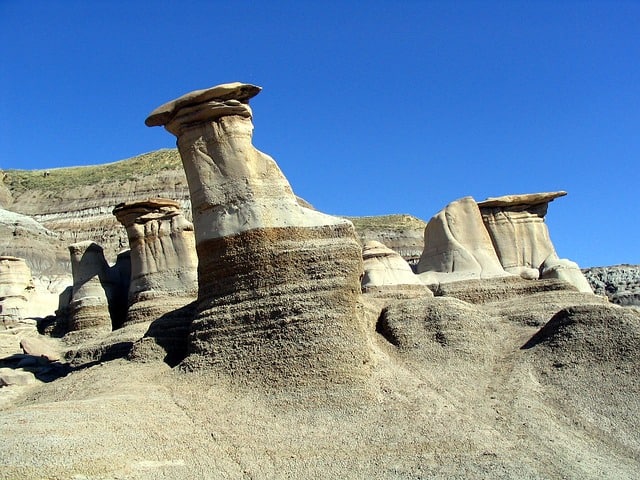 This hike is becoming more and more popular and the parking lot gets full by 9am. The main attraction is to see the tent shaped domes in the light pumice color. The area was made from ash, pumice and tuff. You will also see hoodoos (similar to those in Bryce Canyon).
The Cave Loop Trail is 1.2 miles long and is rated as easy. There is a more difficult Canyon Trail which is 1.5 miles long. This trail has a steep climb to the top but then you will have great views of the area.
If you are looking for an easy trail, try the Veteran's Loop Trail where you can stop and have a picnic along the way. It is an easy 1 mile trail.
The Nature Conservatory Loop
Located between the Santa Fe National Forest and the Upper Canyon Road this is a nice easy hike that is close to town.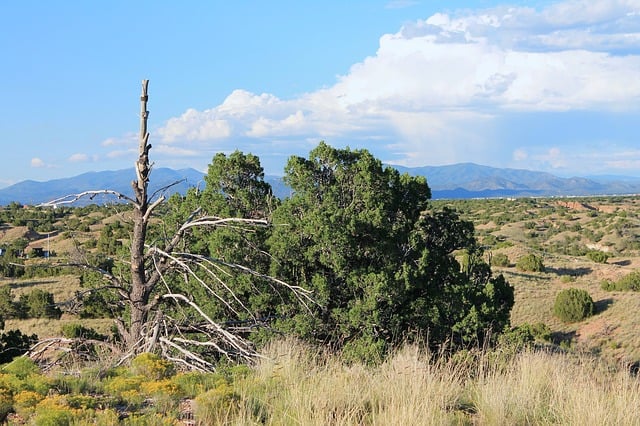 This is a gentle 1.5 mile trail that really feels a world away with all of the reserves around it. You may even see some wildlife along the way.
This is a peaceful place to see the Ponderosa Pines and wildflowers.
The Conservatory has worked to restore the land to its natural state and constructed a 1.5-mile interpretive loop trail detailing the colorful history and fragile ecology of the place.
Black Canyon Trail
This trail is short and sweet and will really get the blood pumping. It's a lovely short hike with a gentle elevation.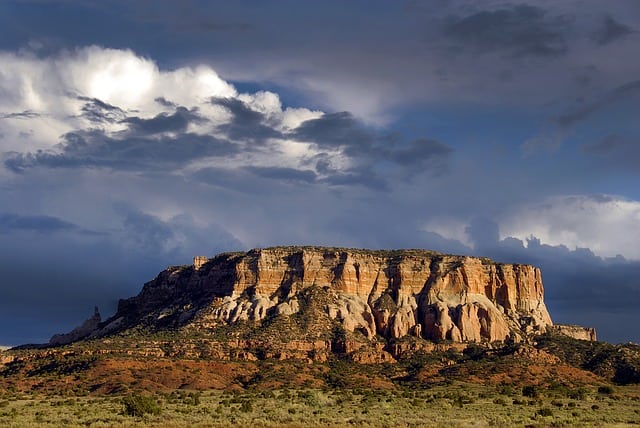 Black Canyon Trail is 1.6 mile easy hike. This hike is a loop and it starts and ends at Black Canyon Campground.
This trail goes through the forest and you will see many fir and aspen trees along with wildflowers and also a chance to see butterflies.
The best time to do this hike is between March and October when it is drier otherwise the trail is quite wet.
Sun Mountain Trail Loop
Sun Mountain Trail Loop is a difficult trail that goes from one point to the top to gain 230 metres in elevation.
This loop is very near the Old Santa Fe trailhead. You'll see a hand-carved wood sign reading, "Sun Mountain Trail".
The trail starts off easy enough but the last section is difficult going up the mountain.
The trail is only 1.4 miles long and you will only come across a few other hikers while you are on the trail.
Waterfall Trail Hyde Memorial Park
People love this track! And rightly so.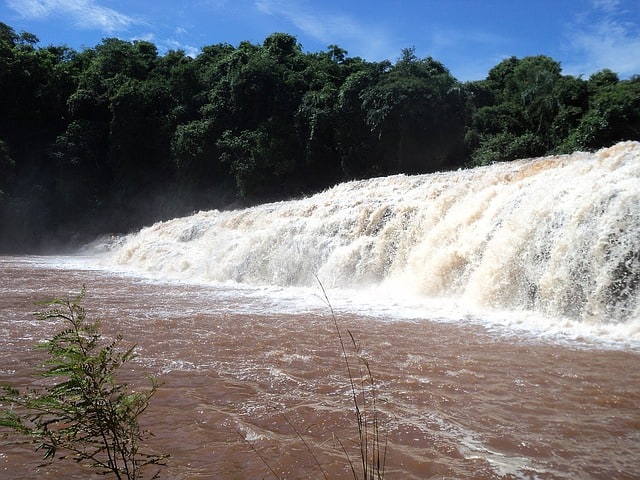 This is an easy trail that is 1.5 miles long there and back. You will need to cross the creek several times and you will get wet but the waterfall at the end makes it worth it!
Atalaya Trail
This 3.5 mile hike starts at St Johns College. It is a moderate to difficult hike and the trail is well used and popular with locals.
It gains 500 metres in elevation and the closer to the top you get the steeper the trail gets. To make it even more difficult it is loose rock on the way to the top.
The trail connects with several other trails and you will go through both forest and desert areas along the way. At the end you will be rewarded with beautiful views.
Chamisa Trail Loop
This moderate hike is a 4.5 mile hike located near Santa Fe. This is a great hike for conditioning and has a few steep sections.
This is a great shaded walk through the mountains and to see the ponderosa pines. There is a field of wildflowers at the 2.5 mile marker.
This trail is quite popular with dog owners as dogs are allowed as long as they are on a leash.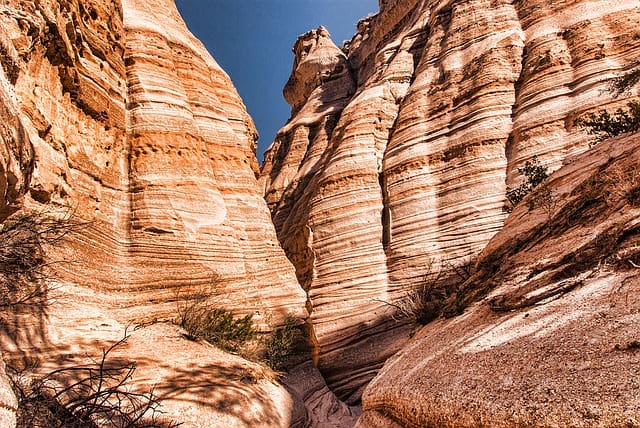 Little Tesuque Trail
Off of Bishop's Lodge Road is the Tesuque Trail which is a 3 mile loop.
This trail follow the creek (which is fenced off and private property). Further along you can actually cross the creek and continue on along the trail.
This is another hike popular with people with dogs and there's even a sign that says over 100 dogs visit this trail daily.
Piggyback Trail
This is another option in the Tesuque area. This super short 0.5 mile hike is an easy hike anyone can enjoy.
This trail crosses the creek several times but there are footbridges to get across.
The trail is in the park and a fee does apply.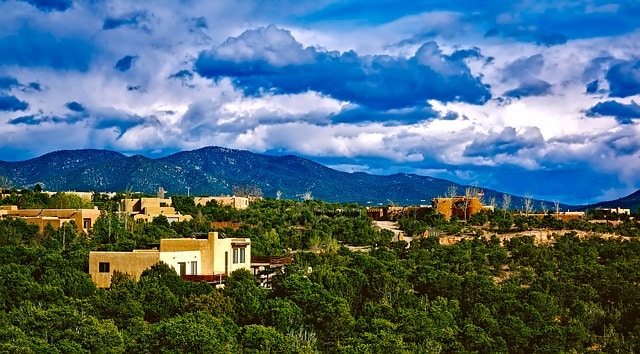 Things to bring when you hike on the Santa Fe Trails
Plenty of water – I have a life straw water bottle that filters water. I also carry a gallon of water in the car so we can refill our bottles when we go back to the car.
Your camera – get ready for some epic views! You'll want to bring your camera. I like to travel with a budget action camera but you can also check out my list of the best cameras under $300 with even a few under $200.
Sunscreen – I always carry sunscreen so I can reapply but as I mentioned before most of these hikes do not have any shade so it is important to wear sunscreen and a hat.
Hiking Sandals – I like to wear hiking sandals when I hike. Tevas are my favorite hiking sandals as they have good grip, are extremely comfortable and waterproof.
THINGS TO KNOW BEFORE YOU GO TO SANTA FE
WHERE TO STAY in Santa Fe
Santa Fe Motel & Inn, 510 Cerrillos Road;
Luxx Boutique Hotel, East Mercy Street;
The Santa Fe Suites, 3007 South Saint Francis Drive
Casa Culinaria – The Gourmet Inn, 617 Don Gaspar Avenue
WHERE TO EAT AND DRINK
La Plazuela at La Fonda, 100 East San Francisco Street;
Blue Corn Café, 133 Water Street;
WHAT TO SEE AND DO
Georgia O'Keeffe Museum, 217 Johnson Street;
Loretto Chapel, 207 Old Santa Fe Trail;
Conclusion Best Hikes in Santa Fe New Mexico
If you are visiting Santa Fe as a day trip from Albuquerque or spending a long weekend there, you need to get out on the trails of Santa Fe to really see the beautiful scenery around this area.
Hiking is one of my favorite ways to see a place and really get out into nature.
Sharing is Caring! Pin this article to save for later.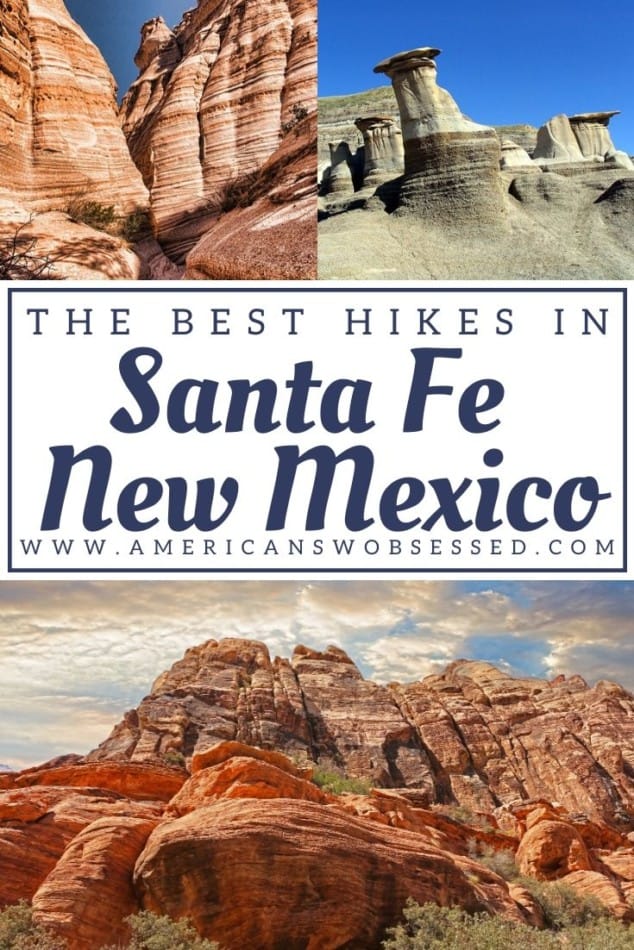 Continue Reading more on my website:
The 15 Best Backpack Coolers Reviews 2019
Recent Posts