Grand Canyon Day Trips: What to see in one day in the Grand Canyon – South Rim
Planning a day trip to the Grand Canyon can be a bit overwhelming. This post is full of useful tips and an itinerary so you can make the most out of your trip to the Grand Canyon in one day.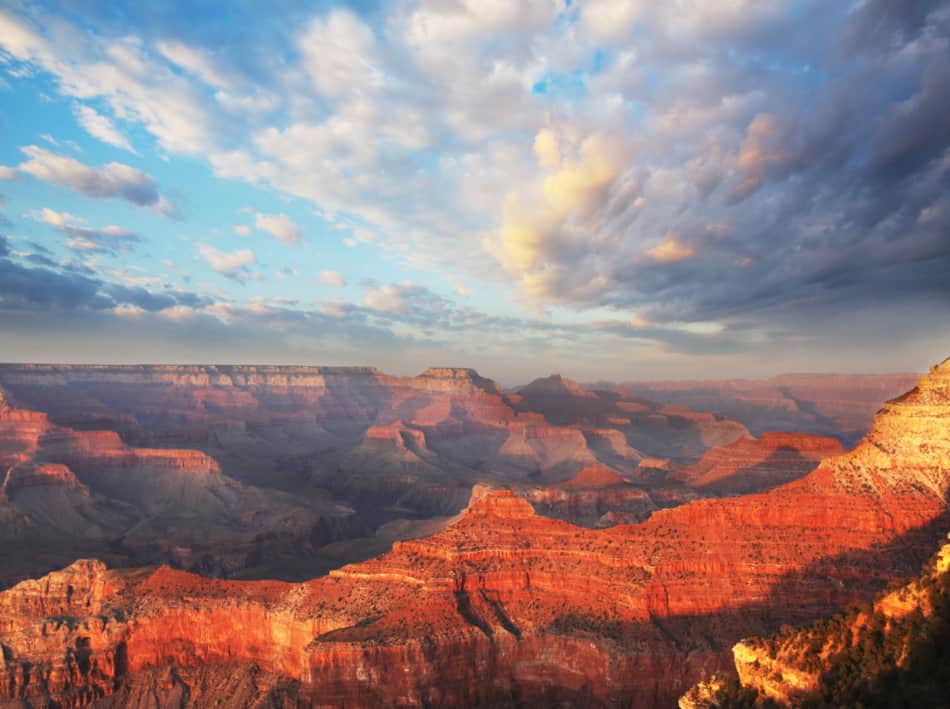 Visiting the Grand Canyon in 1 day will just touch the surface of this amazing site. But its still worth visiting one day in Grand Canyon. I'm going to show you how to make the most out of a day trip to the Grand Canyon in a day.
I've put together the perfect grand canyon itinerary for you to see all the best sites in Grand Canyon in 1 day and teach you how to see Grand Canyon in one day.
Wondering how many days in Grand Canyon? How much time to spend in Grand Canyon is up to you.
As there are so many things to do in Grand Canyon South Rim, I would recommend you visit the Grand Canyon South Rim and spend 2 days in Grand Canyon. 
With all of the Grand Canyon South Rim activities, I think you could visit the highlights of the Grand Canyon in 1 day. Its all the best in the Grand Canyon for a day.
Which is the Best Rim to Visit?
North Rim vs the South Rim – which one is best?
The North Rim is only open during the summer months, whereas the South Rim is accessible year-round. The North Rim is also about 4 -5 hours away from the South Rim if you are driving.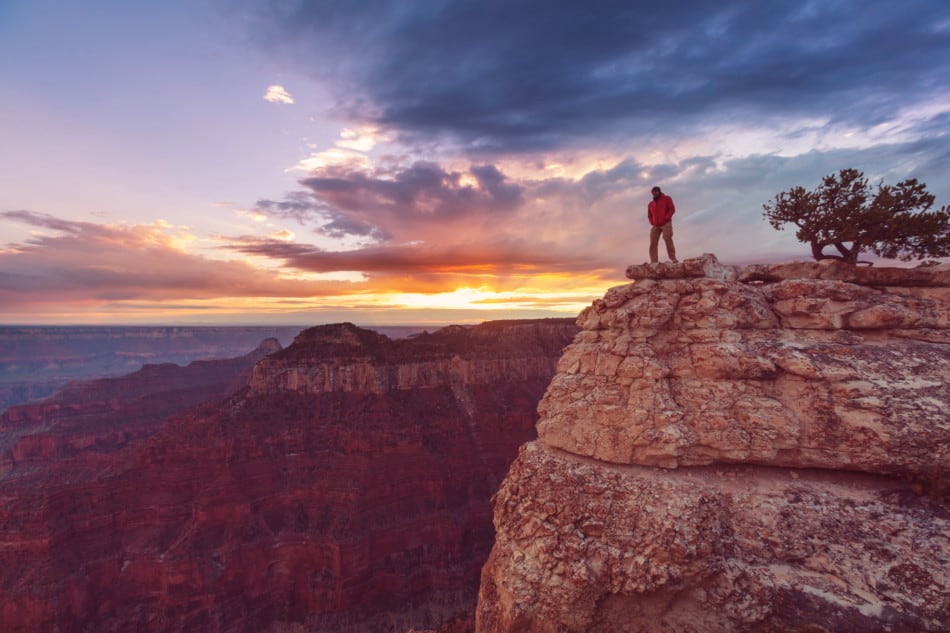 Most people visit the South Rim which is 5 hours away from Las Vegas and 5 hours away from Phoenix. The South Rim also has the most viewpoints and trails and therefore brings in the greatest number of tourists year-round.
Although there are beautiful spots all throughout the Grand Canyon, the South Rim is arguably the best rim to visit. The South Rim is the more popular area with the most beautiful viewpoints and activities.
As well as it being open year-round, you can visit any month of the year!
When is the Best Time to visit the Grand Canyon
There is never a bad time to visit the Grand Canyon! It's beautiful year-round and there are always things to do.
Although, the time of year you visit does have an impact on certain activities available, trails you can hike and viewpoints that are accessible.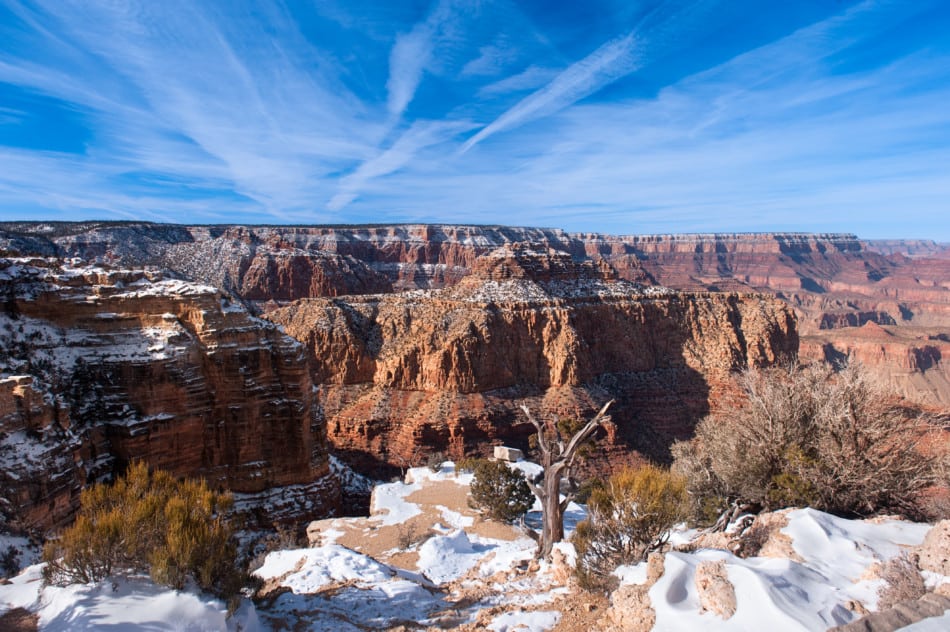 Grand Canyon in Winter Months (December – February)
Due to the wintery conditions, tourism in the canyon is at its lowest during these months. This makes visiting the Grand Canyon during winter perfect for those not wanting large crowds while still able to experience the beauty the Grand Canyon has to offer.
READ MORE: Grand Canyon In December | Grand Canyon In January | Grand Canyon In February
Grand Canyon in Spring Months (March – May)
The spring months could be the best time to visit the Grand Canyon! The weather is starting to heat back up and the crowds are still relatively low.
Although, late spring does see a beginning of summer crowds. Early spring still sees some of the chilly winter weather, with the occasional snowfall but as the months continue, warmer weather approaches the Grand Canyon.
The warm weather and better hiking conditions mean that many more trails and viewpoints begin re-opening for the year, so there is so much more to explore!
READ MORE: Grand Canyon In March |Grand Canyon In April |Grand Canyon In May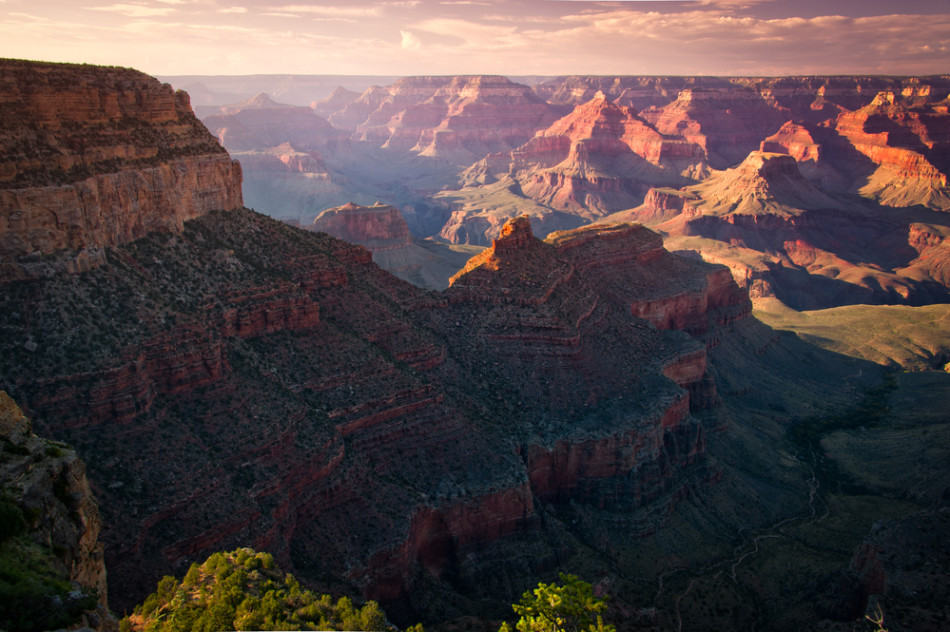 Grand Canyon in Summer Months (June – August)
The Summer months are the most popular time of the year to visit the Grand Canyon. These months see the most visitors out of any other time; however, the summer months also see the hottest weather, the longest days and the best conditions for hiking – meaning more trails and viewpoints are open!
READ MORE: Grand Canyon In June | Grand Canyon In July | Grand Canyon In August
Grand Canyon in Fall Months (September – November)
The Fall months are a great time of year to visit the Grand Canyon! The weather is great, although it does get colder as the months go on. In October and November there is a chance of thunder, snow and rain storms.
Although, September still offers great weather conditions to explore the Grand Canyon. Tourism is also high in September but starts to dwindle out through October and November – making it a great time to visit if wanting to miss the large crowds.
READ MORE: Grand Canyon In September | Grand Canyon In October | Grand Canyon In November
Thank you for supporting this website written by an American. This post may contain affiliate links. This means I earn a small commission on these links at no extra cost to you.
To visit any of the National Parks in the USA, I recommend buying a National Park Pass. The America the Beautiful Pass is valid for one year and costs $80. Plus 10% of sale proceeds go to the National Park Foundation.
Tips for Visiting in Grand Canyon National Park South Rim
Saguaro is perfect for outdoor enthusiasts. There is a hike for everyone on this list and for different fitness levels. Also, note that it is dry and hot (in the summer) and make sure you know what you are getting into before you start. Here are a few tips for visiting Saguaro:
Bring a reusable water bottle and lots of water! Remember you are in the sun and you will need to drink lots of water. I love my LifeStraw Filtered Water Bottle.  I can refill this bottle anywhere and it comes with a carabiner to connect it to my daypack.
Check the Weather – days over 100 degrees are very common.  Make sure to check.
Hiking boots or sandals that will protect your feet! I love good shoes.  I need all the support and help I can get.  I actually love these sandals for hiking and have a whole post on Merrell vs Keen shoes for hiking.  I also love these hiking boots which I used for Hiking in the Grand Canyon.
Bring hiking poles for balance and to protect your knees.  I know many experienced hikers (and even amateur ones) think that hiking poles are for old people who lose their balance.  Actually, hiking poles can help when going down steep inclines or when scrambling over rocks.  They are great to hike with even for the most experienced hiker. 
Wear a sunhat. I feel like this whole post is about how high you are in the mountains and how much closer you are to the sun but it is so true. At elevation, you are closer to the sun and more likely to burn. Wear sun protection such as a sun hat and sunscreen.
Be aware of the wildlife. This is the Southwest and you will need to watch out for snakes and other wildlife such as moose or a bear.  Please stay away from wildlife and do not feed them. 
Start Early – If you want to avoid the traffic and the heat you will need to start your hike early.  That way it will be nice and cool and the smog will not affect you either.
Leave no trace. If you are new to the concept of Leave No Trace it is all about preserving the environment to ensure it is in the same or better condition when you leave it.  This means that you should stick to the trails and carry out everything that you carried in.  This is a great explanation of the Leave No Trace principles!
Water shoes are great for water hikes– If you don't have a pair, I highly suggest it as they are affordable.  I have an article on the pros and cons of several pairs of water shoes.
Bring Bug Spray and a snack: Be sure to bring everything you need including a snack like a protein bar plus BUG SPRAY.
Where to stay in the Bryce Canyon
The Bryce Canyon makes for a great weekend escape. Fresh air, beautiful scenery and being in nature does a world of good for the soul. I recommend staying in a resort and treating yourself with a spa pool to relax at night.
There are lots of fantastic Airbnbs near Bryce There are many beautiful places to stay and this allows you to spend most of your time experiencing Sedona.
You may also want to check out my post on Where to Stay near the Grand Canyon – which walks you through all the cities near the Grand Canyon
I stayed at the Best Western Plus. This is one of the best Grand Canyon Hotels and it has amazing amenities and is close to everything. Plus its reasonably priced.
If you are taking a road trip remember to reserve a car in advance using Discover Cars .
One Day at The Grand Canyon: Best Things to do in the Grand Canyon South Rim
Here's What to see in Grand Canyon in one day
Catch the Sunrise at Mather Point
This is one of the best and most popular spots in the Grand Canyon to see the sunrise. This spot is in very close proximity to both the visitor center and a large parking lot, making it an easy spot to access.
Mather's Point also provides stunning panoramic views over the canyon, making it a truly magnificent spot to view the sunrise.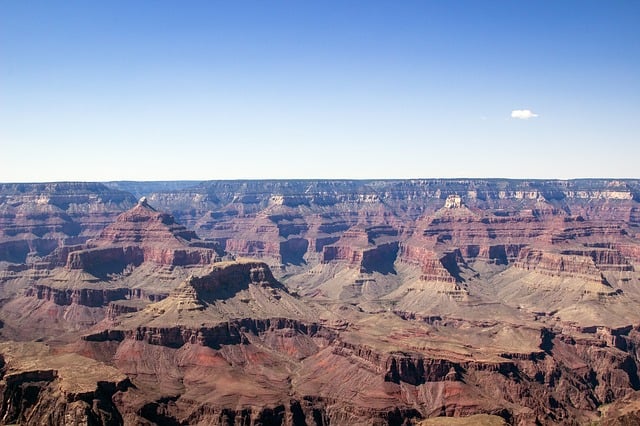 Visitor's Centre
An important first stop at any visit to the Grand Canyon. At the visitor's center, you will find out all the information you need to know for your trip through the Canyon.
You will be informed on any trails and viewpoints that may be temporarily closed; the ones that are too dangerous to visit and the ones that are the safest to visit.
There is also a short film available to watch that takes you through a visual experience of the canyon before being able to jump in yourself. 
Visitor Centre Winter Opening Hours: 9am – 4pm
Visitor Centre Spring, Summer & Fall Opening Hours: 8am-5pm
Take a Shuttle Bus to Viewpoints
Shuttle Busses are highly recommended during winter months, as some roads may be too dangerous to drive private vehicles on, due to snow fall and other wintery conditions.
Shuttle busses also operate year-round as there are many points through the canyon that can only be accessed through shuttle busses (i.e. Hermit's Rest Scenic Drive)

Rim Trail – Visitors Centre to Village
A flat and easy 2.5-mile trail from the Visitors Centre to the Village. The path is paved and mostly flat, making it a great and easy trail to walk while visiting the park.
This trail also passes by some beautiful viewpoints in the canyon that are definitely worth stopping by and having a look.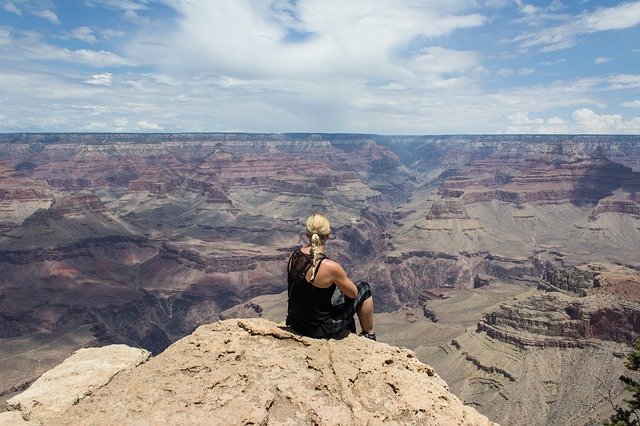 Check out my post on the best hikes in the Grand Canyon which includes some easy hikes you can do in a few hours.
Take a Short Hike
If you've only got one day to visit the Grand Canyon, you probably want to squeeze in as much as you can, in order to have the full experience. because you have only got one day, a nice short hike is perfect.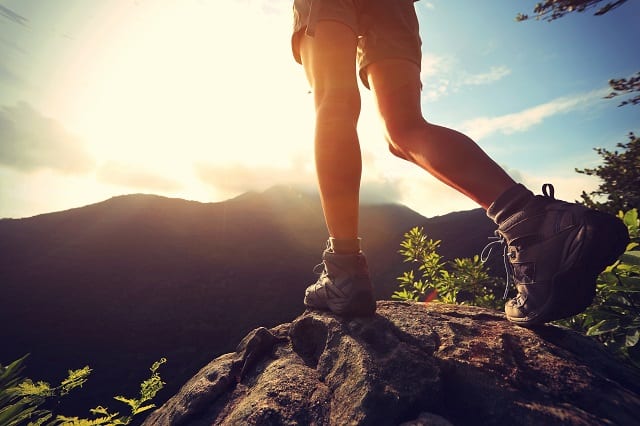 One of the best short hikes in the canyon is the nice and easy 1.7-mile round trip hike to Shoshone Point. The hike is along a dirt road that is almost entirely flat with only a small, almost unnoticeable incline. The end of the trail offers beautiful, panoramic views of the stunning canyons below.
Hermits Rest Scenic Drive
Hermit Road is a popular 7-mile route located at the west end of the south rim and takes its visitors along many beautiful scenic viewpoints before arriving at Hermit's rest.
During the winter months, this road is open to private vehicles, while during the rest of the year, you will need to hop on the park's shuttle bus to access this point.
This route offers some of the best views in the canyon, including Hopi Point, Mohave Point, and Pima Point.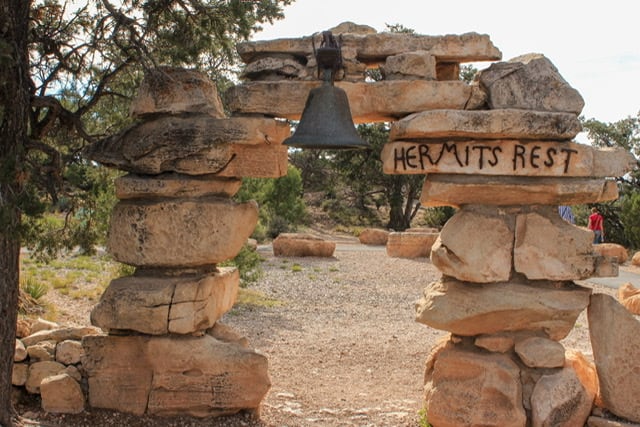 Tusayan Ruins and Museum
Located 3-miles west of Desert Viewpoint, this is the spot on of the best most important archaeological discoveries in Arizona. The ruin contains the remains of a Pueblo village that are believed to be over 800-years old.
While the museum nearby contains many exhibits and all the information you need on this unique and rich history.
Desert View Drive
Just 1-mile west of the Grand Canyon Village is this 25-mile stretch of road offering some of the best views of the Colorado River you can find from within the Grand Canyon.
There are many stops along the way which all provide beautiful views over the canyon and the river. Two must-visit stops include Yaki Point and Duck on a Rock.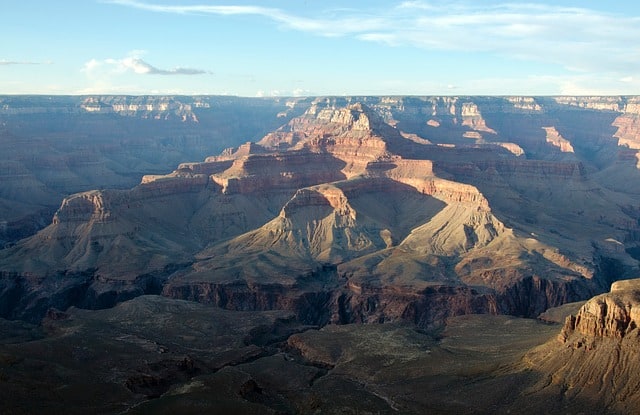 Grand Canyon Sky Walk
The Sky Walk is located along the west rim of the Grand Canyon and includes a glass bridge in the shape of a horseshoe, extending 70-ft over the rim of the canyon.
Once on the bridge, looking down you can see over 4,000-ft down to the bottom of the canyon. This is a totally unique experience and offers one-of-a-kind views of the canyon, you really can't get anywhere else.
Helicopter Tour over the Canyon
There really isn't a better way to experience the Grand Canyon and soak in all the beautiful views, than doing it from a helicopter flying above!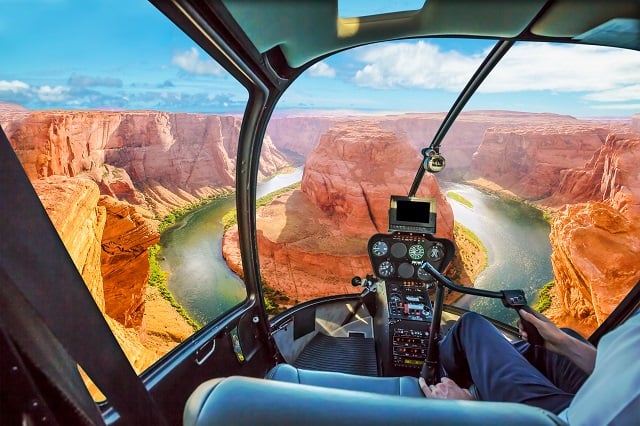 Helicopter rides above the Grand Canyon provide a truly unique experience and give visitors views of the canyon you can't get anywhere or anyway else. These tours can be a bit on the pricier side; however, you won't regret this experience at the Grand Canyon. 
I have an entire post on the Best Grand Canyon Helicopter Rides with a comparison chart on the cost and duration which is really helpful in helping you choose the right Helicopter Ride for you.
Catch the Sunset at Pima Point
This spot is the last along the Hermits Scenic Drive and provides wide panoramic views that stretch out over 40-miles over the canyons. This ensures for a spectacular view of the sunset.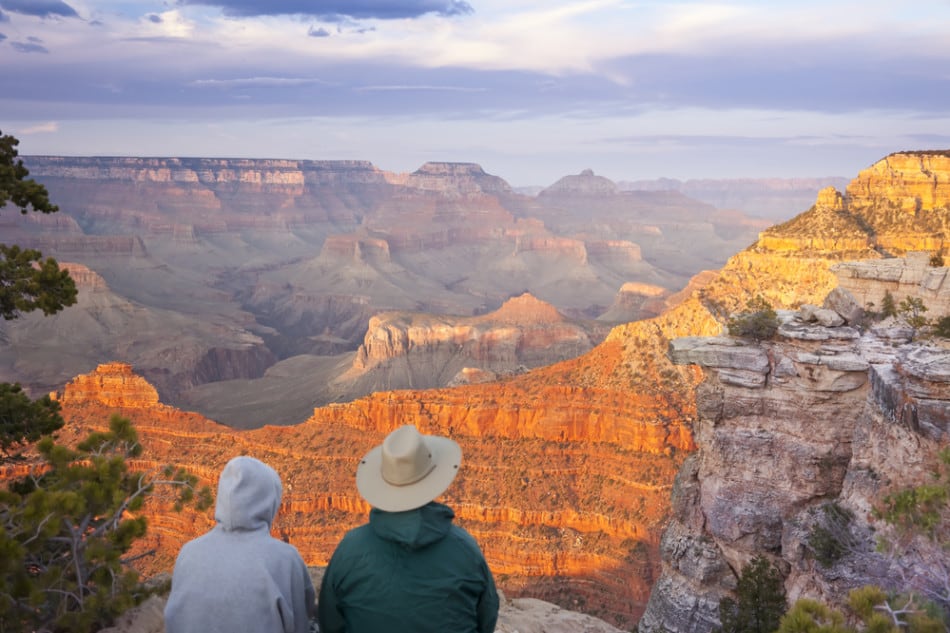 Although, this spot can get crowded at times, so you might want to get in early to grab a good spot. Hermits Scenic Drive is closed to all private vehicles during the spring, summer and fall months, so jumping on the parks' shuttle bus will be necessary.
Grand Canyon iItinerary for One Day at the Grand Canyon
Start your day with Sunrise at Mathers Point. Even if you don't make it for sunrise it is worth a visit.
Take a short hike. You can do the South Rim Trail which is an easy 13 mile hike along the rim. If you are not interested in doing the entire trail, you can take the shuttle for part of it as this is along the Hermit Road.
The other trail I would recommend is the Bright Angel Trail. This trail actually goes into the Canyon so you can appreciate the beauty of the Canyon. This trail is only 12 miles long but you will experience a change in elevation which makes it harder. Just remember to bring plenty of water and a refillable water bottle.
I have put together a guide to the best hikes in the Grand Canyon if you are looking for other options. Do remember if you spend about 30 minutes hiking down into the Canyon plan on it taking you 1 hour to get back up to the South Rim.
Go to Hopi Point – one of the best viewpoints at the Grand Canyon and take in the view.
Head to the village for lunch. You can either pack a picnic and eat in the village or visit the El Tovar Hotel or Bright Angel Lodge for lunch.
After lunch head to the Verkamp's Visitors Centre. After the visitors centre head to Hopi House. This landmark was constructed in 1904 and is a market for Native American handicrafts.
Take a Helicopter Ride into the Canyon – this is a great way to explore the Canyon especially if you don't have a lot of time. The views are stunning and you will cover a lot of ground. I have a whole post on choosing Helicopter Tours of the Grand Canyon.
Finish your day by heading to Tusayan and check out the National Geographic Visitors Centre and check out a movie at the IMAX.
Where to stay near the Grand Canyon
Tusayan is the nearest city to the Grand Canyon. The population city of Tusayan is only 550. The city is located along Highway 180 about 70 miles from Flagstaff.
You will find shops and restaurants there, the Grand Canyon IMAX, and the Grand Canyon Airport is about one mile south of town.
Another benefit of going in the winter with fewer tourists is the fact that booking accommodation will be easy!  I don't recommend just showing up though because some places will be closed. 
Check out my post on Where to stay near the Grand Canyon for more options. There are five cities near the Grand Canyon and this article gives you all of the best options depending on which direction you are heading after the Grand Canyon.
Canyon Plaza Premier Studio and Apartments
Views of the valleys and forest areas are featured in select Arizona apartments. Grand Canyon South Rim Entrance is 5 minutes' drive.
Studios feature a kitchenette and apartments offer a fully equipped kitchen at Canyon Plaza Premier Studio and Apartments. A balcony is provided in each unit.
JJK's Restaurant is open for breakfast, lunch, and dinner at the Studio and Apartments Canyon Plaza Premier.
Arizona Luxury Expeditions – Grand Canyon
Arizona Luxury Expeditions has tents where you can glamp overnight. This is part of their ll inclusive and customized to include 12'x12′ Expedition Tents, all meals freshly prepared daily, and a professional Tour Guide for your stay with us.
The weather at the Grand Canyon during Dec. averages 30-40 degrees Fahrenheit daytime and 20's degree at nighttime. They provide heaters for inside your sleeping and the private dining tents with plenty of warm heavy wool blankets. Most guests enjoy this time of the year in the Grand Canyon because of less crowds of people and the winter landscape that is incredible to experience.
Best Western Premier Grand Canyon Squire Inn
Located right next to the Holiday Inn Express, the Best Western has 250 rooms. The Best Western has an indoor heated pool, a hot tub, sauna, and fitness center.
There is also two restaurants in the hotel – Coronado Room and the Canyon Room. If you are looking for fast food you can find the McDonalds and Pizza Hut are close.
Holiday Inn Express Grand Canyon
The Holiday Inn Express is located just two miles from the South Entrance of the Grand Canyon. The Holiday Inn Express has 164 rooms and is located centrally in Tusayan which means you can walk to the restaurants and shops.
The Holiday Inn Express has an indoor pool, a whirlpool, and a continental breakfast is included.
The Grand Hotel at the Grand Canyon
The hotel offers 5-star accommodation with a hot tub. All units are equipped with air conditioning, a flat-screen TV with satellite channels, a microwave, a coffee machine, a shower, a hairdryer and a desk. Guest rooms include a wardrobe.
Featuring a restaurant, bar, shared lounge and free WiFi, The Grand Hotel at the Grand Canyon is located in Tusayan, 10 km from Mather Campground and 12 km from Bright Angel Trail. This 5-star hotel offers a concierge service and a tour desk. The hotel features an indoor pool, fitness centre, evening entertainment and a 24-hour front desk.
Grand Canyon Plaza Hotel
Canyon Plaza Premier Studio and Apartments is a 3 star hotel located 6 miles from the Grand Canyon.
There are only 10 rooms here and each room has a microwave, a refrigerator, and a coffee maker.
There is one restaurant here called JJK's restaurant. Close to the hotel is the Plaza Bonita where you can also eat.
Conclusion: Things to do in Grand Canyon South Rim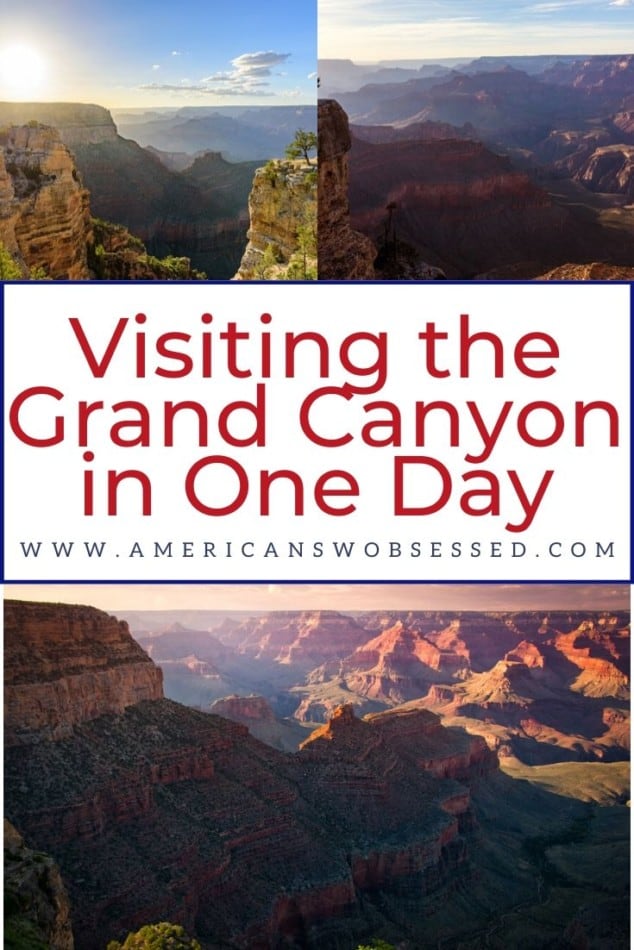 Continue Reading More on my website:
50+ Bucketlist Places in the Southwest
Upper or Lower Antelope Canyon – which is better?
Recent Posts