11 Best Hikes in Salt Lake City, Utah
Salt Lake City Hiking Trails: Are you looking for the best hikes in Salt Lake City? This list has some of the best hiking near Salt Lake City and Salt Lake City hikes for all activity levels.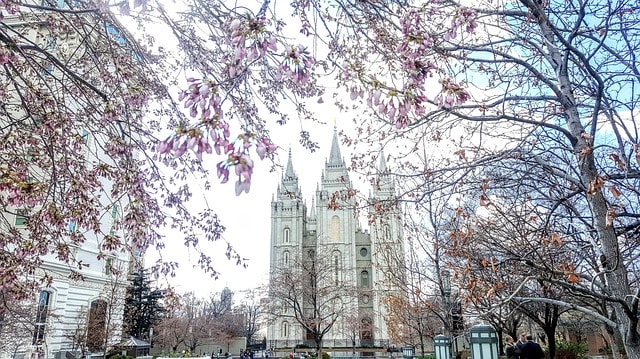 Hiking in Salt Lake City is a great way to get out and explore the city and nature and some are even short hikes in Salt Lake City. Salt Lake City hiking shows the real beauty of the city especially if you go hiking near Salt Lake City.
Tips for Hiking Salt Lake City
People who live in Utah are known as outdoor enthusiasts. If a local tells you that a hike is easy, just check up on that to confirm as everyone has a different fitness level. Also, note that it is dry and hot (in the summer) plus you are at altitude. Make sure you know what you are getting into before you start. Here are a few tips for Salt Lake City hiking:
Planning to explore more of Utah? Take a look at some of my other posts on Utah to help you plan your trip:
17 Best Airbnbs in Salt Lake City, Utah
The Perfect Airbnbs in Park City, Utah
21 Best Resorts in Utah: Luxury Hotels to Spoil Yourself
15 Best Salt Lake City Hikes you won't want to miss
Neff's Canyon
Difficulty: Moderate
Whether you are looking for a place where you can have a lovely hike or recharge after a week of hustling, Neff's Canyon is a great place to go to. A lot of locals stroll up this place either with their dogs or kids because it is just an easy hike.
This family-friendly and dog-friendly trail is a total gem that offers big views of the Salt Lake Valley. It heads up into the hills from an upscale neighborhood in Salt Lake Valley. The trail works steeply up and gains a steady elevation of 1,000 ft per mile. But the great thing abut Neff's Canyon is that you can hike up as far as you want, or just make it all the way to the ridge but it would still give you an amazing view looking down into Big Cottonwood Canyon.

Lake Blanche Trail
Difficulty: Moderate
Lake Blanche Trail is a wonderful trail that leads to three gorgeous lakes in the area namely: Lake Blanche, Lake Florence, and Lake Lillian. This trail will require you to have a vigorous three-mile uphill walking and winds its way up a side-canyon. It then reaches a beautiful lake surrounded by striking vaulted peaks.
And along the rail, you will also be amused by the great views of Raymond & Gobbler's Knob which are two peaks that sit between Big Cottonwood and Mill Creek Canyons. You can also have a glimpse of a variety of wildlife in the area such as deer, snakes, moose, and as well as varieties of birds.

Bells Canyon Trail
Difficulty: Difficult
Bells Canyon Trail is a well-known hike in Salt Lake City and it is particularly located at the mouth of Little Cottonwood Canyon. You will enjoy the fantastic views that this canyon trail can offer including the Lone Peak Wilderness, Wasatch Mountains, and the overlooks of Salt Lake City and some of the prettiest waterfalls near Salt Lake City.
Just two miles from the trailhead is a wonderful waterfall partway up Bells Canyon. There is a small sign that says where you should fork off, and the first waterfall is about 2.5 miles from the parking lot. Although swimming isn't allowed in the waterfall,many people bring their fishing rods but it is strictly for catch-and-release area only.
You can read my post on the best waterfall hikes in Utah for more inspiration for hiking!

Donut Waterfalls near Salt Lake City
Difficulty: Easy
Donut Falls is an easy hike in Salt Lake that almost every kid who grew up in Utah has probably been to either with family or friends. Since it is an easy hike, parents would tag along their kids to hike here. And just three-quarter of a mile of hike, it'll lead you to a unique waterfall that plungers through a hole in the rock and into a small cave.
The trail traverses through spruce forest, aspen, and open meadows before setting foot on a narrow and rocky drainage below the falls. It has a total trail length of 3.5 miles back and forth with a slight elevation gain. According to some locals, the best time to hike Donut Falls is during summer because it's when wildflowers appear in the area.

Mt. Olympus
Difficulty: Difficult
Hiking one of the most well-known peaks in Utah surely gives your legs a workout. Although it is not the tallest summit in the area, it has a total elevation gain of 4,100 ft one way. And in just half an hour of hiking, the trail rapidly shifts from city to backcountry as you enter the Mt. Olympus Wilderness.
The 7 mile round trip summit hike to Mount Olympus usually takes 7 hours. So make sure to equip yourself with the basic necessities and gears for hiking. The trail is very steep and entirely unshaded. But even if hiking Mt Olympus is very strenuous, you will surely be rewarded with sweeping views of the entire city.

Bonneville Shoreline Trail
Difficulty: Easy
Another easy that you can take in Salt Lake City is the Bonneville Shoreline Trail. It is composed of a series of trails along the slope of the Wasatch Mountains and it is a favorite trail not just by hikers but also runners and bikers because it is a multi-use recreational trail. It gives hikers, runners and bikers an access to the foothills and mountains with an elevation gain of 5,100 feet.
However, this trail lacks shade so it can really be hot during summer months. The best season to take this trial is during winter months and it's always hard-packed.

Grandeur Peak
Difficulty: Moderate
Grandeur Peak is an easily-attainable summit in the area of Salt Lake City. Since Grandeur Peak is a popular trail and summit in the area, it is highly suggested that you start early to avoid crowds. The trail starts at the upper end of the Church Fork picnic area.
This peak offers incredible views of Salt Lake Valley City and it is one of the high points in Millcreek Canyon. Although this is a moderate hike, some hikers would find it difficult and tough especially for beginners with its total hike length of 6 miles round trip and an elevation gain of 2,900 feet.

White Pine Lake
Difficulty: Difficult
Although White Pine Lake is a strenuous and difficult hike, it is easy to follow but you will be slowly scrambling the ridge that divides Tony Grave Lake and White Pine Lake. It has a total hike length of 8.05 miles round trip and a total elevation of 1,455 feet.
Aside from hiking, you can also do other outdoor activities in the area such as camping. So if you want to pump up your adventure, you can bring your backpacking gear and be prepared to have a good night under the stars.

Cecret Lake
Difficulty: Easy
It is no secret that Cecret Lake is one of the most gorgeous, fun, and rewarding hikes in the Salt Lake area. It is located near Alta Town and the trail is 1.2 miles one way and has an elevation gain of 450 feet. To access the trail, you need to drive up the main road of Little Cottonwood Canyon and the road turns to gravel and it's suitable for two-wheeled cars only.
You can expect to see lots of beautiful wildflower meadows while traversing a footbridge over Little Cottonwood Creek on your way to the Cecret Lake. The trail is well-signed so you wont get confused with trail and there are numerous signs and information regarding the wildlife and geology about the area.
Once you reach the Lake, you will witness moose family drinking from the lake. However, the lake is not allowed for swimming but you can still explore the area and you can even continue your hike going to the Sugarloaf Peak if you are up for more adventure.

Ensign Peak
Difficulty: Easy
The Ensign Peak is the perfect way if you want to view the beautiful city of Salt Lake. The trail is abundant in expansive views and the area is well-maintained, meaning it is paved and accessible to strollers and wheelchairs.
The trail has a lot of interpretative signs to enrich your minds about the wealthy history, geology, and plant life of the area. To reach the peak, you need to start in a small plaza then continue to a lower viewpoint called Vista Mound. Here, you can have a quick stopover and still enjoy a great view. The road then rapidly transitions to dirt and gravel and starts to scramble quickly up the hillside.
Although this is an easy hike, it can also be very hot in the peak during summer, so make sure to equip yourselves with enough water.

Red Pine Lake
Difficulty: Moderate
The hike going to Red Pine Lake is easily doable, at 7 miles round trip, this is actually the third tallest peak in Wasatch Range. Although the hikes are steep, you'll definitely love it because of the beautiful landscape that surrounds the area.
Red Pine Lake is nestled in the Lone Peak Wilderness Area where you can catch some wildflowers during summer and an array of birds to watch throughout the seasons.
When you reach the Lower Red Pine Lake, there are many rocks to sit on where you can eat your lunch or snack. You can also camp in the area, all camps must be set up at least 200 feet from the trail and lake.

Grizzly Gulch
Difficulty: Moderate
Grizzly Gulch is a beautiful hike and an awesome backcountry ski area located at the top of Little Cottonwood Canyon. To reach the Grizzly Gulch Trailhead, you need to drive up the Alta Ski Resort.
And once you get there, you can decide wherever you want to ski. So if skiing and hiking is a great combo for you, then Grizzly Gulch is the perfect place to be.

Lake Mary, Martha and Catherine
Difficulty: Easy
Incredible views and great autumn color are just some of the things that you will experience when hiking the lake Mary/Catherine Pass Trail. This trail has many options in terms of adjusting your hike length and it has three major lakes and access to Little Cottonwood Canyon.
There is a trail information board that lets you know all the distances to the various lakes and the first and largest lake that you will first encounter is Lake Mary. It is followed by Lake Martha, and finally Lake Catherine.
After passing Lake Catherine, you will need to gain some more elevation and head into Catherine Pass. This area lets you see another lake which is Catherine Lake and it is surrounded by peaks that lets you take some great photos at any time of day.

Brighton Lakes, Uinta-Wasatch-Cache National Forest
Difficulty: Moderate
The Brighton Lakes Trail is a connecting trail between Twin Lakes Reservoir and the Lake Mary Trail. It offers panoramic views of the peaks that surround the Brighton Bowl.
It has a total hike length of 11.3 km and an elevation gain of 551 m, and it is rated as a moderate to difficult hike. And since it is located within a protected watershed, swimming is not allowed in the area as well as bringing your furbabies.
Make sure to take your time when taking this trail and enjoy the beauty of each lake offers as well as the fun outdoor experience.

Red Butte Canyon
Difficulty: Moderate
The Red Butte Canyon Trail is a favorite trail among locals for being so close to town. It offers beautiful city views from the top as well as the Great Salt Lake and Wasatch Front.
It is rated as a quite challenging trail but with promising views. Although it is not well-signed, still it is a great family hiking area and there are plenty of benches to stop and take a rest while savoring the fresh air and incredible views.

Wild Rose Trailhead
Difficulty: Easy
The Wild Rose Trailhead is a very popular trail among hikers, runner, and mountain bike riders. This trail features beautiful wild flowers and is a good trail for all skill levels. Dogs are also allowed to use this trail and the best time to visit Wild Rose is from April until October.
What makes this trail amazing is that you can pick your distance and the elevation is extremely gradual. There is an easy 2 and 1/2 mile loop that is suitable for hiking and riding; an easy 1 mile to lookout point; and a moderate 2 and 1/2 mile trail that overlooks Salt Lake.

Donner Trail Park
Difficulty: Easy
The Donner Trail Park features a paved loop path with an elevation gain of 150 feet. It is basically a park on the east bench of Salt Lake City and it is a great location if you want a more strenuous walk or jog.
Plus, it has incredible valley views that will keep you motivated to finish your walk or jog around the 1.0 mile loop. This trail is suitable for all ages and you can bring your dogs but they must be on leash.
Where to stay in Salt Lake City, Utah
One of my favorite areas to stay in Salt Lake City is in the downtown area. When I travel I like to be able to walk from my hotel to the coffee shops or restaurants and not think about parking at each stop. I love the convenience of it all plus I love the hustle and bustle of the city.
And Salt Lake City really does have it all. From the vibrant downtown area to the mountains and surrounding areas that are so beautiful (especially in the fall). There are so many beautiful canyons and areas to explore.
My favorite hotel in downtown Salt Lake City is the Grand America Hotel. This is a great location for your stay. It is nice and close to everything you need downtown.
There are tons of great Airbnbs in Salt Lake City. I have an entire post that shows the different areas to stay and this list is for all budgets!
If you stay downtown you'll need to rent a car to get to the canyons surrounding Salt Lake City. I recommend using Discover Cars. Make sure to reserve a car in advance using Discover Cars and pick it up at the Salt Lake City Airport.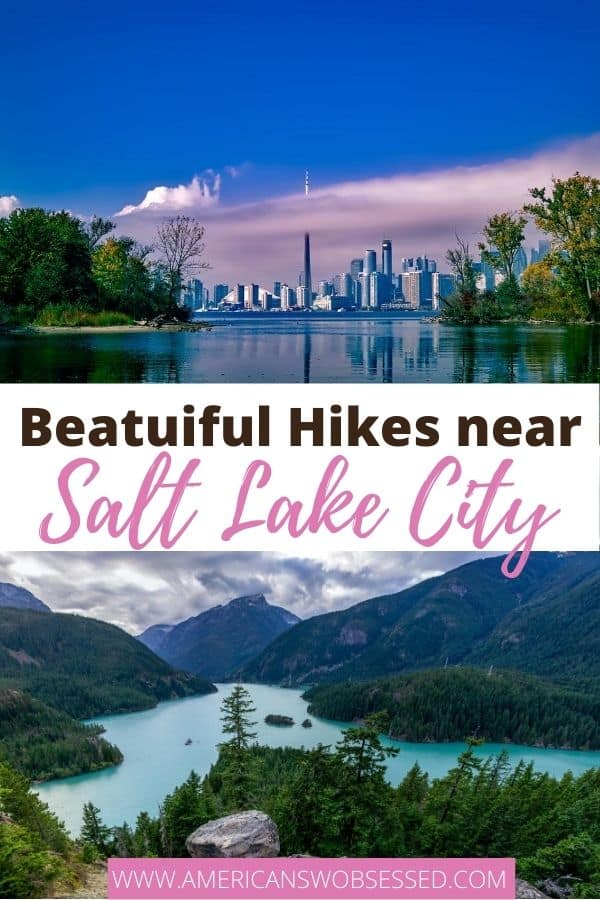 Continue Reading more on my website about hiking in Utah:
The most beautiful waterfalls in Utah
Slot Canyons in Utah you must explore
Hot Springs in Utah to relax
Explore these Caves in Utah
hiking salt lake salt lake city hiking trails hiking trails in salt lake city hiking trails salt lake hiking around salt lake city
Recent Posts