15 Best Hikes in Southern Utah – you won't want to miss
Are you looking for the Best Hikes in Southern Utah? This list of Southern Utah hikes has something for everyone and every fitness level. These hikes are absolutely stunning.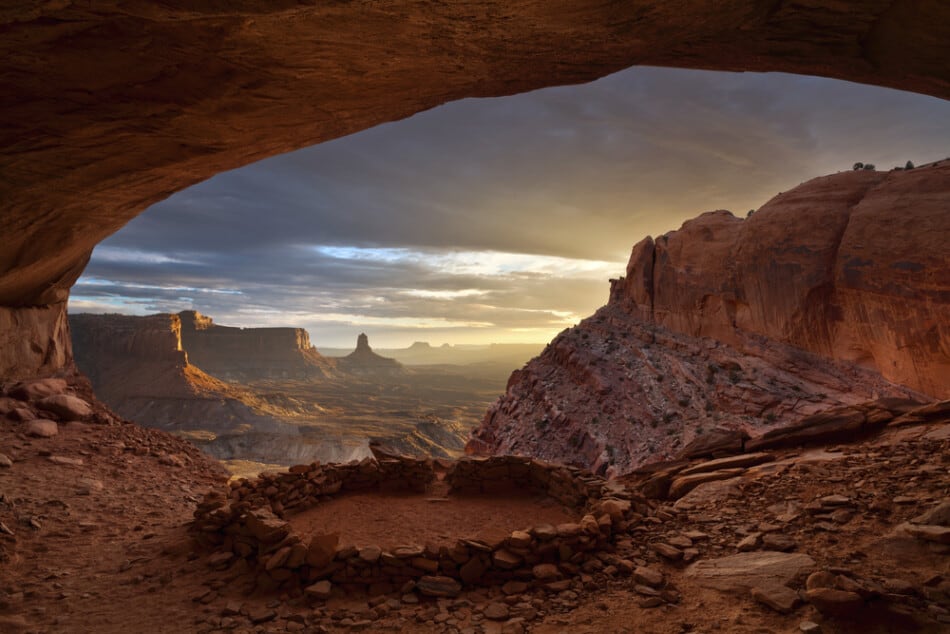 Hiking through Utah's varied environments is the perfect way to see the stunning scenery. Some of Utah's most remote areas are only accessible by serious backpackers, but other breathtakingly beautiful scenery can be reached through easy to moderate hikes.
Thank you for supporting this website written by an American. This post may contain affiliate links. This means I earn a small commission on these links at no extra cost to you.
Tips for Hiking in Southern Utah
Utah is perfect for outdoor enthusiasts. There is a hike for everyone on this list and for different fitness levels. Also, note that it is dry and hot (in the summer) and make sure you know what you are getting into before you start. Here are a few tips for Utah hiking:
Bring a reusable water bottle and lots of water! Remember you are in the sun and you will need to drink lots of water. I love my LifeStraw Filtered Water Bottle.  I can refill this bottle anywhere and it comes with a carabiner to connect it to my daypack.
Check the Weather – days over 100 degrees are very common.  Make sure to check.
Hiking boots or sandals that will protect your feet! I love good shoes.  I need all the support and help I can get.  I actually love these sandals for hiking and have a whole post on Merrell vs Keen shoes for hiking.  I also love these hiking boots which I used for Hiking in the Grand Canyon.
Bring hiking poles for balance and to protect your knees.  I know many experienced hikers (and even amateur ones) think that hiking poles are for old people who lose their balance.  Actually, hiking poles can help when going down steep inclines or when scrambling over rocks.  They are great to hike with even for the most experienced hiker. 
Wear a sunhat. I feel like this whole post is about how high you are in the mountains and how much closer you are to the sun but it is so true. At elevation, you are closer to the sun and more likely to burn. Wear sun protection such as a sun hat and sunscreen.
Be aware of the wildlife. This is the Southwest and you will need to watch out for snakes and other wildlife such as moose or a bear.  Please stay away from wildlife and do not feed them.  I recommend carrying bear spray as well.
Start Early – If you want to avoid the traffic and the heat you will need to start your hike early.  That way it will be nice and cool and the smog will not affect you either.
Leave no trace. If you are new to the concept of Leave No Trace it is all about preserving the environment to ensure it is in the same or better condition when you leave it.  This means that you should stick to the trails and carry out everything that you carried in.  This is a great explanation of the Leave No Trace principles!
Water shoes are great for water hikes– If you don't have a pair, I highly suggest it as they are affordable.  I have an article on the pros and cons of several pairs of water shoes.
Bring Bug Spray and a snack: Be sure to bring everything you need including a snack like a protein bar plus BUG SPRAY.
15 Best Southern Utah Hikes
Hickman Bridge – Capitol Reef National Park
Distance: 1.8-miles round trip
Difficulty: Easy
One of the most interesting things about Hickman Bridge is that it is well marked, so people would not have to worry about losing their way. It is also very easy to reach, with less than two miles from the Visitor Center. This 0.9-mile trail remains the most popular hike because it offers hikers a chance to witness a stunning trek.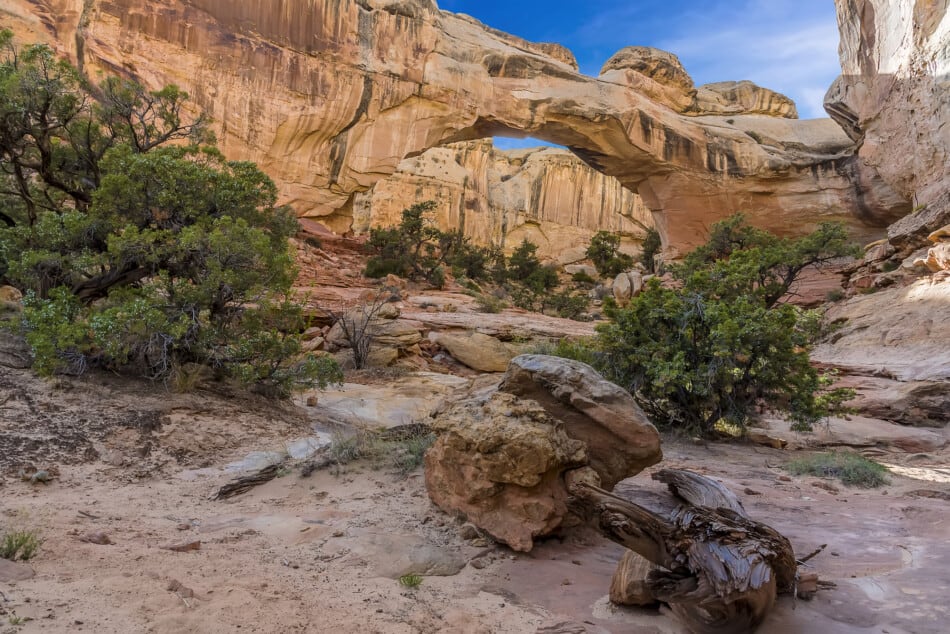 The trail is not difficult and it provides access to some amazing sites including a large arch, the small arch, and a Fremont pit house ruin. The spot is crowded during the spring and fall seasons, so if you happen to visit it during these seasons, you should arrive early in the morning. This way, you will be able to avoid crowds, and you will also manage to get parking space.
Check out my post on the Best Hikes in Capitol Reef National Park
Mesa Arch – Canyonlands National Park
Distance: 0.5 -miles round trip
Difficulty: Easy
Mesa Arch is located in Canyonlands National Park which can be reached as you drive U.S. Highway 101 north of Moab for ten miles.  You then turn left on Utah highway 313 for the 22-mile-drive to the Islands in the Sky entrance of Canyonlands National Park.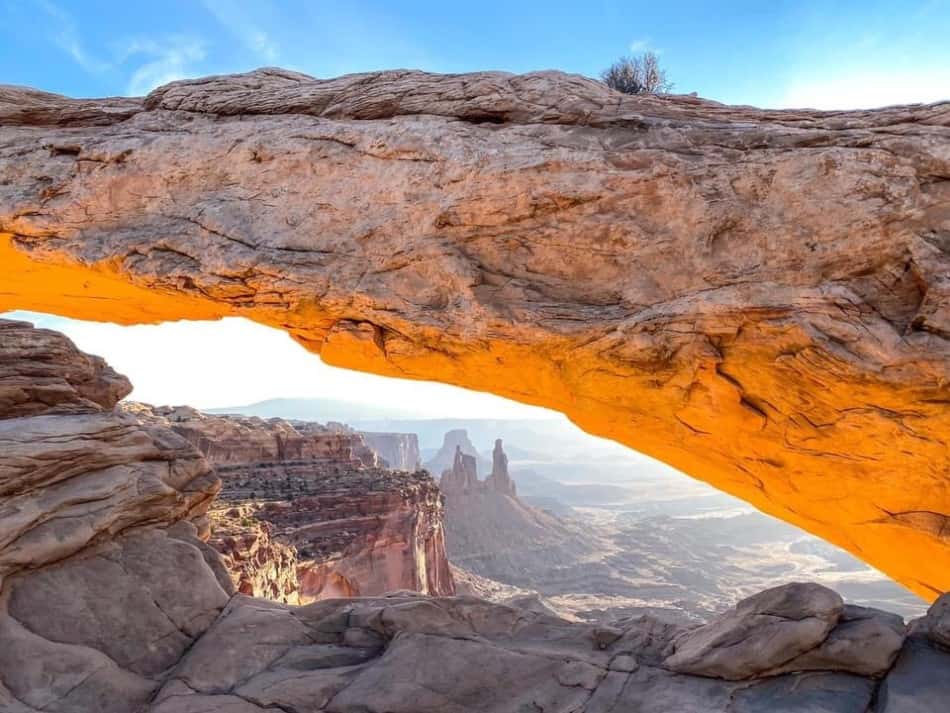 Mesa Arch is a 45 minute drive from Moab. That last 22 miles into Canyonlands is quite a boring drive but once you get there it is well worth it.
Don't worry if the park is not open yet you can still continue into the park and they will confirm your pass or ticket when you leave.
Once you park at the Mesa Arch parking lot it is a 10 minute walk to the Arch. If you are arriving before sunrise it will be dark and the path is rocky and uneven so make sure to bring a flashlight.
Visiting Mesa Arch at Sunrise is one of the highlights of Canyonlands. The color of the sun hitting the arch in the morning light is just amazing. And it just keeps getting better and better.
You can read more on my website about visiting Mesa Arch at Sunrise or my post on the Best Hikes in Canyonlands National Park
Buckskin Gulch
Location: 43-miles East of Kanab
Length: 21-miles one way
Difficulty: Hard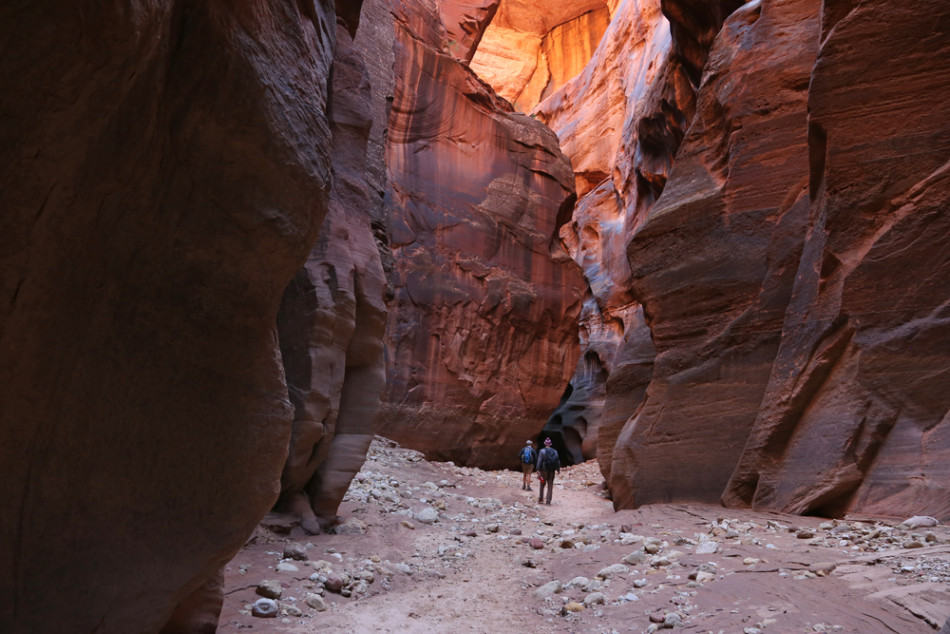 This is one of the longest slot canyons in the world and could take many days to hike the entirety of this canyon. The trail itself is not technical, however, due to the length it is considered a strenuous hike.
The route takes its visitors through a beautiful slot that is both dark and narrow. The hike can be completed in one day although, it is recommended to take on this hike as an overnight backpacking adventure. A permit is required for entrance into this slot canyon, whether your visit is for one day or overnight. This slot canyon is open year-round although, fall and spring is the most ideal time of year and hike this gorgeous slot canyon.
Buckskin Gulch is the longest slot canyon in the world and one of the best slot canyons in Utah.
Lower Calf Creek – Zion National Park
Distance: 5.8-miles round trip
Difficulty: Easy
Located near the city of Boulder, Utah is the calf creek falls hiking trails. The trail to the lower falls is much more accessible to the public, easier to hike, features a larger waterfall, and hence, the more popular trail of the two.

The trail is a generally flat trail that leads to a large 120-ft waterfall that has a pool at the bottom. Visitors and hikers of the trail are welcome to take a dip and swim around the crashing fall.
Check out my post on the Best Waterfalls in Utah
Corona and Bowtie Arch
The hike to these arches is one of the best short hikes in Moab. The hike is only 3 miles long and is an extremely popular hike in Moab.
To get to Bowtie Arch you need to climb a ladder and go up the stairs before starting the trail. From Bowtie the trail continues onto Corona.
It is pretty easy to follow the trail, with the last part before you reach Corona Arch being the trickiest section. The arch is 140 feet across and 105 feet high and many hikers like to lay beneath it.
Check out my post on the Best Hikes in Moab, Utah
Kanarra Creek Canyon
Location: Zion National Park (Kolob Canyon Region)
Length: 4.3-miles roundtrip
Difficulty: Moderate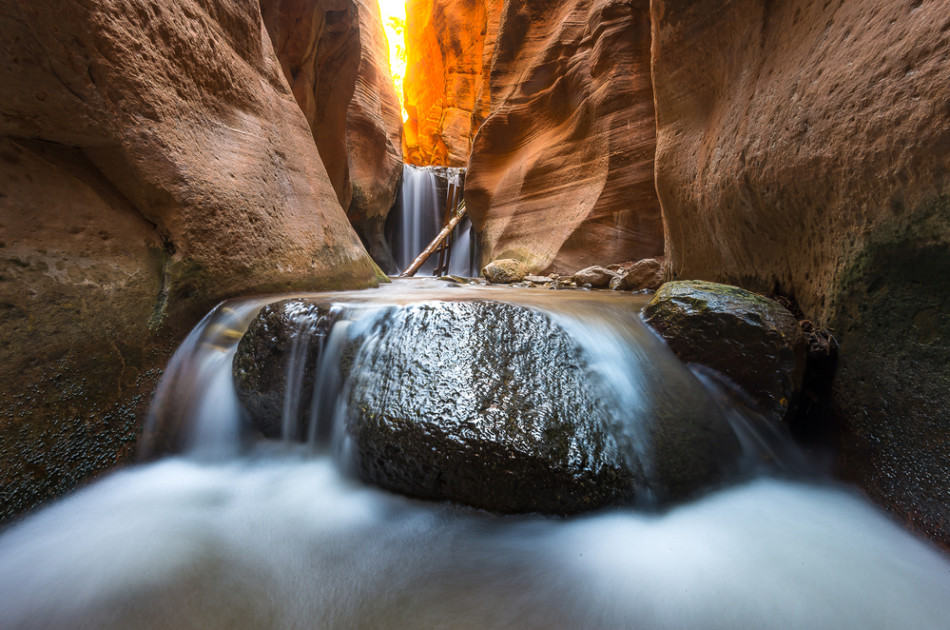 This is a beautiful slot canyon in Zion NP that is perfect for any and all photographic opportunities. This is a short canyon hike that is easy to complete and does not require much technical canyon abilities, so is a great choice when at the national park. there are a few small obstacles to get through which add to the appeal of this adventurous hike but are rated as easy to complete and do not require much experience. this canyon provides dramatic landscapes and beautifully created canyon walls, perfect for nature admiring and great photography chances.
Delicate Arch – Arches National Park
Distance: 3 miles round trip
Length of Time: 1.5 to 3 hours
Delicate Arch is the symbol of Utah and you can see it on the Utah State license plates. This is the most popular hike in Arches and the arch is free-standing arch at 46 feet high and 32 feet wide.
The arch only became known as Delicate Arch in 1943 because of the way that it looks to have been delicately chiseled out of sandstone.
There are three ways to see Delicate Arch. The first is through a 3 mile hike to see the arch up close. The second is a short half mile hike up to a upper viewpoint and the third is 100 metres to the lower viewpoint.
The trail to Delicate Arch is only three miles round trip but it is quite difficult. We didn't do this hike because it takes anywhere from 1.5 hours to 3 hours to complete. It is also fairly crowded, especially at sunset.
The second hike is to the Upper Viewpoint. This is the hike we did because we were short on time. From the parking lot it is only half a mile away but it is very steep at the end.
It takes 15-30 minutes to get to the top of the viewpoint. This is a great way to see the arch up close. Obviously not as close as the hike to the arch but you still can see it well.
The third is the lower viewpoint which is simply walking 100 yards to the viewpoint area. There are a few binoculars there so you can see the arch. This is not a recommended viewpoint as you really do not see the arch up close at all or get a feeling for just how big the arch is in real life.
Check out my post on the Best Hikes in Arches National Park
Queens Garden – Bryce Canyon National Park
Distance: 1.8-miles round trip
Difficulty: Easy
Queens Garden is a trail within the Bryce Canyon National Park that is one of the two most popular routes within the park. This hike will lead you into a visually stunning descent down into the rock formations.
The trail will eventually continue to descend into a forest-like area, if you choose to continue on that far. Eventually the trail links up with the Navajo Loop to take you back to where you started.
Starting near Sunrise Point, this 1.8 mile trail is better accessed between the months of April and November and proves to be an easy walk for most. Along your path, you will eventually run into the Queens Garden itself, which features sundry rock formations in a variety of colors said to look like Queen Victoria, hence the name.
Check out my post on the Best Hikes in Bryce Canyon National Park
The Narrows
Location: Zion National Park
Length: 16-miles
Difficulty: Hard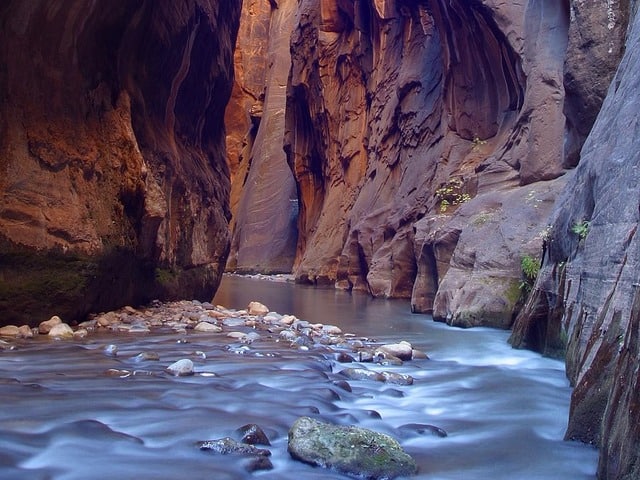 This is often referred to as the perfect slot canyon. Despite its challenges, the canyon provides beautiful breath-taking views and is a memorable experience for anyone who attempts it. You can complete the trail in various ways.
Firstly, you can start from the bottom and hike as far as you can up before turning around and heading back down. This is a relatively moderate hike and can be easily completed in one day.
The alternative is to complete the entire route, in which case you start from the top and work your way down. This is a more difficult hike and can either be done in one day or as a back-packing trip over the course of 2 or more days. Which ever way you chose to complete it, it will be a great adventure filled with beautiful scenery all around.
Canyon Overlook Trail – Zion National Park
Distance: 1-mile round trip
Difficulty: easy to moderate
The Canyon Overlook trail starts with some steep elevation but once past the initial steps, this trail is relatively flat for the remainder of the hike.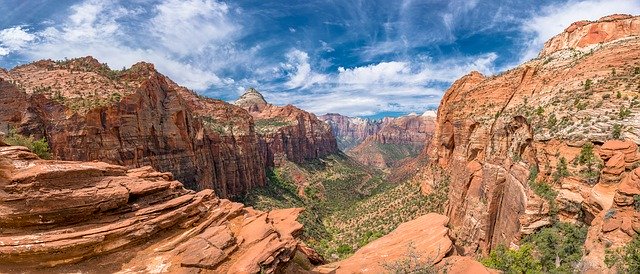 The trail is moderately easy however at some points it can be narrow and have little to no barrier between the path and the nearby drop. This makes the trail unfit for families with children and people who may be uncomfortable with these conditions.
This trail in Zion National Park itself is just as much part of the attraction as the final view point destination. On one side of the trail is the cliff walls of a mountain, and on the other side is a large drop (mostly guarded by railings and barriers) that overlook the beauty of the park.
This hike is not accessible through the shuttles provided by the park, so having your own car or mode of transportation is necessary if you wish to complete this hike.
Check out my post on the Best Hikes in Zion National Park
Fairyland Loop
Distance: 7.6-mile round trip
Difficulty: difficult
Fairyland Loop – Considered a difficult hike to some, this 7.6 mile looping trail might leave you gasping for breath. The long hike is well worth it though, as it features beautiful hoodoos, including the Pink Cliffs and Claron Formations, with the most scenic views being at the beginning and near end of the trail.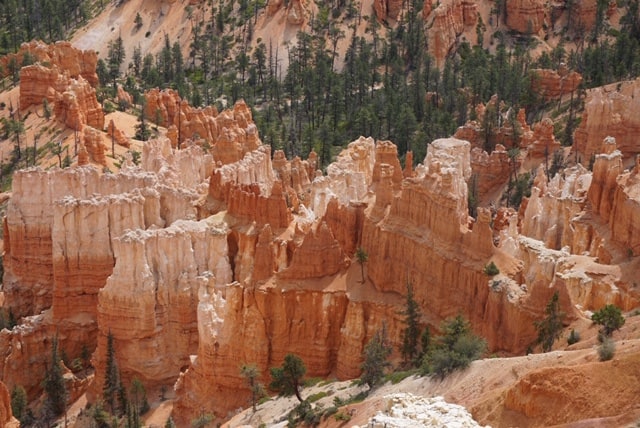 Because of it's length and varying elevation throughout, it is recommended that you slather on a thick layer of sunscreen and bring plenty of snacks and water. There is also a free shuttle bus that runs from the trail to Sunrise Point if, by chance, you get winded or have an emergency.
The nice thing is that, because of it's length and intensity, this path is less traveled by others, making for a much quieter experience than some.
Angels Landing – Zion National Park
Distance: 5.4-mile round trip
Difficulty: hard
Angels Landing is arguably Zion National Park's most famous hiking trail. Angels Landing may be popular, but it is a difficult hike.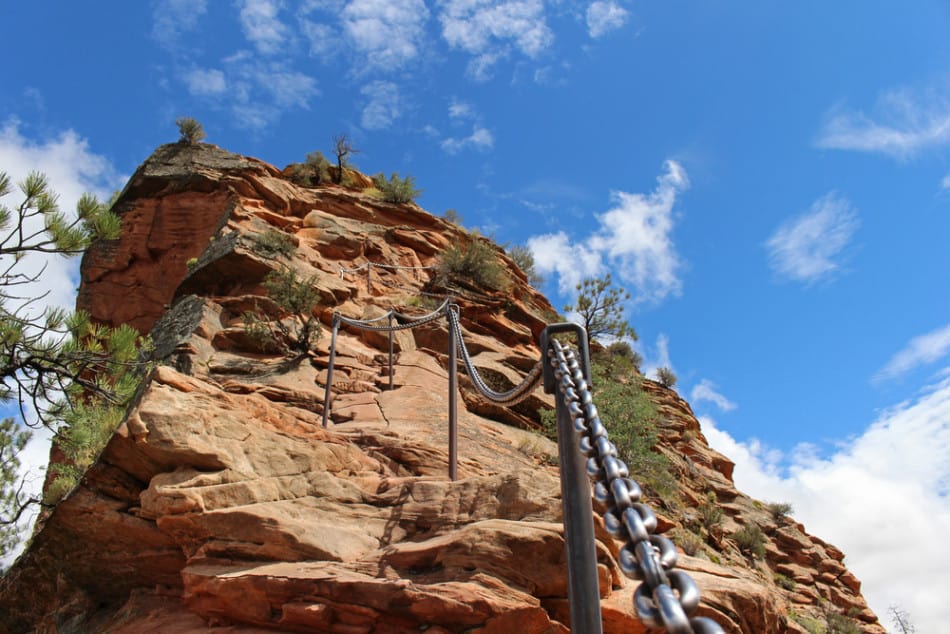 If you do decide to attempt Angels Landing, it is well worth it. Once at the summit, you are rewarded with one of a kind 360-degree views of the canyons below. Getting to this point is no walk in the park, however. This hike takes visitors up the side of a mountain that has some serious elevations and narrow walkways involved.
Angels Landing is one of the stops along the park's shuttle bus route, so it is easy to get to if you want to take on the challenge.
Golden Cathedral, Grand Staircase Escalante
Distance: 9.1 miles
Difficulty: moderate
Golden Cathedral is a breathtaking, secluded hike in red rock country that leads to an emerald pool grotto at the end of Neon Canyon in Grand Staircase-Escalante National Monument. At a certain time of day, the sun rays shine through a hole in the cavernous ceiling, creating incredible lighting for pictures.
Scout Cave
Scout Cave Trail is located south of Snow Canyon State Park and it is a combination of easy and moderate hike. The trail is open year-round and it passes over lava low fields, stream beds, and Navajo Sandstone rocks.
This trail can be accessed in many ways but the most popular path is via Johnson Canyon trail. The first part of the trail is rocky and you will be crossing over lava fields. It has a total hike length of 3.5 miles round trip and can be completed in 1.5 to 2 hours depending on pace.
The trail has a rocky terrain but it is not that much of a hassle for you to work hard for it. And you will be rewarded with an amazing pair of shallow sandstone caves once you reach the final goal. Don't forget to enjoy the view and take lots of pictures.
You can also check out my post on Caves in Utah to see more incredible caverns around Utah.
Yant Flat Cliffs
The Yant Flat Cliffs is a not widely known hike located northwest of St. George. It is a stretch of red and orange rocks and a sandstone layer that extends 3 miles long at the southern boundary of a rocky plateau.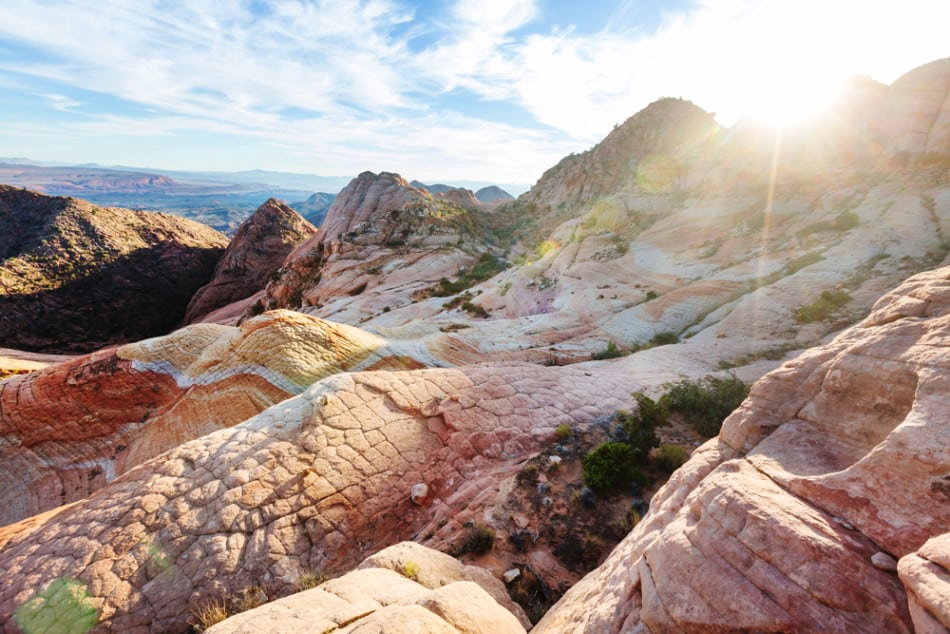 The Yant Flat can be accessed from the west starting at St. George but the route can be rough and rocky. But it can also be accessed from the east, beginning at Leeds along I-15.Then take exit 23 and drive road FR032. And the best time to hike and explore this site is Spring or Fall, or before the weather gets extremely hot and unbearable.
One of the best things about the Yant Flat Cliffs is that once you reach the point, you have the liberty to explore the area on your own. There are no official trails or famous sites to see and that's what makes the journey more special.
Check out my post on the Best Hikes in St. George, Utah
Don't Forget About Travel Insurance!
Before you leave for your trip make sure you have a valid Travel Insurance Policy because accidents happen on the road. I have used World Nomads when I travel since 2015 when I went to Africa and I love them.
Getting coverage is important as you never know what will happen and need assistance when you are more than a hundred miles from home in case of an accident, sickness, theft, etc.
Get a travel insurance quote for your trip here.
Recent Posts