Why Visiting Phoenix in Winter is the Best Time to Explore
Winter in Phoenix: Are you thinking of visiting Phoenix in the Winter? Winter in Phoenix is a great time to visit. Whether you decide to visit Phoenix in December, Phoenix in January, or Phoenix in February you will not be disappointed.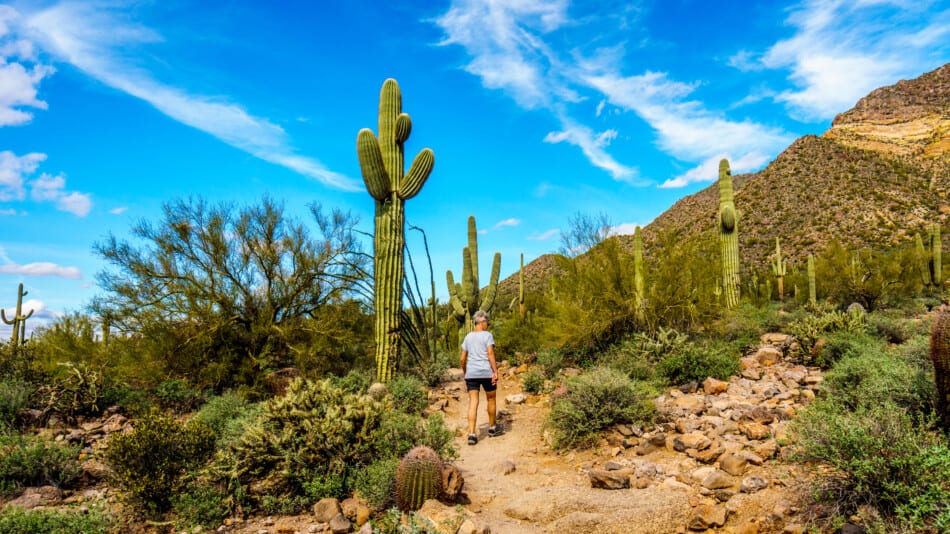 There is a reason that so many people spend winter in Phoenix, Arizona. Phoenix winter temperatures are pleasant and sunny during the day and you are sure to enjoy a Phoenix winter vacation.
Phoenix Weather in Winter – monthly highs and lows
Phoenix in December – Average low temperatures 45°F (7°C) high temperatures 66°F (19°C)
Phoenix in January – Average low temperatures 46°F (20°C) high temperatures 67°F (8°C)
Phoenix in February – Average low temperatures 49°F (9°C) high temperatures 71°F (22°C)
Thank you for supporting this website written by an American. This post may contain affiliate links. This means I earn a small commission on these links at no extra cost to you.
Where to stay in Phoenix in Winter
The Phoenix makes for a great weekend escape. Fresh air, beautiful scenery and being in nature does a world of good for the soul.
If you are taking a road trip remember to reserve a car in advance using Discover Cars .
15 Best Things to do in Winter in Phoenix
Explore the Desert Botanic Gardens
One of the places you can visit while enjoying the winter is the Desert Botanic Gardens. This 140-acre botanical garden is located in Papago Park.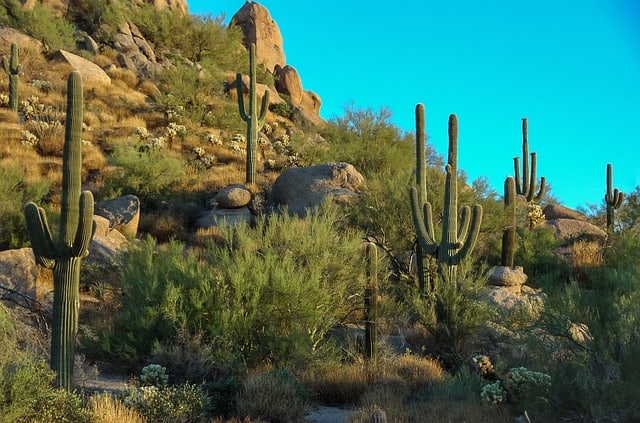 The garden offers the world's finest collection of arid plants from deserts of the world and a variety of events to look forward to. The Chihuly in the Desert is a blockbuster exhibition featuring the works of the world-renowned glass artist Dale Chihuly.
One of the highlighted events every winter is the Las Noches de las Luminarias where there will be a live musical performance, hot cocoa, and 8000 hand-lit Luminaria bags that will make the garden even more spectacular than ever before.
Visit the Garden Shop where you can find a variety of gifts for your friends and family. You can see the Christmas cactus that only blooms in the winter.
The Desert Botanic Gardens is a hidden gem that is worth your time visiting.
The Desert Botanic Gardens are one of my favorite things to do in Phoenix.
Tour Old Town Scottsdale
Visit one of Phoenix's historic yet popular downtown area in the American Southwest, Old Town Scottsdale.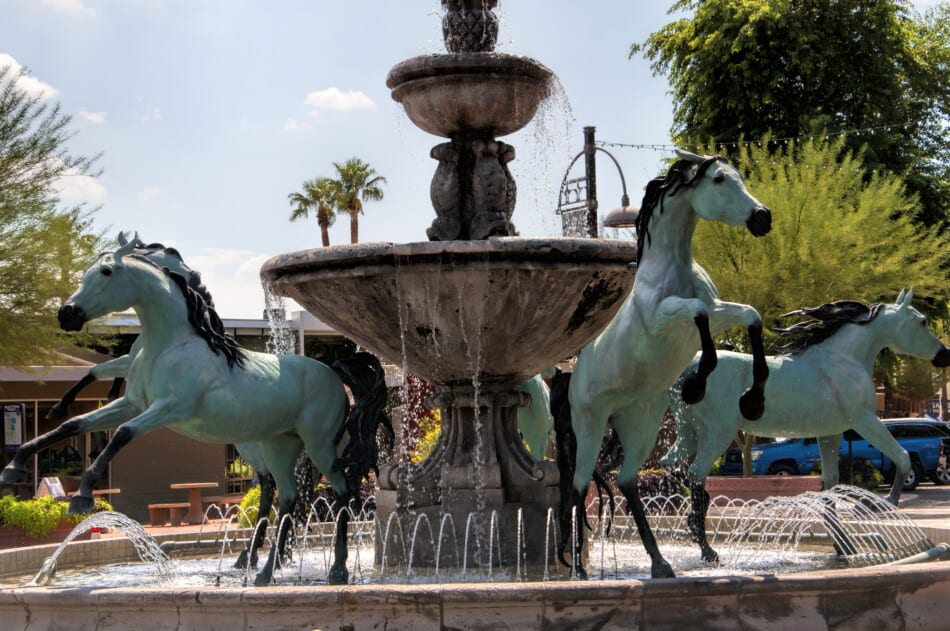 Located in the heart of Scottsdale, Arizona, is a pedestrian-filled friendly street with popular restaurants, quaint tourist shops, posh condos, monuments and world-class art galleries. The LDV Winery's Tasting Room has one of several varieties of flavor to share with a friend.
When you are looking for a place to stay, then the Bespoke Inn is the place for you. This hotel is an oasis courtyard of the Arts District in Old Town. Stepping through the garden gate is a secret garden that evokes feelings of European courtyards of peace and tranquility.
When looking for great places to eat, then the Virtu Honest Craft is the place to dine in. This restaurant is run by James Beard and 2014's "Best New Restaurant" nominee, Chef Gio Osso. This restaurant has a three-course menu that reflects the changing premium products to create a progressive meal for everyone.
There are many more things to explore and many things to enjoy here in Scottsdale. Check out my post on the Best Things to do in Scottsdale.
Hike in the Superstition Mountains
Visit one of the most photographed and painted landmarks in Arizona, the Superstition Mountain.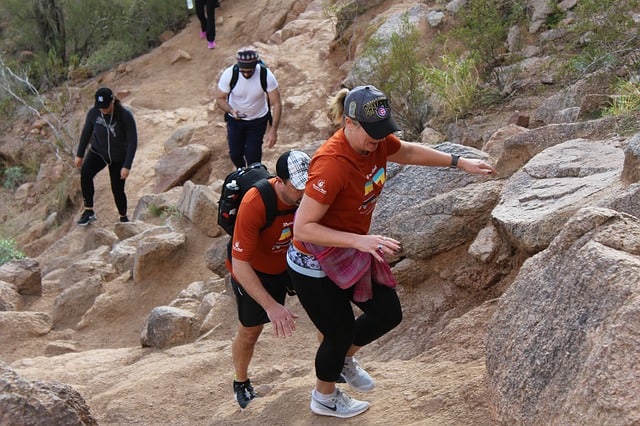 The Superstition Mountain is a gorgeous mountain range that is the product of many natural forces like intense volcanic activity. This mountain range is less than an hour east of Phoenix and is famous for its immense beauty.
Its name "Superstition" derives from the very mystery surrounding it. This mountain offers much like a stunning desert environment to explore and its state park. T
The Lost Dutchman State Park offers the introduction to this desert wilderness. Within the park, you can get to hike in some of the trails in the Superstition Wilderness.
One of the trails you can hike is the Native Plant Trail which is a short trail just a quarter-mile long and features desert plants with interpretive signs for people starting out in hiking.
There are more things to learn and explore in the Superstition Mountains.
Check out my post on the Best Hiking Trails in Phoenix for more ideas.
Shop at an outdoor mall and take in the boutiques
No matter where you are, shopping is an essential thing to do whenever you are traveling, luckily Phoenix has a variety of outdoor malls to visit and shop.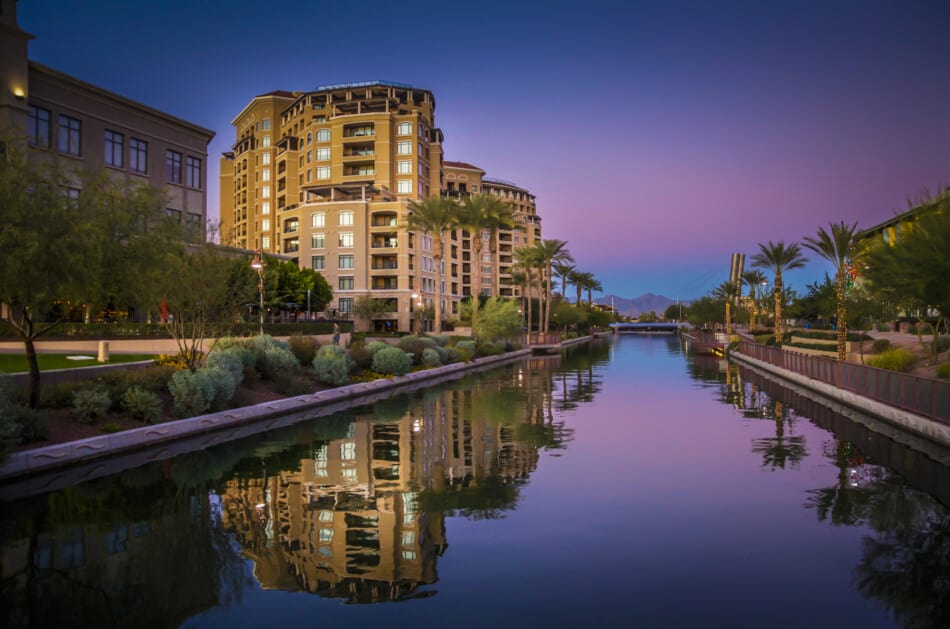 The Biltmore Fashion Park is an upscale shopping experience in a luxurious surrounding with elegantly landscaped flower beds.
This outdoor shopping area has been a destination for locals for decades which keeps getting better and better every year.
The Arizona Center is a shopping mall located in the heart of city center Phoenix where you can enjoy the scenery, good food in the courtyard, and load off a bit in the secluded, tucked away spots.
Another shopping mall is the Desert Ridge Marketplace. This is a shopping mall with over 110 acres of retail space that offers stores with big names, department stores, specialty retailers, restaurants, and many more.
Aside from the numerous store to roam and shop, you can head over to the cinema to catch the latest blockbuster or try rock climbing in the entertainment center. Phoenix has so many outdoor malls that it will just take you 2 days to cover them all, so make sure to visit them before anything else.
Go Golfing at one of the famous golf courses
Phoenix is the perfect place to go golfing in the winter. The weather is warm and sunny and there are many golf courses to choose from.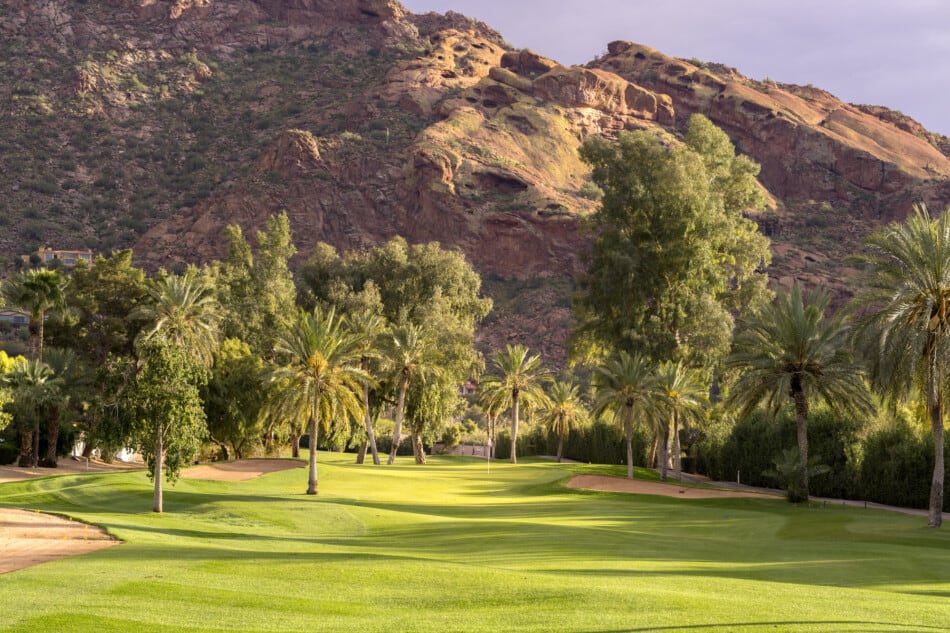 Phoenix has the reputation of being one of the world's finest golf destinations and one of these golf destinations is the Troon North Golf Club which has a spectacular golf venue that features the British Open-style courses and more.
The Grayhawk Golf Club is home to two championship golf courses built by architect Tom Frazio which are the Talon and the Raptor, this golf venue also has a unique signature hole located at the 174 yard eighth-hole nicknamed "Aces and Eight" but you have to be there and find out why it is nicknamed that way.
Golfing is always a good choice in the winter here in Phoenix.
Lights of the World – World Lantern Festival
Winter in Phoenix gets a little bit better since the World Lantern Festival will be one of the events to look forward to every year.
The World Lantern Festival is a unique international lantern arts festival that combines the age-old Chinese tradition of lantern festivals with modern cutting edge technology and lights.
The festival showcases many different cultures from around the globe.
Aside from the beautiful lights that you can participate and enjoy, the World Lantern Festival has many carnival rides that you can ride as many times as you want as long as you participate in the Lantern Festival.
This festival is one of its kind so it's you should never miss out on the opportunity to participate in this beautiful festival.
Check out my post on Christmas in Arizona for more ideas on things to do in Phoenix in December.
Visit Glendale Glitters
When visiting Phoenix in the winter, Glendale offers a weekend-after Thanksgiving festivity called the Glendale Glitter. Every Friday and Saturday night until Christmas, the city offers a wide variety of fun activities, concerts, foods and many more.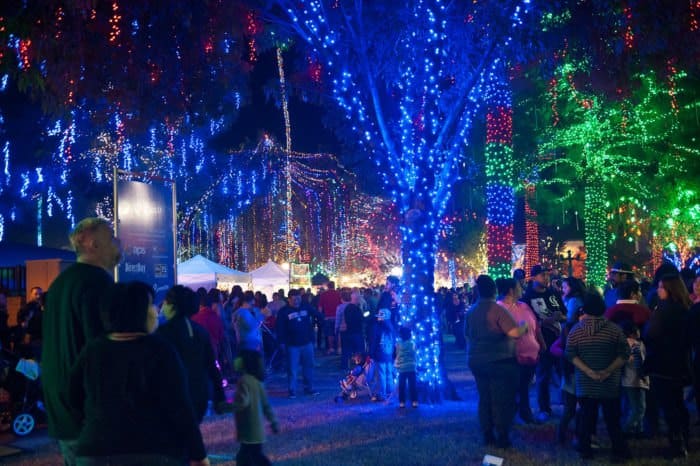 Downtown Glendale comes to life with the addition of 1.5 million multi-colored twinkling LED holiday lights located throughout the 16-block area that includes the Old Tower and Catlin Court Districts.
This spectacular event ends with an amazing festival called the Glendale Glitter and Glow Block Party in early January. At the block party, there will be many fun activities to participate in and enjoy as well as good food to chow down and savor.
One of the waited events in that block party is watching 20 tethered hot air balloons inflate as pilots fire them up and fly across the night sky and bands and street performers play their hardest as the festivities come to a close. The Glendale Glitters is a tradition that everyone can enjoy from its spectacle and marvel.
Visit the Phoenix Zoo and Zoo Lights
Visiting animals in the zoo is still a common thing here in Phoenix as they own one of the largest privately owned, non-profit zoo in the United States.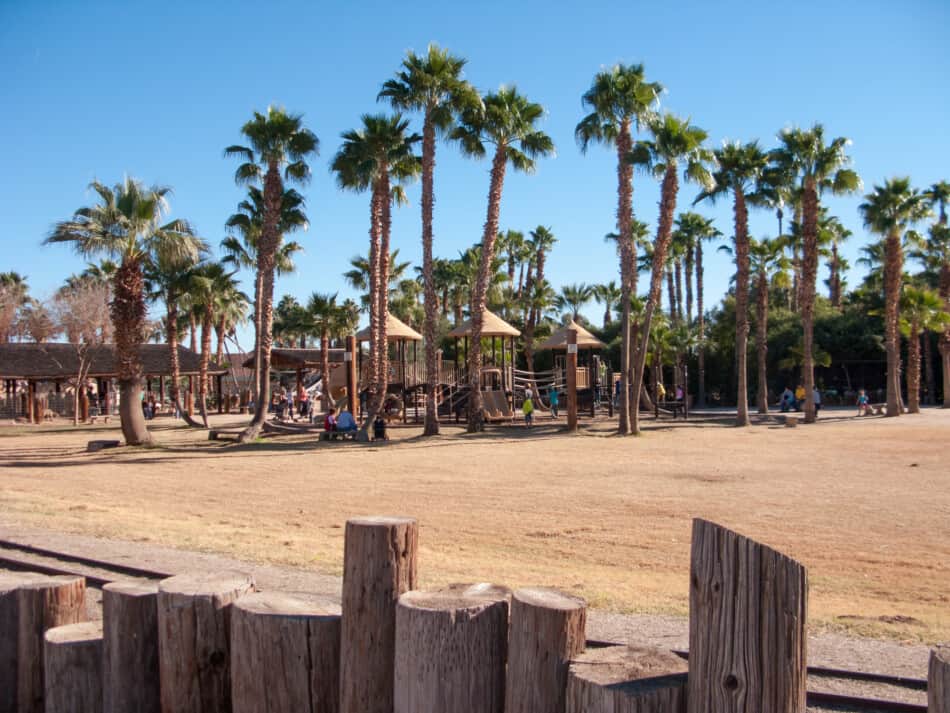 There are a lot of animals to see here with their respective areas and species. But in winter many people look forward to one of the most long held traditions here in Phoenix which is the Zoo Lights.
The Zoo Lights here in the Phoenix Zoo is a popular holiday tradition for 31 years where people of all ages enjoy seeing the zoo transformed into a nightly display that features millions of twinkling lights, animal sculptures and music light shows near the lake.
For many tourists that visited Phoenix before, this is a must-attend event that delivers a magical experience for both children and adults alike. Visiting the Phoenix Zoo in the event of the Zoo lights is an experience you should not miss out on.
Winterhaven Festival of Lights
There have been many long standing traditions that have been observed in Phoenix and the Winterhaven Festival of Lights is one of them.
The Winterhaven Festival of Lights is an event where the neighborhood of Winterhaven decorates their houses with many Festive lights with each of their own respective cultures and backgrounds that make up what is known now as the Festival of Lights.
This 71 year old tradition has been one of the most memorable traditions to the people of Winterhaven and is open to the public for everyone to see.
The Festival of Lights is considered one of the most awaited events to see and should also be one of your must-see in your visit here to Phoenix.
Visit the Musical Instrument Museum
Visit music of every culture around the world here in the Musical Instrument Museum.
This museum displays instruments and objects from every country around the world. This museum features an expansive collection that guests can explore and experience the rich diversity in this 200,000 square foot building.
The museum employs wireless technology that allows you to hear the instruments being played in their own original settings and also observe how it's being played.
One of the popular areas many tourists visit in this museum is the Artists Gallery which highlights iconic instruments from celebrities like Elvis Presley, John Lennon and many more.
This museum is one of the most popular places to visit that anyone can joy and appreciate.
Check out Papago Park
When you arrive in Phoenix and you want a place to relax and breathe for a while, then Papago Park is the place for you. Papago Park has been one of the best parks to visit in Phoenix.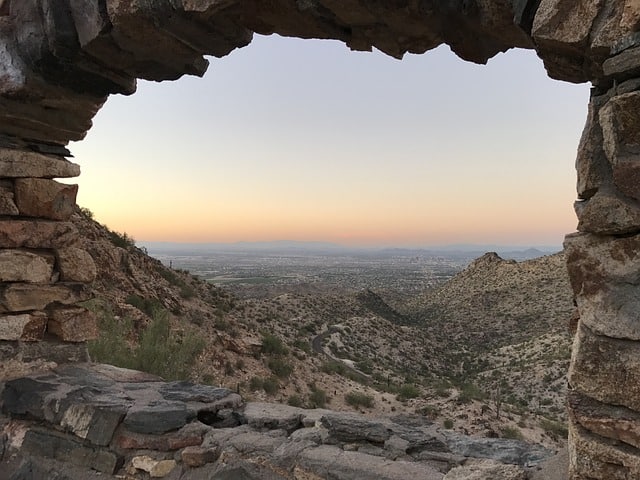 Located in the heart of the Phoenix metro, it is an accessible park from all over that has the most scenic and accessible desert areas.
This park has many things to discover like Governor Hunt's Tomb where you will see a white pyramid that serves as the tomb for the state's first governor.
The Hole-In-The-Rock is the main chamber that looks out over nearby lagoons and the distant skyline. This is also one of the more popular places to take a photo.
Aside from this, there are also many hiking trails to enjoy and take part in to relax and see something better from your own perspective. Papago Park has everything you need for a good time in Phoenix.
Hike Tom's Thumb Trail
Located near Scottsdale, AZ, Tom's Thumb Trail is a four mile adventure that lends itself to beautiful views of the McDowell Mountains and the city of Phoenix as lovely wildflowers checker your path.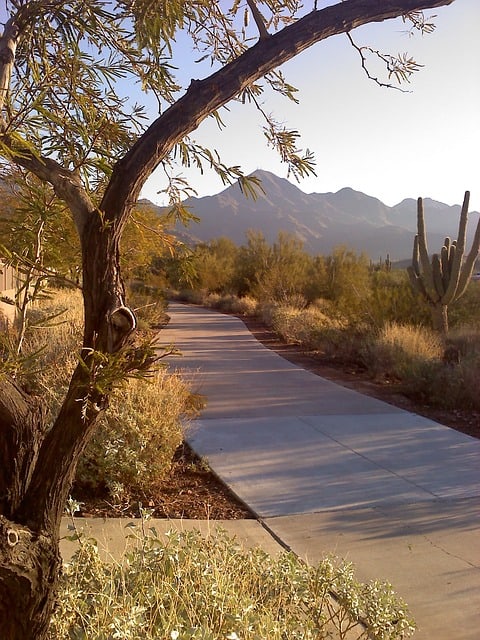 Part of the McDowell Sonoran Conservatory and one of the first to be built, the trail allows for dogs as long as they are affixed to a leash.
Check out my post on the Best Hikes in Phoenix!

See Phoenix from above on a hot air balloon
If you are fond of watching the sun rise or set, this hot air balloon half-day adventure is for you. You will be able to fly in a first-class hot air balloon with FAA-licensed and experienced pilots that will help you navigate and see Phoenix like you have never seen it before.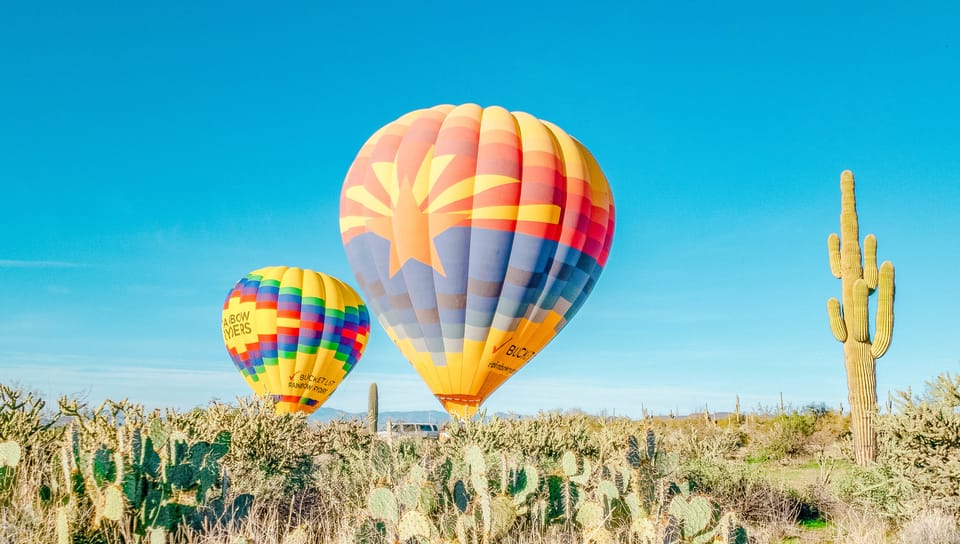 Your journey starts on the ground because you will help the crew inflate the balloon. And once you reach an altitude, Phoenix lies beneath you while desert stretches to the distant mountains. And upon your return, you will have a celebratory toast to cap your airborne adventure.
Learn about the indigenous tribes of Arizona at the Heard Museum
The Heard Museum was founded in 1929 and is famed for its award-winning exhibits. And don't miss to check out the seven-metre mural or the full-sized Navajo hogan.
And if you are visiting in February, they have an event called Hispanic El Mercado des Las Artes, or if you are visiting in early March, you may catch the Indian Fair and Market where it showcases hundreds of Native American artists. Check out my post on the 15 Indian Ruins in Arizona.
More Winter Activities in Phoenix
Experience some local music scenes and various arts on First Friday. It's more than just an art walk, it also features live music, street performers, and outdoor vendors.
Have a little escape at the Japanese Friendship Garden. It is a collaborative effort between Phoenix and Himeji, Japan where it features a 3.5-acre garden that is rich with birdlife and 50 plant varieties.
Amaze yourself with some sea creatures at SEA Life Centre Arizona. This 2,415-cubic-metre aquarium features sharks, stingrays, green sea turtles, and other colorful tropical fishes.
Have a wonderful zen experience at Sahaja Yoga Meditation and practice your meditation skills. Classes are open for everyone, with no fee, and are held several times a week.
Splash and swim at one of the Valley's resorts with pools open to the public. In other words, you don't need to book or reserve a room to access the pool.
Recent Posts