Where to celebrate Christmas in Arizona
Arizona Christmas: Want to celebrate Christmas in Arizona this year? Who wouldn't when you consider that you have year round good weather and people in Arizona love to celebrate Christmas with tons of Christmas lights and holiday themed events.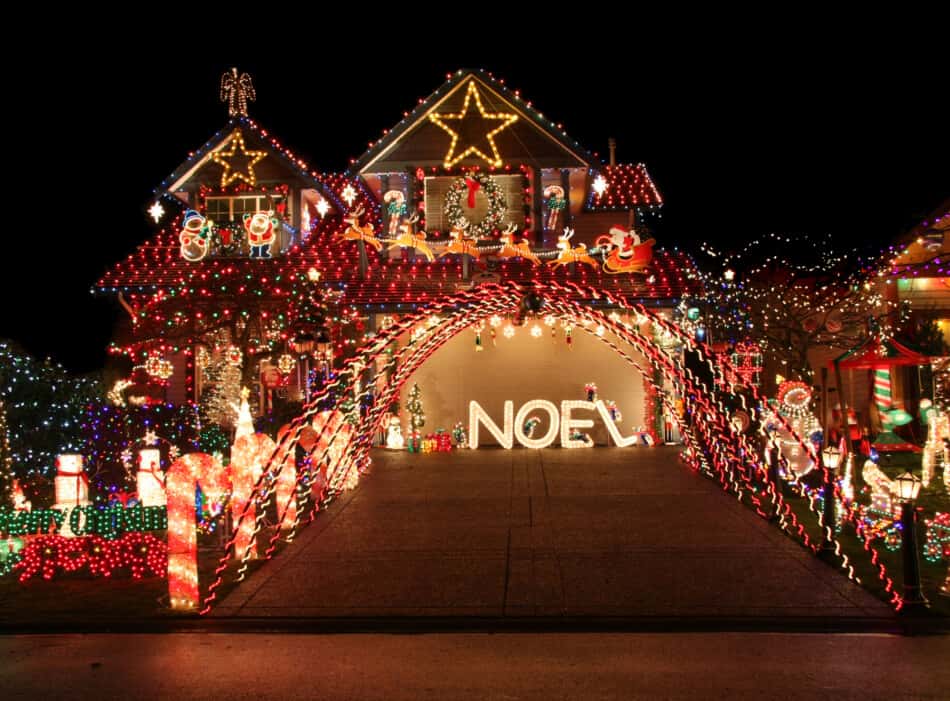 This list of Christmas Getaway Ideas in Arizona has something for everyone – including snow! There are so many fantastic ideas from taking the Polar Express to celebrating Christmas in the Christmas City of Arizona. Keep reading for all the details.
Check out my post on the most Charming Small Towns in Arizona
17 Best places to visit for Christmas in Arizona
Flagstaff
If you want to experience a traditional white Christmas in Arizona, travel north to Flagstaff. The Arizona Snowbowl's pine-covered mountain sides are the ideal spot for some holiday skiing. Both the Riordan Mansion and the Lowell Observatory provide historic, holiday-themed tours.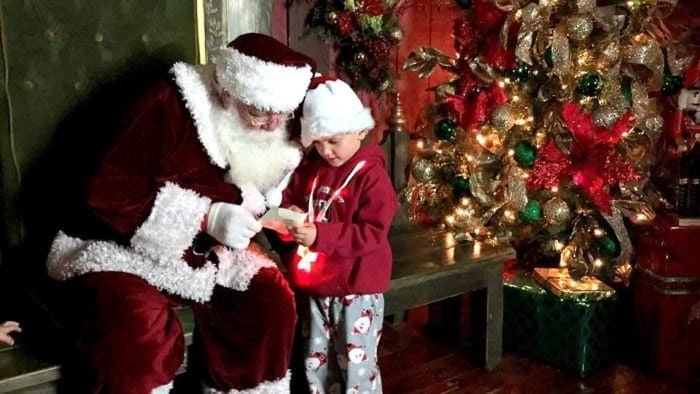 Flagstaff is located in the northern section of the state at a height of 7,000 feet. It is also one of the few spots in Arizona where snow falls regularly. It's also where you can go on a real Polar Express ride. The train adventure begins in Williams (just over 30 miles west of the city) and ends at the "North Pole," where you can see Santa and his reindeer.
The Winter Wonderland and Tree Lighting Ceremony, which takes place every year on the first Saturday in December, is also held in Flagstaff. Flagstaff is the place to go if you want to have a white Christmas.
The Arizona Snowbowl offers a diverse range of ski runs for both advanced and novice skiers. In Flagstaff, there is also a Nordic facility where you can go cross-country skiing and enjoy some winter solitude.
Flagstaff is also home to the official Arizona Winter Wonderland, which features a picturesque historic downtown with festively adorned businesses, seasonal shopping, and activities to get you in the Christmas spirit.
The North Pole Experience in Flagstaff allows visitors to see Santa's workshop, the toy factory, Mrs. Claus' bakery, and even an elf university. Tours last about an hour and 35 minutes and run during the day and in the evenings too.
The Riordan Mansion State Historic Park, which is regularly done out in Christmas décor, is another lovely place to visit over the holidays.
Check out my post on Where to Stay in Flagstaff
Sedona
Consider the beauty of red sandstone coated with snow. Sedona's stunning scenery and peaceful ambiance make it an ideal holiday destination. During the Festival of Lights, 6000 luminarias adorn the paths of Tlaquepaque Arts and Crafts Village. Visitors sip cider and hot chocolate while listening to live music and seeing Santa on this special night.mOne of the best Christmas festivals in the state is Sedona's festival of lights.
Riding the Sedona Christmas Trolley is one of the greatest and easiest methods for visitors to get a feel for the town. Sedona stands out as one of the merriest locations to be in Arizona during the Christmas season, with all the lights strung around the town and on the trees.
No matter how brilliant the lights in Tlaquepaque are, the red cliffs that encircle the town gleam even brighter. Bell Rock Path is a wonderful place to visit at any time of year, but especially during the holidays.
Various Christmas festivities, such as breakfasts with Santa and live arts and cultural performances, are frequently held in Sedona. You can spend your Sedona Christmas holiday this year focusing on mountain biking, hiking, and jeep tours instead of attending public activities to really take up the atmosphere and surroundings.
The Blazin' M Ranch Christmas Show and The Nutcracker at the Sedona Performing Arts Center offer more live holiday shows. Don't forget to bring the kids to Sedona Hub's annual free Breakfast with Santa in Posse Grounds Park. Pancakes, entertainment, and, of course, a visit from Santa Claus are all included in this event.
Check out my post on the Best Airbnbs in Sedona
Phoenix
There's always something to see and do in Phoenix, so it's no wonder that it's a great place to visit over Christmas.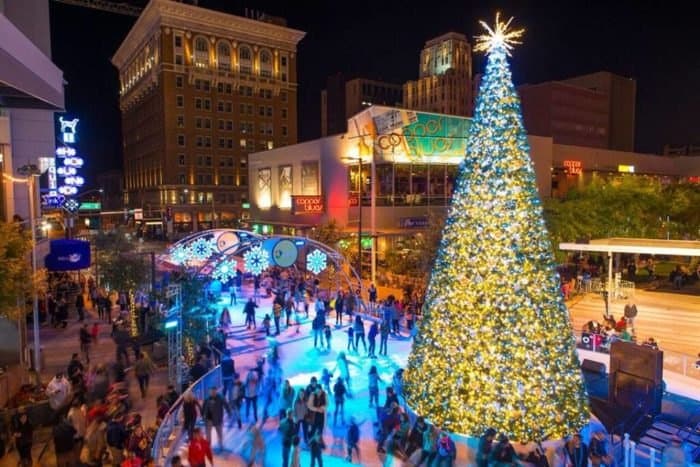 As the state's largest city, Phoenix is full of fun things to do, so you can expect celebratory festivities over the holidays. The annual electric light procession on Central Avenue, ice skating at the city's rink, and a variety of Christmas performances are all available.
Noches de las Luminarias at the Desert Botanical Garden in Phoenix is one of the most creative ways to enjoy the season. Thousands of luminaries may be found around the garden pathways, as well as live music, a sculpture garden, and excellent food and drinks.
The local zoo hosts holiday celebrations, and the symphony and ballet usually put on holiday performances. When you're in Phoenix, go to the Desert Botanical Garden to see the luminarias and watch the electric light parade.
Handel's Messiah at the Phoenix Symphony, a Winnie the Pooh Christmas Tail production, Ballet Arizona's The Nutcracker performance, and ZooLights at the local zoo are all popular Christmas festivities in Phoenix. The CitySkate ice rink at CityScape in Phoenix is also lit up for the holidays and is a great way to spend an evening in the city.
Check out my post on the Best Airbnbs in Phoenix
Scottsdale
Scottsdale is a must-see for everyone visiting the Arizona metro area. Scottsdale, which is ranked in the top 100 best towns to live in, provides just about everything you could want. This is one of the best places to visit in Arizona, with everything from boutique shopping and exquisite eating to tourist attractions and resorts.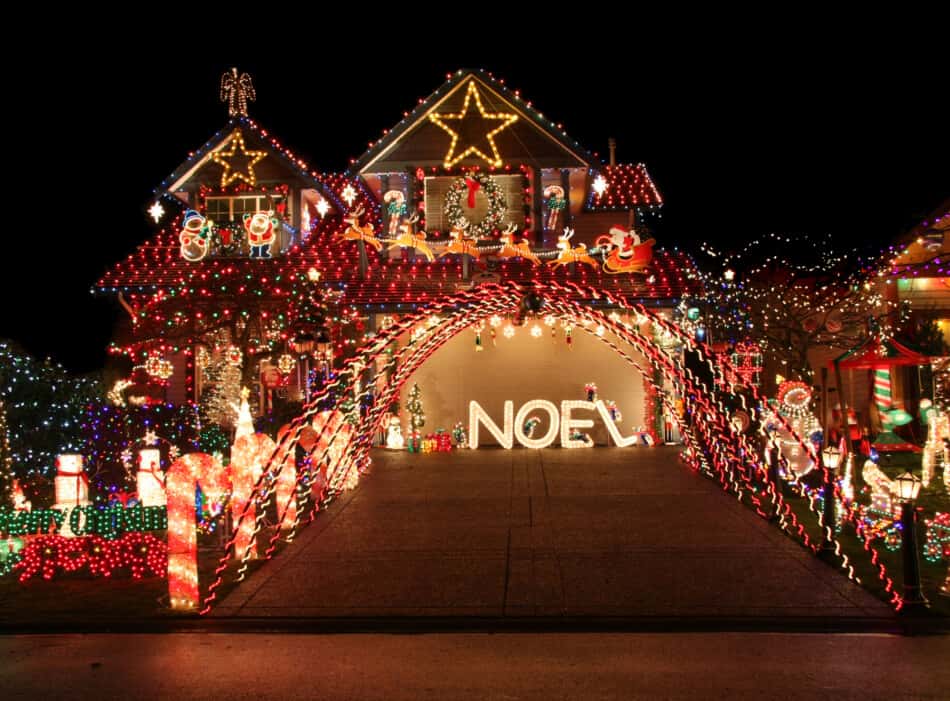 The Fairmont Scottsdale Princess knows how to celebrate Christmas, making it a popular Arizona Christmas destination. When you visit, you'll appreciate the brightly lit trees, ice skating rink, train rides, Ferris wheel, and roasting s'mores over a fire pit. The Princess resort is transformed into a stunning winter wonderland with over 4 million lights every December. You can witness a bunch of your favorite holiday characters, as well as fire pits suitable for roasting chestnuts, a Ferris wheel, and a carousel.
Scottsdale does its best to bring out festive holiday enthusiasm from everyone, especially during the Christmas season.
This is also a top golfing destination where you can enjoy a fantastic round of golf while basking in the sun. Scottsdale is also a top foodie destination in Arizona, so plan your trip here to enjoy a delicious meal at the Fairmont Scottsdale Princess, Hotel Valley Ho, Mountain Shadows, Sanctuary Camelback Mountain Resort & Spa, or other local restaurants with socially distanced in-person dining or to-go options.
A must-see for anybody planning a holiday trip to Arizona, thanks to sights like the McCormick-Stillman Railroad Lights and Scottsdale.
Check out my post on the Best Airbnbs in Scottsdale
Mesa
Just south away from Scottsdale is the town of Mesa. Mesa's festivities take place on Main street as a part of 'Merry Main Street.'Mesa has everything you need for a magical holiday season, from the town's four-story Christmas tree to the ice skating rink and Jack Frost's Food Truck Forest.
Mesa is a prominent Phoenix suburb with a plethora of activities throughout the holiday season. Main Street is illuminated at night, and the town also features a big Christmas tree and an ice skating rink. The Superstition Mall and the Fiesta Mall are both festively adorned for the holidays and excellent locations for photos with Santa.
Mesa, a Phoenix suburb, hosts the Merry Main Street event, which celebrates the Christmas season. Visitors can ice skate beneath the stars at the Winter Wonderland Ice Rink and gaze up at a nearly four-story Christmas tree during the event, which takes place in the downtown area.
You can also enjoy public light and nativity displays, as well as see a production of The Nutcracker. Visit the Thompson Events Center in Mesa for the Arizona Lights in the Night drive-through light display or Vetruccio Farms for Lights at the Farm.
Make a point of seeing the Christmas lights at the local Church of Jesus Christ of Latter-Day Saints on the Mesa Arizona Temple grounds. The public is welcome to view the light displays, nativity scene, illuminated palm trees, and flower gardens. The Arcbest Corporation Performing Arts Center will host a performance of The Nutcracker.
Check out my post on the Best Airbnbs in Mesa
Glendale
The Glendale Glitters event, which usually includes a lighting ceremony, Santa visits, musical performances, and wonderful cuisine, brings the city of Glendale to life around the holidays. The annual Christmas parade in Glendale is also a favorite among families.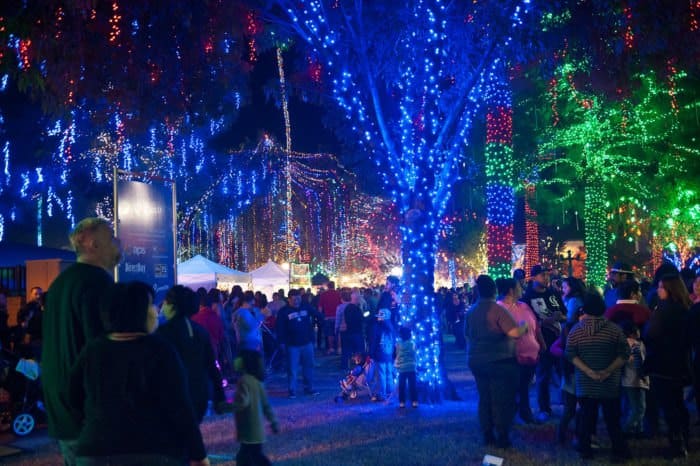 Glendale transforms into a Southwest rendition of the North Pole every year. Glendale, a historic town, is illuminated by over a million lights. The holiday festival is known as "Glendale Glitters" has had the largest free light display in Arizona for the past twenty-six years. It is one of the greatest and most festive cities to visit in Arizona, with a sixteen-block area lit up.
This should be at the top of any Christmas-bucket lover's list, with plenty of local stores to pick up last-minute gifts and horse-drawn carriage rides.
The trees in historic downtown Glendale will be illuminated with 1.6 million LED lights. The downtown area will be illuminated by lights for 16 blocks, and many local businesses will put on festive displays and hang decorations.
Downtown Glendale is also a great place to look for one-of-a-kind items and holiday gifts. You can even go on a horse-drawn carriage ride with your loved ones.
Check out my post on Best Airbnbs in Glendale
Tucson
Tucson is a classic Southwestern town that is more than just a college town. Tucson doesn't waste any time ushering in a whirlwind of Christmas pleasure as soon as November arrives.
Stroll around Tohono Chul Park during their Holiday Nights event to experience the serene serenity of Christmas in the desert. Surrounded by over a million glittering Christmas lights and the sounds of seasonal music, gaze at the stars. The Nutcracker, a holiday classic, is presented in three different ways in Tucson, including a southwest version by Tucson's Regional Ballet.
Tucson is guaranteed to put you in the holiday spirit, whether you want to bask in the glow of lighted animal sculptures at Reid Park Zoo or take in one of the numerous live nativity presentations held across the city.
The Fourth Avenue Winter Street Fair is perhaps the city's most popular winter event. The event takes place over a weekend in December and contains over 200 arts and crafts exhibitors as well as dozens of food vendors. Holiday Nights at Tohono Chul, Luminaria Nights at Tucson Botanical Garden, and the annual downtown parade of lights are among the other holiday events in Tucson.
The Winterhaven Festival of Lights, which takes place every year in Tucson, is a must-see event. This is a fun spot to wander through or drive through if you like. Even leashed dogs are allowed on the walk. Festive light displays are frequently seen at Tohono Chul Park and the Tucson Botanical Garden. You can also attend the downtown parade of lights and festival, which includes a tree lighting ceremony, while in Tucson.
Check out my post on the Best Airbnbs in Tucson
Williams – Polar Express to Grand Canyon
The Polar Express train trip, which is always a major draw with families, has made Williams a popular Arizona Christmas destination. It is a small community near the Grand Canyon west of Flagstaff. Taking a ride on the Polar Express train is the most joyful thing to do here during the Christmas season.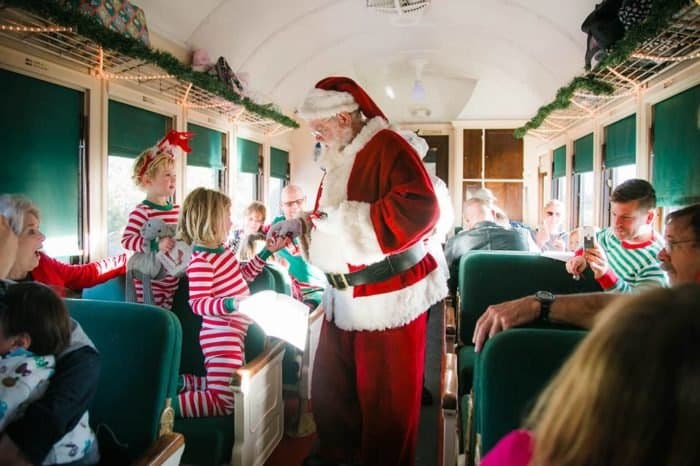 This enchanting journey departs from the Williams Depot and brings you through the moonlight forest with elves and characters for entertainment. Storytime, chocolate chip cookies, and hot cocoa, as well as a journey to Santa's Village, are all available here.
The train voyage takes around 90 minutes, and on Christmas Eve, there is an extra-special wonderful adventure.
An annual Christmas parade and tree-lighting usually take place at the end of November in Williams.
Check out my post on the Best Airbnbs in Williams
Lake Havasu
Lake Havasu City is known for being a great spot to party on the water, but it's also a great place to celebrate Christmas.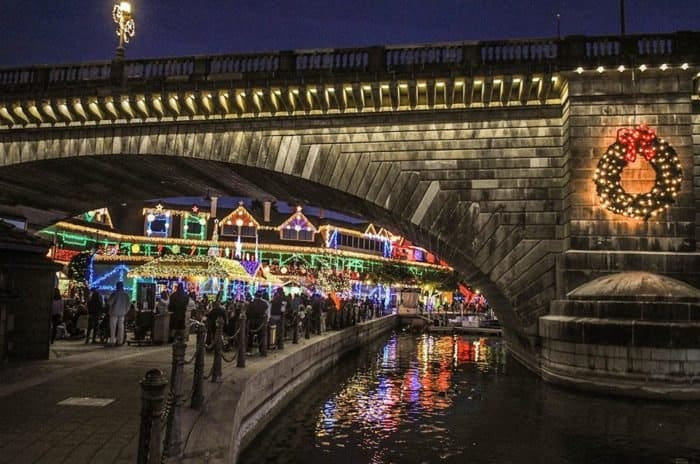 At the London Bridge Resort, you can go ice skating, and there's an annual Festival of Lights when you can view over 500,000 lights illuminate the London Bridge. A midnight trip along the Bridgewater Channel is extremely rewarding, as the buildings and water are lighted.
Take a boat ride along the Bridgewater Channel to see the lights, or take a stroll beneath the gleaming London Bridge. Snuggle up on the shore with your family to watch brightly adorned boats float over the water during the Annual Boat Parade.
At the Lake Havasu Performing Arts Center & Little Theater, you may also attend the Lake Havasu Community Choir's Annual Christmas Concert.
Outdoor ice skating is accessible at London Bridge Resort, which features twinkling lights and a pine tree backdrop. On weekends, make a point of visiting English Village and in the evening, Santa usually pays a visit.
This is a unique destination to visit where you can even see an annual boat parade of lights.
Check out my post on the Best Airbnbs in Lake Havasu
Lake Powell
The holiday season is fast approaching. See for yourself why so many families are celebrating on houseboats across the country. With a houseboat, you can escape the cold and snowstorms of the north and enjoy the moderate temperatures and year-round sunshine in the southwest with a houseboat Christmas on Lake Powell.
Although snow is beautiful, when shoveling it out of the driveway, the vista often begins to alter. Why not forego the white Christmas this year and opt for a completely new style of holiday setting? Lake Powell has breathtaking panoramic views all year, and you don't have to worry about clearing the snow to appreciate them.
You can spend Christmas on the lake by hiring a houseboat and having a one-of-a-kind getaway experience. Since boat traffic is significantly lower in the winter than it is during the busy summer season, a winter adventure on Lake Powell allows you to get closer to nature and enjoy some tranquility.
The average maximum temperature in December is around 45 degrees. Renting a houseboat is a great way to give your family an experience instead of just presents.
Christmas on a houseboat allows you to concentrate on what matters most this holiday season: your family and loved ones. Aside from the lack of snow, the mild temperatures are a bonus. Although celebrating on houseboats is unusual, you can find yourself starting a new family custom after just one year.
Check out my post on the Best Airbnbs in Lake Powell
Prescott
Prescott is recognized as the "Christmas City" of Arizona.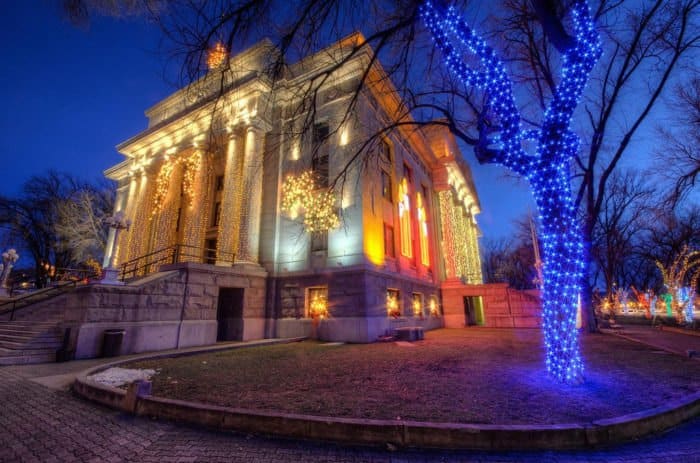 There is a Christmas procession and light show at the courthouse in this small town. At the Prescott Resort and Conference Center, you can see a large gingerbread village display and ride in a horse-drawn carriage through town.
The Frontier Christmas presentation at the Sharlot Hall Museum teaches visitors about historic Christmas traditions. A dance competition, live music, and delectable food are all part of the Christmas City Charity Ball.
Over 1 million holiday lights are wrapped around trees and lampposts in the city center square. During Wild Lights, the grounds at Heritage Park Zoo are decked up with even more lights. Another stunning light show may be found at Fain Park's Valley of Lights drive-thru Christmas spectacular.
At Prescott Resort and Conference Center, you'll find the world's largest gingerbread village, which will delight your senses. Prescott also has many Christmas plays, weekend carriage excursions, holiday craft businesses, and other attractions.
Here you can learn about late-nineteenth-century Christmas customs and how inhabitants spent the season. Prescott is known as "Arizona's Christmas City" for a reason. Perhaps no city in Arizona does Christmas bigger.
Check out my post on the Best Airbnbs in Prescott
Grand Canyon
Around Christmastime, views of the Grand Canyon with a dusting of snow are quite stunning. During the summer, this national park is often crowded with families, but around Christmas, you may see a different aspect of the park and avoid the crowds.
However, it is chilly in December, so dress warmly and prepare to spend the night in one of the lodge rooms. If your camper has a good heater, there's also a park here where you can stay in an RV for your Christmas trip.
The Grand Canyon and its surroundings, including restaurants, are decorated for Christmas during the winter months. In the little desert villages, travelers may expect a lively ambiance as well as a laid-back vibe where visitors are unhurried and calm.
Visitors can also enjoy the Grand Canyon's shifting landscape and calm moments, such as the sun's shadows and hues cast on the canyon walls as it rises and sets, and the contrast of light snow against the red cliffs.
All shops, hotels, and restaurants are open during regular business hours, making it ideal for picking up a last-minute gift or grabbing a bite to eat with your family. There's also a great selection of Native American jewelry, western attire, souvenir t-shirts, and Grand Canyon DVDs to display or give back to family and friends.
Consider visiting at off-peak hours if you've ever stood in line to enter the Grand Canyon National Park or squeezed through a mob of people wanting to get a glimpse of the park's majesty. There are no crowds at vista sites or on hiking routes during the Christmas season.
Unlike during peak tourist season, when you may have to take the tram, you will have time to contemplate on the grandeur of the Grand Canyon, spend as long as you want to frame shots, and even drive across the park.
Check out my post on the Best Airbnbs near the Grand Canyon
Tombstone
To kick off the holiday season, the ancient town of Tombstone, Arizona holds a tree-lighting ceremony and caroling. The Allen and 5th Streets tree lighting are traditionally held at the end of November.
Families can enjoy the annual Christmas light procession and ball, which support the Tombstone Children's Fund. The Tombstone Tour of Homes takes you into more than a dozen historic homes and buildings to help you obtain a better understanding of the area.
Tombstone, known as "The Town Too Tough To Die," is always a fun place to visit. The historic courthouse lights up with the sound of caroling in the streets, while luminarias and floats pass by.
In the Historic Schieffelin Hall, it's a night of dancing and mingling. It's all for a good cause, after all. Period attire is optional, but why not try it? After a fun-filled evening of music and good old-fashioned Christmas cheer, refreshments will be given and a door prize will be handed.
Check out my post on the Best Hotels in Tombstone
Page
Take a tour of Upper and/or Lower Antelope Canyon or visit the Glen Canyon Dam for a tour. Furthermore, Horseshoe Bend is a hike worth doing. You can also consider Lake Powell. At night, watch a movie. Restaurants are also a great alternative.
The greatest time to visit Horseshoe Bend is in the middle of the day when the sun is shining brightly. The Bend will be in the shade at sunrise. The Wahweap Overlook by Glen Canyon Dam is the best place in the area to see the sunset.
In December, there are no activities on Lake Powell. On a warmish day, people who own a powerboat may be out on the lake.
The entire region of Page, Arizona, is densely populated with huge wildlife, which can be seen on the highways late at night. You won't notice a large animal until it's too late to avert a collision because the location is so dark. Thus, is not a good idea to drive at night.
Check out my post on the Best Airbnbs in Page
Payson
Payson, Arizona, may be unfamiliar to you, but it is a great Christmas destination to consider for your holiday travels. A light parade with floats and carolers takes place on Main Street in this town. The electric light parade will take place, rain or shine, and will include a visit from Santa Claus.
Before the parade, there will be family-friendly crafts, music, and food from local businesses. The Swiss Village Christmas lighting, which includes visits with Santa at the mall, is a popular annual event in Payson. Tonto Natural Bridge is also close by and well worth a visit if you're in the area.
There are numerous Christmas Eve festivities in Payson, including Gospel Choirs, Brunch, Santa Claus Gift Distribution, and Christmas Dinners. People decorate modest Christmas trees in their homes, children sing Christmas carols, and families take a week off for Christmas and New Year to celebrate with people from all over the world.
Aside from vacations, there's still much to do! Discover some of the best Christmas events and activities in the area, and reserve your seats for delectable buffets, dinners, and gala nights!
Make Christmas Eve a memorable one by participating in fun activities and events to prepare for the holiday!
Check out my post on the Best Airbnbs in Payson
Recent Posts