17 Albuquerque Hikes you won't want to miss!
Hiking Trails Albuquerque: Are you looking for the best hiking in Albuquerque? These are the best trails and hiking near Albuquerque, New Mexico.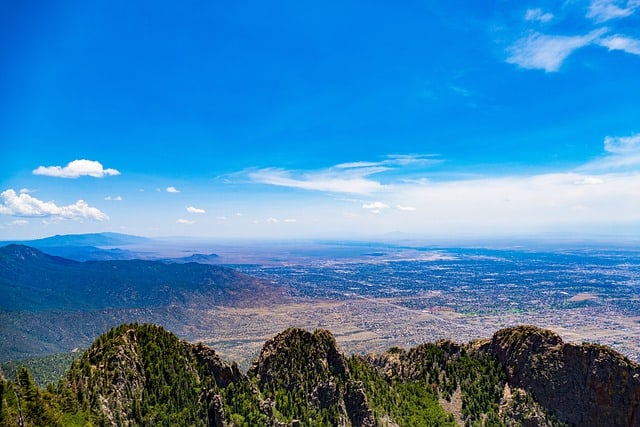 Albuquerque Hiking Trails allow you to see the beautiful landscape and scenery around the town. Hiking Trails in Albuquerque are well maintained and well marked out.
Be careful, be prepared, and do your research on all hikes before you go. Check out this helpful hiking-safety guide from the National Park Service.
Tips for Hiking in Albuquerque
Albuquerque is perfect for outdoor enthusiasts.  There is a hike for everyone on this list and for different fitness levels.  Also, note that it is dry and hot (in the summer) and make sure you know what you are getting into before you start.  Here are a few tips for Albuquerque hiking:
Bring a reusable water bottle and lots of water! Remember you are in the sun and you will need to drink lots of water. I love my LifeStraw Filtered Water Bottle.  I can refill this bottle anywhere and it comes with a carabiner to connect it to my daypack.
Check the Weather – days over 100 degrees are very common.  Make sure to check.
Hiking boots or sandals that will protect your feet! I love good shoes.  I need all the support and help I can get.  I actually love these sandals for hiking and have a whole post on Merrell vs Keen shoes for hiking.  I also love these hiking boots which I used for Hiking in the Grand Canyon.
Bring hiking poles for balance and to protect your knees.  I know many experienced hikers (and even amateur ones) think that hiking poles are for old people who lose their balance.  Actually, hiking poles can help when going down steep inclines or when scrambling over rocks.  They are great to hike with even for the most experienced hiker. 
Wear a sunhat. I feel like this whole post is about how high you are in the mountains and how much closer you are to the sun but it is so true. At elevation, you are closer to the sun and more likely to burn. Wear sun protection such as a sun hat and sunscreen.
Be aware of the wildlife. This is the Southwest and you will need to watch out for snakes and other wildlife.
Start Early – If you want to avoid the traffic and the heat you will need to start your hike early.  That way it will be nice and cool and the smog will not affect you either.
Leave no trace. If you are new to the concept of Leave No Trace it is all about preserving the environment to ensure it is in the same or better condition when you leave it.  This means that you should stick to the trails and carry out everything that you carried in.  This is a great explanation of the Leave No Trace principles!
Water shoes are great for water hikes– If you don't have a pair, I highly suggest it as they are affordable.  I have an article on the pros and cons of several pairs of water shoes.
Bring Bug Spray and a snack: Be sure to bring everything you need including a snack like a protein bar plus BUG SPRAY.
The Best Albuquerque Hikes and Hikes near Albuquerque
Tree Spring Trail
Tree Spring Trail is a 2.0 km trail located near Sandia Park that features canyon overlooks, beautiful wild flowers, pine trees, etc.
It's just a short and easy trail and it can only be done in an hour or two depending on your pacing. The trail offers a steady incline and the view at the top is so worth it. And if you go a few hundred feet past the trailhead at the top, you will have a glimpse of the crest and can look over Albuquerque.
The trail offers a couple of activity options for you to do such as hiking, mountain biking, and horseback riding and you can even bring your dogs with you as long as they are kept on leash. There are plenty of places where you can set up a hammock as well as picnic tables at the bottom so you can have a get together with your friends and family.

Birdhouse Ridge
Birdhouse Ridge is probably one of the best trails that you will ever hike in Albuquerque. The trail is not hard and has a clear path, plus it offers breathtaking views. 
To take this trail, you will be starting from the West Ridge junction to a small burned out area that has an amazing view of the back side of the Sandia Mountains. From there, things will start to shift as you will be experiencing a lot of twists and turns as the trail curves more along a hillside. But don't worry because you will eventually start to descend on an open hillside.
Overall, the trail has a perfect balance of incline and incline and can be rocky so make sure to wear sturdy and comfortable shoes or boots.
West Ridge
West Ridge is a pleasant, long trail that runs from the Birdhouse Ridge all the way around the top of Otero Upper. Over the years, some changes have been introduced to this trail to make it less difficult for hikers. However, a huge part of the trail is moderately difficult and if you want that extra challenge, then this trail is definitely for you. 
Nevertheless, this is a great hike with beautiful scenery. But you can also do mountain biking and running in this area because the elevation is gradual and it doesn't kill your knees going up.

Tunnel Canyon
Some say that Tunnel Canyon is the most beautiful trail in New Mexico because it is full of outstanding views while still feeling that you are close to home. This trail is versatile and you can take it in multiple length options.
The start of the trail is a gradual climb along the right side of the canyon accompanied by few obstacles. As you go along, the trail gets steeper for a bit when it switches to the left side. And once you reach the peak of the trail, it winds through the pion trees until you come to the trail junction with the West Ridge.
This trail is also open for hiking, mountain biking, two-wheel motorized vehicles, and horseback riding.

Otero Canyon
Otero Canyon is a short and easy loop hike that is well-signed and partly shaded located near Tijeras, New Mexico. A lot of mountain bikers are taking this trail and it offers options for other outdoor activities.
This is really an enjoyable hike with a variety of scenery and terrain, from open ridge tops to pine forest. If you are still new to hiking or climbing, this is a great trail to learn. It has a steady climb, then levels, then back to steady. You can also run or bike if you want as the climb is well groomed and easy going.

NORTH CREST TRAIL
Located North of the Sandia Crest parking area is the North Crest Trail that offers easy hikes with great views in New Mexico. This hike is fun any season and it has beautiful open views. It has also a pretty good elevation gain but less strenuous because it is a longer trail and the climb is spread out.
As a tip, it would be good if you wear pants during your hike because there are some areas that are still snowy. You may also need walking sticks if you save you some energy. And don't forget to enjoy the spectacular view of the Sandia range and Albuquerque!

THE SANDIA CREST TRAIL
The Sandia Crest Trail crosses the entire range of the Sandia Mountains nad the northern end of the trail is located at the Tunnel Springs Trailhead. But what makes this trail amazing is that there are many variations that you can take to shorten or lengthen the trip. But most people hike from north to south.
This trail is also one of the ultimate challenges that you can take in Albuquerque because most people take two days to complete the journey while some will only take one very long day. But the unique aspect of this trail is that there are a number of beautiful stopovers such as the Crest House or have some beer and burger at the High Finance Restaurant.

LA LUZ TRAIL
La Luz Trail offers panoramic views of the beautiful city of Albuquerque. As you hike, you will be witnessing views of cliffs and trees and wildflowers that are amazing and unfamiliar.
The trail length of La Luz is about 8 to 9 miles and the climb can be strenuous. With that, make sure to bring lots of water and high-energy giving food. Also, be prepared for unexpected weather changes and a full day of hiking especially if you want to go further to reach the crest.
The trail begins at La Luz Trailhead and ends at the Crest Trail 130. This is one of the best known trails in the Sandia Mountains and can be extremely challenging especially for beginners and experts alike. As a tip, do not attempt to hike if you are not physically prepared because it will be a strenuous hike. But as they say, the best view comes after the hardest climb.

GRASSY HILLS LOOP
Grassy Hills Loop is one of the best hiking trails in Albuquerque and it is a nearly four-mile loop that traverses small hills. This is also a popular trail for day hikers and trail runners.
This trail intersects with various other trails in the Sandia Foothills and you can easily monitor where you are because of the open wide landscape of the foothills. And as you go along, you will enjoy a breathtaking view of the mountains combined with panoramic vistas of the city.

LOWER LA LUZ TRAIL
One of the well-known trails in Albuquerque is the Lower La Luz Trail that starts from the base of the Sandia Peak Tramway then all the way to the top of the Sandia Crest.
You can even make this trail a short or long hike depending on your choice. The lower portion of this trail has one of the most picturesque trails that offers city views from a multitude of vantage points.

EMBUDITO TRAIL
Embutido Trail is a local favorite trail that is approximately 11 miles in length with an elevation gain from 6,240 to 9,300 feet. This tough trail will take you to a lot of beautiful landscapes from steep canyons to green and lush meadows.
The first few miles of the trail, it will be easy and well maintained, but it can get a little tougher and requires some climbing over rocks and trees. The trail begins in high desert scrub and scrambles to ponderosa and pinon pines. As you go along, you will see plenty of lizards and squirrels so be careful.
Once you reach the top, you will be amazed by the views of the city. And even watching the sunset on your way down will be so nice. Be sure to bring water and be prepared to go down because the temperature might change quickly especially during summer.

FOOTHILLS TRAIL
Foothills Trail 365 is one of the best and most vast trails that you can find in Albuquerque. You can access this trail from various foothill trailheads such as Embutido, Piedra Lisa, Menaul, and Embudo Canyon Trailhead. This area is very popular among cyclists, runners, and hikers.
If you are looking for the best trail to tour the Sandia foothills, this is definitely the one for you. You can expect that most of the trails are very clean and technically easy. But there are sandy parts and rocks appearing in the trail. Also, the trail offers a variety of steep slopes, flat terrain, and enchanting views.

Three Guns to Embudito Trailhead
These two trails make a great point-to-point hike that will require two shuttle vehicles in order to perform the hike.
The hike begins at Tres Pistolas Trailhead and from there you will make a moderate scramble along the Tres Pistolas trail. The start of the trail has a little shade but it tends to get denser the higher you go. And when you reach the top, you will be afforded with great views of the city
The best time to explore this area is during warmer spring and summer seasons because you will see an array of unique wild flowers and beautiful scenery such as desert landscape and rich green forest.

Rinconada Canyon Trail
Rinconada Canyon Trail is a 2.2 mile loop trail situated in Petroglyph National Monument. The trail is usually used for hiking, walking, bird watching, and even simple nature trips.
This trail is great for people who are just beginning in hiking or climbing because the hike is not too strenuous as far as elevation gain. The trail is a loop so you can make an out and back hike and it is in the high desert with partial shade, and primarily sandy.
You can expect 200 petroglyphs in the canyon and some are more visible than others and they are worthwhile seeing. Once you reach the end of the canyon, you can return via the trail and you can witness wonderful views of the Sandia Mountains.

Aldo Leopold Loop Trail
The Aldo Leopold Loop Trail can be accessed through Rio Grande Nature Center State Park and it starts at the Nature Center's west gate. It is a trail with one loop with a total stretch of 1.25 miles.
It is a nice and easy hike and it can be a little sandy. In fact, this is a good place if you are looking for a leisurely walk because there's no elevation gain. Watch out for bikers in the area since this is also a popular trail. There are other attractions in the area such as wildlife viewing, river access, and nature center with parking lot and grounds.

Pino Trail
Pino Trail is a very nice hike in the Sandias that can take you to the Crest Trail. The trail itself is very good with a few steep parts. There is a lot of shaded area and you would highly appreciate it especially during summer.
When you reach the saddle that connects to the other trail, it is definitely an amazing view and worth the hike. The views at the top are really good and there are rocks that allow you to sit and eat your lunch. You'll even see lots of wildlife such as deer, lizards, as well as wildflowers and birds.
But if you are planning to take your dogs with you, it may not be safe to be off-leash since the trail is way too narrow and has steep drop-offs that might be too dangerous for an off-leash dog.
Piedras Marcadas Canyon Trail
Piedras is an easy to moderate hike that has a trail length of 1.5 miles round-trip on an unpaved trail. In this canyon trail, you will see some of the largest petroglyph concentrations in the National Monument.
The whole trail is well-marked with sandy paths and there are nice petroglyphs to see that are spread out over the whole trail. This is also a great trail for kids and you can even bring your pets with you.
Where to stay near Albuquerque
Albuquerque makes for a great weekend escape. Fresh air, beautiful scenery and being in nature does a world of good for the soul. I recommend staying as close to the park as possible and even treating yourself with a cabin with a spa pool to relax at night.
There are lots of fantastic Airbnbs near Albuquerque. There are many beautiful places to stay near the park and this allows you to spend most of your time experiencing the park instead of driving to the park.
I stayed at the Hilton Garden Inn. This is one of the best Albuquerque Hotels and it has amazing amenities and is close to everything. Plus its reasonably priced.
If you are taking a road trip remember to reserve a car in advance using rentalcars.com .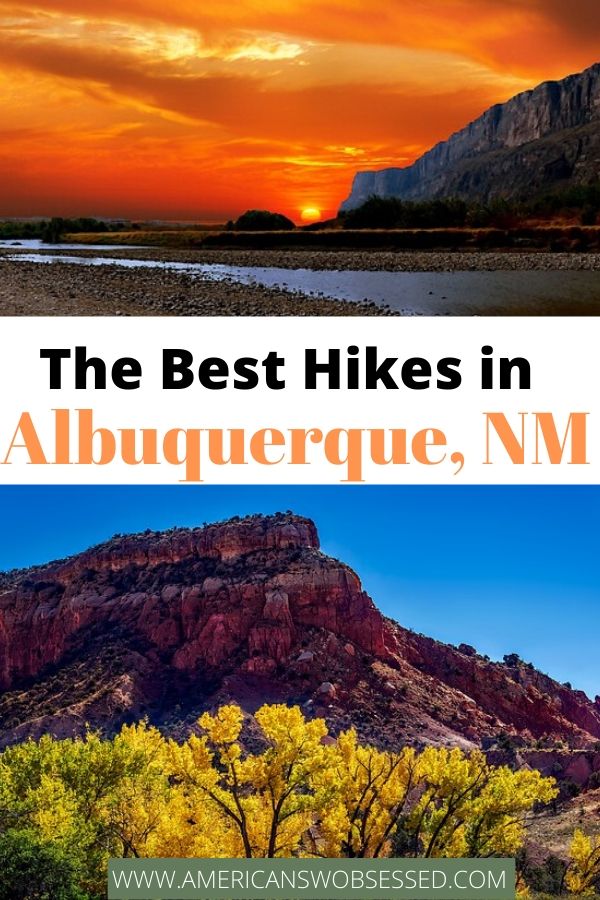 Continue Reading more on New Mexico on my site:
Best Hot Springs in New Mexico
16 Prettiest Waterfalls in New Mexico
50+ American Southwest Bucket List Places
Recent Posts