15 Romantic Getaways in Arizona – Unique Couple Retreats in Arizona
Romantic Getaways Arizona: Are you looking for a romantic getaway in Arizona?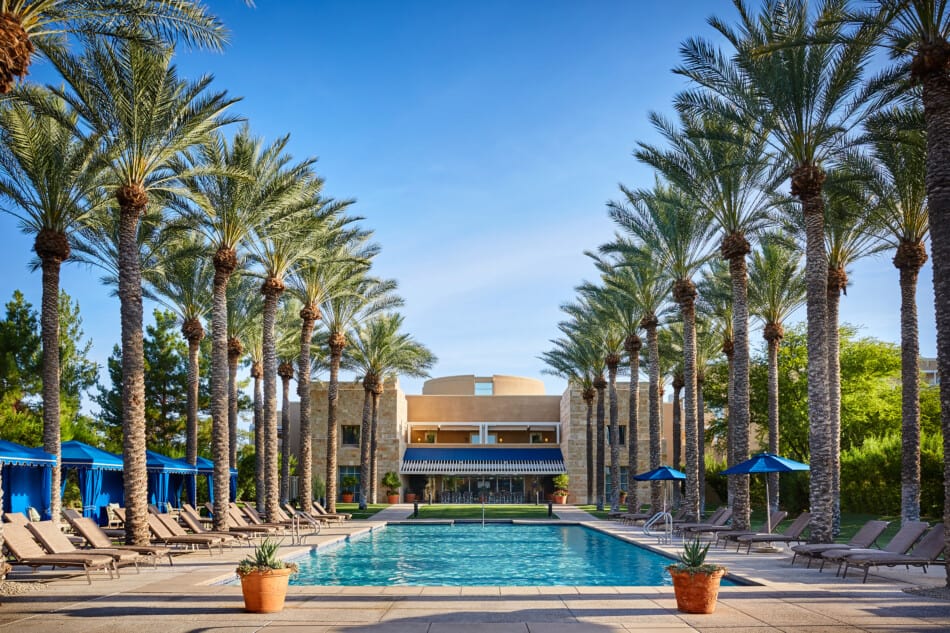 This list of unique couples retreats in Arizona has something for everyone. From adult-only resorts in Arizona to romantic hotels in Arizona – these are the best unique getaways in Arizona.
A romantic weekend away is a great way to reset whether you are looking to escape the heat or want to get back to nature. Enjoy these ideas for romantic getaways in Arizona. You can also read my other posts on Weekend Getaways in Arizona, Small Towns in Arizona, Bucketlist Places in the Southwest.
Thank you for supporting this website written by an American. This post may contain affiliate links. This means I earn a small commission on these links at no extra cost to you.
15 Romantic Getaways in Arizona to unplug and unwind
Enjoy a weekend in the capital – Phoenix
Discover romance and fall in love all over again in Phoenix, Arizona. Spend quality time with your special someone and rediscover each other at the Royal Palms that are equipped with gorgeous landscapes and various amenities such as a spa salon, golf course, swimming pools, romantic restaurants, and private cabanas.
For an entertaining route, the Musical Instrument Museum welcomes guests to view the many interactive instruments from different eras. Go on a guided tour and experience history with music.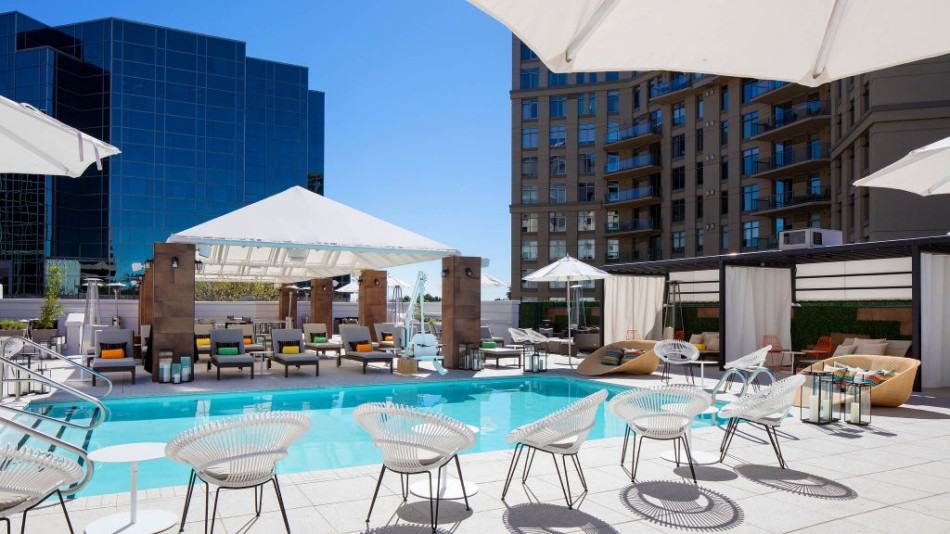 For an adventurous route, Phoenix offers Hot Air Expeditions, and guests can enjoy a magical hot air balloon ride and see the beauty of Phoenix from a whole different perspective.
Phoenix also features the Desert Botanical Garden which offers a tour of the wonderfully diverse botanical desert plants that are lovingly preserved and presented. Quality time with a loved one is surely quality time spent closer together here in Phoenix.
Why not spend your time at The Cambry. The Camby gives guests the freedom to choose from either mountain or city views. No matter which room you get, you will be pleased with the surrounding scenery.
For more inspiration, check out my accommodation guides to Phoenix:
15 Best Airbnbs in Phoenix, Arizona
Best Hotel Pools in Phoenix Hotel Water Park
Best 5-Star Resorts in Phoenix: Luxury Hotels in Phoenix
Visit the Grand Canyon
The Grand Canyon may be known for its gorgeously breathtaking views and red rock formations, but there's more than meets the eye in one of the world's seven natural wonders. Grand Canyon's sunset views are known to be spectacular and what a better way to see it than with a special someone.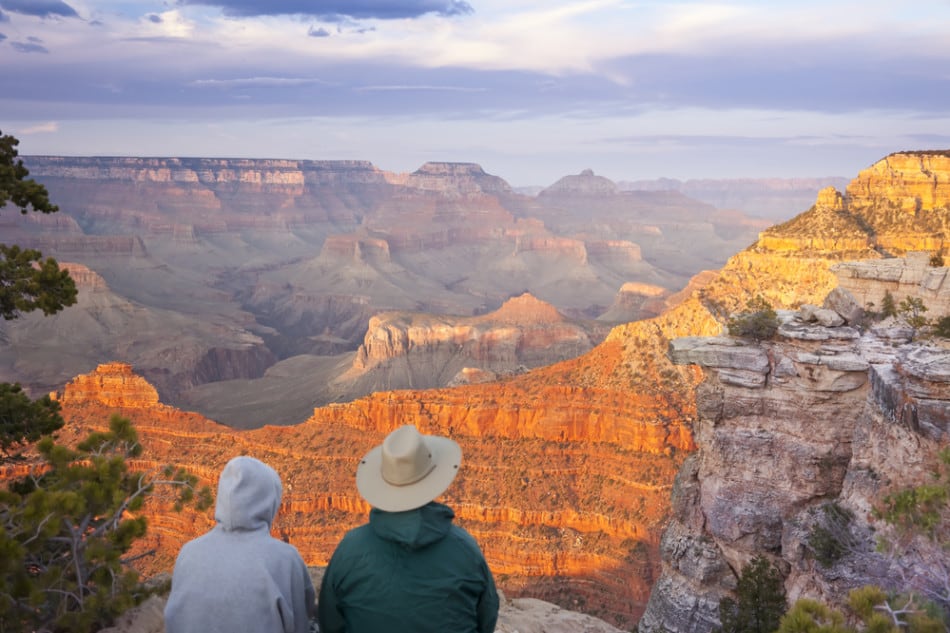 The view of the heavens from the Grand Canyon makes such a tasteful ending to the trip. The Grand Canyon would surely be a memorable trip that you'll remember for your entire life.
The Grand Hotel is often named the Best Hotel Grand Canyon as it is the only the only 3-diamond hotel in the region. Your stay at the Grand Hotel is sure to be memorable.
Check out my guide on Best Stops along the Phoenix to Grand Canyon Drive and once you get there consider taking one of these 15 Best Grand Canyon Tours.
Page
Page is a great choice for a romantic destination with your significant other. What better way to rekindle the fires of romance than to explore the beautiful sceneries of Page.
First on the trip is the gorgeous Lake Powell, dubbed as the most beautiful lake in the American West. Take a guided boat tour through Lake Powell and discover beautiful scenery all located in Page such as the famous Rainbow bridge, a rock formation whose shape is similar to that of the arch of a rainbow.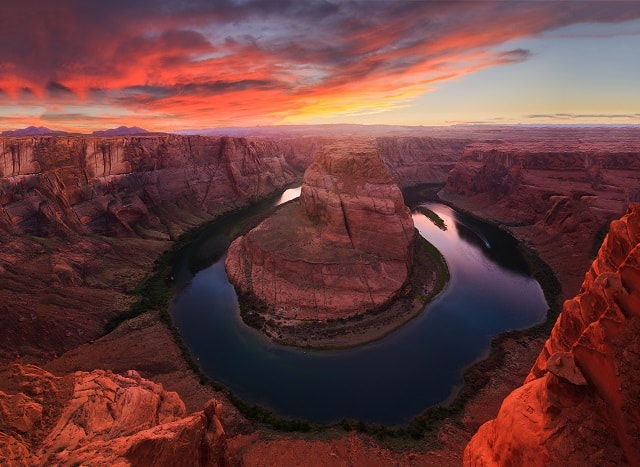 Another wonderful attraction in Page is a boat cruise through Antelope Canyon, a range of gorgeously red and white streaked rock formations. Take gorgeous pictures from any angle and see the versatility of nature itself.
Check out the Hyatt Place Page, Arizona for a wonderfully romantic stay in the area and close to everything.
You can also read my posts on Horseshoe Bend, Things to do in Page, AZ and the Best Airbnbs in Page, Arizona.
Lake Powell
Known as the gem of Arizona, Lake Powell would surely capture your hearts and make you experience love for the first time in its stunning scenery.
Located in the heart of Utah, this gorgeously blue reservoir is a stunning contrast to the red rock cliffs of the Glen Canyon. What better way to experience Lake Powell up close than to take a private boat tour with your life partner.
If adventure and an up close and personal experience on the waters is more to your taste, Lake Powell also offers jet skis, powerboats, and paddle boats.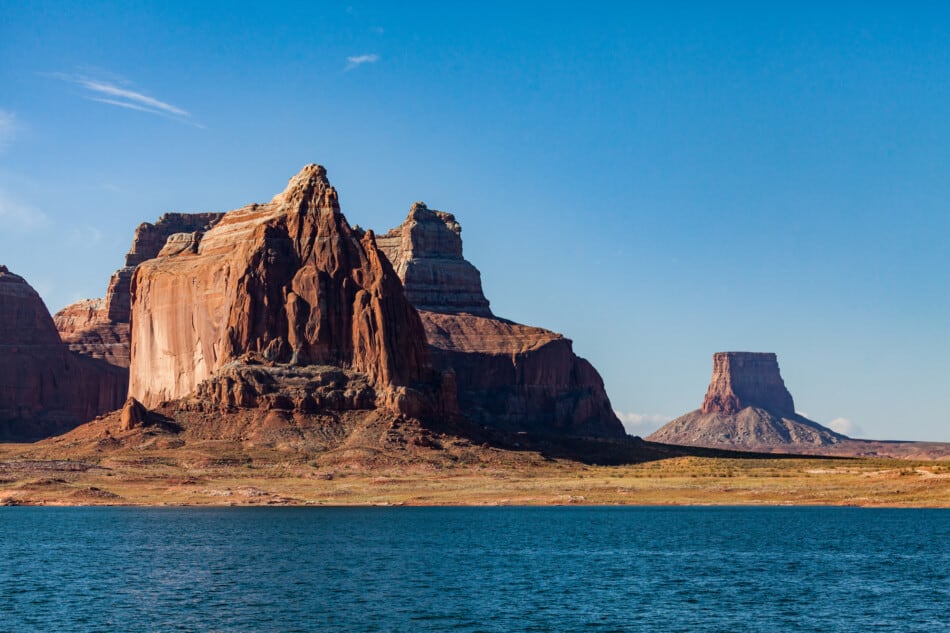 Other than water activities, Lake Powell features its North and South rims, home to their other featured amenities, for some amazing hiking, dining, and lodging experience where you'll get to see one of the best views in the American Southwest.
To cap off the experience, go on a private boat for a night cruise under the starry sky. The views from Lake Powell are some of the best in the area. It would definitely be an experience you'll never forget. 
The Lake Powell Resort is right on the water with stunning views (and sunsets!). At the Wahweap Marina, this resort offers boat tours and an outdoor pool. On-site dining and dinner cruises are available along with a refrigerator and coffee facilities in the rooms.
Tucson
Tucson is one of the best destinations for fun in the sun with The One. For a fun route, spend the day at Tipsy Picassos where you can wine, dine, and have a good time while living out the dream of painting freestyle like Picasso.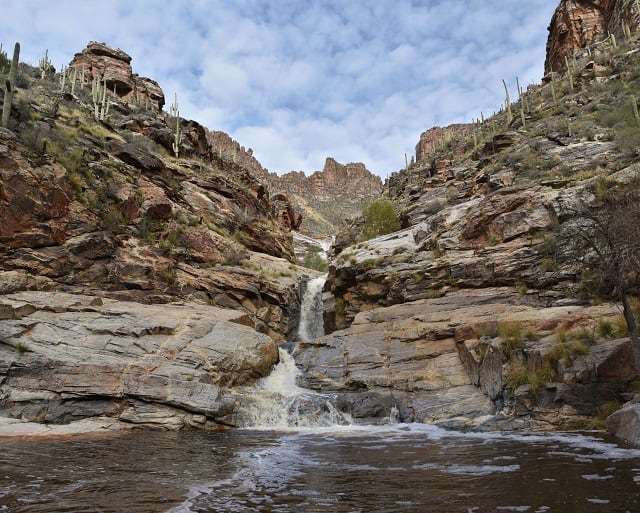 And of course, like its name, Tipsy Picassos lets you learn your way around an easel while having a glass of wine. At Tipsy Picasso, they believe that anyone can paint and have fun at it! Next is the famous Golf N' Stuff, a miniature theme-park on Tucson's northside that features an 18 hole miniature golf course, water bumper boats, fun arcade games, team laser tag, and go-karts!
Another fun location for a romantic date night in Tucson is at the Kitt Peak National Observatory where stargazing is taken to a whole new level.
During the daytime, take a guided tour and walk around the observatory grounds. For a nighttime date, Kitt Peak National Observatory offers a night observing program, whether overnight or just a stop-over, where guests get to witness the beauty of the constellations and the starry sky. 
The Adobe Rose Inn is a great place to stay in Tucson that is in a great location.
Tombstone
Despite its name, Tombstone is full of fun and is certified to be a memorable trip with your significant other. Touristy and relaxing, the town is known for its museum-like feel as you walk down the streets filled with historical hints of the Old West.
Explore Tombstone and see every nook and cranny with their homegrown Walking Tours that highlight the best and the most memorable parts of Tombstone. No building is left unexplained and unseen with their informative, and highly interactive, day tours.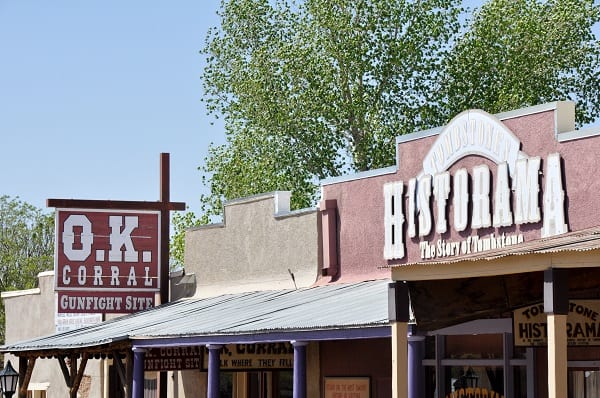 You'll be an expert on the ins and outs of Tombstone in no time. To break away from the relaxing day tour, Tombstone also has its very own Ghost City Tours.
No old town in the Old West would be complete without the classic ghost tour around the "haunted" parts of town.  They have different spooky packages that cater to all audiences and they surely provide the best in ghost hunting activities.
The Tombstone Grand Hotel is a budget friendly hotel that is the perfect place to rest when you are planning to travel to Tombstone, Arizona. This unique hotel is just located minutes away from the historical places of Tombstone, Arizona.
Sedona
Sedona is one of the best destinations for a romantic getaway. Even one weekend might not be enough for all of the attractions that Sedona has to offer.
To start, Sedona offers their famous Valley Verde Wine Trail that hosts a tour of all of the best wineries in the area that produce exquisite wines that are available only in Arizona.
Another fun attraction in Sedona is the Melting Point, a premier glassblowing studio where you can learn how to make vibrant and unique glass sculptures.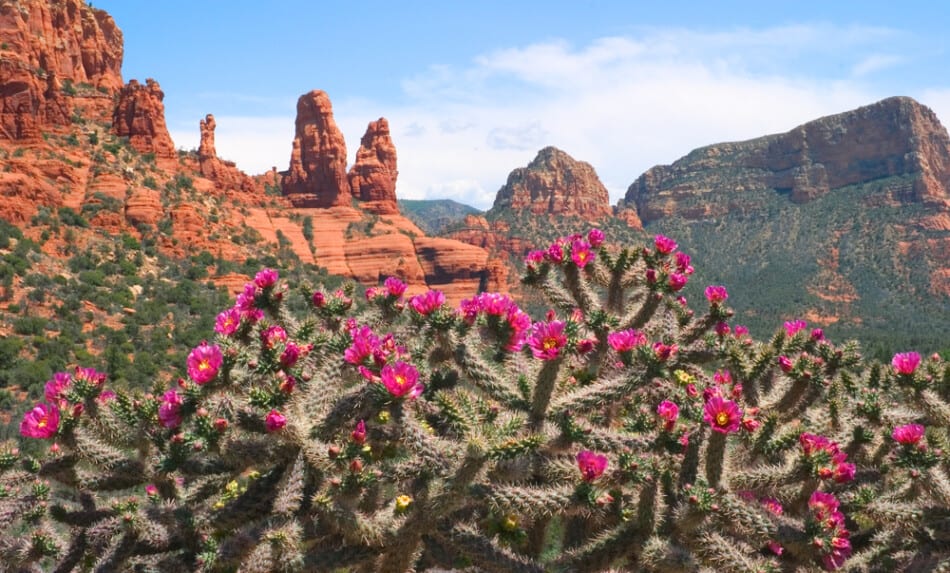 The next fun destination is the Verde Canyon Railroad, a scenic tour that highlights the beauty of Verde Canyon. Go on a railroad trip in the evening and witness the beautiful night sky with Sedona's Verde Canyon under its glow.
For an aerial view of Sedona, take a dramatic helicopter ride and witness mesmerizing views from up above. See the beauty of Sedona with the famous Chapel of the Holy Cross, Snoopy Rock, and the Three Nuns Rock.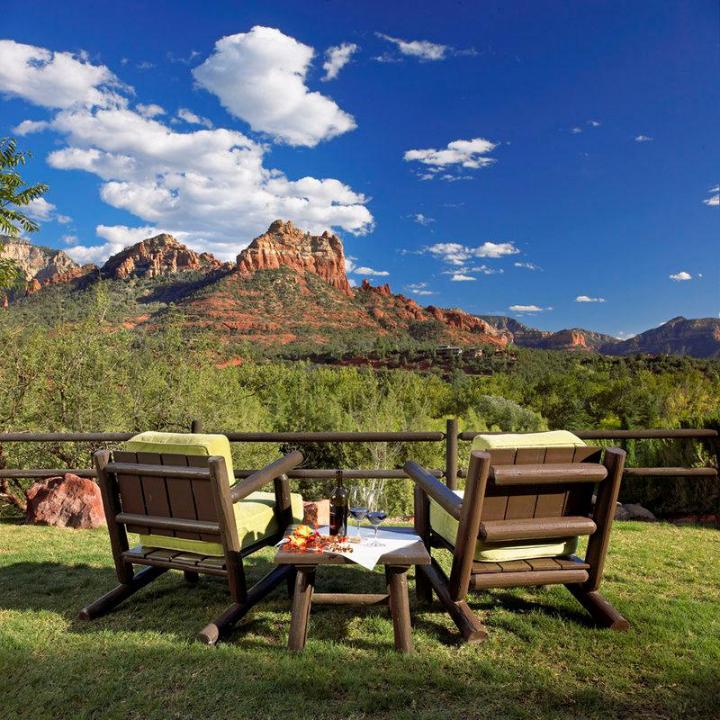 When choosing a resort in Sedona, the L'Auberge is one that comes up time and time again as the best place to stay in Sedona.
Jerome
Jerome might be a town small in size but it's big in fun and attractions for everyone. With its unique atmosphere and cool historical background, Jerome would surely be up your list as a "must revisit" for your next getaway trip.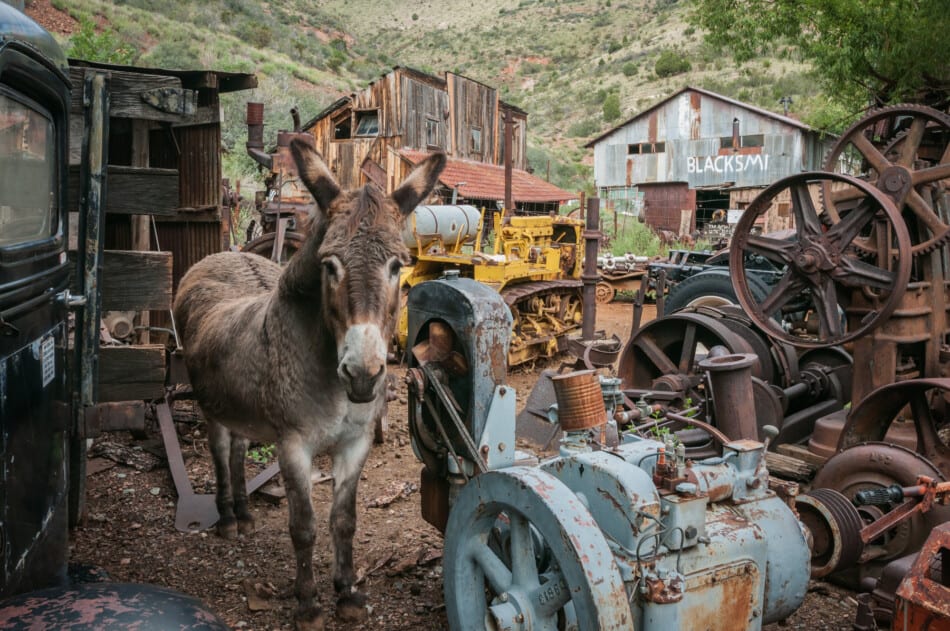 Experience the old Jerome in Jerome's Ghost Town Tours. This homegrown tour prides itself on providing guests with the best possible historic viewing experience while witnessing the history of old Jerome.
Go on a date and gift your significant other with a personalized kaleidoscope from the world famous Nellie Bly Kaleidoscopes.
Cap off the experience in Jerome's Passion Cellars, home to Arizona's fruity and artistically curated wines. A trip to Jerome would not be complete without walking through the streets of Cleopatra Hill. Old Jerome was once located on the hill that has now turned itself into a tourist destination.
Check out the Connor Inn in Jerome for a wonderful stay.
Lake Havasu
Lake Havasu, a city in Mohave County, is known to be one of the most romantic destination spots in Arizona. Full of adventure, fun, and surprises, Lake Havasu will definitely make its way into your list of favorite romantic destination spots.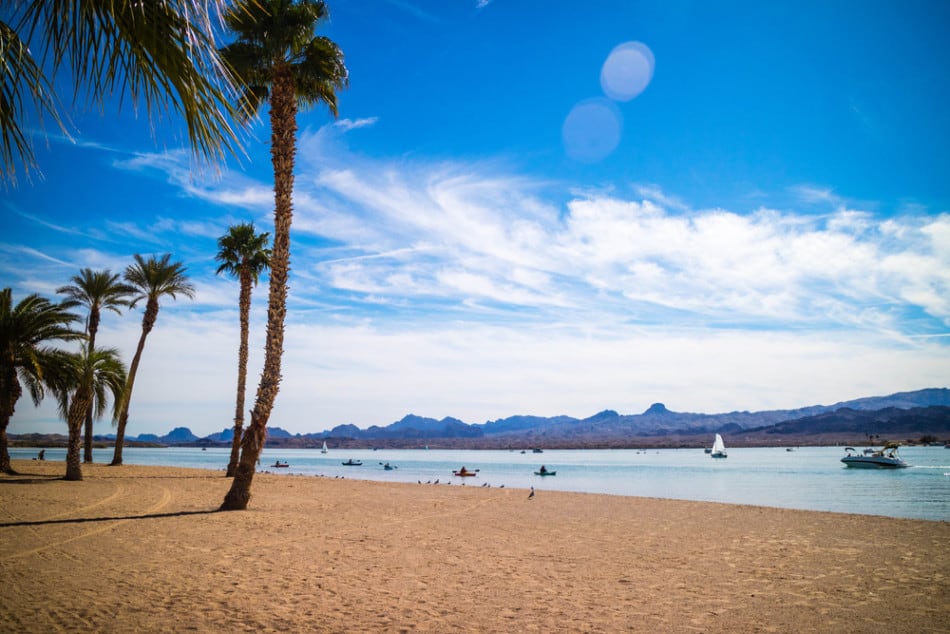 Take a stroll down the authentic London Bridge of Lake Havasu City. Built in England but was then sold to Robert McCullock who rebuilt it in Lake Havasu City, you'll feel like strolling in another city when you walk down the stone pavement of the bridge itself.
Have a dip in London Bridge Beach where you and your loved one can enjoy a day out in the sun and go swimming, kayaking, paddle boarding, and boating. Guests are also welcome to have a barbecue party and picnic on the beachfront.
Want to see the beauty of Lake Havasu and the Colorado River from another angle? Try the amphibious ultralight trike aircraft of Hangin' Over Havasu.
This guided tour takes you on a ride that you won't forget. For a nightcap, head on to Mudshark Brewery, a eco-friendly craft brewery that has one of the best handcrafted beers in the state.
They are environmentally conscious, their work operates on solar power, and they serve their delicious drinks on eco-friendly aluminum cans. Having a good time while saving the planet is not such a bad idea!
The Bridgewater Hotel is a popular choice for couples. This hotel has all of the amenities and beautiful views.
Williams
Who wouldn't want to go on a date while learning more about your partner and about history? Williams, Arizona lets you do both while having fun at the same time!
The first stop is the Grand Canyon Winery which is known as one of Arizona's Finest. As a local favorite, they offer specialty wines as well as draft beer and non-alcoholic drinks which accommodate all types of drinkers.
Williams also features the Grand Canyon Railway and Hotel. This destination takes guests on a journey through one of the seven wonders of the world.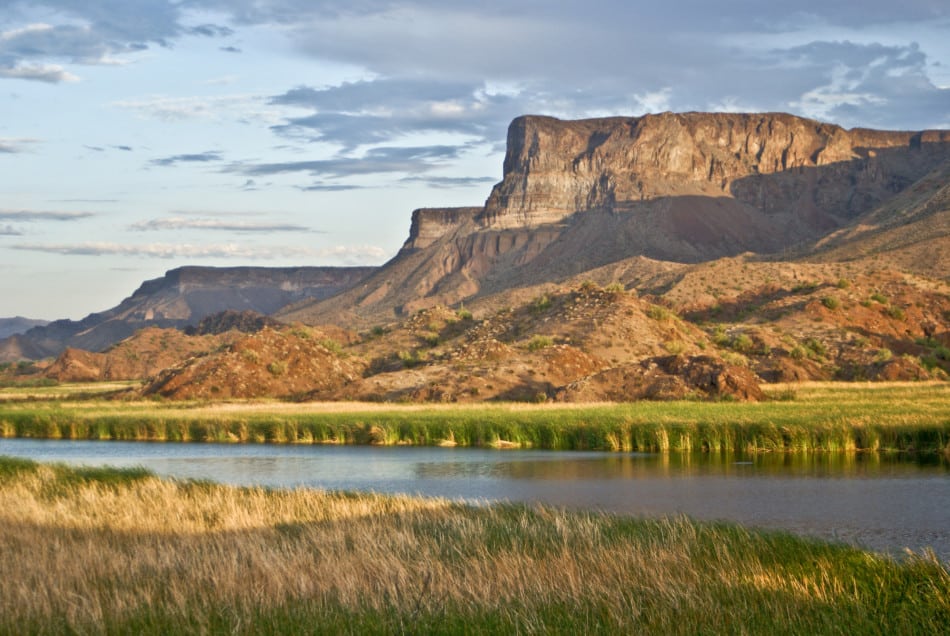 This train is more than just a ride, it's a trip that takes you back in time and lets you sit back, relax, and enjoy the beautiful scenery with your significant other.
Reminisce on the beautiful moments spent together as the scenery changes from one stunning landscape to another and it's all located in Williams, Arizona.
Take your loved one on an adventurous date and zip through the gorgeous scenery with Route 66 Zipline Tours. Guests are strapped under a red vintage Chevy as it speeds through Williams and through the Grand Canyon.
Why not stay at the iconic Grand Canyon Railway Hotel for a historic visit.
Flagstaff
Known as a hub of arts, culture, food, and outdoor adventure, Flagstaff will surely be a memorable trip that'll awaken and rekindle love once again.
In Flagstaff, a fun trip is always around the corner with their unique escapades and wonderful landscapes. Flagstaff has the Kokopelli Climbing, an adventurous rock climbing adventure tour that will take you on a thrilling trip of a lifetime!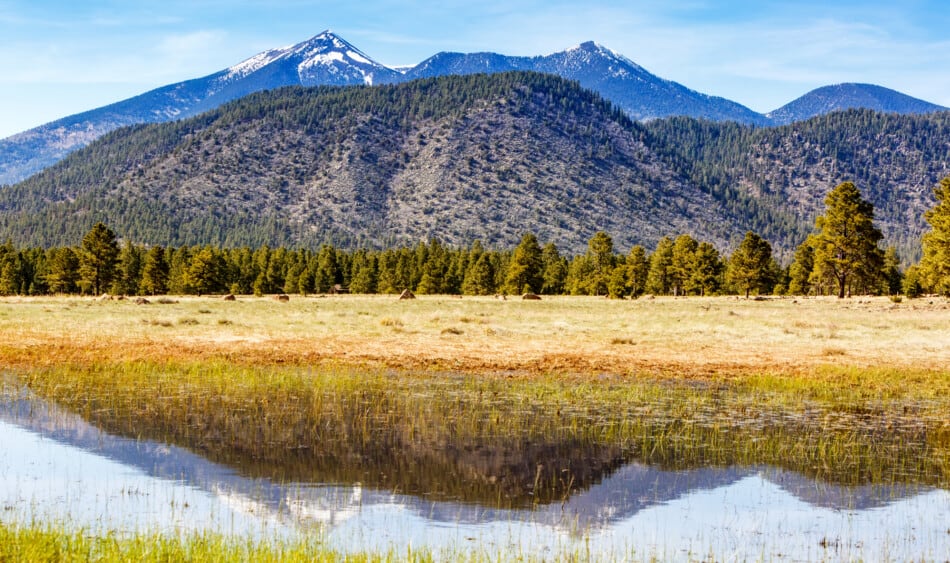 They offer scenic hiking, rock climbing tours, rappelling, deep water solo tours, and even canyoneering. Enjoy an adrenaline rush-filled outing with a loved one and conquer your fears together.
For guests who prefer a relaxing hike, a trip up to the San Francisco Peaks is the perfect destination. Enjoy a stunning display of the aspen mountains and vibrant views of nature. Guests can hike, camp, and picnic on the grounds and just take in all that Flagstaff has to offer. 
Check out my post on the Best Airbnbs in Flagstaff or the Best Cabins in Flagstaff for a tranquil weekend away.
Prescott Lynx Lake
If a relaxing romantic trip is more up to your taste, Prescott Lynx Lake is the perfect destination. Located in the Bradshaw Mountains at a high elevation, this dreamy location displays 360-degree views that only Prescott can give. With lush greenery, calm waters, and an abundance of serenity, Prescott Lynx Lake will be unforgettable.
Although swimming is prohibited, there are other ways to have a good time at Lynx lake. Enjoy a relaxing boat ride through Lynx Lake and go fishing, kayaking, sailing, or canoeing through the calm blue waters.
Guests can also go on a romantic picnic date, go trail hiking, rock climbing, biking, and see beautiful mountain vistas, or just lounge and take in the beautiful views of Lynx Lake. 
Check out my post on the Best Airbnbs in Prescott, Arizona
Lake Mead
Just a short distance away from the bright lights and neon signs of Las Vegas is the charming getaway of Lake Mead. with stunning desert scenery and gorgeously blue waters, it feels like an oasis surrounded by cities with fast-paced lifestyles.
Lake Mead flows from the Colorado River and into its banks and is known to be one of the largest and cleanest reservoirs in North America.
Guests may swim, boat, jet ski, or fish on the beautiful blue waters. The contrasting colors of the desert and the lake itself would surely take your breath away.
You can witness these dazzling views through a guided boat tour offered by Lake Mead or by a self-guided kayaking trip. In addition, when visiting Lake Mead, make sure to stop by the Hoover Dam, the greatest dam in the world. 
Check out my post on the Best Airbnbs in Las Vegas
Recent Posts