21 Epic Landmarks in Arizona That You May Not Have Heard Of
Arizona Landmarks: The Grand Canyon State is a unique place full of interesting places to visit. There are so many cool natural landmarks in Arizona.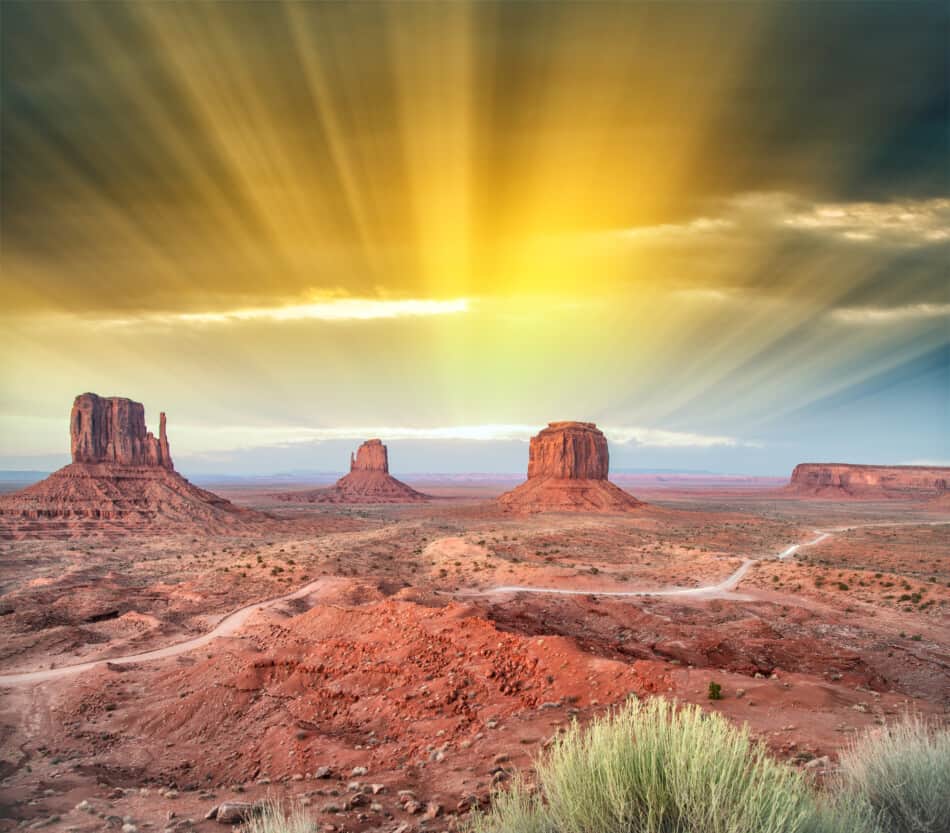 Arizona has been a well kept secret with most people only visiting the Grand Canyon but there is so much more to see and do and that's why I've put together this list of pretty cool Arizona Landmarks.
21 Amazing Natural Landmarks in Arizona
Grand Canyon
Visit the most iconic and popular tourist spot in Arizona, The Grand Canyon. more than 6 million people a year visit the Grand Canyon to experience its visitor centers, mule trips, train tours, helicopter rides, and more.
The most popular activity to do in the Grand Canyon is stargazing. Every June, visitors can take advantage of star parties, with telescopes set up for free use, plus astronomer talks and photo workshops.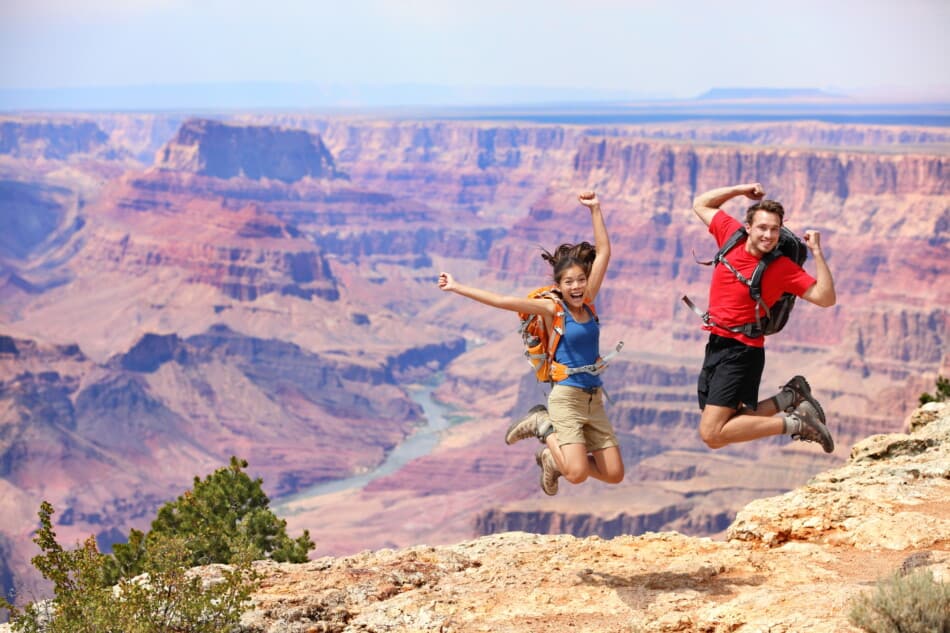 The clarity of the night skies is sure to be something you can't miss.
There are so many things to do that it might seem impossible to escape the admiring crowds, but we have a few off-the-beaten-path suggestions. Vast, magnificent, and inarguably beautiful, the Grand Canyon is easily Arizona's most distinguishable landmark—a natural wonder you must see to believe.
Check out my post on One Day at the Grand Canyon
Horseshoe Bend
Horseshoe Bend has become one of the most recognized and visited places in Glen Canyon National Recreation Area. It is about a 3/4 mile walk out to the edge overlooking Horseshoe Bend.
Once at the canyon rim, take in the breathtaking view of Horseshoe Bend below. This great bend in the canyon is truly a sight to behold, but exercise caution near the unfenced cliff edge as it sits more than 1,100 feet above the Colorado River below.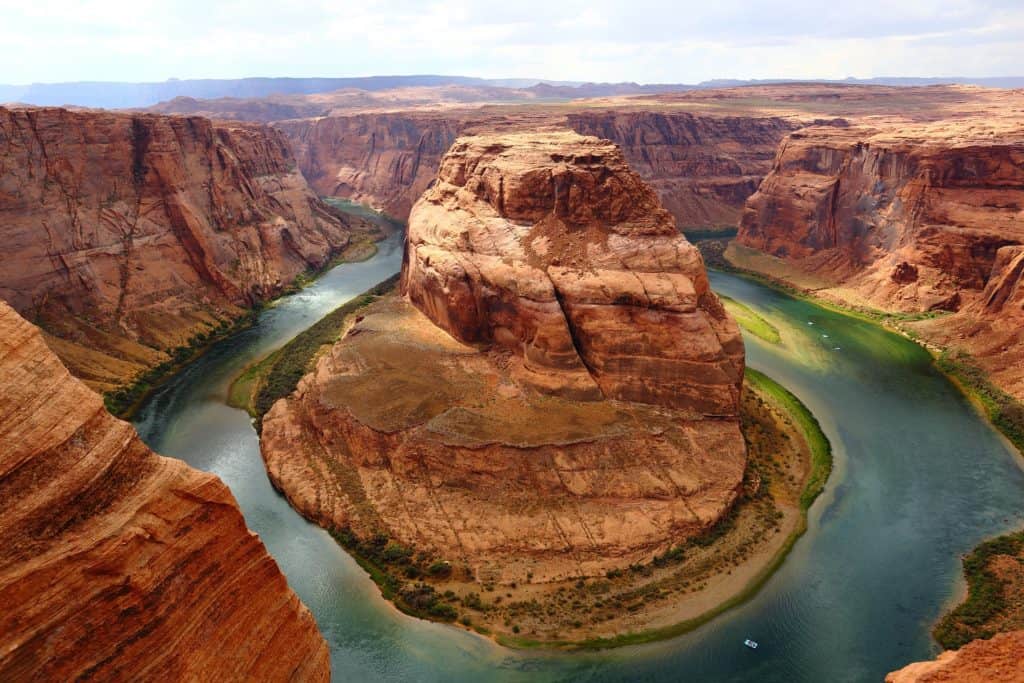 As you're admiring the view, take note of the striking blue-green color of the river. Before Glen Canyon Dam was built, the Colorado River was typically a frothy brown color, a hue given to the water due to its naturally high silt content.
This place has become highly memorable and many people seek it out when they are in the Grand Canyon area. Many visitors are not aware that the Grand Canyon is surrounded by many small canyons and Horseshoe Bend is oftentimes expected to be in the Grand Canyon.
Check out my post on visiting Horseshoe Bend
Monument Valley
Want to add one of the grandest landmarks in the United States to your "visited" list? Visit the surreal sandstone towers in Monument Valley. Monument Valley is located at Monument Valley Navajo Tribal Park on the Navajo Nation; one of the largest American Indian tribes.
This sandy preserve bathes the region between Arizona and Utah in rich red hues, adding to its reputation of having some of the most dramatic and mesmerizing light. Monument Valley has become one of the most iconic images of The West, and a popular tourist destination.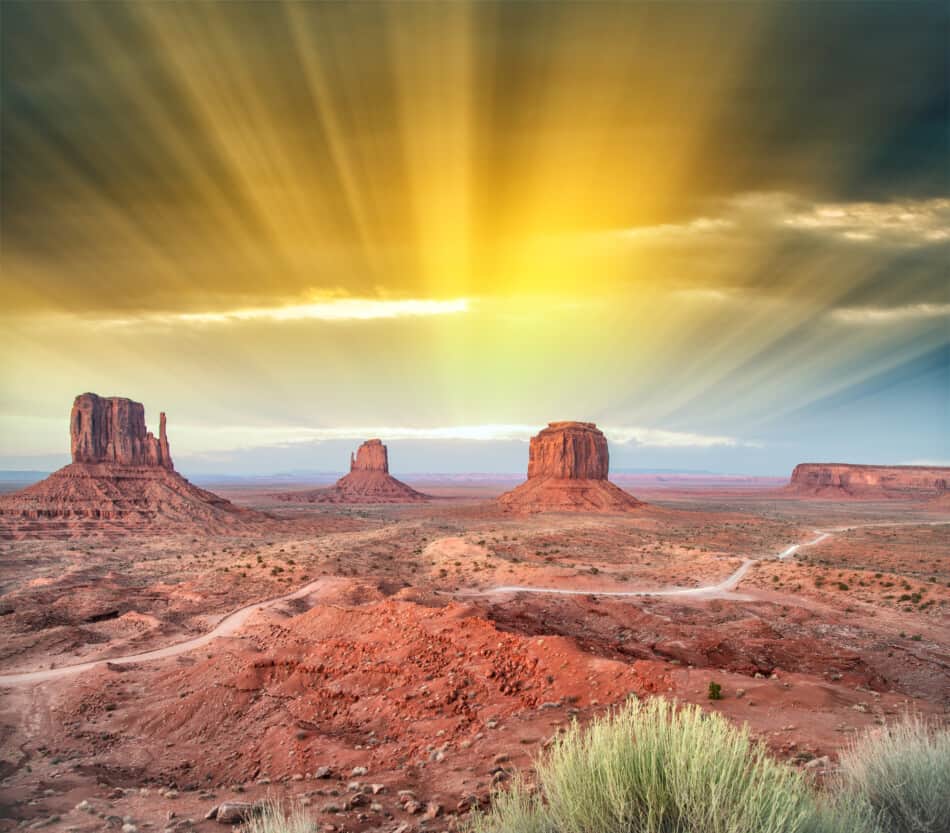 It's not always referred to by name in the movies, but most visitors will surely recognize it. Forrest Gump and his band of running followers jogged along U.S. Route 163 right through Monument Valley in 1994.
Fans of the movie should visit this stretch of the highway to recreate the scene or just take a few photos. All of this harmoniously combines to make Monument Valley a truly wondrous experience. Enjoy this beautiful land.
Check out these 50+ Amazing Places to visit in the Southwest
Antelope Canyon
Few geological formations are as picturesque and awe-inspiring as Antelope Canyon, a magnificent slot canyon just east of Page in Northern Arizona.
With tall winding walls, it's a monumental sandstone sculpture. In a photographer's dream, the canyon is known for its wave-like structure and the light beams that shine directly down into the openings of the canyon, creating a supernatural appearance.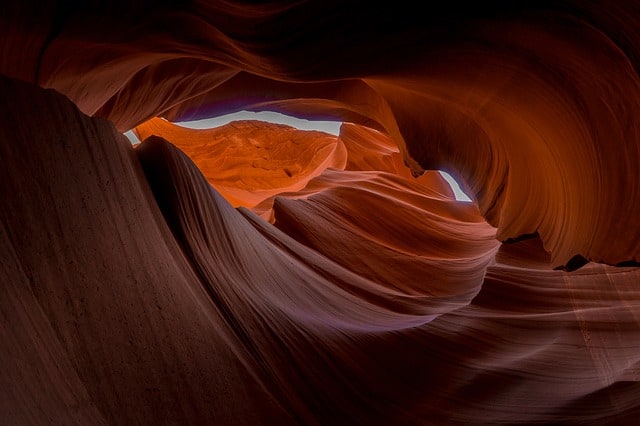 Upper Antelope Canyon, which is also known as "The Crack," is the most popular of the two slot canyons that make up Antelope Canyon. It is also the most-visited slot canyon in the American Southwest and the most photographed in the world.
You can get to see radiant sunbeams that shine through the walls of the canyon around spring and summer and admire the ever-changing colors around fall and winter. With its accessibility for all people, Antelope Canyon is an easy yet exciting experience.
Check out my post on Upper vs Lower Antelope Canyon
Havasu Falls
Havasu Falls is an iconic natural wonder seen on many calendars and screensavers, and worldwide through television, magazines, and online media. Perfect for an overnight road trip to or from Lake Havasu City, hiking to Havasu Falls is a bucket-list adventure for experienced hikers on the quest for the hike of a lifetime.
The stark contrast between the arid desert landscape of the Havasu Canyon and the lush vegetation near the water is a juxtaposition of a harsh desert and a sumptuous tropical paradise.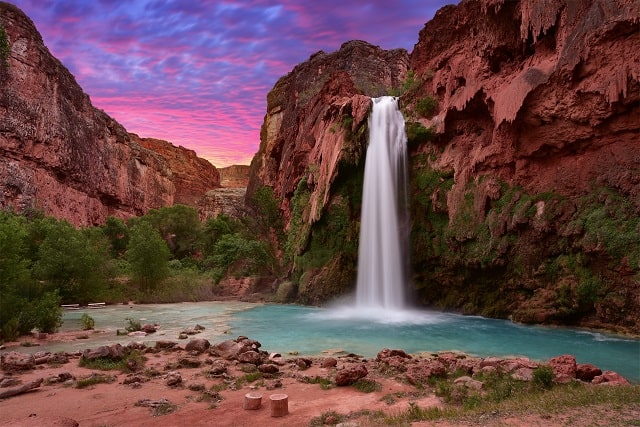 Enjoy camping near Havasu Falls where there are many picnic tables which is easy to cross over by the edge of the pools. For your stay at the bottom of the canyon, bring a bathing suit, water shoes, towel, and camera.
Pack a tent, sleeping bag, sleeping pad, inflatable pillow, and portable backpacking stove if you are camping. Bring food even if you are staying at the Lodge. For people who love to hike, the trek to Havasu Falls is difficult unless you are physically fit.
This hike can be extremely strenuous. Marvel at these beautiful waterfalls in Havasu Falls.
Check out my post on hiking to Havasu Falls
Montezuma's Castle
Montezuma Castle is one of several well-preserved ancient dwellings in north-central Arizona, including the Wupatki, Tonto, Walnut Canyon, and Tuzigoot national monuments. It is probably the most spectacular; an imposing 20 room, the 5-story structure built into a recess in a white limestone cliff about 70 feet above the ground.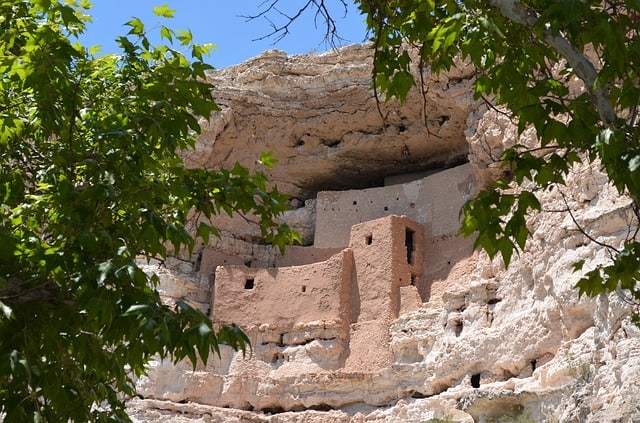 Take a self-guided loop trail that leads you through the sycamore grove and along Beaver Creek. Join their formal ranger tours that cover a range of educational topics related to the Monument. Visit this piece of history in Arizona and marvel at Montezuma's castle.
Check out my post on Indian Ruins in Arizona
Oak Creek Canyon
No matter what time of year you visit, Oak Creek Canyon is a spectacular sight to see. From colorful leaves in the fall to shady hikes in the summer and a dusting of snow in the winter, there is always a great reason to explore this beautiful canyon.
In Spring, make a drive through the canyon and stop at Indian Garden Cafe and Market for lunch and nice commodities. In Summer, While the high desert can get pretty warm, the shady trees of Oak Creek Canyon make it the perfect place to hike and recreate during this time.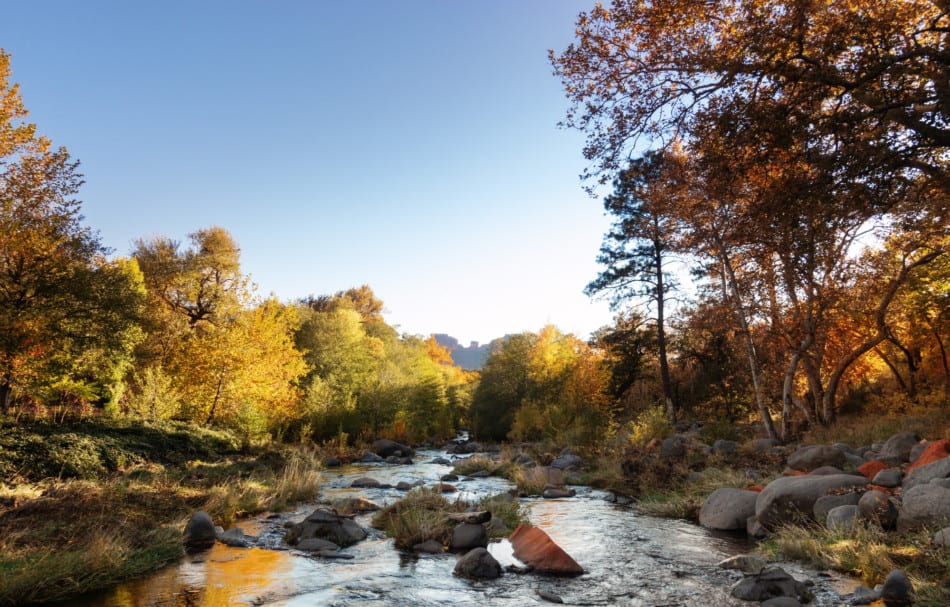 One of the most infamous spots in Oak Creek Canyon during the summer months is Slide Rock State Park – an adventure for the entire family that centers around a natural water slide and wading pool made from slick red rocks!
At Fall, the colors of the changing leaves and temperate temp climate are ideal for exploring the canyon and taking photos. This is one of the best times to visit Oak Creek Canyon.
Lastly, in Winter, this season is perfect for a gorgeous drive through the snowy canyon and a stop along the way for hot cocoa. You might get lucky with enough snow on the ground for an impromptu snowball fight too!
Whatever time of year you decide to visit Oak Creek Canyon, there is beauty to be found and memories to be made.
Check out my post on the Best Swimming Holes in Sedona
Cathedral Rock
Hiking to Cathedral Rock is an essential experience in Sedona. This hike is short and sweet, and with some rock scrambling and jaw-dropping views, it's tons of fun from start to finish. The hike is one of the most popular hikes in Sedona. This experience is much more about the climb up Cathedral Rock and the reward of panoramic views.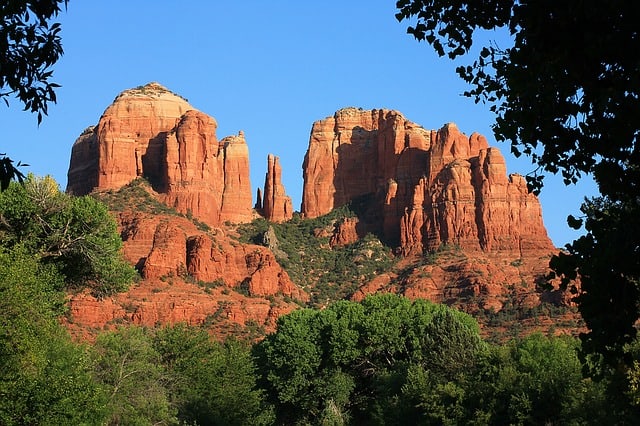 Hiking Cathedral Rock Trail is worth the trip to Sedona, worth the vulture-like hovering to get a parking spot and worth the challenging climb to the top. Its views from various points on the trail are stunning. No doubt about it—you are rewarded for your effort.
Check out my post on Romantic Places to visit in Arizona
Chapel of the Holy Cross
Visit this surprisingly modern and contemporary building on the hillside of Sedona called the Chapel of the Holy Cross.
The Chapel of the Holy Cross built in the red rocks of Sedona, Arizona is the epitome of what many architects try to achieve when designing religious architecture.
Its reliance on the symbolic rock as its foundation and the sprawling views of the surrounding environment creates a humbling and spiritual experience within the walls of the church.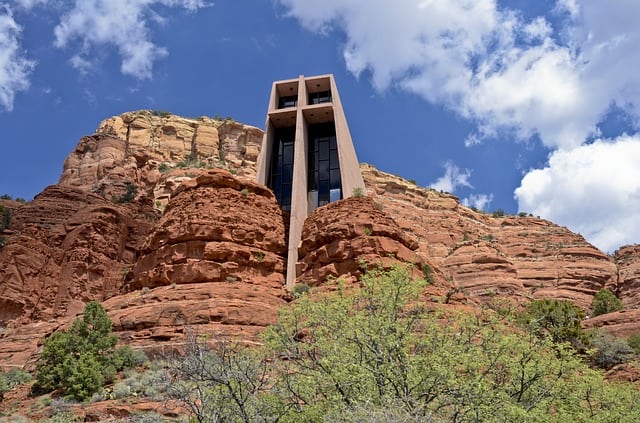 One of the notable characteristics of the chapel is the giant cross that supports the glass, you can't miss this when visiting this place.
The warm Arizona sun melts it away quickly so you don't have to worry about icy roads and trails. It's still easy to get out and enjoy Sedona's best hiking trails and attractions, including the stunningly beautiful Chapel of the Holy Cross.
Check out my post on the Best Things to do in Sedona
Devil's Bridge
Devil's Bridge is not just a daring place to be but a heavenly place to admire and marvel at. Devil's bridge is a wonderful hike in Sedona.
With an easy hiking trail, beautiful red rock scenery, and the chance to take beautiful photos, this hike should make the list for many visitors to Sedona. The views and scenery of the Devil's Bridge Sedona area will leave your jaw on the floor!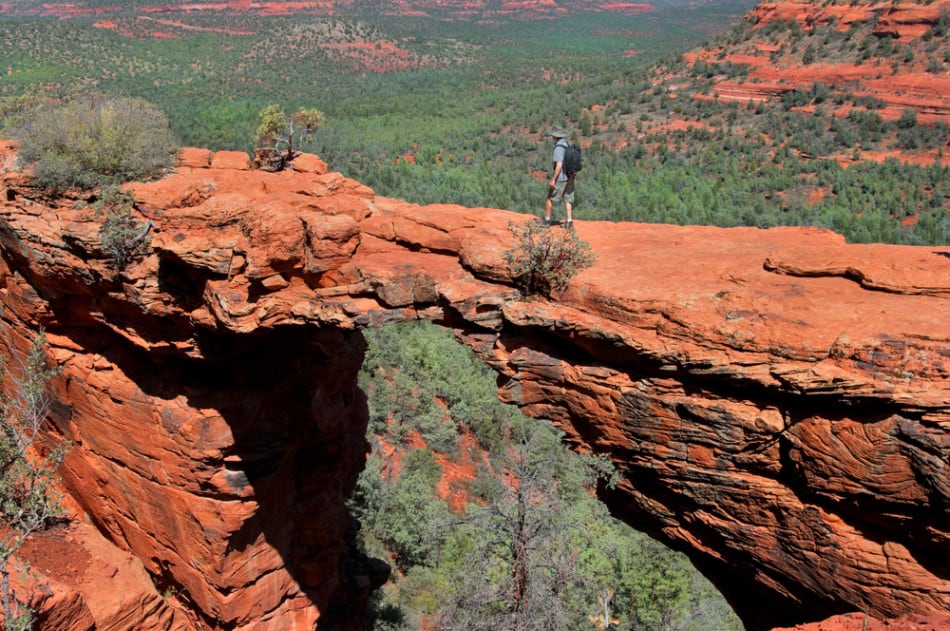 You'll hike past colorful rocks saturated by the summer sun, interesting desert plant life, and views that will stop you in your tracks.
With all the amazing views you'll be stopping many times on your way up to Devil's Bridge to snap a few pictures. This, in turn, provides many opportunities to take breaks, rest, and drink water. Devil's Bridge is a place, no matter how busy it gets, it will always be worth the visit.
Check out my post on the Best Hikes in Sedona
Vermillion Cliffs National Monument
If you've seen photos of The Wave—a striated sea of rust-red and sun-gold sandstone, rolling across Arizona's high desert—then you have seen Vermillion Cliffs National Monument and The Wave.
This is the place to go if you prefer unspoiled wilderness, fantastic trails, and a starry silence under the night sky. These incredibly scenic features, with their vibrant colors and intriguing forms, attract photographers, artists, and tourists alike.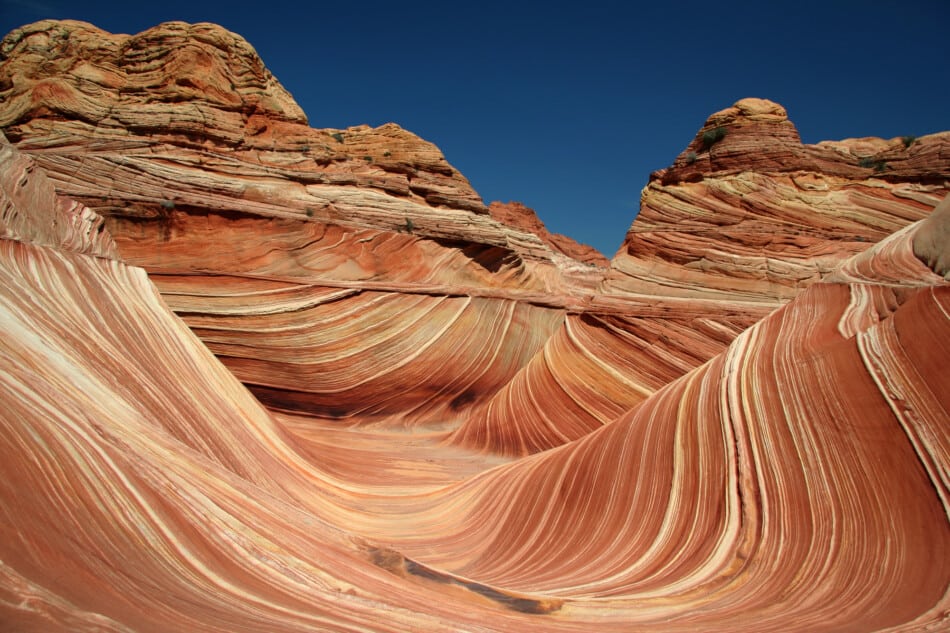 Once little visited, the area is now so popular that people compete for the chance to see the sandstone formations and sinuous slot canyons. 
Vermillion Cliffs is a hiker's paradise, so bring your sturdiest shoes since many of the most iconic sights are only accessible on foot. And as usual, when it comes to traversing any desert plain, don't head out without stocking up on way more food, water, gas, and sunscreen than you expect you'll need.
Sunset Crater Volcano National Monument
Around 1085, Sunset Crater Volcano erupted—forever changing the landscape and lives of those who lived there. Today, visitors can explore the Bonito lava flow and various volcanic features.
Once a deadly volcano that razed the landscape and ecology of the area now become one of the most amazing sceneries full of wildlife and amazing places to hike.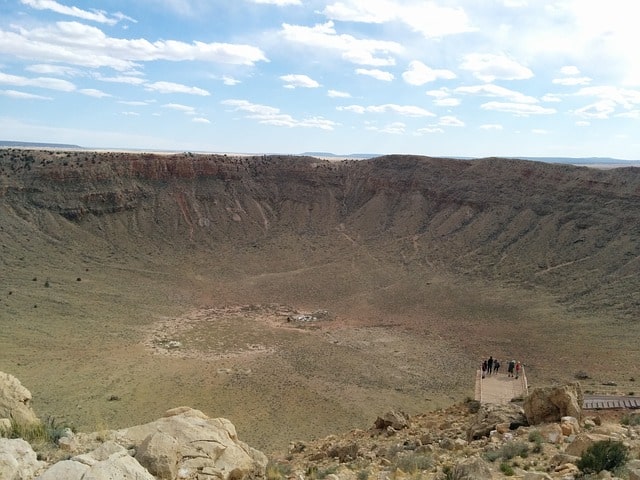 Explore the 3,040 acres of this National Monument by foot, or on wheels. You can drive or bike through the park for an overview of the sites, or hike your way through lava flows and trails.
Guided tours are also available, offering you an even deeper knowledge of the history and ecology of the area. There are other programs and events held at the monument throughout the year. If you want to see a beautiful disaster, visit the Sunset Crater Volcano National Monument.
Check out my post on Things to do near Flagstaff
Grand Falls
Like the chocolate waterfall in the movie Willy Wonka and the Chocolate Factory, these muddy falls are a sight to be seen.
Known in the Southwest for its many tiers of water and wide stance, the Grand Falls is an incredible phenomenon. These chocolate waterfalls are most impressive during spring when the warming weather causes snowmelt in the White Mountains of eastern Arizona.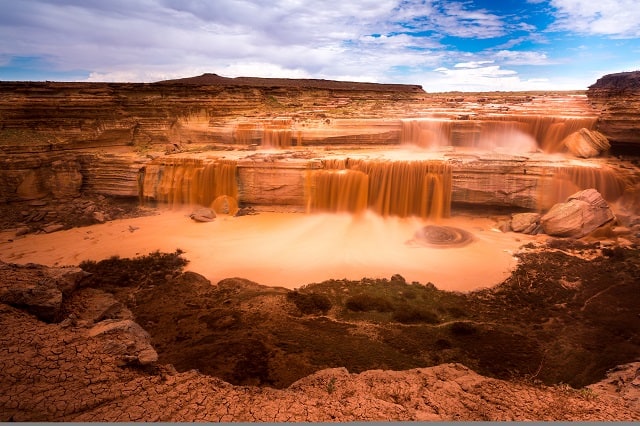 If you are looking to spend the day checking out what Grand Falls Arizona has to offer, be sure to utilize the picnic benches and gazebos next to the edge of the gully. Visit Grand Falls as it is quite a treat to see "chocolate" run through a waterfall.
Check out my post on Beautiful Arizona Waterfalls
Tombstone Courthouse State Historic Park
Tombstone, Arizona is often called "The Town Too Tough to Die" is famous for its old mining camps.
Built-in the shape of a Roman cross, once housed the offices of the sheriff, recorder, treasurer, board of supervisors, jail, and courtrooms of Cochise County. The 12,000 square foot courthouse is now a museum filled with artifacts of those who tamed the territory or made it wild.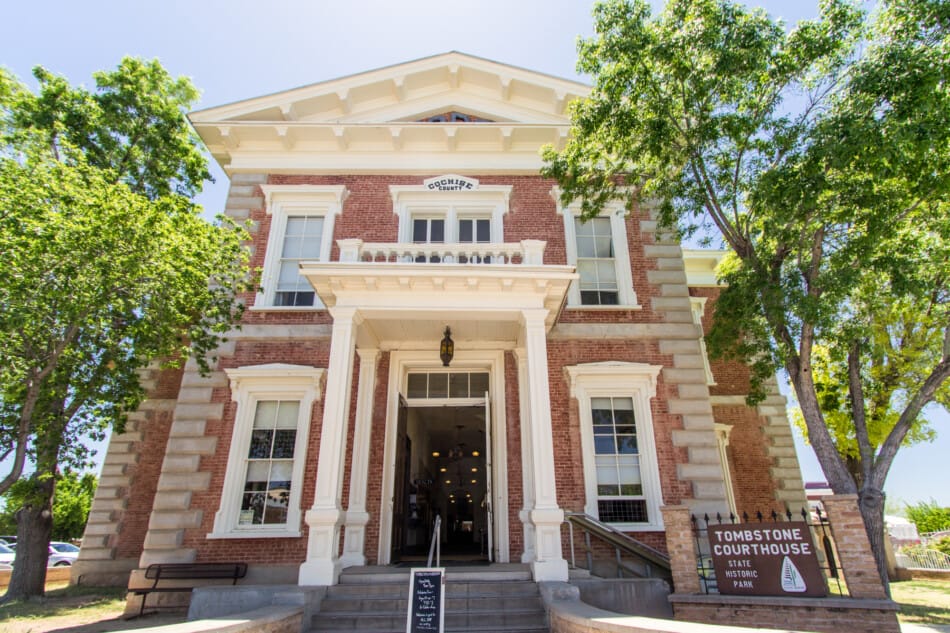 Take a glimpse of the artifacts to form the Old West in one of its most infamous towns. Tombstone's origin as a frontier silver mining boomtown is contained in exhibits at the courthouse museum.
Meet the miners, cattlemen, and pioneers who settled here, and see a reproduction of the courtroom and sheriff's office. Included in the displays are a tax license for operating a brothel and an invitation to a hanging. Visit the Tombstone Courthouse State Historic Park to know and understand the history of what Tombstone used to be.
Check out my post on the Best Things to do in Tombstone
Tonto National Monument
Located in the Tonto Basin of Southeastern Arizona, Tonto National Monument is a great place to see numerous cliff dwellings.
Tonto National Monument showcases two Salado-style cliff dwellings. Colorful pottery, woven cotton cloth, and other artifacts tell a story of people living and using resources from the northern Sonoran Desert from 1250 to 1450 CE.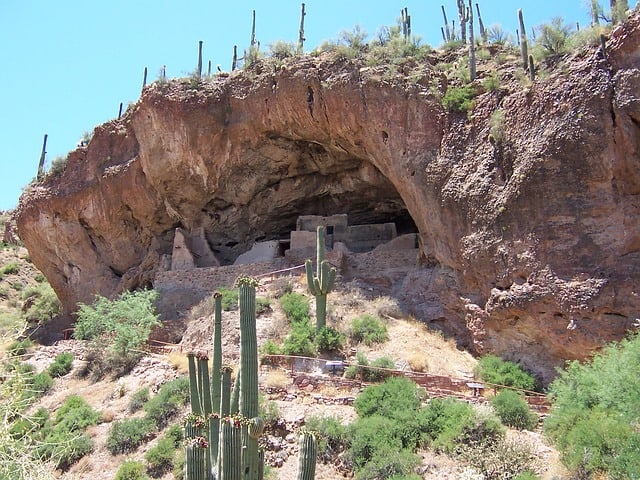 One of the two ancient dwellings (the Lower Ruin) is reached by a paved, half-mile, self-guided trail which leads from the visitor center/museum quite steeply 350 feet up the side of a rocky hill, giving increasingly good views of Tonto Basin and Theodore Roosevelt Lake. Tonto National Monument is a must-see when visiting Arizona.
London Bridge
Looking for a familiar tourist spot in a different state? Look no further than at London Bridge in Arizona. This 54-year-old bridge is full of rich history to be discovered and learned. From its impeccable similarity of the actual London Bridge to its stagnant beauty, this historic and, some say, the haunted bridge is the number-one built attraction in Arizona.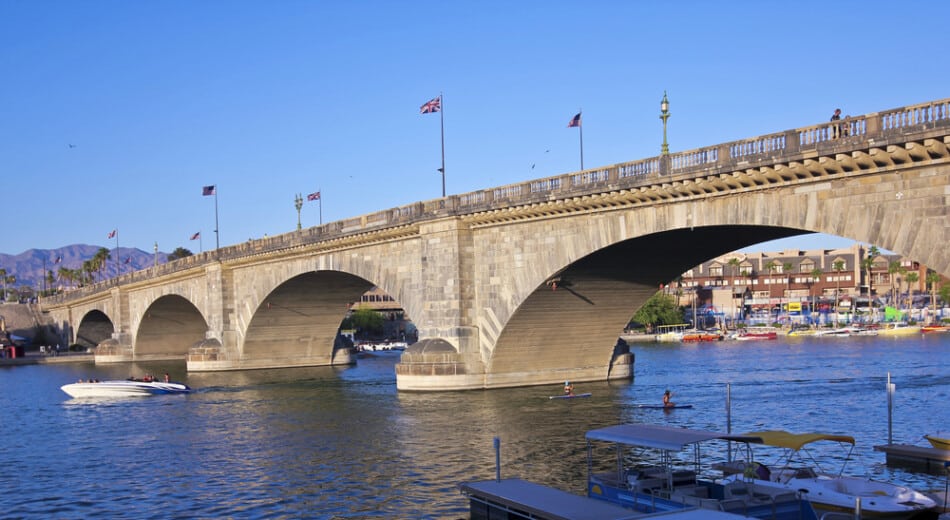 Attracting visitors from around the world, its many fans include photographers, filmmakers, travel writers, history buffs, boaters, kayakers, paddle boarders, and music lovers at live concerts under its acoustical arches. Don't miss out on this amazing tourist spot, so come on down to London Bridge in Lake Havasu City, Arizona.
Check out my post on the Best Things to do in Lake Havasu
Biosphere 2
Known for two missions conducted in the early 1990s to study survivability, the Biosphere 2 is now a tourist attraction located in Oracle, Arizona. This attraction is a good place to understand and learn the dedication and motivation of the scientist of that time. I first visited the Biosphere in 1994 and thought it was such a cool experiment.
This facility was mainly used to conduct survivability in outer space by recreating the same atmosphere in space. Now the facility is inhabited with wildlife aim to preserve many plants and test out the survivability of these plants in space. Overall, Biosphere 2 is a great place to wander and marvel at mankind's achievements.
Recent Posts