January in Vegas: Planning a trip to Las Vegas in January? Winter in Vegas is my favorite time to visit and January is nice and quiet as far as the crowds but still a lot to do.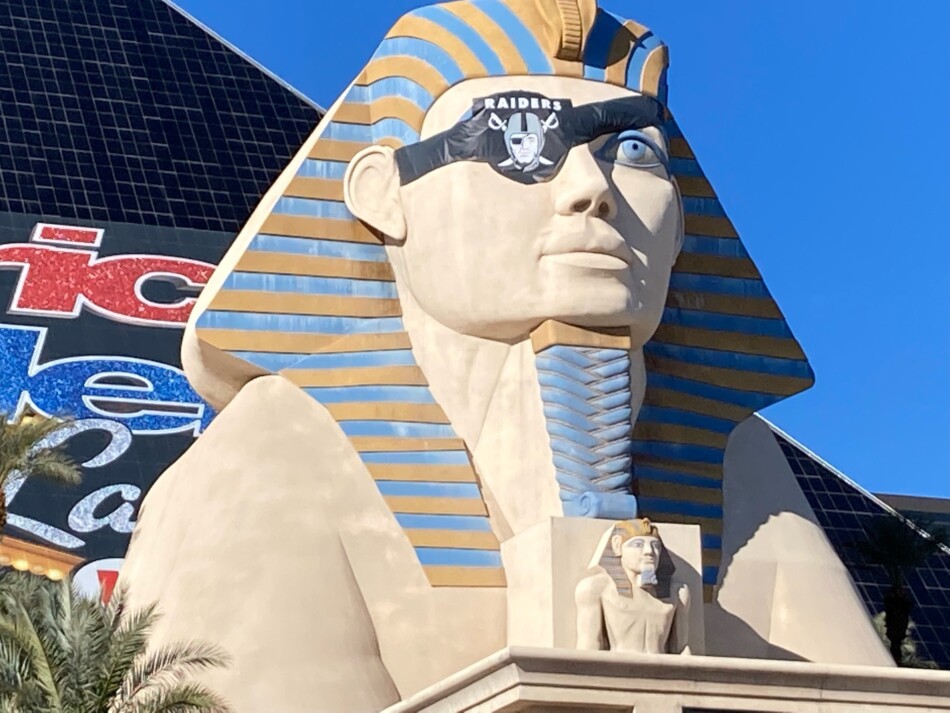 Visiting Las Vegas in January offers a unique and enticing experience that sets the stage for an unforgettable journey. Often overshadowed by its reputation as a summer hotspot, this winter month unveils a different side of the vibrant city that shouldn't be missed.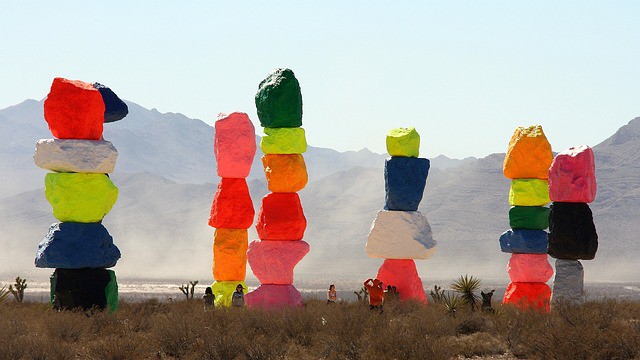 Furthermore, January is a period of relative tranquility in Las Vegas. The bustling crowds of the holiday season have subsided, resulting in shorter lines at popular restaurants, shows, and attractions.
This means you can immerse yourself in the city's renowned entertainment offerings with ease and without the usual hustle and bustle.
Budget-conscious travelers will also appreciate the cost savings that come with visiting Las Vegas in January. I first visited Vegas on some cheap flights I found.
Hotel rates and airfare tend to be more affordable compared to peak travel seasons, allowing you to enjoy the city's luxurious accommodations and amenities without breaking the bank.
Many resorts and casinos offer attractive deals and packages during this time, making it an opportune moment to indulge in the city's renowned hospitality.
Lastly, the post-New Year atmosphere brings with it a sense of renewal and excitement. Las Vegas is known for its electrifying nightlife, and in January, you can revel in the city's lively energy while taking advantage of the numerous entertainment options, clubs, and bars that line the Strip.
Las Vegas in January offers a delightful blend of favorable weather, reduced crowds, cost savings, and an invigorating atmosphere.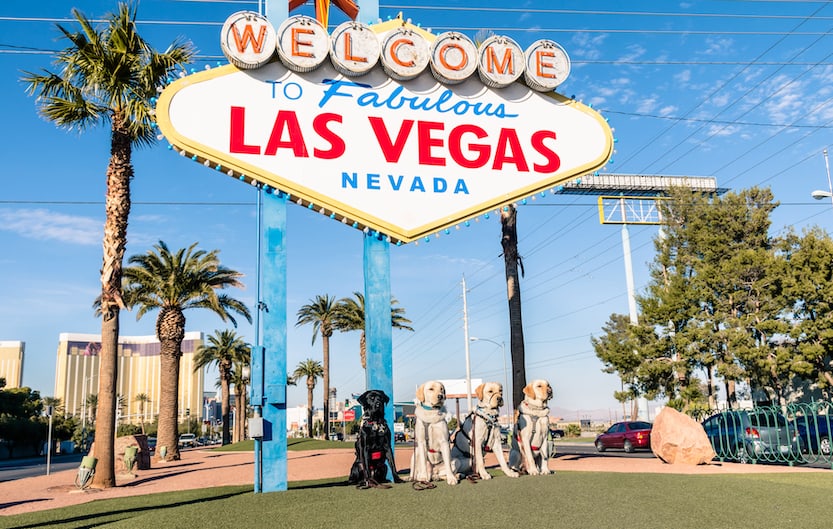 Whether you're seeking a laid-back getaway or an adventure-filled escape, this winter month provides an alluring opportunity to experience the city's renowned attractions and entertainment in a more relaxed and budget-friendly setting.
Check out my post on 25 Secret Things You Must do in Vegas – for First Timers Not to be Missed!
Weather in Las Vegas in January
First and foremost, the weather in January is a major draw. While much of the country is shrouded in cold and snow, Las Vegas enjoys mild and pleasant temperatures.
With average highs in the mid-50s to low 60s Fahrenheit (12-17°C), you can comfortably explore the city's iconic attractions without the scorching heat that characterizes the summer months.
This ideal climate provides the perfect backdrop for leisurely walks along the famous Las Vegas Strip, outdoor shows, and a range of outdoor activities.
Things to do in Vegas in January
Go to a Vegas Variety Show
Even when all other events are rescheduled or canceled, it seems impossible to stop a fantastic Las Vegas variety show from happening. You should consider going to watch two particular shows this January.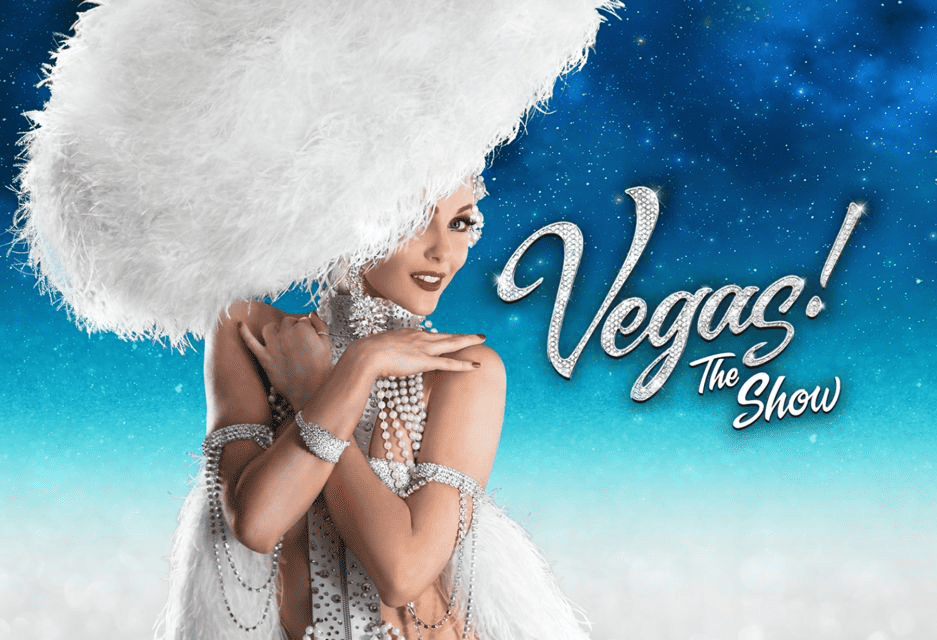 The Vegas Spectacular, which features many excellent musical acts, dancing, and more, is undoubtedly one of the most well-liked choices.
As an alternative, you could choose V: The Ultimate Variety Show, which features a variety of acts like jugglers, pianists, and aerialists.
Tickets usually cost more than $100, but a Las Vegas Tourist Pass can help you save some money! Check out my post on 41 Best Things to do in Vegas at Night – 2023 Update
Neon Museum
You must visit the Neon Museum if you want to show your admiration for the hotels and casinos of Las Vegas.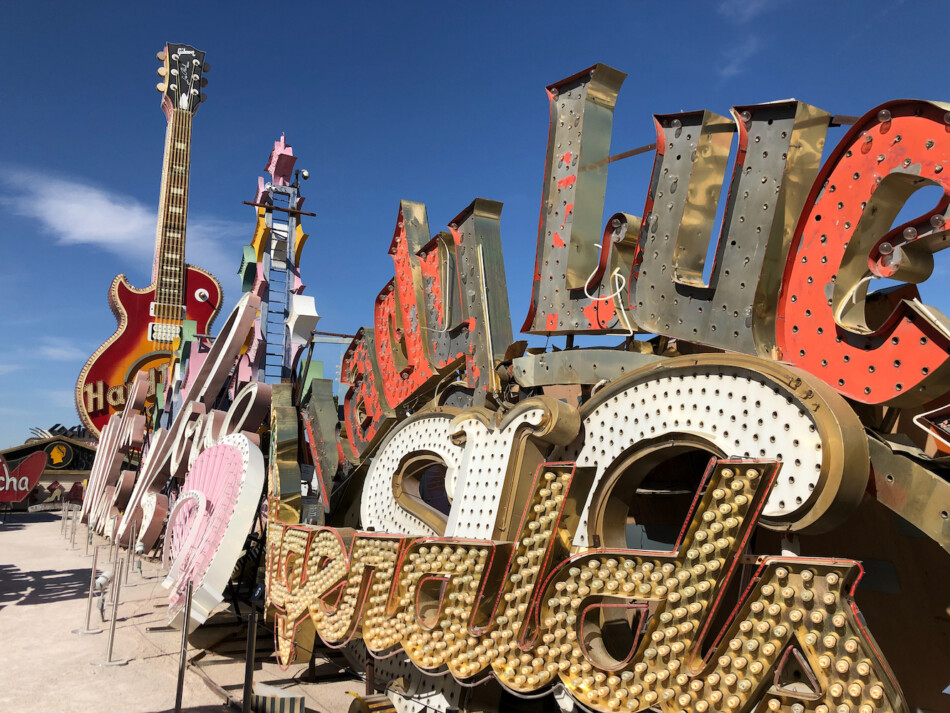 The Sahara, Golden Nugget, and Stardust, among other well-known Las Vegas establishments, have had their iconic neon signs expertly and affectionately restored here.
Over 200 neon signs can be found on the expansive grounds, which were home to the attraction when it was erected in the 1930s.
The Neon Museum is perfect for a visit in January since everything is outside and it becomes extremely hot there during the summer.
The STRIP
On the Las Vegas Strip, you may find a lot of entertaining things to do in Las Vegas. The strip is studded with luxurious casinos and resort hotels that are home to a variety of activities, stores, and dining options that may keep you busy for days.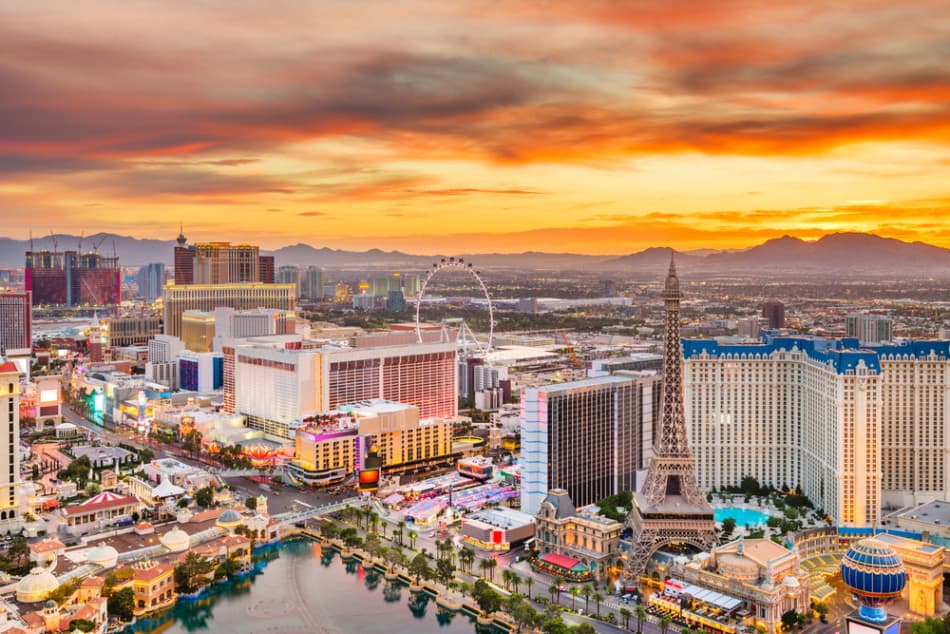 Along the Las Vegas Strip, there are so many entertaining activities to do in Las Vegas throughout January
You'll adore the front conservatory, the fountain show, and the blown-glass roof. Make sure to look at the conservatory's seasonal displays.
If you have any thrill-seekers in your party, take them to the Stratosphere's observation deck, where you can take in stunning vistas of Las Vegas while participating in their thrilling rides. In New York, you can also ride the Big Apple Coaster.
The Venetian is a stunning hotel that will briefly take you to Italy. You should experience more gondola rides and gelato in your life.
Check out my post on 21 Fun Indoor Activities in Las Vegas to Escape the Heat (or Rain). And did you know most hotel pools are heated in Vegas? Check out these 15 Best Water Parks in Las Vegas and Best Hotels with Waterparks in Las Vegas
Bellagio Conservatory Winter Display
The 14,000-square-foot Bellagio Conservatory's winter holiday exhibit is a must-see if you're in Vegas in early January. This is my favorite thing to do in Vegas. It's an incredibly beautiful, festive winter setting.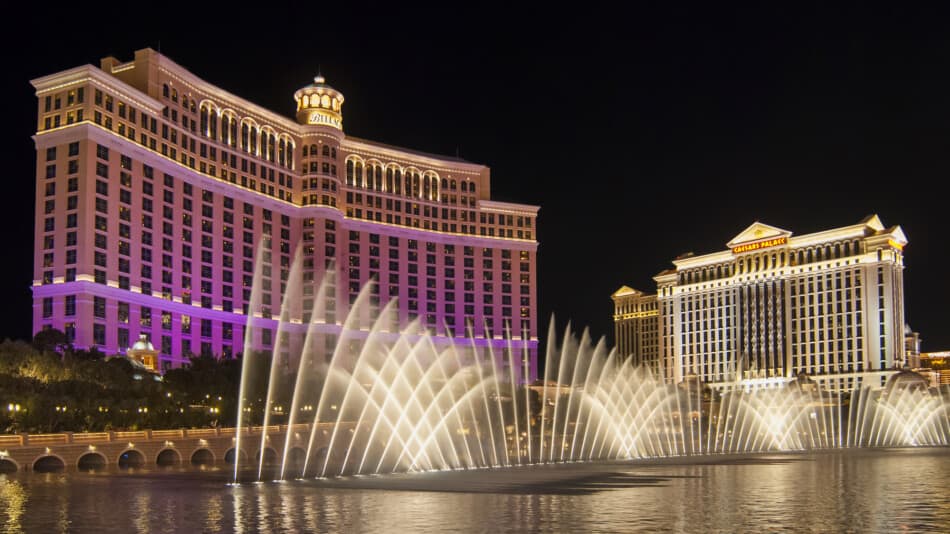 A glass ceiling that rises 50 feet is seen through an entrance that is located across the lobby from the front desk. The stunning Conservatory is shown here. Verdigris, a sculpted green metal of oxidized copper set in floral designs, serves as the ceiling's framework and beams.
The pathways of the Conservatory & Botanical Gardens lead to MICHAEL MINA Bellagio, an excellent fine-dining seafood establishment, Giardini Garden Store, a store selling home décor items and garden-themed gifts, Spa & Salon Bellagio, and Via Fiore ("flower way"), the promenade that connects to the Spa Tower. The Bellagio grounds, including the Botanical Gardens, are cared for by a 120-person horticultural staff. By choosing flowers that go well with the trees, gazebos, bridges, and ponds, the staff can create seasonal designs. They can also add or remove water elements to enhance the seasonal look.
The opening dates change slightly every season. The winter exhibit is usually open from early December until early January. Check out my post on things to do in Vegas with kids.
Ice Skating
One of the best spots to skate in Las Vegas is at the Cosmopolitan's ice rink. Even USA Today recognized it as one of the top ice skating rinks in the country. Normally, the rink is open from the middle of November to January.
You can discover s'mores, fire pits, warm drinks, and ice skating nearby. Additionally, at certain hours, there is a small snowfall every 30 minutes.
Check out my post on Christmas in Vegas and things to do in winter.
Red Rock Canyon
For those who arrive on a day with pleasant weather, a picnic area is open, along with multiple hiking trails.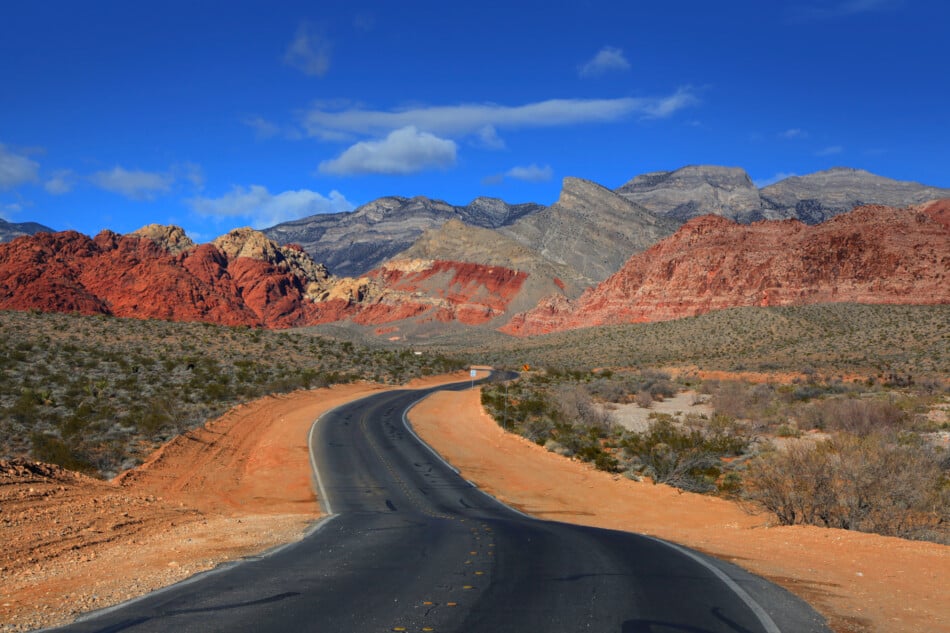 In January, you can attend multiple events at Red Rock Canyon. Educational talks, as well as guided hikes, are available. Most of the events listed are free and don't require reservations.
However, checking their website is best to see if reservations or a fee are required. Check out my post on 15 Best Hikes in Red Rock Canyon near Las Vegas for Stunning Views
Ride Horses
Riding a horse is a great way to explore Red Rock Canyon. A stunning way to experience the canyon is on a horseback ride through it at sunset. Also included is a fantastic campfire BBQ with grilled meats, corn on the cob, and s'mores to cap off the evening following your guided trail ride.
Transportation to and from specific Las Vegas hotels is included in this tour. Even if you have no prior horseback riding expertise, this is an excellent trail ride. No prior riding knowledge is necessary.
Check out my post on 15 Best Outdoor Activities in Las Vegas – Hidden Gems
Valley of Fire
In January, spend the day hiking at the Valley of Fire State Park to experience Las Vegas's more adventurous side. Your tour guide will pick you up at the hotel and take you outside and away from the Strip.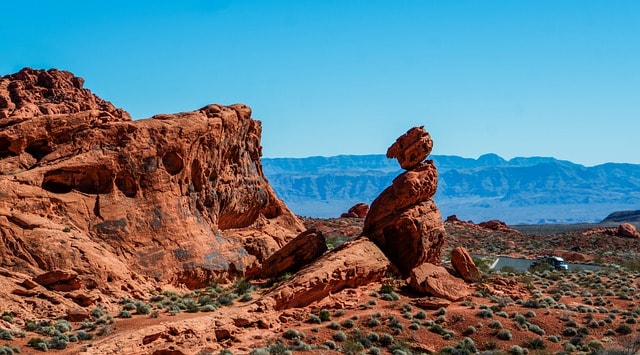 The Lake Mead Recreation Area can be seen in the distance as you get closer to the park's entrance. The world's largest lake in the country is Lake Mead.
Pick an easy, moderate, or difficult hike. Your guide will discuss the Valley of Fire's history and the local geology while you are on the trip. The oldest state park in Nevada lets you explore the desert environment while admiring walls covered in petroglyphs.
As the hike progresses, you'll encounter easy to difficult rock scrambles that will lead you to some of southern Nevada's most stunning peaks and plateaus. These trails were made with the spirit of adventure in mind, so there is no lack of thrill here.
You'll visit the park's visitor center after the hike is over before traveling back to Las Vegas.
Check out my post on How to Travel from Las Vegas to Valley of Fire – A Hidden Gem
Visit Hoover Dam
One of the seven wonders of the modern world, the Hoover Dam is located about 45 minutes west of Las Vegas. It is an easy day trip from Vegas and this tour combines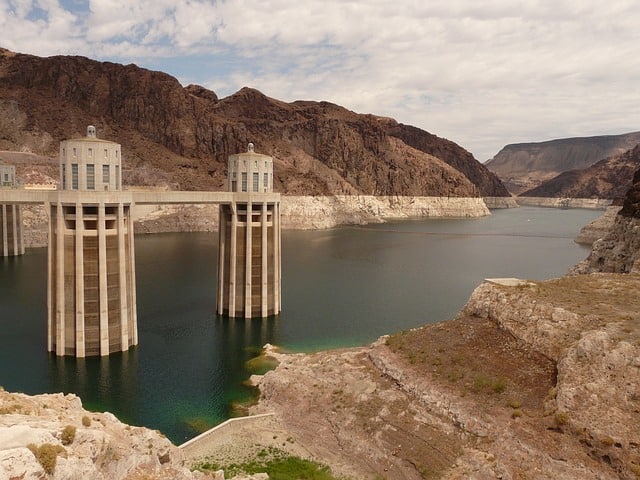 It was constructed to prevent flooding and provide electricity to the American southwest. The dam was constructed in 1928 and was regarded as the biggest undertaking at the time.
You can wander on and around the dam for an hour without paying anything, or you can take a tour of it. One of the best things to do in January in Las Vegas is this.
Look for parking close to the Mike O'Callaghan-Pat Tillman Memorial Bridge about a mile before you arrive at the Hoover Dam. From this perspective, you can see the dam very well. One of the most distinctive sights in Las Vegas is this.
Excellent Hoover Dam tour choices also leave from Las Vegas. The guides are quite informed and have interesting facts and stories about the dam to tell. The hassles of driving, parking and a tour are taken care of, allowing you to relax and fully appreciate the Hoover Dam tour.
Fremont Street
Are you prepared to explore Las Vegas's historical scene? They're existed Fremont Street long before the soaring megaresorts, Cirque spectacles, and nonstop nightlife and entertainment of the Strip came to define Las Vegas for all time.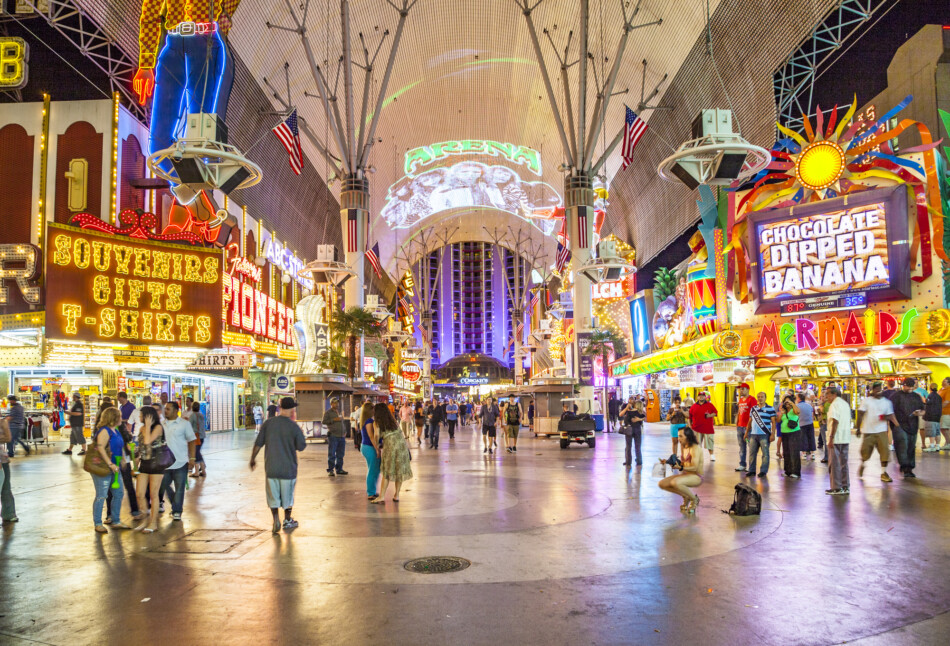 The first casinos in Las Vegas, including Binion's Horseshoe, the Golden Nugget, the Pioneer Club, and many more, were located on Fremont Street, which is located north of the Las Vegas Strip in Downtown Las Vegas. Fremont Street is famous for having block after block of the city's most iconic neon signs and marquees.
An active nightlife may be found on Fremont Street, a mall that is open air in Las Vegas. The Viva Vision Light Show and the street entertainers are two of the favorite Fremont Street highlights.
On the largest video screen in the world, which is mounted to the ceiling, the light display is presented. One of the best free and enjoyable things to do in Las Vegas in January is the free show. There are also plenty of skilled street entertainers there. Further, the street is lined with restaurants, casinos, and gift shops.
Check out my post on 101+ Cheap Things to do in Las Vegas
Bryce Canyon and Zion National Park Day Tour
In addition to the Grand Canyon, two stunning national parks may be reached by day trips from Las Vegas in the full day tour.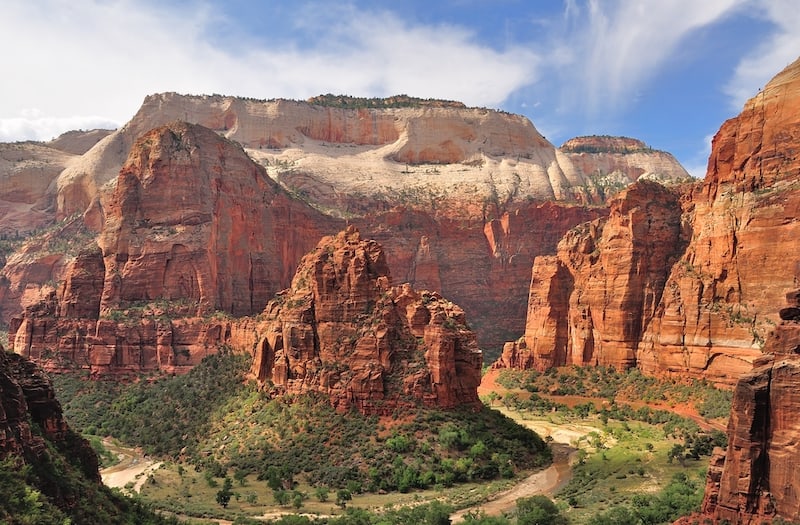 Two of the best national parks are Bryce Canyon and Zion National Park. You may take a tour through both of these parks with the National Park Express.
Beautiful sandstone cliffs that soar over the Valley Floor may be seen throughout Zion National Park. Throughout the tour, you will have the opportunity to see the park's visitor center before ascending through a mile-long tunnel to the upper reaches of Zion.
You can wander along the lovely ATV. Trail in Bryce Canyon to view the stunning and unique hoodoos and scenery. You'll have a wonderful opportunity to look at and snap pictures of these extraordinary sandstone formations along the Rim Trail. Because of its singularity and stunning colors, Bryce Canyon is one of the most popular parks to visit.
The tour price includes round-trip transportation from a few hotels as well as national park entrance fees.
Explore the Mojave Desert on an ATV
Going outside and exploring the desert is one of the best things to do in Las Vegas in January. It has a rich ecosystem and is attractive. The temperature is ideal in the winter but unbearably scorching in the summer. Exploring the Las Vegas desert on an ATV is a lot of fun.
The ATV desert tour comes with transportation from the strip, safety gear, and an expert guide. It is a fun way to spend some time outside while taking a break from the Las Vegas Strip.
Antelope Canyon
One of the most well-known slot canyons in the world is Antelope Canyon. Millions of years of water and wind erosion have formed the red sandstone. One of the most beautiful and picturesque locations you should see is the canyon.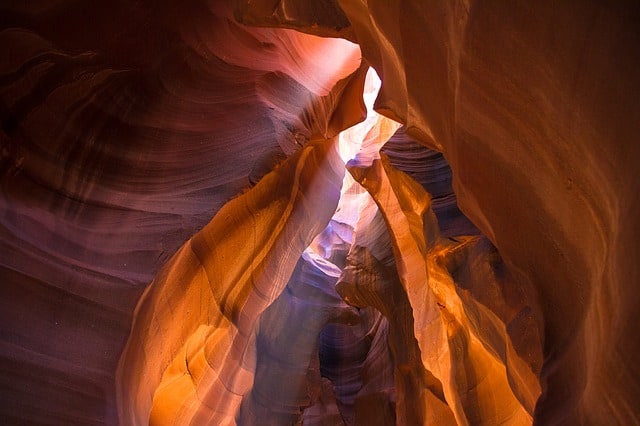 You have two options: drive your vehicle to Page, or take a tour that includes transportation from Las Vegas to Antelope Canyon. Because Antelope Canyon is on Navajo Land, which is under protection, you will still need to reserve a canyon tour even if you drive yourself there. Only licensed guides are permitted to lead tourists down the canyon.
One of the best January activities in Las Vegas is visiting Antelope Canyon since you can hike and explore the canyon in cooler weather and avoid the hectic summer months.
Be sure to see the Horseshoe Bend Overlook when touring Page on your own. This is probably one of the stops on your tour if you are leaving from Las Vegas. Check out my post on the best tours of Antelope Canyon – its the only way you can visit even if you drive to Page, AZ.
You can reserve an Antelope Canyon trip from Las Vegas if you don't have transportation or don't want to bother with the drive. You simply get to relax and take it all in while someone else does the driving and planning. In January, doing this in Vegas is a wonderful idea.
Visit Emerald Cave
A lovely cave located approximately one hour outside of Las Vegas is named Emerald Cave. Emerald Cave has a wonderfully amazing green light, which is one of its coolest features.
The algae in the water begin to glow green as light enters the cave. It's a cool sight to witness because of the algae at the bottom of the river and the cave walls' brownish-yellow hue.
Due to the milder weather and the availability of a few hot springs, winter is among the best seasons to explore Emerald Cave. You must paddle down the Black Canyon Water Trail to visit the cave. Only specific times of the day have light in the cave. The cave is most enjoyable at 2 p.m.
A guided tour is the best way to guarantee a fantastic trip to Emerald Cave. The optimal time to visit the cave and its precise location will be known to your knowledgeable guide, who also has all the necessary safety and paddling equipment. Also included in the package price is transportation to and from Las Vegas.
Car Racing
Exotic car racing is an exciting and enjoyable activity you can do in Las Vegas at the SpeedVegas Motorsports Park. You can select from 20 different cars, plus you get coaching and racing advice specifically for you. You will cherish this heart-pounding experience for the rest of your life.
An introduction to safety is followed by a 2-lap test drive where you will be a passenger to get experience and a sense of the track. Afterward, it's your turn. The track has no posted speed limit; you are permitted to travel at up to 130 mph. You will be accompanied by an instructor as you drive around the track.
The racetrack is located in Henderson, Nevada, roughly 20 minutes south of the Strip.
Tips and Tricks for Visiting Las Vegas in January
Visiting Las Vegas in January can be a unique experience as it's the winter season, and the city tends to be cooler than in the summer months. Here are some tips to make the most of your trip:
Check the Weather:

While Las Vegas is generally milder in winter compared to many other places, it can still get cold, especially in the evenings. Check the weather forecast before you go, and pack accordingly.

Layered Clothing:

Even though it's winter, daytime temperatures can be comfortable. However, nights can get chilly. Bring layers so you can adjust to the changing temperatures throughout the day.

Indoor and Outdoor Activities:

Las Vegas offers a mix of indoor and outdoor activities. While it might be too cold for pool parties, you can still enjoy indoor attractions like shows, casinos, and shopping. Consider exploring the nearby Red Rock Canyon or taking a day trip to the Grand Canyon for outdoor adventures.

Comfortable Shoes:

You'll likely be doing a fair amount of walking along the Strip and through various attractions. Comfortable shoes are a must.

Plan for Crowds:

While January tends to be less busy than the summer months, major conventions and events can still draw crowds. Check the city's event calendar to plan around large gatherings.

Book Shows and Restaurants in Advance:

Popular shows and restaurants can fill up quickly, so it's a good idea to make reservations in advance to secure your spot.

Explore Beyond the Strip:

While the Strip is the main attraction, consider exploring other parts of Las Vegas, like downtown (Fremont Street) or local neighborhoods. You might find unique experiences, local restaurants, and a different vibe.

Gamble Responsibly:

If you plan on gambling, set a budget beforehand and stick to it. It's easy to get caught up in the excitement, so having a plan can help you avoid overspending.

Stay Hydrated:

The desert climate can be dehydrating, even in winter. Drink plenty of water, especially if you're consuming alcohol or spending time outdoors.

Transportation:

Consider using rideshare services or the monorail to get around the Strip, especially if you don't want to deal with parking. If you plan on exploring beyond the city, renting a car might be a good option.
Remember that Las Vegas offers a wide range of experiences, so tailor your trip to your interests, whether it's entertainment, dining, outdoor activities, or a mix of everything.
Recent Posts