50+ Practical Campervan Gifts Ideas
RV Gift Ideas: Are you looking for great campervan gift ideas this season? Whether you are looking for funny campervan gifts, campervan gifts for her, campervan gifts for him or van life gifts this list of gifts for campervan owners.
Finding useful presents for campervan owners doesn't need to be hard. We have something for everyone on this list from motorhome gifts, van gifts, campervan gifts, gifts for campers, and gifts for caravan lovers.
I have guides to each and every item on this list if you would like to find out more info you can just click on my guide to read more info.
Or if you would like to see more of my gift guides check out these:
30+ Best Gifts for Outdoorsy Women
31+ Perfect Ideas for National Park Gifts
31 Best Travel Games for Couples, Adults, and Kids
50+ Awesome Campervan Gift Ideas
National Park Pass
A National Parks Pass for the United States would be an amazing present. For about $80, you get a year's worth of admission to all sites controlled by the Forest Service, National Park Service, Fish and Wildlife Service, Bureau of Land Management, and Bureau of Reclamation.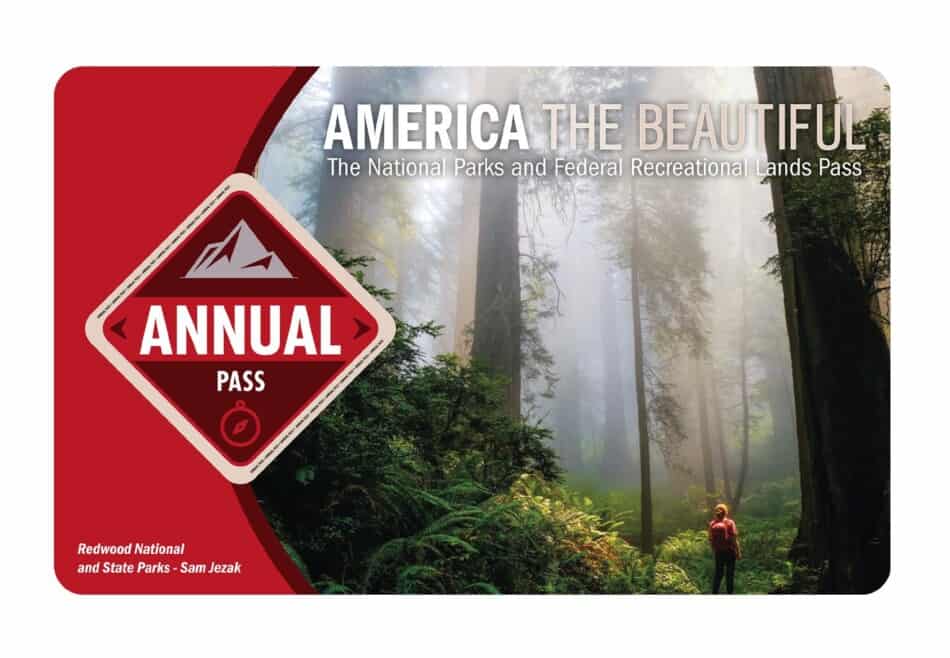 The Beautiful Annual National Park Pass is one of the most popular gifts for RVers. Many RV owners like spending time in the great outdoors, traveling, and visiting national parks. So why not give them something useful that will also mean a lot to them?
In addition, if you purchase a National Park pass through this link for the same price as if you purchased the pass directly from the National Park Service, REI will donate 10% of the purchase price to the National Park Foundation in 2020.
If you or the hiker you're shopping for does a lot of outdoor trekking and exploring in these locations, it's well worth the money. Otherwise, admission costs around $20 per visit. The pass has already paid for itself after four visits.
The America the Beautiful Pass is valid for one year and costs $80. Plus 10% of sale proceeds go to the National Park Foundation.
Lifestraw Water Bottle
Depending on where you are, some water sources may be suspicious. These handy devices are a lifesaver if the camper isn't equipped with a water purification system.
They are available as a whole water bottle or as a straw-only option.
A steripen is also a good option. It's a portable UV water purifier that can remove contaminants from up to 8000 gallons of water!
It's more of an "in case of emergency" thing that they could have in their van in case they become trapped in the middle of nowhere and have no choice but to leave their vehicle and walk. If they go into survival mode, they'll at least have a quick and easy way to filter water. This device is also quite light and may be stored in compact locations.
I love my LifeStraw Filtered Water Bottle. I can refill this bottle anywhere and it comes with a carabiner to connect it to my daypack.
Flashlight
This is one of the most practical campervan gift ideas! When you're groping about in the dark or attempting to find things in the boot of your van before an early morning drive, this gadget is a lifesaver.
This is a powerful light that can illuminate an entire room. This flashlight is meant to fit on your keys, allowing you to take it with you everywhere you go and be prepared for any situation. If you break down one day, it could save your life.
If you are looking for a dependable and durable backpacking flashlight that can sustain you for many hours, this Anker Bolder LC90 flashlight is for you. This flashlight is made out of steel which makes it heavier than other regular flashlights but you can be assured that it'll last for a long time even if you drop it many times.
Check out my post on the 10 Best Backpacking Flashlights: Ultralight and Compact
Backpacking Chair
While spending time inside your campervan is enjoyable, nothing beats relaxing in the sun on a beautiful day. Or under the stars, next to a campfire.
Having a camp chair is a great way to extend your living area and spend more time in the great outdoors.
Trust me when I say that good camp chairs are a gift that will be utilized repeatedly.
When you have a limited amount of storage space, choosing compact camp chairs is essential. Cliq chairs are fantastic since they fold up to the size of a 1-liter water bottle, allowing you to take them with you everywhere you go!
The Big Agnes Backpacking Chair claims to be the champion of ultralight because it only weighs over 1 lb, packs down small, and uses a patented frame for a perfect strength-to-weight ratio.
This is the best hiking chair and the best lightweight backpacking chair for campers and backpackers who are always on the go.
Check out my post on the 11 Best Backpacking Chairs
Phone Tripod
This is a fantastic compact tripod for your phone camera. It includes flexible legs that allow it to adjust to various surfaces and even wrap around objects.
This can be used in watching movies from your phone in the van, make video calls to family. It's been quite useful, so I'm sure your van-driving pals would enjoy it as well!
Hammock
When you get to camp, no van is complete without a hammock to hang up!
There's nothing quite like swinging away at the end of a long day, taking in the scenery and escaping the confines of the inside vehicle. To unwind, nothing beats pulling up to camp, strapping up the hammock, and swaying softly in the shadow of a tree.
Even better, portable standing hammocks are ideal for vehicle camping because they do not require well-spaced trees.
If you're going to get your loved one a hammock as a gift, be sure it has a mosquito net.
They'll be able to sleep outside on warm, dry nights without being eaten alive by bugs as a result. It keeps mosquitoes at bay and is ideal for sleeping in humid conditions.
When it comes to comfort and strength, you can never go wrong with this EIALA Camping Hammock. This hammock is crafted with 100% parachute cloth while still giving you breathability. Plus, it is equipped with hook holders and strong ropes so you can truly enjoy your outdoor adventure.
This hammock is also simple and versatile that you can use it in many different environments, with or without the mosquito net. And it comes with a storage bag where you can fold and put it there for your convenience.
Check out my post on 11 Best Hammocks with Mosquito Nets for Hiking or Camping
Pendelton Blanket
Those who are familiar with Pendleton's well-loved wool blankets understand why they are so valuable. They're plush, long-lasting, and timeless enough to inspire entire rooms. Pendleton has been creating must-haves for designers and antique seekers alike for over a century.
These blankets are water-resistant, odor-resistant, and stain-resistant, making them ideal for chilly evenings over the campfire or long, cold nights inside when living in a camper during the winter.
They can be used as an extra layer on the bed, as a cover for sleeping bags, or as a cozy throw.
The four-colored stripes of the Glacier National Park blanket have made it a best-seller and collector's item for antique hunters looking for genuine labels from the early 1900s.
This Pendleton blanket is a great gift for outdoorsy women. Available in three sizes: twin, full (80in x 90in), or queen (90in x90in). Each blanket is made out of 100% pure virgin wool and made in the USA. The blanket also features the standard Pendleton label which signifies authenticity and a special label with the park name and a natural feature.
Marmot Limestone Camping Tent
The Marmot Limestone Tent is one of the reliable waterproof tents that you can find in the market today. It is a 4-person and 59.7 square foot tent that is scientifically designed for peak performance no matter what the weather condition is. It is made from a durable, seam-taped polyester fly that offers complete rain protection along with Velcro tents for superior air circulation.
In terms of its design, it has a catenary cut design on the fly and the tent body allows air to flow freely under the fly and around the perimeter of the tent thus keeping the occupants cool and dry. It also has a super sized doubled door at the front and a D-shaped door with an overhanging vestibule at the rear so that occupants can come in and out with ease. Its zone pre bend construction creates vertical walls and offers a more spacious sleeping area with lots of headroom.
And inside the tent, you'll find a seam taped floor that prevents leaks and it has four interior pockets that lets you organize your personal items. It also has a lampshade pocket that uses your headlamp to fill the tent with warm light. Check out my post on the 13 Best Waterproof Tents
REI Gift Card
If you're still undecided on which campervan gifts to get your friend, a REI Gift Card is usually a safe choice. You can set the amount, which can be as low as $10.
It's a great option if you have no idea what to get them or if they appear to "already own everything."
I've never heard of anyone being disappointed with a REI gift card. You can't go wrong with this one.
Giving a REI gift card is always a wise idea. I could easily spend hours in the store and have a never-ending wish list of goods on REI wish list.
Most van lifers, I believe, can relate. With a thoughtful gift card, you can help them purchase the gear they've been wanting.

Therm-a Rest NeoAir UberLite
This sleeping mat is perfect for hikers and backpackers who want a lightweight and packable air mattress. This high performance sleeping pads have a dimension of 20 x 47 x 2.5 in (small); 20 x 72 x 2.5in (medium); and 25 x 77 x 2.5in (large). This is one of the best sleeping mats and the best hiking sleeping pads.
This UberLite keeps the weight low that is why it is ideal for thru-hiking and camping while also giving you impressive stability and minimal heat loss so you can surely get a good night's rest. It's big on comfort but small on pack space.
This pad has an r-value of 2.0 which makes it suitable for adventure in cool weather and provides moderate insulation without sacrificing the comfort. It is comfortable, quiet, and warm so you won't struggle with the temperature. The material is made of 15D nylon and has a shape of a mummy and it can pack down to the size of a beer and just weighs over 8 oz.
Check out my post on the Best Sleeping Pad for Side Sleeper
Solar Camping Lanterns
The stars come out to play after the sun has gone to sleep, and you can too with a lantern. The lantern is lit by LEDs and is extremely brilliant. Some include solar panels to absorb the sun's rays for longer battery life, while others contain secret power packs to charge your electronics. After the batteries run out, there's even one that you can manually crank for more light.
These waterproof hanging lanterns provide a warm flickering light that comes on automatically and uses solar power for the battery.
There are no batteries required. Simply place the solar side in the sun to charge it, inflate it when it gets dark, and turn it on by pressing the button. On a full charge, it lasts up to 24 hours and has four brightness settings: low, medium, high, and strobe.
It's time to put an end to the darkness and continue the quest. Check out my post on 10 Best Solar Camping Lanterns
Water Shoes
If you've ever been to a lake or waded through riverbeds, you're aware of the need for water shoes, even though many of us either don't own them or forget to carry them with us.
What is the reason for this? Water plays a part in so many outdoor activities. Even a summer road journey will surely lead you to a creek by the side of the road. And water shoes allow you to truly immerse yourself in the water, rather than merely gazing at it and fantasizing about how pleasant it would be if you could jump in.
Water shoes are made to effectively manage water flow. As a result, this is one of the best gift ideas to offer because it can be used anytime and anywhere.
When it comes to water hiking, the shoes to have are those that are built to hike in water or rain with streams or estuary crossings.
The Teva Tierra women's outdoor water shoes have a crisscross section over the toes and a heel strap with velcro closures and hook-and-loop closure.
The shoes are made from 100% textile and have a nylon stability shank shock pad heel, compression-molded EVA midsole which provides optimum comfort and a traction outsole that channels water away from the shoe and the cushioning EVA topsole.
You can check out my post on the best water shoes
Everyone loves listening to music and what better way to listen to music while you are hiking, kayaking, or camping, than with this Wonderboom portable waterproof speaker.

This Wonderboom speaker might be small but it has an incredibly crisp sound and offers 360-degree sounds. It is also waterproof which is ideal when camping, traveling or being outside.
With the ability to connect via Bluetooth with over 10 hours of battery life, ideal for a weekend of camping.

This speaker is great for traveling, as it's small and can be attached to a bag or item with its top hook.
This travel journal is fitting for adventurers and outdoorsy women who like to record their adventures, jot down great hikes, travel, or just journal.

It is a high-quality faux leather journal with the ability to refill pages when required. The cover is padded and has premium pages. The journal is A5 size and has 120 pages with lines and numbers on the bottom.

This journal is made of vegan leather, 100% synthetic, and animal-free. With the ability to refill this journal is long-lasting and pages can be added if necessary.
A flexible tripod is a great gift for not only photographers but those who just enjoy taking pictures. This tripod is very portable and compact making it perfect for just throwing in a backpack when traveling or camping.

It fits iPhone's, galaxy phones, as well as Canon 1300D, Nikon D5300, among others.

Compared to other tripods this one is high quality, with robust rubber-coated legs, which can be moved around and attached to things such as trees, benches, tents, canoes, or other places. It is also waterproof and easy to set-up.
For those who like their coffee, this Espro travel coffee press is great. With the ability to make a french press coffee on the go. It has a two-stage micro-filter to ensure no coffee escapes when you press down the filter.

The stainless steel insulated walls of the cup keep coffee hot for 4 to 6 hours, ideal for coffee on the go, or when you are out and want to sip coffee when hiking. The lid is leak-proof and has silicone seals to ensure it doesn't spill.
Yeti
The Goal Zero Yeti is a portable power source that allows you to charge laptops, camera batteries, and phones at any time while on the go.
Simply plug it in while driving to store energy. You may even add a solar panel to your camper for added power!
This was a fantastic addition to have – the Goal Zero to keep your electronics charged.
This item makes excellent gifts because it is well-made and extremely useful for van owners, particularly those who are just starting to customize their vehicle.
Wine Tumbler
If you know someone who enjoys wine, you might want to try purchasing some wine glass tumblers.
You don't just need wine glasses to sip wine; you also need a set of unbreakable wine glass tumblers designed to withstand the shaking and rattling of an RV on a long trip.
As you'll be bumping into each other a lot in small areas, it's helpful to have a little more protection for your wine. These are fantastic for the van and make a great gift for anyone who lives full-time in their rig or only uses it on weekends.
Collapsible Food Containers
For RVs and campers, a collapsible food container and storage are ideal! Because kitchen cabinet storage space is limited in a tiny RV, motorhome, or camper, you must make the most of every inch while maintaining access to your kitchen and food essentials.
Although you live in a small RV or cabin, you don't have to forego having household items. This is ideal for RVers and campers. They can also be utilized in boat galleys, small kitchens, small apartments, college dorms, cabins, and cottages!
Anyone in desperate need of camping adventures will love the ingenious folding kitchen supplies and food storage options.
That's why I think a set of collapsible food containers would be a great present for RV campers who frequently dry camp or boondock. That is to say, they may not always have sewer hookups and will have to do their dishes outside.
Wool Socks
To begin with, you can never have enough socks.
Second, you don't have to offer someone a run-of-the-mill pair of shoes! Why not get some thick, soft, fluffy ones to wear inside the van in the winter, or a pair with special anti-slip pieces on the bottom?
Last but not least, there are socks with exclusive campervan designs!
We stay safe in our shelters, yet being outside brings us closer together. Nothing compares to the exhilaration of adventure, and nothing compares to the tranquility of a sea of stars. These wool socks will accompany you everywhere you go, bringing the camp setting with you. Because the home can be found everywhere.
Merino Wool Thermal Ski Socks is one of them. Don't be fooled by the clever/cheesy design. Merino wool is a great insulator against the cold and keeps your feet at a comfortable temperature.
They include dynamic cushioning that relieves pressure on your heel and arch; they dry rapidly when wet; and they are odor resistant (which means more time hiking and less time showering).
Travel Games
Keep them occupied with a simple game that doesn't take up too much room. For many van lifers, a standard board game will be too large.
However, there are a variety of games that take up little space and are suited for two players (instead of a group). My favorite is Skipbo but I also like Phase 10.
A card-based game: There are numerous options available, such as Sushi Go, Phase10, Exploding Kittens, and so on. Simply peruse Target's "game aisle" or do some online searching to pick one they'll enjoy.
Travel-friendly Backgammon: The original form of Backgammon is somewhat huge, but this sleek travel version is as appealing as it is entertaining to play.
Bananagrams: This word game is small and portable, and it's a lot of fun!
Make sure you choose a game with the appropriate player count (rather than a group game) because they'll most likely be playing it alone in their vehicle rather than with a large group.
Check out my post on the 31 Best Travel Games for Couples, Adults, and Kids
Carbon Monoxide Detector
When you go camping, boating, or caravanning, it is critical to have a Carbon Monoxide detector with you. Your home may be protected, but you leave that safety behind. This range of carbon monoxide alarms has been created, tested, and approved as safe for use on boats, tents, and caravans, and they are a vital item to have with you while you travel and on holiday.
The risk of carbon monoxide poisoning goes up when you use fuel-burning appliances, and propane (LP gas) is found in many RVs and campervans.
This 2-in-1 alarm gives you early detection and peace of mind from the possible dangers of both gasses.
Camping World offers options for RV Carbon Monoxide Detectors. These detectors are wall-mounted and designed for use in a rugged RV environment. This is ideal for RVs, motorhomes, travel trailers, and meets stringent requirements set by the RVIA for carbon monoxide alarms and propane detectors.
If you're buying a gift, you could also include one of these detectors!
Waterproof Jacket
These compact waterproof jackets are great for motorhome life. They collapse into a small drawstring bag that may be squeezed into tight spaces or used to keep tableware from rattling while you're on the go.
It weighs 8.1 ounces which makes it a very lightweight poncho. It is made of waterproof 15D Ultra-Sil Nano Fabric that you can easily convert from a rain poncho to a shelter during camping trips This waterproof poncho is a perfect choice for light backpackers.
They're so small, you can just pack them into your day bag just in case. We absolutely swear by these during the warmer months. You can also buy them for the whole family. They are ideal for a family that campervans with kids.
Check out my post on the best rain ponchos for travel
Camping Fan
This rechargeable fan is the best of both worlds.
It easily attaches to cupboards or shelves and is large enough to provide adequate airflow, and most importantly, It also holds a charge really well and lasts throughout the whole night.
The O2cool portable air circulation fan is a battery operated fan perfect for staying cool when the power goes out or even when you are camping.
This also gives them the gift of a restful night's sleep. Check out my post on the best camping fans.
Cell Phone Booster
WiFi and cell signals are not available everywhere, contrary to popular perception.
Lack of communication can cause worry for those who travel to isolated locations in their campervans (or, more often, their loved ones at home).
A cell phone signal booster is an excellent campervan present, especially since you will frequently drive through places with poor cell service. If any of your van friends or family members are also digital nomads, this would make a fantastic gift.
Packing Cubes
In a campervan, staying organized might be quite challenging. Even though you have fewer possessions, you also have very limited storage.
Packing Cubes is pretty much the best way to organize all your stuff — from clothes to toiletries to small tools and other miscellaneous items — these handy pouches are incredibly practical. It can help your friendly van-dwellers maintain their cramped quarters neat. These cubes can also be used to organize your belongings in your suitcase when traveling for work or leisure.
Plus, they're super versatile and can be used for other types of travel.
Microfiber Towel
Since towels take up a lot of room, these small microfiber towels make a great, practical, and space-saving campervan present.
Big fluffy towels are lovely, but at the end of the day, having a little more room for clothes and other needs is preferable.
Wine Tumblers
If you know someone who enjoys wine, you might want to try purchasing some wine glass tumblers.
You don't just need wine glasses to sip wine; you also need a set of unbreakable wine glass tumblers designed to withstand the shaking and rattling of an RV on a long trip.
As you'll be bumping into each other a lot in small areas, it's helpful to have a little more protection for your wine. These are fantastic for the van and make a great gift for anyone who lives full-time in their rig or only uses it on weekends.
Headlamp
At least one LED headlamp should be in every camper's armory. It's not only more versatile and convenient than a handheld flashlight, but it also offers a longer battery life and better lighting. In practically every way, it comes out on top.
Give someone the gift of being able to see in the dark, whether they're a night-time explorer, like reading in the dark, or just need to be able to find the way to the facility block.
When camping, a headlamp comes in handy for a variety of reasons, and this one is a wonderful choice.
Moon USA National Parks
Find your park experience with Moon USA National Parks, whether it's hiking to breathtaking panoramas, rafting down a wild river, or camping beneath the stars.
Moon USA National Parks is the ultimate gift for the parks enthusiast in your life, with magnificent full-color images and trip keepsakes. Moon's comprehensive book includes the finest outdoor adventures in each of the 62 national parks, as well as tips for combining multiple sites into one spectacular adventure.
Get inspired, get outside, and discover the stunning beauty of the United States with Moon USA National Parks, which have been dubbed "America's best idea" for a reason.
Reusable Food Bags
This could be your solution if you're tired of tossing away plastic snack bags and/or want to make a difference in the fight against plastic pollution.
A reusable, all-natural alternative to the ubiquitous wrap, is great for covering leftovers, wrapping cheeses, fruits, or anything else you want to store for later.
The Reusable Food Bags are comprised of strong aluminum foil and high-density oxford cotton. The interior is made of the best thick aluminum foil, which keeps the lunch box tightly sealed and keeps the heat in, making it ideal for packing food and lunch containers.
Designed to be a fashionable tote, this bag is proud to transport your food necessities.
Portable Charger
Even with our campervan's power setup, phone batteries run low on long hikes. Especially when navigating with mapping software.
These handy devices are small and light, and they can charge most phones up to eight times.
A perfect present for campervan owners and hikers alike.
Have you ever been hiking or skiing and your hands got so cold you couldn't warm them up? Well, now you can with this rechargeable hand warmer. This hand warmer is not only a hand warmer it also doubles as a power pack to charge your electronics.

This hand warmer is safe to use, with built-in protection for overheating, over-charging, and short-circuit protection. So there is no need to worry about the safety of the device.
It is compact so can easily be fitted in your pocket or backpack, for easy transportation and taken out when needed.

It is ideal for skiing, hiking in the cold weather, traveling, fishing, camping, and other outdoor activities.
Umbrella
This is a perfect gift for campers or hikers. It packs down to a very small size which means it is easy to carry around, just in case it happens to rain. It is suitable for both adults and children.
An umbrella which is decorated with a split-screen camper and bunting is a great present to them. The umbrella folds neatly into a matching branded cover and fits in your handbag.
This makes a perfect gift – or perhaps the perfect complement to your adventure.
Multi-purpose Tool
It's also great to gift your van lifers or hiker friends any campervan gifts that will serve a multi-purpose on their trip or adventure.
If the above lists are not enough to gift them or you are still unsure of what to give them, there are still lots of practical campervan gifts ideas in the lists such as Portable Clothes Washing Bag, Car Battery Self-Jump Starter, Portable COmpressor Kit, Mini Projector, Portable Shower, Multi-functional flask, and the likes.
best gifts for rv owners 2020 campervan gift ideas gift ideas for rv owners gifts for campervan gifts for people with rvs gift for campervan motorhome gift ideas gift for camper
Recent Posts